The Best Sensory Play Toys for Visually Impaired Kids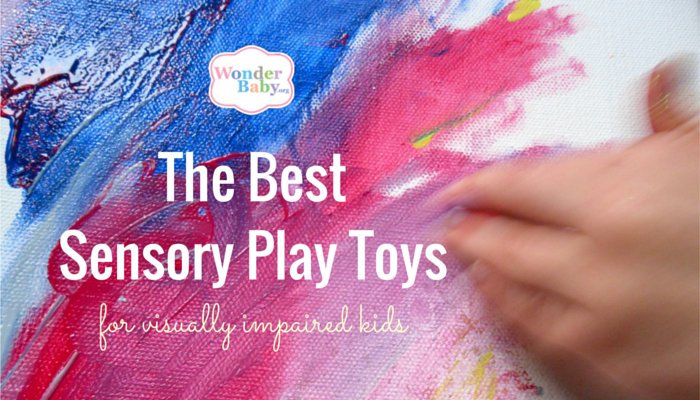 This post may contain affiliate links; please see our terms of use for details.
Searching for toys for blind kids can seem daunting at first, especially if you are looking for a gift for a child you don't know well. But if you think about it, so many toys these days are multi-sensory, which means they are designed to stimulate much more than just vision. When picking out a toy for a child who is blind or visually impaired, just think about all the senses and how each toy can be enjoyed with or without sight.
Below you'll find THE BEST sensory toys for children who are blind. To make your search for the perfect toy easier, we've grouped them into six basic categories:
Tactile Toys
Kinetic Sand

Kinetic sand is one of those great sensory play materials that just begs to be touched and manipulated. It's not your regular beach sand either… this Kinetic Sand can be molded, pulled and squeezed. The best part is that it sticks to itself and not to your hands making it more appealing to kids with messy play aversions.
You can purchase kinetic sand and accessories like this Kinetic Sand Mold Kit to play during free time, science lessons and occupational therapy sessions. If you'd rather make your own, here's a DIY Kinetic Sand Recipe on Pinterest!
Puffer Ball

Many kids with visual impairments can be hesitant to touch things that are sticky or feel "weird" but others love it! There are plenty of tactile sensory balls to choose from but Ivan prefers the Puffer Ball with its crazy rubbery tentacles sticking out that are fun to grab and brush across your hands. It's also squishy and a little bouncy for added fun. Other kids may like the smoother solid tactile sensory balls to play with like the set from Infantino. For a fun tactile discrimination activity, place a collection of balls with varying textures and designs in a bin. Next, have your child grab one and identify it. You could also switch it around and have your child find a certain ball when you ask for it.
Skwish Stix Color Burst

The Skwish Stix toy line from Manhattan Toy is a classic incorporating elastic bands with wooden rods and beads to make a complex manipulation toy that is fun for kids to squeeze, pull, twist and turn as it morphs into new designs before going back to the original shape. It makes a great fidget toy for times when a larger toy is okay. Try keeping them around during story time or near bean bags or other places the kids relax. It's a nice toy to just sit and touch or it can serve as a more dynamic learning tool for science class!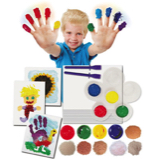 Sensory Solutions Finger Painting Kit
This art kit from Roylco takes finger painting to a whole new level! The kit contains six different additives that turn the classic finger paint into squishy, crunchy, gritty and gooey textures that make all of your paintings pop right out off the paper. Kids who love the sensation of odd textures and intriguing substances while getting their hands and fingers messy will definitely enjoy this new product. If increasing messy play is a goal for your child, this finger paint kit may also be the answer you've been searching for on how to make it more enjoyable. To use, all you have to do is place the paints onto the plastic palette tray, mix in the additives, dip in your fingers and paint! There are other ways of making paint textured, as well as textured paint brushes and more, but this Sensory Solutions Finger Painting Kit is one of a kind and we love it!
Sound Toys
B. Parum Pum Pum Drum Set

Of course musical instruments have to be on any list of the best toys for kids who are visually impaired, but this B. Parum Pum Pum Drum Set from B. Toys is exceptional! Not only does it include several different bug-themed instruments, but each one is bright, colorful and designed with curves and textures that kids will love to feel. The set includes centipede drumsticks, jingle bell ant, busy bee maraca and clacker, caterpillar tambourine, shaka-shaka eggs and a drum-shaped carrying case. The company also makes a number of other wonderful musical instruments your child will love such as the B. Meowsic Keyboard, B. Symphony and B. Woofer Guitar.
Mozart Magic Cube

The Mozart Magic Cube is a classic toy for kids who are visually impaired. It was probably one of the first toys another parent or teacher recommended to you when you first found out your child was visually impaired. So, that's the reason it's on this list! It was given a new design a few years ago but it's functionality stayed mostly the same. It's a cube with buttons for a different instrument on each side. Kids press the different buttons to create an orchestra of Mozart's music with lights that flash with the tempo. The buttons are easy to press and large enough for those who need to press with the entire hand and not find a tiny button with one finger. The Mozart Magic Cube is also a fun therapy activity tool to use as a reward during free-time at the end of a session, to teach cause and effect, as well as a great way for kids to explore compositions during music therapy.
Tranquility Table Chimes

Chimes create such a tranquil sound, perfect for a relaxing time sitting at the table. They're easy to play and no matter how you clank them, it's going to be beautiful music. The manufacturer is well-known for their quality wind chimes. The Tranquility Table Chimes are made with ash wood and polished aluminum rods that make for a sturdy instrument. Use them as part of a percussion band in music therapy or as an audible alert to signal class is about to begin! They make a peaceful sound kids will enjoy playing and listening to as part of their day.
Music Garden

The Music Garden is an electronic toy with buttons and knobs kids can press and turn to hear a variety of music as well as activate LED flashing lights. The toy is great for encouraging manipulating objects in different ways and other fine motor skills. It also teaches cause and effect while stimulating the sense of sight for kids with light perception. Try using it in a dark room for the best results! Similar music and light toys can be found including the Fisher-Price Learn with Lights Piano and Bright Beats Dance & Move BeatBo. Each of these toys will encourage fine motor skills and purposeful play while having fun!
Scented Toys
Scentos Scented Markers

Make art class a little more fun with these yummy scented markers from Scentos. You don't have to worry about allergies because they're free of any potential allergenic fragrances or adverse ingredients making them safe for everyone. The scents are strong but not overpowering like some other scented markers. The scent will stay on the paper so your kids can create multi-sensory works of art, which is great for kids who are visually impaired and would like the added bonus sense to their work! If you're looking for a set with a very strong scent, check out the Mr. Sketch Scented Markers that are washable, too!
Tasty Toys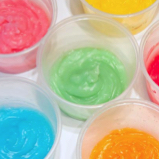 Edible Finger Paints Recipe
When you have kids that tend to put everything they touch directly to their mouth, it can be nerve-wracking to even supervise them playing with toys that could be dangerous or toxic if they were to ingest them. Art supplies and DIY goo and cloud doughs are great tactile sensory play materials but not all of them are safe. This Edible Finger Paints Recipe from the Kids Craft Room Blog is a better alternative to recipes or products you buy from the store that contain chemicals. This particular recipe is made using corn starch as the main ingredient and can be made a variety of bold colors using food coloring. It's not intended to be eaten but it definitely won't hurt your child if he decides to do a little taste-test during art time! You can find more activities and recipes like this on our Tactile & Sensory Fun Pinterest board, too.
Tasty Science Kit

Who says science can't be tasty? With this kit, kids can use their stomach to experiment like a real food scientist. If you have a child that loves to help out in the kitchen, this Tasty Science Kit is the perfect way to let them cook and learn a little chemistry along the way. It's a great way to motivate kids who are not as interested in science but love food, too. Kids will learn about what makes a cupcake rise and what makes soda pop fizz. If your child has the skills to perform the experiments independently, then you'll have to make some adaptations to the kit like brailling the instructions and marking the instruments. The box states that it's recommended for children 8-years of age and older with adult supervision.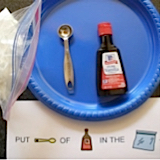 Ice Cream in a Bag Activity
Looking for a fun summertime treat? How about making your own ice cream without needing any fancy equipment? Everyone can help out with the Ice Cream in a Bag Activity from the Perkins eLearning website. The article includes step-by-step instructions on how to make ice cream for kids with varying abilities and differentiated literacy levels. It's a simple recipe that yields a tangible, edible result your kids will enjoy while learning kitchen and science skills along the way. It only uses a few ingredients and tools that most kitchens already have available. Make the entire activity accessible using braille measuring cups and spoons, too. Want to have a little more fun, try adding different mix-ins like candy and marshmallows to the bag after the ice cream is ready.
Light Toys
Light and Giggle Drum

Have a budding drummer in the house? This multi-sensory musical instrument incorporates lights and sound for a fun playtime activity for kids with light perception. Use it during music therapy sessions for an engaging rhythm activity or simply a way to keep the beat. It's the perfect size for young children and has a small handle on the top for little hands to grip. It's brightly colored and has flashing lights whenever the Light and Giggle Drum is tapped. Kids can also learn to count numbers and identify colors while playing, too. It teaches music, math and basic concepts all in one toy! The Bright Starts toy line also has a few other toys that your child might enjoy, like the Roll and Glow Monkey.
Vestibular Toys
Indoor Trampoline

Indoor Trampolines are a great physical therapy tool for kids who are blind. The trampolines that have a handle bar on one side make them particularly useful for kids who are blind giving them a tactile point of reference while bouncing. They are a wonderful proprioception toy, as well as a way to get a little exercise while burning some energy. It's especially useful during the winter months when kids may not get outside as much. Some other models even include electronics with sound that have proven to be very motivating for kids who are blind. You can learn about the vestibular system and children with visual impairments in this article written by the mother of a child diagnosed with LCA to gain a better understanding of the effects of the vestibular system. The article is titled Vestibular Stimulation.
Teeter Popper

Do your kids enjoy the sound and satisfying pops of bubble wrap? Then they'll love this whole body toy from Fat Brain Toys! It's a curved plastic board lined with suction cups on the bottom that make a fun popping sound as you wiggle and rock back and forth. It's such a unique toy and so much fun for kids who are visually impaired as they get sound effects from moving the board on a smooth, flat surface. The Teeter Popper is available in a range of colors but we're particularly fond of the bright lime green! It would be so much fun for a child with light perception to enjoy in a dark room with a black light. The board is great for physical therapy sessions, sensory integration and in any child's playroom.
Super Spinner Swing

There's no doubt that most children who are blind love to swing and spin. This outdoor Super Spinner Swing incorporates both! It's large enough for one child to sit in completely or enjoy with a friend by sitting back to back. It can hold up to 200 lbs and is available in a variety of colors. The seat is a solid disc and does not have a hole in the middle like a tire swing so kids don't have to worry about falling through the middle. Swinging is a proven beneficial therapy activity. Therapists have found that the swinging motion impacts the vestibular system, which can improve a child's balance and in turn their stair navigation and ambulation skills. An article published by a licensed physical therapist on the Advance Healthcare Network cites improvements in motor coordination, ability to put movements together, and sequencing skills having been observed as a result of therapy swing. And of course, the motion of the swing can be relaxing and calming for children who become overstimulated.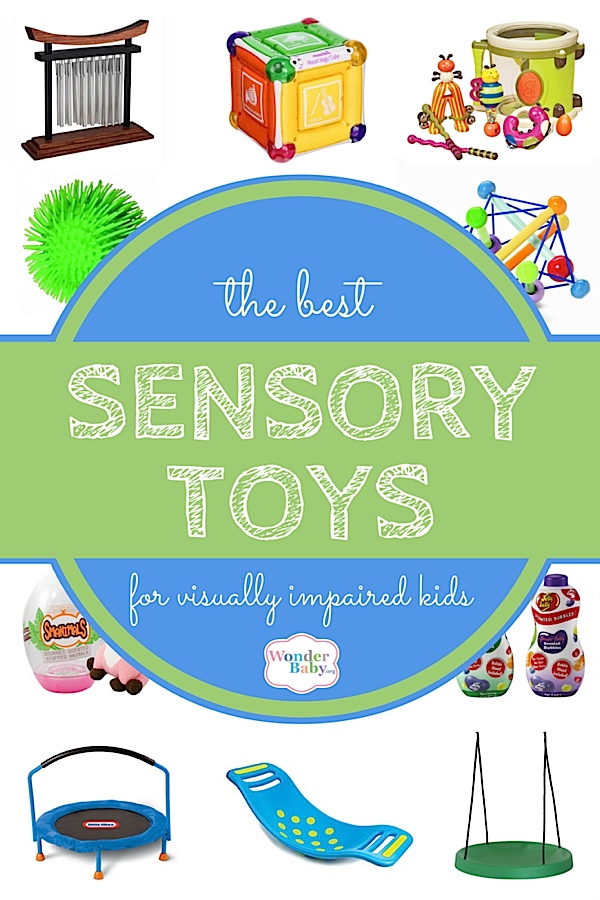 Related Posts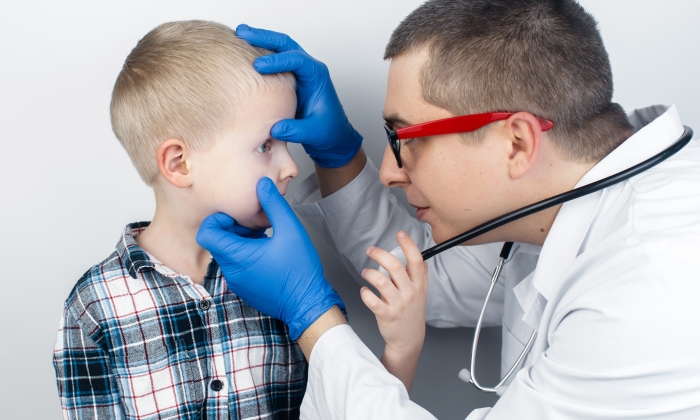 Eye Conditions and Syndromes, Visual Impairment
Congenital glaucoma is a disease where the pressure inside your baby's eye is too high. This can damage the optic nerve and can even make your child go blind.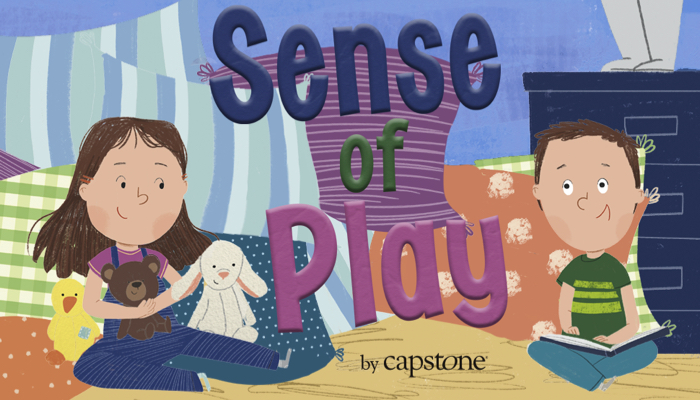 Braille and Literacy, Product Reviews, Visual Impairment
Dana Meachen Rau's book, Sense of Play, follows the adventures of Chip and Joy as they play. Chip is blind, but this doesn't get in the way of their play!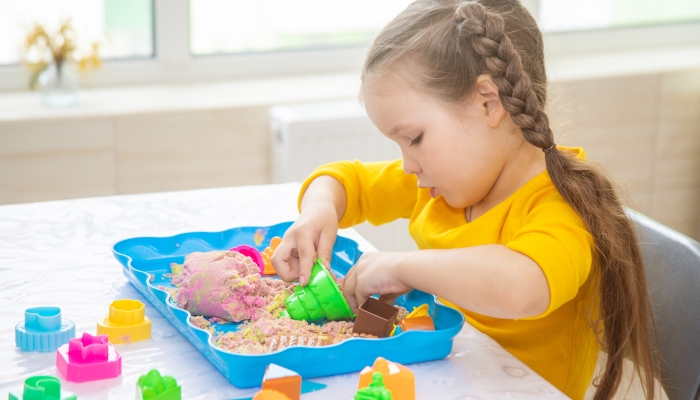 Sensory Activities
Sensory play is easy, fun, and doesn't have to be expensive. Check out our ideas for simple, hands-on - and messy! - sensory learning play with your preschooler.