5 Glowing Easter Egg Activities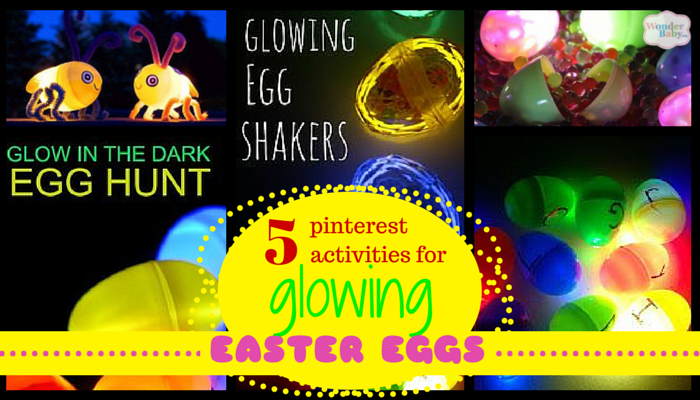 We've rounded up five of the greatest Pinterest ideas for your child to have fun with glowing Easter eggs! Your kids will enjoy going on a glow-in-the-dark Easter egg hunt, exploring sensory bins, and more. The best part is that these activities can also be used anytime of the year at home and school, saving you time and money. Let us know which of these you like the best by pinning them to your boards, or tell us in the comments section below!
Sensory bins have been very popular the last several years and rightfully so! They're often low cost, easy to make and can be used time and again. Allison from Learn~Play~Imagine shows you how to make your own sensory bin with only a few materials. All you need are plastic Easter eggs, water beads, and submersible lights. You could add any type of water-safe toys to the mix like rubber ducks or other bath toys for more fun. The Glowing Sensory Bin appeals to kids with low vision, while also adding a tactile aspect to keep little hands busy.
Since sensory bins have become so common in sensory integration and toddler activities, there are many resources available for making your own bins to fit your child's specific needs. You can search for ideas on Pinterest along with many other wonderful tactile Easter activities to promote the development of the sense of touch for blind children.
You may also like:
This is by far one of the greatest Easter ideas we've come across for children with visual impairments! How fun would it be to hunt for light-up eggs at night, or even in a dark room. Crystal over on Growing a Jeweled Rose shows you two ways to make the eggs glow by using glow-stick bracelets and LED finger lights. If you're hosting a fully inclusive egg hunt, a great idea would be to use beeping or talking Easter eggs as well. You might place a sound egg and a glow egg in the same spot so children could use either hearing or sight to find them, or both senses if applicable.
And if you're already hosting a glow-in-the-dark egg hunt, you could easily carry over the theme into a Glow-in-the-Dark Party where all your decorations glow, the food glows, even YOU glow, with the help of black lights and neon colors! The possibilities are endless and your guests are sure to have a great time!
You may also like:
After you've finished your glow-in-the-dark egg hunt, try out this easy activity with the leftover plastic eggs. Just use a permanent marker or alphabet stickers to turn the plastic eggs into an educational game. Place a letter on each egg and practice identifying each letter of the alphabet, or put them together to build words. You could also practice with matching games by making a set of lower case and upper case letters, then having your child find the two that match.
If your child has some or all of his vision and is learning braille by sight, try placing braille letters on one set and print letters on the other to match together. And if your child is blind, place embossed braille alphabet stickers on each egg or use puffy paint to create your own tactile braille. This ensures everyone gets to play and learn together! Be sure to try all our ideas:
Letter Identification Using Print & Braille
Matching Games Using Print & Braille
Word Building
Sort Consonants and Vowels
You may also like:
What's better than glowing? Glowing with sound! Katie from Happily Ever Mom has deemed the glow in the dark egg shakers to be the "perfect DIY instrument" and we agree! All you need are plastic eggs (the translucent kind look pretty cool in her pictures), beads, glow sticks, and tape. Put them all together and you've got an instrument that appeals to the eyes and the ears! Plus, they're fairly inexpensive to make- you may even have all the supplies already at home. Even after the glow stick fades, you'll still have a cute little shaker to play.
These shakers would make great additions to Easter baskets, too. Liz Eagan shares a fun braille message activity on Paths to Literacy that would be great to include for low vision kids learning Braille, or anyone who already knows Braille. Make it fully accessible by adding the message in print for sighted readers.
You may also like:
If you're looking for an easy craft for the season, these cute little fireflies are as easy as they are cute! The folks over at Apartment Therapy used plastic eggs, pipe cleaners, LED tealights, white circle labels, and silver duct tape to build a little glowing friend. We think they'd make great nightlights since you can turn them on and off. They'd also make great gifts!
Depending on the goal for what you want your child to get out of this activity, you could set it up to investigate the battery-operated miniature light and switches, or make it a work of art by painting the egg first, or use tactile stickers to dress up the firefly body. If you like the idea of incorporating STEM into your springtime activities, try this Crash Testing Experiment where kids design a vehicle to protect a raw egg from breaking during a collision. This could also be adapted to be an "egg drop" experiment where you design the container to protect the egg from breaking when dropped from a certain height. Needless to say, there are a bounty of great Easter activity ideas for children with visual impairments out there. So, which ones do you want to try?
You may also like:
Follow WonderBaby Resources for Parents of Blind Kids's board Easter Crafts & Activities for Children with Visual Impairments on Pinterest.
Love Pinterest? So do we! If you're looking for more Easter-themed ideas for kids with visual impairments, check out our Easter boards and follow us on Pinterest!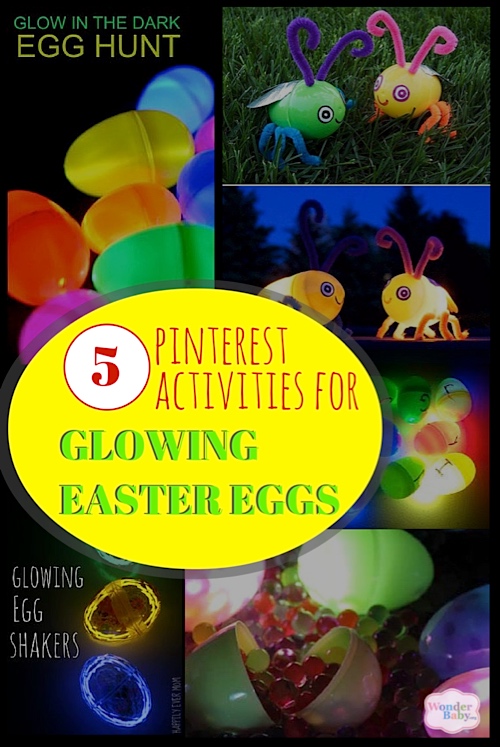 Related Posts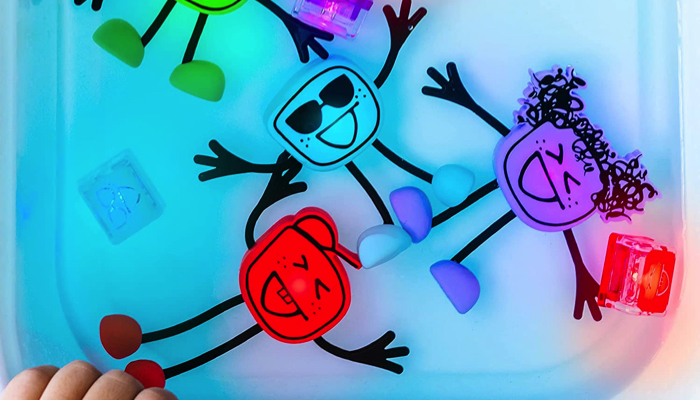 Light Play, Sensory Activities
Glo Pals are light-up cubes that are only activated when wet! You can play with them in a water table or in the bathtub for sensory water play.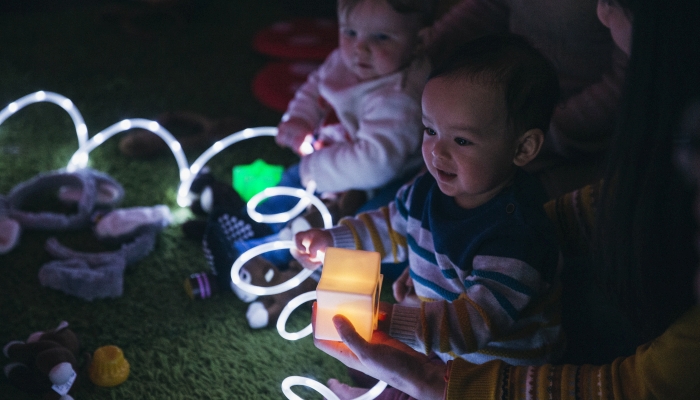 Light Play, Product Reviews
Light-up sensory toys have become a popular choice for helping children calm down. With our list of the best, you're sure to find a toy your child loves!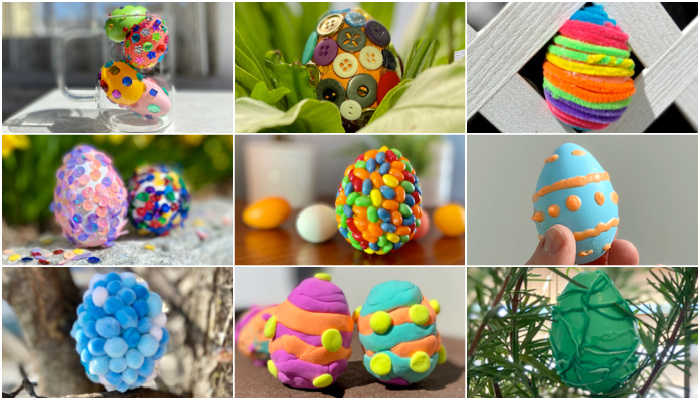 Holiday Crafts and Ideas, Visual Impairment
We'll show you how to make tactile Easter eggs for kids who are blind by adding textures or other tactile elements to your dyed eggs.