14 Tactile Input Activities, Toys, & More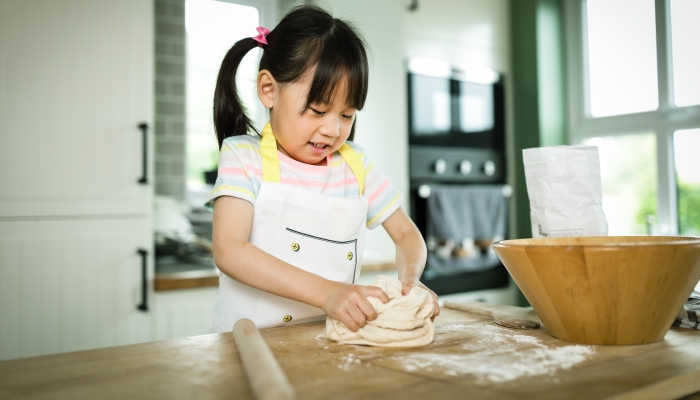 Tactile input is sensory input that we receive through touch.
All children can benefit from a wide variety of tactile activities and toys.
Examples of tactile input activities include messy play, cooking and eating, and sensory play.
Some children experience tactile processing issues which affect their daily life.
An occupational therapist can support your child in identifying and planning for their tactile needs.
Children explore and make sense of their world through touch. There's a whole interesting world of textures and sensations for them to discover! It's important and helpful for all children to experience a wide range of tactile input activities.
Based on sensory preferences, they might avoid some things and crave others. It's the same for adults! I seek out soft, buttery clothes, love crunchy food, and being in warm water. I hate the feel of crushed velvet, the texture of parsnips, and being in cold water.
Some children have a strong emotional reaction to the things they dislike the feel of. It becomes too much for their brains to process. These children still need plenty of exposure to tactile information, but you may need to modify their activities.
What Is Tactile Input?
It's a common myth that the tactile system only relates to things we can touch with our hands. The tactile system is made up of sensory receptors in our skin from head to toe. It's the largest sensory system and even includes the inside of our mouths!
The tactile system helps our central nervous system to tell between different tactile qualities. This includes textures, sensations, temperatures, and pressures.
Tactile input refers to any sensory input that our body receives from touch. For example:
The feel of an object against our fingertips
Clothing against our skin
Different temperatures
Different foods
Why Is Tactile Input Important in Child Development?
A healthy tactile system helps children to function more readily in everyday life. Think about all of the areas of a child's life that involve the sense of touch:
Eating food
Interacting with others on the playground
Wearing clothes
And the list goes on!
When a child has difficulty processing sensory information they can find many day-to-day activities challenging.
This in turn impacts their ability to self-regulate. A child with sensory difficulties might display challenging behaviors. This is often a parent's first clue to there being a difficulty.
It's helpful for all children to receive exposure to a wide range of tactile input but can be especially vital for those who struggle with sensory processing.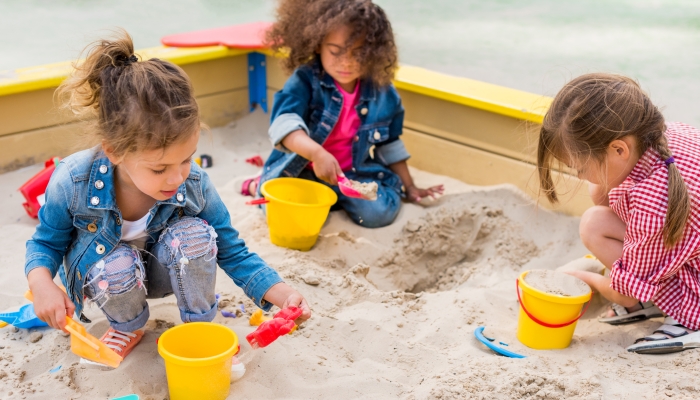 How to Tell That a Child Has Tactile Sensory Issues
In their commentary on Ayers framework of sensory integration, Katherine Guardado and Shane Sergent, DO, note that "children with sensory processing deficits may find it challenging to regulate their responses to everyday situations such as dressing, playing, mealtime, and social interactions."
For a child with tactile sensory needs, you may notice some of the following traits:
Sensitivity to certain textures, which may lead to an aversion to certain types of clothing. Or, they may constantly try to touch everything around them.
Lack of variety in diet; food preferences may be very limited.
Discomfort in cold or warm weather. They may not notice the temperature or be sensitive to it.
Responds negatively to light touch or unexpected contact with others, for example in the playground. Or, may purposely seek to touch other people. May lack personal space awareness.
May not notice that they are dirty, or has difficulty with personal hygiene.
The types of tactile needs can be separated into two main categories, which are:
Tactile Defensiveness or Over-responsive
Tactile defensiveness (also known as "sensory avoiding") is when a child has difficulty processing tactile input and finds it overwhelming or overstimulating.
A child who has tactile defensiveness typically responds with a "fight or flight" response to unwanted sensory input. They may become extremely frustrated by unwelcome touches and touch-based activities and will actively try to avoid these.
A child experiencing tactile defensiveness might struggle with the feeling of a label in their clothes, the texture of certain foods, and routines such as brushing their hair or having a bath.
Tactile Seeking or Under-responsive
For a child experiencing an under-responsive tactile system, the sensory information they receive is not fully processed, creating a craving for more tactile input.
This child may either seem withdrawn or always on the go, looking for more and more things to touch and explore.
A child experiencing this craving for more tactile input might not enjoy sitting still and might constantly want to touch objects and people. They may not notice they are dirty, struggle to register different temperatures, or have a noticeably high pain threshold.
Other Sensory Systems
Most (but not all) children who experience sensory processing problems are affected in their tactile system.
They may also have difficulty with one of the other sensory systems. Most notably, the vestibular system or proprioceptive system.
A sensory checklist can be a good place to start if you feel your child may have difficulty with sensory input across one or more areas.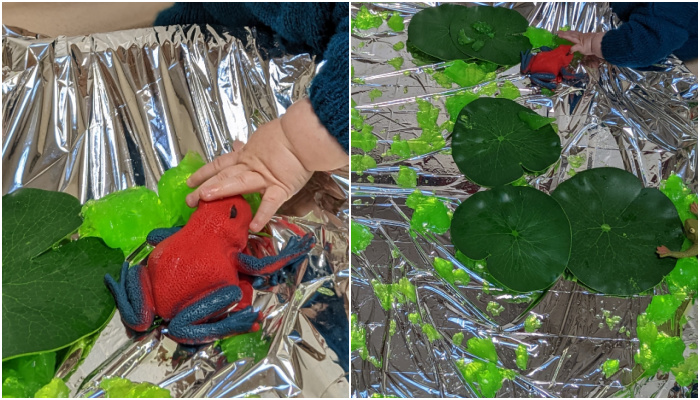 7 Activities That Help Promote Tactile Input
All children benefit from a wide range of tactile experiences.
For a tactile seeker, the more touch-based input you can give them the better! They will love exploring a variety of sensations.
A more gradual approach is required for a child with tactile defensiveness, this is best planned alongside an occupational therapist.
As Horwood and Caldwell suggest in their sensory integration handbook, these children "still need a great deal of tactile input and often crave it, but it needs to be controlled and combined with deep pressure input." Start slow and never force these experiences.
These are some of my favorite ways to incorporate tactile input into your day!
Messy Play
You may shudder at the idea of the preparation and cleaning up for messy play—I get it! But messy play can actually be kept surprisingly clean if you keep it outside or contained (for example on a special wipe-clean messy play mat).
Some popular choices include slime, playdough, jelly, or shaving cream. Remember to have spare clothes on hand!
Outdoor Play
Some of my favorite tactile experiences can be found outside.
Have fun exploring the textures of nature together (rough tree bark, crunchy leaves, squishy mud). Gardening, going on a nature walk, or simply visiting a playground or park offer a huge range of tactile experiences for your little one.
Sensory Bins
A sensory bin is one of my favorite tools for increasing sensory input. It's as simple as adding different items to a bin or container to explore.
You can fill your sensory bin with almost anything! Some of our favorite combinations are:
Sand with scoops and diggers
Water beads and plastic animals
Dried rice, beans, and pasta
Edible slime and rubber frogs
Water and different-sized jugs
Arts and Crafts
There are so many different textures to explore when your child is creating art! Different textures of paper and cardboard, clay, glue, and paint all provide different tactile experiences.
Finger painting is a great way to get some sensory input while making art. For tactile defensive-friendly play, use a ziplock bag with your paint and paper inside to gradually introduce paint without the mess.
Food
Cooking and baking with your child is an amazing opportunity for engaging the tactile system. Get your child involved with mixing cake ingredients, rolling dough, or just everyday cooking experiences!
If you can expose your baby to finger foods from the first stages of weaning, they will be exposed to many different textures (both in their hands and in their mouths!).
Feely Bag
Using a feely bag helps your child to really concentrate on the feel of an object and is a fun game!
Add a variety of items to an opaque bag and ask your child to feel inside. Younger children can simply explore, while older children can describe and guess what they're feeling.
Proprioceptive and Vestibular Input
Two other systems, the proprioceptive and vestibular, also have an important role to play in sensory processing. These activities can help a child with tactile processing needs too and are often a lot of fun!
We have lots of ideas for proprioceptive input activities and vestibular input activities.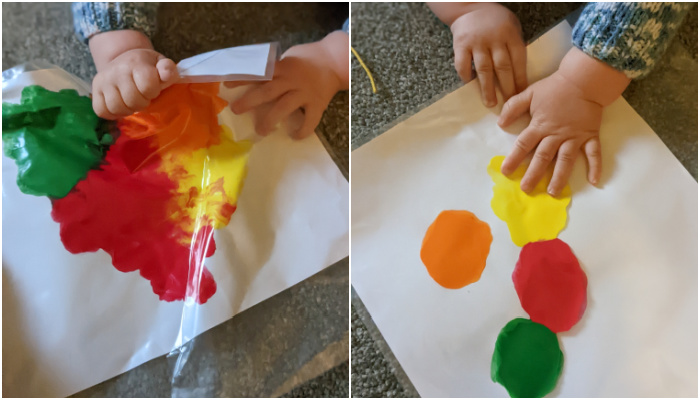 7 Tactile Input Toys That Kids Will Enjoy
If you're running out of ideas to satisfy your sensory seeker, it can be helpful to use toys and books that provide tactile feedback.
This fantastic series of books all follow a similar structure, with interesting tactile patches on every page.
I love that these books give your child the vocabulary to describe the textures they're feeling. They've remained a firm favorite for my son from just a couple of months old! You can find a "That's Not My" book on almost any subject, so it's easy to tailor to your child's interests.
Love going to the beach but hate the clean-up?
Kinetic sand gives your child the chance to explore the feel of sand and make fun creations without it getting absolutely everywhere! Kinetic sand makes for some super addictive playtime, even for adults!
These beautiful touch boards may a perfect sensory toy for toddlers! They allow your child to explore different textures and match them.
For older children, try matching the textures while blindfolded for an extra layer of challenge!
Okay, so you could just make "regular" slime. But why not make it extra inviting with galaxy themed slime?!
This kit has everything your child needs to make amazing slime creations—including glow-in-the-dark slime!
I used to have one of these pin boards as a child and spent endless hours pressing my hands, feet, and even my face into the pins to create different prints.
A nice thing about this toy is the instant feedback showing how your touch and pressure has left a creative impression.
It's not the cheapest way to find tactile experiences, but I am yet to meet a child who doesn't love a mud kitchen!
Children can play pretend-chef with mud, water, and anything else nature has to offer with this outdoor mud kitchen. It even has a working faucet!
These bean bags are a brilliant ready-made feely bag game. They have a range of textures and shapes for your child to discover.
The same company have a whole range of tactile sensory toys, including this Sea Life Slime Sensory Bin.
FAQs
Can a child outgrow tactile input issues?
The answer to this is complex, as it depends on the underlying cause and severity of each individual case.
What experts do know is that early and targeted intervention can have a big impact. A small 2007 study by Lucy Jane Miller, PhD, OTR, Joseph Coll, and Sarah Schoen, PhD, OTR found that occupational therapy input made a significant difference for children with sensory processing difficulties.
Some children, for example those on the autistic spectrum, may need long-term modifications to support them with their tactile processing difficulties.
Can a child have sensory issues and not be autistic?
Research by Nicolaas Puts, PhD, et al. notes that "Impaired responses to tactile stimulation are a commonly reported symptom among children with autism spectrum disorder (ASD)." This does not mean that a child with sensory aversion is also autistic, but could be an indicator.
It's important to work with your primary care provider or pediatrician to investigate any concerns about sensory processing.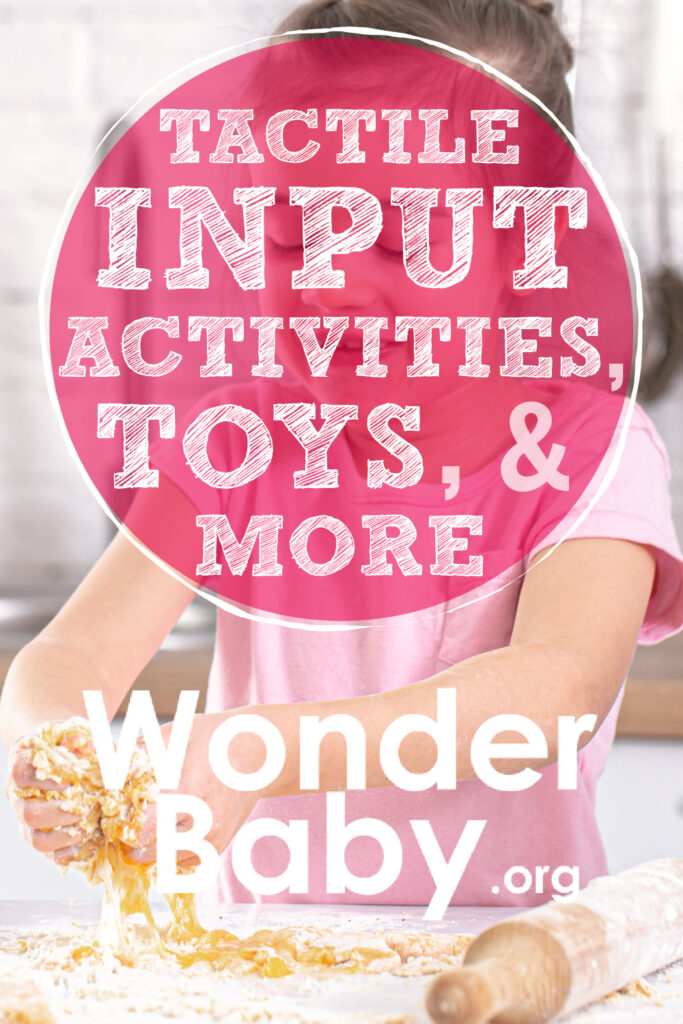 Related Posts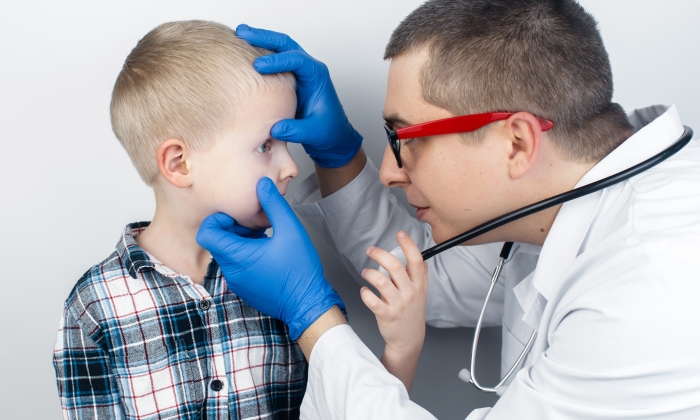 Eye Conditions and Syndromes, Visual Impairment
Congenital glaucoma is a disease where the pressure inside your baby's eye is too high. This can damage the optic nerve and can even make your child go blind.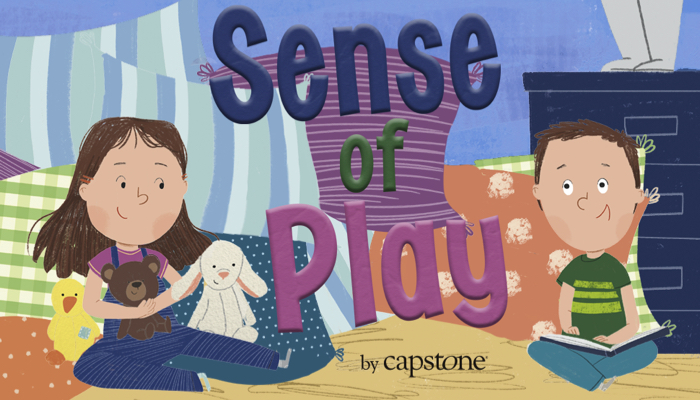 Braille and Literacy, Product Reviews, Visual Impairment
Dana Meachen Rau's book, Sense of Play, follows the adventures of Chip and Joy as they play. Chip is blind, but this doesn't get in the way of their play!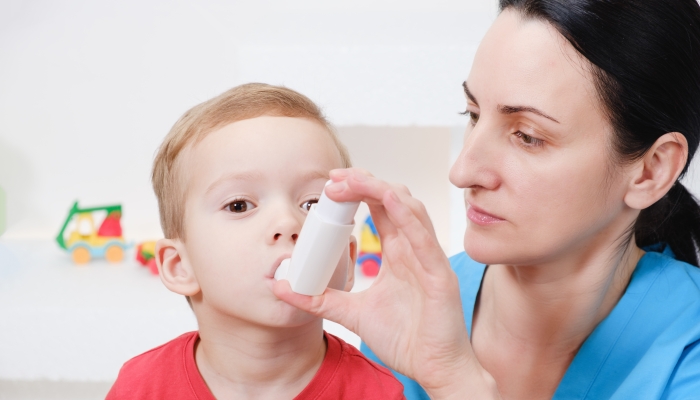 Special Needs
Special needs emergency planning helps you prepare for the unexpected and gather everything you need to care for your child in an emergency situation.