7 Fun Finger Painting Activities for Kids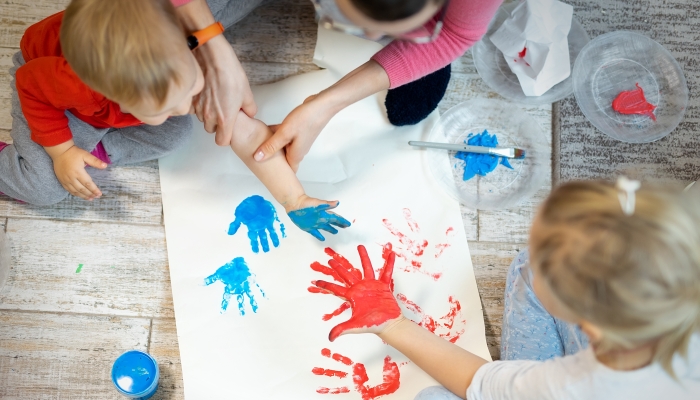 This post may contain affiliate links; please see our terms of use for details.
Finger painting is an excellent sensory activity for babies and younger children, allowing them to practice many skills.
Finger painting is easy, using just a few materials—but it's messy, so be prepared.
Finger painting can introduce your child to many topics and themes, like color, texture, seasons, and nature.
You can always count on finger painting to be a hit with little ones. It's the perfect cure for a rainy day or a restless afternoon when you want to keep the kids off screens, or for a play date that's going off track and needs to be quickly rescued.
The best part about finger painting for parents and caregivers is that it only requires the finger paint, some paper, and an open space that you don't mind getting messy.
We've rounded up some fun finger painting activities for kids. Check out this guide for all you need to get started with these great finger painting ideas.
Getting Started With Finger Painting
Little kids love the squishy texture and colorful mess of finger painting. Even babies as young as six months can get their little fingers in on the act! It's a lovely sensory activity for children with special needs too.
Finger painting introduces your child to color, texture, and creativity. It allows you to bond with your kids and gives children a sense of accomplishment. It's also a great activity for vocabulary enrichment. There's a lot to talk about as your child gets their fingers in the paint and starts to create their art.
Finger painting does require some patience from adults, however. It can get messy, so make sure you're set up to paint in a place where you can easily clean up when your child's creativity has been unleashed.
Benefits of Finger Painting Activities for Kids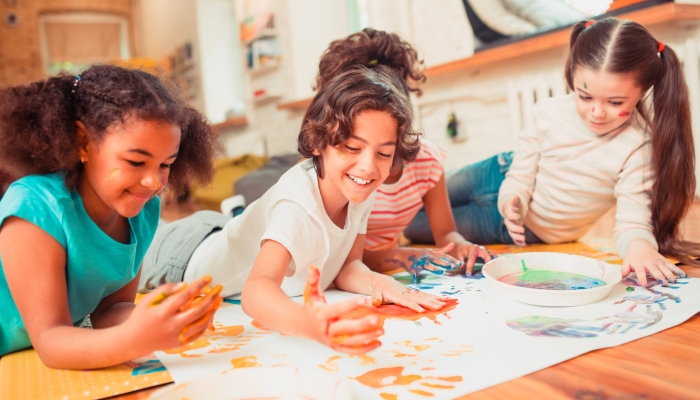 Finger painting is a great sensory activity for developing gross motor skills. It's also a fun fine motor skill activity that you can do together. In addition, creating art gives your young child their first experience of self-expression.
Area of Development

Benefit of Finger Painting

Sensory

Color recognition
Texture exploration
Experimentation with mixing paint to stimulate vision and touch


Language

Color naming
Texture description
Vocabulary around the subject of the painting, e.g., pretty flowers, bright rainbow
Vocabulary around themes, e.g., winter time, birthdays

Fine Motor Skills

Using one finger at a time to create an image
Learning to draw lines
Dipping fingers in different colors
Learning to create and repeat a pattern

Gross Motor Skills

Sitting up and leaning forward
Reaching for paints and paper
Sitting up at a table
Kneeling on the ground if you're painting on the floor
Practice hand-eye coordination

Creativity

Expressing ideas
Experimenting with color, shape, and pattern

Self-esteem

Sense of accomplishment
Seeing their picture on the fridge or giving it as a gift gives children a sense of pride
What Materials Are Needed for Finger Painting?
You only need a few tools for finger painting. To get started, you'll need the following supplies:
Non-toxic, washable finger paints
Add craft sand to your paints for more texture
Finger paint paper, canvas, newsprint, or other materials to paint on
An apron, smock, or old shirt to protect your child's clothing
Wipe-clean tablecloth or newspaper to cover your table
Will finger paints ruin our clothes and furniture?
When choosing paints, look for finger painting sets that are non-toxic and washable. You don't want to stress about paint that will stain your furniture or other surfaces. You also don't want to worry about finger paint that's hard to remove from children's skin or clothes.
Is it safe for kids to get finger paint in their mouths?
You can expect babies and toddlers to try to taste the paint or to get some in their mouths inadvertently. Make sure you're using non-toxic paint made specifically for finger painting that is safe if ingested.
The most popular paints on the market for this purpose are probably Crayola Washable Finger Paints. Other brands will work, too; just make sure they're labeled washable and non-toxic.
Crayola Washable Finger Paints
CRAYOLA FINGER PAINTS: This set of Washable Finger Paints for kids includes 8oz bottles of Blue, Yellow, Orange, Green, Violet and Red finger paint.
LESS MESS PAINT BOTTLES: EZ Squeeze bottles with flip-top caps prevent spills.
WASHABLE PAINT FOR KIDS: Each of these paints washes easily from skin & washable clothing.
ESSENTIAL ART SUPPLIES: The perfect art supplies for kids to express, create, and connect through colorful play.
Can I make my own fingerpaints?
There are lots of different recipes for DIY fingerpaints. However, the most basic requires:
1 cup of cornstarch
1 cup of cold water
3 cups of boiling water
A few drops of food coloring
First, mix the cold water and cornstarch. Add the boiling water, and heat the mixture in a saucepan until you get your desired texture, like a smooth paste. Add food coloring until you reach the shade you want. Your kids can paint once the mixture is cool.
7 Fun Finger Painting Activities That Kids Will Enjoy
Try out some of these finger painting ideas with your kids:
Handprint Duck and Chicks
This simple fingerpaint craft is from Lucy McKenzie Photography. Use a full handprint for mommy duck and thumbprints for the chicks. Draw on beaks and feet with a marker. A perfect spring project!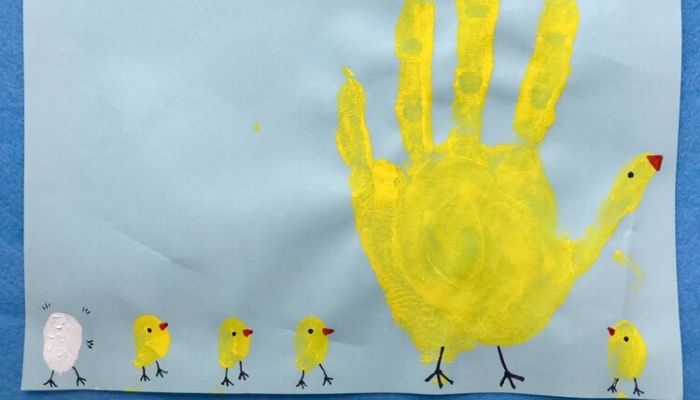 Fingerprint Snowmen
The fingerprint snowmen craft from Crafty Morning is the perfect impromptu activity for a snow day. You just need white paint and colored paper, and away you go. Snowmen shapes are easy to make with thumbprints and background snow with index fingerprints. Use markers to add accessories. Cute!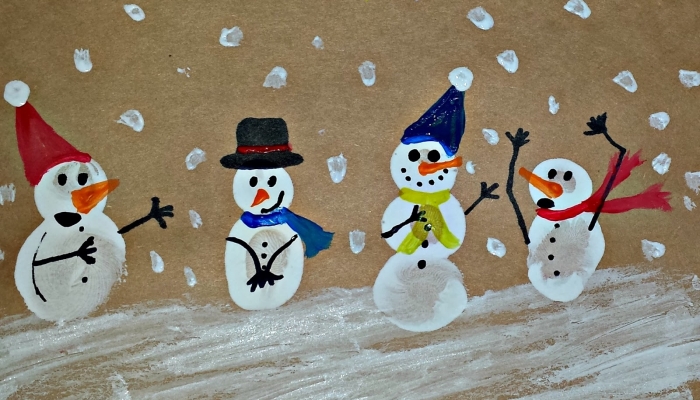 Footprint Rocket
Finger paints aren't just for fingers! Let your little ones get their feet in on the act too. For this craft from The Best Ideas for Kids, your child's foot print will make up the rocket, and you can add cut out construction paper, stickers, or pom-poms for the details.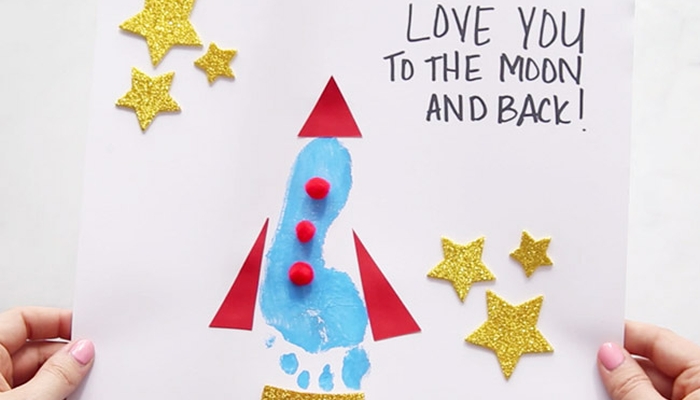 Perfect Rainbows
This fingerprint rainbow from Tippytoe Crafts is a great way to talk about colors. Use a rainbow template and encourage your Picasso to stay in the lines to work on fine motor skills.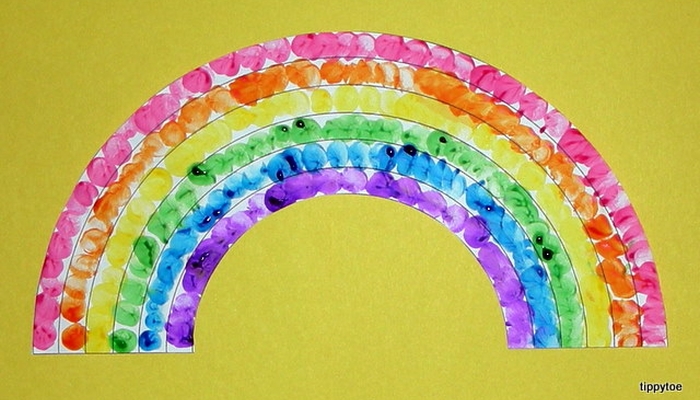 Fingerprint Fall Tree
This finger painting idea by First Pallette will get your child talking about autumn and all the seasons and working on color recognition. Encourage your child to use dots for different colored leaves or let them go for it to mix up their colors and get a little messy.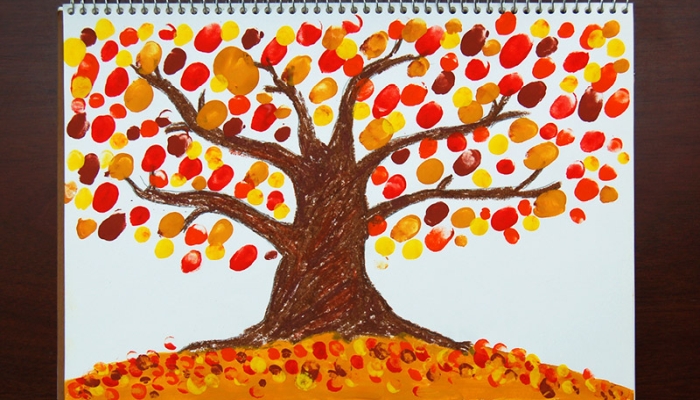 Scratch Out a Picture
This project from Lesson Planet is like fingerpainting in reverse and is great for fine motor skills. Have your child cover the paper with paint of their choice first, and then draw or scratch out a drawing in the wet paint to get another perspective on finger painting!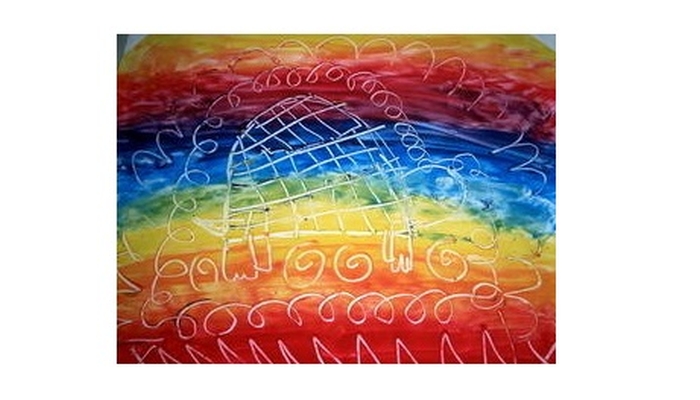 Fireworks
Fireworks are fun to paint, and this craft from Hands On As We Grow makes a great firework finger painting activity for the 4th of July. Try using black paper for the night sky. Add glitter if you're brave! For little ones, you may want to draw a firework shape before they start painting.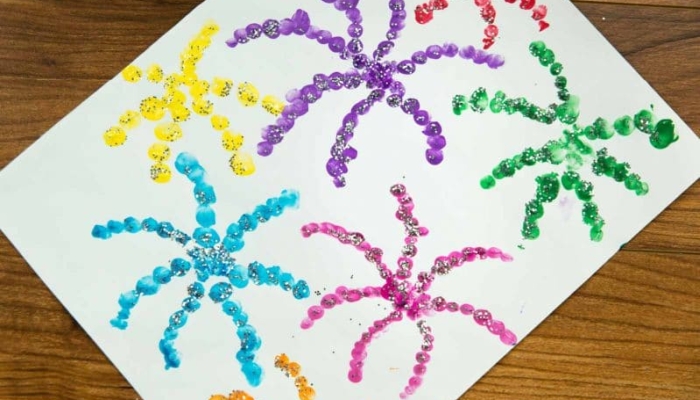 Aftercare for Finger Paintings
Now that your young artists have completed their masterpieces, it's time to clean up the mess. Don't panic! If you've used purpose-made finger paints, follow the manufacturer's instructions for washing paint out of clothes. For little hands and faces, warm water and soap or disposable wipes should do it.
For easier clean-up, try the following:
Cover your table with newspaper, so all you have to do is roll up the mess and throw it away.
Lay newspaper or wipe-clean table cloth under your painting space for easy floor clean-up.
Keep baby wipes handy to wipe faces and hands as you go.
Paint outside in warm weather, and then hose down the colorful mess when you're done.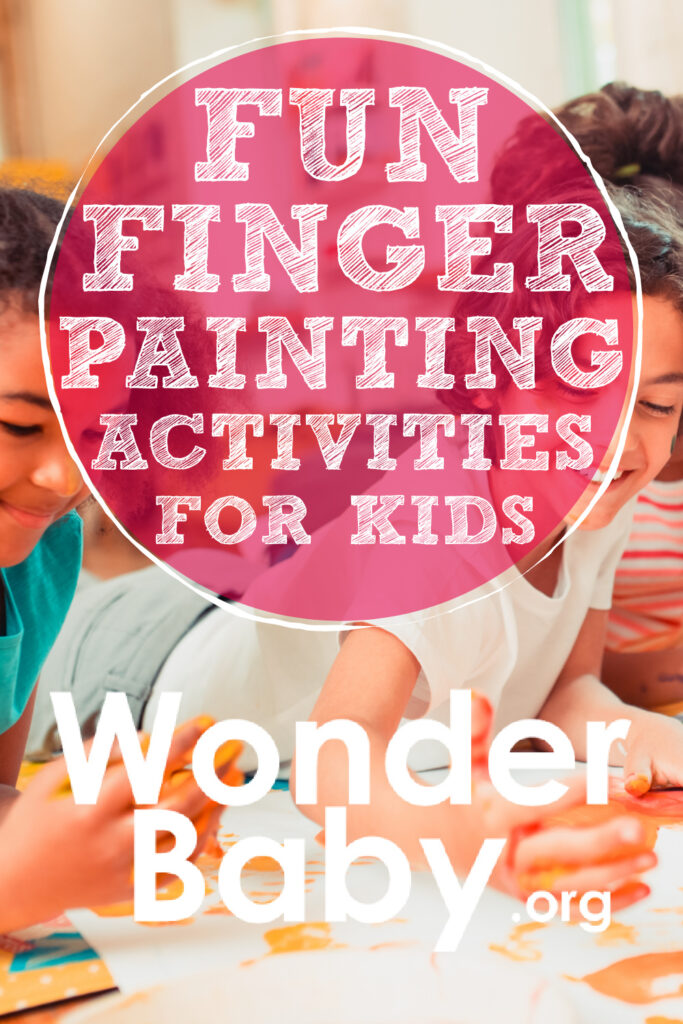 Related Posts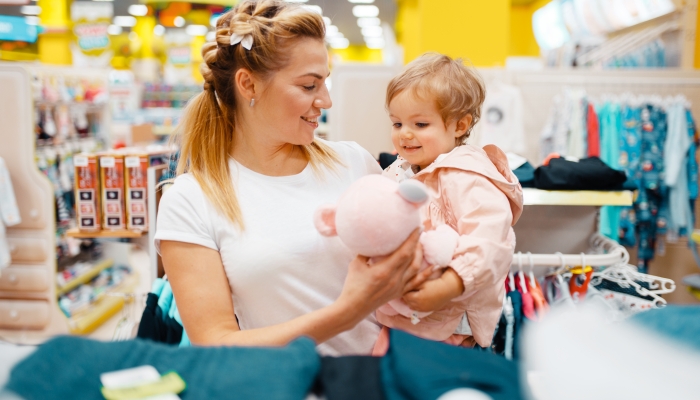 Toys
Ensure your child's well-being with top tips on choosing suitable toys that create a secure, fun play environment with our guide to safe toy selection.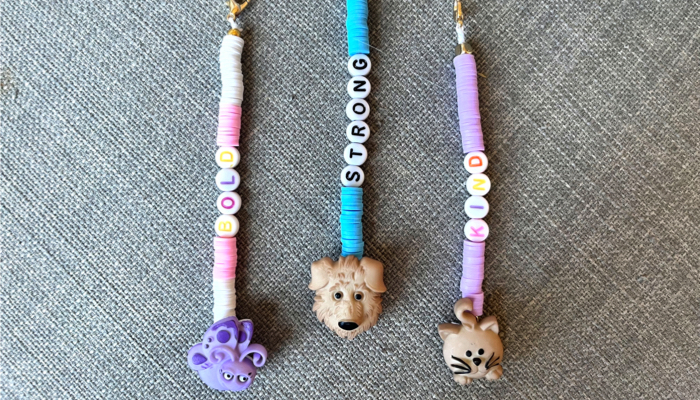 Parenting, Play, Tactile Art
These affirmation backpack buddy keychains are adorable and easy to make. Give your child a little encouragement with this simple craft as they head to school.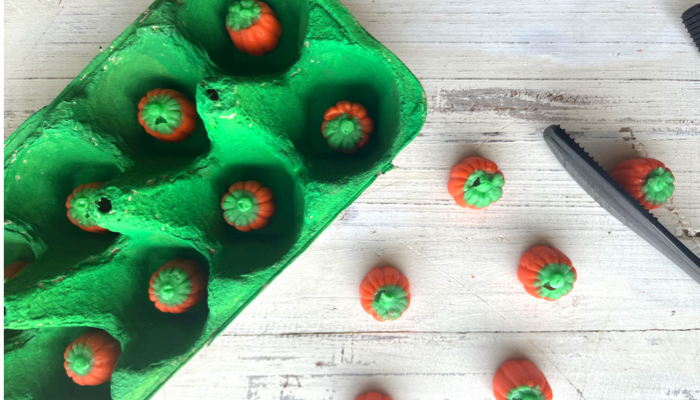 Fine and Gross Motor, Play
This adorable pumpkin picking fine motor activity is a breeze to make! A perfect fall activity for preschoolers and toddlers alike.