12 Fun Hand-Eye Coordination Games for Kids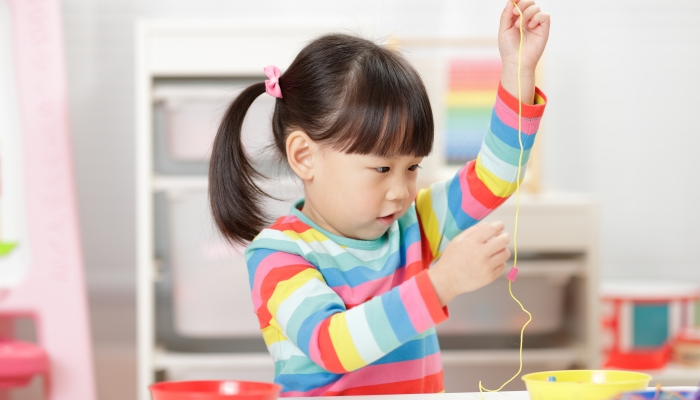 This post may contain affiliate links; please see our terms of use for details.
Hand-eye coordination is the ability to use our eyes and hands together to perform tasks.
This ability is important for sports, academic success, and self care.
Vision problems and movement disorders can lead to difficulties with hand-eye coordination.
Including a variety of fine and gross motor activities every day can help improve eye-hand coordination.
Looking for some ways to strengthen your child's hand-eye coordination? This important skill isn't just needed for sports—it's also essential for everyday life and academic success.
While hand-eye coordination comes naturally to many, it's not unusual for a child to struggle with this ability. Fortunately, there are plenty of easy and fun hand-eye coordination games for kids that can help!
What is Hand-Eye Coordination?
Hand-eye coordination, sometimes called eye-hand coordination, is the ability to use our hands and eyes together to make movements. Although we often don't give it any thought, many everyday tasks require us to use our sense of sight to guide our hands.
Most babies and children build hand-eye coordination skills naturally as they play and explore their environment. As soon as their sense of sight begins to develop, babies begin using that information to perform tasks.
For example, your little one uses hand-eye coordination when they:
Reach for an object or toy
Stack blocks
Throw or catch a ball
Write, color, or use scissors
Feed themselves
Get dressed
However, vision problems or movement disorders can lead to problems with hand-eye coordination. In this case, a child may struggle with fine motor skills like drawing, writing, or manipulating objects.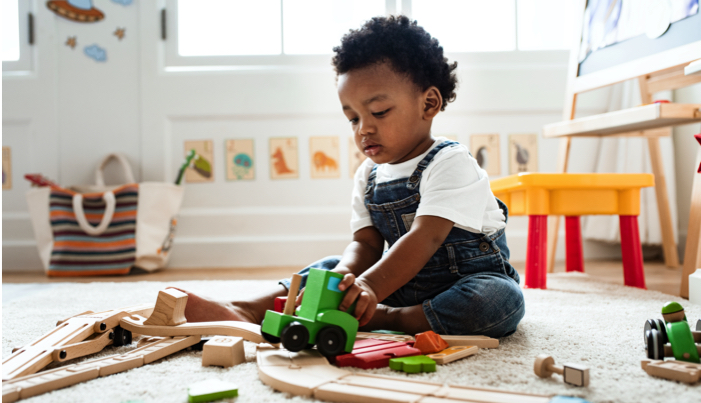 Why is Hand-Eye Coordination an Important Skill?
You might think of hand-eye coordination as an important skill for sports, but it's also important for self-care and success in school. And developing this essential skill continues to be important through adulthood, since we use it for a variety of everyday tasks.
As your child grows older and becomes more independent, they'll use hand-eye coordination for things like brushing their teeth, eating with utensils, and getting dressed. More complex self help skills like tying their shoes and doing their hair require hand-eye coordination as well.
Once your child starts school, eye-hand coordination becomes important for learning to write. You may even be surprised to that it helps with reading, too, since it affects visual tracking and the ability to follow a line of text. One study even found that eye-hand coordination activities helped to reduce the risk for reading difficulties like dyslexia.
How to Improve Your Child's Hand-Eye Coordination
Encouraging your child to play and explore is one of the best things you can do to improve hand-eye coordination. Children with vision impairment, movement disabilities, and other disorders often struggle with developing hand-eye coordination. But there are plenty of eye hand activities that can help them to learn and get exercise while still having fun.
Even as young as one month of age, you can encourage your child's hand eye coordination as their vision improves. Ensuring that your little one gets plenty of tummy time and opportunities to reach for toys and other objects will help to challenge them and strengthen this skill. Crawling toys can also help with gross motor development and eye-hand coordination in babies.
As your child gets older, include a variety of fine and gross motor activities every day to improve hand eye coordination. Gross motor activities that can improve hand eye coordination might include:
Sports
Playing catch
Rolling a ball
Swimming
Eye-hand coordination is also important in fine motor development. Many activities that strengthen the muscles in your child's hands and fingers will also improve motor planning and visual tracking skills. Fine motor activities for strengthening eye-hand coordination can include:
Playing with blocks
Painting
Drawing
Threading activities
Puzzles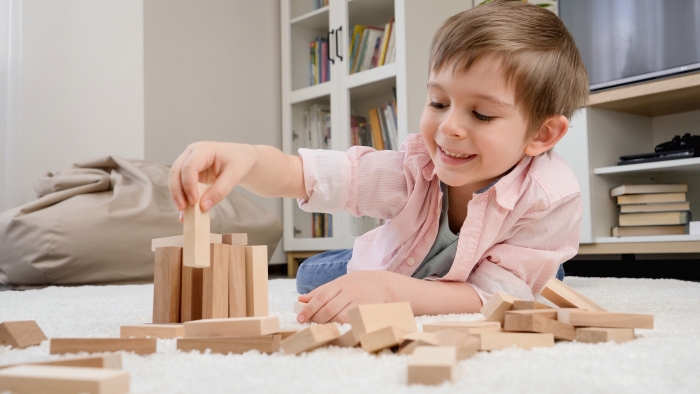 Hand-Eye Coordination Games and Activities
Children learn best when they are having fun—and playing is a great way to improve eye-hand coordination. Many of these eye-hand activities can be done easily with things you probably already have lying around.
Play Catch
Playing catch is an obvious choice for improving hand-eye coordination for a reason. This really is one of the best ways to get some exercise and strengthen hand eye coordination skills for people of all ages. Throwing, catching, and bouncing a ball back and forth are all simple and effective activities to try.
Depending on your child's age, try out different types of balls with different sizes. For little kids, or those that struggle with eye-hand skills, start with a large ball or even tossing a bean bag back and forth.
Once motor skills are more developed, catching and throwing smaller balls like tennis balls can help to improve aim and accuracy. You might even make a game out of bouncing a ball or hitting it against a wall and catching it.
Rolling a Ball
Much like playing catch, rolling a ball is an easy way to improve hand-eye coordination. One option is to simply make a game out of rolling a large ball back and forth.
Sale
Melissa & Doug Bowling Friends
Melissa & Doug
PLUSH BOWLING SET: The Melissa & Doug Bowling Friends Preschool Playset features 6 animal bowling pins and a 4-inch indented bowling ball, along with a zippered carry case for easy storage and portability.
WEIGHTED BOTTOMS: This soft bowling set for kids is easy for children to set up and play with, thanks to the weighted bottoms in each bowling pin.
EASY TO STORE: Our bowling game set for kids can be easily stored in the included zippered carrying case. This fun bowling game also helps kids develop gross motor skills, balance, and hand-eye coordination.
A bowling game like this Melissa & Doug Bowling Friends play set will give kids a target to hit and an extra challenge if they need it. Or you can make your own bowling game by saving up plastic bottles to use as pins.
Over and Under
If you have a big enough group, try playing a game of over and under. This can make a fun party game and works best with kids similar in height. If you aren't familiar with this game, here's how it works:
Everyone gets into a straight line facing forward. If you have a big group, you can split up into teams.
Give the person at the front of the line a ball, bean bag, or other object to pass along.
Players alternate passing the ball over their head or under their legs to the next person in line.
Once a player passes the ball, they go to the back of the line.
Continue passing the ball back through the line until it reaches the finish line.
Balloon Tennis
Your kids have probably already figured out how fun it is to bounce a balloon back and forth. To step things up, make it into a game of balloon tennis. You can adjust or simplify this activity depending on your child's age and abilities.
All you need is a balloon, two chairs, and some string. Your little one can use their hands to hit the balloon or make a DIY paper plate tennis racket like this one from Kids Activities Blog.
Here's how to play:
Get your materials ready. Blow up balloons and make the tennis rackets if you're using them.
Set up your makeshift net. Place two chairs a few feet apart and tie a string to the chairs at an appropriate height for your kids.
Decide on your game rules. Preschoolers may just want to toss the balloon back and forth over the string. For older children, you can introduce scoring.
Start playing. Again, your kids can just use their hands to hit the balloon or they can use their DIY tennis rackets. Either way, they'll be improving eye-hand skills while they bounce the balloon back and forth over the string.
Sensory Table
A sensory table can strengthen fine motor skills and hand-eye coordination. If you don't know what a sensory table is, it's a table with a built-in container that can be filled with all kinds of fun materials for your child to play with.
Play sand, water beads, and dry beans or rice all make great choices for filler material in a sensory table. Add measuring cups, scoops, and toys, and your little one can enjoy hours of open-ended play.
When your child uses these materials to scoop, pour, and build, they'll be strengthening eye-hand skills at the same time. As a bonus, this activity provides tactile stimulation, which can be great for children with sensory processing disorders and make it a fun indoor activity for blind kids.
Just be sure to supervise younger children, since small objects like water beads and dry beans pose a choking hazard.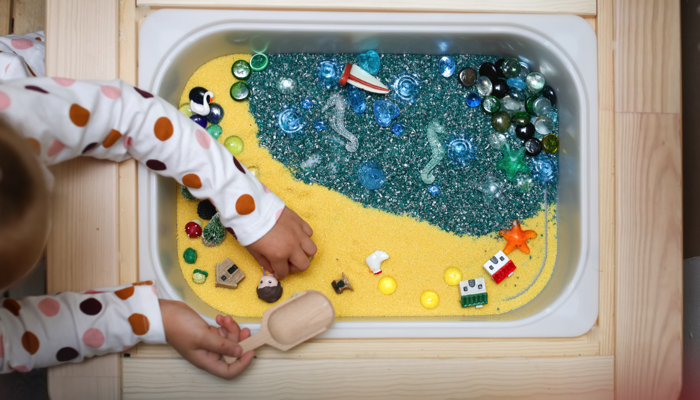 Lacing Toys and Crafts
Sale
Melissa & Doug Wooden Lacing Beads
BRIGHTLY COLORED WOODEN BEADS: The Melissa & Doug Lacing Beads set consists of 27 brightly colored wooden beads in a variety of shapes, 2 colorful laces, and a wooden storage case. The beads feature the numbers 1–10 both as numerals and as dots.
EASY TO ASSEMBLE: Our wooden lacing beads play set includes several distinct shapes that are easy for little hands to grasp. The laces are thin enough to allow the beads to fit easily.
HELPS DEVELOP STRONG SKILLS: This Melissa & Doug kids lacing and beads set helps children develop strong fine-motor, cognitive, and visual perception skills and promotes hand-eye coordination.
GIFT FOR AGES 3 TO 5 YEARS: This set is an exceptional gift for kids 3 to 5 years old. Add the Melissa & Doug Lace & Trace activity set to round out the hands-on play experience and give kids an engaging option for screen-free experience.
Lacing and threading can help to improve fine motor skills, hand strength, and eye-hand coordination. You can find plenty of lacing toys with chunky pieces for little hands, like these Melissa & Doug Wooden Lacing Beads.
A classic lacing craft you probably did when you were a kid is making a macaroni necklace. First, you'll need to dye your pasta—you can see a step-by-step tutorial from The Spruce Crafts. Then your child can thread the dried pasta onto a piece of string or yarn to make a colorful necklace.
Gardening
Get outdoors and into the garden with your little one to help strengthen hand-eye coordination and motor skills. Creating a sensory garden for your special needs child can also give them a calming space that engages their senses.
Many kids love working in the garden with their own gardening tools. Let them get messy as they dig, plant, and water the plants themselves. This can help to improve coordination and strengthen the muscles in their hands and arms.
Puzzles
Good old fashioned puzzles are an easy but effective option for improving hand-eye coordination in kids. They also can help with fine motor and visual-motor skills.
If you have a young child, or even an older child who struggles with these skills, it's good to start with simple puzzles with large pieces. This can help to build their skills and prevent them from getting discouraged with more difficult puzzles.
Work on puzzles together with your child and teach them any strategies you might have for completing it. For example, you can show them how to sort pieces by color or notice any other similarities between pieces.
Apps and Games
While experts recommend limiting your child's screen time, there can be a time and place for educational apps and games. ABCya has free educational games for kids, including puzzles and art games that can help improve eye-hand skills.
Many popular apps can help with hand-eye skills. Consider trying these ones out:
Broom-Broom
Tap or drag to draw a road.
You can change background from the menu.
Shake to start over.
English (Publication Language)
There are also apps for children who are visually impaired that can help to improve hand-eye skills. In moderation, these fun and engaging games can actually be beneficial for you child.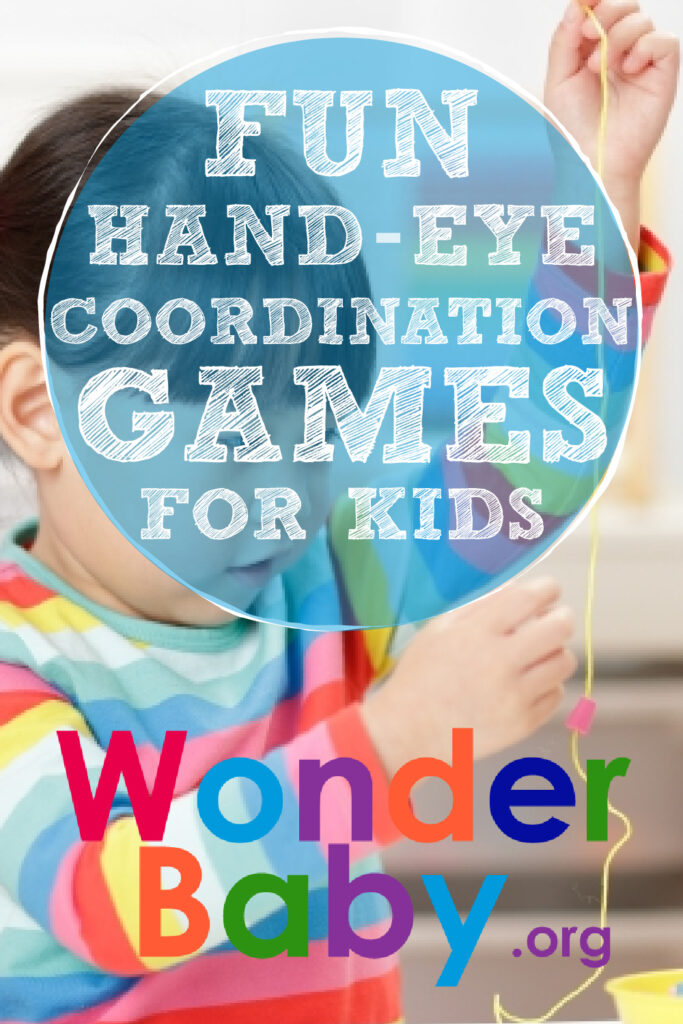 Related Posts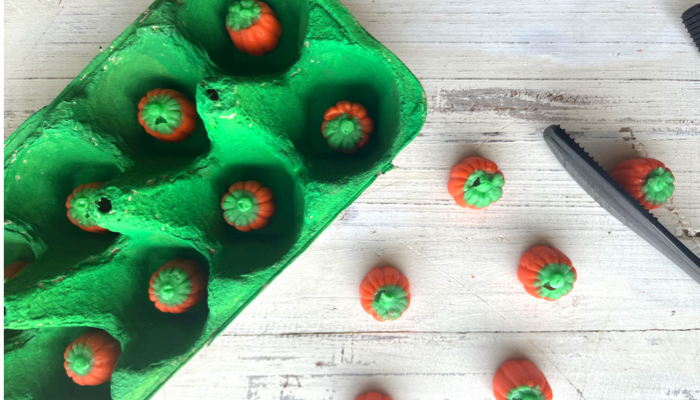 Fine and Gross Motor, Play
This adorable pumpkin picking fine motor activity is a breeze to make! A perfect fall activity for preschoolers and toddlers alike.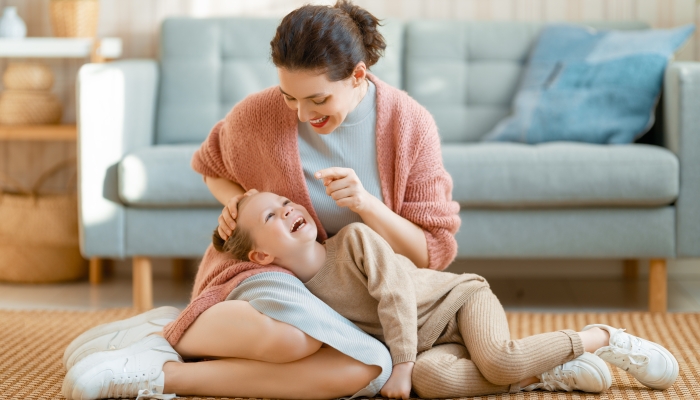 Development, Parenting
Responsive parenting raises well-adjusted kids by combining appropriate expectations with high levels of emotional support. Learn how to be a responsive parent.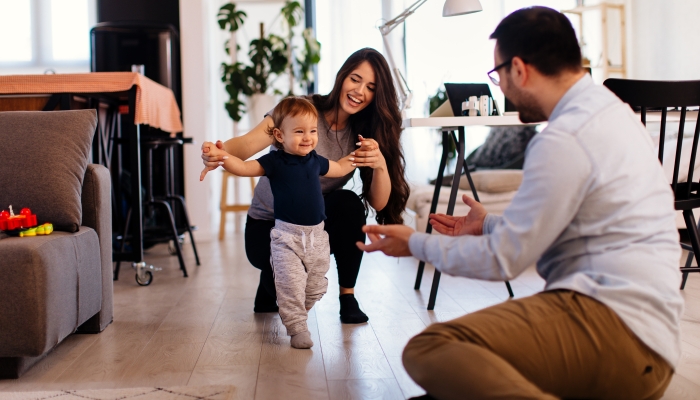 Development
If your baby isn't walking by 18 months of age, they may need a little help with walking. Physical therapy and adaptive equipment can help.