Creating a Sensory Garden for Your Special Needs Child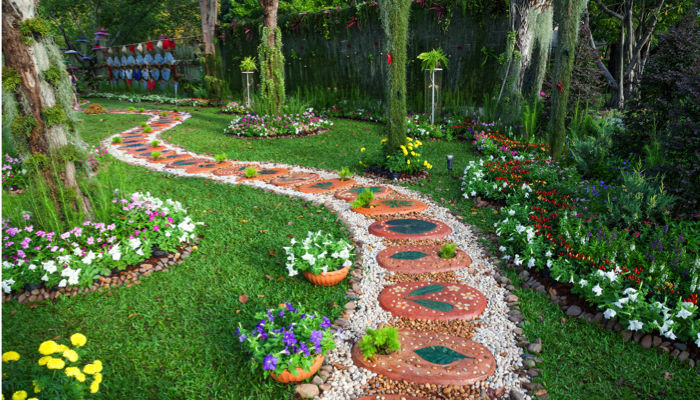 Sensory gardens offer a calm space where special needs children can relax and enjoy the surroundings by providing visual, auditory, or tactile stimulation.
A garden can use many different types of sounds, like wind chimes or bubbling water fountains, to bring a feeling of relaxation or give the space an ambience.
Accessibility features like a raised garden bed can make it easier for a child in a wheelchair to reach the plants and be more invested in caring for them.
If you're the parent of a special needs child, you know that finding ways to help them interact and engage with the world can be challenging. One way to do this is by creating a sensory garden specifically for them. Sensory gardens are designed to stimulate the senses with different textures, scents, sounds, and colors. They can be a great way for your child to explore their surroundings and learn about new things.
What is a Sensory Garden?
A sensory garden is a multi-sensory environment specifically designed to engage the senses. These gardens are often used for children with special needs or as therapy for those with sensory processing disorders.
Sensory gardens often include plant life that emit pleasing scents, bright colors, and textures that invite touch. They may also include water features, wind chimes, and other elements that provide visual, auditory, or tactile stimulation, such as sculptures or rocks that can be touched and explored. The goal of a sensory garden is to provide a calm and stimulating space where people can relax and enjoy the surroundings. These gardens can be found in hospitals, schools, and private homes.
While not all sensory gardens may be used specifically for horticultural therapy, the two often go hand in hand. Horticultural therapists use plant-based activities to work on the development of behavioral, physical, and mental health goals for their patients. The calming environment of a sensory garden is the perfect place to develop skills!
Who Benefits From a Sensory Garden?
A sensory garden can be beneficial for anyone, but is especially helpful for those with special needs or conditions that make it difficult to process information from one or more senses. In a sensory garden, various elements are used to stimulate the senses, which can provide much-needed therapy for children with autism or other developmental disorders, as well as adults with Alzheimer's disease or dementia.
Kids with behavioral challenges may find the sounds and textures in a sensory garden to be calming and grounding. Kids who are blind love being in an environment that encourages touching, tasting, and listening.
Additionally, sensory gardens can be used as a form of stress relief for people who are struggling with anxiety or depression. By providing a calming environment, sensory gardens can help people feel more relaxed and connected to the world around them.
What Kind of Plants Can You Grow in a Sensory Garden?
There are so many options when it comes to choosing plants for your garden that you may feel overwhelmed easily! Consider your child's needs and focus on the types of plants that will most benefit your child.
Plants That Are Tasty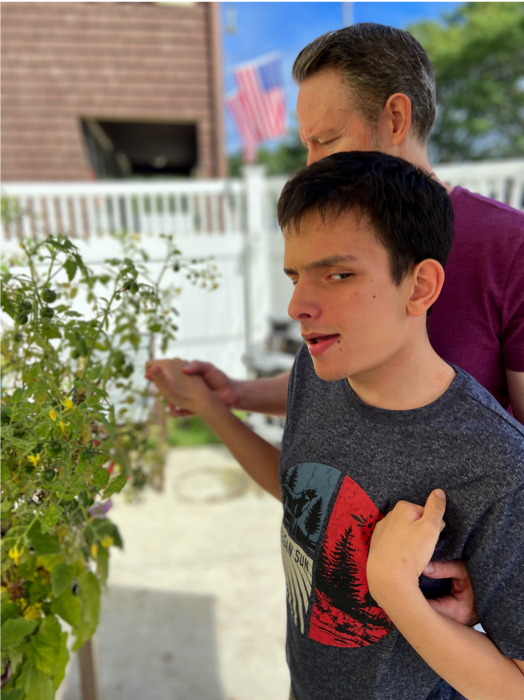 Edible plants work well in any garden and are particularly appropriate for some kids who tend to explore orally. If you have a child who loves putting things in their mouth, don't fight it! Go with herbs like basil or rosemary that can be grown easily at home without the risk of your little one tasting something dangerous (though we recommend supervision even with nontoxic plants).
Two other tasty options worth considering: chocolate mint and pineapple sage – both offer very unique flavors! Lavender, echinacea, or chamomile are also great choices, just make sure they have good drainage so the roots won't get swamped when there's rain outside.
When planting vegetables, think about how your child will want to eat them. For example, Ivan loves to pluck veggies fresh in the garden and eat them by hand. This means that we grow vegetables that are easy for him to pick and that grow in bite sizes, like cherry tomatoes or snap peas. Eggplant and zucchini may be lovely additions to a vegetable garden, but Ivan is much less interested in produce that needs to be cut and cooked before it can be eaten.
Plants That Attract Birds or Insects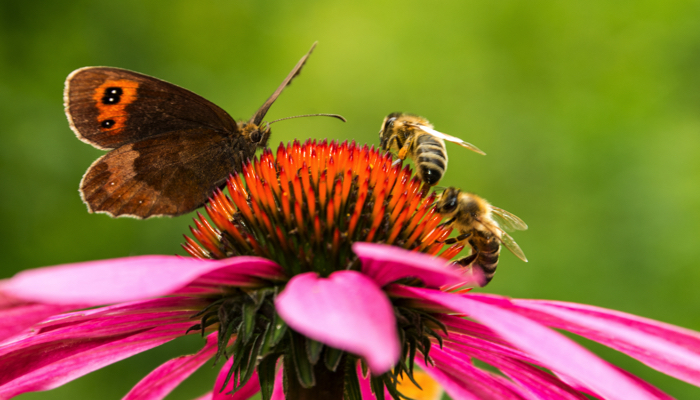 If you are trying to create movement and visual complexity in your garden, consider adding in plants that are more likely to attract bees, butterflies, or birds. Bees tend to love bright colors, like yellow, blue, or purple and are known for being lovers of hostas and echinacea. Bees also love chives, which doubles as a tasty herb with a very strong taste for humans too!
Butterflies tend to be attracted to phlox, echinacea, lavender, and milkweed. Birds are also big fans of echinacea and milkweed. Throw in some sun flowers, which have the added benefit of being really easy to grow, and your garden should be humming and buzzing with activity! We also love to grow millet. It's not very pretty, but oh boy do the birds go crazy for it!
Plants That Are Fuzzy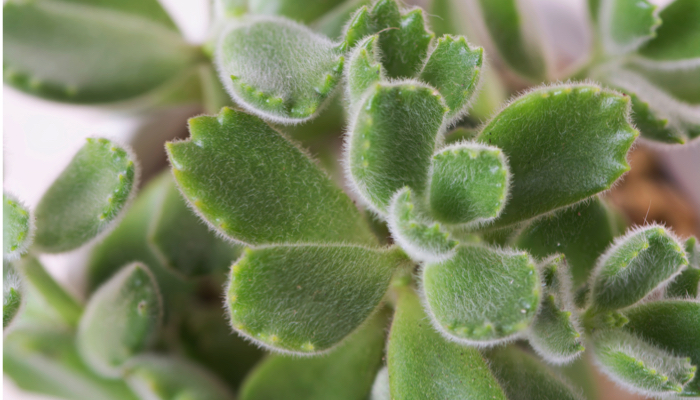 The easiest way to find fuzzy plants is to simply visit your local plant nursery and touch what they have on display. You'll be surprised how many plants offer really interesting textures! Some of our favorites are african violets, bear's paw, and dusty miller. Fountain grass and lamb's ear can both get pretty big, so they can make good edging bushes.
Plants That Smell Delicious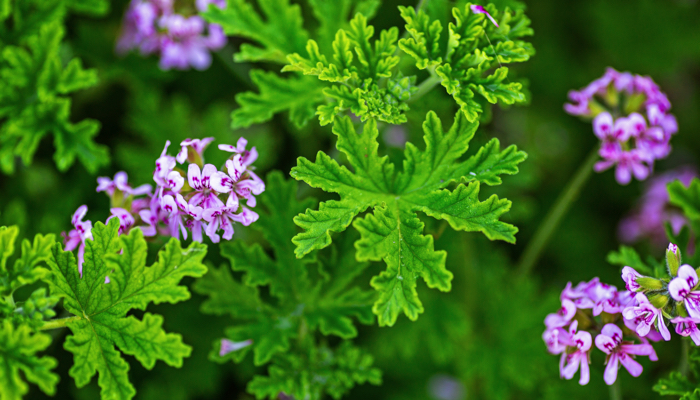 Scented leaved geraniums are our favorite plants for smells! They come in a variety of scents, like apple, chocolate, orange, or rose, and all you have to do is pluck a leaf and roll it in your hand to get the most amazing fragrance. Mint is another favorite and they come in a few varieties too (like mint, mojito, chocolate mint, peppermint, etc) so you could plant different types of mint and then talk about how they smell different.
What Else Can Go in a Sensory Garden Besides Plants?
We think of gardens as being full of plants and nature, but what makes a sensory garden special needs friendly is that you can add so much more! Think about the five senses and how you can add sensory stimulation in different ways!
Add Sounds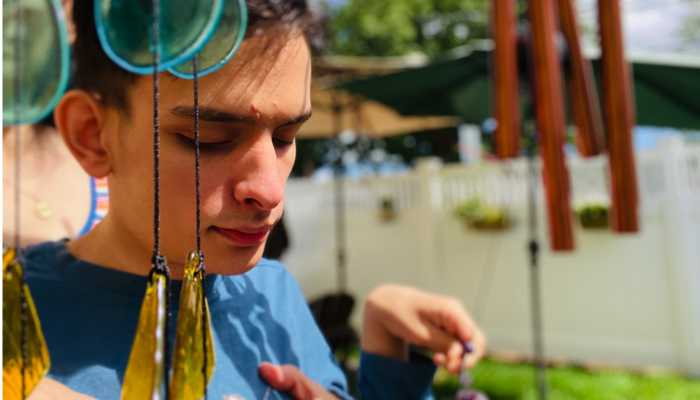 Wind chimes are always popular in a sensory garden, so we set up one wall in our garden that just displays different types of chimes. In order to include a tactile element we chose chimes made of varying materials, such as bamboo, metal, and glass. They each create a unique sound too!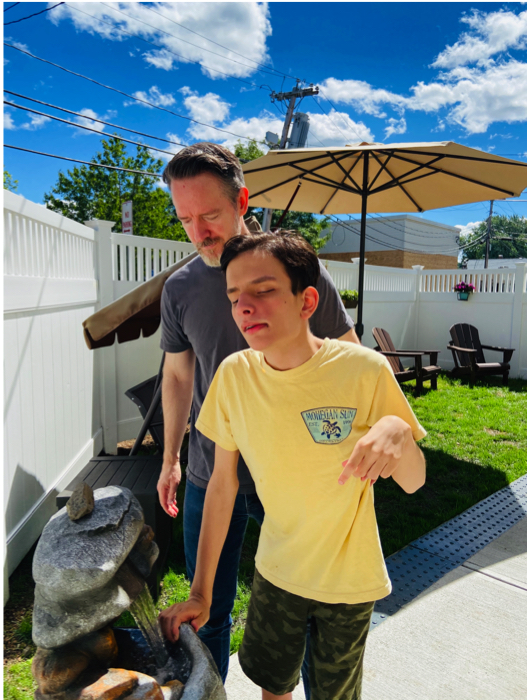 Water features are another fun way to add sound. The bubbling of trickling water is one of the most relaxing sounds and adds so much depth to a garden, especially in small spaces. Our garden is very close to a busy road and our water fountain helps to make our space seem more private and separate from the hectic world. Water features can also double as a stimulating water play element!
Add Texture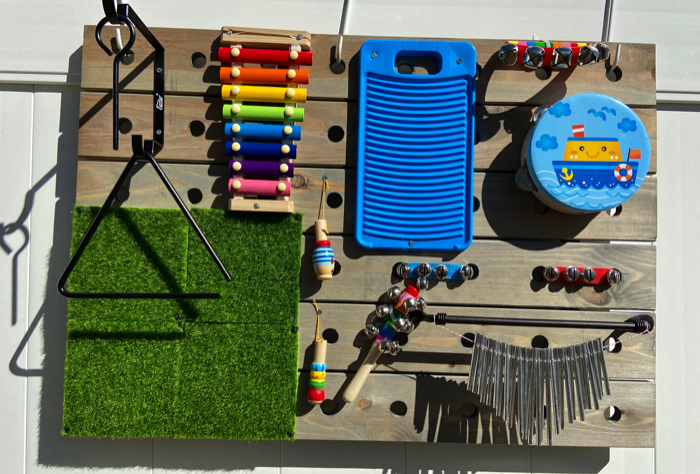 Plants can provide lots of opportunity for touch and texture, but so can stepping stones or sensory walls. I love the idea of adding a large outdoor sensory touch wall to a garden. We created a music wall for our space. It's not very large, but it can hang from our fence and offers both touch and sound opportunities.
I used an outdoor pegboard to hang colorful musical toys, a triangle call bell, and artificial turf. The pegboard is actually intended to hang gardening tools, so it fits perfectly in our garden and can handle the elements. It was easy to use plastic cable ties and small screws to attach our objects.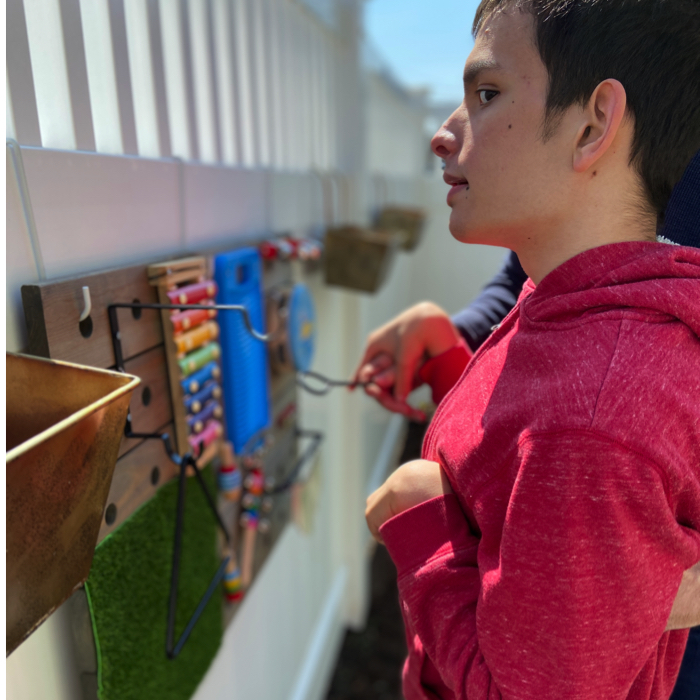 Not only was the music wall easy to put together, it also adds a lot of fun to our outdoor space. Ivan also works on his walking skills while we are in our sensory garden, and the music wall has become a walking destination and a landmark used for orientation.
Add Stimulating Sights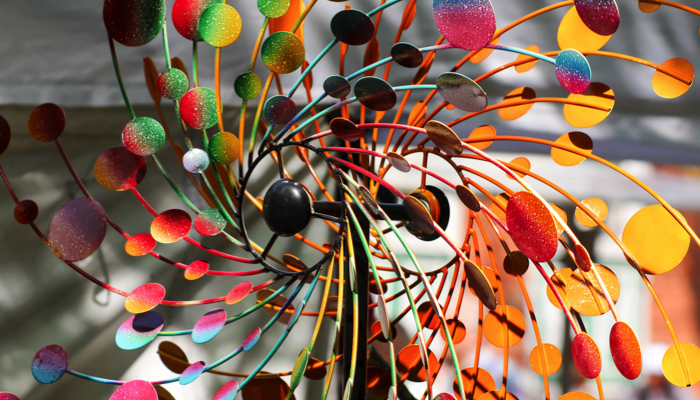 If your child has vision, think about how you can engage their visual attention in the garden. Of course, you can always choose plants in vibrant colors, but how about including pinwheels that spin in the breeze or crystals that refract rainbows in the sunlight? Wind spinners are absolutely mesmerizing to watch too!
Lights can also be an interesting sensory experience in an outdoor environment. If you plan to spend time outside when lighting is low, consider adding solar powered tea lights or blinking hanging lights. Motion sensor lights can also be fun for kids who respond well to cause and effect.
Add Movement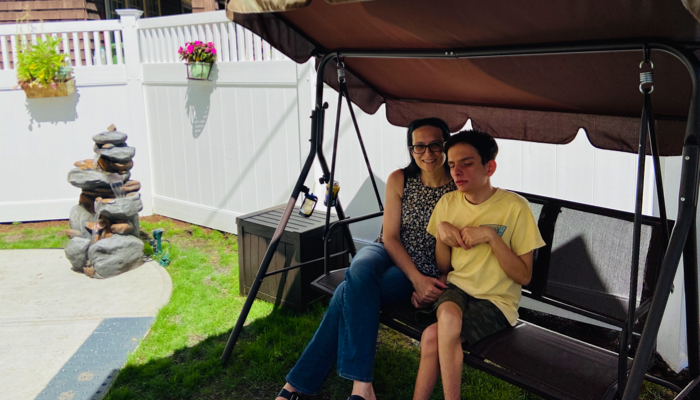 Another sensory garden must have is a swing. If you have the space, including seating that can also provide an opportunity for balance or movement can be a great addition. Children with special needs often benefit from vestibular activities, so a swing or rocking chair can be very calming and therapeutic.
Add Snacks!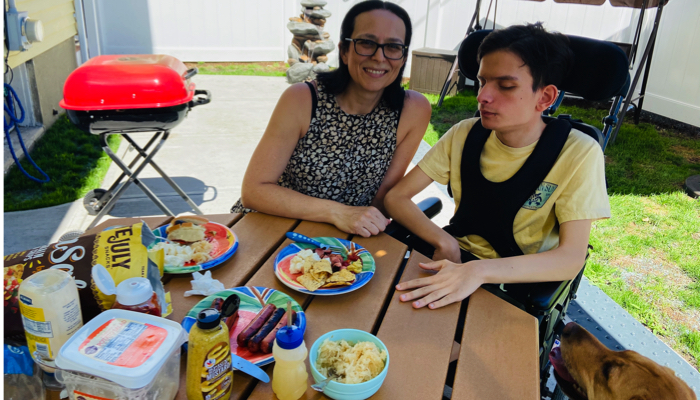 If your child eats by mouth, then plan on wanting to have lunch or snacks outdoors in your garden. Designing an accessible area for serving and eating food is a great way to turn a sensory garden into a very usable space. We included a wheelchair accessible picnic table in our garden and it has been the focal point of many outdoor family get togethers!
5 Tips to Make Your Sensory Garden Accessible
1. Use Raised Garden Beds for Children in Wheelchairs
When we were planning our small vegetable plot, we decided to purchase a wooden raised garden bed so that Ivan could reach the plants while in his wheelchair or standing. Try to find ways to make it easier for your child to be directly involved in caring for the plants so they can be more invested in the process.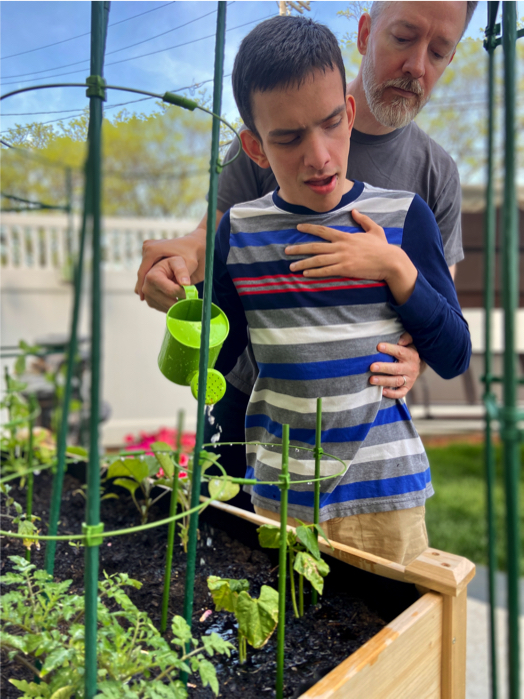 2. Keep Gardening Tools Close and Easy to Find
We hang Ivan's watering can from a hook on the garden bed so he can easily reach over and find it. We are also sure to keep all his tools in the same place so he doesn't get frustrated trying to locate lost items.
3. Keep Paths Clear for Walking or Wheelchairs
Our garden space is fairly small, but we still made sure to add a cement patio to a good portion of the area. Since Ivan always enters the garden in his wheelchair, then walks with assistance to reach his plants, it's important that he has access to level ground. Even if you can't or don't want to lay down cement, evenly packed earth paths can be really helpful for kids in wheelchairs or who are walking using a cane.
You can see in the video below Ivan walking on his patio and practicing with his cane. Notice that we also laid down an ADA surface pad on the edge of our patio so Ivan can use his cane to feel where the cement will end. We are walking toward his fountain in this video and using the sound of the water as a directional cue:
4. Use Sounds to Help with Orientation
In our garden, we have two main sound sources: a water fountain and wind chimes. To make sure that Ivan is always aware of his location in the yard, we placed these sounds on opposite sides so his ears can pick up the noises and orient himself to his surroundings.
5. Create a Sensory Garden Scavenger Hunt
A fun and accessible game to play in your sensory garden is a simple scavenger hunt! Make a list of items that can be found in your garden and help your child locate them. Keep the hunt open ended so you can find different things each time you play. For example, you may say "find a leaf that you can eat" or "find a place to sit where you can hear leaves rustling."
FAQs
What If I Don't Have a Lot of Space for a Garden?
That's ok! A small corner in your yard, a sunny spot on a patio, or even a windowsill can become a sensory garden if you are creative and flexible! Think about what might be most beneficial for your child and work within your small space.
For example, if you have a bright window that gets plenty of sunlight, this could be a great spot for a big tomato plant and some bright rainbow crystals. The crystals can display moving colors on the walls and the tomatoes will grow and ripen indoors, ready for your child to touch and harvest!
Are There Any Safety Concerns in Gardens?
Most sensory gardens are very safe spaces, but there are always dangers to look out for. Be very aware of your child's mobility needs when designing walkways and always look out for plants that may be toxic if eaten. Water fountains are generally pretty shallow, but adult supervision is still advised around any amount of water.
You should also be careful when using any kind of chemical in your garden. Make sure that you read the labels carefully and follow the instructions.
How Can I Create a Sensory Garden on a Budget?
Begin by thinking small and focusing on your child's most significant needs. Our sensory garden began with just an outdoor swing in an open space. We felt that having a place outside where Ivan could enjoy moving was our first priority. The rest of the garden we built slowly over time.
Also, don't worry about asking for help! There are many organizations that will be happy to utilize their funding to create an accessible space for a child with special needs. It can help to break down the materials you will need into specific categories and then reach out to local charities or even your department of education to see if they can help cover some costs. Some of the more expensive parts of our garden, like the wheelchair accessible picnic table, the paved walkway, and the water fountain were bought for us through charity.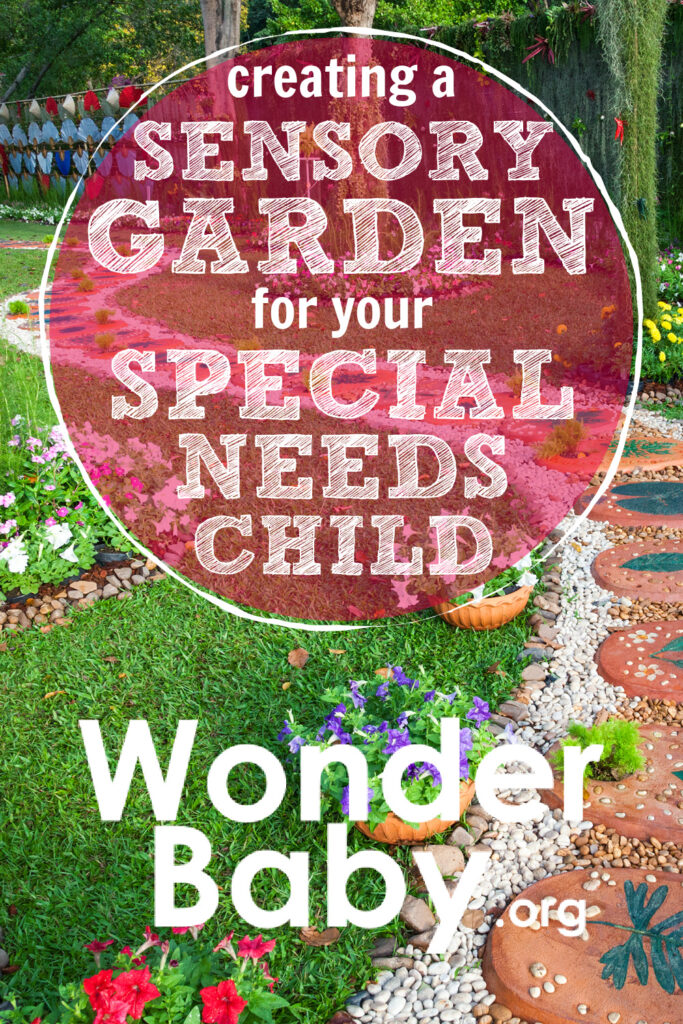 Related Posts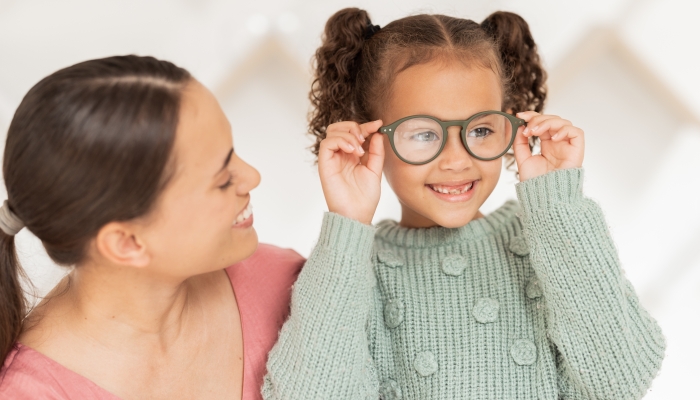 Eye Conditions and Syndromes, Visual Impairment
If you have a child with retinitis pigmentosa (RP), family members, therapists, and eye specialists can help you manage the stress that comes with vision loss.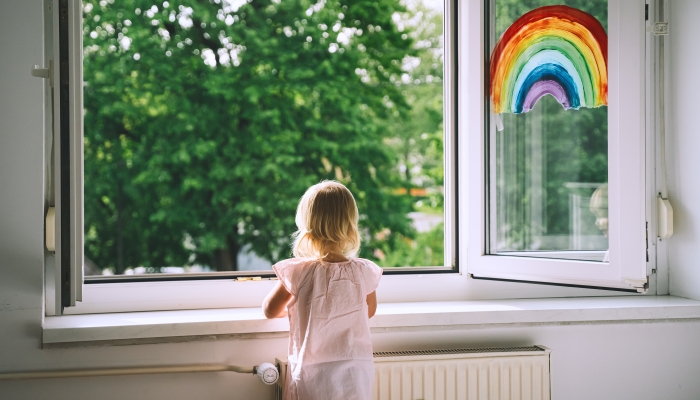 Autism
A sensory-friendly home promotes a safe environment, reduces anxiety and stress, improves focus, and establishes better sleep patterns.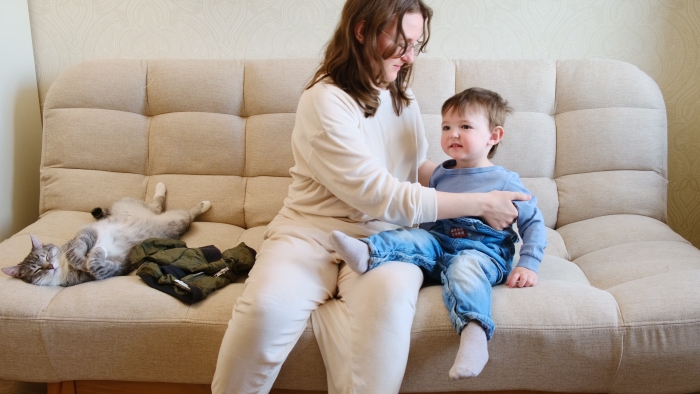 Autism, Special Needs
Sensory-friendly clothes are ideal for children with sensory sensitivities, help with overall comfort, and can help reduce anxiety.