12 Seasonal Sensory Table Ideas for Hands-On Learning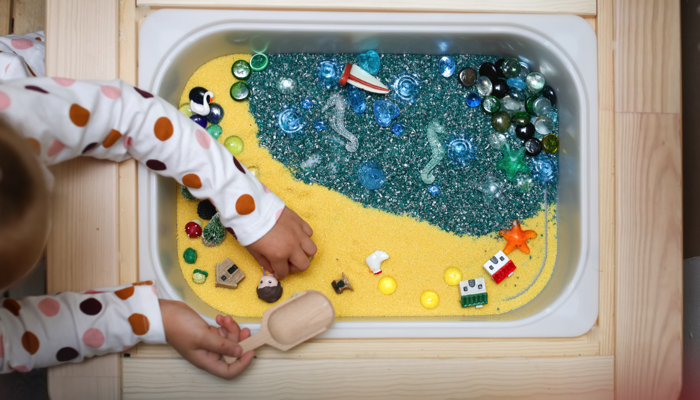 This post may contain affiliate links; please see our terms of use for details.
A sensory table is a container and table in one, in which you can set up fun materials for your children to explore, play, and learn using their hands.
Sensory tables contain any mess and allow children the freedom to explore a sensory experience and play creatively.
Use this simple formula to create many sensory bin experiences: base filler + trinkets + tools = fun sensory play!
The materials that can be used in sensory bins are limitless. Some favorites include beans or rice (dry and uncooked), sand, water, bubbles, little toys, and tools to scoop.
Sensory play develops your children's fine motor, oral language and cognitive development, and can be soothing for an overstimulated child.
There is a reason why so many teachers, occupational therapists, and moms rave about sensory play for children. Your child will be delighted, learning through hands-on, interactive play with these easy to construct, seasonally themed favorite sensory table ideas. A sensory table is so engaging that children will immerse themselves in play for hours and you will want to get in on the fun too!
What Is a Sensory Table?
Children love sensory play, and you will love its educational benefits. Think about playing with sand at the beach. Recall how satisfying it is to let the grains of sand flow through your fingers, mold it into a castle, then smash it and start again. This is the experience that a sensory table provides. Your child will never be bored with unlimited materials to source and endless ways to play with them.
The Benefits of a Sensory Table
Stimulates a child's sense of touch, sight, sound, and smell
Increases their fine motor skills and hand strength
Improves social skills, problem-solving, and teamwork
Promotes cognitive and language development
Provides a self-soothing, calming activity for overstimulated children
A sensory table is like a waterproof sensory bin with legs attached. You need something that will hold a mixture of fun, tactile ingredients like rice or sand, little toys to hunt, and tools to scoop and interact with the materials.
Start by buying a sensory table that is the right size for your child and easy to clean. These are all excellent starter sensory tables:
Favorite Sensory Table Tools
Use the formula: base filler + trinkets + tools = fun sensory play! These materials are often used in sensory bins and allow you to mix and match depending on what you already have or the type of play your child enjoys most.
A sensory table – or plastic bins with lids are an option to save and swap out different types of sensory activities.
Base filler – Sand, water, shaving cream, water beads, marbles, bird seed, popcorn, dried beans, rice, or pasta. Some kids love a messy sensory experience like squishing slime or cooked spaghetti. A fun way to incorporate visual stimulation is by dying the rice, beans, or pasta assorted colors beforehand. There is a bit of a trick to making colored rice correctly. Check out this post from Little Bins for Little Hands for instructions.
Trinkets – Toys or treasures (larger than the filler) to hunt for, dig, sort, and count. Mini erasers, pom poms, plastic gems, and small toys including GI Joes, dinosaurs, dolls, or cars. You can get creative here and incorporate different natural materials or food based on the season. For example, in the fall we play with real pumpkins, leaves, and acorns.
Tools – Containers for scooping, digging, and anything else. Measuring cups, bowls, buckets, large plastic tweezers, funnels, and utensils.
This is an excellent opportunity to repurpose old containers that you would typically throw out—things like plastic spoons, chopsticks, empty coffee cans, condiment containers, packing peanuts, and bubble wrap — are loads of fun in sensory tables.
An important note about safety: Many of the items listed above can be a choking hazard, you should not let your child play unattended with a sensory bin and materials need to be appropriate for your child's stage of development.
You can find most of these supplies at your local Dollar Tree, Walmart, Target, or Amazon. For extra savings, shop at a discount school supply store, or after-holiday sales for seasonal items and save them for next year.
12 Fun Seasonal Sensory Table Ideas
We've taken a seasonal approach to sensory tables because children love holidays, and it provides many teaching opportunities. These sensory tables incorporate themes like the weather, holidays, traditions, the seasonal food cycle, nature and the life cycles of plants and animals–boasting many opportunities for little learners to grow.
Spring Sensory Tables
Spring Confetti Basket with Eggs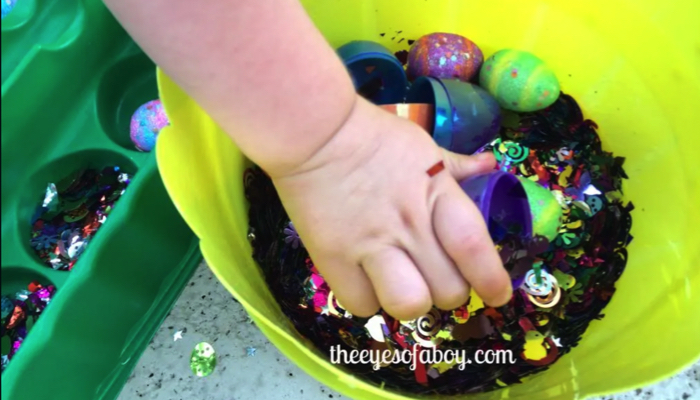 This Spring Confetti Basket by Melissa at Wildly Charmed is the perfect spring-themed sensory activity. Our favorite part is that it utilizes items you probably already have for the holiday, plastic eggs and an Easter basket.
What you will need:
Confetti
Plastic eggs
Trinkets like decorative Easter eggs
Plastic Easter basket (something that holds the confetti)
Dump the ingredients into the Easter basket and play. Incorporate anything spring-inspired like little bunnies and chicks, plastic flowers, or an empty egg carton for scooping the confetti into.
Birds and Nests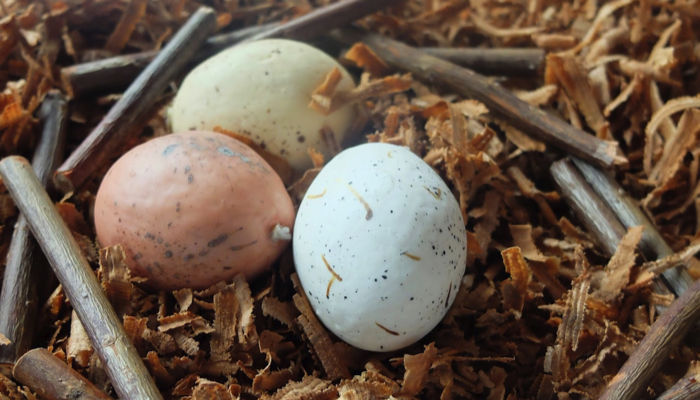 Birds and Nests is an endearing and educational sensory play activity created by Sandi from Rubber Boots and Elf Shoes. We love that it allows children to play momma bird, keep her eggs warm, hatch, and feed her babies while learning about their life cycles and nests.
What you will need:
Cedar pet bedding or crinkly paper pieces (packing material)
Plush bird toys
Sticks, rocks, feathers
Natural-looking eggs and nests (can be found at Dollar Tree and discount stores)
Insects in Dirt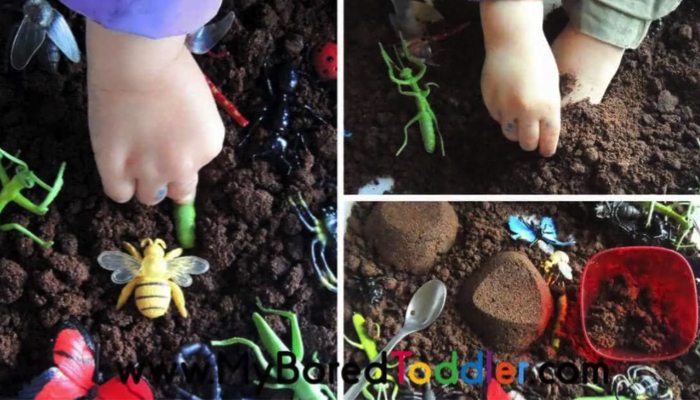 Insects in Dirt is a super fun DIY kinetic sand-inspired sensory activity by Isabel Arango from Uno Zwei Tutu. This includes a recipe for DIY "taste-safe" soil that takes five minutes to make from items you likely already have in your kitchen!
What you'll need:
Plastic bin (or sensory table)
Flour
Cornstarch
Water
Ground coffee
Play insects, worms, spoons, scoops, or a pastry brush
To make the soil:
Mix ½ cup each of flour and cornstarch together.
Add around 1 cup of water, little by little, to the mixture. You want enough water so that it isn't goopy or too liquid.
Mix in 1-2 cups of ground coffee. Aim for a dough that you can make little balls with but will fall apart when squished.
That's it! You can add a bit of cocoa powder or cinnamon to the "soil" for added olfactory stimulation (smell sensation.) Add insect figurines, plant plastic flowers, and dig for hidden gems or rubber worms!
Summer Sensory Tables
Itsy Bitsy Spiders and a Spout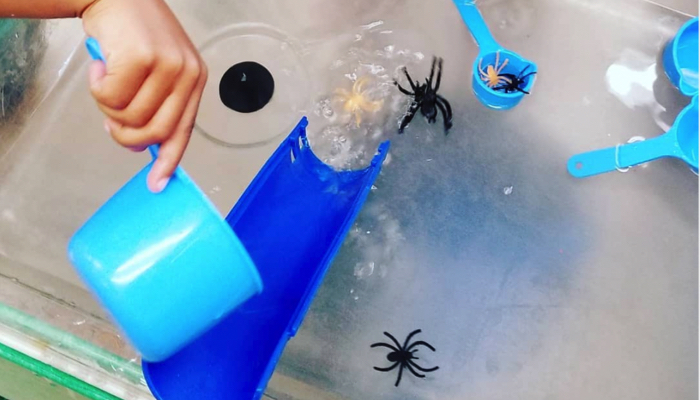 This take on the classic nursery rhyme by @playyaypreK is a fun way to act out the Itsy Bitsy Spider going up and down the waterspout.
What you'll need:
Large waterproof container
A spout, made from a plastic toy slide or an empty potato chip tube cut in half
Plastic spiders
Different water scoops and measuring cups
Place the spider at the top of the spout and discover how much water force is needed to make him slide down. Or try incorporating other fun elements like a squirt of dish soap for soapy, bubbly fun.
Water table sensory activities are fantastic for a refreshing summer activity that you can configure in a million unique ways.
Shaving Cream Building Blocks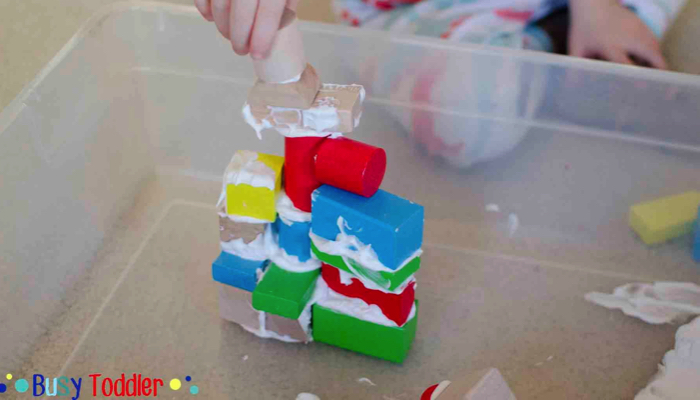 Shaving Cream Blocks by Susie at The Busy Toddler is an easy and endlessly entertaining sensory play activity for toddlers.
What you'll need:
Shaving cream (foam, not gel)
Foam building blocks
Building blocks stick together quite well with shaving cream, creating opportunities to build larger, taller structures and knock them down. Shaving cream play is ideal for summer because the mess can get sprayed off with the hose outside.
Colorful Ice Sensory Play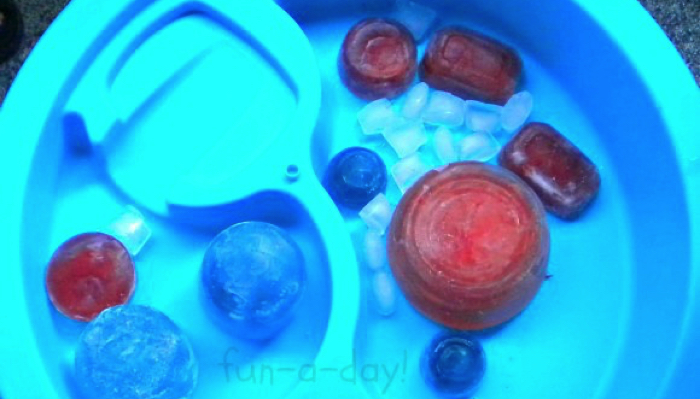 This Colorful Ice Sensory Play shared by Mary Catherine at Fun A Day is an excellent way to cool down on a hot summer day.
What you'll need:
A large waterproof container
Tupperware or empty containers of various shapes and sizes, filled with water and frozen
Food coloring (glitter is also a fantastic addition)
Water pitchers, cups, funnels, and other water toys
Fill each container with plain water and add different food coloring to each. We liked incorporating plain, small ice cubes with larger colorful, glitter-filled ones. My kids loved experimenting by pouring water over them, smacking and cracking the ice, splashing and swirling the colorful water.
Fall Sensory Tables
Pumpkin Guts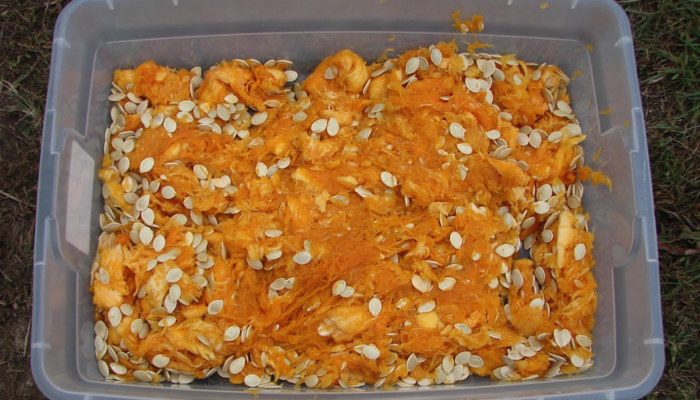 Pumpkin Guts, demonstrated by Joyce at Childhood Beckons, is one of my daughter's favorites. It's an easy and simple sensory bin unique to its season, offering squishy, messy fun.
What you'll need:
Pumpkin, top cut off, and the goop pre-scooped and loosened from the sides
Scoops, spoons, bowls, an ice-cream scoop, or a potato masher
Some parents like to remove the goop and let their child squish it around in a bin. We like to leave it in the pumpkin and let our kids practice scooping it back and forth. Bigger kids can separate, wash, and count the seeds for an educational bonus.
Fall Sensory Bin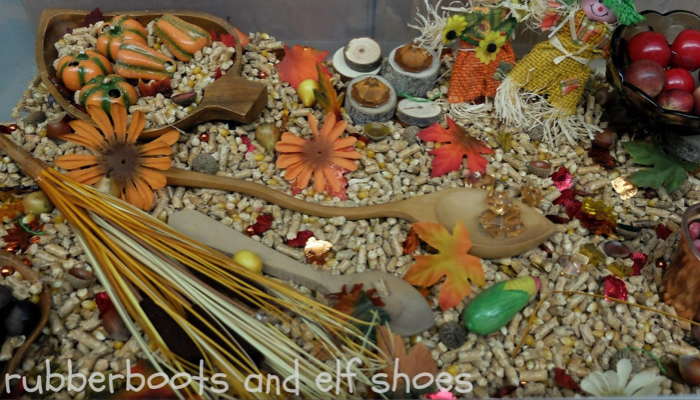 This Fall Sensory Bin by Sandi at Rubber Boots and Elf Shoes is a fun way to incorporate the abundance of fall materials.
What you'll need:
Wood pellets (used for grilling and BBQ) and popcorn kernels
Wooden bowls
Dollar store toys, scarecrows, wooden squirrels, leaves, and fall fruit
Plastic pumpkins, corn cobs, or apples
Hazelnuts and horse chestnuts, acorns, pinecones, and leaves
Amber-colored gems and jewels
This bin allows you to get creative with the materials you integrate. Fall themes are great for incorporating scents like apple and cinnamon, and the beautiful autumn colors.
Halloween Sensory Bin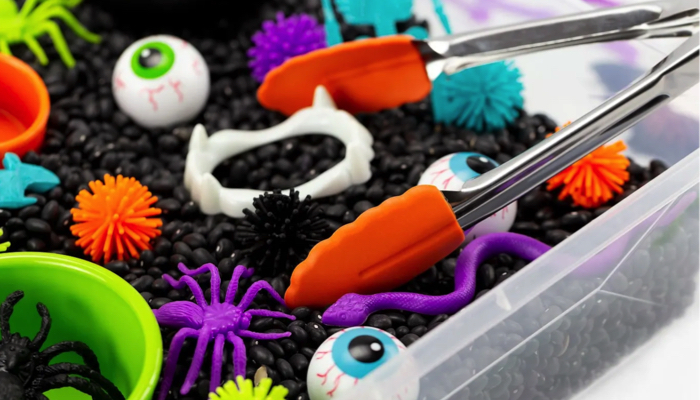 A Halloween Sensory Bin is a must-have in your sensory themes, and this one by Melissa at Fireflies and Mud Pies is awesome.
What you'll need:
Plastic bin with lid
Several bags of dry black beans
Mini plastic cauldrons
Eyeball ping pong balls
Halloween party favors
Tongs, like the fun skeleton ones pictured
Measuring cups and scoops
This bin is an excellent opportunity for burying and hunting for treasures in the beans. Integrate black rice for an added challenge!
Winter Sensory Tables
A Snowy Habitat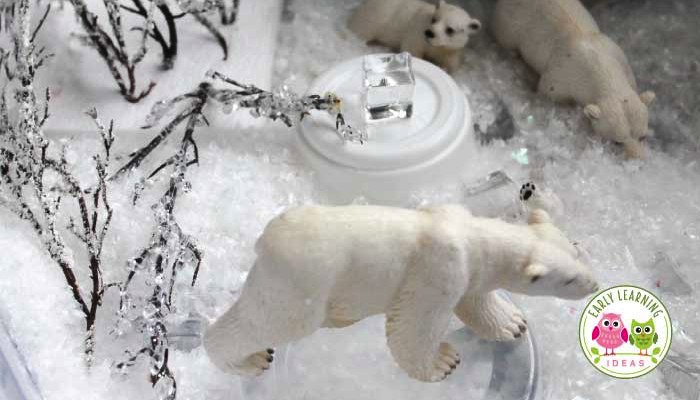 A Snowy Habitat by Jennifer at Early Learning Ideas is an engaging winter themed sensory table with many options to experiment with how to play.
What you'll need:
Fake decorative snow, the kind used for holiday decorations
Toys — arctic plastic animals or any holiday-themed characters, Styrofoam packing nuggets, small bottle brush "trees," or plastic snowflake ornaments
The usual scoops and tools, plus an empty shaker bottle (like the ones from parmesan cheese) to make it snow.
Winter Ice Skating Rink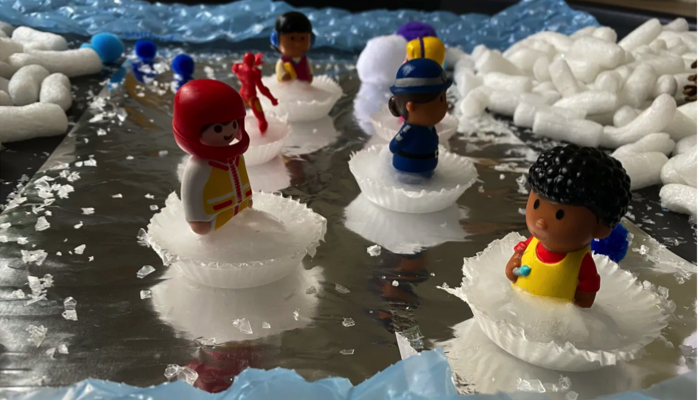 Winter Ice Skating Rink by Emma at Me & B Make Tea is a fun winter sensory activity that allows children to role-play for hours.
What you'll need:
Aluminum foil for the ice rink
Figurines, any plastic toys frozen into ice cubes
Pinecones and pompom balls
Styrofoam packing nuggets (optional)
Some plastic toys, such as the Happyland figures used, can be stood up in an ice cube tray and frozen that way. Others can be frozen using a muffin tin. The figurines can skate, spin, and slide over the foil rink with their ice cube feet!
Magic Puffing Snow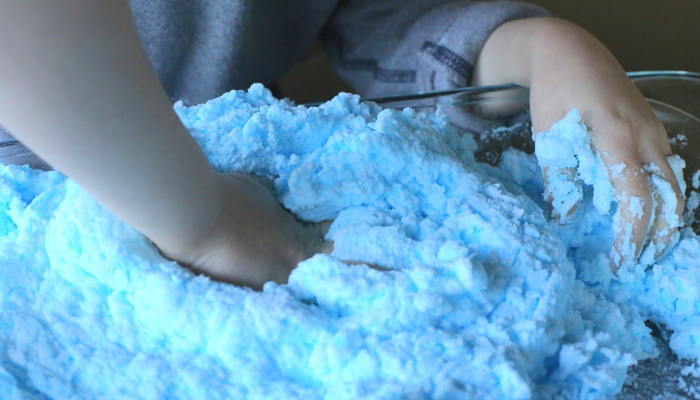 Magic Puffing Snow, created by Asia Citro at Fun at Home with Kids, is an innovative take on DIY instant snow that kids will love.
What you'll need:
Baking Soda
Baby shampoo
Water
Food coloring (optional)
Plastic Snowflakes (optional)
Citric Acid Powder
How to Make it:
In a large container, measure out 3 cups of baking soda, breaking up any clumps.
Measure out 1/4 cup shampoo, add 1-2 drops of food coloring, and stir until combined.
Add the colored shampoo to the baking soda and mix until combined.
Add 5 Tablespoons of water and mix well. The dough should be crumbly but will hold together if compacted.
You can play with the dough for quite a while just like this. To add the "puff" to the magic puffing snow, sprinkle 1/4 cup citric acid powder over the top of the dough and mix well. It will start puffing up within about a minute and continue for around an hour.
For even more fun, once you are done puffing the snow dough, add scoops of the dough to a bowl of water and watch the blue foaming action commence! Such a delightful, multi-sensory experience taking the dough through many stages of interaction and play.
An important note about citric acid is that it is harmless and non-toxic (the same type of acid found in citrus fruits), but it can sting if your child has cuts on their hands, so be wary of this.
Sensory play is fun, interactive, multi-sensory play that is both engaging and soothing. It's best to discover the type of sensory activities your child enjoys most and integrate new, creative ways to build on your sensory bins as your child grows.
FAQs
Can I Make My Own Sensory Table?
Yes, you can easily make a DIY sensory table with just a few items, like this one made from just a plastic bin and some PVC pipes.
What Ages Are Sensory Tables For?
While sensory play and different sensory materials can be enjoyed by kids of every age, most sensory play tables are made for toddlers and pre-K children (ages five and under).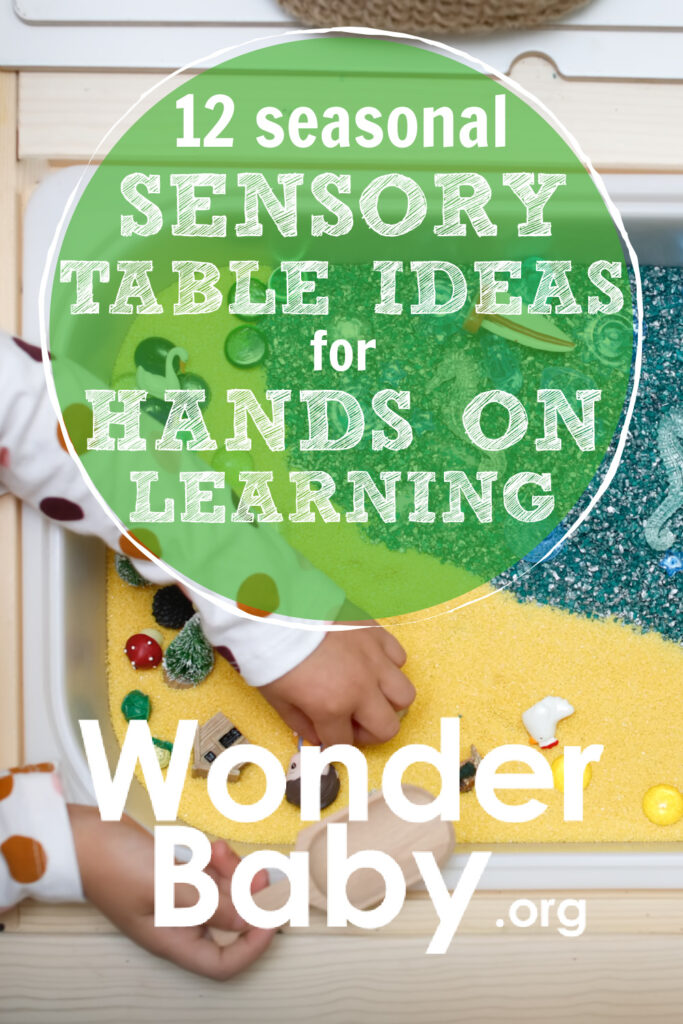 Related Posts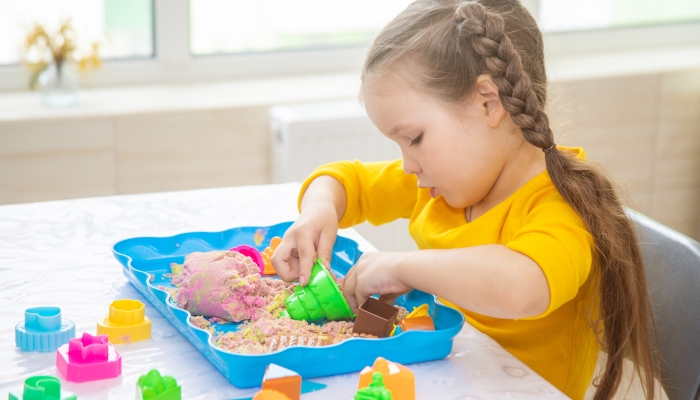 Sensory Activities
Sensory play is easy, fun, and doesn't have to be expensive. Check out our ideas for simple, hands-on - and messy! - sensory learning play with your preschooler.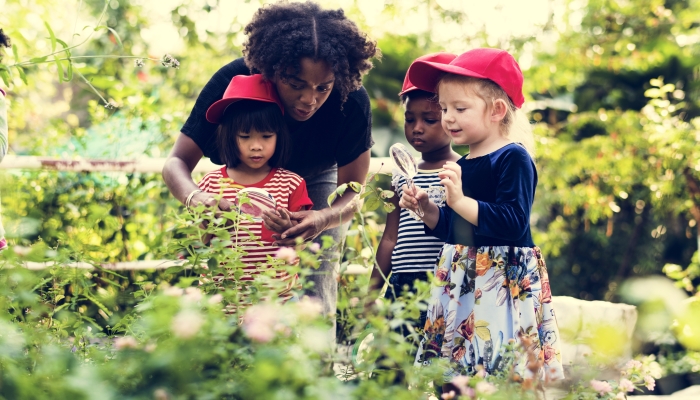 Math and Science, Sensory Activities
Ready to discover the joy of gardening with your kids? Our expert tips and fun, hands-on gardening activities will cultivate a love for nature.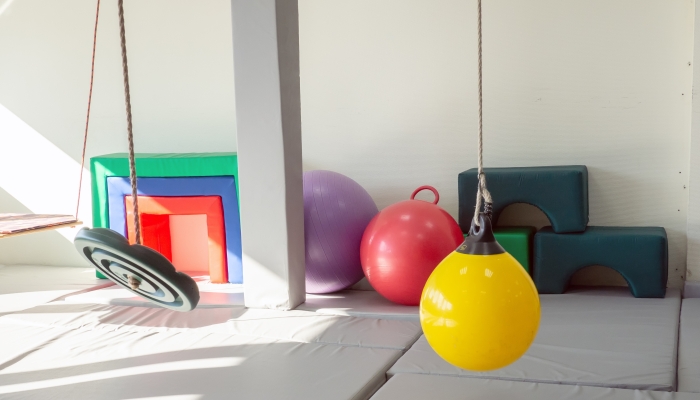 Sensory Activities
Have you considered creating a sensory room or sensory space in your home? It doesn't have to be difficult or expensive. Take a look at these simple ideas.