The 8 Best Sensory Swings for Kids with Special Needs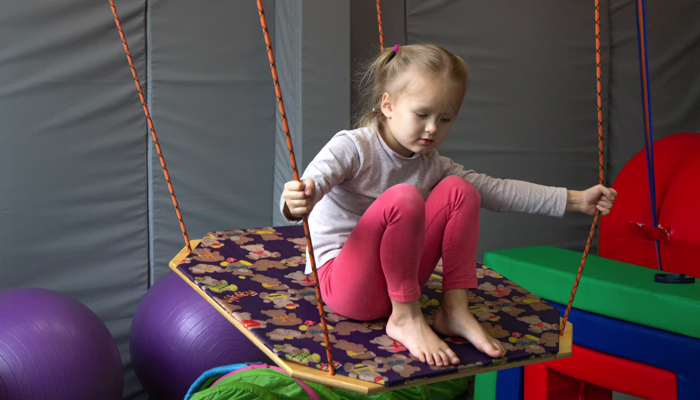 This post may contain affiliate links; please see our terms of use for details.
Sensory swings are beneficial for children with sensory processing disorder, autism, sensory impairment, and ADHD.
Sensory swings can help children develop core strength and balance while also honing vestibular and proprioceptive senses.
Therapy swings are also a great way to manage sensory integration and can help calm kids who have difficulty with sensory overload.
Maybe your child uses a sensory swing in school or during therapy sessions and you've seen how well they respond to the movement or maybe you've heard people mention sensory swings as being beneficial for kids with special needs and you're looking for more information. Either way, a sensory swing can be a great addition to your home or sensory room.
Sensory swings can create a relaxing space for your child whether or not they have sensory issues, but they are particularly useful for children seeking sensory input.
What Is a Sensory Swing?
Most kids crave movement and can be found scooting, crawling, spinning, and running from dusk to dawn. Toddlers can be especially rambunctious, with parents complaining that their kids are always getting into everything and never sitting still!
All of this movement has a developmental purpose. You're probably familiar with the basic five senses of taste, smell, vision, touch, and hearing. But have you heard of the vestibular or proprioceptive sense?
The vestibular sense describes your body's ability to understand where it is in space. Are you moving? Spinning? Sitting up? Are you walking forward or falling to the ground? This sense is controlled by fluid in the inner ear and is an important physical development for young children.
Proprioceptive sense, on the other hand, describes your body's ability to understand how you are moving and using your muscles and where your body is in relation to itself. In other words, is your hand above your head or in your lap? Are you trying to lift something heavy or light? A strong sense of body awareness can enhance coordination skills.
Working on developing vestibular and proprioceptive capabilities is important for all kids, but especially children with special needs who may find it harder to develop these skills. Sitting on a swing at a playground is a great way to help your child's body learn these senses.
Sensory swings, though, are special because they often include more than the basic back and forth sensation of outdoor swings. A sensory swing may have the ability to move in all directions (back and forth or side to side) and can often rotate in a circle.
Therapy swings may also offer deep pressure or compression while moving and can be adjusted to fit your child's weight or height needs. Sensory swings are also usually installed indoors, making them a fun sensory activity all year round and in all weather!
Who Are Sensory Swings For?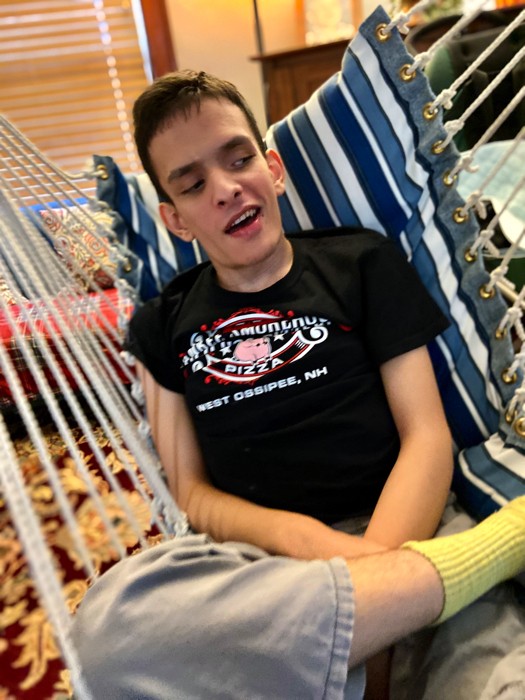 Sensory swings are really for everyone! All children can benefit from a honed vestibular sense and strong muscles. Even adults can benefit from sensory swings!
But sensory swings are most often used in therapy sessions for kids with special needs. Children with low muscle tone can use sensory swings to increase core strength while children with autism or ADHD can find swinging and repetitive movement calming.
Kids with sensory impairments, like blindness, can use sensory swings to develop better awareness through sensory input and kids with a sensory processing disorder may find the movement of a swing helpful to organize multiple sensory stimuli.
What Are the Benefits of a Sensory Swing?
There are many therapeutic benefits to having easy access to a sensory swing, particularly for children with sensory processing disorder. But beyond all the physical and behavioral advantages, swings are also just fun!
Sensory swings can:
hone the vestibular and proprioceptive senses
develop balance and body awareness
develop core muscle strength
help kids understand sensory integration
replace rocking and stimming with a more productive sensory input
develop spatial skills
assist in motor planning
encourage sensory stimulation and help kids wake up
offer a calming effect through gentle swinging that can be helpful for sensory seekers
provide compression or sensory pressure
provide visual stimulation
The Best Sensory Swings for Kids with Special Needs
1. Platform Swing
Small Platform Swing
Platform Swing is hand-crafted from 100% Baltic Birch. Carpeted for extra comfort.
Dimensions: 18″ X 36″
Supports up to 300lbs
Useful in the development of a child's vestibular system by forcing them to accept more movement sensations. Different movement sensations and repetitive swinging motion has been known to help calm and regulate an over stimulated child.
The platform swing is one of our favorites because it is really versatile and the larger size can hold more than one person, which is helpful for kids who need physical support while on the swing.
Platform swings generally come in two sizes, a small version that holds one child and a much larger version that can be as much as five feet long. Platform swings are usually made of plywood with a carpet covering so they are padded and easy to sit on.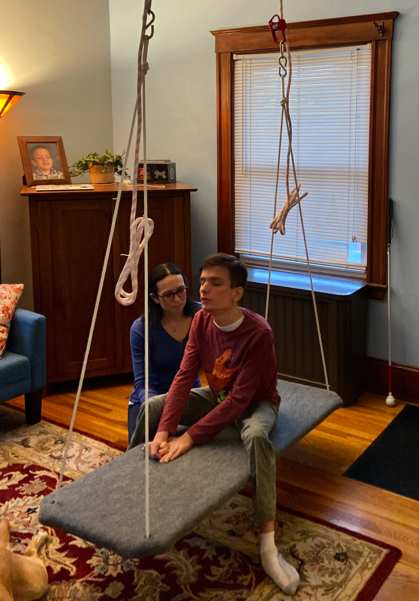 We like to have Ivan sit on this swing and move side to side then suddenly stop mid swing. He has to use his core muscles to adjust to the sudden stop of motion and hold on to the platform or the ropes for support, which also helps him work on his motor planning. He also just thinks it's a funny game! We can do the same thing moving back and forth.
We have the large swing size, so it's also great for laying down on his back or his stomach while swinging. We can also move the swing very low to the ground and have him lay on his stomach and reach for sensory toys on the floor. This is a fun way to work on neck strength and head control.
2. Raindrop Swing
Sale
Raindrop Swing
【Fun & Sensory】- OUTREE Kids Pod Swing Seat will give children a peaceful and warm place to play, and provide kids a sense of safety while at the same time provide soothing sensations that can help them regulate sensory and relax,
【Comfortable】- The cotton-canvas material is soft, warm and breathable, it makes the kids hammock chair is quite comfortable to sit in while reading, watching TV or listening to music. It's a great choice for sensory swing.
【High Quality & Safe】- The sensory swing's design with reinforced nylon edgings and double stitched to increase safety, soft PVC air cushion make you don't worry about mold problem. The swing can support up to 100 pounds, easily taken down and stored away at any time to make more room.
【Universal Use】- Our kids pod swing is great for indoor or outdoor use. Whether you hang it from your ceiling, or thinking about hanging it from a tree. Besides, it would make a great addition to a child's room, especially as a reading nook.
The raindrop swing (sometimes also called a pod swing) is shaped like a raindrop and usually hangs with one hook, making it great for spinning. It offers little seat support, which means it can provide a lot of full body feedback and compression which is wonderful proprioceptive input, but can be difficult for low toned children to manage.
We have had a hard time getting Ivan in and out of a raindrop swing and he sometimes looks pretty uncomfortable in the swing since he finds it hard to move in it. But for kids who require that extra physical sensory input, these stretchy swings are a favorite!
3. Hammock Swing
Sale
Hammock Swing
▶ SAFE & STRONG – Sturdy Steel Spreader Bar makes the hammock swing more stable, its Anti-Slip Rings can effectively prevent the rope from slipping. It has strong strength for supporting your weight and can holds up to 500lbs.
▶ RELIABLE & DURABLE – This hammock is handcrafted from soft and durable polyester cotton ropes and canvas fabric, it brings great softness, durability and comfort.
▶ CONVENIENCE – This stylish hammock swing hangs anywhere and is easy to relocate. Simply find a branch, beam or hammock stand and set it up in seconds!
▶ Perfect for relaxing with the hammock chair in your bedroom, patio, yard, garden. This comfortable chair allows you to sit above the ground and sway in the breeze.
Hammock swings are a great addition to a sensory room or a relaxing place where your child can feel comfortable and mobile. Hammock swings come in many different styles, some providing more support than others, so you'll have to look at your own child's needs before choosing the right swing.
We picked a hammock swing with a fairly strong seat so Ivan could feel supported, but still able to lounge and relax. He particularly likes to feel the netting and loop his fingers through the ropes while he swings.
4. Mesh Swing
Saucer Swing
40"Saucer mat swing can support up to 600 pounds on a resilient nest of hand-braided spider webbing for a kid- and even a couple of friends – fit 2-3 kids. Not for children under 3 yrs.
100% safe and comfortable ride. This extra-large oval frame is made of sturdy steel wrapped in padding and durable braided plastic rope. Durable polypropylene rope creates a spider-web like netting with comfortable support.
The round web tree swing is 40" Diameter, which is large enough for multiple children to swing and play together – promoting teamwork and social skills, offering endless hours of fun.
Our swing is resilient and resistant to all types of weather. Collapsible design is convenient when going to the Park, party. Perfect gift for kids, grandchildren, playmates, birthday, Christmas, outdoor Picnic, BBQ, party.
A mesh therapy swing (often called a saucer swing) kind of looks like a spider web and similar to the raindrop swing can be hung on one hook, allowing it to get in a good spin rotation. The webbed bottom of the swing is usually pulled pretty tight, making it safe for kids with low muscle tone, while the spinning motion offers great vestibular input.
These sensory swings are also generally very durable and can be hung outside or inside, making them a versatile addition to your swing collection.
5. Youth Swing with Straps
Flaghouse Youth Swing
Swings feature a high back
Virtually indestructible hard plastic shell
Harness straps are adjustable
Weight capacity measures 200 lbs
These hard plastic special needs swings are the traditional special needs swing you may find at an accessible playground. They are durable and include straps, which is great for children who need extra support or may not be entirely safe without a harness.They also have a pummel to prevent slipping.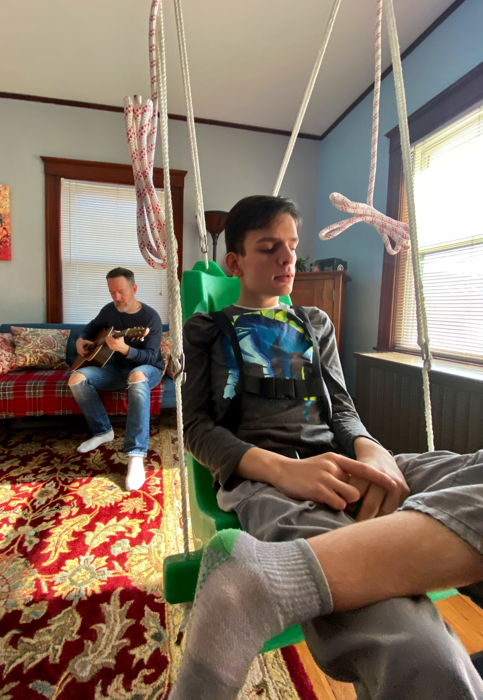 These swings are heavy though and can't move in multiple directions, but depending on your child's needs they may still be a good source of sensory integration.
6. Buoy Ball Swing
Sale
Buoy Ball with Trapeze Bar
Easily mounts to most swing sets
Soft polyethylene buoy ball inflates to up to 15 in.
Recommended for ages between 3 to 11 years old
Weight Capacity of 125 lbs.
Buoy ball swings are perfect for helping kids develop better balance and motor planning. Any small body movement on a ball swing translates to big movements from the swing, so be sure your child is safe and has a soft crash mat below them!
Ball swings can really improve your child's vestibular system development and like the mesh swing they work great either outdoors or in a sensory room.
7. Disc Swing
Disc Rope Swing
DISC SWING: The Heavy-Duty Disc Swing is designed to be added to a swing set, jungle gym, or other outdoor playset. Your children will love this classic playset addition.
OUTDOOR FUN: Swinging is the most popular activity for any outdoor playground or jungle gym! Complete or update your current backyard swing set with this Heavy-Duty Disc Swing from Squirrel Products.
DURABLE AND DEPENDABLE: Made of high-quality materials to ensure hours of fun and years of play. Rated to hold up to 150 pounds. A swing seat for kids of different ages and sizes!
OUTSIDE ACTIVITIES MADE SIMPLE: Includes one disc swing seat attached to braided nylon rope with metal ring. Easy do it yourself installation for quick backyard fun.
Disc swings are similar to buoy ball swings, but with a bit more stability and support. Ball swings offer more bounce, but the disc swing will still require a lot of balance and control and can still spin. One fun thing about the disc swing is that as your child perfects their skills they can learn to either sit or stand on the swing!
8. Trapeze Bar
Wooden Trapeze Swing Bar
𝐃𝐄𝐒𝐈𝐆𝐍 𝐅𝐎𝐑 𝐊𝐈𝐃𝐒 & 𝐔𝐒𝐄 𝐈𝐍𝐃𝐎𝐎𝐑 𝐀𝐍𝐃 𝐎𝐔𝐓𝐃𝐎𝐎𝐑 𝐅𝐔𝐍- Kids will love this combo addition to their swing set accessory parts. No matter as ninja indoor equipment or backyard outdoor play, your children will enjoy the improvement to their body control, balance, dexterity and exercise for fun.
𝐐𝐔𝐀𝐋𝐈𝐓𝐘 𝐒𝐎𝐋𝐈𝐃 𝐖𝐎𝐎𝐃- Strong wood loadable up to 352LB/ 160KG, with the super wear-resistant and sturdy PP ropes (up to 10 mm in diameter), Wooden Swing Bar: 16.54inche/42cm in length and 1.18inche/3cm in diameter.
𝐔𝐏𝐆𝐑𝐀𝐃𝐄 𝐁𝐔𝐂𝐊𝐋𝐄 & 𝐑𝐎𝐏𝐄- The upgraded thoughful pressing buckle provide more stable combination of the rope and swing; The super wear-resisting and sturdy rope is up to 10 mm in diameter, more than 352LB/ 160KG load-bearing, adjustable in length. Length: Max:198cm/77.95inch Min:110cm/43.3in.
𝐄𝐀𝐒𝐘 𝐓𝐎 𝐔𝐒𝐄- Fully assembled swing bars only require to attach the carabiners to the ninja line or swing set, all of that won't cost 2 minutes, easy to complete it. Excellent for Indoor gyms & outdoor jungle gyms (Ps: due to the wood material, please put it away on rainy days)
You may not think of a trapeze bar as a therapy swing at first, but this was actually recommended to us by Ivan's physical therapist and we have found so many uses for it! Many children love to just hang from a trapeze bar or use it to swing, but we've found it to be a fun way to incorporate muscle strength into Ivan's play.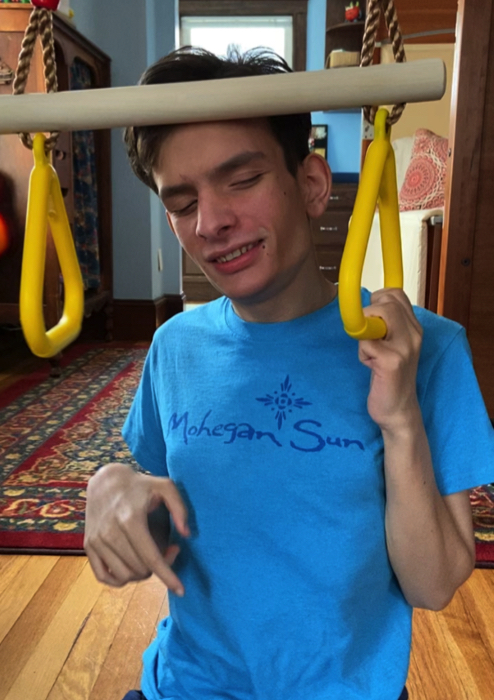 We can set the bar very low and have Ivan sit on the floor and hold the bar. If he sits back, he then can use the bar to pull himself back to sitting giving him a good arm workout! We've also hung the bar higher and had Ivan sit in a chair and reach up to the bar and use it to pull himself up to standing. There are so many physical therapy benefits to this bar!
FAQs
Are Sensory Swings Safe?
There are many inherent dangers in any swing set up, so adult supervision is always advised. You can minimize the risks by hanging your swing in an area where there are few obstacles and placing a soft crash mat below the swing. Also, take your child's individual needs into account when choosing a swing. Some things to consider may be:
Does your child need more or less physical support?
Will certain types of material contribute to their sensory needs or cause sensory aversion?
Will your child need a swing with straps to help hold them in place?
How Do I Hang a Sensory Swing?
There are actually a few different options for how to hang your swing. Assuming you are creating an indoor sensory space, you can purchase all the hardware necessary to create a strong set of hooks in your ceiling through Fun and Function. We bought their Multi-Point Ceiling Swing Suspension Kit that provides multiple hanging options all in one frame and can be easily attached to a support beam in your ceiling. We did hire a professional to hang the kit since we wanted to make sure it was safe, but it was just one unit and easy for him to install.
Check out the video below to see how we have our swing set up in our living room:
For a simpler hook, you can also purchase a heavy duty ceiling hook and screw it into a thick hardwood in a doorframe. Before we had our current swing installed, we used a four inch hook and this works well if you have a large door space (for double doors, for example). It's less versatile than a ceiling support system, but less expensive. You can also look at a doorway bracket to hang a narrow swing in a doorway.
Finally, if you don't think you can manage anything hanging from your ceiling or a doorframe, you can opt for a free standing swing frame. Just be sure to check the weight restrictions on the frame before you buy it.
How Much Clearance is Needed for a Sensory Swing?
This depends on the height of your child and how you will be using your swing, but a good rule to follow is allowing at least two feet from the floor to the bottom of your swing. However, sometimes we like to lower our sensory swing so Ivan can lay on his stomach and touch the floor. The best swing set up lets you raise and lower the swing as needed. We use therapy swing ropes and height adjusters so we can change the height of the swing with ease.
How Can I Pay for a Sensory Swing?
Of course there is always the problem that everything that is beneficial for kids with special needs is expensive! One sensory swing can cost as much as a few hundred dollars. Add in the hardware to hang the swing plus the ability to change out swings so you can choose the best swing for your child's needs at any given time and you are looking at a price tag in the thousands.
Fortunately, most organizations designed to support kids with disabilities understand the value of a sensory swing and are willing to help cover at least some if not all of the cost. Talk to your physical or occupational therapist about possible grant opportunities. Social workers or early intervention programs may be able to help as well.
We actually had our entire swing system (including paying for the extra cost of installation) covered through our state department of education during the COVID lockdown. They knew we couldn't do PT virtually so they helped us create a way to meet Ivan's sensory needs at home.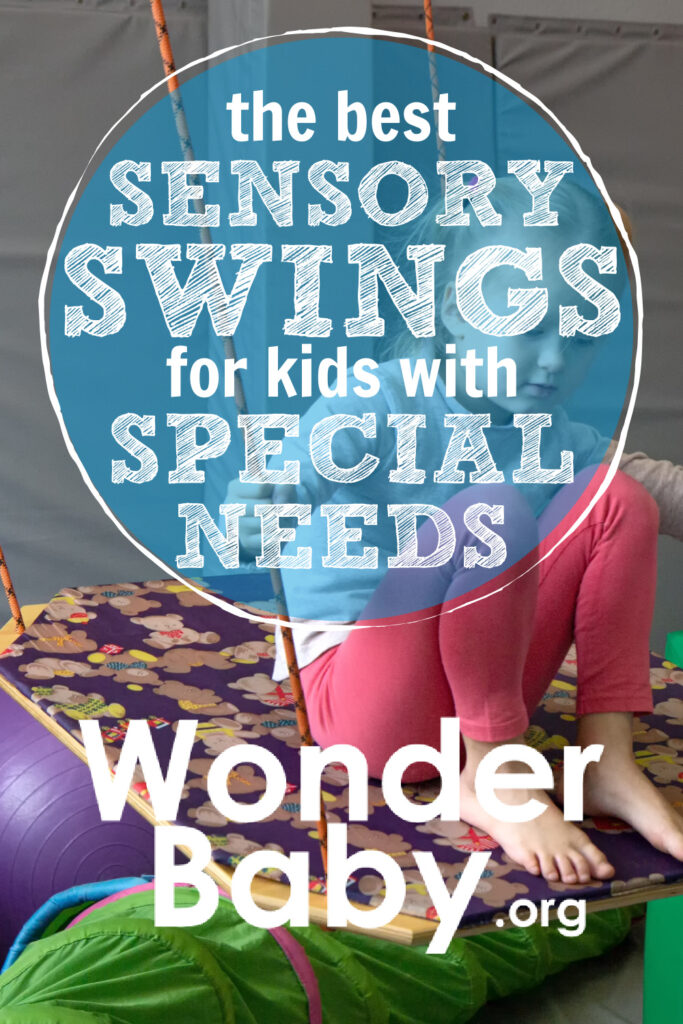 Related Posts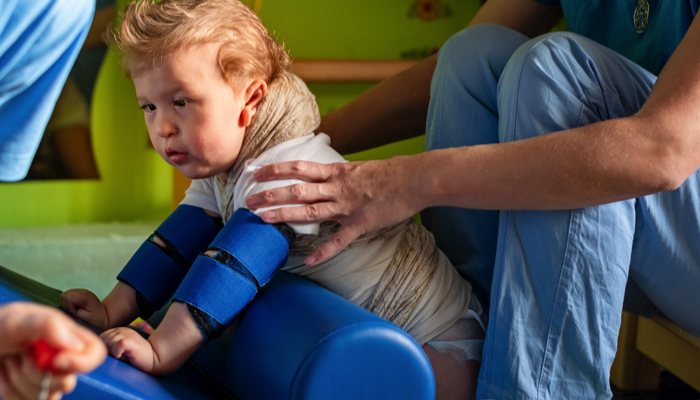 Fine and Gross Motor, Special Needs
Learn how to prepare for your child's first physical therapist appointment so you can feel confident that they are getting the care they need.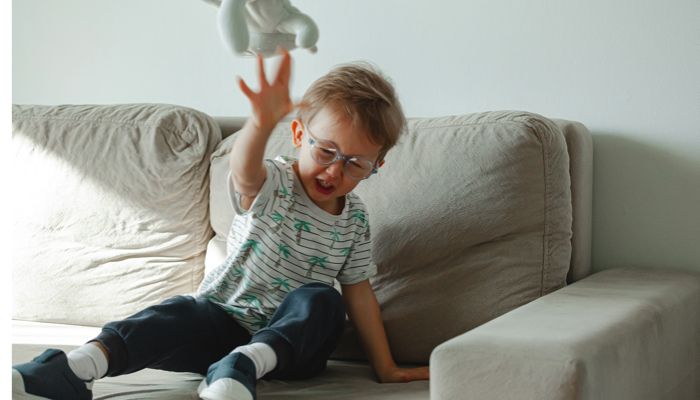 Behavior, Special Needs
Parents of children who are blind and autistic often face unique challenges when it comes to managing behavioral issues. Many traditional behavioral management techniques rely on visual supports, which can...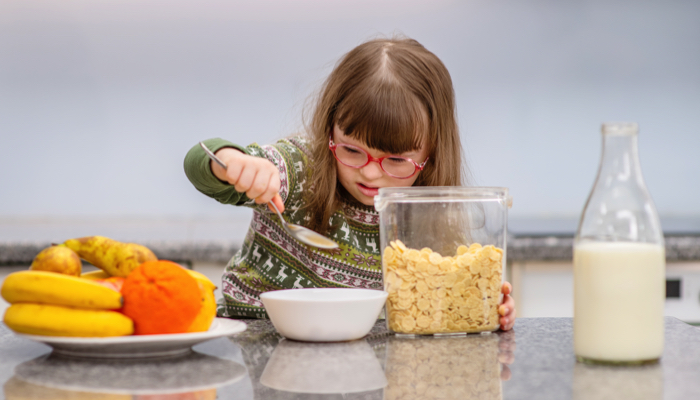 Feeding and Eating, Special Needs
Mastering self-care skills can be especially empowering for children with disabilities, helping them to gain independence and confidence.