10 Pincer Grasp Activities and Toys for Your Baby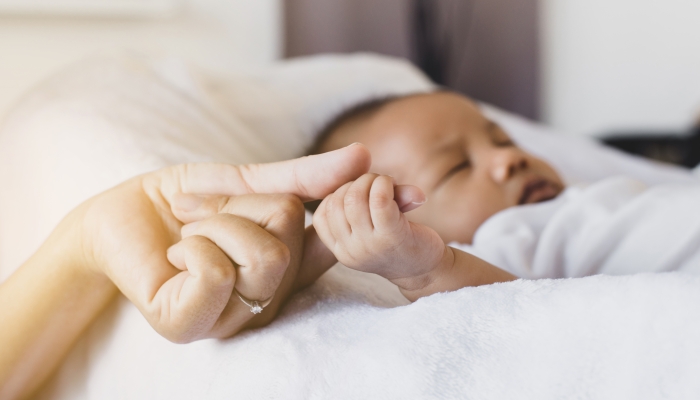 This post may contain affiliate links; please see our terms of use for details.
The pincer grasp develops in stages over time, from about four months old up to six years old before it's perfected.
The pincer grasp is important for self-feeding and eventually holding a pencil.
Your baby and toddler can practice the pincer grasp with different activities and toys.
The first time your baby curls their tiny hand around your finger is a precious moment. This first grip is also the beginning of your baby's pincer grasp development, an essential ability for them to master.
Your baby will work on pincer grasp from infancy to school age when they're confidently holding a pencil. The foundations for self-feeding and writing are built on the pincer grasp.
There are many pincer grasp activities and toys for your baby to help them work on their fine motor skills and have some fun too!
What You Should Know About Pincer Grasp
Pincer grasp refers to your baby's ability to pick up objects with their thumb and index finger, which most babies start to develop between four and twelve months. Development of this fine motor skill leads to your child feeding themselves independently and holding a pencil later in school.
The pincer grasp changes over time. You'll start seeing your baby's pincer grasp develop around four months as part of their developing hand-eye coordination. However, just like with other fine and gross motor skills, different children reach developmental milestones at different times.
Talk to your pediatrician if you're not seeing signs of a pincer grasp between four and twelve months.
What Are the Stages of Pincer Grasp Development?
Pincer grasp grows in stages throughout your baby's first year. You will notice their ability to hold an object between their index finger and thumb will improve, along with their ability to manipulate and move small objects.
Keep an eye out for these different grasp patterns throughout your baby's development:
Type of Grasp

Characteristics

Palmar Grasp: 4-6 months

Baby doesn't use their thumb.
Fingers curl around an object in their palm.

Radial Palmar Grasp: 6-8 months

Baby holds an object against their palm with fingers curled, but thumb supports from the side.
Also known as an inferior pincer grasp.

Radial Digital Grasp: 8-10 months

Baby holds an object between fingers and thumb, without the palm for support.
Also known as crude pincer grasp or inferior pincer grasp.

Immature Pincer Grasp or "Raking Grasp": 10 months

Baby uses raking motion to pick up objects using all fingers.
Individual fingers work in isolation with the thumb to pick things up.

Mature Pincer Grasp: 12 months

Baby can point.
They can hold smaller objects between their thumb and index finger.
Also known as superior pincer grasp.
Baby-proofing Your Home
As pointing and grasping develop, poking also becomes a new ability around 8 or 9 months. According to Suzanne Dixon and Michael Hennessy, authors of Encounters with Children, your baby's pointer finger will start to dominate and explore.
If you still need to baby-proof the electrical outlets in your home, now is the time. Be aware of choking hazards like buttons, loose change, and other tiny objects that may be lying around the house that your baby may try to pick up.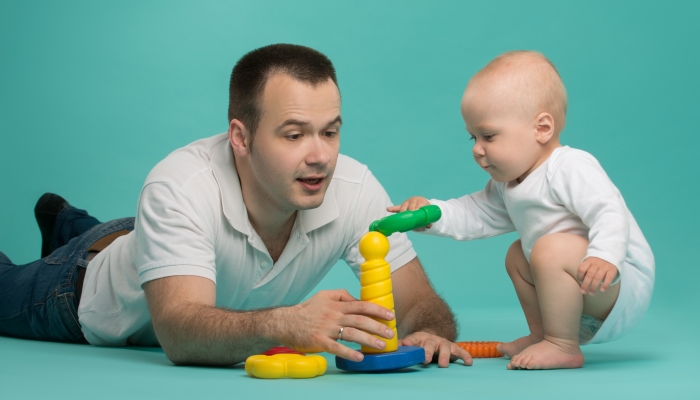 At What Age Does the Pincer Grasp Become Fully Developed?
Pincer grasp will develop and sharpen until about age five or six when your child can hold a pencil with a tripod grip. When children develop a solid pincer grasp in toddlerhood, it lays the foundation for skills kids need in school.
Between the ages of twelve months and school age, fine motor skill development will continue. They'll start by gripping pencils and crayons in their palm until they work up to the tripod grasp.
Although it may be hard to imagine your little baby as a first grader, all that pinching and grasping they're doing now with soft foods and toys set the stage for learning to write.
5 Fun Pincer Grasp Activities for Your Baby
You can do many activities with your baby and toddler to encourage pincer grasp.
Self-feeding
Pincer grasp is essential for eating independently, so meal times are a great time to practice. If you're doing baby led weaning, your baby will already be using the pincer grasp to pick up soft finger foods.
There are plenty of moments to work on pincer grasp, for example, with individual Cheerios, melt-in-the-mouth finger puffs, or other finger foods as your baby gets used to solids.
Board Books
Turning the stiff cardboard pages of board books encourages reading and pincer grasp at the same time.
Playing with Blocks
A good set of blocks will stay with your child from baby to toddlerhood. They encourage many fine motor skills, from pincer grasp to banging them together for babies to complex construction for toddlers.
Tape Peeling
Stick tape of different lengths on the floor or table and encourage your child to peel it off. This is a great hand eye coordination game, as well as strengthening the small muscles of your child's hands and fingers.
Pom Poms
You can use craft pom poms in lots of different ways. For example, your toddler can transfer them between bowls using tongs. You can put them through the wires of a whisk and get your child to fish them out. Be sure to supervise your baby carefully, so they don't try to eat them.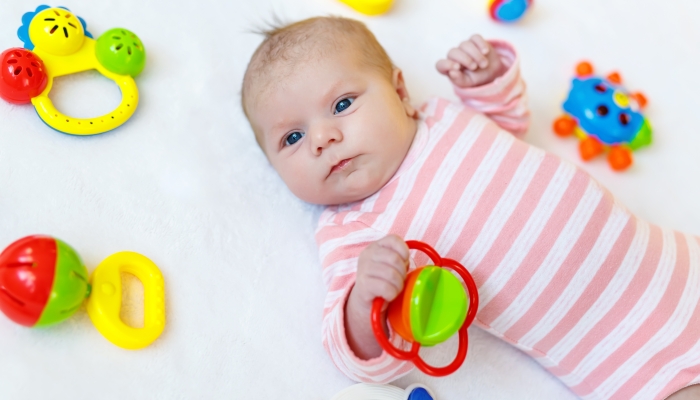 5 Toys to Boost Your Baby's Pincer Grasp Development
The best toys for babies are fun and entertaining while helping them work on new skills. Check out these toys to work on pincer grasp:
Our Favorite: Tomy Hide and Squeak Eggs
Sale
Tomy Hide and Squeak Eggs
Hide and Squeak Eggs: An adorable and educational addition to your Easter egg basket, this squeak toy contains 6 colorful squeaking Easter eggs kids can play with
Crack Them Open: These interactive Easter gifts for toddlers feature shells that crack open to reveal adorable colorful chicks for kids to marvel at while they play
Interactive Toys: Press down gently on the colored chicks' heads to hear them chirp, creating a delightful auditory choir that keeps kids exploring and giggling
Child Development Toy: These educational toys help kids improve recognition of colors and shapes as they sort each egg into its own special base in the box, creating the ultimate sensory toy play
Tomy Hide and Squeak Eggs was a beloved toy in my house for many years.
It's the perfect toy for working on your baby's hand eye coordination, pincer grasp, sorting skills, and even language skills. Your child will pick them up, take them apart, push them down to squeak, and talk about the emotions on their faces.
Also available here.
Melissa and Doug First Shapes Jumbo Knob Wooden Puzzle: Best for Babies
Melissa and Doug First Shapes Jumbo Knob Wooden Puzzle
EASY-TO-GRASP JUMBO KNOB PUZZLE: The Melissa & Doug First Shapes Jumbo Knob Puzzle is an extra-thick first-shapes-themed puzzle that features bright colors and illustrations of a charming cottage in an oval, circle, rectangle, square, and triangle.
FULL COLOR PICTURES: Our wooden baby puzzles are designed with full-color, matching pictures that appear underneath each piece. It's an ideal activity for encouraging visual perception skills and hand-eye coordination.
DURABLE CONSTRUCTION: This wooden knob puzzle is made of extra-thick, high-quality wooden materials, with jumbo wooden knobs that are sturdy and safe for young hands to grasp.
GIFT FOR AGES 12 MONTHS AND UP: The Melissa & Doug First Shapes Jumbo Knob Puzzle is an exceptional gift for kids 12 months and up. Add the Melissa & Doug Alphabet Sound Puzzle to round out the hands-on and screen-free play experience.
My kids always loved Melissa and Doug puzzles for their colors and easy to handle, satisfying shapes.
Wooden peg puzzles like this jumbo knob puzzle from Melissa and Doug are ideal for babies starting to pick up and manipulate objects.
Also available here.
Hape Frog Pull-Along: Best Pull Toy
Hape Frog Pull-Along
WOODEN FLY-EATING FROG: This happy pull along frog toy opens and shuts its mouth when pulled by the cord. Is he trying to catch flies or maybe sing to his friends?
TAKE-ALONG COMPANION: The toy encourages children to crawl by pulling the frog out front. When they learn to walk, they can take him on adventures
LEARN TO WALK: The frog-themed pull toy is great for encouraging children to crawl and a great companion when they start to walk or run around the house
STURDY WHEELS: This toddler pull along toy has sturdy wheels, which allow for easy pulling
Even if your baby isn't walking yet, they can still have fun with pull toys, like this Hape Frog Pull-Along. Encourage your baby to grab the string with their emerging pincer grasp to make the frog move.
There's also a dog version available.
Mobi Zippee Activity Toy: Best Multi-sensory Toy
Mobi Zippee Activity Toy
✅ The Zippee is a multi-sensory silicone activity toy for boys and girls alike. Recommended for kids 18months+. Your kids will have tons of fun while creating developmental learning skills that will stick with them throughout their growing years. Recommended for ages 18 months+!
✅ At Mobi we take designing our products with a purpose. That is why we took the time to design the Zippee with a team of doctor's, Therapist's, and Parents to further encourage and support fine and gross motor skills, sensory exploration, midline play and cause and effect.
✅ Many young kids find themselves glued to tv's and tablets and they become sensory overloaded. With Zippee this educational toy uses bright colors which assist in stimulating your babies vision. Flexible and soft edges, textured cords and easy to hold grips promote the use of tactile response.
✅ Pull the cords from side to side to hear and feel the various sounds and vibrations the cords make. Zippee peaks and keeps a baby/toddler's curiosity while narrowing in on developmental play creating connection within their brain.
When your baby grasps and pulls the cords, they hear sounds and feel vibrations. The Mobi Zippee is the perfect multi-sensory toy, allowing your baby to work on fine motor development using all the senses.
Also available here.
Oaktown Supply Wooden Blocks: Best Block Set
Sale
Oaktown Supply Wooden Blocks
Learn: Stack up some educational fun! Our ABC baby blocks will help your child build skills in language learning, basic math, hand-eye coordination, and more.
Colorful: A total of 36 stacking blocks means 216 beautifully designed sides with unique letter, number, picture, and shape icons to learn from.
Durable: Crafted with high-quality, solid wood, this stackable set of 1.75″ wooden alphabet blocks is built for hours of playtime.
Safe: Rest easy and play more! Our non-toxic ABC blocks for toddlers are tested for and pass all American testing standards for child safety.
Your child will play with this classic set of wooden alphabet blocks from Oaktown Supply from age one straight through the toddler years. Your baby will want to pick up the colorful blocks, feel the texture, bang them together, and work those little hands.
Also available here.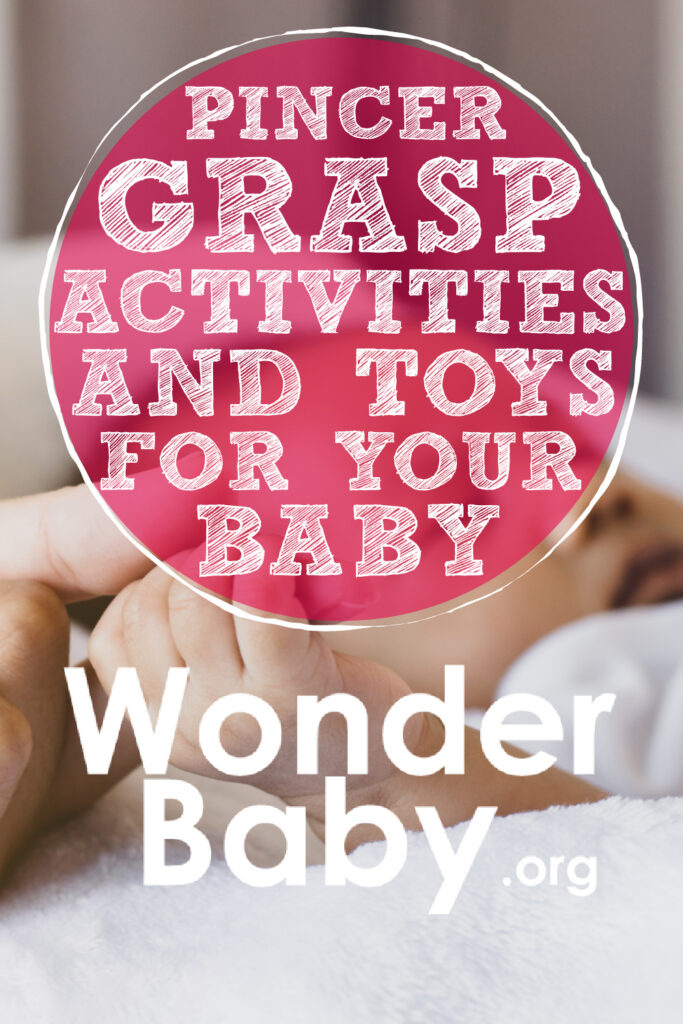 Related Posts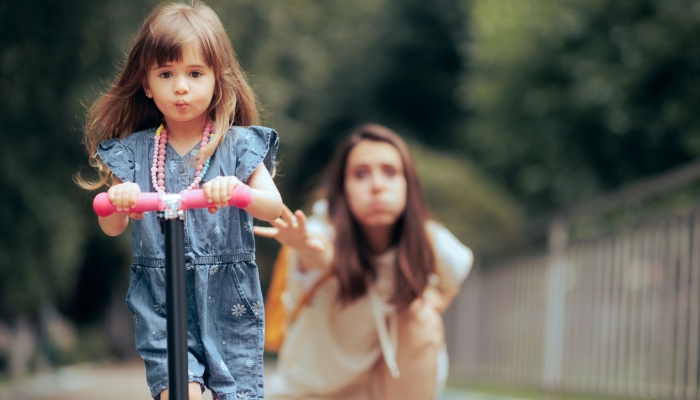 Development, Parenting
Understanding the history, differences, and strengths of proximal and distal parenting will help you decide what parenting approaches work best for your family.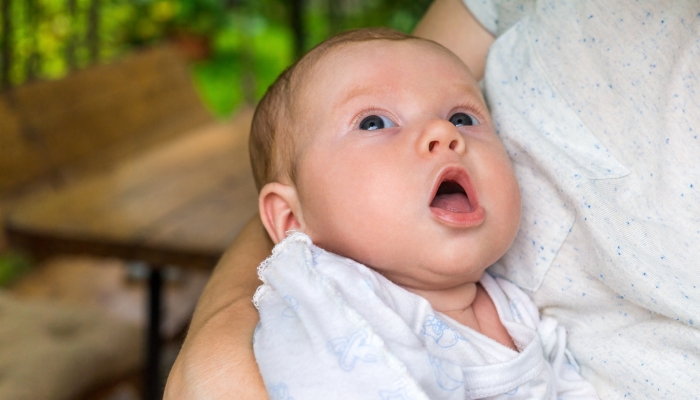 Autism, Development
If your baby's mouth is always open, you might be concerned about a link to autism. However, there are many other reasons for a babies mouth to be open.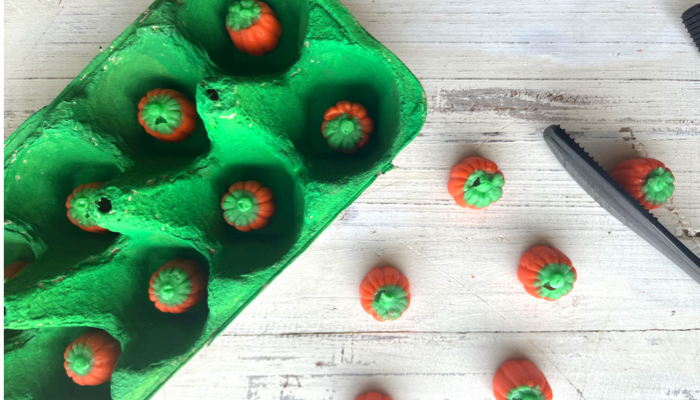 Fine and Gross Motor, Play
This adorable pumpkin picking fine motor activity is a breeze to make! A perfect fall activity for preschoolers and toddlers alike.