The 9 Best Baby Toys of 2022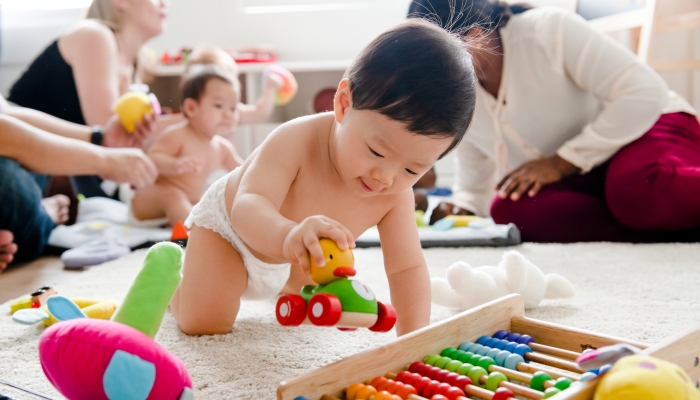 This post may contain affiliate links; please see our terms of use for details.
The best baby toys are developmentally appropriate and should help your baby work toward different skills while still being fun.
Baby toys can encourage sensory, motor, and social-emotional development.
Make sure to keep your baby's safety in mind when picking out baby toys.
When you're planning for the arrival of a new baby, it's normal to wonder which toys are best for your little one. While it can be tempting to grab every toy that catches your eye on the shelf, some toys are better than others when it comes to quality and contributing to your baby's development.
You may be asking if your newborn even needs toys, and whether you should buy simple wooden toys or something more entertaining with lights and music.
While the best baby toys for your little one will depend on some of your own preferences, there are definitely some things to look for across the board.
Best Versatile
Best Convertible
Best Portable
Fisher-Price Deluxe Kick & Play Piano Gym
VTech Sit-To-Stand Learning Walker
Lamaze Clip-On Stroller Toys
Best Versatile
Fisher-Price Deluxe Kick & Play Piano Gym
Best Convertible
VTech Sit-To-Stand Learning Walker
Best Portable
Lamaze Clip-On Stroller Toys
How Baby Toys Contribute to Development
Toys aren't just fun for your baby—they can actually contribute to their development, too. As your baby grows and starts working toward developmental milestones, playing becomes an important part of their day.
Many toys for babies are designed to promote hand-eye coordination, visual development, fine motor skills, and gross motor skills. Even the youngest babies will be strengthening these skills as they reach for and grasp their toys. Toys for older babies might involve more advanced skills like pushing, pulling, or stacking.
Some baby toys support social-emotional development as well. For example, babies love looking at faces, and doing so can teach them about emotions and promote empathy. That's why toys like stuffed animals, soft dolls, or anything with a mirror can make a great choice.
Choosing toys that are recommended by child development experts and designed for your baby's age can help to ensure that they're developmentally appropriate. For babies, developmentally appropriate toys are:
Simple. While flashing lights and music can be fun for your baby, simple toys encourage them to learn and explore.
Easy to use. You want to make sure your baby can actually play with their toys without getting frustrated. Pay attention to your baby's abilities, and pick out toys that will strengthen those skills without causing a meltdown.
Safe. Look for toys with smooth edges that don't have any small pieces. They should be clean and made with non-toxic materials.
Sturdy. Baby toys take a lot of abuse. They need to hold up to being chewed on, thrown, and sometimes pounded on the floor.
Engaging. Look for toys that encourage baby to work toward different abilities and skills. This might mean strengthening motor skills or hand-eye coordination, engaging their senses, or encouraging creativity.
Fun. Of course, even developmental toys should still be fun! Baby toys should be colorful and entertaining with different textures to keep baby's interest.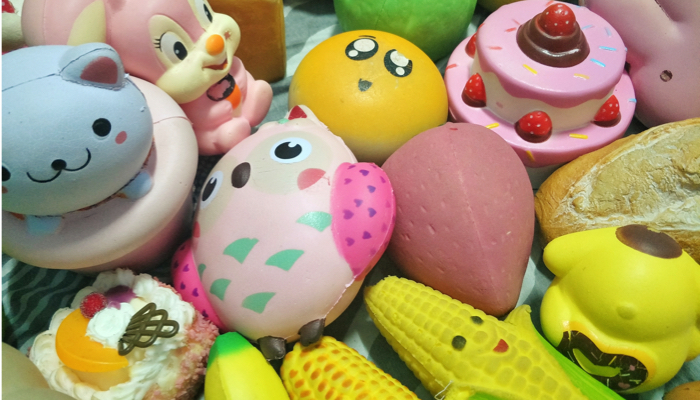 Safety Tips When Choosing Baby Toys
Safety is the most important thing you need to pay attention to when choosing toys for babies. Since any toy you buy is guaranteed to end up in your baby's mouth, you need to avoid anything that could be a choking hazard or make them sick. But that's not all—there are a handful of other things to look out for to keep your baby safe.
When picking out any toys for your little one, keep the following tips in mind:
Check the label. If the box says a toy is for 2- or 3-year-olds, it might have small pieces or sharp edges that your baby could hurt themselves with. The box or label should also include any important instructions or safety warnings.
Avoid small pieces. Any toys for baby need to be large enough that your child can't fit the entire thing in their mouth, which could cause them to choke. Likewise, watch out for small pieces that could come loose if your baby tugs on them or gets too curious.
Watch out for magnets and batteries. Toys that are age appropriate for infants shouldn't include batteries or magnets that your little one can get to. If it does have batteries, be sure they are secured in the battery compartment with screws so they can't be accessed.
Look for sturdy materials. Your baby's toys should be made from a strong material that won't break easily into small or sharp pieces.
Check for strangulation hazards. Any strings longer than 7 inches could pose a risk to your baby. You also want to make sure any crib toys are well out of your baby's reach.
Keep in mind that used toys may not meet some of these safety standards. Use caution when buying second-hand toys or taking hand-me-downs and inspect the toys closely for any damage that could make them less safe for your baby.
Our 9 Top Picks for Baby Toys
Best Sensory: Sassy Stacks of Circles Ring Stacker
Sale
Sassy Stacks of Circles Ring Stacker
Straight post accepts different sized rings, strengthening hand-eye coordination
Chunky rings make it easy for baby to grasp, strengthening fine motor skills
Each ring features a different texture and weight; Textural variety is great for mouthing!
Colorful beads in the clear ring allowing baby to connect the sound to sight
The Sassy Stacks of Circles Ring Stacker takes classic stacking rings to the next level. With this set of stacking rings, your little one will not only be working on their fine motor skills, but they'll be getting a sensory experience as well. This toy is recommended for babies ages 6 months and older.
Because of the different textures, colors, and sounds, this makes a great sensory toy for autism. Along with bright colors and opportunities for tactile play, some of the rings rattle, too. And since the rings can be stacked in any order, this toy is frustration-free!
Along with the developmental benefits for your baby, this ring stacker is easy to clean and BPA free. It's made from durable plastic, so it will hold up to frequent use by your curious little one. But since the plastic is on the harder side, it doesn't really make a good teething toy—something to keep in mind if your baby chews on everything.
Best Portable: Lamaze Clip-On Stroller Toys
Sale
Lamaze Clip-On Stroller Toys
BABY DEVELOPMENT: Encourages tactile, auditory and visual development
SURPRISE CRINKLES: Soft velour body with multiple textures for baby to discover
INTERACTIVE TOY: Mirror play helps baby learn to focus, track images and explore the face
FUN TOY FOR BABIES: Delightful sounds keep baby engaged and entertained
You'll want to get a few toys for baby that attach to the stroller or car seat, like these Lamaze Clip-On Stroller Toys. Choose from several different options, including a firefly, squid, koala, or jellyfish. Each adorable stuffed animal will encourage sensory development and keep your baby entertained on the go.
These portable toys attach easily and feature bright colors, fun textures, and mirrors for your baby to explore. Rattles and crinkly sounds also will promote their auditory development. Overall, this is a really simple yet entertaining toy that your little one will get a lot of use out of.
While these stroller toys are safe for newborns to play with, keep in mind that it might be a bit big for them from the start. This could lead to frustration for some younger babies. If this happens, hold off for a bit and try again in a few weeks.
Best Convertible: VTech Sit-To-Stand Learning Walker
VTech Sit-To-Stand Learning Walker
Removable Tray: The activity-packed, detachable panel is perfect for babies who can sit up; it can also re-attach to the walker for on-the-run fun on both carpet and bare floors
Auditory Training: The activity center for baby boys & girls includes five piano keys that play musical notes and a telephone handset to encourage creativity and role-play fun
Motor Development: 3 shape sorters, light-up buttons, and colorful spinning rollers are featured on the baby rolling walker to help define motor skills
Balance Development: The toddler walker activity center helps the development of stability & movement skills as well as fine motor skills & hand-eye coordination
If you're looking for something to encourage your baby to walk, you'll want to check out the VTech Sit-To-Stand Learning Walker. Recommended for babies ages 9 months and up, this toy has a removable activity panel that can be used when sitting, but also can be used as a push toy for toddlers.
This walker has all kinds of things to keep your baby busy—buttons, piano keys, spinners, gears, shape sorting, and a phone are all a part of the removable panel. Your baby will be learning and even doing some pretend play with this toy.
Keep an eye on your little one as they're learning to walk with this toy, because it can take some practice. The wheels might move a bit fast for new walkers, which can lead to a few bumps and falls.
Best for Newborns: Manhattan Toy Winkel Rattle & Sensory Teether Toy
Sale
Manhattan Toy Winkel Rattle & Sensory Teether Toy
BABY TEETHING TOY MADE FOR LITTLE HANDS:  The Winkel features a mesmerizing maze of soft, continuous BPA-free teething tubes, and can be refrigerated for additional soothing comfort – a perfect baby chew toy for tiny hands.
DEVELOPMENTAL BABY TOY:  Babies are instantly drawn to this colorful and lightweight infant toy. The Winkel promotes clutching and two-handed play while the center cube with tapered corners encases a quiet but pleasing baby rattle to provide auditory stimulus.
TIME-HONORED CLASSIC:  With over 25 years engaging babies and soothing even the fussiest of teethers, the Winkel is a perfect shower gift for new moms.  Safe and dependable, this classic toy for babies has received numerous accolades and has proven to be a true baby go-to and parent must-have.
BABY TOY FOR NEWBORNS AND UP: Safety rated for newborns and up, the Winkel measures 5″ x 4″ x 3.5″ and easily tucks into the diaper bag when baby is on the go.
The Manhattan Toy Winkel Rattle & Sensory Teether Toy is a simple but engaging sensory toy safety rated for newborns and up. It's lightweight and easy for tiny hands to grip as well, so your baby can play and teethe without frustration.
This colorful toy for engages your newborn's senses with an intriguing design, a smooth texture, and a rattle in the center. It'll also help to strengthen your baby's grasp and fine motor development. You can easily take this one on the go, too, since it should fit in your diaper bag.
Like most teething toys, this one is pretty simple, making it perfect for a new baby. But some older babies and toddlers may not be as interested in it. Overall, this toy is super affordable but well-made, so it should hold up to use by teething babies.
Best Simple: The First Years Stack N Count Cups
Sale
The First Years Stack N Count Cups
Colorful Baby Toys: 8 brightly colored cups stack together with Unique Holes in the Bottom for water play
Stacking Cups: Children love to fit toy cups together, stack them up, or turn them over and hide things underneath
Baby Development Toys: Large numbers on the bottom to practice counting & number recognition
Made without BPA
Stacking cups like The First Years Stack N Count Cups are a classic toy for older babies, and they're loaded with developmental benefits. Recommended for babies ages 6 months and up, these stacking cups are entertaining, versatile, and easy to clean.
Once your baby can sit up, these cups will encourage fine motor development and hand-eye coordination. The numbers on the bottom, different colors, and shape cutouts provide additional opportunities for learning, too! Your baby can even play with them in the bath.
Keep in mind that your newborn won't be interested in this one, so hold off until they're a bit older. Otherwise, this is really one of the best toys for babies and should last through the toddler and preschool years as well.
Best Versatile: Fisher-Price Deluxe Kick & Play Piano Gym
Sale
Fisher-Price Deluxe Kick & Play Piano Gym
4 ways to play as your baby grows
Learning content changes with baby's age & stage with 3 Smart Stages learning levels, plus a bonus piano play mode with real music notes
Large keyboard with 5 light-up keys, removes for take-along play
5 repositionable toys: self-discovery mirror, elephant teether, crinkle panda, lion rattle & monkey cymbal clackers
While simple toys are great for open-ended play, sometimes you need something a little more entertaining for your baby. The Fisher-Price Deluxe Kick & Play Piano Gym provides plenty of opportunities for fun and working on those gross motor skills. This toy will grow with your baby, too.
This versatile baby gym can be used four different ways. Newborns can play on their back and reach for the dangling soft toys or use the mat for tummy time. Older babies can sit up and play or even take along the removable piano.
While parents might not love the music that plays, this toy is a lot of fun for babies. Plus, play gyms like this give your baby some time to play, explore, and work on their motor development.
Best for Older Babies: Battat Pop-Up Pals
Sale
Battat Pop-Up Pals
4 pop-up animals, ready to pop out and play! Meet a friendly lion, an elephant, a Peppy bear, and a Dalmatian!
Press on the button of your choice: "snap!" it opens! Then shut The door: "clack!", and do it all again!
Teal, orange, purple and green turn, Push, slide or flip! Each button has its unique way to pop open!
Tiny hands friendly: flaps are easy to push back down. Buttons are easy to slide, push, flip or turn.
Pop-up toys are another classic for a reason. The Battat Pop-Up Pals encourage fine motor skills as your baby learns to push and turn different types of buttons to make cute animals pop out. This is a good toy for older babies, and recommended for ages 18 months and up.
This pop-up toy has cute animals and bright colors, and will teach your little one about cause and effect while strengthening fine motor skills. It's also simple, easy to use (if your baby is the right age), and durable.
Just remember that this toy is really intended for older babies. While many parents buy pop-up toys like this for younger babies, this can lead to frustration if they can't figure out how to work the buttons and switches.
Best for Crawling: Melissa & Doug Pull-Back Vehicle Set
Sale
Melissa & Doug Pull-Back Vehicle Set
INCLUDES 4 SOFT VEHICLES: The Melissa & Doug Pull-Back Vehicles set for babies and toddlers includes 4 safe, soft vehicles including a school bus, family car, fire truck, and police car.
EASY TO USE: The rev-up mechanism inside each vehicle makes it easy for babies and toddlers to get big acceleration with little input; they just pull them back and release to see them zoom off across the floor.
PROMOTES MULTIPLE SKILL DEVELOPMENT: Our car toys for babies and toddlers help to develop multiple skills, including sensory, fine motor, gross motor, and, communication.
GIFT FOR 9 MONTHS AND UP: Our Pull-Back Vehicles Baby and Toddler Toys makes an ideal gift for kids ages 9 months and up. Add the Melissa & Doug Hungry Pelican Learning Toy for even more hands-on learning fun.
With anything from Melissa & Doug, you know you are getting high-quality, developmentally appropriate toys, since they partner with the American Academy of Pediatrics to design their products. And the Melissa & Doug Pull-Back Vehicle Set is no exception!
Recommended for babies and toddlers ages 9 months and up, this set of 4 soft vehicles will encourage imaginary play, motor development, and visual-spatial planning. If you want to start encouraging your little one to crawl, this is also one of the best crawling toys you can find.
This is a very simple toy, which can be great for encouraging creativity, but might not keep all babies entertained. But overall, these cars are well-made and easy to use and clean, and are a nice alternative to hard plastic cars that your baby can safely enjoy.
Best for Sitters: VTech Busy Learners Activity Cube
VTech Busy Learners Activity Cube
Toddler Activity Cube: 5 sides of play encourage discovery and exploration; 4 light-up buttons introduce your baby to animal names, animal sounds and shapes
Pre-K Learning Toy: This alphabet activity cube has 14 interactive features that develop fine motor skills for any growing mind; your little one will learn colors, shapes, and more
Learn to Crawl: Motion sensor activates fun sounds when the activity cube is moved to attract your little one's attention and even assists babies with sitting up to play
Early Learning Center: The Busy Learners Activity Cube features 25 playful songs and melodies that keep toddlers engaged, entertained, and learning for hours
Babies love activity cubes that allow them to learn and explore, like this VTech Busy Learners Activity Cube. This one is loaded with interactive features like buttons and spinners that will keep your baby's attention and boost sensory development.
This activity cube will help your little one to learn about colors and shapes, and includes fun music and animal sounds for entertainment. If you need something relatively small and portable to keep your baby occupied, this is it!
Of course, if you're looking for a quiet and simple toy, you might not want to have too many VTech toys around. This has lots of sounds and music, which parents don't always love. If you are okay with the noise, this is a sturdy and engaging toy that many babies love.
Final Verdict
Sale
Fisher-Price Deluxe Kick & Play Piano Gym
4 ways to play as your baby grows
Learning content changes with baby's age & stage with 3 Smart Stages learning levels, plus a bonus piano play mode with real music notes
Large keyboard with 5 light-up keys, removes for take-along play
5 repositionable toys: self-discovery mirror, elephant teether, crinkle panda, lion rattle & monkey cymbal clackers
It's tough to pick out just one baby toy to proclaim as the best, because they all have so many benefits for your little one. Plus, you'll need different toys at different stages. Even so, the Fisher-Price Deluxe Kick 'n Play Piano Gym is one of the best toys for babies.
Here's why:
Versatility. This toy will grow with your baby. If you're planning ahead and looking for something that will last from birth through the toddler years, this is the best option.
Quality. Parents love this toy because it's well made and will last for years.
Features. There are so many fun and engaging features that will not only keep your baby entertained, but also contribute to their development.
Price. Considering all the use your baby will get from this toy, you'll get the most bang for your buck with this one.
Recommended Accessories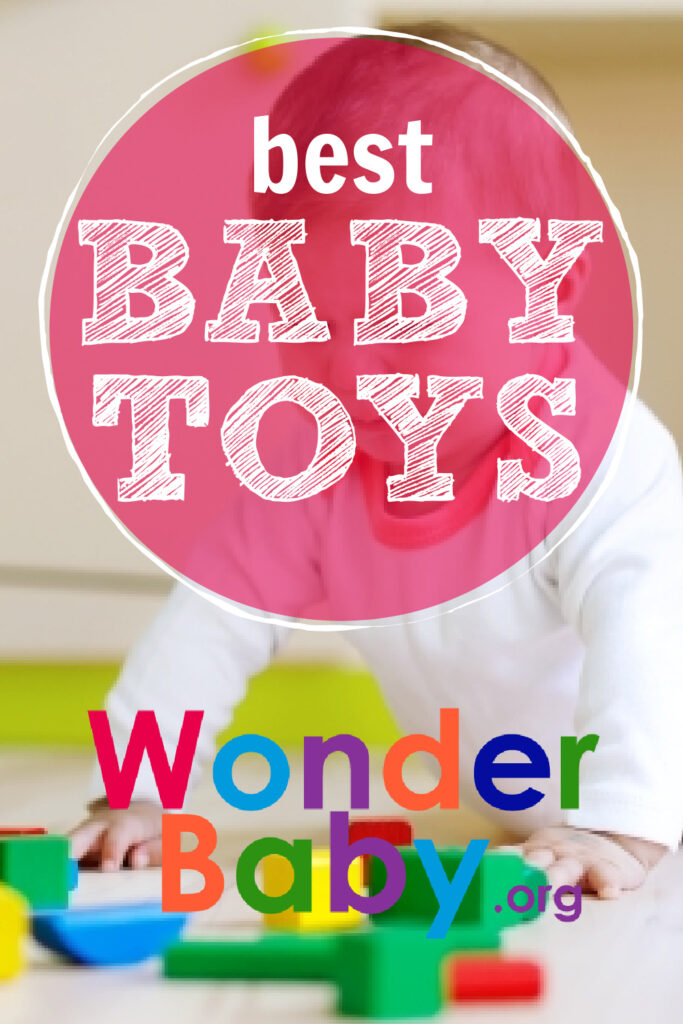 Related Posts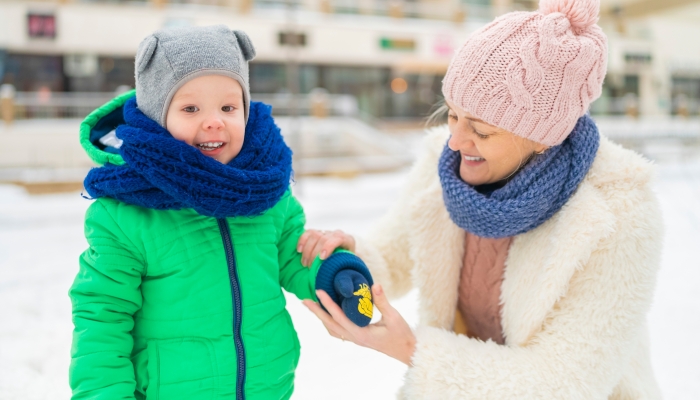 Product Reviews
As winter approaches it's time to shop for mittens and gloves for your toddlers and you'll probably need more than one pair!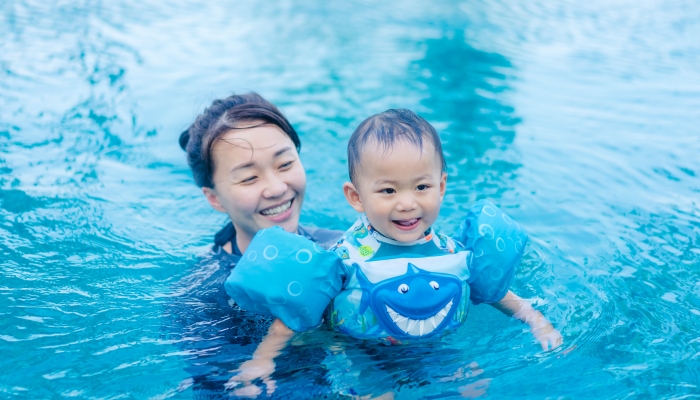 Product Reviews
Shopping for an infant life jacket? Our list of the best infant life jackets will steer you in the right direction.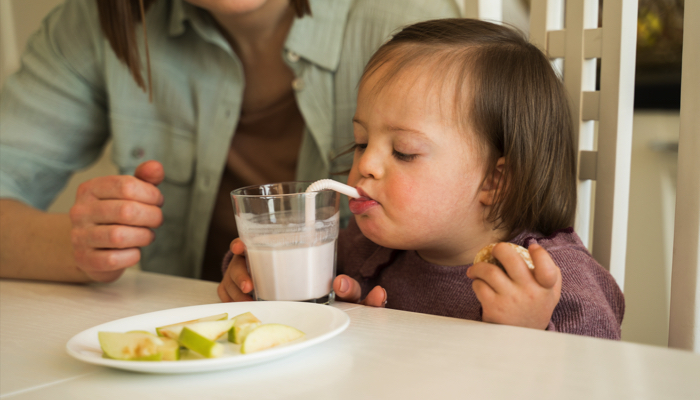 Product Reviews, Special Needs
For children with disabilities, adaptive tools are essential for learning how to master self-care skills like grooming, hygiene, and self-feeding.