The 10 Best Sensory Toys for Autism of 2023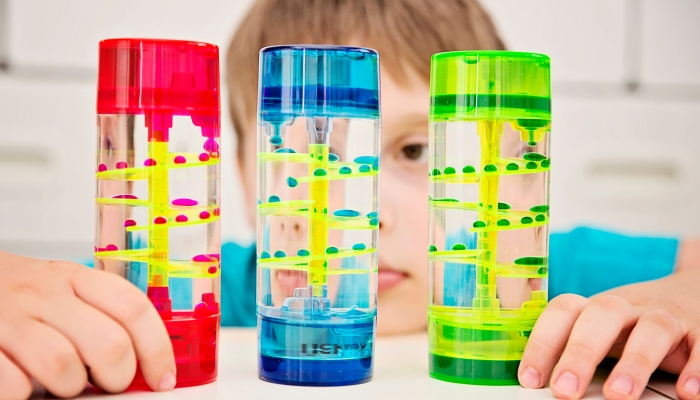 This post may contain affiliate links; please see our terms of use for details.
Sensory toys are versatile and useful tools that can help children with autism in so many different ways.
They're great for children with other kinds of sensory processing disorders too.
There are stimulating sensory toys that can be used to prompt reactions using multiple senses, develop motor skills, and help kids explore the natural environment.
But there are also calming sensory toys that can soothe, relieve stress, and help children with autism self-regulate when they are feeling overwhelmed or experiencing sensory overload.
Sensory toys do not replace treatment by an occupational therapist or other expert interventions. However, they can help a child learn about their senses and how to manage them. They can also help autistic children with gross motor skills, social interaction, and anxiety.
But most importantly, a sensory toy is something fun that provides children with a safe and pleasant experience that they can enjoy while also learning about the world.
Best for Fine Motor Skills
Best for Calming and Auditory Stimulation
Hape Beaded Raindrops Rattle
Best for Fine Motor Skills
Best for Calming and Auditory Stimulation
Hape Beaded Raindrops Rattle
Best Texture and Shape Toy: Sense and Grow Sensory Bean Bags
Sense and Grow Sensory Bean Bags
Discover Textures and Shapes in a Hands-On Way: Pull sensory beanbags out of your burlap bag to identify their shape, texture, and color; Enjoy a unique kit that indulges the sense of touch; Read all about the benefits of sensory play with the Sense & Grow guide that is attached to each box
Treat Your Senses: Develop coordination, exploration and color recognition with the Sense & Grow Products; Improve hand-eye coordination, dexterity, and fine motor skills as you explore the sense of touch with these textured beanbags
Feel, Squeeze and Discover Creativity: Help kids get creative by letting them identify the material, texture, shapes and colors of the beanbags; Then, have them compare it to items around the house. This sensory kit included 9 beanbags that are all wonderfully different and satisfying
Big Gift for Little Ones: Give a gift that will delight parents as well as kids; It's the perfect holiday or birthday present that will keep them entertained long after the party is over
These Sense and Grow Sensory Bean Bags come in a cute and practical burlap sack. The set includes nine bean bags in a nice size for children to grab and hold, even if they have difficulty with motor skills. Each bean bag has a unique and interesting texture, from scales to fur, satin to sequins.
This sensory toy provides visual and tactile stimulation, helps with shape and color recognition, and can be used in multiple ways. It includes a useful sensory play guide with ideas for games to engage fine motor skills, improve hand-eye coordination, and develop memory and creativity.
An added bonus is its convenient size and portability. This is a toy that can be taken on the go and played with in the car, in a waiting room, or anywhere that your child could use some help keeping their hands busy.
View on Amazon | View on Walmart.com | View on eBay.com
Best for Chewing: Chewigem Tread Bracelet
Some children on the autism spectrum need oral stimulation and like the sensation of chewing. But it can be challenging to find a sensory toy for chewing that is safe and that doesn't look like it's just for toddlers.
The Chewigem Tread Bracelet is a safe, non-toxic toy made of medical-grade silicone with no chemical smell or taste. It's tough, durable, and discreet and can be easily sterilized or even put in the dishwasher.
Parents of special needs kids rave about this product for its durability. They also love it for the variety of cool colors and styles to choose from. It also doesn't look like a sensory aid, which older children may appreciate.
View on Amazon | View on PattiandRicky.com | View on eBay.com
Best for Fine Motor Skills: Can Do Thera-Putty
Can Do Thera-Putty
STRENGTHEN YOUR HANDS – Squeeze, pinch, stretch or twist CanDo TheraPutty hand exercise material to strengthen hand muscles, improve fine motor skills, and decrease stress. Use to practice flexion, extension, press, pinch, and adduction exercises.
GREAT FOR EVERYONE – People of all ages can benefit from using TheraPutty. Children can use it to develop fine motors skills, or use it for play time. Adults can use it for hand rehabilitation, general hand strengthening, and stress relief.
PREMIUM MATERIALS – TheraPutty is made premium materials that will not dry out over time. It's latex, gluten, and casein-free. Safe for all, TheraPutty is non-toxic if swallowed.
IMPROVE FINE MOTOR SKILLS – Fine motor skills are crucial for completing daily tasks, like fastening a button. With TheraPutty, fine motor skills can be improved by strengthening finger muscles and simulating common daily movements.
Play putty is a great sensory toy with many benefits and many uses. It's excellent for developing fine motor skills, hand strength, and hand-eye coordination. Squeezing and reshaping putty is also helpful for relieving stress, tension, and anxiety.
Although there are many play putty products on the market for children with special needs, it's important to have a high-quality, non-toxic product that won't dry out, crumble, or be harmful if swallowed. Thera-Putty is exactly that. And it's also latex, gluten, and casein free. It's made of premium materials, so it won't turn into a rock or crumble into tiny pieces if you leave it out.
Thera-Putty is also available in bright colors, great for visual sensory input and color recognition.
View on Amazon | View on Walmart.com | View on Target.com
Best for Calming and Auditory Stimulation: Hape Beaded Raindrops Rattle
Sale
Hape Beaded Raindrops Rattle
SOOTHING RAINDROP SOUNDS: Turn this rainmaker over and stimulate senses with vibrant trickling beads and soothing raindrop sounds
ROBUST DESIGN: With an easy-to-grip design, your baby can use the toy easily, developing their grabbing abilities as they play
BRIGHT COLORS: The shake and rattle rainmaker features bright blue and green colors that will leave your little one in awe as the beads trickle up and down
SENSORY DEVELOPMENT: This innovative instrument provides children with hours of musical entertainment by imitating the gentle sound of rain. Great musical toy for sensory development
Rainmaker sticks are a classic toy loved by all kids. Children on the autism spectrum may find the sound of the stick soothing and calming. Watching the beads cascade down the spirals is also visually interesting. This is a sensory toy that can stimulate multiple senses at once without being overwhelming.
The Hape Beaded Raindrops rattle is a good option because of its durable, robust design and child-safe finishes. It's a toy that can withstand being dropped and that children of all ages may find relaxing.
View on Amazon | View on Walmart.com | View on Sears.com
Best Simple, Fun, Multi-Use Toy: Nutty Toys Pop Tubes
Nutty Toys Pop Tubes
😃 FUN STEM TOY FOR KIDS – bright coloured pop tubes are EASY TO CONNECT together like lego blocks giving your little ones freedom to explore designs and applications of their own; teach the kids LETTERS and SHAPES with this educational stem toy and get toddlers to improve their motor skills or simply let them fidget on a car ride; STRESS RELIEF FOR ADULTS – no joke, give an adult a pop tube and transform him into a child who won't let his new toy down and keep popping it and making noise;
👍 PERFECT for ADHD, Autism, Calm or Stress Relief on the go; Thanks to their UNEVEN TEXTURE and SATISFYING POPPING SOUND the pipes have a soothing effect capturing your attention and helping you calm down and regain focus in even the most stressful of situations. Take these poppin' friends everywhere with you, to the office, to school or on a quick drive to the store; also used for GROUP THERAPY & ADD where multiple participants connect each others tubes or use them to create sound together;
💪 SUPERIOR & HIGH QUALITY; The colorful montessori pipes are built with the highest quality BPA & LEAD FREE PLASTIC to the highest quality standards you should expect and are designed to withstand a ton of fidgeting, popping, stretching, pulling or bending thanks to DURABLE & THICK YET FLEXIBLE MATERIAL; Careful inspection of each tube guarantees CHILD FRIENDLY EDGES, making sure you won't get scratched in any sharp corners;
🎁 AMAZING GIFT IDEA: Toddler Stocking Stuffers, Easter Basket Stuffers or a surprise last minute birthday gift? Spread the joy & share these unique & popular fidgets with loved ones; Make someone's day with these stress relief good luck charms! Pop tubes fidget toys make popular top party favor goody bags, pinata fillers, Valentines or white elephant presents, egg stuffer, secret santa & hottest stuffings & toys for toddlers, boys and girls – COOL BOX included – WHOM WOULD YOU GIFT THEM TO?
Although there are many pop tubes available, what sets the Nutty Toys Pop Tubes apart is their extra-large size. These tubes pop and make pleasing sounds when they're stretched and retracted. They also come in fun bright colors, great for learning color names and for added visual stimulus.
But the bonus is that these tubes can be clicked together and attached to each other at the ends to make chains and build other creations. These are great for developing fine motor skills as well as creativity.
View on Amazon | View on Walmart.com | View on Sears.com
Best Fidget Toy: Tiny Toy Club Push Pop Bubble Fidget Toy
These pop toys from Tiny Toy Club are a simple and effective toy for calming anxiety and keeping fidgety hands occupied. These are high-quality silicone toys in a good size for little kids.
They come in packs of four, in a variety of vibrant colors and different shapes, great for teaching color and shape recognition. They also make a satisfying pop sound when the bubbles are pushed, providing a multi-sensory experience of sight, sound, and touch.
They're easily portable, easy to clean, and provide kids with sensory input without overstimulation.
Best Tactile Toy: Ortho Don Sensory Mat
This Ortho Don Sensory Mat is a brilliant toy for tactile sensory development. The set of eight interlocking tiles includes four different textures in multiple colors. The tiles can be experienced with both hands and feet, providing different sensory experiences.
The tiles can be used together as a mat or taken apart and experienced individually. There is color, shape, and touch to explore by walking, crawling, sitting, touching, or even just looking at this mat.
Easy to clean and store, this is a great sensory toy for engaging your child's tactile senses as well as helping them visually process shape, color, and texture.
Best for Attention and Focus: Bouncyband Wiggle Seat
Bouncyband Wiggle Seat
IMPROVE FOCUS – This small wobble chair cushion is specifically designed to help young kids stay focused and on task while seated. The wobble seat cushion gives children an outlet for excess energy in the classroom, at home, and during meals.
PERFECT FOR THE CLASSROOM – Portable and versatile, this wiggle cushion is ideal as classroom seating. Pre-school and young elementary students can quietly move while working, enabling them to stay on task and be more productive.
CALMING INFLUENCE – Featuring flexible child-sized nubs on one side and smaller bumps on the other, this wiggle seat always gives students just the right amount of tactile stimulation.
CUSTOMIZE FIRMNESS – This latex and phthalate free cushion comes inflated. The firmness of this sensory chair cushion can be customized to contour exactly to each child's needs. Simply inflate with the included easy-to-use pump!
Many children with autism, as well as ADD, ADHD, and sensory processing disorder (SPD) benefit from wiggle cushions. And this one from Bouncyband is a good choice. Bouncyband has sized their cushions for children ages three to seven, which makes them more manageable and useful for little kids. They come in a variety of great colors too.
The inflated cushion allows kids to move subtly, without being distracting to others, while still satisfying their need to be in motion. When children are in the classroom or other environment where they need to focus, the bumps on the cushion and the movement provide the physical stimulation that they need, allowing them to pay attention and feel calm.
Wiggle cushions can be used on chairs or sitting on the floor. Children can also stand on them barefoot for the physical sensation of the bumps on their feet while the wobble promotes their core strength.
View on Amazon | View on Walmart.com | View on eBay.com
Best for Calming and Deep Pressure: Playlearn Cuddle Ball Knot Pillow
Playlearn Cuddle Ball Knot Pillow
Cuddling the Cuddle Ball gives a sense of calm and security. Particularly helpful for calming children with anxiety, stress, hyperactivity, or other sensory issues.
Made with the softest of fabrics to make you want to slip your hands in, bring in close, and squeeze, hug, and cuddle.
There are gaps in the ball to put your hands inside providing extra comfort and warmth.
From a therapeutic perspective hugging a Cuddle Ball tightly brings deep pressure to the sensory system, aiding the reduction in anxiety and enhancing a feeling of calmness
The Playlearn Cuddle Ball Knot Pillow is made of soft, plush fabric. It allows your child to wrap their arms in it, applying deep, calming pressure to the sensory system that helps with anxiety and promotes relaxation. Many children with autism and other special needs respond well to deep pressure as a way of calming the nervous system.
The Cuddle Ball provides warmth, comfort, and softness, helping children relax, self-soothe, and self-regulate when they're feeling hyper or overstimulated. Its interesting shape and soft texture also make it a tactile toy they'll want to play with even when they're not giving it a cuddle.
View on Amazon | View on Walmart.com | View on Sears.com
Best Toy to Invest In: Constructive Playthings Light Panel
Sale
Constructive Playthings Light Panel
LED LIGHT PANEL: Brings your child's learning tools to life by providing over 10,000 hours of bright LED backlighting with a 3-way adjustable light
ENCOURAGES LEARNING THROUGH PLAY: Use this artist pad with see-through shapes (sold separately) that allow light to pass through to introduce the concepts of color, matching, design, and more
IDEAL FOR KIDS AND TODDLERS: Ideal for enhancing the playtime of younger kids and toddlers, and can be used in both home and educational settings
DURABLE CONSTRUCTION: Drawing panel is encased in strong, ultra-thin acrylic for long-lasting use
For children with autism and visual impairment, a light panel can be a great sensory stimulation toy. And it's something that will be interesting to all age groups.
This Constructive Playthings Light Panel can be used in lots of fun ways. Children can use it with their regular blocks and toys to build on top of it and experiment with it. Try it with colored kinetic sand, translucent magnetic tiles, colored stones, colored paper, or any objects you might have in the house that your child may find interesting when put up against the light.
You can also use it as a tracing board to copy pictures, patterns, and designs that your child can color in.
It's durable, lightweight, and meant for use by children, from toddlers to big kids. It has three lighting levels – low, medium, and high – to provide the right amount of visual stimulation for your child so they won't be overwhelmed.
Although it's the most expensive item on this list, it is worth the investment because it's long-lasting, has many uses, and can be enjoyed by your child as they grow.
View on Amazon | View on Walmart.com | View on Sears.com
What Are Some Common Sensory Issues for Children With Autism?
According to Autism Speaks, kids with autism and other sensory processing disorders may experience sensory sensitivities with the following:
Sight
Sound
Smell
Touch
Taste
Balance
Body position and movement
Internal physical cues and feelings
Autistic children may be hypersensitive to any of the above. This means that they may find some sensations, like bright lights or loud sounds, overwhelming. As a result, they may try to avoid overstimulating experiences.
Autistic kids can also be hypo-sensitive. This means that they may seek out more stimulation, like wanting to move a lot or engage their tactile senses with lots of touching of different textures.
Sensory sensitivity is a common symptom of autism. Using sensory toys can help you and your child manage their particular sensitivities while also helping their sensory integration.
How Can Sensory Toys Help With Sensory Sensitivities?
For children who seek stimulation, sensory toys help them explore and exercise their senses. They can help children get used to sights, sounds, textures, and movements that they encounter in the world.
Toys with bright colors, motion, and light can aid visual stimulation, a common issue with autism. Squishy toys and toys with different shapes and textures can provide tactile sensory stimulation. Specially designed sensory swings and weighted toys and aids can provide deep pressure and safe physical experiences.
For children who experience sensory overload, sensory toys can help with stress relief. Calming toys that use repetition, vibration, or soft sound, can provide a soothing experience and allow children to safely decompress when there is too much sensory information. Fidget toys, like stretchy bands or sensory bracelets, can give anxious hands something to do and help to relax.
Learning through play is an integral part of every child's sensory development. Sensory toys for autism are a fun way for kids to engage with their senses and explore their world in ways that are safe and comfortable for them, without overloading or understimulating their senses.
What Are the Best Sensory Toys for Autism?
There are many sensory toys on the market for children with special needs that will help develop their sensory systems as well as being fun. Here are a few of the best that engage the senses and help with sensitivities.
Tips for Using Sensory Toys for Autism
Sensory toys do not take the place of treatment by an occupational therapist who can assist your child in their development. All sensory toys should be used under adult supervision to keep your child safe and ensure that they are using them as intended. Look for sensory toys that are non-toxic and chemical-free where possible, especially for tactile and oral stimulation toys.
But also, have fun! There are many sensory toys that can be enjoyable for you and your child to use that can introduce them to new sensory experiences in fun and interesting ways!
Related Posts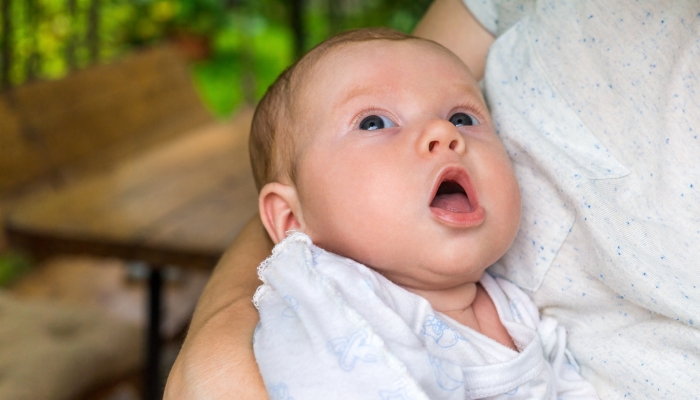 Autism, Development
If your baby's mouth is always open, you might be concerned about a link to autism. However, there are many other reasons for a babies mouth to be open.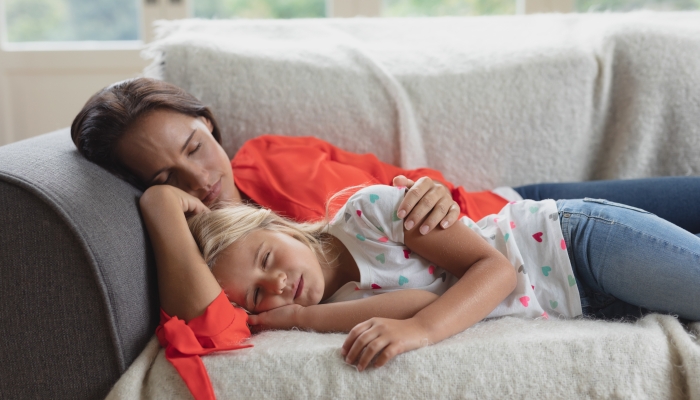 Autism, Sleep
Autism and sleep problems often go together. Improving sleep can help your child be less irritable and learn better and reduce stress in your home.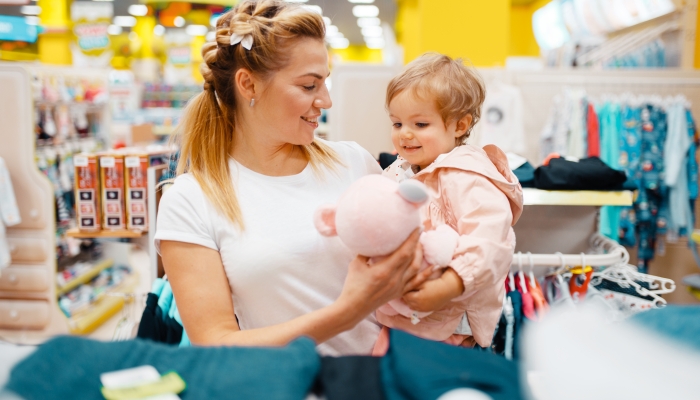 Toys
Ensure your child's well-being with top tips on choosing suitable toys that create a secure, fun play environment with our guide to safe toy selection.