The 7 Best Baby Bathtubs of 2022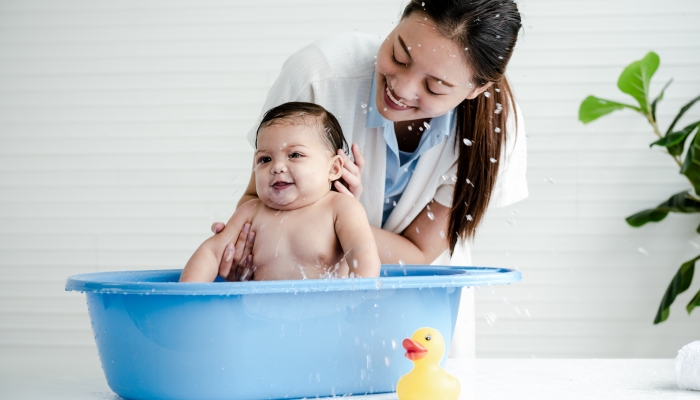 This post may contain affiliate links; please see our terms of use for details.
Baby bathtubs can make bathing your baby safer, more secure, and easier; for you and your baby.
When bathtime is less stressful, you and your baby will have more time to bond, communicate, and enjoy the sensory experience of water together.
There are baby bathtubs to fit every kind of space and need as your baby grows.
Do you have a baby bathtub on your baby gear list? Are you wondering whether you really need it?
A baby bathtub may seem like one of those extra bulky things that aren't really a baby "essential." However, if you ask any parent of a newborn about the first time they tried to bathe their writhing, slippery baby without one, they'll tell you that it's a definite must-have.
We've found a few of the best options out there to help you narrow down your choices and find the best baby bathtub for you and your little one.
Best Overall
Best for Double Sinks
Best Baby Bathtub for Travel
Fisher Price Baby Bath Tub 4-in1
Boon Soak 3 Stage Bathtub
Munchkin Inflatable Duck Bathtub
Best Overall
Fisher Price Baby Bath Tub 4-in1
Best for Double Sinks
Boon Soak 3 Stage Bathtub
Best Baby Bathtub for Travel
Munchkin Inflatable Duck Bathtub
Advantages of Having a Baby Bathtub
Bathtime can be a challenging experience for new parents and babies alike. Parents may feel anxious about everything from water temperature to how often to bathe their baby. Some babies, especially newborns, may find bathing a little overstimulating at first.
There are a few reasons why a baby bathtub should be on your baby registry or your newborn checklist. An infant tub with a sloped, textured surface or a newborn sling is recommended by the American Academy of Pediatrics (AAP) for young babies experiencing their first baths.
One of the things a baby bathtub does is reduce the space of an overwhelming sink or tub to give your baby a secure and comfortable area to relax in with their heads supported.
It also lets you relax as you have support in holding your baby in the water and you're not trying to do too many things at once.
Reduce the chance of accidents
Managing your wriggly baby in a baby bathtub where they can recline safely with their heads held out of the water means that you won't be frantically holding onto a slippery infant and reduces the chance of accidents.
More comfortable for moms post-delivery
A baby tub that fits securely on the kitchen sink allows parents to bathe their baby standing up at countertop height rather than crouching or kneeling by the side of the family bathtub.
This is an important and back-saving consideration for new moms who are recovering from delivery or c-section or who may have trouble lifting their baby from floor level.
More hygienic than communal sinks and tubs
Most baby bathtubs are easy to clean and dry right after use. When you're using the family bathtub or the kitchen sink for baby bathing, you will need to clean and sanitize it every time. You may find that a baby bathtub is more hygienic and a time saver.
No sharp or hot objects within reach
An infant tub is a safe and contoured space that keeps your baby away from hot faucets, sharp corners, drain plugs, knobs and other things that we as adults don't usually notice in our sinks and tubs.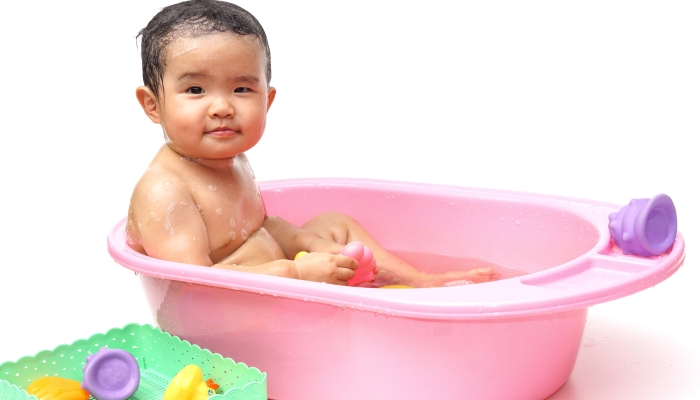 When Do Children Outgrow a Baby Bathtub?
The length of time your baby uses their baby bathtub depends on their age, size, and confidence in sitting up.
Many babies outgrow their infant tub around the age of 6 months when they can sit up with control and confidence in the big family bathtub.
However, you may have reasons to keep using the baby tub beyond six months, and many baby bathtubs are designed to be used for children up to a year to 18 months old. For example:
Your baby may still need the security and support of the baby bath depending on their physical development
You may want to save water by filling just the baby tub
Your baby may enjoy their little tub which is fine as long as they still fit in it
You may find it physically easier to use the baby bathtub
Transitioning from the baby bath to the regular bathtub is entirely up to what you and your baby need.
Different Types of Baby Bathtubs
When you look for baby bathtubs, there are many options to accommodate your space and your needs. The most important things to look for are non-skid surfaces, smooth rounded edges, and ease of draining and cleaning.
Sink inserts
These are cleverly designed foam devices that you insert into your kitchen sink. They immediately transform the sink into a soft, comfortable, non-slip bathing space.
They fold up after use so they are compact and take up little space. Look for sink inserts that are machine washable and dryable. They need to be washed often to prevent mildew and mold buildup.
Stand-Alone or Basin Tubs
These are mini-bathtubs usually made of hard, contoured plastic. They may be designed to hook onto your kitchen sink or double sink. They have non-slip feet so they won't move around in the sink. Many parents also place a stand-alone tub in their regular bathtub.
Many stand-alone infant tubs are convertible and adjustable to grow with your baby. They may include a newborn sling and a seat support.
It is important to note that bath seats which are not used as part of an infant tub system are not recommended. These are seats which are meant to be placed in your bathtub to help your infant sit upright in the bath before they can do so confidently on their own. They tip over easily and are not a safe choice.
Never leave a baby or child unattended in an infant tub, sink, or regular bathtub.
Best Baby Bathtubs of 2022
Angelcare Baby Bath Support – Best for Newborns under 6 months
Angelcare Baby Bath Support
CONVENIENT BABY BATHER: The Angelcare Baby Bath Support makes bath time easier and safer! Simply place the bather directly in the bathtub to secure and cradle your baby while partly immersing your child's body into the bath water.
ERGONOMIC & SAFE DESIGN: Designed with comfort and safety as the highest priority, the Baby Bath Support is made with lightweight yet durable plastic that is covered in a soft-touch mesh that is gentle on your baby's delicate and sensitive skin.
RINSES & DRIES EASILY: The quick-dry mesh material includes drain holes that allow soapy water to be rinsed away easily. Not to mention, cleanup is a breeze!
EASY TO STORE: This baby bathing item features a built-in hook for convenient storage and quick drying! With a compact design, you can place the Bath Support directly inside a bath tub. No setup or installation is required!
The Angelcare Baby Bath Support is a simple, compact, well-designed product for babies under six months old and under 20 pounds.
All you do is put it directly in your bathtub or large sink. It allows your baby to recline safely and ensures your baby's head is supported while they are partly immersed in the water.
The Angelcare Baby Bath Support is covered in a soft-touch mesh material that lets you rinse soap away easily and dries quickly. The mesh support is also comfy and gentle on your baby's skin.
It's compact and doesn't require much storage space and also comes with a hook to hang in your bathroom.
For the early months of bathtime, this is the perfect product to help parents feel secure about their baby's safety and comfort.
Blooming Bath Lotus- Best Compact Infant Insert
Blooming Bath Lotus
Handmade From the Softest Materials: Our signature product, the Lotus infant bath seat, conforms to most sinks to cradle and protect the baby, creating a safe, comfortable and fun bathing experience. Blooming Bath is the creator of the original flower bath seats, and they construct them with the highest quality plush materials for a thicker, safer, and more comforting bath experience
Newborn Essentials Must Haves: The Blooming Bath Lotus has 4 contoured petals, forming a safe baby bath mat for a stress-free bathtime. Our flower baby sink bath is designed and recommended for infants and babies up to 6 months. It is also great as a baby bath tub pillow for the transition to the grown-up tub
Easy to care for: Our ultrasoft crystal Minky fabric is washer & dryer safe on delicate. Wring out excess water from the bath seat and place in dryer to prevent any odor. The Blooming Bath should be regularly washed and cleaned for best results
Praised by Parents: Blooming Bath was voted "Best Baby Bath" by over 50K parents and was awarded the Parent Tested Parent Approved (PTPA) Award
A truly ingenious product, the Blooming Bath Lotus is a soft and comfortable insert that you can slip into any sink to transform it into a lovely, cushioned and safe baby bath.
Available in a variety of colors, the Blooming Bath Lotus has a non-slip base at the center of its flower shape that secures it to the base of your sink. The contoured fabric petals of the lotus then cushion each side of your kitchen or bathroom sink, creating a comfortable and supportive bath seat for your baby.
It can be used for babies from newborn to six months of age. Because it's fabric, you do need to regularly wash and dry it. However, it's made of antimicrobial materials to prevent mold and mildew and it's easy to just pop in your washing machine or dryer.
Best of all, you can just fold it up and put it away. No bulky plastic tub to try to cram into your bathroom!
Boon Soak 3 Stage Bathtub – Best for Double Sinks
Sale
Boon Soak 3 Stage Bathtub
Three stages- newborn, infant, Toddler
Adjustable bump for positioning
Contoured back wall with non-slip foam to hold baby in place
Fits in most double sinks
The Boon Soak 3 Stage Bathtub is designed to fit most double sinks, which not many baby bathtubs can do. It also has a color-changing drain plug which helps you gauge the bath temperature. That's the kind of feature that reassures new parents in those early stages of baby bathtimes.
In addition to fitting a double sink, the Boon Soak 3 Stage Bathtub is an adjustable tub. This means you can use it for your child from newborn up to 18 months. It has a convertible bump which helps you position your baby comfortably and safely allowing them to recline with head support in the early months and then graduate to sitting up safely to play.
The First Years Sure Comfort Deluxe Newborn to Toddler Tub – Best Adjustable Baby Bathtub
Sale
The First Years Sure Comfort Deluxe Newborn to Toddler Tub
BABY BATH TUB: Three stages of transition from newborn to toddler, comes with a comfortable sling
ERGONOMIC DESIGN: This bath tub for baby features an Infant hammock like sling inside the tub and holds a growing baby better during bath time
COMFORTABLE NEWBORN BATH: Mesh sling provides extra support and comfort during first bath times
TODDLER BATH: Toddlers are supported on the upright side of the baby tub with plenty of room to play
For forward-thinking parents who don't want to buy multiple bath devices as their baby grows The First Years Sure Comfort Deluxe Newborn to Toddler Tub is an affordable baby bathtub option.
You can adjust your child's position in this tub from the newborn stage onward making it more versatile than many other bathtubs. Many parents particularly like the removable mesh sling which cradles a newborn baby like a hammock.
In addition to the newborn sling, it has other practical features too like a handy accessory tray for sponges and bottles so that parents aren't reaching around trying to find them while bathing their baby. It is also designed to hook onto a kitchen sink but works equally well in a regular bathtub because of its anti-slip pads.
Munchkin Inflatable Duck Bathtub – Best Baby Bathtub for Travel
Munchkin Inflatable Duck Bathtub
The white hot safety disc turns white when water is too hot
Padded tub makes big tubs comfy for kids
Great for travel deflates and folds easily
Textured bottom so baby won't slip. Always keep infant within adult's reach
When you're on the go and traveling to the grandparents' house or on vacation an inflatable baby bathtub is a great thing to pack. This adorable Munchkin Inflatable Duck Bathtub is a favorite of parents.
Made of durable material, parents report that this inflatable tub doesn't lose air once you've blown it up. It has two excellent safety features. First, it has a textured non-slip surface on the bottom so your baby won't slip down. Second, it comes with a safety disc that turns white when the bath water is too hot.
For babies ages 6 to 24 months, this cute baby tub deflates and folds down easily making it ideal for travel. It's so sweet your baby won't want to get back into a traditional bathtub again!
Skip Hop Baby Bath Tub with Smart Sling – Best Designer Baby Bathtub
Skip Hop Baby Bath Tub
Our cheerful whale-shaped Moby tub grows with baby through three stages and offers Smart Sling support. The sling locks into two ergonomic positions: higher for full-body support and lower for seated support
Dual layered mesh and comfort-edge construction securely cradles baby from head-to-toe
He slings adjusts to a cushioned seat that comfortably supports babies learning to sit. Remove the sling when baby has mastered sitting and easily bathe baby in the spacious tub—no uncomfortable plastic bumps
Tub grows with baby through three stages: Stage 1: Newborn (0-3 months; up to 15 lbs); Stage 2: Infant (3-6 months; up to 20 lbs); Stage 3: Sitters (6+ months; up to 25 lbs)
Skip Hop is the go-to brand for parents who want their baby gear to look sleek, modern, and well, not so much like baby gear. The whale-shaped Skip Hop Baby Bath Tub, especially in gray, is a smart-looking baby bathtub for the modern bathroom.
This baby tub doesn't just look cool. It also has some great, practical features. This is an adjustable, three-stage tub that can be used from newborn to toddler. It features a soft mesh sling with an ergonomic design to provide full support for newborns and seated support for older infants. Just take the infant sling out once your baby is sitting confidently.
The bottom of the bath has a non-slip surface. It also has a drain plug and a swivel hook so that you can hang it from the shower rod or towel rack in your bathroom. Check out some of the adorable matching whale accessories to make bath time even more fun.
Final Verdict – Fisher Price Baby Bath Tub 4-in1
Fisher Price Baby Bath Tub 4-in1
Convertible bath tub for use from newborn to toddler (max. weight 25 lb/11,3 kg)
Includes soft mesh sling for newborns and infant insert to prevent slipping and help support unsteady sitters
Plug for easy draining and cleaning
Convenient hook for drying and space-saving storage
Finally, the baby bathtub that does it all from one of the most trusted baby brands at a reasonable price is the Fisher Price Baby Bath Tub 4-in1. It also comes in a variety of designs and colors to match any decor.
Unlike other baby tubs, this Fisher-Price tub adjusts in four ways, not just three. It has a mesh sling for newborns. You then insert the baby seat at the end of the tub to provide support for bigger babies. Flip the sit-me-up support seat around when your baby starts sitting and it supports them until they're confident. Finally, take the seat out for a nice spacious toddler bath to play in.
Not only does this tub provide your baby with comfort and safe support at all stages, but it also comes with two fun bath toys.
It has a drain plug for easy draining and cleaning and a convenient hook for space-saving storage.
As far as a newborn to toddler tub goes, this Fisher-Price option is an affordable, practical, and long-lasting investment.
FAQs
Does my baby need bath toys?
Very young babies do not need toys and may find them overstimulating. The experience of water and having a bath is usually enough for them.
Once your baby is sitting up and engaging with their baths, floating toys are fun and great learning tools. Remember however that you will need to clean bath toys regularly, especially squeezy toys because they can harbor mold and mildew.
How often should babies get bathed?
Newborns should not have a bath until their umbilical cords fall off. After that, the AAP recommends that young babies can bathe about three times a week up until their first year.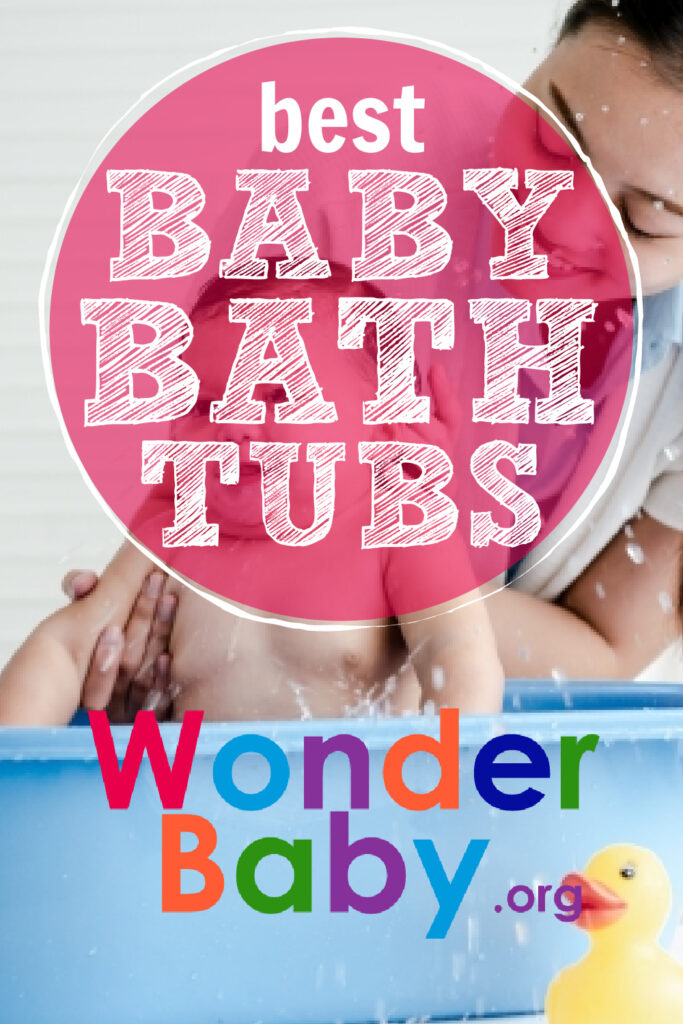 Related Posts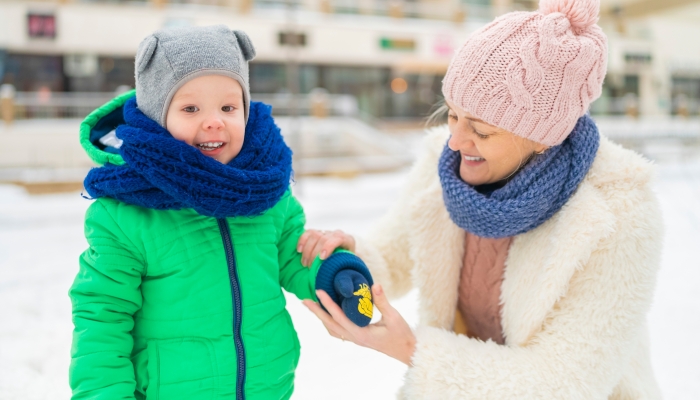 Product Reviews
As winter approaches it's time to shop for mittens and gloves for your toddlers and you'll probably need more than one pair!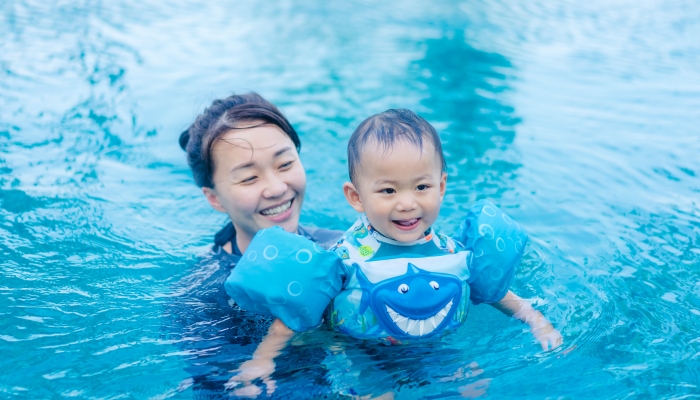 Product Reviews
Shopping for an infant life jacket? Our list of the best infant life jackets will steer you in the right direction.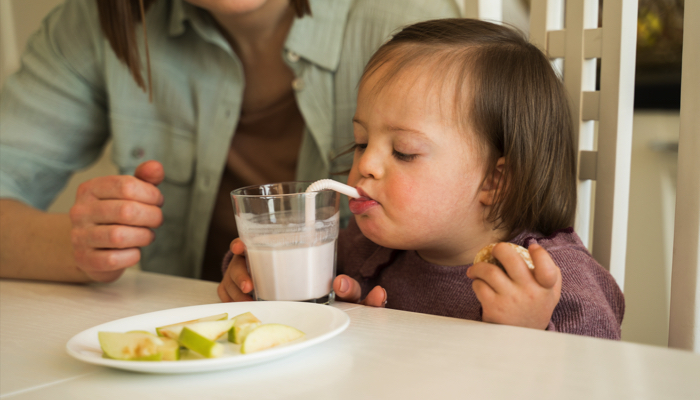 Product Reviews, Special Needs
For children with disabilities, adaptive tools are essential for learning how to master self-care skills like grooming, hygiene, and self-feeding.