7 Best Pregnancy-Safe Protein Powders of 2023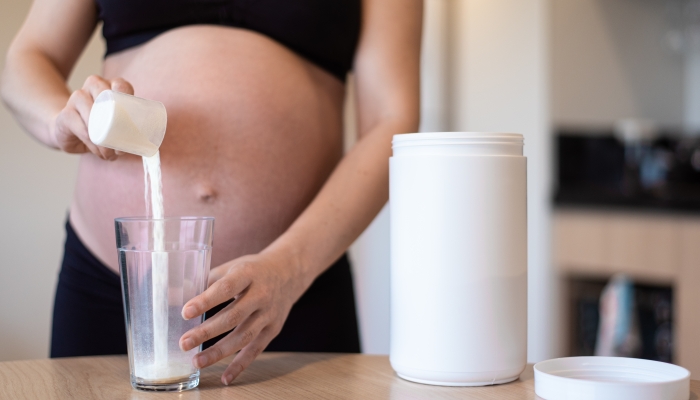 This post may contain affiliate links; please see our terms of use for details.
Pregnant women need about 70 grams of protein a day.
Most protein supplements are safe during pregnancy.
Try to choose a protein powder without artificial flavors or artificial sweeteners.
Protein powder can promote milk supply for breastfeeding after delivery.
One of the best things that pregnant women can do for their growing baby is to maintain a healthy diet. Getting enough healthy fats, essential amino acids, whole grains, and vitamins and minerals will help your baby get everything they need to grow and thrive.
Maintaining a healthy diet will also help you feel your best and recover well after delivery. One of the easiest ways to improve your diet and get enough protein is to add a protein supplement to your daily routine.
To make sure you are meeting all of your nutritional needs during pregnancy, try one of these 7 best pregnancy-safe protein powders.
Best Choice
Best Budget
Best Organic
Boobie Body Organic Superfood
Navitas Organics Hemp Powder
Garden of Life Organic Vegan Protein
Best Choice
Boobie Body Organic Superfood
Best Budget
Navitas Organics Hemp Powder
Best Organic
Garden of Life Organic Vegan Protein
Our First Choice: Boobie Body Organic Superfood
Boobie Body Organic Superfood
THE SUPERFOOD SHAKE MOMS TRUST – Boobie Body is trusted by moms as a go-to prenatal protein powder, milk-boosting lactation drink mix, and post workout shake to support postpartum weight loss.
PREGNANCY & BREASTFEEDING ESSENTIALS – Supports all stages of motherhood with 9 organic superfoods, 19g plant-based protein, 1 Net Carb, 0g Sugar, vitamin D, prebiotics to help you feel fuller, and custom 11-strain probiotic blend (goodbye bloat).
SUPPORTS HEALTHY MILK SUPPLY – Boobie Body is ideal when used as a lactation protein powder since it's packed with milk-boosting galactagogues, creating the ultimate protein powder for nursing moms. The superfoods continue to offer health benefits after weaning and while raising your families.
QUALITY INGREDIENTS – USDA Certified Organic, Dairy-Free, Vegan, Gluten-Free, Keto-Friendly, Non-GMO, Soy Free, Certified Kosher, Caffeine Free, and Fenugreek Free. Pregnancy Safe Protein Powder. Made in the USA.
Boobie Body Protein is an excellent choice for both pregnant and nursing mothers. This pea protein helps mothers meet their protein needs, while the added superfood ingredients provide other nutrients to support a healthy immune system and increase lactation.
Boobie Body contains 19g plant-based protein, 1 net carb, 0g sugar, 9 organic superfoods, added vitamin D, and a custom 11-strain prebiotic and probiotic blend.
Besides the nutritional benefits, we also love the individual packaging that makes this protein powder incredibly convenient. Rather than having to scoop dry powder and figure out a way to bring it with you, each serving of Boobie Body comes in its own individual package.
There are several flavors of this plant-based protein for you to choose from, including Coffee Caramel, Vanilla Chai, and Vanilla Cookie. While many women love the taste of this one, not everyone will, especially if you aren't used to the taste and texture of protein powders.
Allergen Information: Soy-Free | Protein Content per Serving: 19 grams
View on Amazon | View on Walmart.com | View on eBay.com
Naked Whey Protein Powder
Naked Whey Protein Powder
ONLY ONE INGREDIENT: 100% Grass Fed Pure Whey Protein with zero additives. Naked Whey no artificial sweeteners, flavors, or colors and is GMO-Free, No rBGH or rBST, Soy Free and Gluten-Free.
ALL NATURAL WHEY: Our Grass Fed Whey is sourced from small dairy farms in Idaho & Northern California to bring you a non-denatured whey packed full of essential amino acids, clean protein and glutathione.
MAXIMUM NUTRITION: 25g of Protein, 2g of Sugar, 3g of Carbs, 120 Calories, and 5.9g of BCAAs (branched-chain amino acids) per serving.
COLD PROCESSED: Unlike most whey protein powders, Naked Whey is cold processed to ensure zero contamination from chemical detergents (no acid or bleach), synthetic additives, or heavy metals, and this maintains important naturally occurring growth factors.
If you're looking for a whey protein powder safe for pregnancy, Naked Whey Protein is a good choice. This high-protein drink has 25 grams of protein per serving and is made with only one ingredient: whey protein concentrate. Because it only has one ingredient, you don't have to worry about added sugars, artificial ingredients, or toxic chemicals in your prenatal protein powder.
Naked Whey Protein powder is one of the best protein powders for people who can tolerate lactose. Animal protein like whey is a complete protein, which means you get all essential amino acids in each serving.
Unfortunately, some people have reported nausea and stomach problems after drinking Naked Whey. If protein shakes give you an upset stomach, you may have better luck using pea protein powder.
Allergen Information: Gluten-Free | Protein Content per Serving: 25 grams
View on Amazon | View on Walmart.com | View on eBay.com
Ritual Essential Protein
Ritual Essential Protein
The first protein powder of its kind, with key nutrients to support mom and baby during pregnancy and postpartum. Essential Protein Daily Shake Pregnancy & Postpartum is the clean, traceable plant-based protein with an excellent source of Choline to help support new nutrient needs during pregnancy, postpartum, and lactation. Each serving provides 20g of protein, 0g of sugar, and 250mg of Choline.*
Made Traceable: Our world-class scientists scoured the globe for high quality ingredients when formulating Essential Protein Daily Shake Pregnancy & Postpartum. Our plant-based formula includes pea protein from regeneratively farmed peas grown in the USA to help build lean muscle and support bone health and satiety, and Choline from Missouri, made using nature-identical tartaric acid to support a growing baby's neurodevelopment.*
Delicious Flavor Experience: Layers of sweet vanilla, subtle nuances of caramel and hints of spice make Essential Protein Daily Shake Pregnancy & Postpartum fit to shake up your every day. It's smooth and delicious with zero chalkiness. It has no Stevia or sugar alcohols, and no aftertaste.
Clean Formula: Essential Protein Daily Shake Pregnancy & Postpartum contains 8 premium, non-GMO ingredients. It's vegan, sugar-free, gluten-free, dairy-free, soy-free, and formulated without GMOs, stevia, sugar alcohols, and artificial colors or sweeteners. Not a reduced calorie food
Ritual Essential Protein is a plant protein powder made from pea protein. Their formula is specifically designed to be used by pregnant women. This protein powder contains zero added sugar or artificial colors and sweeteners.
Ritual Essential Protein comes in a mild vanilla flavor that will be easy on your stomach and can be mixed with other fruits or milk to make a complete meal. Many women enjoy the flavor and appreciate the added nutrients like choline.
Like many other plant-based proteins, this powder tends to clump when not mixed well. Using a high-powered blender should eliminate any problems with texture.
Allergen Information: Soy-Free, Gluten-Free | Protein Content per Serving: 20 grams
View on Amazon | View on Ritual.com | View on eBay.com
Navitas Organics Hemp Powder
Navitas Organics Hemp Powder
Milled from cold-pressed hemp seeds, Navitas Organics Hemp Powder is naturally 50% complete protein by weight
Great source of essential fatty acids, which are necessary for optimal functioning. Hemp contains the ideal ratio of omega-3 to omega-6 fatty acids for our bodies
Blend easily into smoothies, shakes, dips and baked goods
USDA Organic, Kosher, Non-GMO, vegan, gluten-free, 32 Servings
Navitas offers many different types of dietary supplements to help you increase your protein and nutrient intake. Their Organic Hemp Powder is a plant-based protein powder that contains only certified organic hemp powder. Navita's customers have good things to say about the taste, texture, and affordability of this product.
Research shows11. Leson, G.. Nutritional Profile and Benefits of Hemp Seed, Nut and Oil. Wasabi. 2002. https://s3.wasabisys.com/ecochick/hempnutrition.pdf that hemp protein is one of the best food sources of protein you can get and that hemp has the ideal balance of omega 3 and omega 6 fatty acids.
In addition to their hemp powder, Nativas offers acai powder, cocoa powder, and an organic superfood blend that can be added to any other protein powders for pregnancy.
Allergen Information: Gluten Free | Protein Content per Serving: 13 grams
View on Amazon | View on Walmart.com | View on eBay.com
Needed. Collagen Protein Powder
Needed. Collagen Protein Powder
SKIN & TISSUE HEALTH: Collagen Protein directly impacts both the ease of and recovery from vaginal births and C-sections, as well as supporting pelvic floor integrity and preventing vaginal tearing and stretch marks
IMMUNITY & GUT HEALTH FOR MAMA & BABY: 15g of protein with a tailored amino acid profile meet the elevated protein requirements during pregnancy and support a growing baby and mama's changing body when other sources of protein fall short
MAMA'S OVERALL WELLNESS BEFORE, DURING & AFTER PREGNANCY: helps manage blood sugar and weight, nausea, joint pain, and other ailments resulting from protein deficiencies
INSPIRED BY NATURE, SUSTAINABLE & CLEAN SOURCING: ethically sourced from the hides of grass-fed, pasture-raised, hormone-free bovines, contains no inflammatory ingredients, free of heavy metals and other toxins.
Collagen powder has started to become more popular among men and women who want to improve their skin and hair health. You may be surprised to hear that collagen protein can also be one of the best protein powders for pregnancy.
Needed. Collagen Powder is made from 100% collagen and contains no added ingredients. This powder is non-GMO, gluten-free, and dairy free—perfect for people with food sensitivities.
This collagen powder claims to have a neutral flavor that can be mixed with other ingredients like fruits or vegetables, but some users have said that it takes a lot of fruit to completely cover up the taste.
Allergen Information: Gluten-Free | Protein Content per Serving: 13 grams
View on Amazon | View on thisisneeded.com | View on eBay.com
NOW Egg White Protein
Sale
NOW Egg White Protein
NOW Sports products are comprehensively tested so you can trust that our products are pure and effective for every level of athletics.
WITH BCAAs: An excellent natural source of high-quality protein to add to your daily smoothie!
HIGH-QUALITY PROTEIN: Good quality proteins rate well on the Protein Digestibility Corrected Amino Acid Score, the most accurate measurement of a protein's quality, and this protein rates as one of the highest quality proteins available.
GMP Quality Assured: NPA A-rated GMP certification means that every aspect of the NOW manufacturing process has been examined, including our laboratory/testing methods (for stability, potency, and product formulation).
Eggs are known for their high protein content and other health benefits. NOW offers a protein powder that is made primarily from egg whites. NOW Egg White Protein comes in both chocolate and vanilla flavors, and many users have stated that it blends more easily than other types of powders.
While this product is catered towards athletes and people trying to build lean muscle, egg white protein is a good option for pregnant and breastfeeding women.
The downside of this product is that it does contain xylitol and stevia extract. While these ingredients are generally regarded as safe, some people prefer to avoid them.
Allergen Information: Gluten-Free | Protein Content per Serving: 20 grams
View on Amazon | View on Walmart.com | View on eBay.com
Garden of Life Organic Vegan Protein
Sale
Garden of Life Organic Vegan Protein
WHAT'S THE SCOOP: Rebuild broken muscle and reduce recovery time with 22g of complete plant-based protein and 4g of a complete branched chain amino acid profile; But that's not all—stay satiated longer with 5g of fiber in just 130 calories per serving
DOWNRIGHT DELICIOUS: We're taking a stand against chalky and bringing tasty back; Not only is Raw Organic Protein now easy to mix and silky smooth, but our Vanilla Flavor is downright delicious; Mix with water, blend in smoothies or add in to baked goods
SHAKE IT UP: Raw Organic Protein has been shaken up to improved texture and mixability all while being sugar free; Organic peas, sprouted grains, seeds, legumes plus whole food vitamins and minerals deliver nutrients you need with 1g total net carbs
DON'T TAKE THE HEAT: Made at low temperatures, Raw Organic Protein is anything but ordinary; Scoop up digestive enzymes like lipase, lactase and papain plus live probiotics including probiotic Bacillus subtilis DE111 for digestion and proper absorption
Garden of Life is known for offering high-quality organic and vegan products to its customers. The Garden of Life Organic Vegan Protein Powder is one of their best products. Offered in Chocolate, Vanilla, Chai, and Neutral flavors, there's an option for all taste preferences.
This protein powder is made from organic peas, sprouted grains, seeds, and legumes, with the addition of some whole food vitamins and minerals. On top of that, this protein contains live probiotics to aid in healthy digestion.
Garden of Life products meet high quality standards and have earned many certifications including Certified USDA Organic, Non-GMO Project Verified, Certified Vegan, Kosher, and NSF Certified Gluten Free.
Like many other protein powders, not everyone will love the taste and consistency. And while the unflavored powder does have a mild taste, it's easily covered up by adding a few pieces of fruit to your smoothie.
Allergen Information: Gluten-Free | Protein Content per Serving: 22 grams
View on Amazon | View on Walmart.com | View on eBay.com
Recommended Accessories
Making a protein shake is easy, but you need the right tools to avoid clumping and to give your drink a smooth texture.
Blender Bottle
Sale
Blender Bottle
20-ounce capacity (Note: measurement markings only go to 14 ounces)
Patented mixing system uses 316 surgical-grade stainless steel BlenderBall wire whisk found only in BlenderBottle brand shaker cups
Wide mouth makes it easy to add mix scoops and liquids, and embossed markings measure both ounces and milliliters; rounded base for thorough mixing
Screw-on lid creates leak-proof seal, and secure flip cap with SpoutGuard keeps the mouthpiece clean; wide loop top for easy carrying or attaching keys
Blender bottles are cheap and portable, making them a great tool for helping you meet your protein needs during pregnancy. They are usually just a bottle with a mixer inside that breaks up your protein powder when you shake it. If you choose to use a blender bottle instead of an electric blender, plan to shake up your smoothie for a long time to get all of the clumps out.
Portable Blender
Sale
Portable Blender
1:EASY TO USE:could make fruit juice in minutes, with filter to separate residue and liquid,Enjoy your fruit juice anytime and anywhere.With this fruit juicer, enjoy fresh nutrient retention and wonderful leisure time.
2:BLADE UPDATED:Portable Personal Blender, Six Blades in 3D for Superb Mixing.Drink a protein shake, smoothie or healthy drink everyday,The juicer extractor is designed with 6 PCS blades and strong power system, full copper cooling motor, double heat dissipation, which can effortlessly pulverizes fruits, vegetables into amazing smoothies
3:ENVIRONMENTAL MATERIAL:friendly-It uses food grade non-toxic material that can be used safely. High-intelligence blender for cup, which have smart safety protection device.
4:RECHARGEABLE WITH USB CABLE – With the built in large capacity rechargeable battery, the juicer mixer can be charged by power bank, laptop, computer, mobile phones or other USB devices
No one enjoys drinking a protein shake with clumps. While blender bottles can work well if you shake them hard enough, an electric blender is the best way to get a smooth drink texture.
A small portable blender is a great way to make a fresh protein drink anywhere you go. Most of them can even be plugged into a car USB charger. Most portable blenders work well enough to handle the addition of ice, spinach or kale, and soft fruits to your mixture.
Cooler Bag
Cooler Bag
⛄Built In Detachable Gel Packs:The small cooler bag with removable gel packs. It's more easier to clean or put into fridge.You don't need to waste money on separate ice packs or gel packs. You can also take out gel packs from the freezable lunch bag and used on other things.Ideal for people 3+.
⛄2 Ways Frozen: 1 Collapse and freeze the small lunch bag overnight (12 hours), 2 Just freeze the gel packs(6 hours) horizontal before putting back into the small insulated bag, instead of freezing entire bag that save freezer space and time. The 2 ways can keep food cool or fresh longer. Ideal for travel/picnic/work/school/adventure.
⛄Stay Cold Longer:The rectangular shape allows room for the freezer lunch bags to hold a small container or bottle. Ideal for packing healthy foods or items need to be keep cool such as: yogurt,breast milk,snacks ,cut fruits, cheese, apple sauce,insulin medicine. Food stays cool and fresh all day, reducing waste and saving money.
⛄Fun Design:This freezable snack bag measures 5 inches tall, 9 inches long and 4 inches deep (front to back).The wide zipper opening makes it easy and convenient to pack all kinds of items. The insulated snack pouch is also designed to fit in backpacks, gym bags and diaper bags. There's even a buckle handle that clips onto totes, sports bags and strollers.
If you want to add some whole foods like fruits and vegetables to your shake on the go, you'll have to find a good cooler bag. The best part is, an insulated bag can also be used to store pumped breast milk after your baby is born.
Why Are Protein Powders Good for Pregnant Women?
There are several reasons that a pregnant woman might benefit from adding a protein powder to their diet.
Protein Content
Growing an entire human is a lot of work for a pregnant woman. According to experts at the Mayo Clinic22. Mayo Clinic Staff. Pregnancy diet: Focus on these essential nutrients. Mayo Clinic. 2022. https://www.mayoclinic.org/healthy-lifestyle/pregnancy-week-by-week/in-depth/pregnancy-nutrition/art-20045082, a pregnant woman needs about 71g of protein per day. Protein shakes can be used as a dietary supplement to meet these protein requirements for a healthy pregnancy.
Easy on the Stomach
While lean meats, eggs, and plant foods like beans are protein-rich foods, drinking protein shakes is sometimes an easier option. This is especially true for women who struggle with nausea or a decreased appetite during their pregnancy.
Convenient
Pregnancy can make you feel tired a lot of the time. Cooking a healthy meal takes a lot of time and energy, and it's often easier to just grab a quick snack. Unfortunately, many grab-and-go snacks are full of sugar and empty calories.
Using protein powder is quick, easy, and healthy. In addition, products like blender bottles can make your protein powders portable, meaning you can have a quick, easy, healthy meal anywhere you go. You could even bring a protein shake along as one of your snacks for your hospital bag.
How to Choose the Best Protein Powder for Pregnancy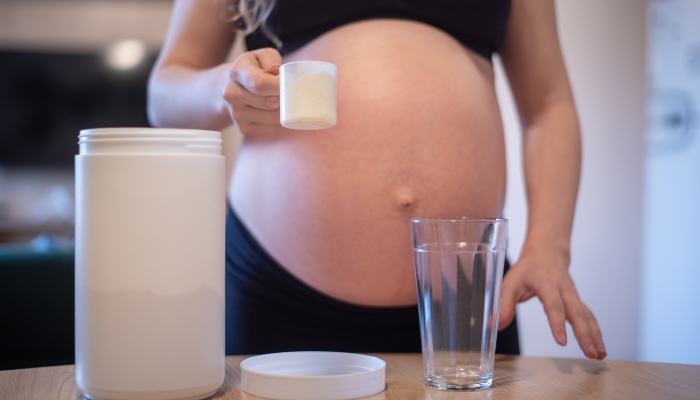 When you're looking for a protein powder, there are a few things you'll need to pay attention to.
Protein Content
Not all protein powders have the same amount of protein. Check the label to see how many grams of protein are in a serving. Some meal replacement shakes contain very little protein, while others can have over 40 grams of protein in a single serving.
It's also important to look for complete protein sources or shakes that contain all essential amino acids. The body needs all 9 essential amino acids33. Lopez, M. J., & Mohiuddin, S. S.. Biochemistry, Essential Amino Acids. National Library of Medicine. 2023. https://www.ncbi.nlm.nih.gov/books/NBK557845 from food sources since it cannot synthesize them.
Added Sugars
Protein shakes are generally marketed as a healthy food, but watch out for protein powders that contain a lot of added sugars or artificial sweeteners. Some protein powders have enough added sugars to make them more like a milkshake than a health drink.
Flavor
The flavor of a protein powder for pregnant women is almost as important as the complete amino acid profile. Since so many pregnant women suffer from nausea and poor appetite during pregnancy, pregnancy protein shakes have to taste good.
You might have to test a few different flavors of protein powder during pregnancy to find one that you like. Making sure that you make the protein powder well enough to eliminate clumps and keeping your drink very cold can help with nausea.
Cost
Of course, cost should always be taken into consideration when purchasing protein powder. You don't have to choose the most expensive protein powders to get a high-quality product. In fact, some of the best protein powders are relatively inexpensive. In general, whey protein powders are less expensive than vegan protein powders.
FAQs
How much protein does a pregnant woman need?
On average, a pregnant woman needs 70 grams of protein each day. About 0.5g of protein per pound of body weight is usually enough. Remember that while dietary supplements like protein powders can help you meet your protein intake goals, too much protein can be hard on your kidneys.
Can you continue using protein powder while breastfeeding?
Any protein powders for pregnancy can also be used while breastfeeding. In fact, adequate protein intake while breastfeeding is just as important as it is throughout your pregnancy.
What should you mix protein powder with?
Protein powder can be mixed with almost any liquid. If you need to add calories to your diet, mix your protein powder with milk. If you are vegan or want to add healthy fats, coconut milk might be a good choice. Protein powder can also be mixed with just water and ice.
If you have a good blender, you can add fruits like bananas and berries or even spinach and kale to get some extra nutrients in your protein shake.
What is the best time of day to take protein powder?
Protein shakes can be consumed at any time of day. While you're pregnant, the best thing to do is eat when you're hungry and stop when you are full.
References
Leson, G. (2002). Nutritional Profile and Benefits of Hemp Seed, Nut and Oil. Wasabi. https://s3.wasabisys.com/ecochick/hempnutrition.pdf
Mayo Clinic Staff. (2022, February 18). Pregnancy diet: Focus on these essential nutrients. Mayo Clinic. https://www.mayoclinic.org/healthy-lifestyle/pregnancy-week-by-week/in-depth/pregnancy-nutrition/art-20045082
Lopez, M. J., & Mohiuddin, S. S. (2023, March 13). Biochemistry, Essential Amino Acids. National Library of Medicine. https://www.ncbi.nlm.nih.gov/books/NBK557845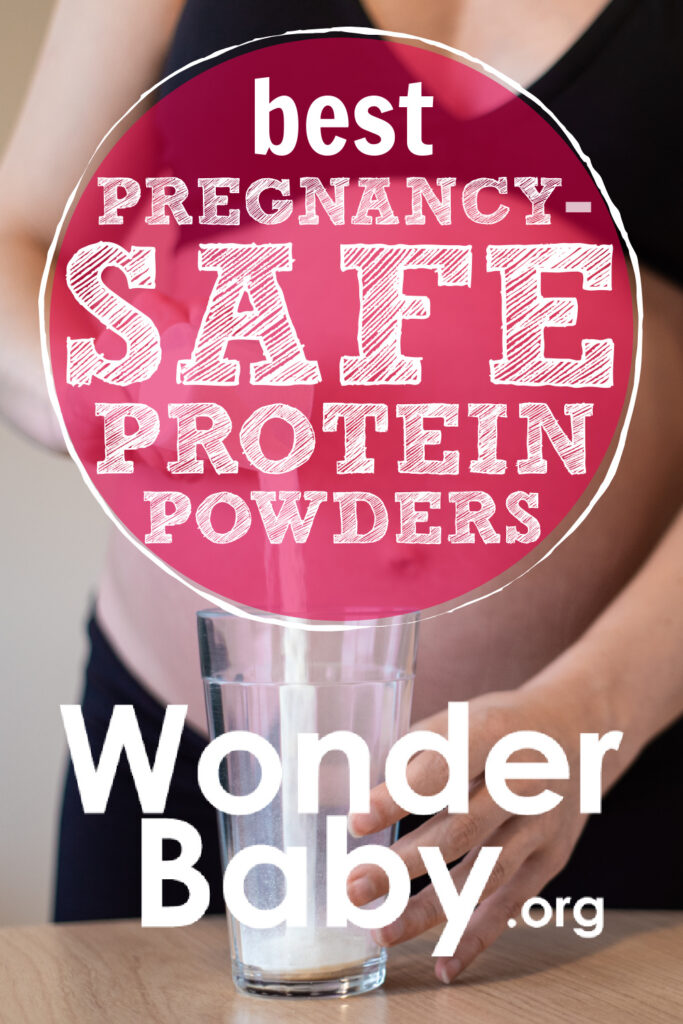 The information WonderBaby provides is not intended to be, and does not constitute, medical or other health advice or diagnosis and should not be used as such. Always consult with a qualified medical professional about your specific circumstances.
Related Posts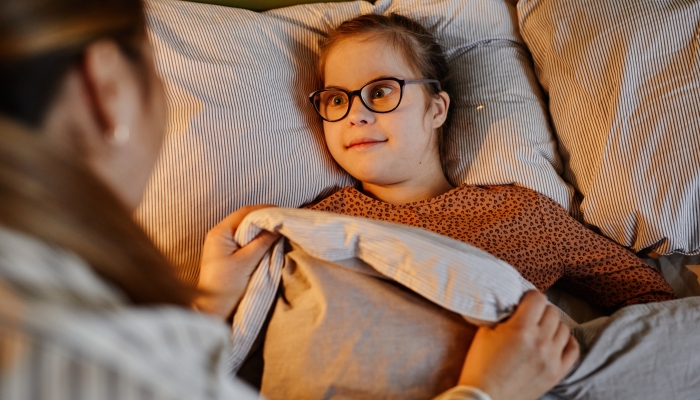 Product Reviews
Heard a lot about weighted blankets and lap pads and wondering how to choose one? Here's our guide to the ins and outs of finding the right weighted blanket.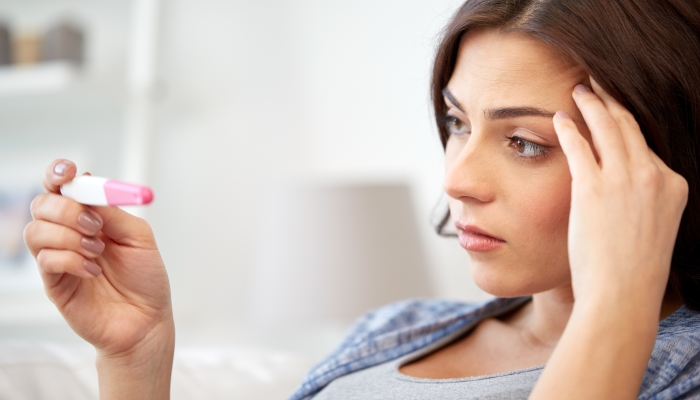 Pregnancy
No matter what you hope your result is, taking a pregnancy test is a big deal. Avoiding testing errors will ensure you get an accurate result.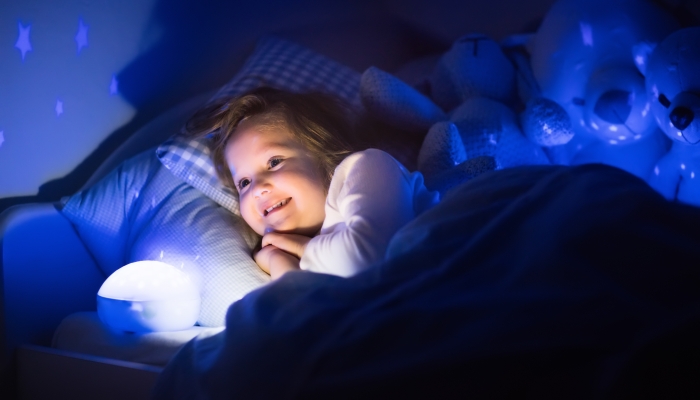 Product Reviews
Looking for the right night light to help your little one ease into bedtime? Check out our guide for everything you need to know about toddler night lights.