Coterie Diapers: One Mom's Hands-On Review
This post may contain affiliate links; please see our terms of use for details.
Each Coterie diaper is dermatologist tested and free of fragrances, dyes, phthalates, and parabens.
These diapers are designed to absorb 70% more liquid than the average diaper and absorb 4 times faster than other brands.
Coterie diapers are made with totally chlorine-free wood pulp from sustainably managed forests.
Diapers aren't the most exciting purchase in your monthly budget. Trust me, I know this all too well. With 5 children in our home, we've likely spent thousands on diapers throughout our parenting journey.
Diapers are one thing I wish I could spend less on. However, I always find myself stuck between paying less and sacrificing quality or splurging and getting a diaper that exceeds my expectations.
This is what piqued my interest in trying the luxuriously priced Coterie diapers. When I read the reviews, it truly seemed that these were the best of the best. Parents were raving about the performance and quality.
So I grabbed a pack for my 4-month-old and put them to work. I'm dishing out my honest review of Coterie diapers, so you can decide if they're worth the splurge.
Sale
Coterie diapers
1 pack – 33 daipers
Coterie's diapers offer an impressive 70% more liquid capacity compared to other leading brands, making them highly effective in preventing leaks and blowouts, as well as minimizing nighttime wake-ups.
These diapers also absorb up to four times faster than their competitors, keeping your baby's skin up to three times drier and reducing the likelihood of moisture-related diaper rash.
These diapers are dermatologist-tested and hypoallergenic, and have been proven to be free from hundreds of potentially harmful chemicals and irritants, including fragrance, latex, rubber, dyes, alcohol, parabens, phthalates, and chlorine bleaching.
What We Love About Coterie Diapers
Let's start with the positives. And let me tell you—there are plenty. Coterie diapers impressed me with their quality and performance.
Wetness Indicator
This is a must-have in diapers. Most diapers today come with a wetness indicator, but it's always worth noting. A wetness indicator line makes checking your child's diaper effortless.
These diapers feature a yellow line that turns blue when wet. It's simple and effective.
Eco-Friendly
Parents who are looking for sustainable diapers will be pleased with Coterie diapers. These diapers are made with totally chlorine-free wood pulp from sustainably managed forests. Coterie is committed to minimizing its environmental impact and maintaining customer transparency.
Free of Chemicals
Parents who have little ones with sensitive skin will rejoice over this ingredient list. Each Coterie diaper is dermatologist tested and free of fragrances, dyes, phthalates, and parabens. They're also free of over 200 potentially harmful chemicals.
Coterie uses plant-based ingredients wherever possible in the construction of their diapers. They are currently made with 25% plant-based materials. Their careful ingredient selection process will help your baby avoid diaper rashes.
Ultra Absorbent
These diapers claim to be some of the most absorbent diapers on the market. They're designed to absorb 70% more liquid than the average diaper and absorb 4 times faster than other brands. This helps reduce leaks.
During our trial period with these diapers, we never had diaper leaks. This isn't always the case with other brands. I think the absorbent materials they use make all the difference.
Softness
Softness is no issue with these diapers. They're without a doubt the softest diapers I've ever felt. When I took the diapers out of the pack, I instantly realized why parents were raving.
Comfortable Fit
These diapers fit my baby just right without leaving marks. They've taken into account the way a baby crawls, scoots, and stands, and made them move with your child. Plus, the newborn size features an umbilical cord notch for ultimate comfort for your little bundle.
What Coterie Diapers Could Do Better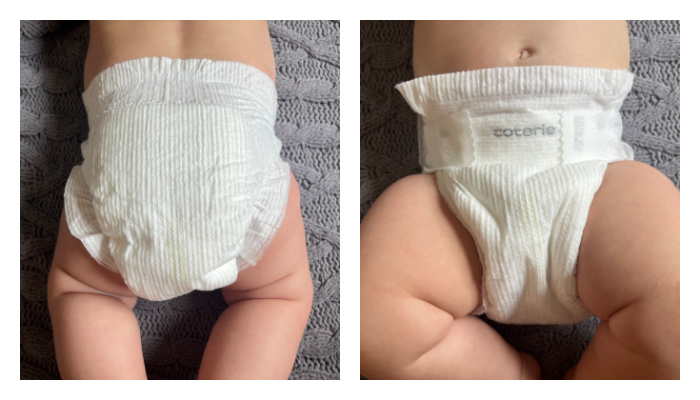 These diapers are definitely impressive. However, they aren't perfect. Here are a couple of drawbacks I found in Coterie diapers:
Lack of Designs
Okay, I know this isn't a huge drawback. However, parents who are used to buying Honest brand diapers understand what I mean. When you are splurging for a toxin-free, comfortable diaper, it's nice to get cute designs with it.
Expensive
It's no secret that these diapers are more than many other premium diaper brands. They're more than triple the cost of popular budget brands.
For some parents, this is worth the investment. However, parents on a lower income or looking to scale back may pass on these diapers because of the price tag.
How Coterie Diapers Compare to Other Diapers
Let's take a look at how Coterie performs in these categories compared to other brands:
Price
Most diapers land somewhere between $.20 and $.30 a diaper. There are even some great diapers under $.20 a diaper like I mentioned in my Parent's Choice diaper review. Coterie diapers stagger high above all other diaper competitors, at nearly triple the cost of average diapers.
These aren't for you if you're looking for a budget diaper. If you don't mind paying more for non-toxic diapers, they are worth looking into simply because of their softness and absorbency.
Ratings
When it comes to ratings, I've found that the majority of parents love the performance of these diapers. They also rave about the soft materials—some going as far as to say that they're soft as cashmere.
Parents who use these diapers seem to agree that their child is dryer, more comfortable, and leak-free while wearing these diapers.
Softness
I've used a large variety of diaper brands over the years. Though some were a bit softer than others, none of them really stood out above the rest. These diapers changed that.
Compared to all other diapers I've used, Coterie diapers are noticeably softer.
Chemicals
Coterie is committed to keeping harmful chemicals out of their diapers. Curious about how they stack up to other brands? Take a look:
| | |
| --- | --- |
| Diaper Brand | Free Of |
| Seventh Generation | Fragrance, lotions, and chlorine |
| Pampers Pure | Parabens, latex, fragrance, and elemental chlorine |
| Dyper | Parabens, latex, fragrance, lotions, alcohol, and phthalates |
| Honest | Parabens, latex, fragrance, and chlorine |
| Coterie | Parabens, latex, fragrance, lotions, chlorine, and over 200 other chemicals |
Coterie Diapers: The Bottom Line
I was pleasantly surprised at how well these diapers performed. Though I was skeptical that they'd live up to their claims, I quickly realized there was much to love about these luxury diapers.
Coterie diapers fit better than most diapers. While using these diapers we never had a diaper blowout or leak. My baby's skin stayed dry even through the night.
These diapers claim to absorb 70% more liquid than average diapers.
Though I don't have proof that this claim is accurate, I do have a good feeling it's not far off. Compared to the diapers we have on hand, these absorbed quite a bit more liquid.
These diapers feel much softer and sturdier than the brand we currently use. They're also free of everything I could possibly think of. No chemicals on my baby's tiny bottom make for a happy mom.
Overall, these are fantastic diapers. If they're in your budget and you're looking for a toxin-free comfortable diaper, they're a clear winner. However, if you have to choose between affording groceries or splurging on toxin-free diapers, there are plenty of less expensive, non-toxic diapers for sensitive skin that will do the job.
Bebe BASK Premium Baby Changing Basket
CELEBRATED AWARD WINNER – Bebe Bask's "Raw" baby changing table basket has been recognized by various prestigious awards. Described as a "fresh and luxurious take on a traditional changing pad," – Discover why it has become a favorite among parents…
100% SUSTAINABLE ORGANIC SEAGRASS BASKET – made using materials making this wicker style changing table topper a sustainable choice to pass down to future generations. It has foldable seagrass handles for easier moving too and it includes the following luxurious accessories…
LEAF-SHAPED LINER FOR UNFORGETTABLE MILESTONE PHOTOS – a luxurious design that is unique to Bebe Bask makes this portable changing basket an ideal baby photo props for making memorable baby photos. Softly cushioned cotton and machine washable
SUPERIOR SUPPORT MEANS EXTRA COMFORT – two reasons to be cheerful… this baby changing basket has extra-high sides for added safety, and the changing pad for dresser is filled with a cosseting 1-inch extra-thick foam to protect your baby's head and body
Recommended Accessories
These diapers are soft and comfortable making each diaper change a little more enjoyable. Here are a few other helpful diaper-changing products to complement Coterie diapers:
FAQs
How do I know which size Coterie I should buy?
When you buy Coterie diapers, you'll want to pay attention to the sizing. The weight limits for each size are different than other diapers I've used. Choosing the right size will help ensure you have a leak-free experience.
| | |
| --- | --- |
| Diaper Size | Weight Range |
| Newborn | Up to 10 lbs |
| Size 1 | 8-12 lbs |
| Size 2 | 10-16 lbs |
| Size 3 | 14-24 lbs |
| Size 4 | 20-32 lbs |
| Size 5 | 27+ lbs |
| Size 6 | 35+ lbs |
Are Coterie diapers organic?
Coterie diapers aren't organic. However, no diaper has met those qualifications yet. The same is true for a 100% biodegradable diaper.
Coterie is very vocal about the abundance of "greenwashing" in the diaper industry. Their goal is to remain transparent and continue their efforts to create clean, eco-friendly diapers.
Where are Coterie diapers made?
Coterie diapers are manufactured in Canada. They source the ingredients from Japan, Israel, Finland, and the US.
Where can I buy Coterie diapers?
Coterie diapers can be purchased on Amazon, in some local grocery stores, and on their website. Coterie offers a subscription service that ships a monthly supply to your door every 4 weeks.
The monthly pack varies in size, depending on the diaper size you choose. For example, size 3 comes in a pack of 168 diapers which allows you to use a new diaper for up to 6 diaper changes a day.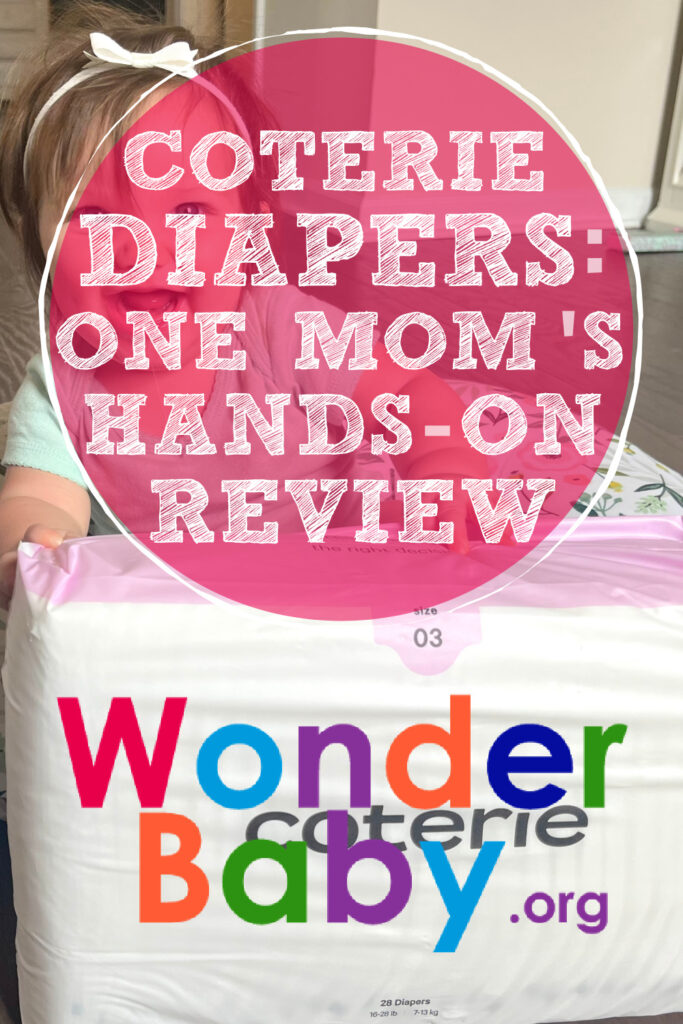 Related Posts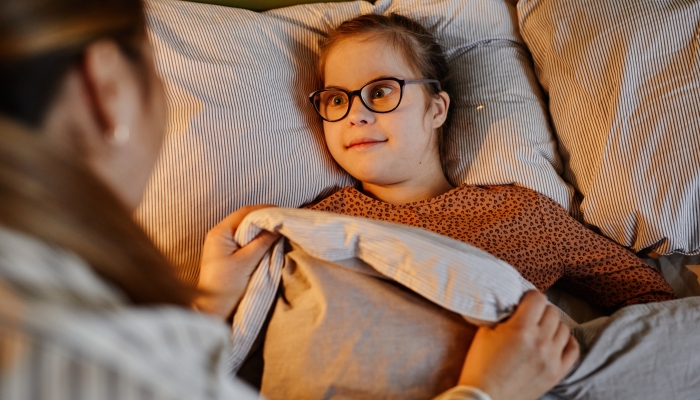 Product Reviews
Heard a lot about weighted blankets and lap pads and wondering how to choose one? Here's our guide to the ins and outs of finding the right weighted blanket.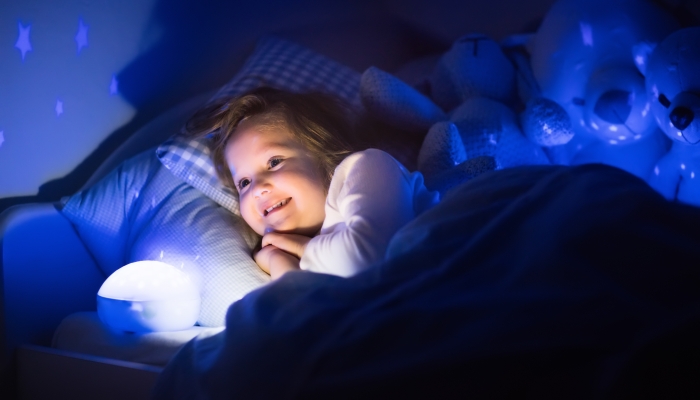 Product Reviews
Looking for the right night light to help your little one ease into bedtime? Check out our guide for everything you need to know about toddler night lights.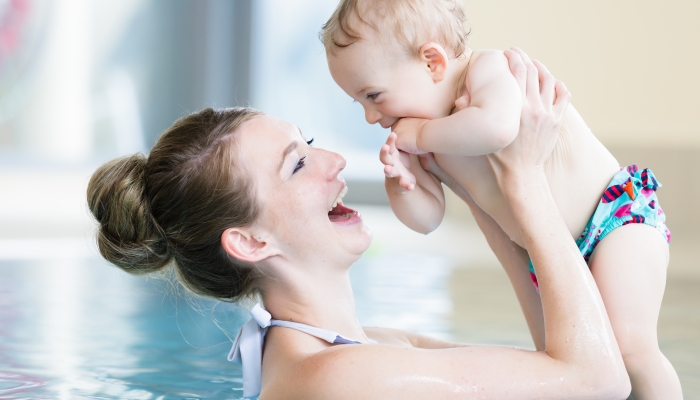 Potty Training, Product Reviews
The best swim diapers are comfortable and help prevent your baby from having an accident in the pool or ocean. Find our favorites in this round-up!