9 Best Non-Toxic, All-Natural Diapers of 2023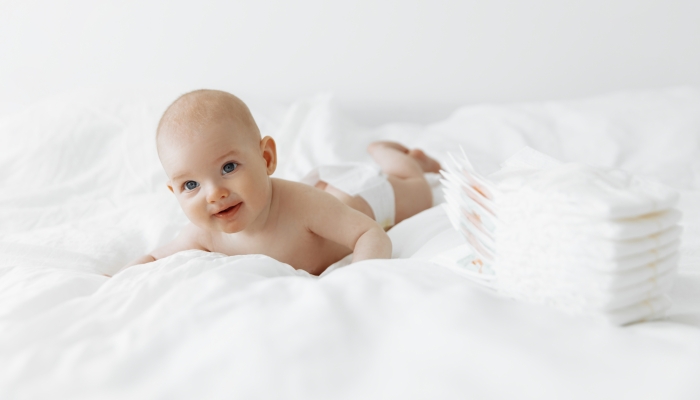 This post may contain affiliate links; please see our terms of use for details.
Non-toxic diapers are kinder to your baby's skin and the planet.
Most children in the US wear disposable diapers for the first two to three years of their life.
What your baby is exposed to all day and every day matters!
Choosing non-toxic baby diapers can reduce the risk of diaper rash and exposure to harmful chemicals.
Many non-toxic diapers use natural materials and aim to be as eco-friendly as possible.
Disposable diapers have come a long way since they were first mass-produced in the twentieth century. They are lighter, brighter, and more absorbent than ever. This is good news for their efficiency. However, it's also led to increasingly complicated ingredient lists and manufacturing techniques.
Diaper companies in the US aren't required to reveal their ingredients. Yet, the best non-toxic diaper brands are open and transparent. Using the most natural materials, they avoid production practices that introduce harmful chemicals.
Your baby's skin is delicate and easily damaged. Combine that with an immature immune system that's not yet ready to detox lots of nasty chemicals, and it's no wonder you want to find the safest products for your little one.
Non-toxic disposable diapers offer a safer and more eco-friendly alternative to regular brands.
Best of the Best
Best Seller
Best Plant-based
Andy Pandy Bamboo Disposable Diapers
The Honest Company Clean Conscious Diapers
Eco by Naty Plant-Based Eco-Friendly Diapers
Best of the Best
Andy Pandy Bamboo Disposable Diapers
Best Seller
The Honest Company Clean Conscious Diapers
Best Plant-based
Eco by Naty Plant-Based Eco-Friendly Diapers
Best of the Best: Andy Pandy Bamboo Disposable Diapers
Andy Pandy Bamboo Disposable Diapers
AWARD WINNING BAMBOO DIAPERS – Andy Pandy is the original and trusted bamboo diaper that is better for your baby and the planet.
ECO-FRIENDLY DIAPERS – Bamboo is a highly sustainable natural renewable resource. Our bamboo diapers are 87% biodegradable which reduces waste to help contribute in making the world a better place for the generations to come.
Our diapers are free of chlorine, alcohol, preservatives, phthalates, latex, PVC, TBT, and PFAS. They are hypoallergenic, antibacterial, moisture wicking, and thermal regulating. Plus, our deluxe Andy Pandy diapers have an aloe liner to keep your sweet baby's skin hydrated and prevent itchiness.
ABSORBS 2X MORE THAN COTTON – Bamboo is highly absorbent which makes bamboo diapers perfect for sensitive skin. Our premium bamboo diapers are ultra-comfortable and soft to prevent your baby's delicate skin from getting painful irritation and diaper rash.
Pros

Cons

Soft
Great for sensitive skin
Eden Reforestation Project partner
Our first choice is the beautifully packaged eco-friendly bamboo diapers from Andy Pandy. Silky soft, and perfect for sensitive skin. Parents with babies prone to diaper rash reported rapid relief soon after switching to Andy Pandy diapers.
Naturally hypoallergenic and antibacterial, these nontoxic disposable diapers are chlorine-free. They contain no alcohol, preservatives, phthalates, latex, PVC, TBT, or other harmful chemicals.
Andy Pandy's company ethos aims to create safe products for your children and the planet. Partnering with the Eden Reforestation Project, they promise two trees will be planted for every item sold.
You can also buy training pants and biodegradable baby wipes in the same range. They're not the cheapest on this list, but you can bring the price down using the Amazon subscribe if that's an issue for you.
Overall, these non-toxic diapers are a solid choice. It's worth noting though that some parents do report generous sizing. The newborn size might well last your baby longer than other brands, but if you have a small baby, there could be occasional leaks in the early days.
Material: Bamboo | Count per Pack: 26 counts
View on Amazon | View on Walmart.com | View on AndyPandyKids.com
Best Seller: The Honest Company Clean Conscious Diapers
The Honest Company Clean Conscious Diapers
Clean Conscious Diapers are designed with safe plant-based materials, a wetness indicator (so you know when it's time for a fresh one), enhanced blowout protection, and advanced absorption for dry, happy babes
Stretchy Sides with flex + strength for those wiggles + wobbles; Quick Absorb Channels keep leaks under wraps for dryness on the fly
Quilted Bubble Liner quickly draws wetness away for dryness you can touch
Diaper Duty Wetness Indicator because it's nice to know when your babe has gone
Pros

Cons

Wetness indicator
Design selection
Sustainable
A well-loved brand with good reviews, Honest Company diapers have no added fragrances, phthalates, or lotions and are totally chlorine-free (TCF).
They have a wetness indicator along with an impressive selection of stylish and cute designs. All dyes are free of heavy metals.
The latest leakproof design is thinner than ever with a quilted bubble liner, quick absorb channels, and super stretchy tabs. These combine to keep your baby dry and secure, avoiding those nasty diaper blowouts.
Honest uses sustainably harvested chlorine-free wood pulp in its absorbent core and 100% post-consumer waste in its packaging.
Material: Plant-Based | Count per Pack: 80 counts
View on Amazon | View on Walmart.com | View on Target.com
Best Plant-based: Eco by Naty Plant-Based Eco-Friendly Diapers
Eco by Naty Plant-Based Eco-Friendly Diapers
SUSTAINABLE PLANT BASED DIAPERS: Naty Diapers are the only diapers that prevents your baby's skin to get in contact with plastic materials. They are free of toxins and chemicals, and are only made from plant based materials.
COMFORTABLE AND ABSORBENT: Our Eco Diapers are created with your baby in mind, as well as the planet. These natural diapers are breathable on the skin with a comfortable flex-fit while also providing premium protection with absorbent fibers.
HYPOALLERGENIC DIAPERS FOR SENSITIVE SKIN: When it comes to your baby, especially if they're a newborn, hypoallergenic products can make all the difference. Plant-based means fewer allergens and irritants, helping eliminate diaper rash.
ECO-FRIENDLY AND COMPOSTABLE: Traditional disposable diapers are often made with toxic plastics. Naty Eco Diapers are mostly made from certified plant based materials like sugar cane, corn, woodpulp and cotton which makes them natural, absorbent, and remarkably soft. Sizes available include newborn diapers up to size 6 diapers.
Pros

Cons

Plant-based materials
Good absorbency
Soft
No oil-based plastics

Cornstarch used in core may irritate some babies
Eco by Naty diapers are nontoxic, naturally soft, and absorbent. Fragrance-free with no phthalates, they're largely made of plant based materials.
Simple designs on the back of these disposable diapers are printed with nontoxic pigments. Naty guarantee no oil-based plastics will touch your baby's skin.
The Naty diaper company is proud of its eco-credentials and has an impressive array of awards.
These were close to our top choice, but sadly we couldn't verify they were still TCF. It's also worth noting that the cornstarch used in their absorbent core has a small chance of irritating the most sensitive of babies.
Material: Plant-Based | Count per Pack: 100 counts
View on Amazon | View on Walmart.com | View on Target.com
Best for Composting: Nest Baby Diapers
Nest Baby Diapers
NEST FOR BABY'S BEST: Premium plant-based disposable diapers ideal for newborn, preemie, and toddler skin. Super soft, comfortable with advanced leakage protection. Superior absorbency in a breathable diaper that wicks moisture for a dry and happy baby.
PLANT BASED FINEST MATERIALS: Our premium diapers are made with bio-derived materials. Nest has sourced the best quality ingredients that are safe for babies and happy for our planet.
COMFY, SAFE, AND CLEAN: Our infant and toddler diapers are completely free of harmful chemicals, lotions, perfumes, and allergens, certified by Oeko Tex (reg no. 2111235). Nest Diapers was created by parents, to be trusted by parents.
CHOOSE THE BETTER OPTION: Our innovative disposable baby diapers are made with an ultra soft, plant-based blend. It minimizes chafing, rubbing, or irritation for better comfort and better sleep.
Pros

Cons

OEKO-TEX certified
Super soft waistband
Leak guards
Sustainable
Commercially compostable

Home composting not recommended
Fragrance-free, with no chlorine, latex, parabens, or phthalates. Nest diapers are certified by the OEKO-TEX standard so you can be sure they're chemical free and suitable for sensitive skin.
Featuring a cute design and wetness indicator, Nest uses water-based nontoxic inks. These diapers are breathable with a super soft waistband and leak guards to help reduce the risk of diaper rash.
Nest diapers are made of 85% bio-based materials and break down in as little as 8-14 weeks with commercial composting. Collection services are listed under the stockists' page on their website. Check individual entries for details.
Home composting isn't recommended. Certain features, including fastenings and the synthetic core, aren't suitable for composting and need to be removed. For effective composting, diapers should make up less than 10% of the total composting materials. This can be difficult to achieve if your baby wears diapers full-time.
Please remove all human waste from dirty diapers before placing them in the bin, compost heap, or collection service.
Material: Plant-Based | Count per Pack: 120 counts
View on Amazon | View on Walmart.com | View on NestDiapers.com
Best for Softness: ECO BOOM Baby Bamboo Diapers
ECO BOOM Baby Bamboo Diapers
100% bamboo Viscose fiber top sheet and back sheet: ECO BOOM bamboo Viscose diapers top sheet and back sheet are made of non-woven bamboo Viscose fabric with FSC certification. Super soft surface ensures your baby's comfort.
Super absorption core: ECO BOOM bamboo Viscose nappies adopt German high quality and high absorption material, which has excellent absorption performance, can lock the moisture and keep the surface dry.e to lock moisture away,keeping surface dry.
Chemical free: ECO BOOM bamboo Viscose diapers Use TCF (Total Chlorine Free) pulp, which is the most advanced chlorine-free bleaching process.
Triple elastic eartips: Super flexible to ensure that your baby's waist is not too tight. Velcro tape material can also avoid cuts from the baby's tender skin. ECO BOOM diapers provide better fit and comfort for active babies.
Pros

Cons

Made from mostly bamboo
Softness
Overnight absorbency
Quiet for nighttime changes

Smallest size may not fit all newborns
Mostly bamboo, Eco Boom diapers rate highly for softness and overnight absorbency. Certified by Oeko-Tex and others, these diapers are fragrance-free with no color, alcohol, latex and phthalates.
Natural aloe oil has been added to these diapers. It's not clear whether these diapers are TCF or elemental chlorine-free (ECF) as both terms appear in their advertising material. The smallest size may not fit newborns under 10 lbs either, so you may have to wait a few weeks to try these out.
Made with soft frontal tape, these diapers are designed to make nighttime changes quieter.
Material: Bamboo | Count per Pack: 70 counts
View on Amazon | View on Walmart.com
Best for Subscriptions: Hello Bello Premium Baby Diapers
Hello Bello Premium Baby Diapers
HELLO BELLO PREMIUM DIAPERS: Doody-catchers; Crap-sacks; Tinkle-poopers; Whatever you want to call them, our plant-based, super soft and absorbant disposable diapers are a modern convenience you don't want to live without
SAY HELLO TO ADORABLE DESIGNS: And say goodbye to plain diapers; Our delightful designs are curated for boy, girl and gender neutral assortments for every parent's need; Go ahead, take your pick!
HOW TO USE: The optimal containment of numbers 1 and 2 is dependent on the quality of diaper and your booty-wrapping skills; Plus, these leak protection and soft diapers make your job more fun!
MADE WITHOUT: Our diapers are made without chlorine processing, artificial fragrance, phthalates, parabens, latex, and lotion; Basically, it's made with the good stuff!
Pros

Cons

Cloth-like feel
Affordable
Variety of designs
Great fit and absorbency

Wetness indicator could be more clear
One of the more affordable brands on this list, Hello Bello are committed to providing premium diapers that don't cost the earth. The price becomes even more reasonable when you buy on a subscription.
Described as feeling cloth-like inside and out, these diapers come in a dizzying variety of bold and bright designs. Yet they're made without harmful chemicals and have a thin, efficient design that performs well in fit and absorbency.
Material: Plant-Based | Count per Pack: 32 counts
View on Amazon | View on Walmart.com | View on HelloBello.com
Best for Eco Credentials: Bambo Nature Premium Baby Diapers
Bambo Nature Premium Baby Diapers
Bambo Nature is a sustainably manufactured brand in production for more than 35 years! A true legacy brand that you know you can trust in order to #ParentFearlessly.
Size 1 fits baby weight range 4-9 lbs. See size chart for more details.
THE BEST COMFORT FIT FOR BABY – our diapers feature a wetness indicator that changes color to indicate when a change is needed. The flexible waistband and latex-free leg cuffs help diapers stay in place while maximizing movement.
SUPERNATURALLY EFFECTIVE – a unique three-layer design and super-absorbent core that can stand up to multiple wettings—even overnight. Combined with our fully breathable backsheet, baby's sensitive skin will stay dry and comfortable.
Pros

Cons

75% biodegradable
Wind-powered and eco-friendly
Dermatologist tested
Skin-friendly

Can leak overnight, but separate overnight diapers are available
Despite the name, Bambo Nature diapers aren't made from bamboo. Yet Bambo have still managed to create 75% biodegradable diapers.
Bambo diapers have a slim profile using minimal resources. They're powered by wind and have plenty of impressive eco-credentials. Most of their production waste is sent for recycling, further proving their commitment to the planet.
Using only certified skin-friendly products, Bambo diapers are dermatologically tested to be gentle on your baby's skin.
Some reviews have found these diapers prone to leaking at night time. Luckily they have an overnight range too.
Bambo Nature Overnight Baby Diapers (Sizes 3 TO 6)
Size 3 fits baby weight range 9-18 lbs. See size chart for more details.
THE BEST COMFORT FIT FOR BABY – our diapers feature a flexible waistband and latex-free leg cuffs that provide an extra leakage barrier designed to stay in place throughout the entire night, even when baby moves around.
SUPERNATURALLY EFFECTIVE – our unique Channel Technology and super-absorbent core can stand up to multiple wettings all night long. Combined with our fully breathable backsheet, baby's sensitive skin will stay dry and comfortable which means a better sleep for the whole family.
THE BEST FOR OUR PLANET – made from 100% wind power and the first baby diapers certified with the Nordic Swan Ecolabel.
Material: Pulp | Count per Pack: 36 counts
View on Amazon | View on Walmart.com | View on Target.com
Best for Giving Back: Believe Bamboo Baby Diapers
Believe Bamboo Baby Diapers
GENTLE COMFORT: Quality without compromise! Believe Diapers are made from the softest, all-natural materials responsibly sourced from Mother Earth. These biodegradable disposable diapers feature a soft elastic leg and waistband, secure hook and loop tabs that won't stick to skin, and a comfortable belly button cutout to avoid irritation, offering the best for your newborn and the environment.
HYPOALLERGENIC: Unscented and free from harmful chemicals, preservatives, and additives! Believe Diapers have NO chlorine, latex, alcohol, TBT, PVCs, lotions, fragrances, or phthalates. Just sustainable, skin-friendly materials found in nature.
SUPER-ABSORBENT: Naturally wicks moisture away! The super-absorbent bamboo fiber and chlorine-free pulp made from US virgin wood pull wetness away from your baby's skin and absorbs liquid without leaking. Always know when it's time for a change with the vertical blue stripe wetness indicator.
SUSTAINABLE & ECO FRIENDLY: When you nurture your baby, you nurture the world! Believe Diapers are made with sustainably harvested bamboo and natural, plant-based materials. The result is a soft, super-absorbent biodegradable diaper that is gentle on baby's sensitive skin and friendly to Mother Earth.
Pros

Cons

Donates diapers to families in need with every purchase
Made from soft bamboo
Hypoallergenic

Not as absorbent as some other brands
One of the newer companies on this list, Believe was inspired by stories of families having to choose between food and diapers.
They designed a disposable diaper, that's eco-friendly and skin-friendly, and also gives back. With one-for-one diaper matching, every diaper you buy means another will be donated to a family in need.
Made from super soft bamboo, Believe diapers are also free from harmful chemicals and additives.
Material: Bamboo | Count per Pack: 54 counts
View on Amazon | View on Walmart.com | View on BelieveDiapers.com
Best for Sensitive Skin: ATTITUDE Disposable Diapers
ATTITUDE Disposable Diapers
NON-TOXIC DIAPERS FOR YOUR COMPLETE PEACE OF MIND: A safe alternative to traditional disposable diapers, our chlorine-free diapers are free from BPA, PVC, alcohol, TBT, formaldehyde, preservatives, parabens, and phthalates
NATURAL DIAPERS THAT ACTUALLY WORK: Our unscented diapers are as effective, absorbent and comfortable, with effective moisture control, efficient and fast absorption and a leak-free shape so you won't have to worry about leaks and blowouts
ECO-FRIENDLY DIAPERS: Created with the environment in mind, with over 50% renewable and biodegradable raw materials our vegan diapers are made with non-GMO corn starch back sheet and FSH wood cellulose absorbent core
GENTLE ON BABY'S SENSITIVE SKIN: Our hypoallergenic diapers are fragrance-free, no dyes, no inks or lotions to reduce risk of irritation, an allergic reaction, and diaper rash
Pros

Cons

50% biodegradable
Designed to reduce eczema and diaper rash

Sizing can be hit or miss
Made with 50% biodegradable materials, these plain white non-toxic disposable diapers are designed to reduce the risk of diaper rash and eczema. Attitude also has a wide range of accessories suitable for sensitive skin.
It's best to check the sizings on these ones. Some parents say they come up big on newborns. Yet the company warns their chlorine-free diapers tend to fit small as they've reduced the amount of non-biodegradable elastic.
Material: Biopolymer, Cellulose Pulp, Polymer | Count per Pack: 28 counts
View on Amazon | View on Walmart.com | View on ATTITUDEliving.com
Recommended Accessories
Alongside your top choice of non toxic diapers, you might find these accessories useful:
What Are Non-toxic Diapers?
Non-toxic diapers are made with your baby's best interests at heart. The cream of the crop when it comes to disposable diapers, the best non-toxic diapers are made with the most eco-friendly ingredients.
A report by the French government in 2019 found that many harmful chemicals in disposable diapers weren't intentionally added. Often they're a by-product of production practices, or introduced along with plant-based materials that have been treated by pesticides.
The best nontoxic diaper brands avoid dangerous bleaching and are careful to use organic raw ingredients where possible.
Bleaching isn't just about whitening—it can also help make disposable diapers more absorbent. The problem is that chlorine bleaching leaves behind dioxins that can be dangerous for the environment and your baby's body.
While there are only small amounts of dioxins in each disposable diaper, the more of these products we use the more background levels continue to rise and the higher the risk of exposure.
The best non-toxic diapers are totally chlorine-free (TCF). Some nontoxic brands are produced using an elemental chlorine-free (ECF) process. This produces fewer dioxins than regular bleaching but isn't ideal.
Nontoxic diapers are made without harmful chemicals, including:
Phthalates: used to improve plastic flexibility and diaper fit but are known endocrine disruptors. These can cause harmful hormone changes.
Volatile organic compounds (VOCs): emitted from plastics and can release dangerous fumes. Some are linked to organ damage and cancer.
Tributyltin (TBT): used as an antifungal in wood pulp mills and harmful to aquatic life.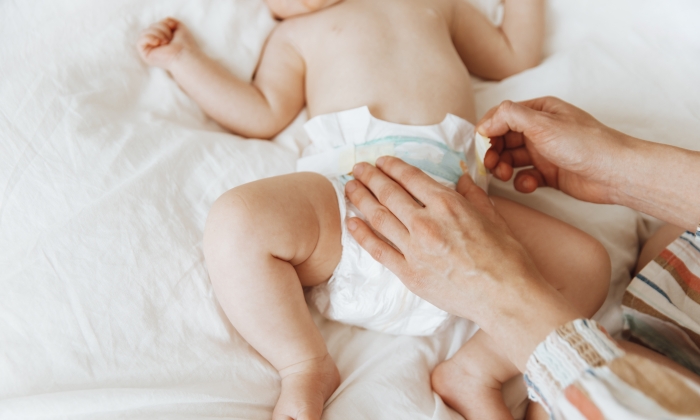 Choosing the Best Non-toxic Diapers for Your Baby
As manufacturers don't have to disclose ingredients, they sometimes use vague terms like fragrance, dye, or lotion. These may include all kinds of chemicals that could irritate your baby's skin. Look for labels that show diapers are free of these additives or list actual ingredients used.
The best nontoxic diaper brands publish complete ingredient lists. You can also contact manufacturers directly if you'd like more information.
External awards, like the OEKO-TEX Standard, require stringent testing for many toxic ingredients, including TBT and VOCs. These can help identify the safest brands for your baby.
If you're concerned about environmental damage, certifications from organizations like the Forest Stewardship Council ensure ingredients are responsibly sourced.
For the best nontoxic disposable diapers choose products that are:
Totally chlorine-free
Fragrance-free
Phthalate-free
Paraben-free
Latex-free
Dye-free
Lotion-free
Avoid products with:
Fragrances
Lotions
Skin-conditioning agents
Petroleum-based plastics
Flame-retardant chemicals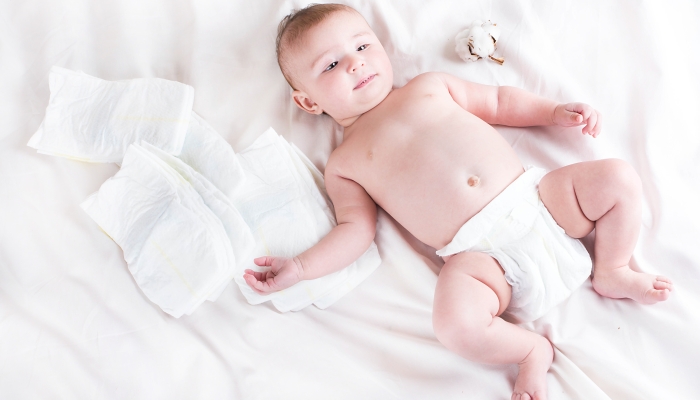 FAQs
Are nontoxic diapers biodegradable?
Buying a non toxic diaper doesn't guarantee it will be biodegradable. However, non-toxic diaper brands are often more eco-friendly than their counterparts and tend to be at the leading edge of research into more natural ingredients.
The most natural disposable diapers are made of bamboo and can be largely biodegradable. The problem is that the vast majority of these will end up in landfill sites. Often these lack the necessary water, oxygen and microorganisms to break down products efficiently, if at all.
If you buy brands designed to be biodegradable or suitable for composting, it's important to follow the manufacturer's advice. This usually includes removing parts of the diaper not suited for the process and rinsing off all solid waste. Rinsing should be routine whether you use cloth diapers or disposables. Human waste presents a health hazard and should never enter a landfill.
What are the safest types of diapers to use?
A non-toxic disposable diaper is preferable to regular brands. Still, it's important to shop around if your child develops a sensitivity to any of the ingredients or shows any signs of irritation.
The efficiency of all modern disposable diapers is based on synthetic super-absorbent polymers (SAP) in the diaper's absorbent core. Bio-based alternatives are used in many nontoxic brands to reduce the amount of SAP, but none have completely removed it.
The safest natural, non-toxic diapers for your baby and the planet are cloth diapers.
What are other alternatives for diapers?
While cloth diapers are an excellent alternative to disposable diapers, they aren't the only option.
Elimination communication (EC) allows many families around the world to go diaper-free. We used elimination communication with our youngest daughter and found we were able to quickly pick up on signals and patterns that meant she needed to pee and poop.
Not only can EC save time, money, and precious resources, it's a wonderful way to get to know your baby better, building strong bonds for the future.
You can use cloth or nontoxic diapers as backups or ditch the diapers altogether.
Are nontoxic diapers more expensive than regular diapers?
You may find you pay a little more for nontoxic diapers. They do tend to be more expensive than regular brands, but when you consider the benefits, this can seem like a small price to pay.
Buying diapers on a subscription can save you money. Or, if you have the space, it's worth looking out for offers and buying in bulk where you can.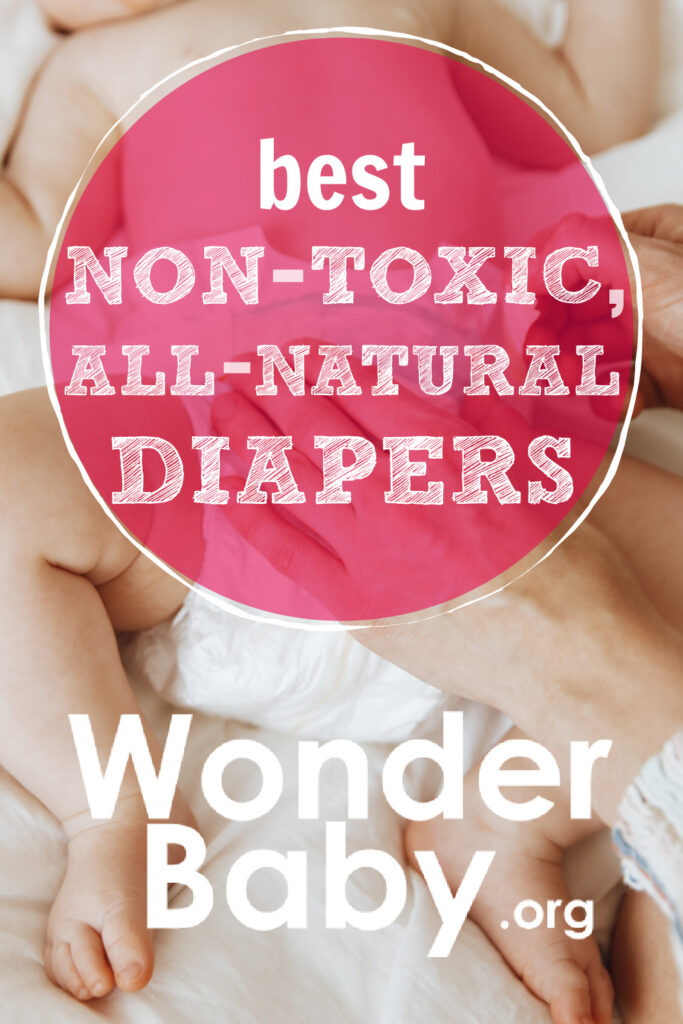 Related Posts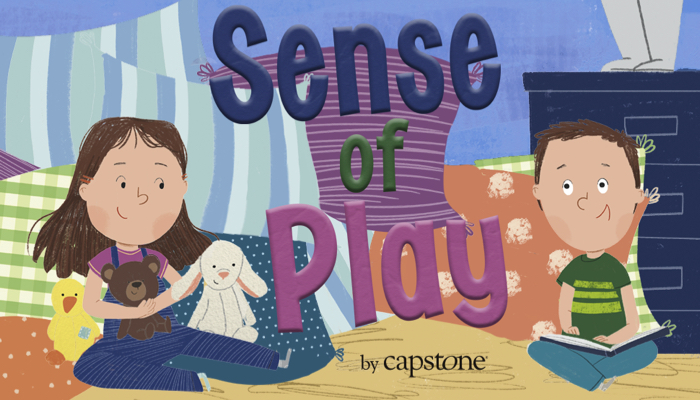 Braille and Literacy, Product Reviews, Visual Impairment
Dana Meachen Rau's book, Sense of Play, follows the adventures of Chip and Joy as they play. Chip is blind, but this doesn't get in the way of their play!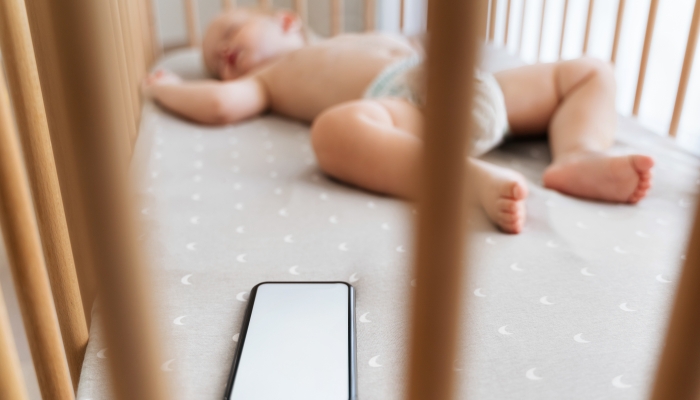 Product Reviews
Wondering whether white noise will help your little one sleep better? Here's our guide to the best baby sound machines to help your baby fall asleep soundly.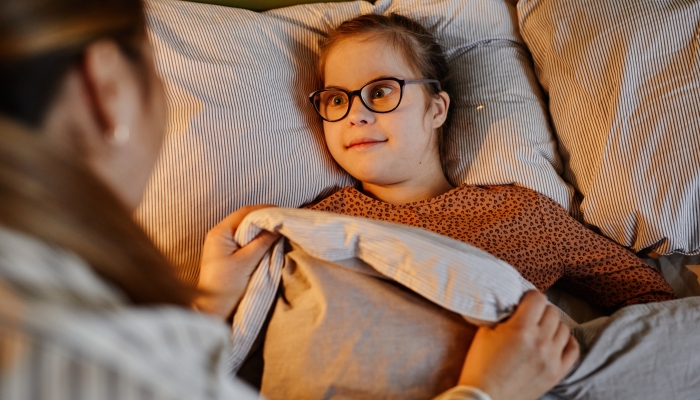 Product Reviews
Heard a lot about weighted blankets and lap pads and wondering how to choose one? Here's our guide to the ins and outs of finding the right weighted blanket.