Cloth Diapers for Beginners: A New Parent's Guide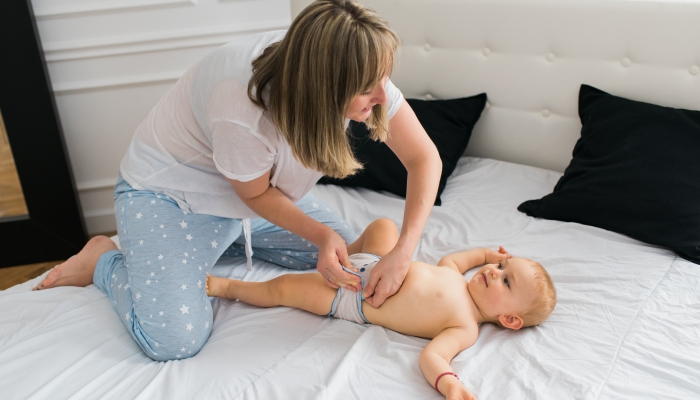 Evidence suggests cloth diapering is better for your baby's skin and can make the transition to potty training easier.
The most significant difference between cloth diapering and a disposable diaper is that you have less absorbency with cloth and will need to change your baby more often to prevent rashes.
The total number of diapers you'll need depends on your baby's age—for a newborn, you'll need about 2-3 days' worth (approximately 36 diapers).
Pocket cloth diapers are among the most popular with parents of newborns because you can easily switch out the cloth diaper inserts, producing less dirty laundry.
Getting started with cloth diapers can seem daunting for new parents, but they're quite simple to use. It's easier to understand when you think of this as a natural process and that you're exploring the best approach to diapering for your family.
You will find your way when you don't put pressure on yourself. It will be messy (pun intended!), but it will also be worth it!
When Is the Best Time to Start Using Cloth Diapers?
The short answer is that there's no perfect time to start using cloth diapers, and you don't have to go "all in" right away, either.
There are so many huge things happening during your baby's infancy for both you and your baby, so take it slow and do what you can.
Start small, using a few cloth diapers during the daytime, and switch back to disposable diapers at night or during phases when your baby is prone to diaper blowouts.
At What Age Can You Start Using Cloth Diapers?
The age you start using cloth diapers is completely up to you. Some parents use cloth diapers from day one, while others prefer to wait until the meconium has passed.
Additionally, some parents prefer to wait a couple of weeks or months until life finds its rhythm and they feel up to it. It's your decision when and how you want to approach cloth diapering.
Until then, use disposable diapers (I like to use ones for sensitive skin) when not in cloth diapers.
Are Cloth Diapers Better For Baby's Skin?
Yes, cloth diapering is better for your baby's skin—however, you must change them more often.
Few parents know this before using cloth diapers, but they need to be changed more often, usually every 2 hours. Cloth isn't as absorbent as a disposable diaper. Therefore, soiled cloth diapers can be felt stronger and have more contact with your baby's skin.
With disposable diapers, you can get away with not changing your baby after every single pee, especially for infants who tend to wet in small amounts frequently. However, with cloth diapers, you'll need to change your baby after each sign of wetness.
For occasions where you need to go for longer periods without discomfort and wetness, like for daycare or running errands, many great hybrid cloth diapers are extra absorbent and wick away moisture well.
You can also opt for pocket diapers and add additional inserts to increase protection. Additionally, I highly recommend using cloth diaper covers.
How Many Cloth Diapers Do You Need to Get Started?
You should buy a few days' worth of diapers—about 36 for newborns, 24 for infants, and 20 for toddlers.
Remember that while older babies undergo fewer diaper changes, they may require more cloth diaper inserts for their extra absorbency needs.
How Many Cloth Diapers Will You Need Per Day?
The average newborn will go through about 12-15 diapers per day. It's good to plan to have at least a couple of days' worth in case you get behind on washing cloth diapers.
In addition to your baby's age and size, the type of cloth diaper you choose could affect how many you go through daily. For newborns who wet their diapers a lot in small amounts, I cannot recommend pocket cloth diapers enough! Switching out the inserts and using the same diaper all day really saves on laundry.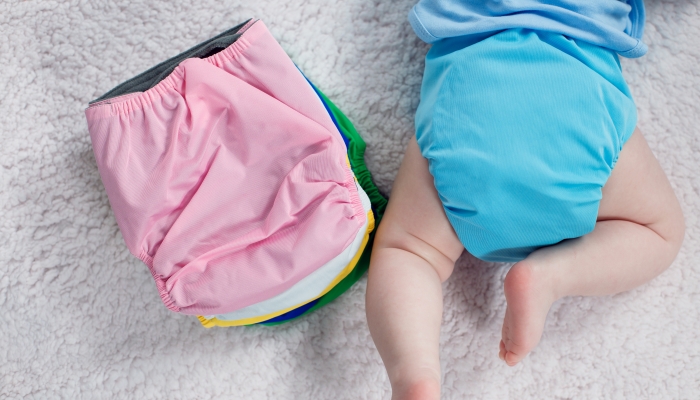 Must-Have Cloth Diaper Accessories for Beginners
Once you get the process down, you will be amazed by how simple and easy cloth diapering is. However, there are a few essentials you'll need to know to get your system set up.
1. Extra Inserts and Liners
It's always a good idea to have extra inserts for your pocket diapers. A couple of extra microfiber and hemp cloth diaper inserts are all you'll need. These diaper liners are also an excellent thing to keep on hand when you need a cleanup rag on-the-go.
2. Wet Bag
A wet bag is non-negotiable if you're going to use cloth diapers. You could use plastic bags for a while but trust me; it's worth the small expense of these bags.
Wet bags are an essential part of my day purse because they keep wet, dirty, or yucky stuff separate from clean, dry stuff in your bag. (As a parent, this need comes up often!) I use wet bags for bathing suits after the pool and to store both clean, dry diapers, and soiled cloth diapers. (You can find double-sided wet bags, also.)
3. Drying Rack
I love to use the power of the sun to dry cloth diapers because not only is it eco-friendly and energy efficient (saving you money!), but the sun has the incredible ability to naturally bleach out stains and kill germs and bacteria that need moisture to grow.
4. Cloth Wipes
Cloth wipes go hand-in-hand with cloth diapering; they're no extra work. In fact, you'll be pleased to stop finding disposable wipes in your washing machine after making the switch.
5. Diaper Pail
There are some awesome, top-selling diaper pails to choose from. Alternatively, some parents opt for a trash can with a pail liner and lid. This allows you to transport all the diapers and wipes in one pail and throw them into the washing machine together. The liner and lid will help to control the smell.
6. Diaper Sprayer
I would put this item at the top of the list because being able to spray solids directly into the toilet is a lifesaver! It's not an essential part of cloth diapers, but you won't regret investing in a diaper sprayer.
It keeps staining to a minimum, is so much easier to clean soiled diapers, and is less messy for you as well.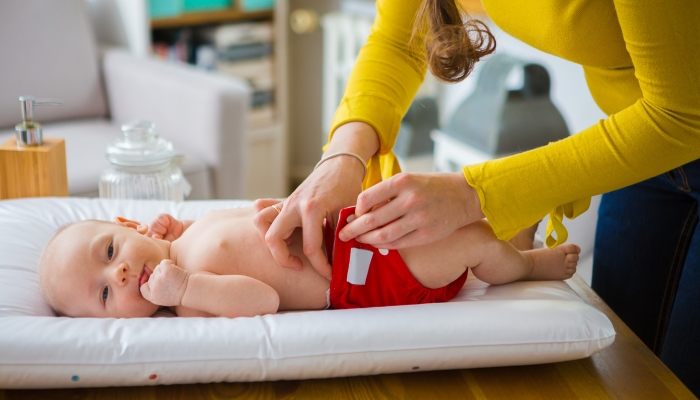 Beginners Guide on How to Use Cloth Diapers
With just a few of these tips, you'll be using cloth diapers quickly and easily.
How Should Cloth Diapers Fit?
The rule is that your baby's diaper should be tight enough so that no wetness leaks out but loose enough that you can comfortably slide in a finger at the sides.
A properly fitted cloth diaper should fit snugly around your baby's legs and waist.
How Often Do You Change a Cloth Diaper?
The most important difference between using a cloth diaper and a disposable diaper is the frequency you will need to change them. You should change your cloth diapers about every 2 hours (unless it's completely dry) to avoid rashes.
How Do You Know When a Cloth Diaper Needs to Be Changed?
Cloth diapers tend to hang down or feel stiff when soiled. The general rule is to change your baby every 2 hours in cloth diapers.
Do You Change Cloth Diapers After Every Pee?
Yes, cloth diapers do not have the super absorbency of synthetic disposable diapers, so when they are wet, your baby feels it. This can actually be beneficial as your baby grows up!
Are Cloth Diapers Less Expensive?
Are cloth diapers worth it? Yes, they are less expensive, and depending on how long you use them, they can save as much as 60% of the cost of diapers!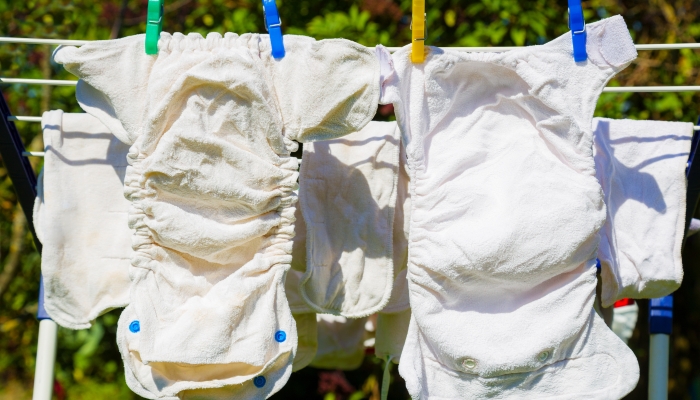 Cloth Diapers for Beginners: Care and Maintenance Tips
You need to launder cloth diapers before use and become familiar with the washing, care, and maintenance of your cloth diapers.
To prep your cloth diapers after you bring them home, run them through a cycle on the hottest water setting. Use the recommended amount of baby laundry detergent, and dry.
How Should Cloth Diapers Be Washed?
There are plenty of caveats with how to clean cloth diapers, but to summarize the process:
Dispose of waste and spray diapers clean.
Run diapers on a cold rinse cycle.
Run in a hot wash cycle with the recommended amount of cloth diaper-safe detergent.
Rinse with warm or cold water.
Dry in the dryer, on a drying rack, or clothesline.
Do You Have to Wash Cloth Diapers Every Day?
Not every day, but most parents wash a load of diapers every other day or maybe every three days. You'll want to keep a frequent washing schedule to mitigate smell and keep the diapers in the best condition.
What is the Best Way to Clean Cloth Diapers?
Follow the instructions above and remember to use hot water and a good detergent.
TIP: Add a little scoop of baking soda to the detergent for a powerful, stain-fighting, odor-neutralizing boost!
How Long Can Cloth Diapers Sit Before Washing?
You don't want to put off washing cloth diapers for long after they're wet. They will trap odor and stains, can mildew, and get unsanitary quickly.
Also, this will impact the quality of the fabric and the diaper's absorbency. For these reasons and more, it's best not to let dirty diapers sit for more than a couple of days before washing.
Do You Need to Rinse Cloth Diapers Before Washing Them?
Yes, pre-rinse your baby's soiled diapers before washing them. First, ensure any solid material is removed, then rinse the diapers in cold water. After this, wash them on a regular, hot water cycle.
FAQs
Is it easier to potty train with cloth diapers?
Yes! Well, it can be. Most disposable diapers are so good at pulling moisture away from the skin that your baby doesn't feel it when he's wet.
When it comes time to potty train, this can be useful in getting your toddler to make the critical "potty-awareness" connection. This improves his motivation to potty train.
What are the easiest cloth diapers to use?
There are many types, including prefold cloth diapers, pocket cloth diapers, fitted inserts, and all-in-ones.
For newborns, pocket diapers work well as babies that young usually wet in small amounts and you just change the inserts.
When your baby gets a little bigger, the prefolds were my clear favorite. It's always preferential to only have to change the soiled pad inside the diaper. They're also one of the most affordable options!
Can you leave a cloth diaper on all night?
Longer, extended sleep periods will require extra protection. Add absorbency with another insert at night in your baby's diaper. Also, I highly recommend a waterproof mattress cover and a spare fitted sheet.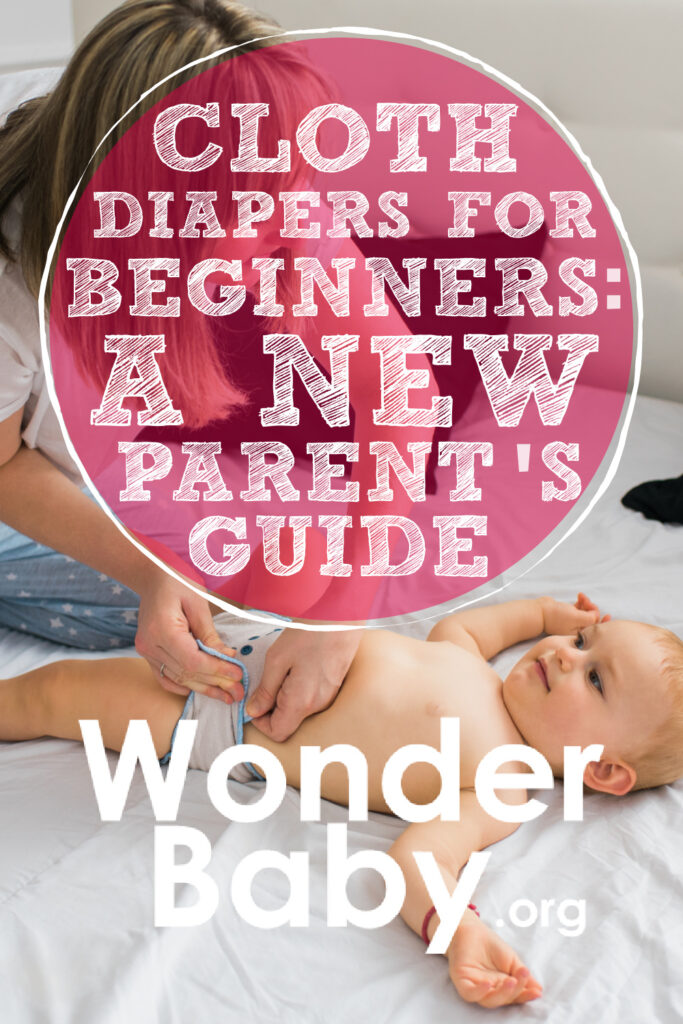 Related Posts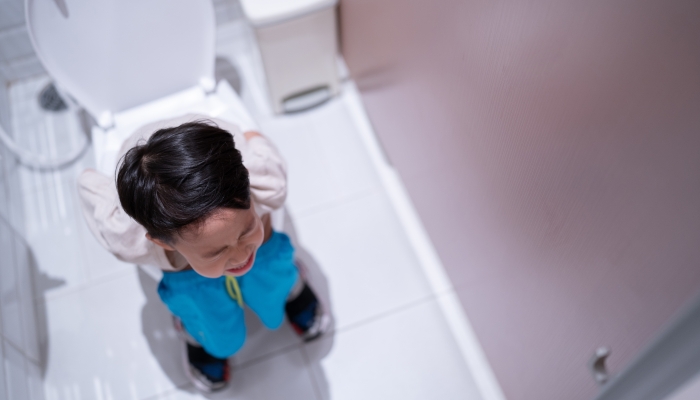 Potty Training
Constipation is common amongst children of potty training age. Many children suffer from potty training constipation, but there are things you can do to help.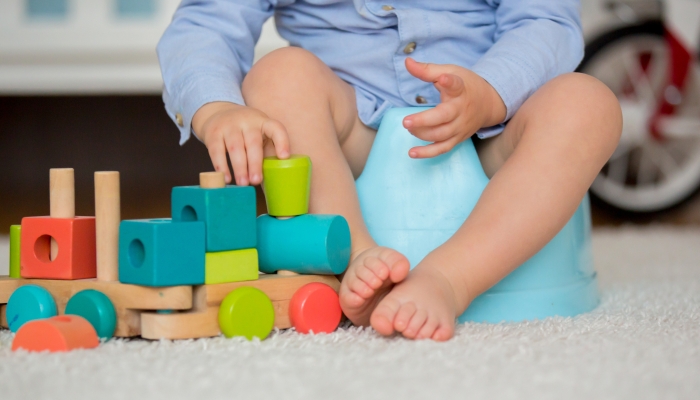 Potty Training
Learning to use the toilet doesn't have to feel like hard work. There are lots of potty training games you can play with your toddler to make learning fun.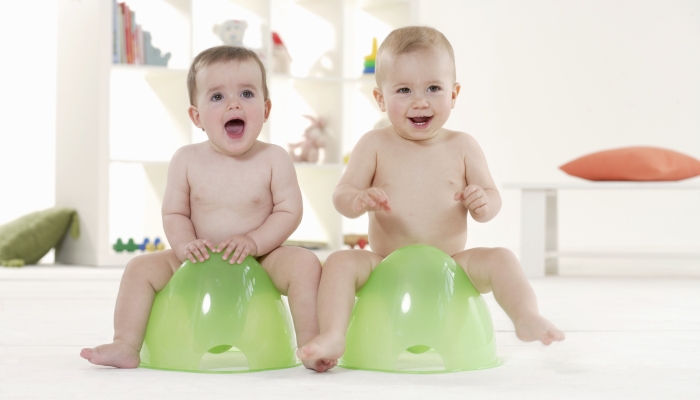 Potty Training
You can potty train twins one at a time or together, but it's important to follow their lead and go at a reasonable pace. Learn more tips here!