How to Make an Oatmeal Bath for Diaper Rash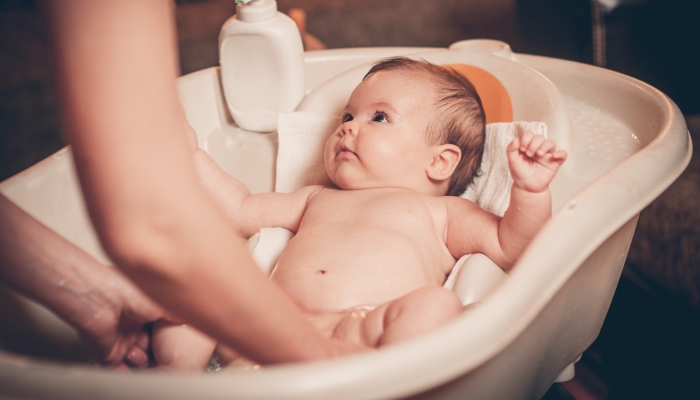 This post may contain affiliate links; please see our terms of use for details.
Making a homemade oatmeal bath for your baby can soothe skin and even help heal the worst diaper rash.
You can make colloidal oatmeal at home with regular oatmeal from your pantry.
A soothing oatmeal bath can help moisturize and protect your baby's skin.
Every parent, new or seasoned, has struggled to heal their baby's stubborn diaper rash. Making an oatmeal bath for your baby is simple, inexpensive, and surprisingly effective at healing diaper rashes. Oatmeal baths are not only valuable for the treatment of diaper rash but can also help with other skin conditions like eczema, dry skin, bug bites, itchy skin, and even chicken pox.
Here is how you can make an oatmeal bath for diaper rash or other baby skin conditions to help your baby heal and feel more comfortable.
What Is an Oatmeal Bath?
For centuries, oatmeal has been an age-old remedy used to decrease inflammation and to help heal irritated or damaged skin. To make an oatmeal bath, you simply add colloidal oatmeal to a bathtub of warm water and then soak in it for 10-15 minutes.
Colloidal oatmeal is made by blending whole oats into a fine powder that dissolves in water. The fine powder created by blending the oats becomes an emollient when added to water which moisturizes, soothes, hydrates, and heals skin conditions.
Oatmeal baths are safe and effective for people of all ages, including babies, making them a great option for helping heal diaper rash or other skin problems.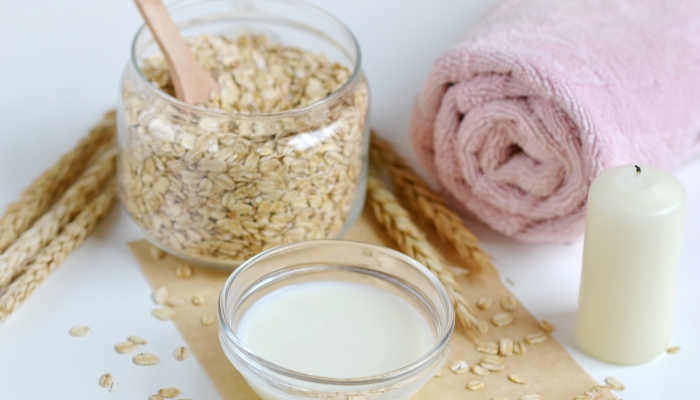 5 Benefits of an Oatmeal Bath for Babies
Oatmeal has incredible benefits for your entire body. When eaten, oatmeal adds fiber to your diet, lowers bad cholesterol levels, and improves heart health.
When added to your baby's bath, oatmeal can help remedy a variety of different skin conditions, including diaper rash. These are 5 of the fantastic benefits oatmeal has for your skin:
Soothes: Adding oatmeal to a warm bath soothes irritated, damaged, and itchy skin. This is because oatmeal has anti-inflammatory properties that help repair the natural skin barrier.
Protects: Colloidal oatmeal helps protect the skin by binding to the skin and forming a protective barrier. In addition, it holds in moisture which can relieve inflammation and skin itching.
Moisturizes: When added to a bath, oatmeal becomes an emollient that moisturizes dry skin.
Cleanses: Oats contain saponins, which act as natural cleaners. The oatmeal soaks up excess oil on the skin, removes dirt and oil, and exfoliates the skin.
Heals: Oatmeal can heal the skin by locking in moisture and creating a protective barrier over the skin so that it can heal.
How Can an Oatmeal Bath Help Treat Diaper Rash?
A soothing oatmeal bath is beneficial in treating diaper rash for a few reasons. First, oatmeal has anti-inflammatory properties, which can soothe the skin and decrease redness, itching, irritation, and tenderness associated with diaper rash.
Taking an oatmeal bath can also help to repair your baby's itchy rash by creating a protective barrier over the damaged skin which can lock in moisture and protect the skin from further exposure to irritants like dirty diapers.
How to Make an Oatmeal Bath for Diaper Rash
DIY colloidal oatmeal baths are pretty simple to make at home, or you can purchase store-bought colloidal oatmeal to add to your baby's bath. Follow these simple steps to make your own colloidal oatmeal bath at home for diaper rash relief.
Purchase plain oatmeal at your grocery store. It doesn't matter if the oats are whole oats, quick oats, rolled oats, or steel-cut oats, as long as they have no additives or flavors.
Grind the oats into a fine powder using a coffee grinder, blender, or food processor. You will know when the oats have been ground finely enough when the ground oats dissolve easily in a glass of warm water.
Draw your baby's bath using warm water. Make sure the tub is not too hot.
Gradually sprinkle the finely ground oats into the tub until the water turns a milky color. A third to a half cup of ground oatmeal is usually enough for a baby tub.
Let your baby soak in the bath for 10-15 minutes while letting your little one play with some bath toys.
Once done, gently pat your baby's skin dry. Avoid rubbing so as not to wipe off the oatmeal.
To help lock in the moisture from the oatmeal, apply a fragrance-free moisturizer to your baby's skin. Baby Dove Baby Lotion is one of our favorites because it is 100% natural with no parabens, dyes, or pthaltates.
Baby Dove Baby Lotion
CALMING CARE: Baby Dove Calming Moisture Hypoallergenic Baby Lotion (13 oz.) is a nourishing baby lotion with a calming chamomile scent
SAFETY-TESTED: Our scented lotion for a calming bedtime routine is created without dyes, parabens, or phthalates and ophthalmologist, dermatologist, and pediatrician tested
NOURISHING BABY LOTION: Made with 100% skin-natural nutrients, which are nutrients identical to those naturally found in skin, and prebiotic moisture to support baby's skin natural health
GENTLE HYDRATION: Ideal for a nightly baby massage before bed, our baby body lotion gently moisturizes baby's sensitive skin throughout the night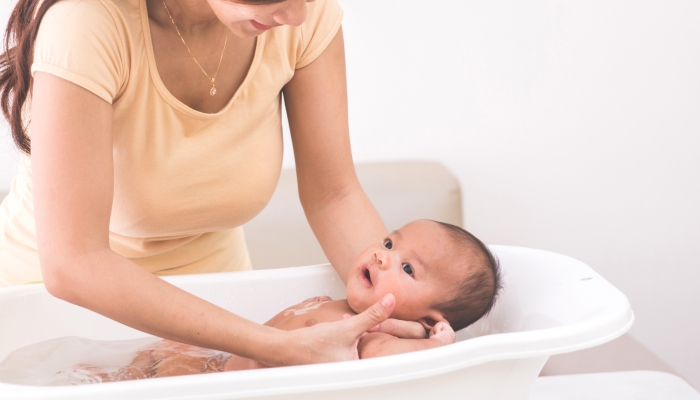 Important Things to Remember When Giving an Oatmeal Bath
There are a couple of important things to remember when you give an oatmeal bath to your child.
Check the water temperature: When giving your baby an oatmeal bath, ensuring the water is not too hot is crucial. The recommended temperature for the water in your bath is around 100 degrees Fahrenheit (49 celsius) to avoid scalding your baby's already sensitive skin. A baby bath thermometer is a great way to maintain the correct water temperature.
Watch out for allergies: Oatmeal baths are generally safe for everyone, including babies. However, in some rare cases, oatmeal can cause an allergic reaction. Keep an eye on your baby's skin to see if the oatmeal bath is causing worsening swelling, itching, or skin redness.
b&h Baby Thermometer
Measuring water temperature in the bathtub and room. Not only a thermometer, but also a clock.
The thermometer can display in both Fahrenheit and Celsius.Press "+" and "-" at the same time to switch between Celsius and Fahrenheit when it in time mode.
High and low temperature alarm, safe and accurate thermometer flashes and beeps when water is too hot or too cold.
ABS/PVC environmental protection material and Plexiglas material, BPA free, 2*LR44 batteries included.
FAQs
Can you let an oatmeal bath go down the drain?
Yes. Finely ground colloidal oatmeal should completely dissolve when added to your baby's bath, making it perfectly safe to go down the drain.
Can you use Quaker oats for an oatmeal bath?
Yes! You can use Quaker oats for your oatmeal baths as long as they do not have any added flavors. Any store-bought oats will work for an oatmeal bath. Use a food processor and grind the oatmeal into a fine powder.
Can oatmeal baths cause skin irritation?
In rare cases, some people are allergic to oatmeal which can worsen skin irritation. Keep a close eye on your baby's skin during and immediately after their first oatmeal bath to make sure they are not allergic.
Are you supposed to rinse off after an oatmeal bath?
No, do not rinse off after an oatmeal bath. Instead, pat the skin dry and apply a moisturizer. You want to keep the benefits of the oatmeal on your baby's skin as long as possible!
How long should you stay in an oatmeal bath?
It is recommended to soak your baby in a colloidal oatmeal bath for 10-15 minutes.
Should you use soap with an oatmeal bath?
Oatmeal has natural properties that help clean and cleanse the skin, so soap is unnecessary when taking an oatmeal bath.
How often can you give your baby an oatmeal bath?
Oatmeal baths are safe and soothing, so it's almost impossible to overdo it. You can bathe your baby with homemade colloidal oatmeal once or twice daily to relieve itchy, dry, or irritated skin.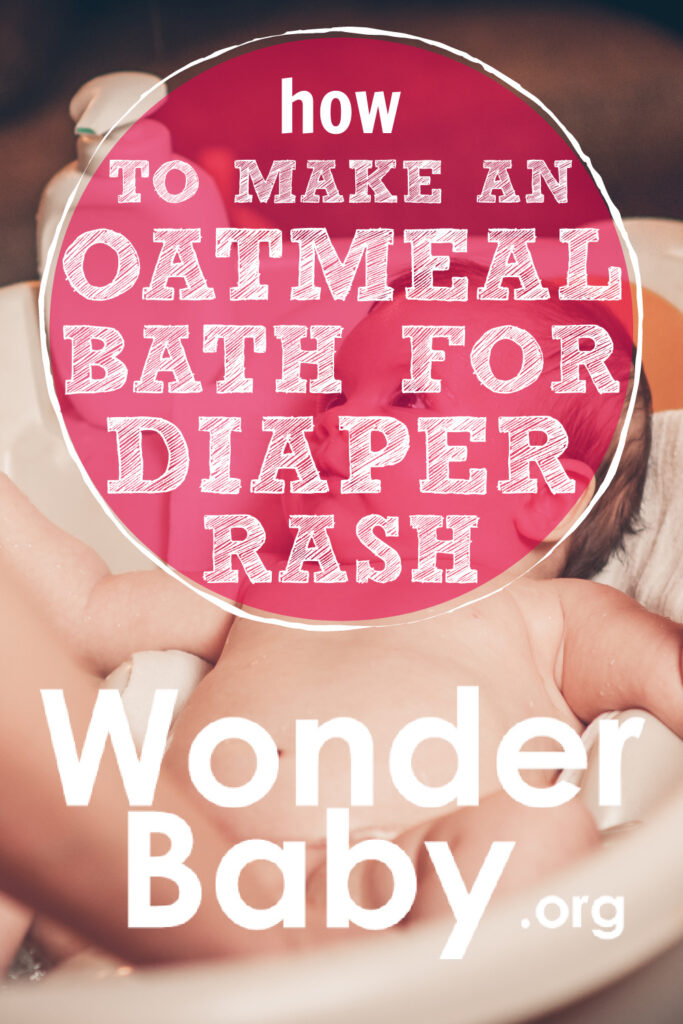 Related Posts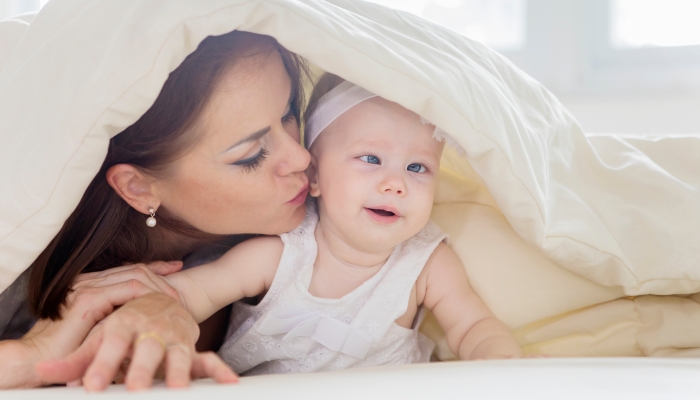 Eye Conditions and Syndromes, Visual Impairment
Retinopathy of prematurity is common in babies born before 33 weeks. Early intervention can help prevent blindness in babies with this condition.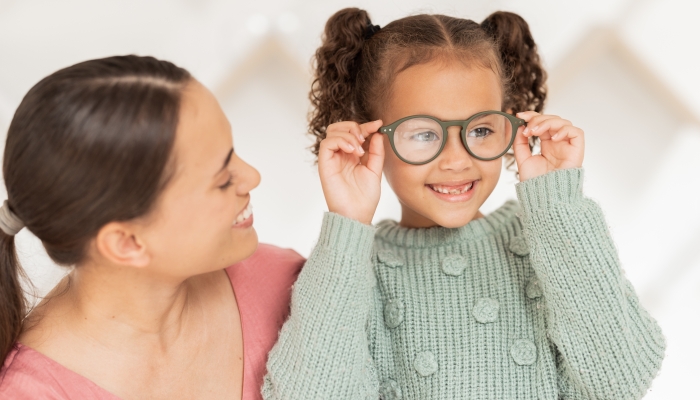 Eye Conditions and Syndromes, Visual Impairment
If you have a child with retinitis pigmentosa (RP), family members, therapists, and eye specialists can help you manage the stress that comes with vision loss.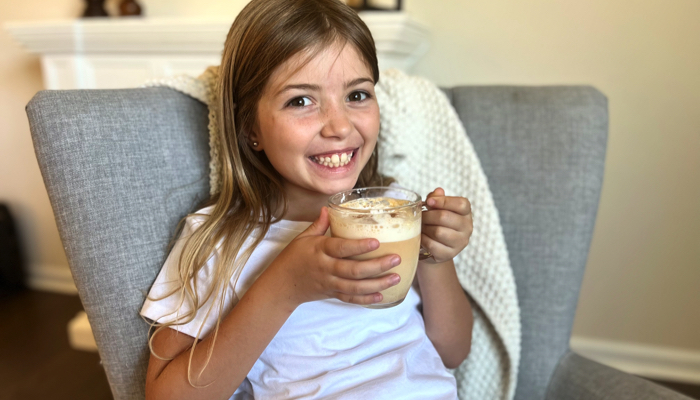 Feeding and Eating
Who says kids can't enjoy the pumpkin spice latte craze? This Kid-Friendly Pumpkin Spice "Not-a-Latte" recipe is delicious and fun to make.