The 5 Best Montessori Toys for Toddlers (1-2 Years Old)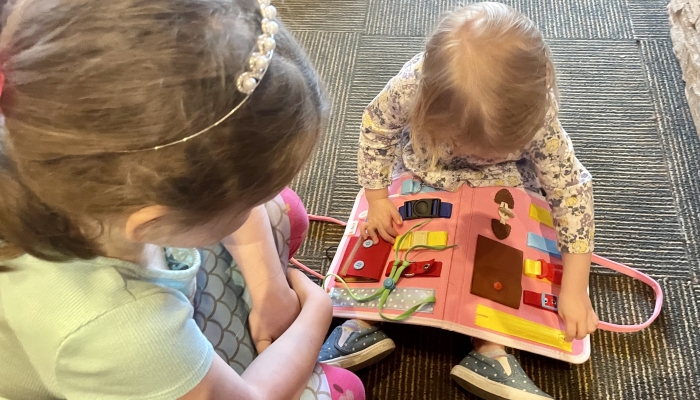 This post may contain affiliate links; please see our terms of use for details.
Montessori toys focus on developing pincer grasp, gross motor development, and life skills.
The Montessori method teaches children self-expression, self-reliance, and to think on their own terms.
The best Montessori toys for 1 and 2-year-olds are well-built and last the test of time.
When my kids were younger, I was constantly looking for educational toys that were both fun and provided a learning experience. I also wanted to find quality products that could last for multiple kids.
What I didn't realize early on were the numerous benefits Montessori toys provide, like helping with language development, promoting concentration, and instilling a love for learning in children.
Montessori toys for one-year-olds are an excellent way to introduce young toddlers to toys that encourage learning and are a great resource for parents who want to promote the Montessori method.
Best Choice
Best Multi-Activity
Best for On-The-Go
Best Choice
Best Multi-Activity
Best for On-The-Go
Our Top Choice: Top Bright Activity Cube
Top Bright Activity Cube
5 In 1Activities – Our activity cube for 1 year old combines 5 different activities in 1. Bead maze, Learning clock, Shape sorter, Spinning Gears and Zig zag sliding side. This development toy keeps children busy and entertained, while developing their logical thinking, imagination and creativity.
Montessori Toys for Toddlers – This one year old boy girl toy wooden activity cube is designed to building toddler's sensory, promote fine motor skills, hand-eye coordination, shape color recognition and number counting.
Safe For Kids – Our wooden baby toys was made from natural solid wood with polished edges and non-toxic water-based paint. Passed the highest toy safety standards. It's a great toy for 1 year old boy and girl.
Gifts For 1 Year Old – If you are searching for a birthday or Christmas gift with educational learning and fun, this toddler toys is the best choice. Parents and teachers will love it.
Pros

Cons

Five different activities
Made from solid wood with non-toxic water-based paint
Compact enough for traveling

Top doesn't connect firmly to bottom
The Top Bright Activity Cube is one of the best Montessori toys for 1 and 2-year-olds since it works on several developmental milestones. Montessori toys for 1-year-olds are excellent at encouraging spatial reasoning, and the Activity Cube helps promote this with its shape sorter toy.
Spatial reasoning is a child's ability to visualize how objects move in a 3-D world. In addition to the shape sorter, the activity cube has a bead maze, sliding insects, spinning gears, and a teaching clock.
The top of the cube easily comes off to access the inserted shapes, and it also doubles for storage when not in use.
In addition, if you have multiple children who want to play with the cube, you can leave the top aside, and it creates an extra toy.
There are countless activity cubes on the market, but parents appreciate that this is compact and doesn't take up much space, which is helpful when you have kids. It can also be used as a tabletop activity while you are cooking dinner and want to keep your child entertained.
If you are looking for gift ideas for your favorite toddler, consider the Activity Cube one of the best toys to encourage a kid's learning.
Material: Wood | Manufacturer Recommended Age: 12 months and up
View on Amazon | View on Walmart.com | View on eBay.com
Best Multi-Activity: 6-in-1 Whack-a-Mole Game
Sale
6-in-1 Whack-a-Mole Game
【6 In 1 Wooden Toy Set】This interactive toy allows your kids to play 6 games in 1 toy: whack-a-mole, magnetic woodpecker catches worms, carrot harvest game, playing the xylophone, number & time cognition, gear rotation. Your child will be super immersed in it and won't get bored, which saves money and solves storage difficulties
【Safe and Durable】Made with natural wood ensures safety & durable, polished by a multi-layer process with smooth edges, water-based paint, odorless. Children are well-protected while playing, abundant accessories attract baby's attention, bright colors stimulate kid's perception of color, great toy for your lovely boys girls to be kept for many years
【Educational Montessori Toy】An early development toy to participate in baby's growth, whack-a-mole exercises eye-hand coordination, magnetic woodpeckers aiming worms to develop fine motor skills, quick reaction & logical thinking skills, two hammers &mallets to share to help improve social skills, xylophone playing develop musical perception-Just like a real musician!
【Grow Parent-child Intimacy】This sensory toy is perfect tool for parents to spend free time with your children and participate in the growth of them, enhance parent-child interaction during play, help your child release extra energy when you're tired. A perfect choice as learning toys for 12-18 months baby's development
| | |
| --- | --- |
| Pros | Cons |
| | Small items can get stuck |
If you have an active toddler, they will thoroughly enjoy the 6-in-1 Whack-a-Mole Game. Children will enjoy playing with the xylophone, hammering the various characters, rotating the clock and gears, and looking at the vibrant colors of the toy.
The 6-in-1 Montessori toy is a great first birthday or Christmas gift if you know young toddlers eager to work on several skills simultaneously. Many parents appreciate it isn't huge and is ideal when you are short on space.
Parents will want to watch their kiddos to ensure they put the pieces in the correct place, or they might get stuck. For example, don't let your toddler put the worms in the carrot holes to prevent issues!
Material: Wood | Manufacturer Recommended Age: 12 months and up
View on Amazon | View on Walmart.com | View on eBay.com
Best for On-The-Go: Busy Board
Sale
Exorany Busy Board
🐯MONTESSORI TOYS FOR TODDLERS: Montessori is a educational method that is based on self – directed activity, hands-on learning and collaborative play. Busy board is one of the most perfect Montessori toys for toddlers. Montessori busy board can practice your child how to dress, identify letters/colors/animals, strengthen hand-eye coordination, and develop problem-solving skills through playing.
🐰DURABLE AND SAFE:In the design of this Montessori toys-busy board, we always adhere to the principle of security first. Sensory toys are made of high quality felted wool, soft with no hard corners, no harm to the skin and no peculiar smell. Components are tightly nailed to the educational toys so that they will not be torn off by the baby and swallowed by mistake. Montessori toys are very safe and durable.
🐱LIGHTWEIGHT AND PORTABLE: The busy board measures 11×8.4 in and weighs 0.45 lb. The lightweight handbag design of this busy board allows kids carry and use it very easily in cars or airplane. You can easily put it into your backpack, so you can take it everywhere you want.Excellent portability makes it a perfect travel toy.
🐼PERFECT GIFTS FOR TODDLERS: Are you still hesitated to choose the kid's birthday or Christmas gifts for 1 2 3 4 year old boys & girls? This busy board for toddler activities is definitely the perfect choice that you won't regret! Got this busy board, your children will gain the ability to explore and solve problems, at the same time help them learn basic fine manual skills. It is the best toddler toy, the best birthday, Christmas or as a surprise gift for kids.
Pros

Cons

Compact and easy to carry along
Excellent for working on fine motor skills
Variety of activities to encourage developmental skills in toddlers

Not all colors have the alphabet on the exterior
When my friend was telling me how active her two-year-old little girl was getting, I wanted to find a gift that would keep her occupied and intrigued. The Exorany Busy Board is soft, lightweight, and easy to carry around, making it one of the best Montessori toys for 1 and 2-year-olds.
I recommend guiding your toddler with the busy board the first few times they play with it because they likely will need to be taught how to perform several of the actions.
I made something similar for my son when he was two that hung on the wall, but I appreciate you can stick the busy board in your diaper bag and take it with you.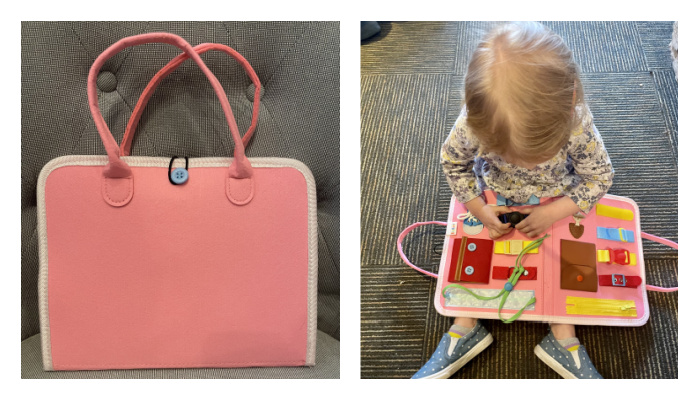 This toy tests your toddler's fine motor skills with several activities like a zipper, buckles, buttons, and various clasps. While the busy board is designed for young toddlers, older siblings will enjoy teaching them how it works.
One of the reasons the busy board stuck out to me was the vibrant pictures and letters on the exterior. However, I didn't realize only certain colors came with it, which didn't include the pink one I ordered.
Overall, it's a wonderful toy, and I don't regret gifting it to my friend's little girl.
Material: Wool | Manufacturer Recommended Age: 3 years and up
View on Amazon | View on Walmart.com | View on Sears.com
Best Montessori Puzzle: Dailyfunn Peg Puzzle
Sale
Dailyfunn Peg Puzzle
12 pieces geometric shape in 6 colors from Pantone International Standards
Big knob is screwed for babies to grasp safely and easily,all edges are smoothed and rounded,without any burrs
Made of natural wood, be sure is sturdy and durable,for longtime fun and play,we don't use MDF
All safe materials, BPA-Free, Non-Toxic Paint, meet or exceed all applicable safety standards of US
Pros

Cons

Excellent for working on hand-eye coordination
Solid wood puzzle lasts for many years
Teaches 12 shapes and 6 colors

Could be too simple for older toddlers
While there are plenty of amazing toddler puzzles on the market, the Dailyfunn Peg Puzzle is one of my favorites. The puzzle has vibrant colors, and each piece has a peg to help your toddler with their pincer grasp.
Each puzzle piece requires color and shape matching, helping your child develop cognitive skills. I love wooden puzzles because they last the test of time, and you can use them for multiple siblings.
Simple puzzles are a classic Montessori toy with numerous benefits, including helping with hand-eye coordination, fine motor skills, problem-solving, and sequencing.
According to The Illinois Learning Project, puzzles resemble many life tasks, like fitting items in a box or bag. Puzzles are also a fantastic Montessori toy that teaches young toddlers persistence as they figure out where each piece goes.
While they might experience frustration while figuring it out, kids feel accomplished when they get the pieces in the correct spots!
Material: Wood | Manufacturer Recommended Age: 1-3 years
View on Amazon | View on Walmart.com | View on eBay.com
Best for Sensory Building: LiKee Pull String Learning Ropes
Sale
LiKee Pull String Learning Ropes
Keep Baby Occupied for Hours: It's hard to keep the babies occupied for a while, but LiKee can help. When they pull all the ropes through to one side, they will turn it over and start again, hours passed but they may didn't realize it.
Help Develop Motor Skills: There are 6 cords of different shapes, some are easy to grasp and pull, while the others are more challenging, that will help strengthen fine and gross motor skills, hand eye coordination.
Explore Different Textures: The textures on the pipes and pipe ends are varied, the ropes are soft and flexible, promotes the use of tactile response.
More Ways to Play: Comes with popping bubble and sliding ball function as free bonus, the strings will produce sounds when pulled up and down, it is also fun to shake it and watch the cords bounce around.
Pros

Cons

Inexpensive
Works on hand-eye coordination
Compact for travel

Not ideal for younger toddlers
One of the best sensory toys you can find for your toddler is the LiKee Pull String Learning Ropes. The enticing rope toy has 6 cords of various shapes that range in difficulty to pull, encouraging the child to strengthen their gross motor skills.
Sensory toys for toddlers have numerous benefits, including calming your child, stimulating creativity, and helping their senses come alive. In addition, the ropes have different textures, which promotes a toddler's tactile response.
The sensory toy is compact, so it easily fits in your diaper bag, allowing you to bring it to a restaurant or on an airplane. Montessori parents will also appreciate that it takes a toddler's attention away from power cords or window blinds.
However, since it does have small parts on the ends, it could be a choking hazard for a baby, so you'll want to keep it away from younger siblings. In addition, it does advertise as a toy for ages 18 months+, so remember that when purchasing.
Material: Silicone, ABS | Manufacturer Recommended Age: 18 months and up
View on Amazon | View on Walmart.com | View on eBay.com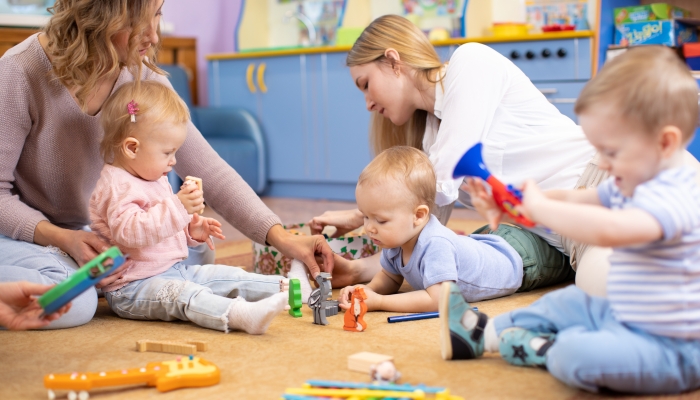 Why Are Montessori Toys Good for One-Year-Olds?
Maria Montessori developed the Montessori method in the early 1900s and encouraged child-led activities. The Montessori method believes that children learn better when they can choose what they learn.
Here are more reasons why Montessori toys are good for one-year-olds.
Helps Develop Fine Motor Skills
Montessori toys are known for encouraging developmental milestones, like gross motor skills, developing social skills, and working on fine motor skills.
Fine motor skills work on the smaller muscles in a toddler's hands, which eventually helps them learn how to dress, write their name, or use scissors.
Montessori Toys for One-Year-Olds Encourage Creative Play
While electronic toys come in handy, it's a great idea to allow toddlers to use Montessori aligned toys as a way to explore their imagination. Montessori classrooms typically are set up to support imaginative play with items like a doll house, wooden blocks, and other favorite toys so children can explore creating worlds with their imagination.
If you have one child at home, Montessori toys allow them to express creative play and have independence.
A Montessori Toy Works in Problem-Solving Skills
Many Montessori toys challenge your toddler's brain and require them to utilize problem-solving skills. For example, a shape sorter teaches toddlers that pieces must fit in the appropriate slot, so they must figure out where to put each piece.
Aids in Developing Practical Life Skills
You might not think your toddler's toys are helping them with future life skills, but your child learns at a young age how to deal with various life situations. For example, Montessori toys for 1- year-olds help build independence, determination, and persistence.
While it's tempting to step in and do something for young toddlers, take a step back sometimes and let them figure out the skill themselves.
How to Choose the Right Montessori Toys for Your One-Year-Old
Age Appropriateness
Young toddlers have a range of capabilities, so it's best to look at the age recommendation on the specific toy. For example, toys for 1-year-olds may not be best for your two or three-year-old.
Consider Your Child's Interests
It should go without saying, but you want to consider what your child is interested in before purchasing Montessori toys. If your kiddo doesn't love puzzles, go for an activity cube or busy board that boosts their interest.
Related Posts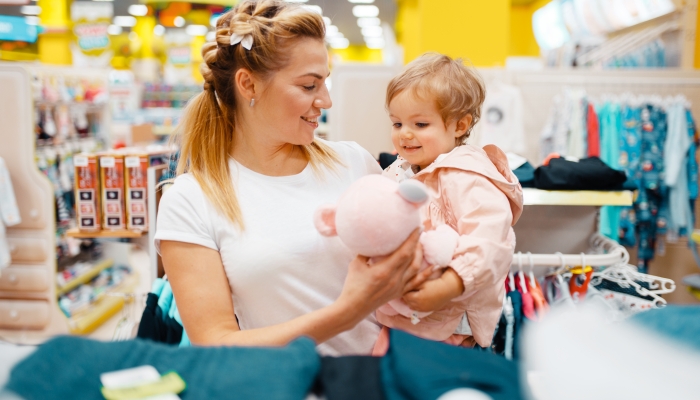 Toys
Ensure your child's well-being with top tips on choosing suitable toys that create a secure, fun play environment with our guide to safe toy selection.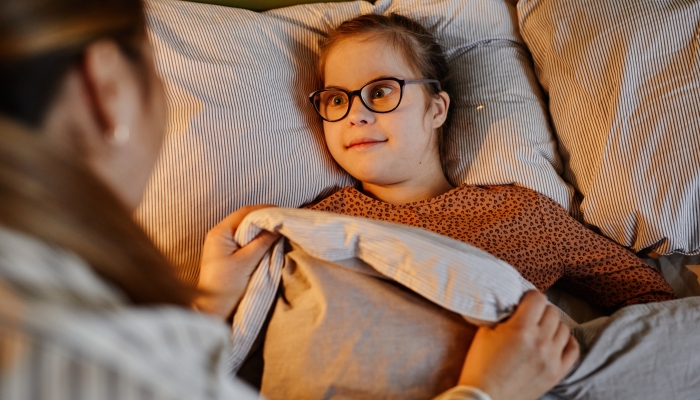 Product Reviews
Heard a lot about weighted blankets and lap pads and wondering how to choose one? Here's our guide to the ins and outs of finding the right weighted blanket.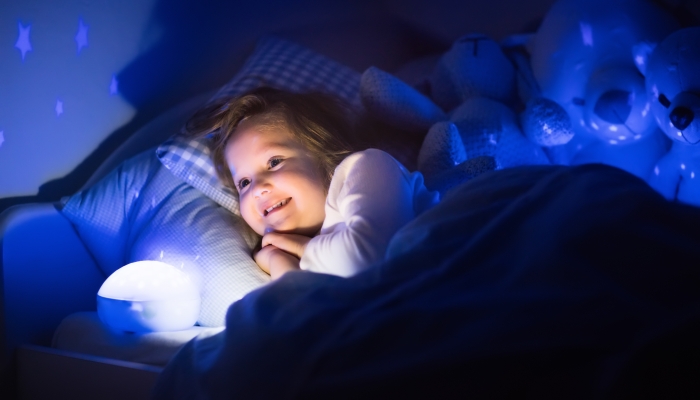 Product Reviews
Looking for the right night light to help your little one ease into bedtime? Check out our guide for everything you need to know about toddler night lights.