15 Amazing Imagination Games for Toddlers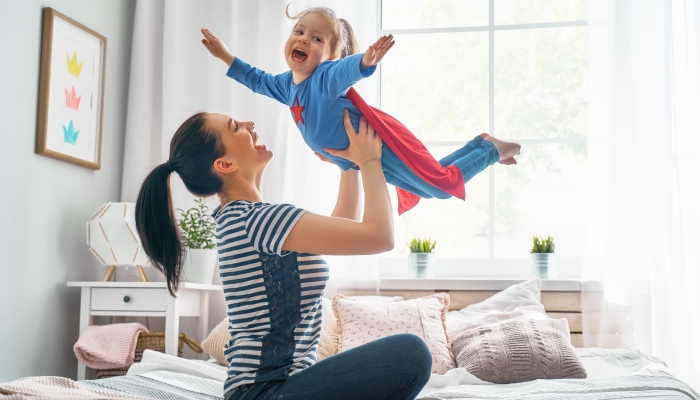 Imagination games focus on children's ability to act out their interests, play make-believe, and show their creativity.
Some benefits of imagination games are improved social skills, language skills, communication skills, and problem-solving abilities.
Kids start playing imagination games as young as 12 months old.
Some ways to encourage imaginative play are modeling, exposing kids to new experiences, providing props, and reading.
The best games for toddlers have certain qualities — they promote children's development, they keep them entertained for more than five minutes, and are inexpensive (or even free)!
The types of games that tick all of these boxes are imagination games. Rather than parents orchestrating every minute of play or providing more toys than kids know what to do with, they can foster their child's imagination instead!
We've all seen kids play with the box a toy came in and ignore the toy itself. Why spend tons of money on toys when our kids can have just as much fun using their own creativity?
Imagination Games: What Parents Should Know
Imagination games are activities that focus on a child's creativity and his or her ability to play "make-believe." They allow kids to act out their interests and experiences.
Imagination games are open-ended and child-led, which means they don't have any specific goals, and parents should let their children be in charge of the play.
Most children play fun imagination games as part of their development. Although it might be worrying when you first notice your children holding a few blocks and talking to themselves, this is normal and beneficial!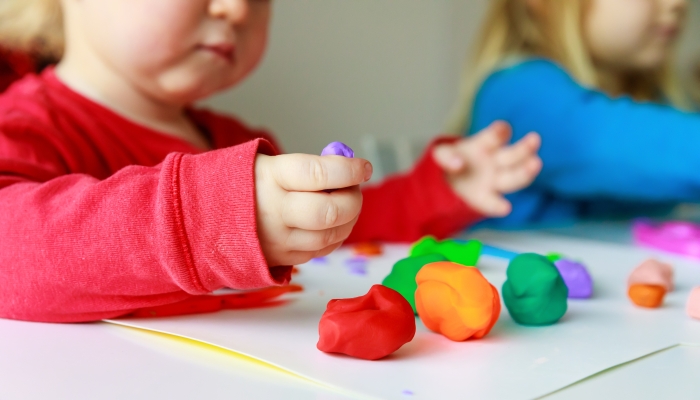 Why Are Imagination Games Good for Toddlers?
Childhood development experts agree that pretend play is crucial in developing cognitive skills. Jeffrey Goldstein, Ph.D., writes in his 2012 article Play in Children's Development, Health and Well-Being, that: "[The] sequence of play development, which extends from solitary exploration to sensorimotor play to pretend play, has received extensive empirical support and correlates with children's cognitive abilities. The emergence of pretend play, in particular, is a critical achievement of toddlers as it allows them to practice symbolic thought."
Similarly, Jerome L. Singer and Dorothy G. Singer point out in their co-authored 2013 article titled The Need for Pretend Play in Child Development that "Over the last seventy-five years a number of theorists and researchers have identified the values of … imaginative play as a vital component to the normal development of a child."
There are many benefits to imaginative play:
Improves their social skills
Gets them ready for school
Improves language skills
Boosts their creativity
Improves problem-solving abilities
Keeps them active
Promotes early emergent literacy skills when they reach kindergarten
Has been linked to higher IQs at five years old
Helps them express feelings and work through them
Improves communication skills
Promotes empathy
Improves critical thinking skills
Improves concentration and attention span
Helps develop reasoning skills
Encourages cooperation and conflict resolution
At What Age Do Kids Start Playing Imagination Games?
According to Dr. Goldstein, children naturally progress through stages of pretend play or imagination games.
12 months old: They imitate behaviors they've seen others do. Ex: taking an empty cup and holding it up to their mouths.
18 months old: They pretend to do everyday activities. They also use objects like blocks and pretend they are everyday items, called symbolic play. Ex: holding up a block to their ear and pretending to talk on the phone.
12 to 24 months: They involve others or toys, like dolls, in imagination games. Ex: they pretend to feed you with a spoon or comfort a crying baby doll.
24 to 36 months: They start following more advanced steps in their play. Ex: they want to give their baby doll a bath, so they remember to take the doll's clothes off before putting them in the bathtub.
3 years to 5 years: They plan out their imagination game ahead of time. Ex: they want to pretend to be a teacher, so they gather an easel, markers, and other toys that will sit on the floor for them to teach.
How to Encourage Your Toddler to Engage in Imaginative Play
Model how to pretend play: Play make-believe on your own in front of your child. Have pretend conversations and show how to create scenarios in your mind.
Introduce your child to new experiences: Take them to places like the zoo, aquarium, grocery store, playground, pool, or anywhere else outside the home to expose them to more scenarios they can use in their play.
Allow your child to play alone and with others: Sometimes, kids just want to play in their own world. However, playing with others introduces them to new ideas they might not have thought of. Encourage both types of play.
Let your child be in charge: Let your child choose what type of game they want to play and what objects they want to use.
Offer props: Give your kids everyday objects, boxes, stuffed animals, clothing like hats and shoes, art supplies, blocks, and other toys like cars or play animals/people to get their imaginations going.
Read to your child: Books introduce children to scenarios they may not experience in real life, and they can use those scenarios in their play.
15 Amazing Imagination Games for Toddlers
| | |
| --- | --- |
| Game | How to Play |
| 1. Magic socks | Turn a pair of your toddler's socks into "magic socks" that can take them anywhere they want to go when they put them on and kick their feet. Then pretend to be wherever your child chooses! |
| 2. Playing house | A classic game — use your child's toys, household items or even blocks to have your child pretend to care for a baby, cook meals, clean the house, etc. |
| 3. I'm a superhero | Tie a towel around your child's shoulders and let them pretend to be a superhero. They can rescue you or other toys and show off their superpowers. |
| 4. Guess what animal I am | Take turns acting out animals with your toddler and guessing which animals they are. |
| 5. Transform a box | Give your toddler an empty box and some art supplies and have them create whatever they want! If they're stuck, suggest making a car and let them "drive" somewhere. |
| 6. Play doctor | Put a robe or sweater on your toddler and let them pretend to be a doctor. They can check you or their toys out! |
| 7. Go shopping | Give your toddler a box or basket and let them pretend your house is a store. Give them paper as money to pay for their items. |
| 8. Cloud gazing | Sit next to a window or go outside and try to find different shapes or animals in the clouds. |
| 9. Stage a show | Your child can act out their favorite movie, book, or show using their toys or even blocks as characters. |
| 10. Be a chef | Make a chef's hat out of paper and let your child pretend to cook whatever they can imagine. If they're stuck, place an order for yourself! |
| 11. Fashion show | Take out hats, scarves, shoes, and any other fun clothing you have, and let your child put on a fashion show for you. |
| 12. Host a picnic/tea party | Let your child gather some toys as guests for a picnic or tea party, set up a blanket and let your child entertain their guests. |
| 13. Put on a concert | Provide wooden spoons or pots and pans and let your toddler sing and dance to their favorite song. |
| 14. Play telephone | Give your child a toy phone or a block to talk to family and friends on the phone. |
| 15. Dance party | Set up a playlist of fun dance songs and let your child go crazy coming up with new dance moves! |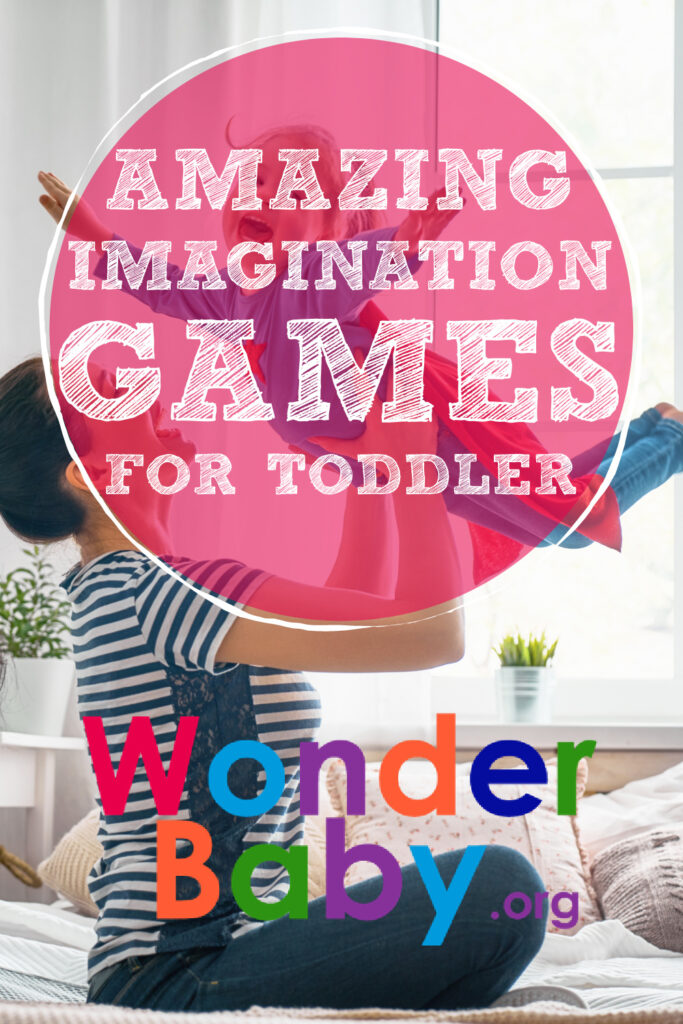 Related Posts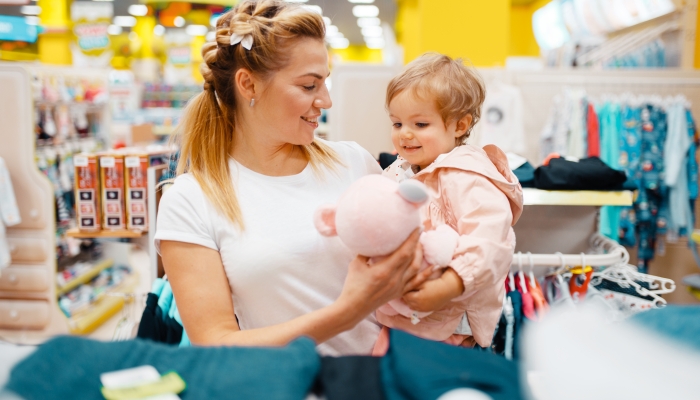 Toys
Ensure your child's well-being with top tips on choosing suitable toys that create a secure, fun play environment with our guide to safe toy selection.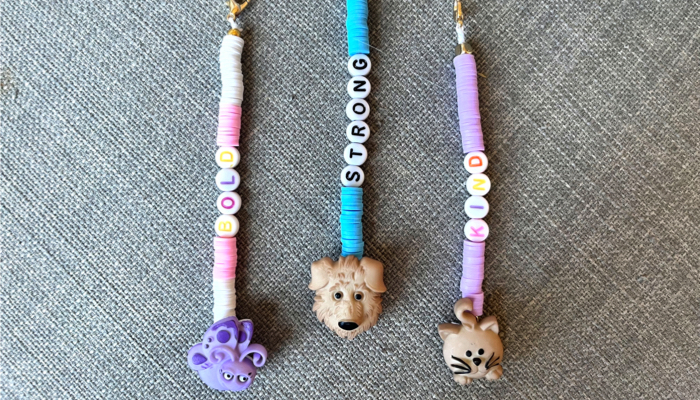 Parenting, Play, Tactile Art
These affirmation backpack buddy keychains are adorable and easy to make. Give your child a little encouragement with this simple craft as they head to school.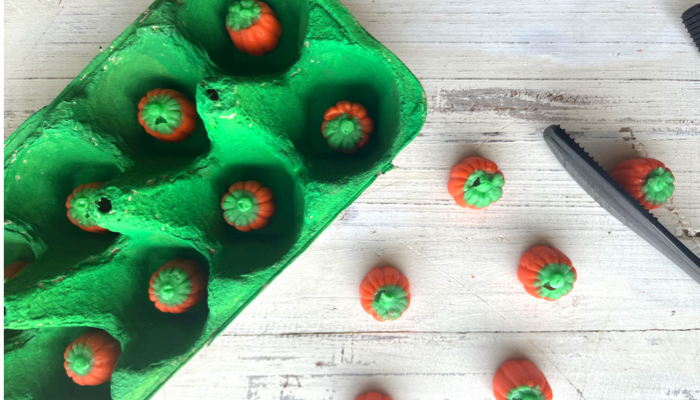 Fine and Gross Motor, Play
This adorable pumpkin picking fine motor activity is a breeze to make! A perfect fall activity for preschoolers and toddlers alike.