10 Best Toddler Puzzles of 2023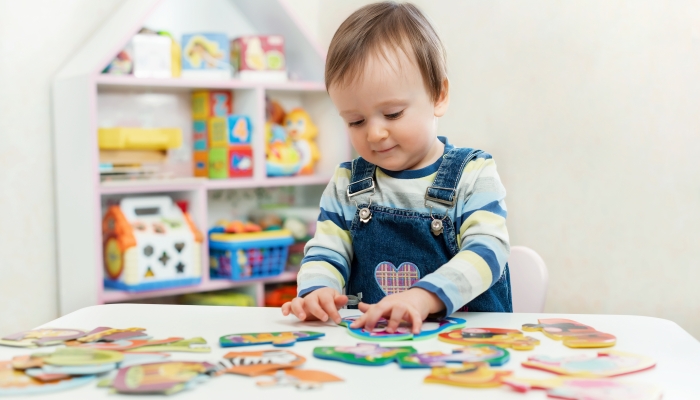 This post may contain affiliate links; please see our terms of use for details.
Puzzles are fantastic educational games for toddlers that help them develop in many ways, including gross and fine motor skills, literacy, speech, and so much more.
There are many types of puzzles on the market to help your child unlock their developing abilities.
Always look for puzzles with larger pieces and safe paints and finishes that are appropriate for their age and won't be choking hazards.
Puzzles are great for keeping kids entertained and creating quiet time. However, did you know how many educational benefits there are to toddler puzzles? In a world where toddlers now use tablets and surf the internet, the old-fashioned, multi-sensory wooden puzzle still can't be beaten.
Feeling the shapes, seeing the colors, talking about the pictures, and fitting in the pieces are still some of the best ways to help your toddler work on their developing cognitive and motor skills. There is nothing better than a puzzle to stimulate a toddler's curiosity and to start a conversation about animals, sea creatures, shapes, numbers or letters.
Young children learn by doing and experiencing concepts through all of their senses. Puzzles are one of the best ways to help them with language, color and shape recognition, basic numbers, and fine and gross motor skills.
We've found some of the best toddler puzzles of 2023. Take a look!
Best Overall
Best Electronic Sound Puzzle
Best Classic Peg Puzzle
Montessori Mama Wooden Toddler Puzzles
Fisher-Price Laugh and Learn Farm Animal Puzzle
Asher and Olivia Wooden Peg Puzzles
Best Overall
Montessori Mama Wooden Toddler Puzzles
Best Electronic Sound Puzzle
Fisher-Price Laugh and Learn Farm Animal Puzzle
Best Classic Peg Puzzle
Asher and Olivia Wooden Peg Puzzles
Top Pick: Montessori Mama Wooden Toddler Puzzles
Sale
Montessori Mama Wooden Toddler Puzzles
🧩 Montessori Toddler Learning Toys: Cognitive learning as children recognize how to solve puzzles fitting jigsaw pieces together to create a larger image, count numbers and refine hand-eye coordination.
🧩 Safe Toddler Puzzles Ages 2-4: These animal puzzles for toddlers are built from high quality, durable and sturdy, eco-friendly wood with rounded-edges. Lead free, BPA free and finished with a water-based, non-toxic paint.
🧩 Cute and Attractive: Montessori Mama kids puzzles ages 3-5 plus encourage sensory stimulation through vibrant colors and cute animal shapes including a dinosaur, dolphin, rabbit and teddy bear shape puzzles.
🧩 Learning Through Play: Our wood puzzles for 2 year olds and older offer numerous advantages for your child's development including spacial awareness, fine motor skills, improved concentration, shape recognition, heightened memory and self confidence boosts as they proudly place the final jigsaw piece.
One of the great things about puzzles is that they can introduce your child to so many concepts simultaneously. For example, the Montessori Mama Wooden Toddler Puzzles aren't just cute three-dimensional animal puzzles. They're also a brilliant way to introduce your child to numbers.
The chunky puzzle pieces, which are just the right size for toddler hands, fit together according to their number. This helps your child figure out which pieces link together and also teaches them the order of numbers. By putting the puzzle together, your child is also learning what a group of three, four, or ten objects looks like. This kind of visualization will help them later when they learn addition and subtraction.
There is a lot for you and your child to talk about, from colors to animals, so it's an excellent vocabulary and language builder too.
Finally, the pieces are painted in water-based, lead-free paint, and all of the edges are rounded, so it's safe for your child too. All in all, this set of four puzzles is a great value and a great learning tool.
Dimensions: 13.4″ x 15.1″ x 8.4″ | Material: Plastic | Weight Limit: 250 pounds
View on Amazon | View on Target.com | View on buybuyBABY.com
Best Human Body Puzzle: Kidzlane Wooden My Body Puzzle
Sale
Kidzlane Wooden My Body Puzzles
Wooden Kids Anatomy Puzzle 👩: Let your child discover the wonders of the human body with a 5-layer wooden puzzles that explores the skeletal, respiratory, digestive, and muscular system.
Fun & Educational 👩: Thick & sturdy human body puzzle kid pieces are easy for kids to handle. Build little Sally layer by layer by finding the correct spot to place each piece.
Trusted Kidzlane Quality 👩: This childrens' human body model is built to last with high-quality wood with rounded edges that's BPA free, lead free, phthalate free and 100% child safety-certified.
Wonderful Gift Idea 👩: Toddlers and kids will love to assemble this body part puzzle! Put a smile on their face when presenting anatomy doll for an outstanding Christmas or birthday gift.
Educational! Allows children to explore 5 layers of the human body
Fine motor skills! Pieces are designed in a way that allows kids to easily pick them up and manipulate them
Sturdy! Wooden material for lasting wear
Compact! Easy to bring with you on the go
If you're looking for something a little different and a way to open up a conversation about the human body with your toddler, take a look at the Kidzlane Wooden My Body Puzzles. They come in a boy and a girl anatomy version.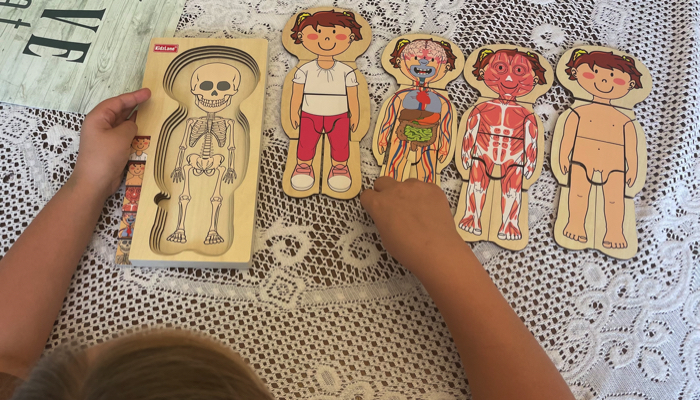 This is a layered wooden puzzle that teaches children about different organs as well as helping them visualize the skeletal, respiratory, digestive, and muscular systems. It has five layers: skeleton, venous/organ layer, muscle layer, skin, and fully clothed layer on top. This provides the perfect opportunity for parents to educate their children while having fun.
The puzzle pieces are wooden, which will be very durable and long-lasting. The pieces are thick and the puzzle has side notches to help children pick the pieces up easier. This will help them to improve their fine motor skills. All the puzzle pieces stack on top of each other, making it compact and easy to bring for entertainment on the go.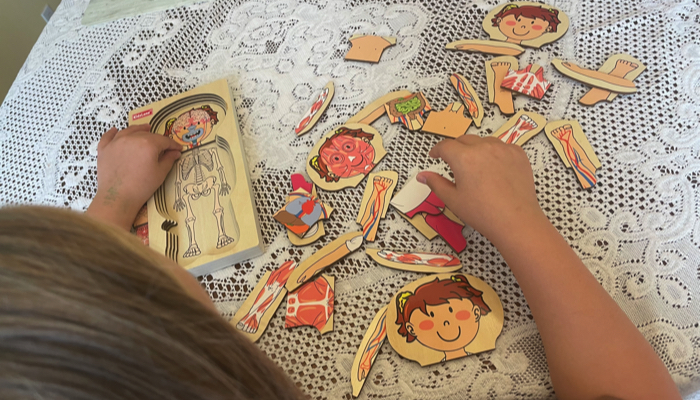 The puzzle is designed for children 3 and up and the board has pictures along the side to help you remember which order the layers go in. This is a great feature for younger kids, especially when first learning about the human body. As kids get older, and have more experience, they can try to put it together without looking at the model.
This is a unique puzzle for introducing your child to the human body, expanding their vocabulary, and even helping them understand and articulate concepts when it comes to potty training.
All parts of this wooden puzzle have rounded edges, are chemical-free, and certified safe for children.
Number of Pieces: 29 | Age Range: 3 years and up | Material: Wood
View on Amazon | View on Walmart.com | View on Sears.com
Best First Puzzle: Montessori and Me, Montessori First Shape Puzzle (6 to 12 months)
Montessori and Me First Shape Puzzle
SKILL DEVELOPMENT – This puzzle features three basic geometric shapes that help your child develop his or her fine motors skills, pincer grasp, visual discrimination, coordination, problem-solving, and concentration.
MONTESSORI TEACHER APPROVED: Children can practice their shape sorting, matching skills, and problem-solving skills. They will develop early geometry and math skills with these self-correcting, hands-on, natural wood puzzles.
DESIGNED FOR LITTLE HANDS – Perfectly sized knobs are firmly attached with a non-toxic, kid-friendly adhesive for easy grasping. NO SHARP METAL pieces are used.
QUALITY & LONGEVITY: Our puzzle is crafted of eco-friendly, durable hardwood, and coated with a child-safe clear coat for a smooth, beautiful, lasting finish. NO FORMALDEHYDE PLYWOOD is used, only natural wood.
This Montessori and Me First Shape Puzzle is pretty much the perfect first puzzle for your baby. Each simple wooden shape has a lovely rounded jumbo peg that's the right size for baby hands to grab onto and manipulate.
The shapes are basic, rounded, and chunky. They're easy for babies to grab and interesting for them to touch and feel. This set of one-piece puzzles is a lovely introduction to puzzles as a concept and shapes in general.
Best of all, this natural wood product is lead and toxin-free, with no harmful paints or substances coating the shapes. That's very important for this age group since they will still be exploring and learning by using their mouths.
These soothing wooden shapes are a beautiful, eco-friendly, and safe introduction to puzzles. In addition, the rounded wooden peg handles are ideal for your baby to exercise fine motor skills.
Number of Pieces: 10 | Age Range: 6 months – 2 years | Material: Wood
View on Amazon | View on MontessoriAndMe.us
Best Magnetic Puzzle: HABA Town Maze Magnetic Puzzle
HABA Town Maze Magnetic Puzzle Game
The object of this fun travel game is to help the colored balls find their way home to their matching color garage.
Watch out! Some of the roadways are blocked! These STEM toys help develop fine motor skills as kids use the wand to navigate the city.
These Montessori toys foster concentration and strategic thinking as children work independently to navigate the obstacles.
Keep children ages 2 to 5 engaged on road trips and during quiet time with these self-contained travel toys. Board measures 10″ x 8.75".
Fine motor skills! Children will practice their pencil grip when holding the magnetic pen and slowly moving the balls around the maze.
Educational! Children will use problem-solving skills to move the balls to match the ball color with the garage it goes in.
Compact! The pencil has a holder in the board, so there is only one thing to carry, making this puzzle great for on-the-go fun!
Sturdy! This maze puzzle is made of wood, plastic, and metal, making it very sturdy. It will be able to withstand being dropped by your little one!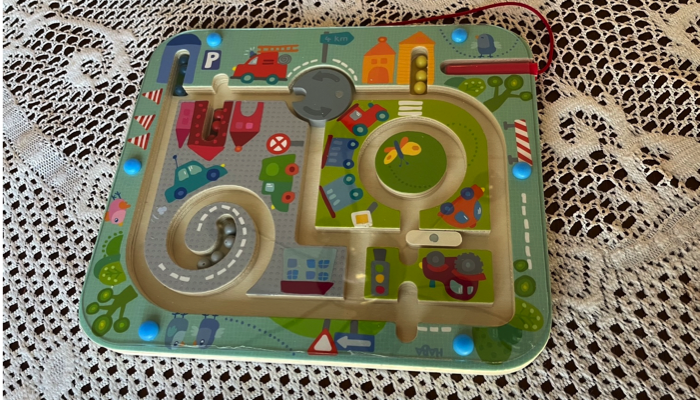 This magnetic puzzle will provide your child with hours of fun while also being educational and enhancing their fine motor and problem-solving skills! The HABA magnetic town puzzle comes with a magnetic pen attached to the board, which allows children to work on improving their pencil grip. This can be a great first experience to the pencil grip for younger children, or a great way to improve the pencil grip for older children.I have found that both my younger and older daughter love this puzzle!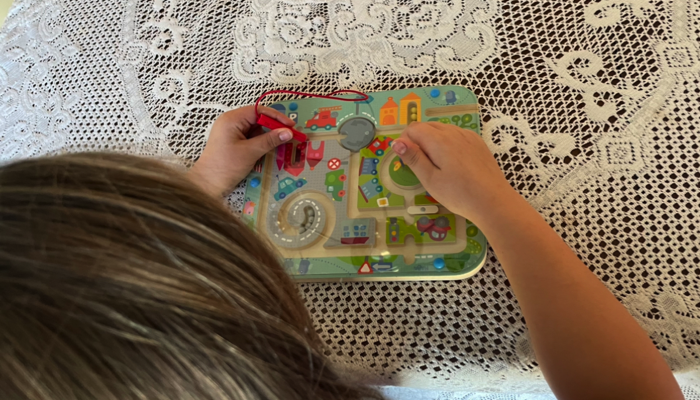 This puzzle also encourages children to work on their problem-solving skills. The objective of the puzzle is to match the balls into the garage of the same color. However, obstacles along the way will require you to move around. The puzzle has a string attached to the magnetic pen and a spot to insert it into the board, ensuring that the pen doesn't get lost and making it easier to take with you on the go. This is perfect for car rides, plane rides, or for fun while waiting for appointments! The materials are very sturdy, protecting it from breaking when being dropped, as often happens with little ones.
Number of Pieces: 1 | Age Range: 2-5 years | Material: Wood & Acrylic
View on Amazon | View on HABAusa.com
Best Electronic Sound Puzzle: Fisher-Price Laugh and Learn Farm Animal Puzzle (12 months and up)
Sale
Fisher-Price Laugh and Learn Farm Animal Puzzle
Electronic toy puzzle with 5 chunky animal shapes to grasp, sort and match
When baby sorts an animal shape into its correct slot, they're rewarded with a unique song introducing the animal's name and the sound it makes
Press Puppy's button for fun phrases and songs
Puzzle play helps develop problem-solving skills and strengthens hand-eye coordination
This next puzzle on our list has fun chunky shapes for your baby and toddler to grab onto and provides a multi-sensory experience for your little one as they learn about farm animals.
The Fisher-Price Laugh and Learn Farm Animal Puzzle helps your child learn in so many ways. First, it's big animal shapes are easy for toddlers to handle, helping them with their fine and gross motor skills. Next, its vibrant colors and animal pictures will help you engage your child in learning new words. In addition, the animal and music sounds encourage listening.
Finally, your toddler will work on problem-solving through trial and error as they experiment with fitting the animals into the right places on the board. As far as first puzzles go, this one definitely has a lot to offer.
Number of Pieces: 6 | Age Range: 12-36 months | Material: Plastic
View on Amazon | View on Walmart.com | View on Sears.com
Best Shape Sorter: Fat Brain Toys Take-Along Shape Sorter
Fat Brain Toys Take-Along Shape Sorter
CLASSIC EARLY-LEARNING, ON-THE-GO! Simple, timeless, educational fun for little ones
SLIDE THE SHAPES THROUGH THE SLOTS and – CLUNK! – Every match is met with playful satisfaction!
PERFECT FOR AGES 12 MONTHS AND UP; Made of high-quality wood materials; Chunky blocks, easy to grab
STRENGTHENS FINE MOTOR SKILLS, spatial reasoning; An ideal shape-learning experience
A shape sorter is a classic first puzzle, and this Fat Brain Toys Take-Along Shape Sorter will be an immediate favorite.
It includes twelve bright, colorful wood blocks that are nice and chunky for little hands ages twelve months and up. In addition, it has a helpful rope handle, so little ones will find it fun to carry around as they play.
A shape sorter is great for hand-eye coordination, fine motor skills, and early problem-solving. The bright colors and basic shapes of this one by Fat Brain Toys encourage color, shape recognition, and language development.
Number of Pieces: 12 | Age Range: 12 months and up | Material: Wood
View on Amazon | View on Walmart.com | View on Sears.com
Best Classic Peg Puzzle: Asher and Olivia Wooden Peg Puzzles
Asher and Olivia Wooden Peg Puzzles
VALUE PACK WITH TEACHING CLOCK – Asher & Olivia's Wooden Puzzle Set includes 3 Wooden Peg Puzzles for Toddlers and Babies with 10 wooden animals in each and an extra telling time Teaching Clock to help kids visually read hours and minutes; Enhance fine motor skills and hand-eye coordination while using our wooden toddler puzzle set; Our toddler wooden puzzles animals set is also valuable to teach children animal names and sounds while creating animal stories to improve cognitive skills
EDUCATIONAL AND SKILL BUILDING PLAYTIME – Our Wooden Peg Puzzle Sets are the perfect educational toys for toddlers and babies designed to improve fine motor, cognitive and pattern recognition skills by teaching children about farm, jungle and sea animals; These animal puzzles for toddlers will also enrich visual perception skills by providing matching shapes; The vibrant colors of our wooden chunky puzzle will attract children's attention and keep them engaged providing hours of screen-free fun
EASY TO GRASP PIECES – The wooden peg animal puzzle pieces in each board are strategically designed with the perfect size to be easily grabbed by baby's and toddler's little hands; Our wood puzzles for kids 1-3 years old or 12-36 months and clock will provide the foundation for educating children about colors, numbers and shapes found throughout the animal peg puzzle set; These knob puzzles are also ideally sized for easy storage measuring 11.5 inches Long, 8 inches Wide and 0.75 inches Tal
DURABLE & SAFE SMOOTH WOOD – Our Toddler and Baby Puzzle Set is crafted with high-quality durable Natural Wood, dyed with safe water based Paint and passed ASTM testing; We also make our animal puzzles with rounded smooth edges and vibrant colors that will not chip or fade; Great for toddler education classrooms or at home as baby puzzles 12-18 months, baby puzzles 18-24 months, peg puzzles for 1 year olds or 1 year old puzzles, puzzles for 2 year olds or toddler puzzles 3 year old
The Asher and Olivia Wooden Peg Puzzles are a set of classic peg puzzles as you remember them from your own childhood. They picture friendly jungle animals, farm animals, and sea creatures.
The pictures are sweet and colorful, and the shapes are interesting for your toddler to grapple with. The concept is simple for your toddler to understand; they just need to put the animal in the right shape.
Pegs attached to each animal make it easier for your toddler to move the pieces while helping them exercise their fine motor skills of grasping and pinching at the same time. These basic animal shape puzzles are the perfect way for your toddler to learn animal names, work on eye-hand coordination, and entertain themselves.
Number of Pieces: 34 | Age Range: 1-3 years | Material: Wood
View on Amazon | View on eBay.com
Best Floor Puzzle: Melissa & Doug Dinosaur Jigsaw Puzzle
Sale
Honestly, Melissa & Doug make so many fantastic puzzles that you could find a product of theirs for almost every category on this list. Their Dinosaur Dawn Jumbo Jigsaw Floor Puzzle is no exception.
This 24-piece giant jigsaw puzzle can also be purchased in a Safari Social or Traffic Jam theme, and your toddler will have such a sense of achievement from this puzzle that you may want to collect all three.
For age three and up, your toddler will need some assistance fitting this jumbo jigsaw together, creating an excellent opportunity for you to spend time with them or to practice teamwork and cooperation with a friend or sibling.
As a first jigsaw, it's very exciting because of the vibrant colors, huge fun pieces, and friendly and engaging dinosaurs. However, as it only has 24 pieces, it's not overly complicated and frustrating for your little one. It's pitched at just the right level of fun and challenge for a toddler.
The best part is the impressive three-foot by two-foot picture that emerges when the puzzle is completed. As a confidence and perseverance builder, this puzzle has a lot to offer and will soon become a favorite.
Number of Pieces: 24 | Age Range: 3 years and up | Material: Cardboard
View on Amazon | View on Walmart.com
Best Letter Puzzle: Hape Alphabet Blocks Learning Puzzle
Hape Alphabet Blocks Learning Puzzle
Stand-up alphabet: chunky vibrant letters Fit perfectly in little hands. The alphabet blocks can be placed upright, stacked upon one another or placed neatly into the board letter cut-outs
Endless educational fun: colorful alphabet with a Letter puzzle allows them to learn their ABC's and colors while having fun
Develop key literacy skills: Build on and improve your child's natural ability to recognized letters and spell words using brightly colored wooden blocks. Promotes dexterity, hand-eye coordination, matching, and spatial relationships
Durable: the alphabet wooden blocks are made of sturdy, high-quality wood which making them a toy for life
There are many wooden alphabet block puzzles on the market, but we recommend the Hape Alphabet Blocks Learning Puzzle because it's a trusted maker of high-quality and safe children's toys.
The colorful alphabet blocks are the right size for toddler hands to manipulate without being a choking hazard. The wooden letters all have a smooth finish, so there's no worry about splinters. They're also covered in non-toxic paint. What's great about these letters, however, is that they can all stand up to make a fun introduction to early spelling.
Hape also makes a lowercase letter version of this puzzle and a number version, the Chunky Number and Counting Puzzle, which goes all the way to 20.
Number of Pieces: 27 | Age Range: 3 years and up | Material: Wood
View on Amazon | View on Walmart.com | View on Hape.com
Best Puzzle for Older Toddlers: The Learning Journey Match It! Head to Tail (3 years and up)
The Learning Journey Match It! Head to Tail
Develop observational skills – Finding the correct pieces and putting them together helps to develop the child's observational skills and encourage them to hone their attention to detail.
Explore the animal world – children who love animals will love the fun animal Kingdom theme of this puzzle. Exploring the different animals provides ample opportunity to learn about animals and their world – great for boosting conversational skills and vocabulary.
Encourage social interaction – match it! games are a fantastic way to get children playing together and having fun while interacting, boosting their conversational skills and encouraging them to interact. Family friendly fun that everyone can enjoy!
Develop problem-solving skills – working out how to play and coming up with basic strategies for winning the game is a fun way for children to develop those all-important problem-solving skills that will help them in their future education.
The Learning Journey Match It! Head to Tail is a game and puzzle in one. This Head to Tail animal game is part of the Match It series of puzzle games which includes letters, numbers, spelling, and many other themes.
Once your toddler has gotten the knack for puzzles, they'll be able to play with this set of 20 animal puzzles happily on their own. The concept is simple. Each puzzle is made up of three pieces which create a different animal photo when put together. The challenge is to complete all of the pictures.
These self-correcting puzzles will encourage independence and problem-solving as your toddler tries to make all the animals. However, these are also great for kids to do with you or with friends or siblings to encourage communication, build vocabulary, practice cooperation, and learn about fascinating animals.
Check out the rest of the series of Match It games, as well as the sets for younger toddlers, My First Match It.
Number of Pieces: 60 | Age Range: 3 years and up | Material: Cardboard
View on Amazon | View on Walmart.com | View on Sears.com
When to Introduce Puzzles to Toddlers
Although there is no set age when you should start introducing puzzles to a toddler, most children develop an interest in simple puzzles around 18 months to two years old. Children at this age will begin demonstrating the gross and fine motor skills and focus and concentration to complete a simple puzzle.
You might find that children younger than this will be primarily interested in mouthing the puzzle pieces or playing with the shapes. That's perfectly fine, as long as the puzzles they're playing with do not have small pieces which present a choking hazard. Also, look out for puzzles covered in laminated paper or paints which will come off when wet or which are not safe if ingested.
A peg puzzle consisting of one to four pieces that fit into a board is usually a good place to start with very young toddlers. As your child matures, they will graduate to puzzles with more pieces, shape sorters, block puzzles, and even large jigsaw puzzles.
You may want to keep a few more advanced puzzles around for your toddler to experiment with as they become familiar with ones on their level. You might be surprised at how quickly some young children can understand and solve puzzles if they have a chance to try them out.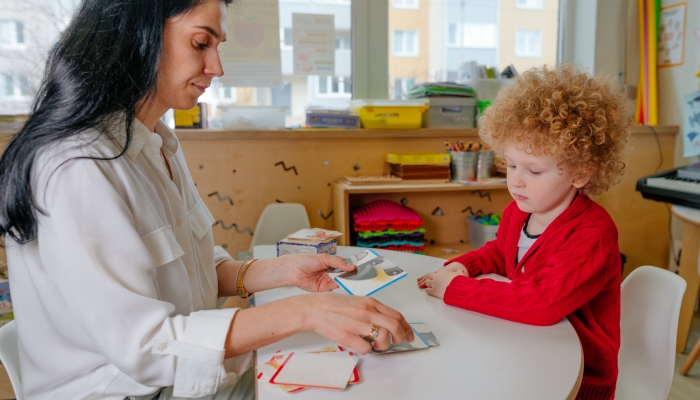 Benefits of Toddler Puzzles on Child Development
Puzzles are great learning toys for many reasons. You can't go wrong with a simple puzzle if you are ever in doubt about a good gift for a toddler that their parents will love. Here are some of the many benefits of toddler puzzles:
| | |
| --- | --- |
| Area of Child Development | How a Puzzle Helps |
| Gross motor skills | When your child plays with puzzles on the floor, their whole body is engaged in sitting up and reaching for pieces. |
| Fine motor skills | Your child will practise grasping, pinching, picking up, manipulating, placing, and fitting, all of which are important skills for things like learning to hold a pencil later on. |
| Hand eye coordination | Puzzles are one of the first toys your child will play with to really help them develop their hand eye coordination as they fit the shapes they see into the board or picture in front of them. |
| Problem solving | Even very young children can intuitively understand that a puzzle involves fitting things together. Your child will use trial and error and other problem solving skills to try to make their puzzle work. |
| Language, numeracy, and literacy development | Asking your child to explain a scene in picture puzzle develops their vocabulary. Alphabet puzzles give them a multisensory way to learn the shapes of letters. Puzzles are a great way to teach the names of shapes and colors. |
| Social skill development | Working together with you, a caregiver, teacher, sibling or friend to figure out a puzzle involves speech, communication, listening, and cooperation. |
| Self-confidence, perseverance, and accomplishment | Your toddler will feel a sense of pride and achievement upon completing a puzzle, especially if they had to try again and again to figure it out. Puzzles give them a lesson in perseverance and independence. They probably won't let you put their accomplishment away for days! |
| Focus and concentration | Puzzles are fun, but they also provide your toddler with an opportunity to practice focus and concentration. They are calm toys, good for quiet play time. |
| Dealing with frustration | If your toddler gets frustrated or annoyed with a puzzle, it's a good opportunity to talk about feelings and how to manage them. |
Recommended Accessories
It's wonderful to see your toddler so excited by and interested in puzzles. However, storing them without losing the pieces is a different challenge. Board puzzles with pegs or 3D shapes can be awkward to put away.
Melissa and Doug Multi-Fit Wire Puzzle Rack
Strong and sturdy 12-slot metal puzzle rack
Holds wooden puzzles as large as 12 inches wide and 0.75 inches deep
Perfect for standard-sized chunky, peg, and sound puzzles
Store up to 12 puzzles
Luckily, there are some brilliant storage options for putting away all those peg boards without all the pieces ending up all over your floor. Check out this Melissa and Doug Multi-Fit Wire Puzzle Rack. They make several different styles of wire and wooden racks to accommodate small and large wooden puzzles.
Or, you might prefer the Imagination Generation Professor Poplar's Wooden Puzzle Display Stand which stores up to four toddler puzzles vertically.
Making Your Own Toddler Puzzles
You don't always need to spend money to own a great toddler puzzle. Take a look at our DIY activities on how to create your own can puzzle or hidden shape puzzle!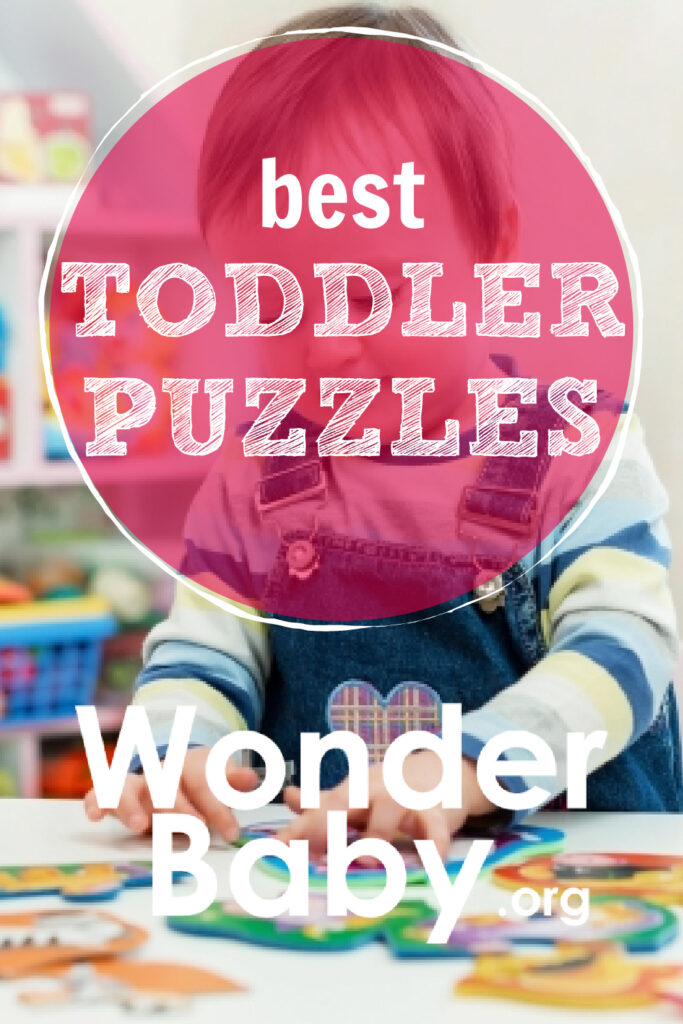 Related Posts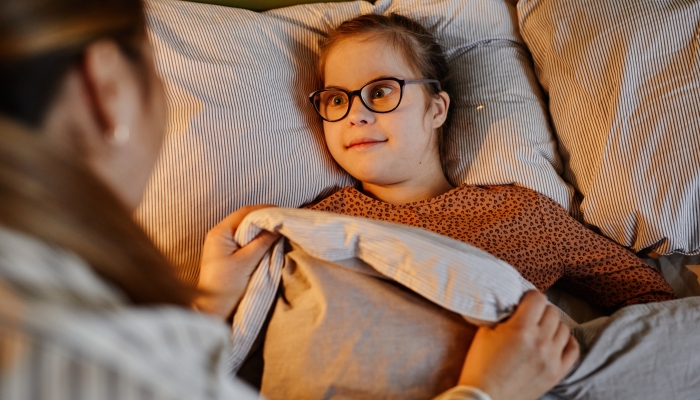 Product Reviews
Heard a lot about weighted blankets and lap pads and wondering how to choose one? Here's our guide to the ins and outs of finding the right weighted blanket.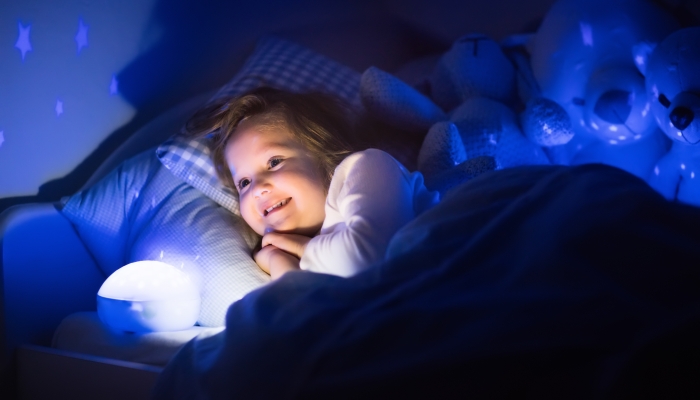 Product Reviews
Looking for the right night light to help your little one ease into bedtime? Check out our guide for everything you need to know about toddler night lights.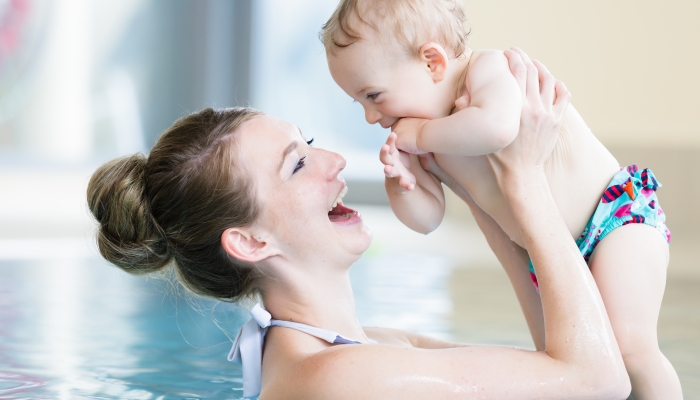 Potty Training, Product Reviews
The best swim diapers are comfortable and help prevent your baby from having an accident in the pool or ocean. Find our favorites in this round-up!