33 Fun Airplane Activities for Toddlers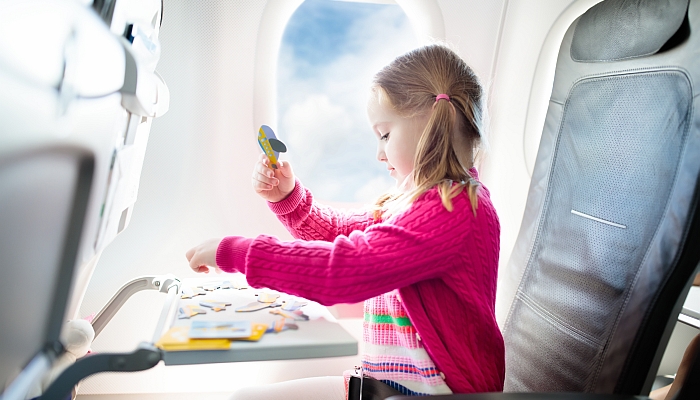 Giving your child a variety of fine motor activities will allow them to keep their hands moving.
The tray table makes a great activity place for art and coloring.
Magnetic games or activities are a great idea for a busy toddler on any trip.
I'll never forget my first plane ride with a toddler in tow. Let's just say I was completely unprepared and overwhelmed. I vividly remember that at one point the flight attendant was singing over the intercom, in an attempt to soothe my screaming toddler.
If only I had been armed with all the great airplane activities for toddlers that now exist online. At that point, ten years ago, Pinterest had barely even started. Thankfully, nowadays there are plenty of great ideas online for airplane activities for toddlers.
Parents who travel often have usually discovered the best airplane activities for toddlers as well as car activities for toddlers. They are also the ones with the best general tips for keeping a toddler occupied in a confined space. 
If you're looking for the best ways to keep your toddler happy on long flights, you've come to the right place. We've gathered the best airplane travel advice from parents all over. This is the ultimate guide to traveling with a toddler in tow.
Our list of fun airplane activities for toddlers is all you need before you take flight.
How to Prepare a Toddler for a Flight
So you're getting ready for a big trip? You've got your packing checklist started and a travel itinerary ready. But what about that little one clinging to your legs?
Preparing a toddler for a flight is not as easy as preparing your suitcase. There's no formula or checklist to follow. Preparation will all depend on your little one.
However, there are some basic suggestions that will help make the preparation easier. Try these tips to help your child get ready for takeoff:
Talk to your child about what to expect. What will it sound like? Where will you sit? What will you do? How long will it take?
Take a trip to the airport and watch planes fly in and out. (This might be especially helpful if your child is anxious about flying.)
Use imaginative play to role-play what it will be like in the airplane.
Have your child help pick out fun snacks and activities for the trip.
Let your child pack a carry-on bag with a few special items like a stuffed animal.
Toys to Bring on a Plane for Toddlers
TSA has strict requirements when it comes to what you cannot bring onto an airplane. Thankfully, most toys are okay to bring on an airplane. But to be sure your child's toy won't be thrown into the garbage at security, familiarize yourself with the approved toys.
What toys can you bring on a plane for a toddler?
The toys you can bring on an airplane far outweigh the ones you can't. Toys like action figures, dolls, coloring supplies, books, play dough, and more are all acceptable. As long as they don't include liquid, or look like a weapon, they should be safe.
What type of toys are not allowed on a plane?
Thankfully there are only a few toys on this list. TSA bans all nerf guns, water guns, and all toy weapons from being carried on an airplane. If in doubt about whether your child's toy will pass security, leave it at home to avoid the risk.
TSA also won't allow snow globes to be brought on board. This is due to the water inside the globe. You might not be planning on bringing one for the ride over, but they are popular souvenirs that families often buy and bring home.
How to Make Toddlers Feel Comfortable During a Flight
Some children can become anxious on their first flight. This is normal and parents should be ready to talk their children through their feelings. Parents should also be prepared in case of a sensory meltdown with all the new sights and sounds.
If you're traveling with a medically complex child, you might already feel overwhelmed. Remember not to worry about what others around you are thinking. There are sure to be other parents on the flight who understand the trials of parenthood.
If you keep these tips handy, you can help your child feel more comfortable:
Bring noise-canceling headphones to limit sensory input.
Bring a blanket and a small pillow for your child to fall asleep with.
Bring familiar items like a favorite doll or stuffed animal for a child to cling to.
Use gum, earplugs, or a bottle to help prevent your child's ears from popping.
Dress your toddler in comfortable layers that can be removed or added on easily.
Book an early morning flight, if possible. Late-night flights are a recipe for cranky toddlers.
Put your toddler in slip-on shoes with a pair of socks so they can remove them for comfort while in flight.
Bring sensory toys in your carry-on. Packing sensory toys for toddlers is often one of the best calming tricks for new environments.
Use pull-ups, even if you just completed 3-day potty training and your toddler has been accident-free. Trust us. It's not worth the dash to the back of the airplane.
Choosing the Right Airplane Activities for Your Toddler
When searching for airplane activities for your toddler, you'll want to consider a few things. Your child's needs and your travel plans will determine what types of activities will suit you best.
How old is your child?
The age of your child will make a big difference in the activities you choose. For example, older kids might be fine with just a kids' tablet on a long flight. Younger children, on the other hand, might only stay entertained with screen time for fifteen minutes.
What sensory needs do they have?
For example, if your child likes to fidget with their hands, you'll want to have activities that work fine motor skills while they sit. If they like music and noise, be sure to bring headphones and music, as noisy toys might be a disturbance to other passengers.
How long will the flight be?
A longer flight will require you to pack plenty of activities. Though your child might cycle back through activities, it's better to have a few extras than to run out too early.
Fun Ideas to Keep Toddlers Entertained on a Flight
To make our list of 33 activities easy to explore, we've separated the activities by category. This will allow you to quickly choose the right activities, games, and toys that will keep your toddler busy. After all, we know you still have plenty more to do before your flight.
Activity Books
Paper picture books are one of the more obvious choices for toddler travel. They are lightweight, easy to pack, and often provide comfort and entertainment all at once.
But there are more than just picture books to keep younger kids entertained. Here are our favorite types of books for toddler airplane activities:
Sticker books with reusable stickers
Coloring pages with mess-free markers or crayons
Paint with water books
Pop-up picture books
Wipe clean activity books with dry erase markers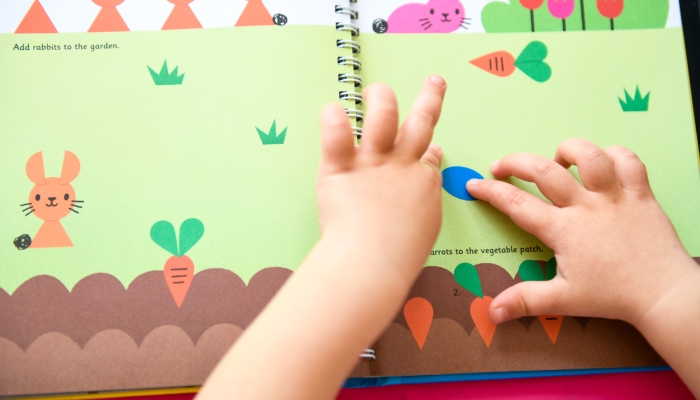 The tray table makes a great activity place for art and coloring. Packing some mess-free art books and a few sheets of paper for doodling will give your busy toddler plenty of options. Just remember to bring baby wipes or hand wipes to clean off the tray table before your child uses it.
Magnetic Activities
Magnetic games or activities are a great idea for a busy toddler on any trip. Magnetic toys are relatively easy to find and can often be purchased at the dollar store. A simple set of refrigerator magnets and a miniature metal baking sheet can keep young kids entertained for quite a while.
Here are a few magnetic activities that we think make perfect toddler airplane activities:
Magnetic blocks
Refrigerator magnets and a toaster-oven-sized baking sheet
Magnetic drawing board
Magnetic puzzles
Magnetic wooden maze games
Create-a-scene magnetic playsets
We love magnetic toys because they keep you from having to collect pieces off the floor. They are also worth having in a travel bag for trips to the doctor, sitting in the carline, and any other time you need to keep your kids occupied.
Creative Fine Motor Activities
Little ones often need to move to expend energy and keep from getting restless. In a confined space, that can be difficult. Giving your child a variety of fine motor activities will allow them to keep their hands moving, even though they can't run up and down the aisles as they'd prefer.
These are a few creative and cheap ideas for fine motor airplane activities for toddlers:
Playing with play dough on the tray table
Sticking window clings to the airplane window (If you're lucky enough to snag that window seat)
Peeling and sticking post-it notes on the tray table
Bending pipe cleaners and making shapes
Singing popular finger-play songs
Peeling washi tape and sticking it to paper
Pinching clothespins and placing them on the seatbelt or a piece of cardstock paper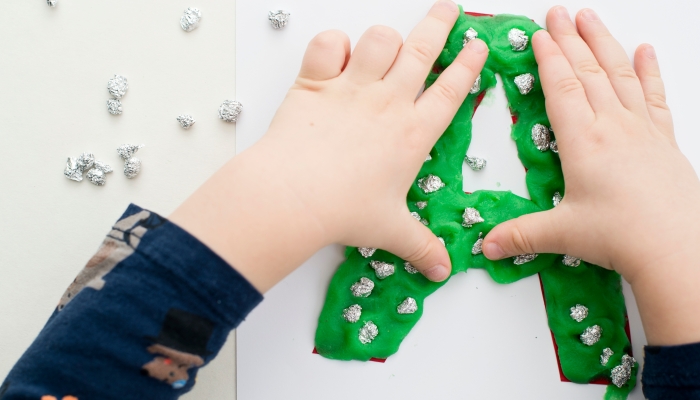 Sensory Travel Toys
Sensory toys have become a popular choice for parents looking for calming or stimulating sensory activities for their children. Research now shows that these popular toys have great benefits for children with special needs. And all kids agree that these trendy toys are so much fun.
Packing some sensory travel toys in your carry-on will give you a go-to option if your child starts to get anxious or overwhelmed. Here are some of our favorite sensory travel toys that make great airplane activities for toddlers:
Tablet Activities
Sometimes the only way to keep an anxious child entertained is by offering something to completely distract them. Packing your kid's tablet or other electronics is always a good idea, especially for a long-haul flight.
However, we also know that too much screen time can leave you with a cranky toddler. Thankfully there are other airplane activities for toddlers that involve a tablet but minimize screen time. These include:
Listening to short audiobooks
Listening to music
Taking silly selfies together
Playing with puzzle apps or other less-busy screen activities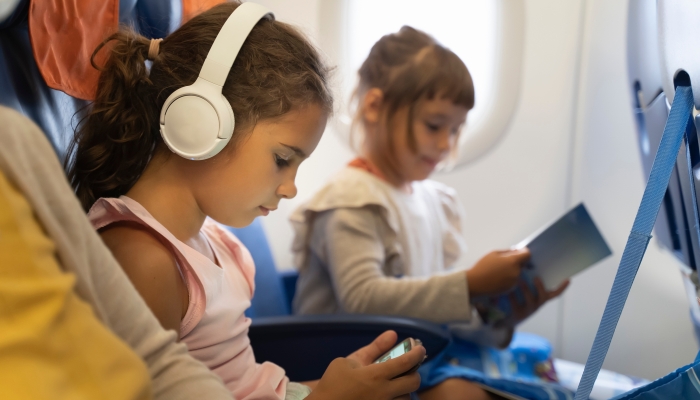 Simple Activities
If you'll be flying for a short amount of time, you might only need a few, easy activities. These simple activities don't require much prep and may do the trick to pass the time:
Bring plenty of fun snacks for your child to eat
Look out the airplane window and play eye spy
Use the paper bag in the seat back in front of you to create a hand puppet
Take a few cards from your wallet and let your child practice putting them back in their place
If your flight is less than an hour, it's possible to get away with bringing little. The excitement of taking off and landing take up a good amount of that time. Remember to be creative and never forget the snacks.
Safety Tips When Flying With a Toddler
When flying with a little one, you'll have to think about a few extra details that you wouldn't otherwise think about. Let's start with the seatbelt.
Airline seatbelts are designed for children and adults over 40 lbs. The FAA safety recommendations for flying with children state that kids under 40 lbs are safest in a car seat, buckled into the airline seat. As long as the toddler car seat is FAA approved, it should be fine to bring on board.
Speaking of car seats, don't forget to bring one with you. Most airlines allow you to check a car seat with your luggage. This will ensure your child has a safe seat when you travel to your destination after the flight.
Airports and airplanes both receive a large number of travelers each day. To prevent illness, help your child wash their hands frequently. Bring hand sanitizer and wipes along with you to wipe down all areas of your seat and tray table.
FAQs
What can you do to prevent airplane ears in toddlers?
One of the hardest parts about flying with little ones is the pressure that can cause ear pain for toddlers. An easy trick to help release ear pressure is to get your child to swallow. Older children can chew gum, but toddlers will need other remedies since they might swallow gum.
Try giving your toddler a water bottle to drink from during takeoff and landing. If your toddler still nurses, breastfeeding during takeoff and landing will have a similar effect. Pacifiers can also be used to encourage swallowing.
How can you keep a toddler entertained while waiting in the airport?
A busy toddler can be hard to keep entertained in the airport. When you have a long delay before a flight, you might find yourself desperately searching for ways to keep them busy.
One of our favorite airport tricks is to pack your child's luggage in a ride-on suitcase. These brilliant suitcases feature wheels and a seat for your child to sit on. Your child can roll around the terminals while you wait for your plane to arrive.
If you bring a stroller, you can also take a stroll through the airport. Children often love the sights of the busy airport. Playing a game like eye spy or window shopping is a great way to pass the time.
And finally, the time you have before a flight is always a great opportunity to eat a meal and take a bathroom break. A nice meal is always a great distraction.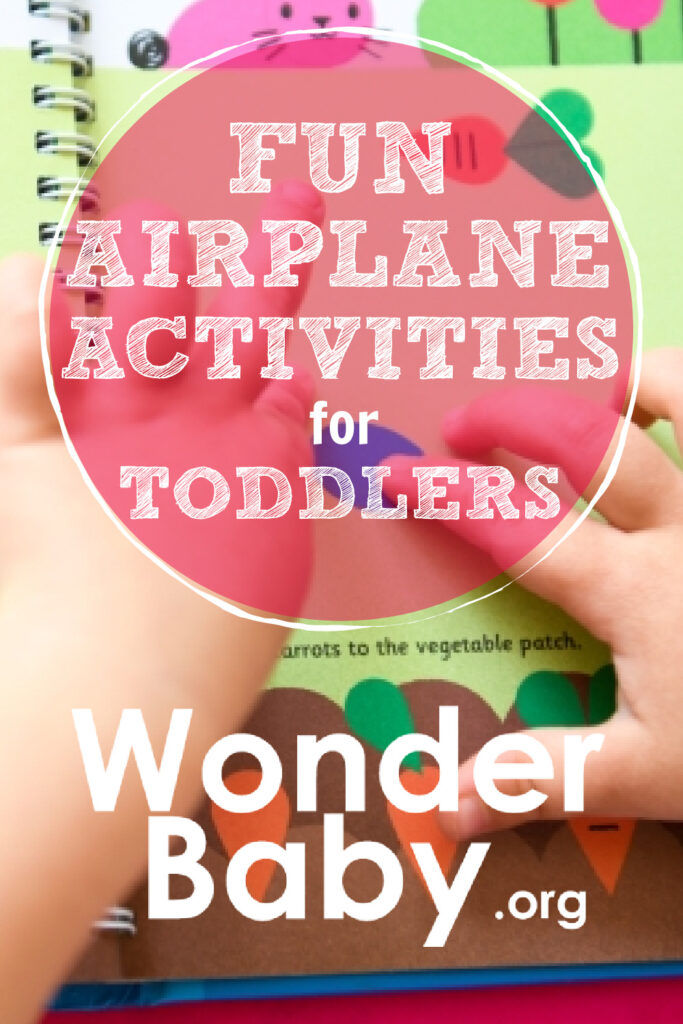 Related Posts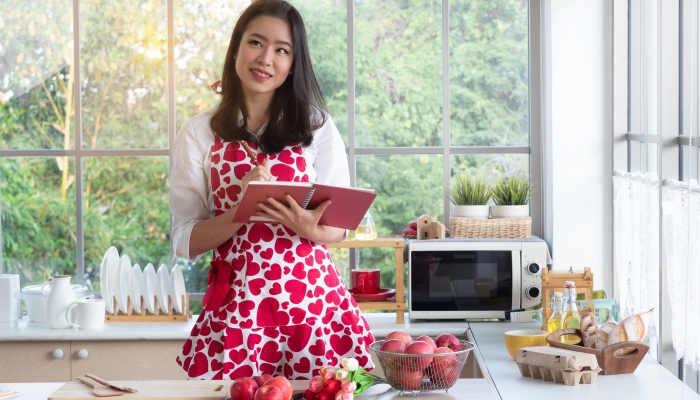 Parenting
Staying motivated as a stay-at-home mom isn't easy when you're responsible for so much. But these motivation boosters are sure to keep you going!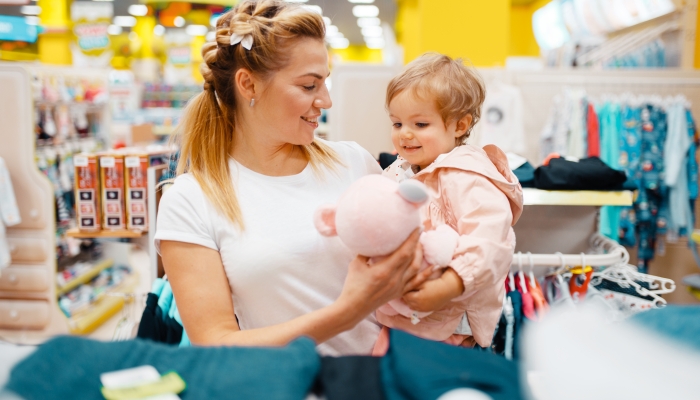 Toys
Ensure your child's well-being with top tips on choosing suitable toys that create a secure, fun play environment with our guide to safe toy selection.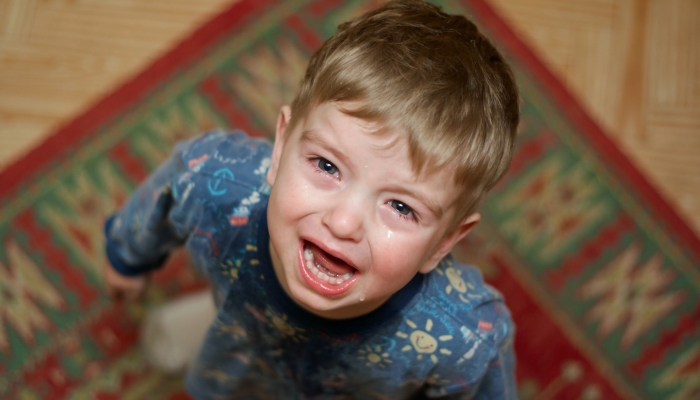 Parenting
Wondering if your child is having a tantrum or a meltdown? Read this article to know the difference between these emotional outbursts!