Safe Playgrounds: How To Prevent Injuries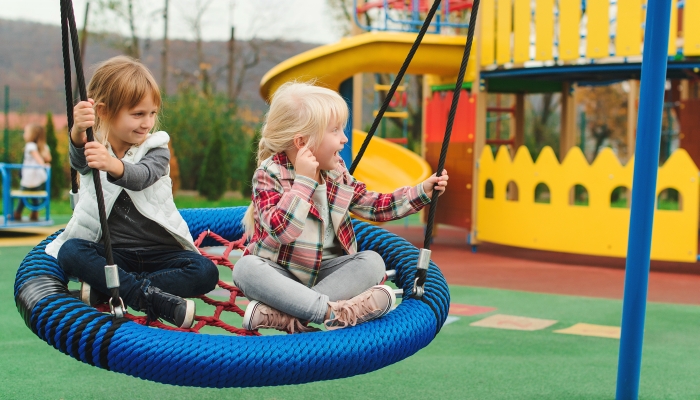 Public playgrounds allow children to play freely, but paying close attention is essential as they run around.
Common playground injuries include broken bones, cuts, bruises, and head injuries.
Ensuring playground equipment is not damaged or broken helps prevent most injuries.
Playgrounds are great for kids to have fun and work on motor skills. While I always enjoy taking my kids to the local playground, it also can be stress-inducing when they're all running around carefree.
As parents, we know the importance of safe playgrounds, but a child doesn't always look at it the same way. It's our job to ensure the playground is a safe place for our kids.
Reviewing the ins and outs of playground safety will ensure that you and your child thoroughly enjoy your next trip to the playground.
What Is the Best Way to Prevent Playground Injuries?
Some accidents are unavoidable, regardless of our best efforts. However, adult supervision is the best way to prevent injuries on the playground.
I know I'm guilty of chatting with other moms on the playground, but watching your kids as they run around is essential.
In addition to adult supervision, inspecting the play equipment before playing is always a good idea.
Some common playground injuries include cuts, bruises, fractures, and head injuries. Typical injury causes include dangerous hardware sticking out, broken play equipment, or children misusing the equipment.
In addition, the following types of play equipment can lead to injury if there is no adult supervision: ladder rungs, jump ropes, slides, swings, and high play areas.
Why Is Playground Safety Important?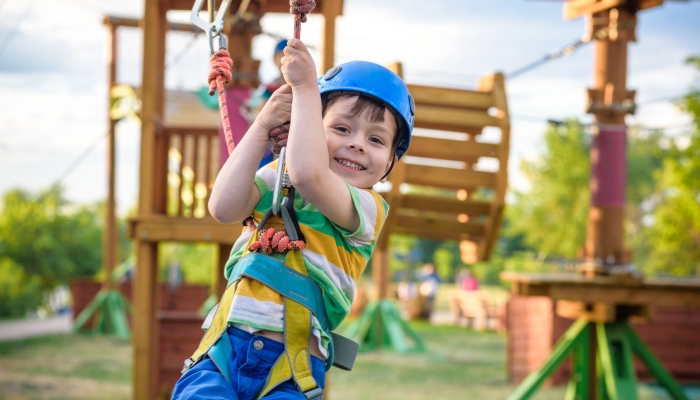 As a parent, you want to keep your children safe, regardless of where you are. However, when kids play with friends at the playground, they likely forget the potential hazards around them.
According to the U.S. Consumer Product Safety Commission, more than 200,000 children under 16 require medical attention yearly, with many requiring visits to hospital emergency rooms because of improper playground safety.
In addition, the U.S. Consumer Product Safety Commission has investigated over 40 deaths since 2014 regarding playground equipment.
They've also released a public playground safety handbook containing a thorough list of playground hazards, general considerations, proper maintenance, and types of equipment.
What Makes a Playground Safe for Children?
Playgrounds are fantastic for encouraging children to meet gross motor milestones, but it's also essential to ensure they're safe and free of hazards.
Separate play areas for various ages are a great way to prevent playground-related injuries. For example, older kids shouldn't play on the same playground as toddlers.
In addition, if bigger kids are playing on equipment built for little ones, there is a more significant chance damage may occur.
You'll notice various playground surfaces, including wood chips, pea gravel, mulch, shredded rubber, and sand, which are usually safe for children. (Unless, of course, your little one uses them as a snack.)
A safe playground has well-built, maintained equipment that is age-appropriate and hazard-free.
How to Tell if a Playground Equipment Is Well-Maintained and Safe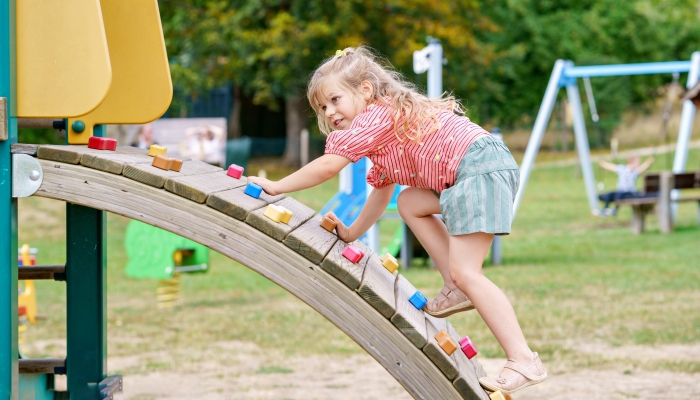 Playground equipment needs to be safe for kids because little ones don't always notice if something is broken or damaged.
Here's a rundown on how to tell if your playground is well-maintained and safe for your children:
There are no exposed concrete footings that could pose a safety hazard.
The playground has limited sun exposure, with awnings or umbrellas.
The ground material reaches at least 6 feet in all directions under play equipment.
Cargo nets should be less than 3 ½ inches wide and no more than 9 inches wide.
Outdoor climbing toys are well-built and support the weight of a child.
The playground design allows plenty of space for many children to run around without getting in each other's way.
The play area is free of garbage and inappropriate items.
The swings are securely attached, and all surrounding objects are at least six feet away.
Remember, if you have concerns, report them to the appropriate authority, like the county, town, or city you live in. I can almost guarantee they will appreciate the comment instead of waiting for an injury to occur.
Tips on How to Promote Safe Playgrounds and Prevent Injuries
There likely are some areas of playground safety you may not have thought of. I'm also eager to learn new ways to promote playground safety, so I've included some that may not have crossed your mind.
Here are a few tips on promoting safe playgrounds and avoiding injury:
Have your child wear comfortable clothing and appropriate shoes.
Avoid clothes with drawstrings that could get caught on play equipment. (A child in my neighborhood recently got her hoodie's drawstring caught in the slats when she went down the slide, and it began strangling her. Thankfully, the parents were nearby and were able to help her quickly. But it's a scary reminder that anything can happen on a playground, and adult supervision is critical.)
Wear sunscreen and reapply every 90 minutes.
Encourage your kids to take water breaks, especially on hot days.
Keep your children on age-appropriate equipment.
Teach kids to identify potential safety hazards.
Ensure your kids use handrails on elevated surfaces to prevent falls.
Watch your kids on ladder rungs and similar play equipment that can pose a strangulation hazard.
Avoid metal slides on a hot day because they can burn your child's exposed skin.
Don't ride down the slide with your child on the lap. According to EurekAlert!, it increases the chance of injury, notably lower leg fractures.
Kids should only slide down feet first and only allow one child at a time.
Sandboxes are great for sensory motor skills, but ensure it's clean and free of trash.
As parents, we can't expect toddlers to spot significant safety hazards, but instilling a sense of self-awareness will help them understand playground safety. Remember, our kids are wise; we just need to teach them along the way.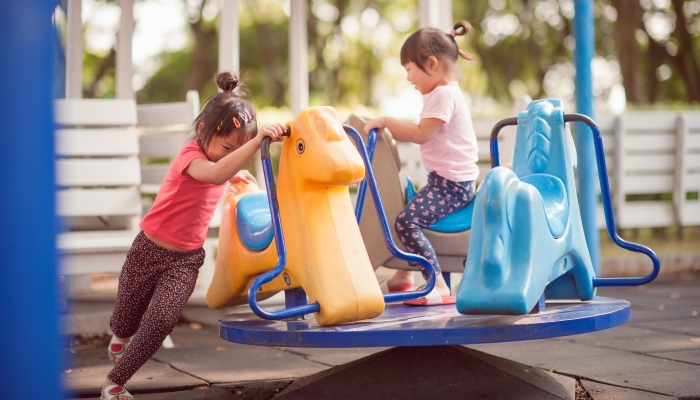 FAQs
Who is responsible for maintaining and inspecting the playground equipment for safety?
If you visit a public playground, the city or county is likely responsible for maintaining and inspecting the play area. However, if you visit a neighborhood playground, you probably need to voice concerns to the Homeowner's Association (HOA).
What role do community members and organizations play in promoting safe playgrounds?
As a community member, you can be vocal about the site preparation of a new playground. If you know your town is preparing a new playground, use your voice to give tips on making it as safe as possible.
How can children be educated and empowered to take an active role in playground safety?
Parents must teach their children how to play correctly at the playground and understand what equipment is safe and what they should avoid.
How can I ensure my child stays safe while using the playground?
Parents should always supervise their children while using the playground, especially around equipment prone to cause injury. In addition, you should use high equipment with caution, ensuring you are nearby in case your child falls.
How can playgrounds be designed to be inclusive and accessible for children of all abilities?
According to the National Park and Recreation Association, an inclusive playground is accessible for children of all ages, regardless of mental or physical disabilities. Examples include interactive elements like musical instruments, allowing adequate clearance for mobility devices and sufficient transfer steps and handrails.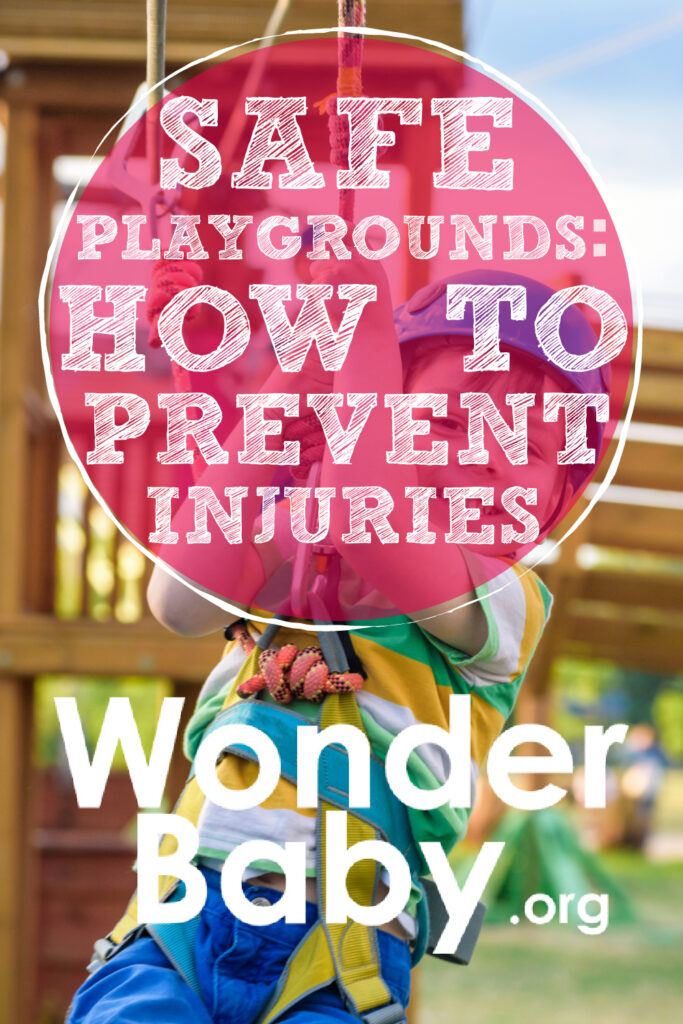 Related Posts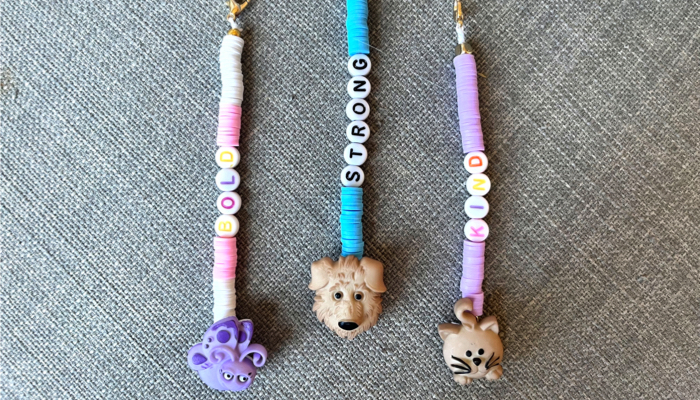 Parenting, Play, Tactile Art
These affirmation backpack buddy keychains are adorable and easy to make. Give your child a little encouragement with this simple craft as they head to school.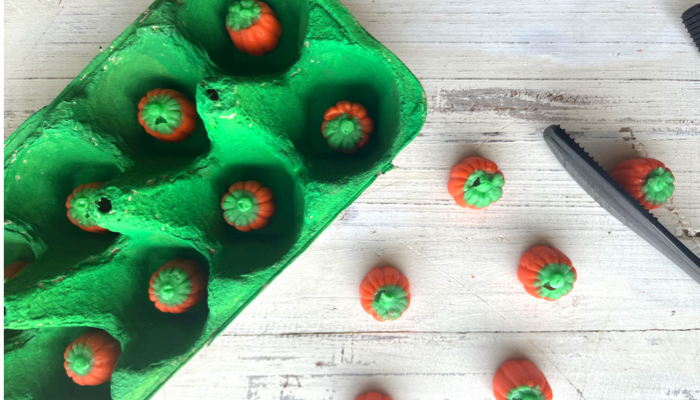 Fine and Gross Motor, Play
This adorable pumpkin picking fine motor activity is a breeze to make! A perfect fall activity for preschoolers and toddlers alike.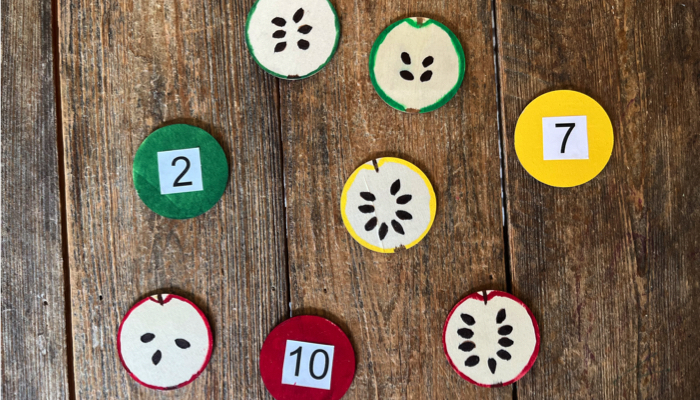 Math and Science, Play
This apple seed counting game is easy to create and fun to play! With just an oatmeal container and a few supplies, you can surprise your child with this delightful...