How Black and White Images Help Babies Develop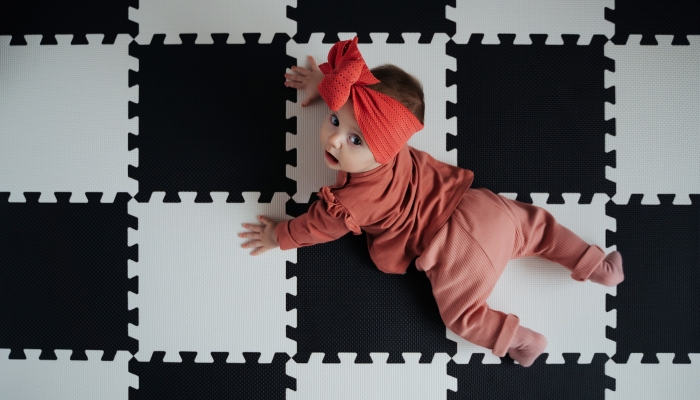 This post may contain affiliate links; please see our terms of use for details.
Black and white images are easier for newborns to see while their eyesight still develops.
These high-contrast two-tone pictures will stand out against a bleary world.
Visual contrast will encourage your baby to explore the patterns and outlines.
Black and white pictures help babies develop focus, attention span, and concentration.
It's tempting to color your baby's world with bright blue or pastel pink, but what they really need is a more minimalistic approach. While their vision develops, you should expose your children to black and white imagery with sharp outlines in their everyday environment. This will captivate them and develop their eyesight.
Why Do Babies Need Black and White Visual Stimulation?
Visual milestones are an essential part of your baby's development. Introducing black and white pictures to newborns has many benefits.
Stimulates Vision
Your baby has a limited color perception at birth, and it's agreed amongst many scientists that they first see black and white or shades of gray. Babies begin focusing on objects up to 12 inches away from them within their first month.
Babies like simple, bold high contrast images. These are easier for them to see. Your baby will be able to identify objects and shapes in these shades within their first few months. Black and white toys and images will support your baby's visual development and teach their eye muscles to coordinate with their brain.
Encourages Engagement
Black and white stimulation can encourage physical and verbal engagement from your baby. Your baby's eyes will draw to the shapes and objects because of their visual contrast. They'll be interested in exploring and playing with the different patterns and textures.
Improves Attention Span
Newborns aren't meant to focus on one activity for a long time, but as your baby develops, they'll have to learn how to engage for a minute or two. High contrast black and white images are easier for babies to interpret, and they'll spend more time engaging with objects in this color combination.
Providing these images, books, and toys to young babies will lengthen their attention span and improve their developing nervous system.
Boosts Confidence and Vocabulary
A baby imitates their parents and others until they're fully developed. They observe and slowly learn how to do the things we do.
Presenting your newborn with images and objects they can see more clearly will allow you to describe what they see. Your baby will develop their sight, hearing, and vocabulary. Whenever they engage with you or start to understand, their confidence will boost too!
Stimulates Cognitive Development
Images provide infants with an opportunity to think, learn and explore. Newborn babies primarily see black, white, and grey before their color vision develops at around 4 months.
You should present your baby with pictures, toys, and an environment made up of these colors in high contrast.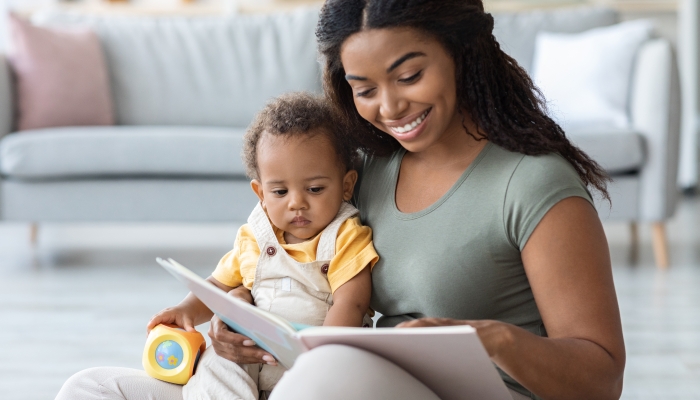 How to Use Black and White Images for Babies
Using black and white images for your baby doesn't need to be complicated! The idea is simply to provide them with high contrast patterns, shapes, or pictures. Placing these in front of your infant will allow them to concentrate and focus. They'll exercise their eyes and develop their vision.
Here are some ideas for using black and white pictures to help your baby with their development:
Picture Frames: One of the easiest ways to stimulate a newborn with black and white images is by placing them in a picture frame. You can stand the frame upright next to your baby while they lay on a playmat. This method is safe to use from birth.
Flashcards: If you start practicing tummy time once your baby's umbilical cord falls off, they'll be steady enough to spend longer times in this position by month one or two. You can use flashcards with high contrast black and white pictured animals or things to keep them visually stimulated while they develop their abdominal strength.
Books: It's never too early to start reading to your kids, and infancy is definitely an excellent time! Reading books should be a fun activity you do during play. You can buy or make your own black and white image books for your baby to enjoy.
Are Black and White Images Best for Babies with Cortical Visual Impairment?
Many families of children with Cortical Visual Impairment (CVI) are told to provide their kids with high contrast black and white images in order to optimize their ability to process visual stimuli, but this is generally considered one of the top misconceptions about CVI.
While it is true that these types of images can be very beneficial to kids with CVI, it's also important to remember that each child is different and that the goal of any vision therapy is to hone the visual skills of each individual child. As a matter of fact, many parents report that their children see bright colors, particularly red and yellow, better than black and white.
When providing images for your child with CVI, consider adding color and see how they respond. Pay close attention to their visual behaviors and try to find images with well-defined borders, clearly outlined backgrounds, and very little clutter.
If you are interested in learning how to adapt images to make them more accessible, check out this guide from CVI Now or this one from CViConnect. There are also many iPad apps designed specifically for kids with CVI. Our favorites are the suite of apps from EDA Play.
The 7 Best Black-and-White Toys for Babies
Playmats and Mobiles
During the first three months of their life, your baby will spend a lot of time laying on their back and practicing their tummy muscles. You can use playmats and hanging mobiles to stimulate their vision during this time.
Mirrored Black and White Baby Playmat
Mirrored Black and White Baby Playmat
★ 【BLACK AND WHITE DEVELOPMENTAL TOYS】:High contrast patterns are easier for baby's foggy eyesight to see, babies respond to the strong contrast between black and white. One side is black and white with high contrast colors, and the other side is bright colors, catch baby's eye during tummy time, which makes this the perfect first toy for young, developing brains.
★ 【PERFECT TOY FOR TUMMY TIME】: We have a total of four tummy time play mats, a total of eight themes animal, food, fruit, alphabet, number, vegetables, shape, vehicle and sea world. There are interesting squeaker, hidden crinkle paper, BPA-free teethers and has a hidden mirror for peek-a-boo effect.It will definitely become the most special toy for babies!【NOTE: There is a protective film on the mirror, please remove it before using it to make the reflection clearer.】
★ 【PROMOTE BABY DEVELOPMENT】: Baby playmat for infants helps strengthen baby's leg and arm muscles to prepare to crawl, tummy time toys have super soft teether, multiple teething surfaces aid in the eruption of new teeth, perfect size and shape for little hands to hold. Baby black and white toys are also beneficial for reducing the baby's anxiety, It can make the baby less crying and be more happy every day.
★ 【GIVE YOUR CHILD A FLYING START】: The tummy time play mat is very lightweight, easy to fold and can be used on the go. At the same time, It is an early development toy, a wonderful way to stimulate important key skills, like Encourage eye-hand coordination, overall motor ability, self-awareness, all. Encourages parent – child play interaction and joint activity, this is a warm moment. Making the little angel's tummy time more interesting!
This black and white playmat is great for tummy time! It has high contrast black and white pictures on one side to develop your baby's vision and brightly colored images on the other for further development.
The mat comes with a mirror that helps develop visual senses and language skills. It also has a safe teether making it the perfect buy for growing infants.
Travel-Friendly Spiral Mobile
Travel-Friendly Spiral Mobile
【Improve Visual Clarity】Every newborn baby needs a toy that is beneficial to visual development at 0-6 months. This black and white high-contrast stroller toy will be the best companion to promote the development of visual clarity and enhance color awareness
【Strengthen Auditory Recognition】There is ringing paper in the ear of a hanging fox toy, which can make "sasa" when touched; when a bird is squeezed, it will make a "BB"; a shaken snail can make a bell sound. Three kinds of music design, let the baby stimulate the development of hearing while grasping and shaking
【Removable Accessory Design】Hanging spiral activity toy has 3 detachable animal pendants, which can not only be hung on the spiral fox rattle but the disassembled pendant can also be hung on the stroller bed or armrest, which baby can play with favorite accessories alone
【High-Quality Safe Material】Hanging spiral plush toy is made of crystal super soft fabric, filled with PP cotton, BPA-free, and non-fluorescent additives. The toddler spiral toy is non-irritating to the baby's skin, suitable for the baby's hand, and feels very comfortable
If you're a traveling family, this black and white spiral mobile will fit your lifestyle! You can quickly wrap this toy around whatever you want to keep your baby entertained and help them practice how to focus on high-contrast images.
The mobile also has sounds for developing your little one's auditory recognition. It's an awesome, compact toy that parents can practically stick to a stroller or car seat.
Books and Flashcards
You can use books and flashcards for education and play. Telling stories to your little ones and showing them images help develop their ability to imagine, communicate, and express emotions.
Black and White Flashcards
Black and White Flashcards
50 CARDS: The high-contrast imagery features silhouetted images in black-on-white on one side and white-on-black on the opposite side, providing a powerful learning experience. In addition to being an excellent homeschool education & craft supply, these cards are also great for elementary and middle school classrooms. With the inclusion of a learning ruler measurement system for kids and decorations, they offer a well-rounded learning experience for children. Perfect for early brain development.
THE PERFECT TOOL: These flashcards are the perfect tool to stimulate sensory activity in your infant or toddler. As they handle the cards, they develop movement skills and dexterity, which are essential for their overall growth and development. These cards are specially designed to fit small hands, measuring 2.4″ x 4.2″, similar to ordinary playing cards. Their size makes them easy to handle, & the bright, colorful images on each card will capture your child's attention and engage their senses.
ENCOURAGE YOUR CHILD'S VISUAL PERCEPTION: Featuring a variety of animals, shapes, & objects, as well as repeating patterns, these cards provide opportunities for your little one to develop recognition skills & expand their understanding of the world around them. As they view each card, they will begin to recognize similarities & differences, build vocabulary, & improve memory. With these cards, your child will be well on their way to becoming a visual learner & developing a keen eye for detail.
GIVE YOUR CHILD THE GIFT OF LEARNING: Designed for children 18 months and above, these learning toys provide a fun and interactive way for kids to develop their cognitive and visual skills. The cards feature bold, contrasting colors that capture your child's attention and stimulate their visual perception. They also include simple words and images that help children learn new concepts and expand their vocabulary. Your child will enjoy hours of engaging playtime while learning at the same time.
Visually stimulating flashcards are a powerful developmental and learning tool for infants of any age. Your newborn can lay still and watch these images to develop their ability to focus. As they grow, you can use these cards to teach them or include them in your bedtime stories. Each card will ignite their curiosity and encourage them to imagine.
Soft Black and White Baby Book Bundle
Sale
Soft Black and White Baby Book Bundle
★ NO NEED TO SEARCH FOR VARIETY OF BOOKS -Baby first book teaches your little one how different things feel by touch with these soft High Contrast Books, Before they are able to clearly see colors, babies respond to the strong contrast between black and white, which makes this the perfect first book for young, developing brains. Experiencing bold black-and-white contrast helps stimulate development in the retina and the optic nerve.
★ CAPTURING YOUR CHILD'S ATTENTION JUST GOT A LOT EASIER – Our early development toys (6 packs) are ready for your baby:Fruit,Animal,Shape,Alphabet,Vehicle,Bug.are included in each cloth book, to help newborns to understand the new horizon,These cloth activity book also stimulate baby first year memory, is the ideal first board book for babies just beginning to look and learn.
★ ELIMINATES THE NEED TO WORRY ABOUT YOUR CHILD WHILE "READING" THEM – Because babies put everything into their mouth, the quality of this book is extremely important. Our cloth book is totally safe for your baby:non-toxic, strong stitching, washable.
★ GIVE YOUR CHILD A FLYING START -Reading this black and white design book gives you a chance to bond with your baby, a warm moment together. At the same time, It is an early development toy: a wonderful way to stimulate important key skills, like language & reading skills, communication skills, imagination, sensory skills, all.
You can quickly capture your baby's attention with these soft and flexible black and white baby books featuring high contrast images, letters, and shapes. The bundle includes six chew-safe books to develop your child's vision, sense of touch, and imagination.
Rattles and Teethers
Babies love to play with rattles and teethers, and there are good reasons for that! Rattles help babies develop their fine motor skills and hand-eye coordination, and teethers can help soothe sore gums. Focusing on simple black and white rattles and teethers add an extra benefit to developmental play.
Baby Plush Rattle Toy
Baby Plush Rattle Toy
【Baby Hand Grip Toys】This hand grip plush rattle toy with a circular design is easy to grasp for infants. Keeping your baby's little hands active, and exercise their grip and hand-eye coordination ability to develop motor skills.
【Black and White】The vision of baby is the black and white during the 3 months, so they need enough external sensory stimulation, various functions will gradually developed. This kind of plush animal rattle toy with black and white color can attract the attention of baby, stimulate their vision.
【To Get Baby's Attention】Soft rattle toy with sound. Built-in BB unit on it's head, you just need to give it a little squeeze and then it could make a sound to get your baby's attention. Also, a sound paper in the ear. What's more, you can shake it to make a pleasant sound, it can pacify your baby's agitated mood and hearing development.
【Teether Toy for Baby】Plush animal rattle with teether, it allows your baby holding to chew and ease the discomfort of teething. No harm for babies, they will love these toys which is durable resistance to bite. It will be a good friend of babies. Also, it can be repeatedly washed.
This black and white plush rattle is perfect for babies under 3 months! It has a circular design for little hands to grip easily, and the gentle sounds it makes can calm or attract your baby's attention.
You can practice visual tracking once your little one becomes aware of the contrasting patterns on this toy. It's an excellent object for visual awareness and developing your infant's color perception.
Soft Dumbell Rattles
Soft Dumbell Rattles
【2 PCS BABY RATTLES】 Loud and easy-to-grasp baby rattle toys with black and white graphics to keep your little one's attention.
【SOFT RATTLE TOY】 Soft and fuzzy outside with high-quality, lightweight materials and filled with soft PP cotton for your newborn, infant, or toddler. Durable and can withstand rough play.
【BABY TOYS】 Perfect for newborns as they initially see black and white, helping to train their vision and inspire hearing.
【NEWBORN GIFTS】 Lightweight and easy to store in car seats, cribs, strollers, and baby gyms. Easy to clean and perfect for gifting to 0-6 month old babies.
Your baby will love these high-contrast musical dumbbell rattles at any age! They're soft, loud, and easy to hold onto. Playing with these will train your infant's eyes and help develop their visual nervous system.
You can use these black and white rattles from birth to encourage your little one to reach and grab or incorporate them into tummy time. The toys are lightweight but can take a punch, so there's no need to worry if your baby throws or bites into them.
NogginRings
NogginRings
HOW MUCH WOULD YOU PAY FOR THE KNOWLEDGE THAT YOUR BABY IS HEALTHY AND ON TRACK TO MEETING THEIR DEVELOPMENTAL MILESTONES? The Mom and Early Intervention Therapist inventor of the SmartNoggin Milestone Maker toys knew that when parents "know better they can do better" and that kind of knowledge is priceless! She successfully designed an affordable, long-lasting, and quality made toy that allows parents to assess their baby's developmental progress through fun play time activities.
BUT HOW DOES A MOM WHO ISN'T A TRAINED AND EXPERIENCED THERAPIST KNOW HOW TO DO THIS? No worries, it's easier than you think. Each Noggin Rings toy comes with a user-friendly easy to follow booklet that tells parents what their baby should be doing when, and encourages parent – infant interaction, fun play, bonding, and entertainment. Activities are designed for infant to 12 month olds making this baby toy the one that lasts longer than others. More play time fun for the money.
INTERESTED IN SETTING YOUR BABY UP FOR SUCCESS? The Noggin Rings contrasting colors help your baby learn visual tracking – a critical pre-literacy skill and a necessary precursor to reading. Its eye catching design promotes tactile interest and the flexible rings enhance reaching, grasping and transferring from one hand to the other, all important foundational skills for future learning. Buy this toy so you don't miss the chance to be your child's first and most important teacher!
BEST BABY SHOWER, NEW MOM, & 'JUST BECAUSE' GIFT ON THE MARKET TODAY. When you give a SmartNoggin Milestone Maker toy as a gift you are not only giving a fun interactive toy that provides hours of entertainment for both mom and baby, you are giving the most priceless gift of all: the ability to know if baby's developmentally on the right track. Just ask any of the many Therapists who have bought this toy for their practice to have it become one of the most important tools in their profession!
If you're a busy mom, you can still set your baby up for success with this red, black and white rattle teether. You can play with it while nursing, during tummy time, and even attach it to a car seat or mobile.
The circle design makes grabbing onto the rattle easy for little hands. You can use this toy from birth to 12 months with follow-along activities in the mom-friendly booklet included. Interacting with your baby plays an important part in their growth. This rattle teether makes tracking your infant's milestones easy while you bond. The red, black, and white colors will help your baby with visual tracking, and the teether is a bonus!
There's science behind gradually introducing your baby to colors. You should use objects with a high contrast image before moving to one-toned shapes, patterns and toys. If you notice any delays in reaching milestones or have a family history of eye issues, you should visit an ophthalmologist to ensure your baby's vision is on the right track!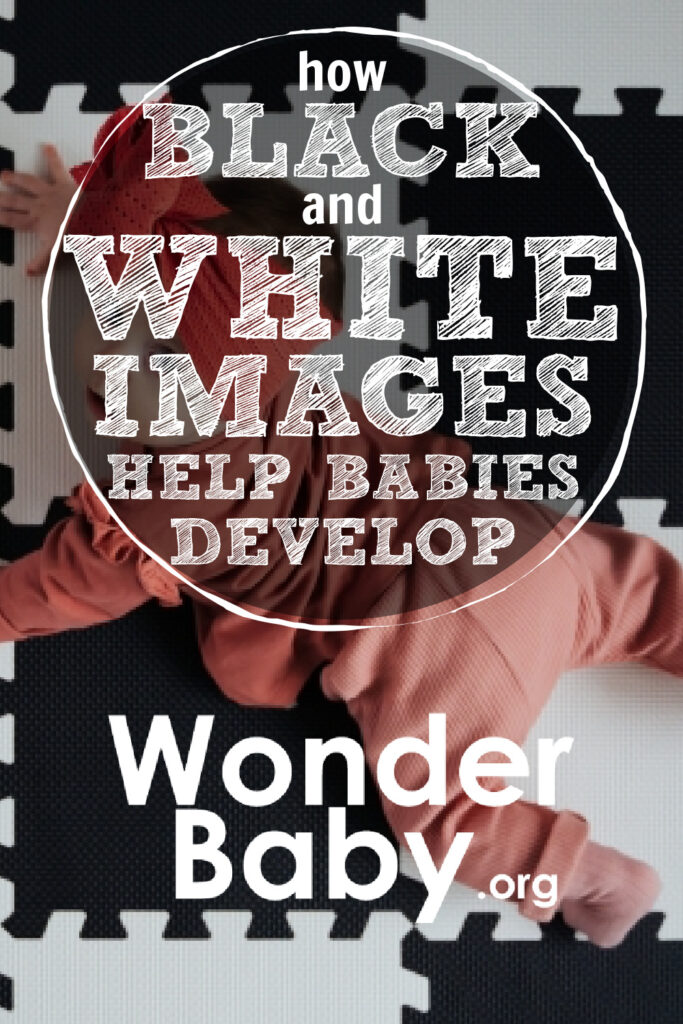 Related Posts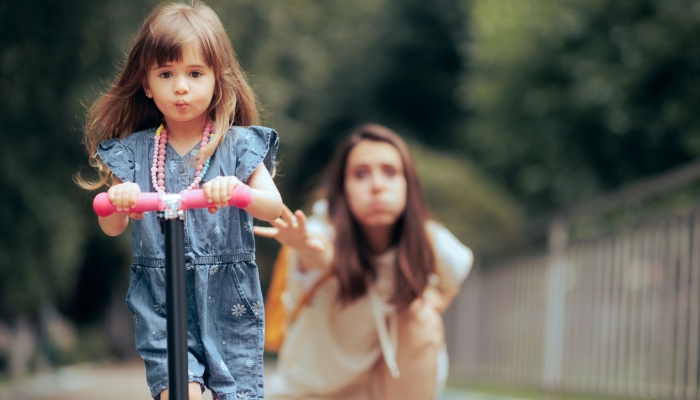 Development, Parenting
Understanding the history, differences, and strengths of proximal and distal parenting will help you decide what parenting approaches work best for your family.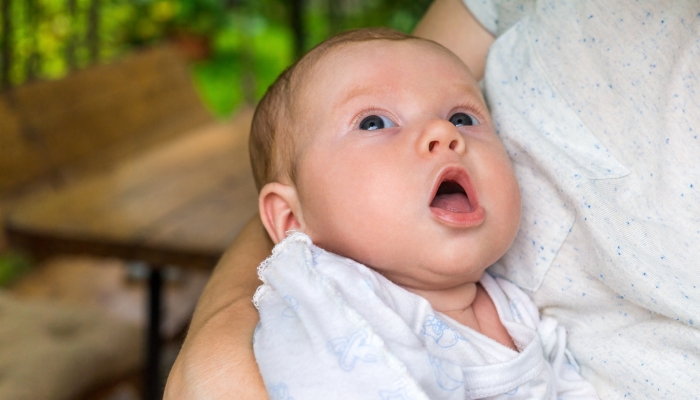 Autism, Development
If your baby's mouth is always open, you might be concerned about a link to autism. However, there are many other reasons for a babies mouth to be open.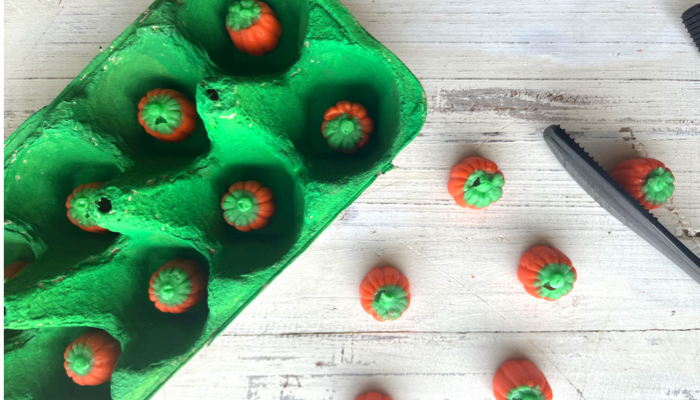 Fine and Gross Motor, Play
This adorable pumpkin picking fine motor activity is a breeze to make! A perfect fall activity for preschoolers and toddlers alike.