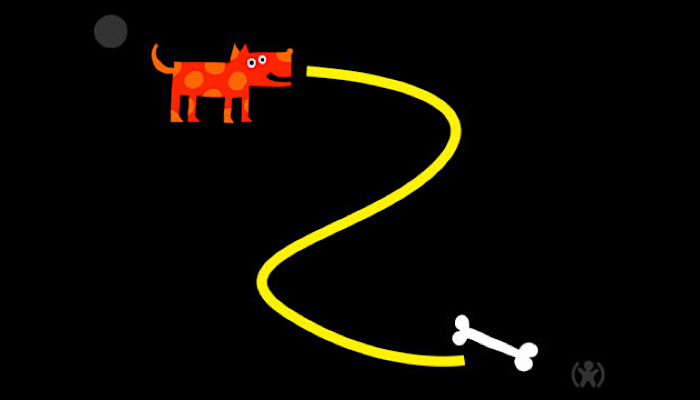 This post may contain affiliate links; please see our terms of use for details.
App Details
Price: $4.99
Where to Buy: Find EDA Play at the iTunes Store
Developer: EDA Play
Devices: iPad
Operating System: Requires iOS 5.0 or later
Categories: Education
EDA Play helps children work on vision and fine motor skills with games ranging from simple to more complex. The best part of this app is that you can choose the level of play for your child in two categories: Visual Level and Task Level. This really lets you customize the level of play to your child's skill. You can have them play games that are a little more complicated but with simple visuals or have them play easier games with complicated visuals… or something in between!
So what do I mean by simple or complex play? Let's look at some examples…
One of the easier games (Task Level set to G1) shows a large blue horseshoe on a plain black background. A child's voice asks you to touch the horseshoe to hear a horse neigh. All you have to do is touch the screen to get the reward of the horse neigh and praise. Simple right?
But you can change the way the game looks by choosing different Visual Levels. The image below on the left is set to Visual Level V1 and the image on the right is set to V4. See the difference? So if you want to keep the play simple but work on your child's visual discrimination, you may choose the higher setting for the visual level.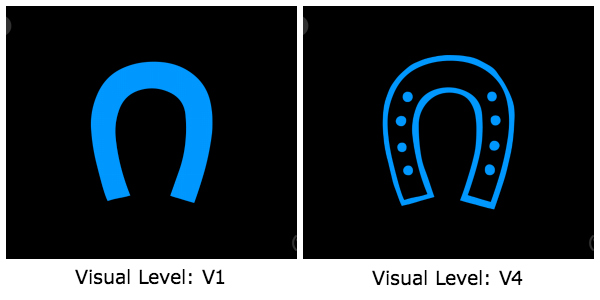 You can do the same thing with the more complex games. Another game (from the highest level, G4) shows you a train with a track and a tunnel. The child's voice asks you to use your finger to follow the track into the tunnel. You have to carefully follow along and trace the track in order to "win" and hear the train make it's sounds.
The image below on the left is set to Visual Level V1 and the image on the right is set to V4.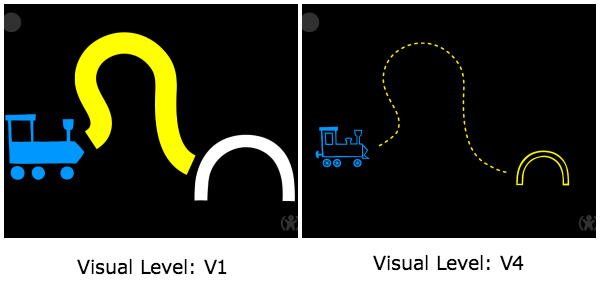 You can see that there are a lot of options here allowing you to really tailor the play to your child's needs.
With that in mind, the developers created this app with even more customization choices. You can change the display settings to allow for a visual guide (a white line that shows you where you're supposed to trace in the train game, for example) or you can set the app to display a white frame around each game to help visually direct your child to the field of play.
In the sound settings you can turn the child's voice, music or sound effects on or off, depending on what you think your child needs or what you think they would respond to best. So many ways to create a game made just for your kid!
And one last thing about this app that makes it outstanding… it remembers your settings, continues play where you last left off AND records your child's progress over time so you can see how long they've played and which skills they've mastered. Very useful!
Related Posts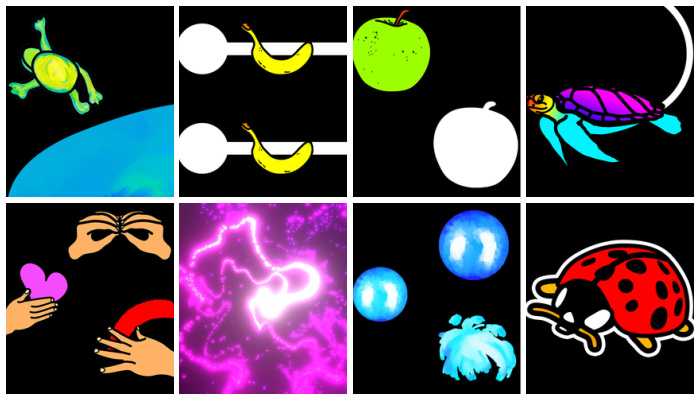 iPad Apps and Accessibility, Visual Impairment
This free digital visual training tool for computer or mobile devices is designed to help toddlers with CVI practice their visual skills.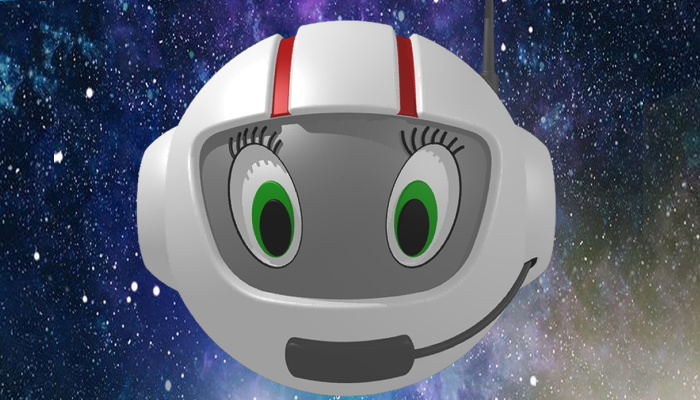 iPad Apps and Accessibility, Math and Science, Visual Impairment
These iPad apps from Sonokids feature the astronaut character CosmoBally who teaches blind children about space and sonification.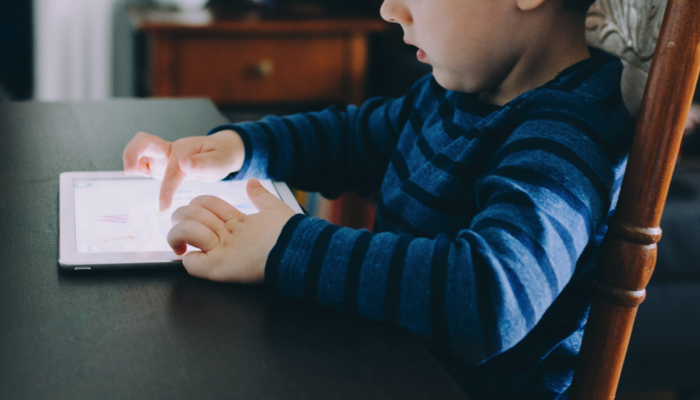 Eye Conditions and Syndromes, iPad Apps and Accessibility
A collection of successful iPad apps for kids diagnosed with CVI as recommended by a TVI and CVI specialist.