17 Braille Innovations That Don't Exist Yet… But Should!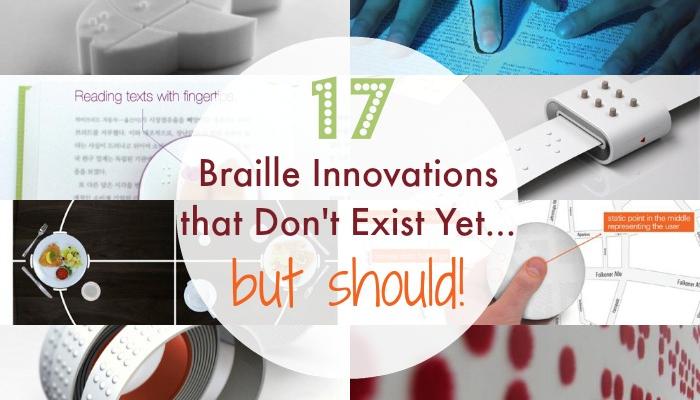 Assistive technology and innovations for visually impaired users are moving fast! There are so many new ideas for accessible orientation and mobility devices, wearable technology and updated apps and software. Just check out these new navigational tools from Verizon. Wow!
But a lot of the coolest ideas involving braille aren't actually on the market yet. They may be in prototype mode, or maybe even just conceptual. Listed here are some of my favorites. And maybe if we reach out to the designers they'll realize there's actually a market for this stuff!
Text to Braille
You've heard of text to speech, but what about text to braille? With these devices you could run over a line of printed text, whether in a book or on a can of food in the grocery store, and the letters would be translated into braille. Yes, there are a lot of downsides that would need to be addressed (how do you keep the device on the line of text if you can't feel it), but it's still a neat idea!
#1. Panopticon
This device uses scanner technology to convert text into refreshable Braille and also allows for audio feedback. It moves at the pace of the reader, so you can build confidence with the device as you learn to use it. It fits like a glove and the braille pins roll under the index finger.
#2. Top-Braille
This device is a little less futuristic looking, but maybe a bit more practical. It uses the same concept as Panopticon, but is in the form of a hand held device. One nice feature of Top-Braille is built in navigation cues that alert the reader to the location of the text on the page so they can keep the device aligned properly.
#3. Haptic Braille Reader
So I really like how sleek this one is. It's a small, slim device very similar in shape to a computer mouse (but thinner). The braille dots appear on the surface of the device and, unlike with the other two options, you can get more than one braille cell at a time on this one.
Functional Braille
There are many ways braille can enhance everyday products and activities, making them more accessible to blind users. Everything from taking simple notes to a more accessible credit card!
#4. Braille Stapler
Making quick braille notes on the fly is possible with a slate and stylus or a braille label maker, but the slate is clunky and you need to write backwards and braille label makers are big and cumbersome. So how about a braille stapler? It prints on long sheets of paper and is easy to pocket and take with you!
#5. Braille Tape
I like this idea even more than the braille stapler. Braille tape is essentially a roll of adhesive tape with braille cells already punched. All you have to do is push in the cells you don't want and you have an automatic braille label! Stick to jars or cans in your cupboard, label drawers… whatever!
#6. Blood Pressure Monitor
This futuristic cuff reads blood pressure and heart rate and displays the results in braille on the cuff. All the buttons are also raised and marked with tactile cues. If someone needs to monitor their blood pressure regularly, this is a way to do that independently.
#7. Refreshable Map
So how cool is this? This is a small, hand-held disk with a refreshable display that can present information in braille or actually create a tactile map showing you where you are and where you need to go. Control buttons are located on the side of the device. This one is called the DROP GPS System, but there's another one called the Brainovi, and it also talks to you with a bluetooth ear piece.
#8. Tea Infuser
Are you into tea? Do you like to brew your tea from loose leaf? Then this is for you! With this braille tea infuser, you can fill the water and monitor how much water is in the thermos with a button on the side of the infuser. Place the loose leaf tea in the top of the infuser and set the timer. When you hear the bell your tea is ready! All markings on the thermos are tactile or in braille. Wouldn't this make a great gift?
#9. Braille Credit Card
The braille credit card speaks your purchase after your card is swiped so you know exactly what you're being charged. It also allows you to sign for your purchase with your thumb print. There's also a refreshable braille display that let's you scroll through all your past purchases on the card.
#10. Braille Watches
There are already a lot of braille and talking watches on the market, but there are some really neat concepts for cool watches with out of this world designs. Why stop at function when we can add fashion as well? Also check out this Haptic Braille Watch and you have to see this X Watch!
Braille in Design
Braille is functional, but have you ever noticed that it can also be beautiful? Many designers have started incorporating braille into concepts for home products. Beautify your home with braille!
#11. Braille Wallpaper
What does your wall say? Many people find quotes to display on the wall in their child's room or baby's nursery, so why not do the same thing in braille?
#12. Braille Dishes
You can find some cups with braille on them (usually "love" in braille), but this idea is for an entire line of braille embossed ceramics, including cups, mugs and even flower vases.
#13. Moon Table
OK, so maybe this table doesn't actually have braille on it… but it is such a neat idea! The moon table has aluminium embedded in the wood to indicate where place settings should be located. The corners of the table are also rounded to prevent bumps into hard edges.
Braille Fun!
So now for the fun stuff! Here are some concept designs for braille toys and games!
#14. Fittle
This toy is designed to make learning braille letters and words more interactive. The pieces fit together like a puzzle to form both the word AND the shape, so that children aren't just learning about letters, but also about symbols and shapes as well. You can't buy these in stores, but if you have a 3D printer, you can print them!
#15. Braille Game Ball
This is another toy designed to help kids learn braille. This ball has pieces with braille and print letters embossed on them. You have to match the letters on the pieces with the corresponding hole in the ball. The pieces fit using magnets and if you're right, a chime rings and the ball speaks the letter.
#16. Braille Rubik's Cube
What a no brainer! Instead of having a Rubik's Cube with squares in different colors, how about a Rubik's Cube with squares in braille? Of course, I'd be helplessly lost either way. I've never been good at the Rubik's Cube!
#17. Braille Dreidels
And my last pick is probably my favorite. Look at these beautifully designed Chanukah Dreidels printed with embossed braille! What a great idea!
There are many. many more innovations out there that are just waiting to come to life. It's exciting to see all the thinking and design ideas… but of course it'd be even more exciting if these products and devices actually existed! Want to keep up on what's happening in braille innovation? Follow the WonderBaby Braille Board on Pinterest!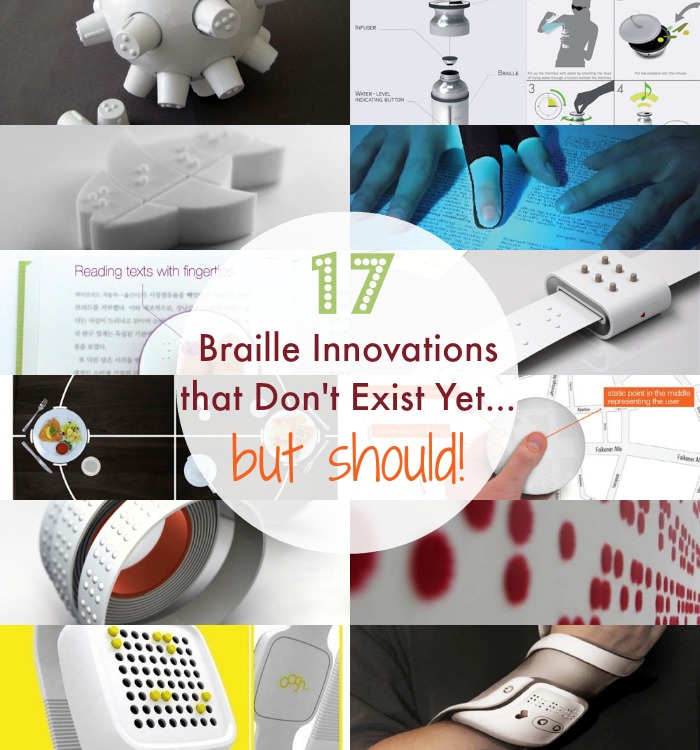 Related Posts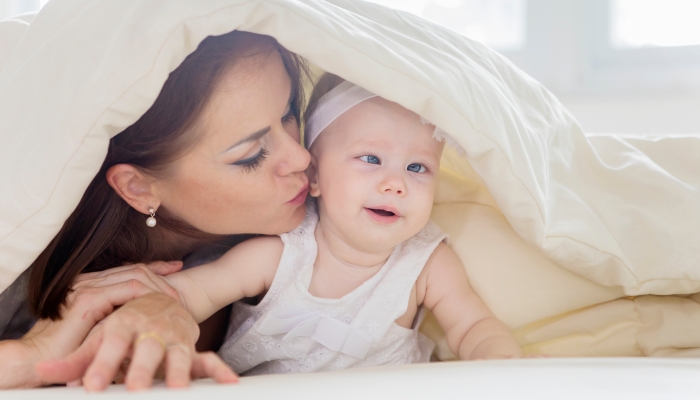 Eye Conditions and Syndromes, Visual Impairment
Retinopathy of prematurity is common in babies born before 33 weeks. Early intervention can help prevent blindness in babies with this condition.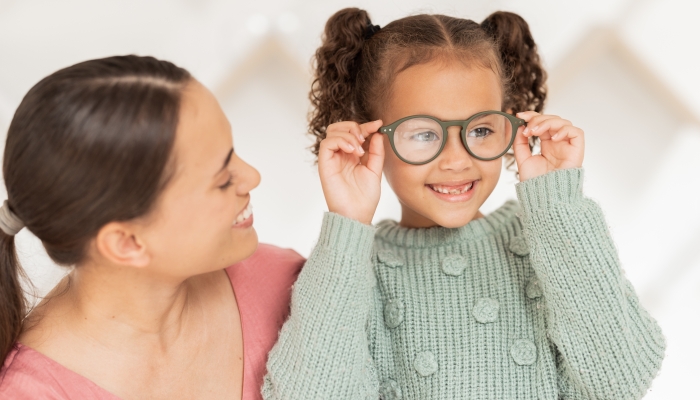 Eye Conditions and Syndromes, Visual Impairment
If you have a child with retinitis pigmentosa (RP), family members, therapists, and eye specialists can help you manage the stress that comes with vision loss.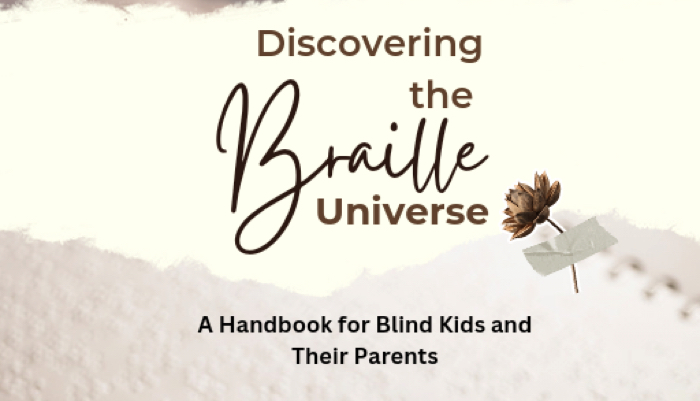 Braille and Literacy
Discovering the Braille Universe is a navigational tool providing valuable insights, advice, and guidance for individuals living with blindness.