Build-a-Bear Workshop: A Multi-Sensory Experience!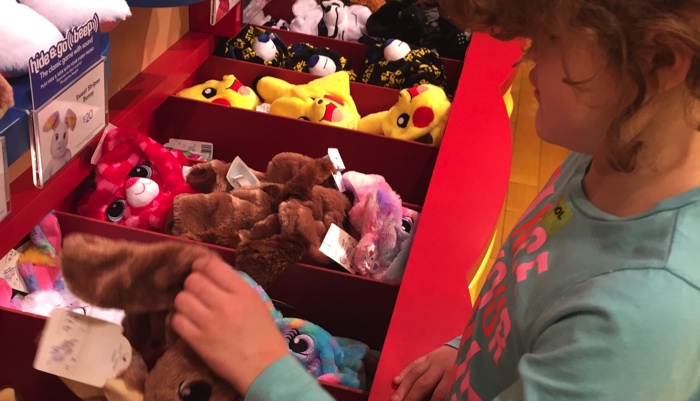 Have you ever been to Build-a-Bear Workshop? We just went recently and I'm wondering why I put this off for so long! I thought maybe it would be too visual or maybe too complicated, but I was very wrong. Ivan is totally blind with additional disabilities and he absolutely LOVED it!
We went with Ivan's friend Madilyn and her mom. Both kids are students at Perkins School for the Blind. Madilyn has been to Build-a-Bear a few times so she was able to show us how it all works and let me tell you, this is a multi-sensory adventure that is perfect for kids who are blind or multiply disabled.
How Does it Work?
At Build-a-Bear you get to create your own stuffed animal from beginning to end. Pick out your stuffed animal and fill him with scents, sounds and fluff. It's a very multi-sensory experience.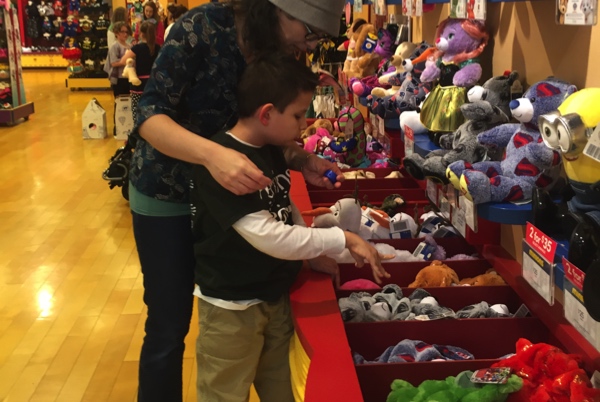 Touch
First you pick out the stuffed animal you want to make. They have a bunch of choices, including superheroes, Frozen, Star Wars and other themed bears plus there is usually a seasonal line as well (like Easter bunnies in the Spring or Santa Claus for Christmas). They also have lots and lots of bears in different textures and colors.
This is where you can really get into TOUCHING. Ivan did a great job touching all of the stuffed animals and he even did some standing and walking! He loved reaching into the bins to feel all the soft fur.
Smell
Once you've picked out your animal (Ivan chose a very soft Easter bunny with long ears), you can give it a SCENT and a SOUND! They have lots of smells and sounds to choose from and you can even record your own sound.
Ivan decided to go with lavender for his scent (it was very soothing), but they have everything from chocolate and strawberries to bananas and bubblegum.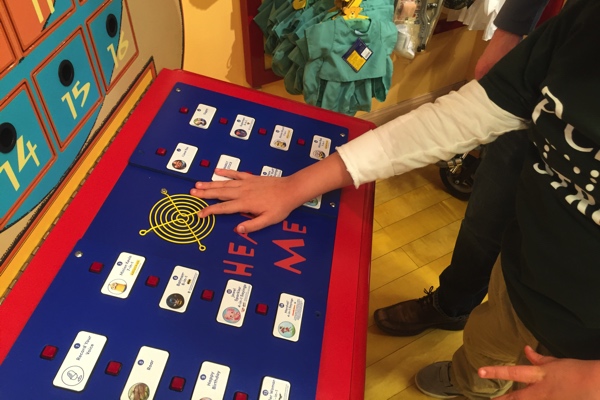 Sound
Picking out the sound was Ivan's favorite part. They have little buttons with pre-recorded sounds (like giggling or roaring) and you can make your own sounds too. We also placed a beating heart button in our bunny so when you squeeze his chest you can feel a vibrating beat. Ivan absolutely loves that there are parts of his bunny that he can squeeze to make sounds or beats. We just chose one sound (the giggle) for one paw, but we will definitely put a sound in each paw in our next animal! Because the best part of Build-a-Bear is that it's all up to you!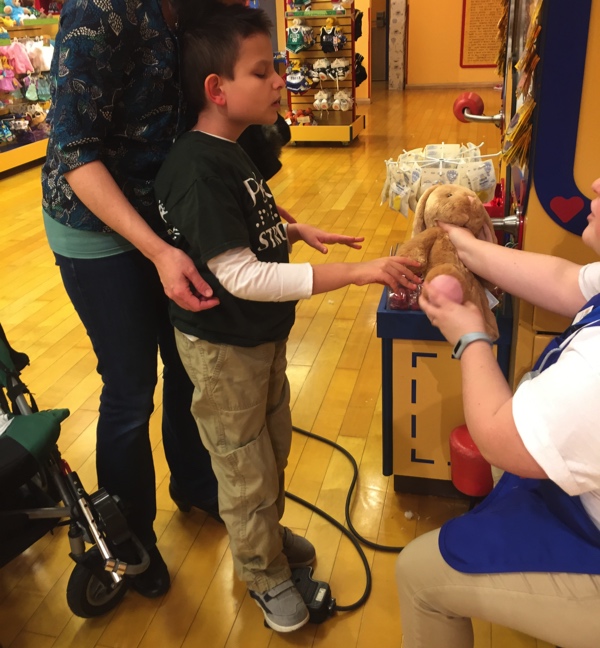 Putting it All Together
Once you have all your pieces picked out, it's time to stuff your bear (or bunny in our case). Build-a-Bear has a large fluff machine and your child controls the fluff entering their animal. You can either choose to use the foot pedal (Ivan did a great job with this) or the hand pedal (which was Madilyn's choice). There are a lot of ways here to make this accessible for your child depending on their abilities. I also have to add that the staff is extremely accommodating, so if you need anything adapted, just ask!
Check out Madilyn stuffing her bunny in this video (she was giggling a lot!):
Your next steps are to "bathe" and brush your new friend (the spouts just blow air, but it's lots of fun and not too loud) and then of course pick out some accessories: Clothes, shoes, glasses, hats, etc. They don't offer white canes, at least not yet!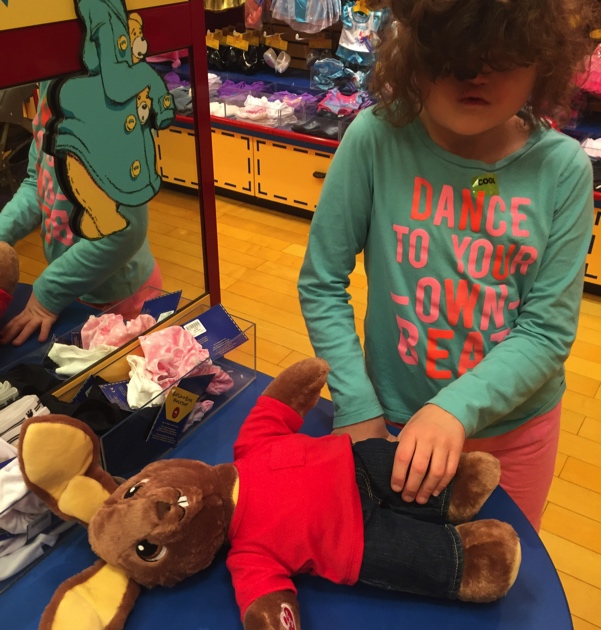 Clothing your bear is also a great fine motor activity. Madilyn did an excellent job picking out a shirt and pants for her bunny.
You can even choose to create a birth certificate for your bear and we asked that ours be delivered in a box because that was just more fun. Ivan and Madilyn both had a great time!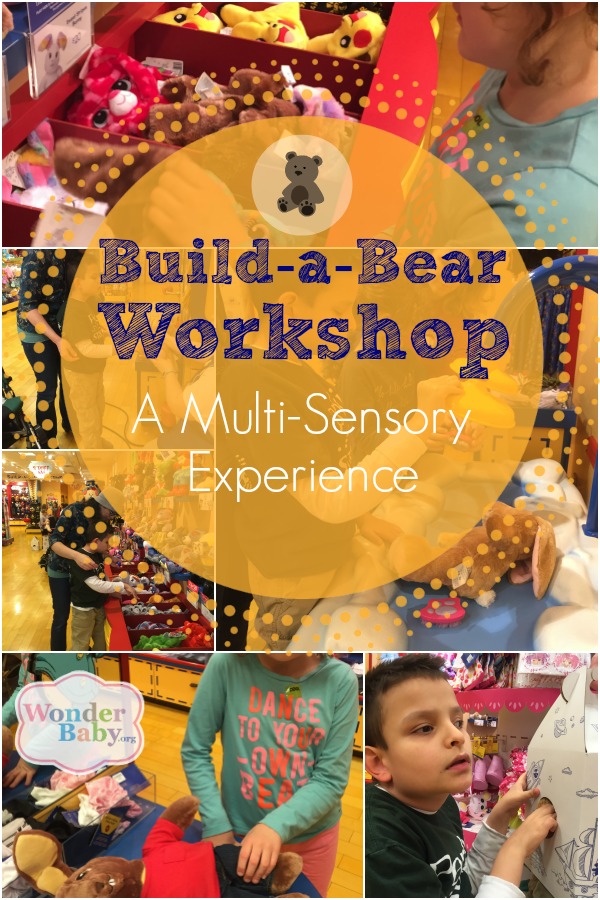 Related Posts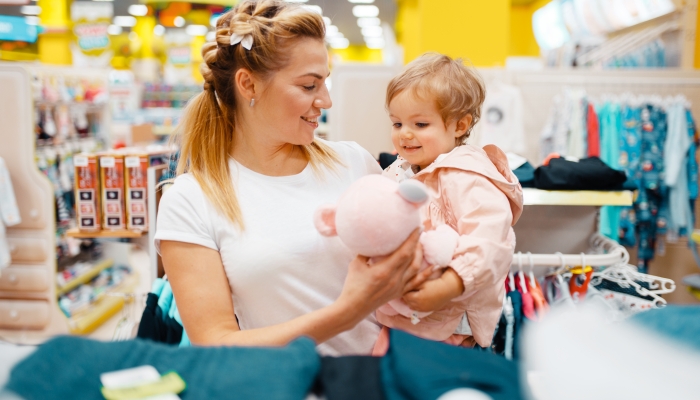 Toys
Ensure your child's well-being with top tips on choosing suitable toys that create a secure, fun play environment with our guide to safe toy selection.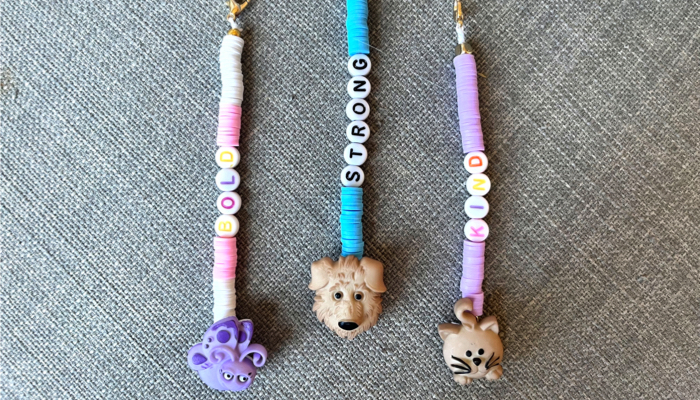 Parenting, Play, Tactile Art
These affirmation backpack buddy keychains are adorable and easy to make. Give your child a little encouragement with this simple craft as they head to school.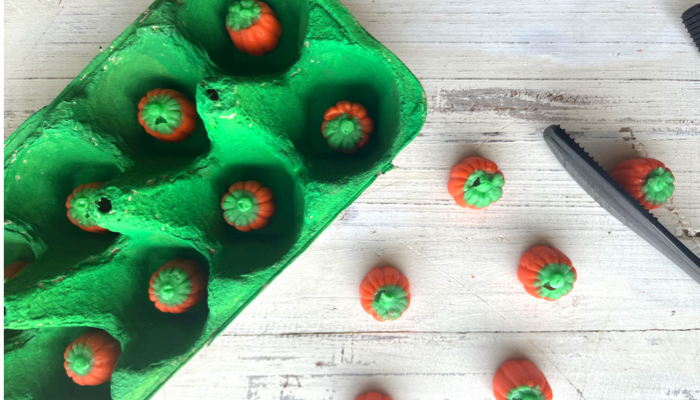 Fine and Gross Motor, Play
This adorable pumpkin picking fine motor activity is a breeze to make! A perfect fall activity for preschoolers and toddlers alike.