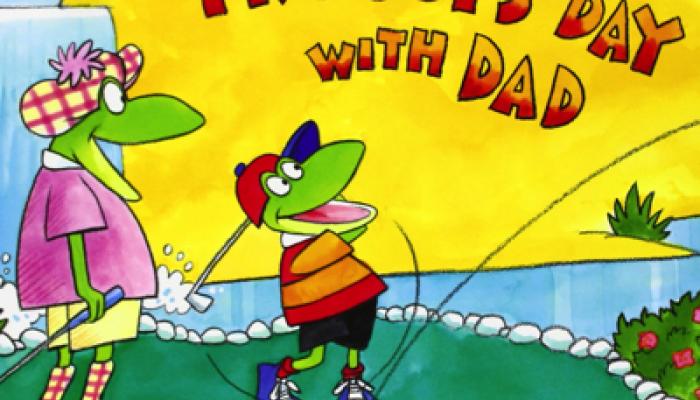 This giveaway is now closed and the winners have been contacted. Congratulations to the winners and thank you to everyone for entering!
Moms like flowers and jewelry for Mother's Day (or so I'm told)… but what do dads like for Father's Day?
In Froggy's Day with Dad, a new book offered in print-braille from National Braille Press, Froggy decides to take his father to the miniature golf course for the day.
It's a sweet story about Froggy and his dad hanging out at the course and Froggy being his signature klutz of a kid. He does get a hole in one though!
Froggy books (if you're not familiar with them there's a whole series!) are great to read aloud because there are so many sounds in the story. For example, before they hit the links, Froggy and his dad take a turn at the batting cage:
Froggy put on a helmet—zat!
Then he wound up and swung—
"Oops!" The bat flew out of his hands…
and hit his dad in the foot—thunk!
Did you just read that quietly to yourself? Go back and read it out loud and see how much fun it can be. Now imagine reading this with your child while they follow along with the braille!
So what do dads like for Father's Day? Maybe reading books with their kids while also encouraging early braille literacy (in that case, you might want to also check out NBP's Children's Braille Book Club).
But maybe dads also like to golf and this book could be a way to start talking about the game of golf and how to get your child involved.
What? Did I just hear you groan? You're thinking that because your child is visually impaired they can't play golf? Think again!
Included in this print/braille edition of Froggy's Day with Dad is a three-page instructional essay titled, "Introducing Your Blind Child to Miniature Golf." It's written by Mark Riccobono, executive director of the National Federation for the Blind, and as a child he would often play golf with his friends. Now as the blind father of three kids (two of which also have vision loss) he enjoys playing golf with his children. So yes, he knows what he's writing about!
So how about it? A fun picture book for dad and child to read together and a guide to help you all get out to the miniature golf course as a family!
Do you want a chance to win your very own copy of Froggy's Day with Dad? Entering this giveaway is easy! Simply use the widget below to enter. We'll be accepting entries until June 6th, 2014 and the winner will be contacted on June 7th. Good luck!
Related Posts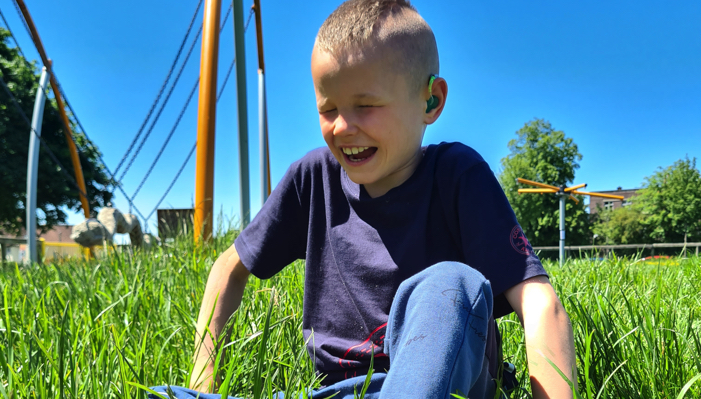 Giveaways
Find out how one mother turned her grief and search for support into a best selling book and an online community.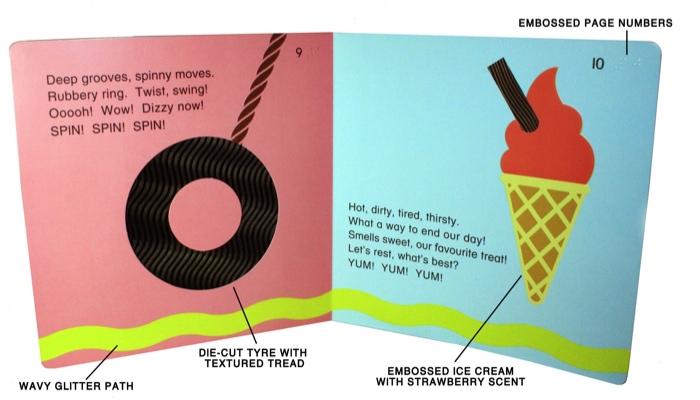 Giveaways
Enter to win the touch-and-feel book Off to the Park! This book was designed specifically for children who are blind or have low vision. Contest ends March 2nd 2016.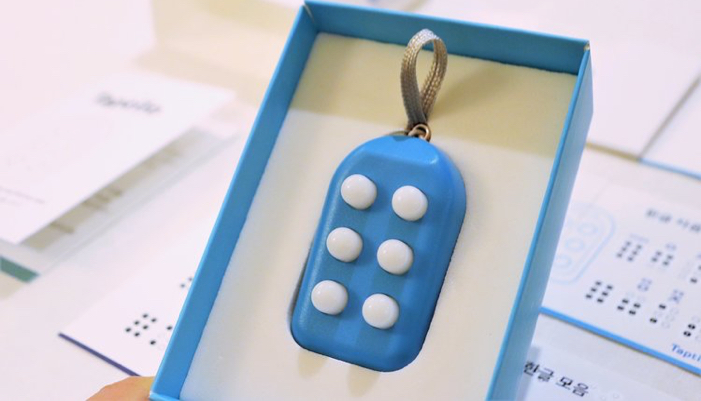 Giveaways
Enter to win a braille starter kit. Each kit comes with one braille block keychain and a set of braille learning materials in both print and braille.