How to Get Your Baby to Sleep Without a Swaddle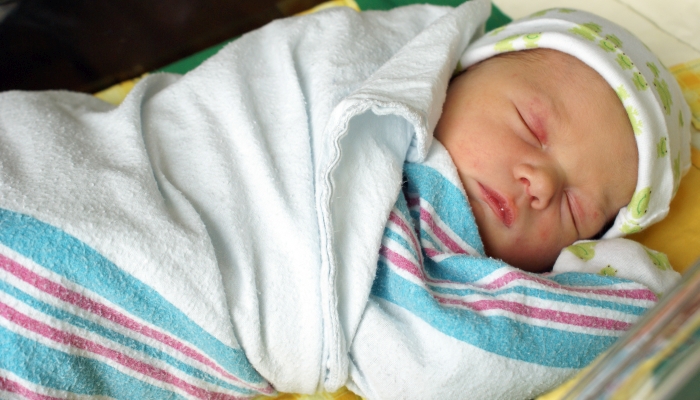 This post may contain affiliate links; please see our terms of use for details.
Swaddling is helpful for a newborn but becomes risky for your older, more mobile baby.
The best age to stop swaddling your baby is around 2 months. This allows time to transition slowly before they can roll over.
You can gradually remove the swaddle blanket. Popular methods include swaddling with arms out, legs out, or using part-time swaddling.
Most babies will accept sleep without a swaddle within a couple of weeks.
Products such as sleep sacks can help ease the swaddle transition.
Ah, the swaddle. A cozy cocoon that mimics the comfort of the womb and helps your baby to sleep soundly.
I know how you feel. Wrapping my newborn up like a burrito and watching him fall asleep peacefully, I dreaded the day I needed to take the swaddle away.
It can be daunting to know how to get your baby to sleep without a swaddle. Changes to bedtime routines can be scary for parents who are clinging to every ​​second of precious sleep.
The bad news? Your baby may take some time to adjust to a different way of sleeping if they're used to being swaddled. The startle (Moro) reflex may also wake them up when not tucked in. Be prepared for some disrupted sleep periods and night waking to begin with.
The good news? With a little time and patience, your baby will get used to sleeping without their swaddle blanket. If you start preparing early, you can ease your baby into the change with minimal disruption.
Before you know it, you'll be watching your baby sleep without a burrito wrap in sight!
When to Stop Swaddling Your Baby
Although all babies develop at different times, there are some clear signals that it's time to transition out of the swaddle.
They're Showing Signs of Rolling.
This is the number one sign that your baby is ready to lose the swaddle blanket.
For safety reasons, your young baby should not be sleeping face down. As soon as your baby is showing signs of trying to roll, the swaddle needs to go. This is because of the risk of your baby rolling onto their tummy and not being able to roll back over.
If your baby is already able to roll, you must stop swaddling immediately, which forces you to stop using it cold turkey. Some babies take to this sudden change well, but many find it difficult, so it's best to start earlier if you can.
They're Rejecting the Swaddle.
As your baby gets older, you may start to notice them resisting their swaddle. This is a good time to make the switch.
They may cry or squirm whilst being swaddled, wake up crying, or regularly wriggle out of their blanket.
Prepare to ditch the swaddle if you notice your wriggly baby consistently breaking free. Aside from being a sign that your baby isn't content, loose blankets in their sleep space are against safe sleep guidance.
They're 2 Months Old.
Typically, your baby becomes more mobile around 2 to 4 months. Many babies start to roll at around 3 months old. In terms of safety and easing your baby into the change, it's advisable to get your baby used to slumbering without the swaddle nice and early.
2 months is a good time to start the process if they haven't shown signs of rolling already. There's no need to change the swaddle earlier than this unless you want to. It is a smart tool for newborns, and receiving blankets are typically used right from birth.
Their Startle Reflex Stops.
The startle (or 'Moro') reflex often wakes babies up. Your baby will suddenly jerk their arms open, perhaps in response to loud noise. Swaddling is an effective strategy for sleep as it reduces the disturbance caused by this reflex.
As they get older they will lose this natural reflex and may not need their swaddle anymore.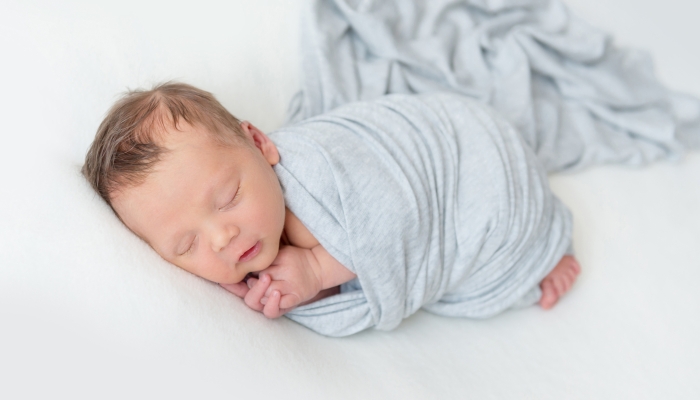 How to Get Your Baby to Sleep Without a Swaddle
Gazing at your peacefully sleeping swaddled baby, you might be terrified of taking the blanket away. You may worry that the change will risk losing all of your hard-earned sleep progress.
Remember that the swaddle is only one tool in your sleep routine toolbox. Techniques such as rocking, using white noise, and having a calm evening routine can help your baby to associate sleep with methods outside of the swaddle.
By keeping other sleep associations consistent, your baby's more likely to adapt well to swaddle-free sleeping. As always, watch carefully for early signs that you have an overtired baby. It's much harder for babies to settle to sleep once they feel too tired.
Remember that you don't need to wave goodbye to the swaddle overnight (unless your baby starts rolling). A staged approach lets you notice how your baby responds to each stage of un-swaddling and gives them a chance to get used to unwrapped sleep. You may find a gentle approach is very effective in reducing sleep disruptions.
APP Guidance notes the safety issue of a swaddled baby rolling over. When your baby can roll, a gradual approach stops being an option.
Methods to Help Transition Out of a Swaddle
Although it can be tempting to wait until your baby is fully able to roll before you bid farewell to your faithful swaddle, a more gradual approach will probably make the change easier.
You can try to take the swaddle away completely first to see how your baby reacts. They might surprise you! If this doesn't work for them, you can try one of the following techniques.
'Arms Out' Method
A popular method is to begin with one arm out of the swaddle, followed by an arms-free swaddle once ready.
For babies who love the security of a swaddle, this technique gives them a similar sensation whilst helping them to get used to some freedom of movement.
'Legs Out' Method
You could also try strapping just your baby's arms and keeping their legs free. This can work particularly well if your baby is being woken up by their flailing arms.
If you have an enthusiastic nighttime kicker, they may like this approach. Just make sure they have plenty of room at the end of their crib!
Part-Time Swaddling
Another way to transition slowly is to only swaddle some of the time. You could try swaddle-free naps first. This has the added benefits of not disrupting your sleep and being able to watch how they react. Or, try swaddling for a section of the night, for example after a nighttime diaper change.
Every baby is different. A 'trial and error' approach will help you ‌find what works best for you and your family. Sleep consultants can help you to navigate the process if you're feeling nervous or your baby is struggling to adjust to the change.
Products to Help Transition Out of a Swaddle
Some babies will transition from a swaddle to a regular blanket with ease, whilst others will struggle. Luckily there are lots of transitional products which can help make the switch easier.
This popular baby sleep sack helps babies adjust gradually by keeping their arms swaddled in a natural 'arms up' position. Once they're ready to move on, you can zip the wings off, turning it into a regular sleep sack.
A swaddle strap can be particularly helpful for babies who roll early but still have a strong startle reflex. This strap keeps the baby's legs free whilst swaddling their arms. This is also a great option for swaddling in warmer weather.
Specifically designed to ease the transition from a swaddle, this product keeps your baby warm and snug. The clever double zip system keeps nighttime diaper changes stress-free.
A wearable blanket or baby sleep sack will keep your baby cozy whilst avoiding the risk of loose blankets.
If using a product to help with the transition, remember to pick something which adheres to safe sleep guidance. It's worth persevering with a new product for at least a week, as it may take a little time for your baby to get used to it.
How Long Will It Take for My Baby to Sleep Without Swaddling?
Changing things which have worked well for you and your baby can be scary. Unfortunately, swaddling is only temporary, but you'll be pleased to hear that most babies accept sleep without a swaddle within a few weeks.
Remember that all babies are different and follow their own unique paths, so don't be disheartened if your baby takes a little longer to adjust.
As long as your baby is not rolling over, you can take a slow and steady approach. Allow your baby to get used to a partial swaddle before moving on.
Allow up to a month of trying the gradual approach, only moving forwards once your baby has fully accepted each stage. If your baby is fighting sleep, you may have to play detective to work out the cause.
You could consider trying a gentle sleep training process to help them ‌settle:
Sleep consultants can help you discover further solutions. It may be that you have an overstimulated baby or that they're under or over tired.
It will take time and patience, but fear not, both you and your baby will soon adjust to swaddle-free sleep.
FAQS
Should I stop swaddling when my baby starts rolling over?
Yes. Swaddling becomes dangerous when they can roll over so it's best to begin the transition as soon as your baby starts showing signs of rolling. You must stop swaddling cold turkey if your baby starts being able to roll.
How do I stop swaddling during daytime naps?
It can be helpful to practice sleeping unswaddled during nap time first so that you can watch for your baby's response. You can use the same process as you would for nighttime sleep and use a wearable blanket or sleeping bag if you wish.
You may also find it's easier to try sleep training for naps before tackling the nighttime.
Will my baby stop sleeping if I stop swaddling?
As with any change to your baby's normal routine, it can take a little while for both of you to get used to a new way of doing things. You may find it takes longer for your baby to fall asleep without their trusty swaddle blanket.
Expect some sleep disruption for at least a few nights. If it takes much longer than this and you're finding that your baby won't sleep, you may need to make some further adjustments to your sleep routine.
How can I use old swaddle blankets?
You could consider using old swaddles as a lovey or comforter (only use outside of the crib until they're 12 months old). They can also double up as burp cloths or a surface for tummy time, so there's no need to throw your unused blankets away!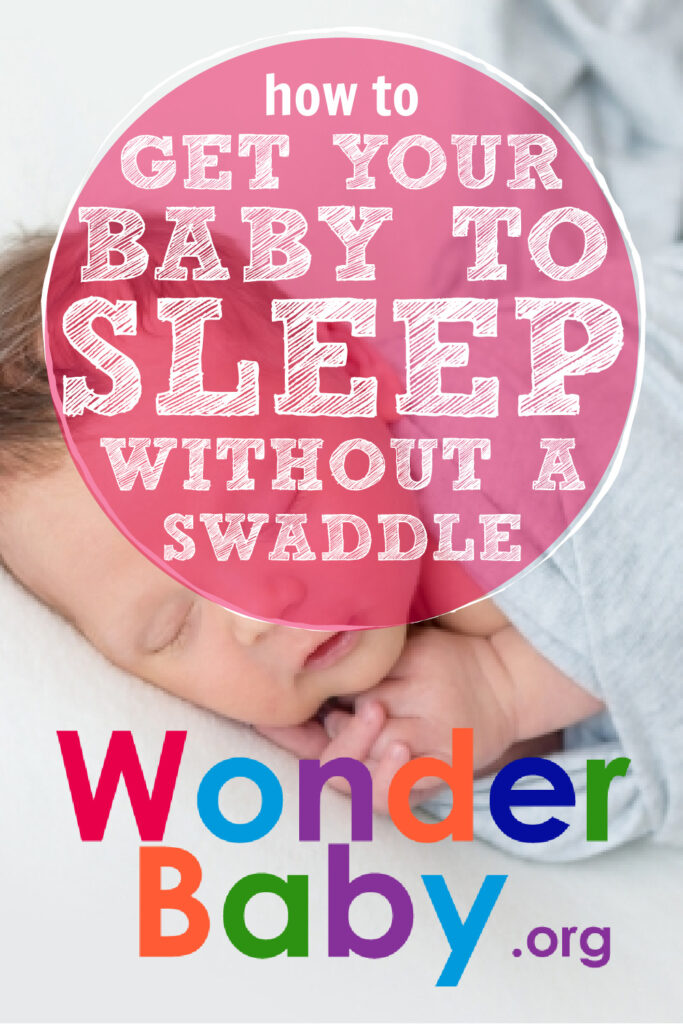 Related Posts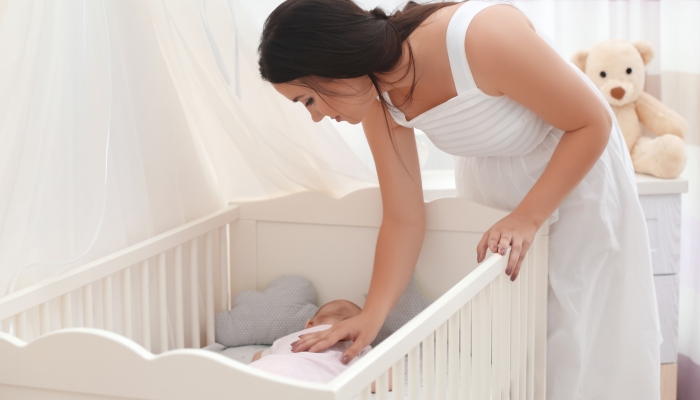 Sleep
The SITBACK method offers a gradual approach to sleep training, where you gently reassure your baby as they fall asleep. Here's everything you need to know.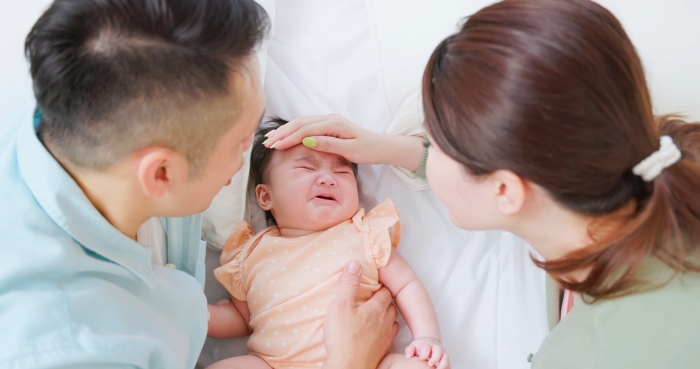 Sleep
Does your baby seem to go through a period of fussiness and crying in the evenings? It may be the baby witching hour. Learn how to survive it here!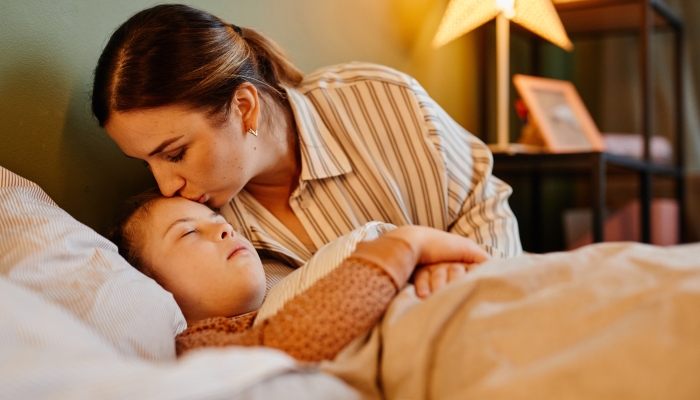 Autism, Sleep
When sleep training a child with autism, it's helpful to eliminate background noises and unnecessary noises, along with establishing a solid bedtime routine.