Nanobébé Pacifier Review: Active Flexy Pacifier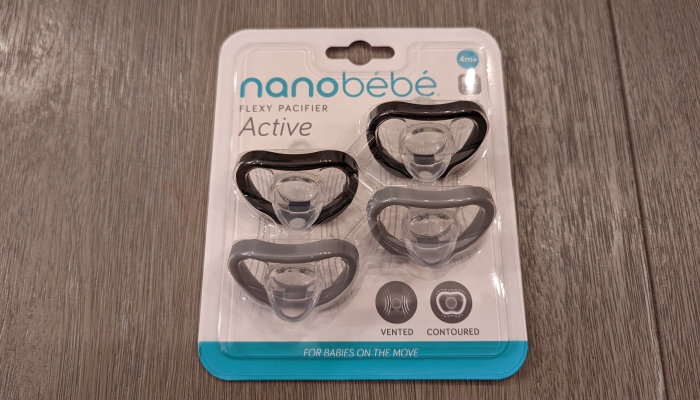 This post may contain affiliate links; please see our terms of use for details.
The Nanobébé Active Flexy is a premium pacifier made of quality materials.
We love that this pacifier easily stays in baby's mouth.
The Flexy lives up to its name with a flexible design that's easy to put in a pocket or diaper bag.
This pacifier is expensive, but it's worth it if it fits your budget.
I had a chance to test out the Nanobébé Active Flexy Pacifier, and I was impressed. This pacifier makes some big promises to parents and infants about its flexibility, breathability, and the quality of its materials, and I'm happy to report that it lived up to my high expectations.
Sale
Nanobebe Active Baby Pacifiers
NEW! For Active Babies: This new variation of the original baby-loved Flexy Pacifier features open side vents to provide additional air flow and an ultra-lightweight construction for infants on the move (from crawling to walking and more).
Flexible and Contoured: The ergonomic, flexible fit perfectly contours baby's face to ensure that it stays in place.
Built for Growing Babies: The soft, durable texture is ultra-soothing for baby's sore teething gums and easy for tiny hands to grasp, helping to develop fine motor skills.
Easy to Clean: The hygienic silicone pacifier's open design makes cleaning a breeze. Sterilizer and dishwasher safe.
The Nanobébé Active Flexy is great for babies because it's flexible, breathable, and made of quality materials.
You can find the Nanobébé Active Flexy Pacifier at:
Nanobebe.com, Amazon.com, and Maisonette.com.
My baby loves this pacifier! It stays in her mouth, and the skin on her face doesn't get irritated, thanks to the breathable design. It has a nipple made of high-quality silicone and two big vents on the sides, preventing saliva from building up underneath.
Parents often struggle to keep a pacifier in their baby's mouth, but the Nanobébé Active Flexy has a natural shape, and the contoured design helps it to stay in place.
Top 6 Reasons Why I Love the Nanobébé Active Flexy Pacifier
1. Easy to Clean
I love that these pacifiers are dishwasher safe. It's easy to clean in the dishwasher or the sink, and I've kept them in a rotation in the dishwasher since they came in a convenient four-pack. It's good to know my baby always has a clean pacifier ready to soothe her.
2. Flexible
The flexibility of this pacifier makes it simple to put in a pocket or a diaper bag. Pacifiers with hard plastic can be a pain to store, but these soft Flexy pacifiers don't have that problem.
This one-piece construction pacifier with an ergonomic shape is just right, and it adheres to the American Academy of Pediatric Dentistry guidelines.
3. Quality Materials
I'm a picky mom who wants the best for my babies. That's why I love this pacifier's high-quality, BPA-free, and phthalate-free materials. BPA and phthalate are often found in plastic products, and research suggests they could be harmful to endocrine systems if ingested.
BPA, also referred to as bisphenol A, is used in the lining of metal cans to prevent corrosion and used to be common in plastic water bottles. Some studies have suggested that too much of this chemical can disrupt the reproductive system and even contribute to obesity.
There are differing opinions on these materials, but I know I'd rather avoid them for my baby when I can. I don't have to worry about potentially harmful materials with Nanobébé products. I rest a little easier knowing my baby is using products made with safe BPA-free silicone.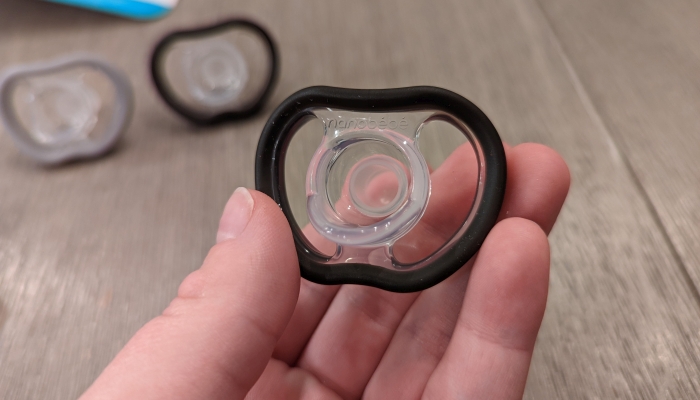 4. Fun Color Variety
These pacifiers come in three colors that you and your baby will love. Black and cool grey, pink and white, as well as teal and cool gray.
5. Good for Breastfeeding Babies
Breastfeeding babies won't suffer nipple confusion thanks to the ergonomic shape of this pacifier. Some pacifiers have too long of a nipple or an unfamiliar shape, which can lead to nipple confusion for a newborn. This pacifier has a natural enough size and feel to prevent nipple confusion for your baby.
It's worth noting that it's safe to start using a pacifier right away with bottle-fed babies, but breastfeeding newborns should wait a few weeks before starting pacifier use.
6. Quiet
This might not seem like a big deal, but I like that this pacifier doesn't make any noise. Newborns like to throw things! When my baby throws this nook in church, it doesn't make any noise if it hits the floor or the pew in front of us. It's the little things!
Nanobébé Active Flexy Pros & Cons
All pacifiers are not the same, and even the best pacifier may have some downsides. Picky babies (and parents!) also each have their own preferences. Here are how the Nanobébé Active Flexy pros line up next to its cons:
| | |
| --- | --- |
| Pros | Cons |
| Flexible: This pacifier has an ergonomic shape crafted to fit baby's face shape making it less likely to fall out of baby's mouth. | Pricey: The price of these pacifiers isn't crazy, but it might not be ideal for parents on a tight budget. Some other pacifiers from the Nanobébé brand are more affordable and almost as good. |
| Lightweight: It's made with a durable and soft silicone weighing only .32 oz. | Only available in a 4-pack: The 4-pack of pacifiers is nice, but I'd like to see a 2-pack option for parents who want this excellent pacifier for their newborn but want to keep the cost down. |
| Safe: This pacifier follows the American Academy of Pediatrics guidelines by being phthalate-free and BPA-free. This gives parents peace of mind knowing this pacifier is safe for their newborn. | One size: While most other pacifiers come in a range of sizes, Active Flexy pacifier only comes with one size starting at 4+ months. |
| Breathable: This pacifier has large openings on each side of the nipple to fit comfortably around your baby's mouth without causing irritation from excess moisture. The ergonomic design curves under your baby's nose and over their chin. | |
Final Verdict
Overall, the Nanobébé Active Flexy Pacifier is a contender for the best pacifier on the market. It can calm and soothe your baby from the very first day she tries it.
Newborns and older babies alike can enjoy the benefits outlined in this Nanobébé pacifier review. However, keep in mind that letting a baby use a pacifier too long can cause dental problems (sometimes called pacifier teeth) and even ear infections. Here are some tips on how to wean baby off of the pacifier with minimal tears.
Recommended Accessories
Once you're in the habit of bringing pacifiers with you whenever you are out with your baby, you'll realize that there are a few things that can make traveling with pacifiers a little bit easier: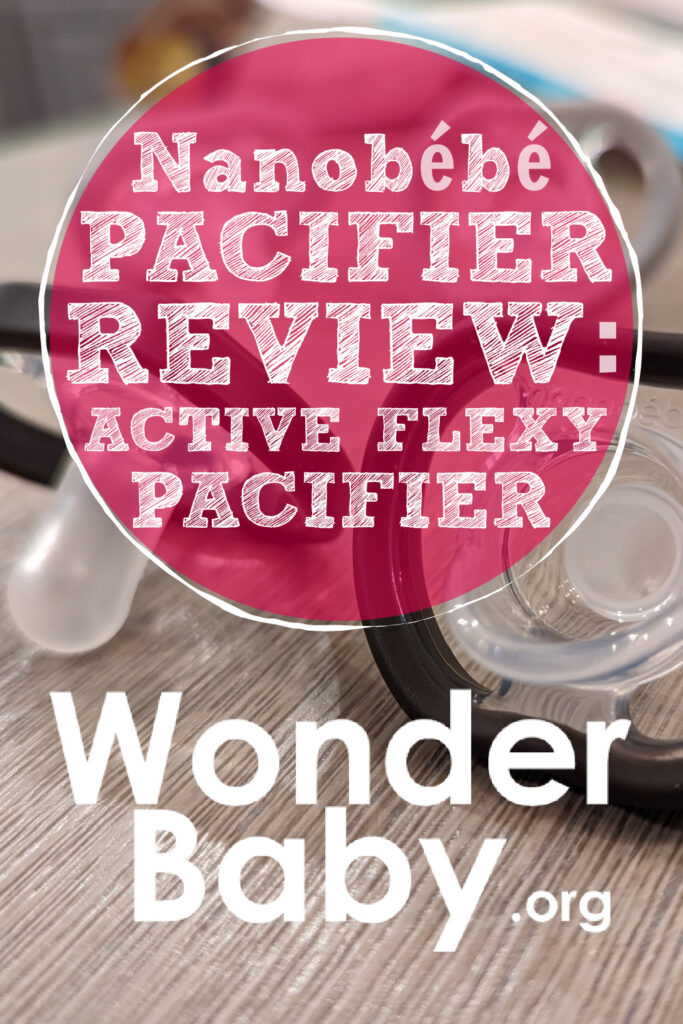 Related Posts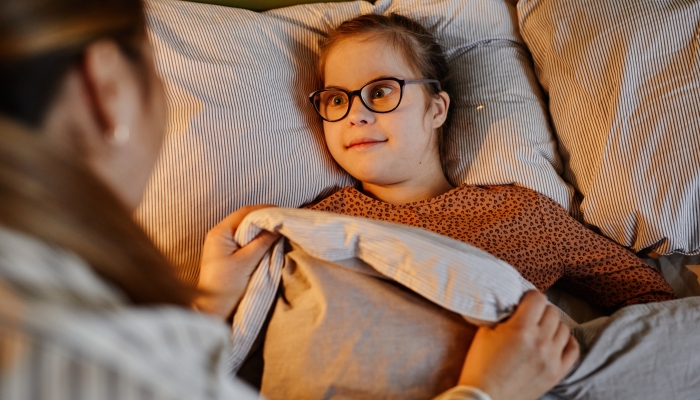 Product Reviews
Heard a lot about weighted blankets and lap pads and wondering how to choose one? Here's our guide to the ins and outs of finding the right weighted blanket.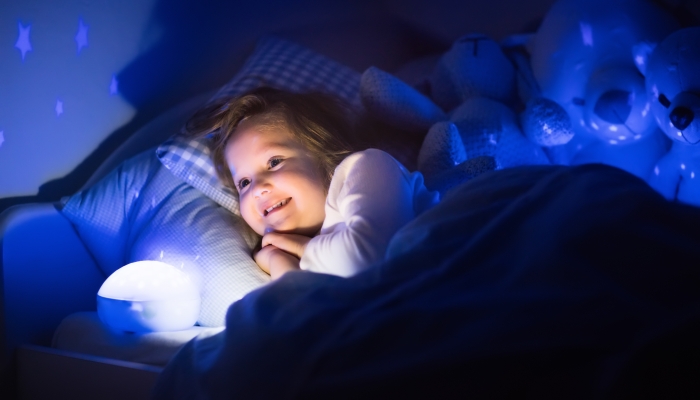 Product Reviews
Looking for the right night light to help your little one ease into bedtime? Check out our guide for everything you need to know about toddler night lights.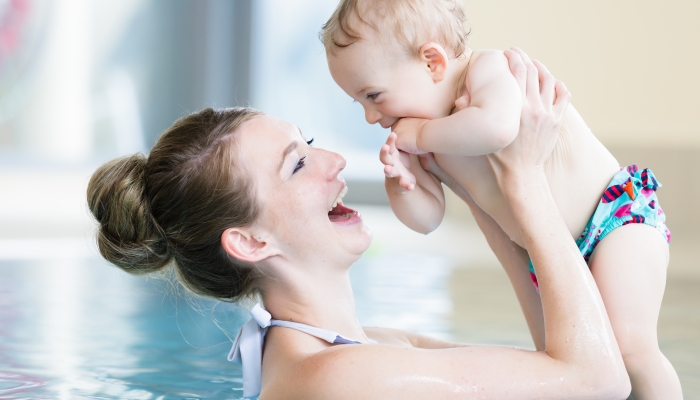 Potty Training, Product Reviews
The best swim diapers are comfortable and help prevent your baby from having an accident in the pool or ocean. Find our favorites in this round-up!