Mama Bear Diapers Review [2023]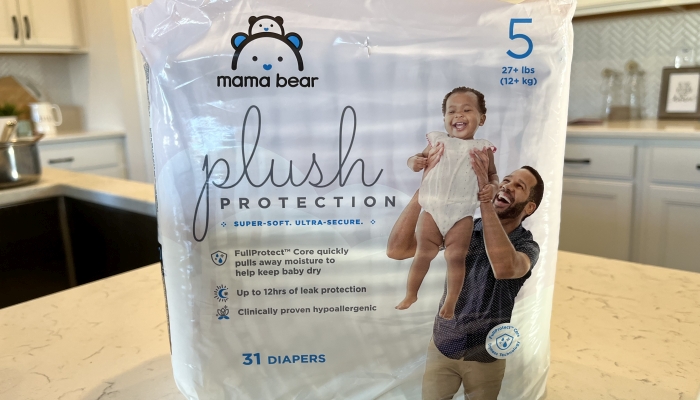 This post may contain affiliate links; please see our terms of use for details.
Mama Bear Plush Protection diapers are made with sustainably sourced pulp and are certified by the Sustainable Forestry Initiative.
These diapers are designed with a FullProtect core that's made to pull moisture away from your baby's skin.
Parent reviews mentioned being most satisfied with the price and least satisfied with the softness and leakage protection.
In my motherhood journey thus far, I have probably changed somewhere above 20,000 diapers. That number shocks even me. With four children at home, I've spent countless hours of my life wiping bottoms and securing diapers.
It's safe to say that I know a thing or two about diapers. I've suffered through boxes of cheap diapers that leaked continually. I've also bought diapers that claimed to be gentle but left my baby with horrible rashes.
Through it all, I've come to realize that there are a few things every parent needs to know about a diaper before they make a purchase. Parents need to know if the diaper will hold enough liquid to make it through the night. They also need to know if the diaper is full of harsh chemicals that might cause a reaction.
Not all diapers are created equally, and I'm a tough critic when it comes to most brands. If I recommend a diaper, it's because it's passed all tests in our house. A great diaper will save a parent from having to change the crib bedding at midnight or soothe a baby with a chemical diaper rash.
Mama Bear diapers claim to prevent these issues and hold up even when compared to the bigger brands. I tested them out and am dishing out all my findings so you can make an informed decision.
What We Love About Mama Bear Diapers
After using an entire pack of the Mama Bear Plush Protection diapers, I found several things I was pleased with:
Low Price
I will admit that the low price wasn't at the top of my list of pros for the Mama Bear Plush Protection diapers. I haven't found many diaper brands that beat the price of Parent's Choice diapers. However, after looking at the current prices for the top brands of disposable diapers, I realized that these are much less than the competitors.
You will still find other brands that cost less per diaper, but this brand lands in the lower midrange for diaper costs.
Wetness Indicator
The wetness indicator on the Mama Bear diapers is accurate and easy to read. We took these diapers on a road trip, and I could quickly check my daughter's diaper without removing her from the car seat. The wetness indicator makes diaper changing simple.
Eco-Friendly
Though these diapers aren't biodegradable, Amazon Mama Bear diapers still rank relatively high on the eco-friendly list. Mama Bear Plush Protection diapers are made with sustainably sourced pulp. In fact, they are certified by the Sustainable Forestry Initiative.
This is important to consider since millions of diapers are produced each year. Buying sustainably sourced diapers is an easy way to play a part in saving our resources.
Free of Many Chemicals
I was so pleased to see that these are latex, lotion, and fragrance-free. Many brands will add lotions or perfumes to make the diapers seem more luxurious. Babies with sensitive skin will develop rashes from extra ingredients like latex, lotions, and perfumes.
These disposable diapers also avoid chlorine bleaching. Other brands like Huggies, Honest, and Pampers have jumped on this bandwagon by offering lines of diapers free of elemental chlorine. Chlorine-free diapers are a huge step towards providing safer, non-toxic products for our babies.
Keeps Skin Dry
These diapers are designed with a FullProtect core that's made to pull moisture away from your baby's skin. I have noticed that diapers that don't do this tend to leave my babies with rashes. I've had several children with sensitive skin, so this is important to me.
The Mama Bear Plush Protection diapers did a great job of keeping my baby's skin dry. I didn't notice any issues with rashes, and her bottom seemed dry when I removed her wet diapers.
Snug Fit
The Mama Bear diapers have tri-grip tabs that securely attach to the front of the diaper. My wiggly 2-year-old wasn't able to escape these diapers. They also didn't shift or slide around.
The secure fit kept these diapers from leaking during the day or allowing a diaper blowout. I also noticed the sides didn't leave marks around her thighs, as some diapers can do.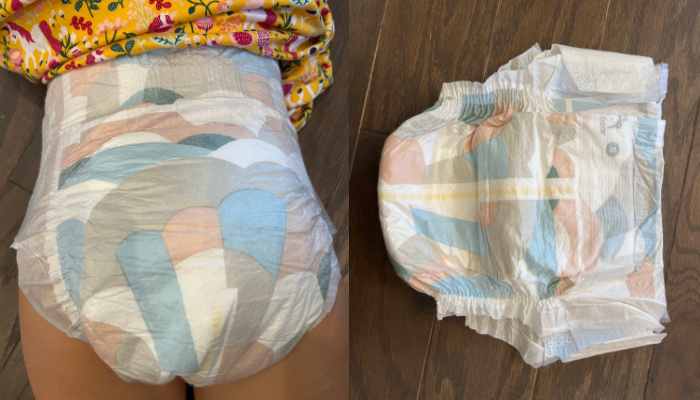 What Mama Bear Diapers Could Do Better
I need diapers that can hold up to the task in my house. With a house full of children, I have little time to spend cleaning up messes from diapers that don't live up to my expectations. Here's what I think Mama Bear diapers could do better:
Better Absorbency
Though Mama Bear Plush Protection diapers performed well for daytime use, I had issues using them as overnight diapers. On two occasions, my daughter leaked through her diaper at night. The leakage protection that Mama Bear offers could be improved.
These make great daytime diapers for those looking for a more affordable option, but I recommend using a different brand with a super absorbent lining for nighttime.
Biodegradable Materials
Landfill waste is a big issue. Diapers are among the countless other waste products that break down slowly in our landfills. For this reason, many parents choose biodegradable diapers to do their part in reducing waste.
Mama Bear Plush Protection diapers are not biodegradable. This would be a change that would not only benefit our environment but likely attract more parents looking for environmentally friendly products.
More Patterns
This is not a must-have for all parents, but I like diapers with fun designs that my toddler can appreciate. Half of the diapers in the pack were plain white, and the other half were a geometric design in muted colors. I'd love to see more attractive and fun designs for kids, such as prints with animals.
How Mama Bear Diapers Compares to Other Diapers
Let's take a look at how Mama Bear stacks up when looking at top competitors:
Price
Though the price point wasn't extravagant, I found several other brands offering a cheaper diapers. Parents choice, Target, Luvs, and Aldi all offered diapers less than Mama Bear.
Since these were comparable to other store brands I've tried, I didn't feel like they were worth the extra splurge.
Ratings
The Mama Bear Plush Protection diapers did pretty well with their parent reviews on Amazon. Yet other brands still had them beat. Luvs, Hello Bello, Huggies, Parent's Choice, and Pampers diapers had higher ratings on Amazon.
Overall, parents seemed most satisfied with the price and least happy with the softness and leakage protection.
Softness
With a name like Mama Bear Plush Protection, I expected these diapers to be ultra-soft on my baby's skin. I pictured a filling that felt like a pillow. Though they weren't scratchy or uncomfortable, they also weren't extra soft.
They are comparable to most store-brand diapers I've tried. The diapers are thin and somewhat stiff. When you compare them to a Pampers or Huggies diaper, you can easily see the reason for the lower price point.
Chemicals
I'm always looking to see if diapers are free from chlorine bleaching, perfumes, lotions, parabens, or other harmful irritants. These were free of many harmful ingredients and compared well to other brands.
Here are just a few of their competitors that also offer cleaner diapers so you can compare:
| | |
| --- | --- |
| Diaper Brand | Free Of |
| Mama Bear Plush Protection | Latex, fragrance, lotions, and chlorine |
| Luvs | Parabens and latex |
| Parent's Choice | Parabens, latex, fragrance, and lotions |
| Honest | Parabens, latex, fragrance, and chlorine |
| Target | Latex, lotions, and fragrance |
Mama Bear Diapers: The Bottom Line
After spending a few weeks using these diapers, I've found them similar to many store-brand diapers. They aren't super soft or luxurious and don't come in adorable patterns. They also didn't hold up well as overnight diapers for us.
However, they'll do just fine as a basic daytime use diaper. They're a good choice for someone who likes the convenience of Amazon deliveries but doesn't want to overpay for diapers.
These chlorine-free diapers avoid many harmful chemicals and are hypoallergenic. This makes them suitable diapers for sensitive skin. Some parents will also appreciate the fact that they use sustainable pulp as one of the materials.
Overall, these aren't my top pick in affordable diapers. However, they did a decent enough job that they're worth a try. With a satisfaction guarantee, you don't have much to lose.
Recommended Accessories
Diaper changing shouldn't be difficult. Here are our favorite products to complement Mama Bear diapers that make diaper changing simpler:
FAQs
How do I know which size Mama Bear diapers I should buy?
To choose the right size for your baby, use this chart. If your baby is near the end of the weight limit for one size, it might be wise to size up. Babies grow quickly, and a too-small diaper will leak easily.
| | |
| --- | --- |
| Diaper Size | Weight Range |
| Newborn | Up to 10 lbs |
| Size 1 | 8-14 lbs |
| Size 2 | 12-18 lbs |
| Size 3 | 16-28 lbs |
| Size 4 | 22-37 lbs |
| Size 5 | 27+ lbs |
| Size 6 | 35+ lbs |
| Size 7 | 41+ lbs |
Are Mama Bear diapers organic?
Mama Bear diapers are not organic. The diaper filling is made with pulp, but there's no information on the farming practices of the pulp. In addition, other non-organic materials are used including cellulose, sodium polyacrylate, polypropylene, polyethylene, polyester, polyurethane, and isoprene.
Where are Mama Bear diapers made?
Amazon isn't clear on where the diapers are made. They state that Mama Bear diapers are made in the USA but that they also use imported materials. What is imported and where it's from is not stated in the product description.
What if Mama Bear diapers don't work for me?
No mom or dad wants to be stuck with a box of diapers that don't work for their baby. This is why it's important to know a diaper company's return policy before making a purchase.
Mama Bear diapers are backed with the Mama Bear satisfaction guarantee. If you aren't completely satisfied with these diapers, you can call their number to request a full refund. This is a much better option than having to pay to ship the diapers back.
Where can I buy Mama Bear diapers?
Mama Bear diapers are made and distributed by Amazon. They are not sold in stores and can only be purchased online.
Have Mama Bear diapers been discontinued?
Amazon used to offer a Mama Bear diaper line called Best Fit. However, they replaced these with Plush Protection. The major difference between the two is the added sustainable pulp in the Plush Protection diapers.
Does Mama Bear make other diapers?
Mama Bear offers another diaper line called Mama Bear Gentle Touch diapers. These diapers are produced in a zero-waste landfill facility but they don't include sustainable pulp. They are also designed with a thin, flexible fit instead of a more plush design.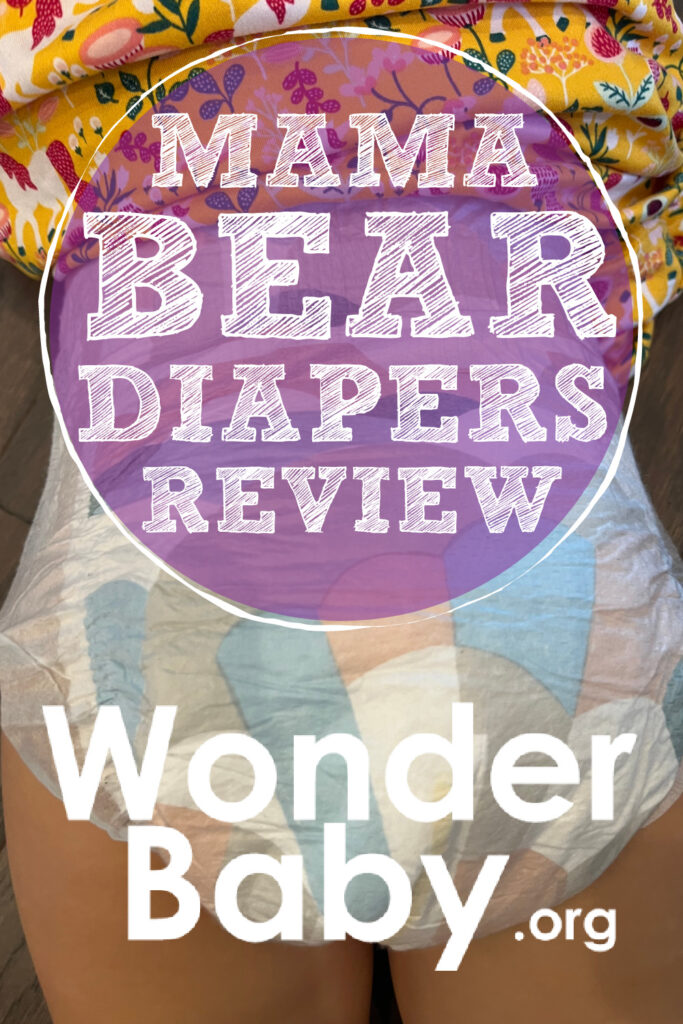 Related Posts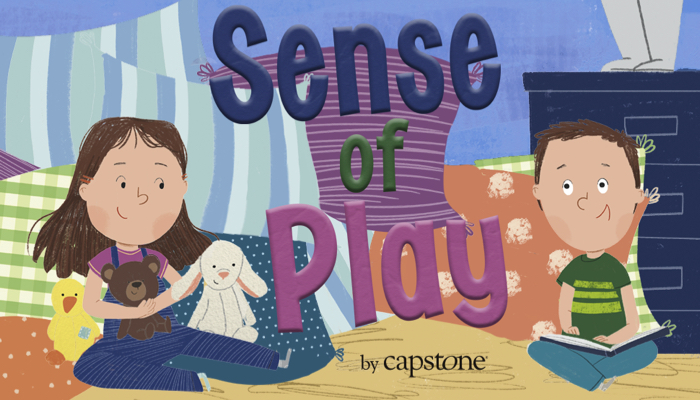 Braille and Literacy, Product Reviews, Visual Impairment
Dana Meachen Rau's book, Sense of Play, follows the adventures of Chip and Joy as they play. Chip is blind, but this doesn't get in the way of their play!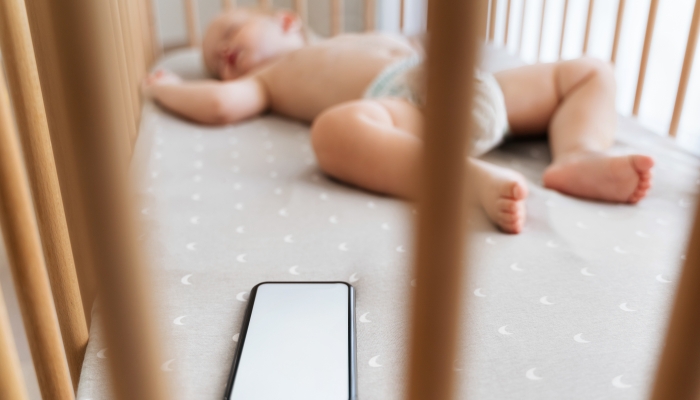 Product Reviews
Wondering whether white noise will help your little one sleep better? Here's our guide to the best baby sound machines to help your baby fall asleep soundly.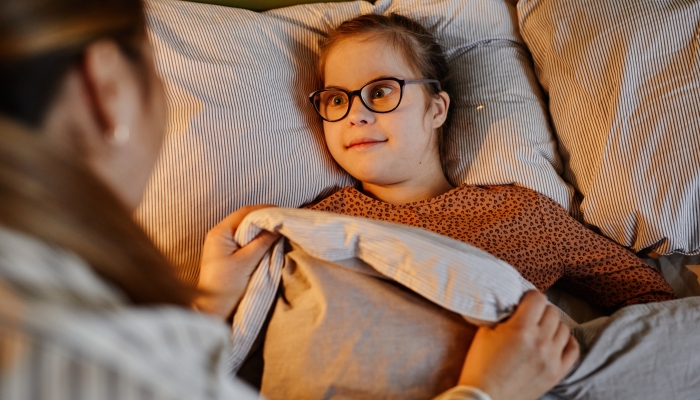 Product Reviews
Heard a lot about weighted blankets and lap pads and wondering how to choose one? Here's our guide to the ins and outs of finding the right weighted blanket.