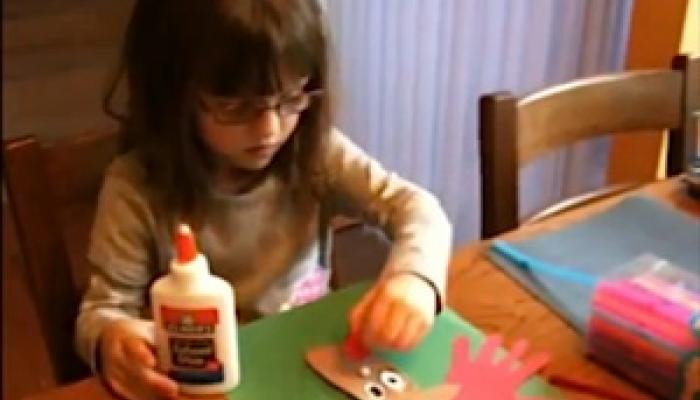 Christmas is a great time for crafts, and here's one that is deceptively simple and also a great keepsake for your kids!
For this ornament you're going to trace your child's foot and both hands on construction paper and then cut out to create a reindeer face and antlers.
This means that years from now you can bring this ornament out and have your child see how little they used to be just by comparing their hands and feet with the size of the ornament. What a great way to record your child's growth through the seasons. How about making a tradition of crafting one of these ornaments every year so you can watch how they get bigger and bigger!

What You'll Need:
brown, red, green and white construction paper
scissors
glue
one red pom pom
black marker
Project Prep
Trace your child's hands on the red paper and foot on the brown paper and cut out. If your child has low vision and can do the cutting themselves, be sure to use a thick black pen so they can see the lines.

 

Cut out small holly leaves from the green paper and two eyes from the white paper.

 

Glue the red hand antlers to the back of the brown foot reindeer head. Add the holly leaves (to the forehead) and the eyes.

 

Use a black marker to make the pupils in the eyes.

 

Last but not least, glue that red pom pom on for a nose and you've got yourself a reindeer! Punch a hole in the top and add some yarn so you can hang it from your tree!
When you're working on this craft let your child do as much as he or she can do on their own. If your child has low vision help them out by placing a different color paper behind the craft so they can see what they're doing—remember, high contrast always helps!
It's also easier and less frustrating if you've already got all your materials out before you get started and let your child feel all the papers and pom poms so they know what they will be working with.
Here's a video of Mirielle making her ornament with the help of her mom. Notice that they placed green paper on the table so her materials show up better: