Rhythm & Blues for the Winter: Motivating your child to move through music!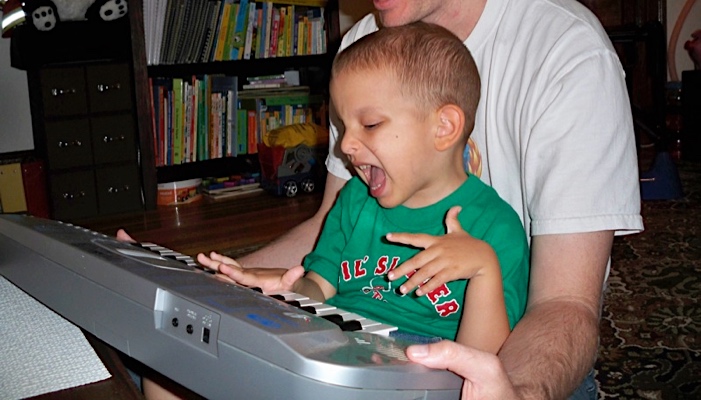 This post may contain affiliate links; please see our terms of use for details.
By Meredith R. Pizzi, MT-BC
I live in New England and I have to say that the winters here aren't easy for anyone! I really do appreciate the changing seasons, but I still don't enjoy these short days with little sunshine and I miss being able to walk down the street without losing all feeling in my fingertips!
And if this is how we feel as adults, imagine what it's like for our kids who are cooped up in the house, kept away from their favorite park or playground, and bundled up in multiple layers of uncomfortable heavy clothes every time they want to step outside.
No wonder so many kids go stir crazy during the winter! But this isn't just a problem for kids who can run, jump, or climb. Even kids who aren't yet independent movers can feel stifled during these long, cold months, and they need extra help to spend that pent up energy.
So what can you do to get all of your kids moving?
Music is a great way to burn off some of that energy that is trapped inside during these months, and it can also be a wonderful way to motivate kids who aren't able to move on their own. Here are some musical ideas to get you started….
A Good Old-Fashioned Lap Ride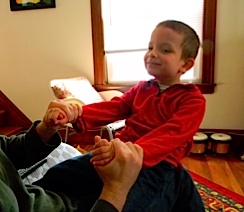 Lap rides are those silly games you play with a small child bouncing up and down on your knee. You give them the bounce, they reap the fun!
And lap rides are best with an accompanied song or rhyme. Remember "Trot Trot to Boston, Trot Trot to Lynn?" Or what about "Bumping Up and Down in My Little Red Wagon" or "Come Take a Ride on My Yellow School Bus?"
It doesn't really matter what lap ride you know or remember, what matters is that kids need some good physical fun and lap rides are a great way to give that physical sensation indoors and in a controlled environment.
The bigger and faster the bounce the better!
Try to alternate the fast bouncing movement with a slow side-to-side movement. This can help work different muscles and encourage balance.
Exaggerate your voice to make it loud and rough creating even more energy in your lap ride.
Or maybe try a quiet whisper that suddenly turns exuberant. The surprise can be thrilling!
Lap rides are not just for babies! This is great with older children who are really craving physical play this time of year.
Dance Party Time
Dance parties are an excellent way to burn some energy in your living room and this is a great time of year to do just that! When I say burn energy, I mean Burn Energy! And to do that you need a few things:
Play upbeat, loud music… and not necessarily children's music.
Pull out your favorite dancing CDs and get your kids excited by dancing along with them or holding their hands while they practice standing.
If your child can't weight bear, set them in your lap while you rock together or lay them on the floor and help them kick and clap to the music.
Create a "Dance Party Playlist" on your iPod or a CD that you can pop in at anytime with your top 10 Dance Hits.
Turn the volume up! This is about encouraging movement and loud music will do that.
Set up a routine time every day for your dance party… maybe before nap time so you can get all those wiggles out. Some kids crave routine and this is a great way to be sure to include movement in your day.
Strike up the Band!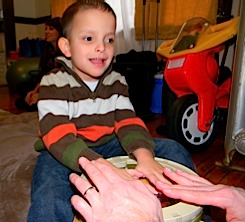 Collect whatever instruments you can find at home or create some new ones and start a marching band. Get your kids excited about playing their instruments by telling them they can be in a living room parade!
Get the beat started by singing a simple song about marching or use recorded music.
Join in with your instruments and create a parade-like atmosphere.
If your child can't walk on her own, you can have her sit in a sled or laundry basket while you push or pull her about the house. This is especially fun with siblings and friends who can help push!
Take turns being the leader and changing the parade route around the house.
If moving around the house is too difficult, your parade can sit still, too. Try singing direction songs (like "If You're Happy and You Know It" or "The Hokey Pokey") and help your child follow the leader that way.
Remo's Lollipop Kids Drums and Konga Drums are great for parades, or make your own with a Tupperware container and a wooden spoon!
Hugs & Tickles
Sometimes getting physical means hugs and snuggles and sometimes it means wrestling and tickle fights. Either way, getting your child to have fun and move can also be a wonderful way to bond! Music can support the sweet snuggles with lullabies and rocking, while upbeat music can create energy, excitement, and anticipation for a great big tickle!
Lullabies have been around as long as there have been parents and children. A snugly lullaby can be a sure way to promote comfort, relaxation, and security. It is a great way to bond with your child and share a special quiet moment. Put on your favorite lullaby CD and just snuggle on the couch or hold your child and dance around the living room for a full body experience.
Tickling your child to make him laugh may be the oldest trick in the book, but it works! Giving the tickle a musical context with a built in start and stop is even better. By breaking up the tickles with a song, your child can anticipate the fun. Try the song "Coming to Get You" with a lot of excitement in your voice and very deliberate tactile cues. Walk your fingers up his legs or arms with the song and when you get to the end of the musical phrase give a really big tickle on your child's best tickle spot.
The "Hug & A Squeeze" song is great for that deep pressure kids crave and also incorporates a jovial bounce from a lap ride. Sit your child on your lap facing you or facing out, whichever is most comfortable. Each time you sing "Hug" give your child a big bounce on your knee. And then for "Squeeze" give a really tight bear hug! Make sure you use the inflection and pitch in your voice on "Squeeze" to add even more excitement and fun!
Rough play is good for everyone! We are often so gentle with our kids, but they love the feeling of a good squish from a pillow or a little bit of a jostle. The combination of adrenaline and a good laugh make it a great winter day activity. Turn on a clip from Rocky and enjoy some wrestling fun. You may be surprised by how strong your little one really is.
Whatever you do this winter, remember that kids (and adults) need lots of opportunities to be physically active. Music provides both energy and structure and is a great way for kids and adults to be engaged in something fun and physical together. Try making some music at home this week to break up the winter chill and send me an email to let me know how it goes!
Meredith Roman Pizzi, MT-BC, is the Founder and Director of Roman Music Therapy Services, a music therapy agency which focuses on serving children and adults with social, emotional, cognitive, behavioral, physical, and educational needs in Massachusetts.
Related Posts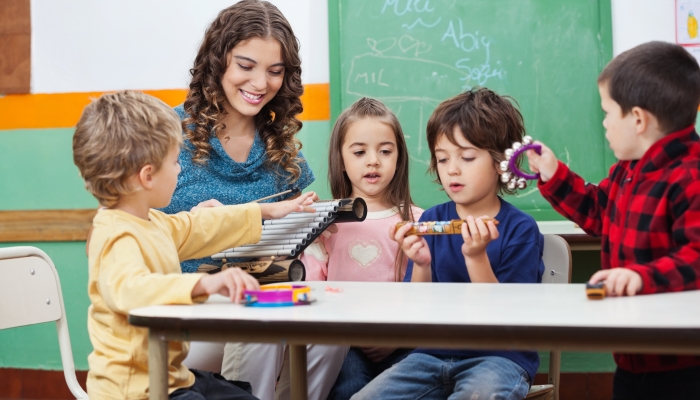 Music Play
Music and movement activities for preschoolers can help enhance their cognitive skills and brain development while developing social, emotional, and academic skills.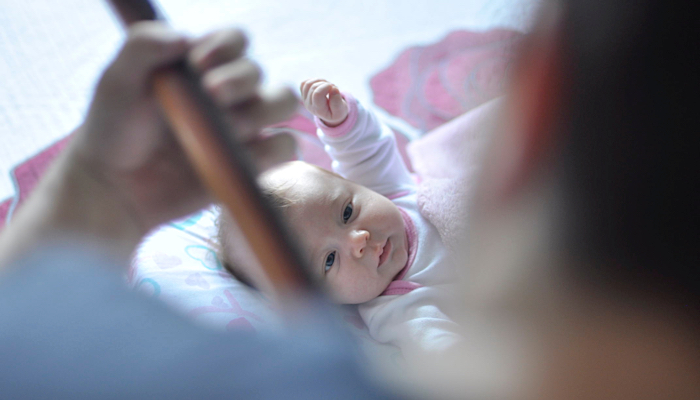 Music Play, Visual Impairment
Jennie writes about how her son, Max, responds to music. Other therapies failed Max and often stressed him out, but Music Therapy has been very successful for him!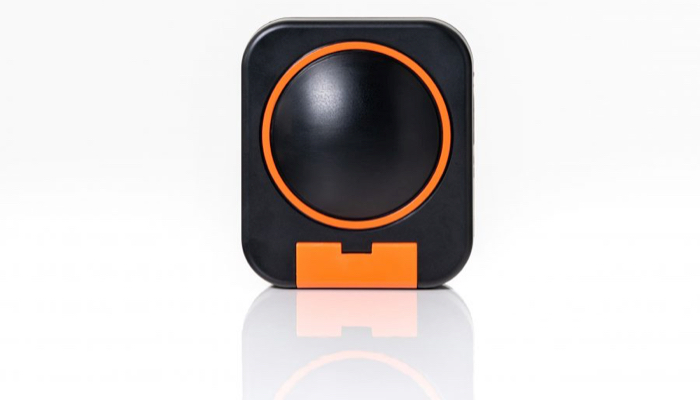 Music Play
The Skwitch is an accessible device that connects to your iPhone, turning your phone into a music making machine with coding and accessibility features too!