Suncatcher Activities for Kids with Visual Impairments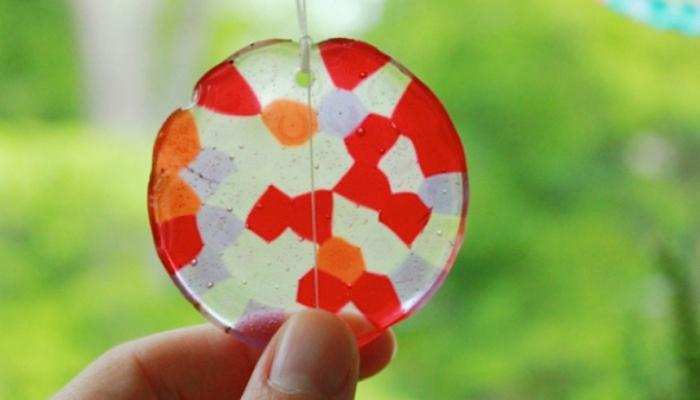 This post may contain affiliate links; please see our terms of use for details.
Suncatchers may initially be thought of as a visually appealing art project but we mustn't overlook their tactile traits which make them perfect hands-on activities for children with visual impairments, too!
A variety of suncatcher crafts using different materials and methods exist online and in books so it may be hard to decide which one to make. I suggest reviewing the materials list – you may already have everything you need at home- as well as considering the level of fine motor skills and number of steps necessary to complete the craft.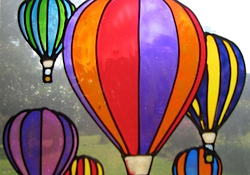 Painted Plastic Suncatchers are readily available at your local craft store for not much money. The clear plastic designs can be purchased individually or in a kit, and there are often seasonal designs so you can repeat the project throughout the year. If you wish to go the DIY route, you can make your own suncatcher using puff paint, wax paper and a little extra prep time. If the little paint pots dry up in storage or you run out, it is easy to make your own paint as well using white glue and food colors. Overall, the Painted Plastic Suncatchers make a quick art project for kids from start to finish and range from easy to complex based on the design!
Tactile Strategy: Encourage your child to feel the picture's raised lines and areas within the lines as you would other tactile raised-line drawings. You can also review it before painting so s/he knows where to use each color for more advanced projects.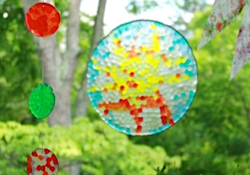 Melted Bead Suncatchers make a beautiful finished product using only a few inexpensive craft supplies and a toaster oven. All you need are translucent plastic pony beads, string or jewelry wire, and a muffin pan! Kids can place the beads in the bottom of the pans to cover, then ask grownups to place a string or wire on the edge for hanging, heat in the toaster oven to melt (in a well ventilated area!) and then remove to cool. They're that simple! You can view the full directions and variations on The Artful Parent's website which has many other wonderful ideas, as well!
Tactile Strategy: Try using different shaped pans, or fill the bottom of cookie cutters placed on flat cookie sheets to create a variety of shapes. Grownups could even try removing them from the oven and placing more beads or glitter on top to create a bumpy surface. Just be careful not to burn yourself!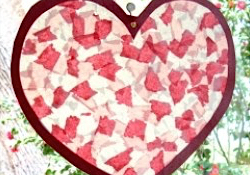 Tissue Paper Suncatchers are an easier approach to suncatchers when you don't want to worry about the mess of paint and melted beads. And, all you need are a few supplies from the craft store. Cut identical thick outlines of any shape from two pieces of construction paper to serve as the frame of the area to be filled with tissue paper squares. Attach the frame to the contact paper, then have the children fill the sticky area inside the frame with colorful pieces of tissue paper. When finished, attach the second frame. Then just hang by a string in the window for everyone to enjoy!
Tactile Strategy: Use textured paper like glitter cardstock or other scrapbook paper to serve as the suncatcher's frame. Try crumpling some of the tissue paper squares so they feel wrinkled to the touch before sticking them on. Use small pieces of colored transparency sheets or confetti to add dimension and texture variations to the suncatcher.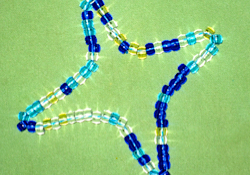 Beads on a String Suncatchers can be left as is or heated to melt the beads, giving stained glass type appearance similar to the Melted Bead Suncatchers. Madilyn used this technique to make a star suncatcher with winter colored beads. She needed some help with orientating the beads to position the "needle" (we used the string taped to a toothpick) so they would slip on but repetition and hand-over-hand guidance helped.
Tactile Strategy: Use beads of different shapes, textures, and sizes. Use larger beads with wider holes for easy threading. Try using jewelry wire then shaping it after the beads are strung to create a freeform shape or use a printed/embossed template to "trace" with the beads. Create a suncatcher for each basic shape then practice naming and identifying them by touch and/or sight while they hang on a bright window or placed on a light box!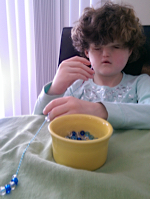 My daughter Madilyn, 9, who has been blind since birth, has trouble with dexterity and manipulating objects with her fingers and hands. Her fingers often appear stiff and don't move easily in a fluid motion. For example, she has control using the pincher grasp to pick up and hold small objects but she finds it difficult to button her clothes, press together snaps, and connect the base of a zipper.
These are all independence skills she is practicing in occupational therapy and at home. Her current skills made the Beads on a String Suncatcher much more challenging to complete independently than the Painted Plastic Suncatcher. She is excited to make the Tissue Paper Suncatcher for a Valentine's Day gift, next! I encourage you to try different approaches in adapting the tools and methods to best suit your child for each of the activities. Feel free to post your questions and comments on ideas for adapting this activity in the comments section below!
Have you made a suncatcher with your child? Share your pictures and ideas with other parents and teachers using the comments section, or post them to the WonderBaby Facebook Page!
Read this article in Arabic: حيوا-السيدة-العمياء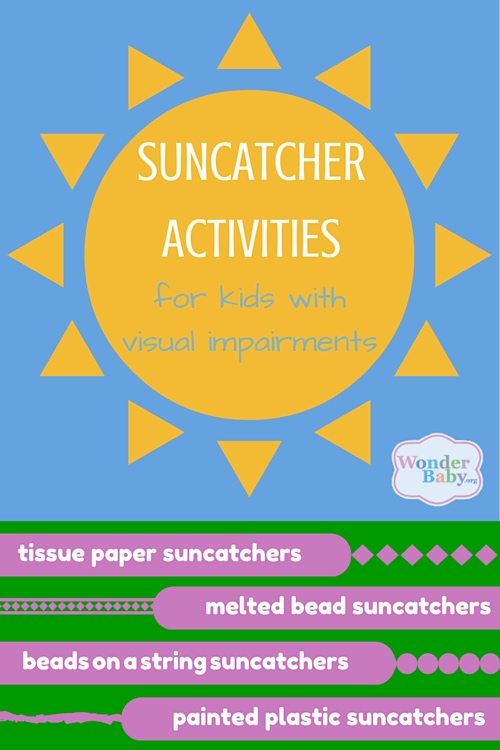 Related Posts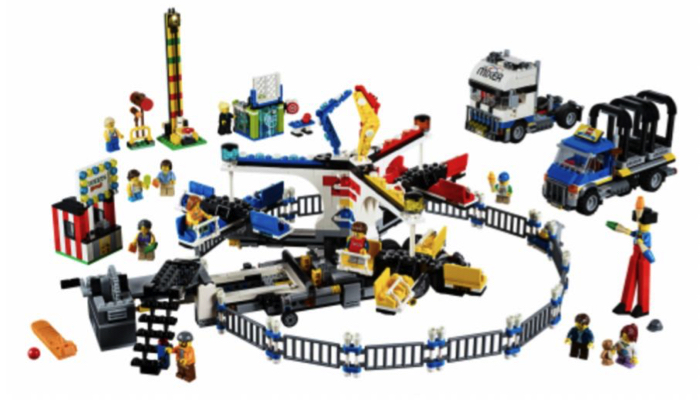 Toys, Visual Impairment
Bricks for the Blind provides text, audio, and braille instructions for LEGO sets that allows blind people to build LEGO sets independently.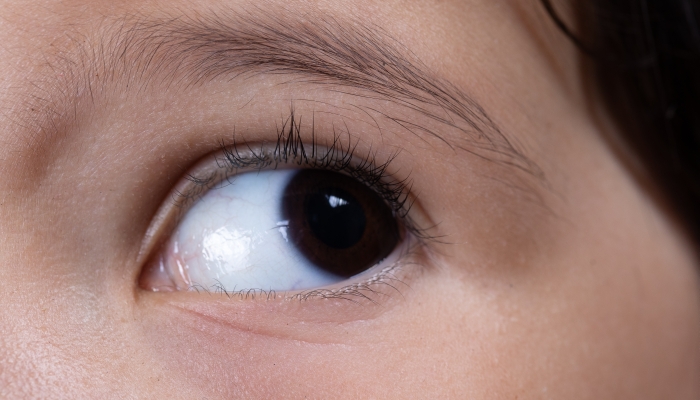 Eye Conditions and Syndromes, Visual Impairment
Aniridia is a condition where part of all of the iris of the eyes is missing. It can lead to blurry vision, light sensitivity, or even blindness.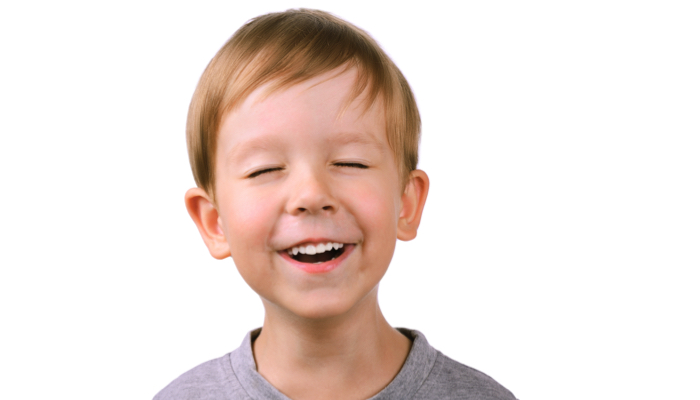 Eye Conditions and Syndromes, Visual Impairment
Microphthalmia is a condition where the eye does not fully develop. There's no cure, but early intervention can improve function for children with poor vision.