Una colcha con muchas texturas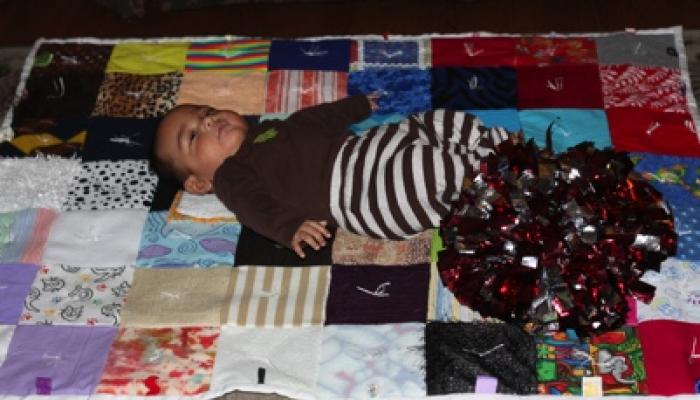 Este artículo ha sido traducido por Perkins International Oficina Regional América Latina y el Caribe.
Cindy King
A sus 10 meses la vida de Víctor ha estado llena por todo un grupo de personas que lo aman.
Nació a las 25 semanas de gestación, pesando 1 libra 13 onzas, superando todo pronóstico, finalmente fue dado de alto de la Unidad de Cuidados Intensivos a sus tres meses de edad, momento en el que llegó a su nuevo hogar con su familia adoptiva.
Desde el momento en que tomamos la decisión de adoptar a este pequeño angelito, nuestros amigos y familia se convirtieron en un gran apoyo, brindándonos su amor y sus oraciones, así también, continuamente estuvieron al tanto de su progreso en nuestro blog familiar.
Superando todo pronóstico inclusive la retinopatía del prematuro, el diagnóstico de Víctor, hipoplasia del nervio óptico bilateral fue muy fuerte para nosotros, pero no tanto como para lograr cambiar nuestro amor por él, ni nuestro interés por su historia.
En el momento que nuestro terapeuta visual sugirió formas para introducirle texturas a Víctor, en ese momento supe que nuestra familia y nuestros amigos estarían más que dispuestos a ser parte de toda esta diversión.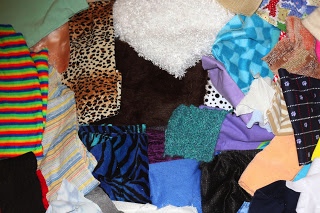 En mi Facebook y en mi blog solicité donaciones de telas y listones. En los siguientes días las donaciones comenzaron a llegar, un retazo de seda por aquí o muestras de felpa por otro lado. Una familia donó una pieza de lana de alpaca, la cual traía instrucciones para que la hermana mayor de Víctor pudiera teñirla utilizando polvo para refresco o polvo para gelatina, así mismo, esta misma familia tejió un cuadrado para que fuera parte del proyecto.
En poco tiempo tenía suficiente material para hacer la colcha: la cual le dimos el nombre de "La colcha con diferentes texturas de Víctor."
Tal vez no sea la cosa más bonita, ¿pero a quién importa?
Es evidente ahora que Víctor tiene mayor preferencia por ciertos bloques que por otros, algunas veces se divierte cuando se le coloca sobre su estómago y comienza a sentir las texturas con sus manos y en otras ocasiones se lo colocamos debajo de sus pies cuando está en su columpio saltarín. Con todos los retazos sobrantes, estamos trabajando en el próximo proyecto, unos bean bags (cajas de osos) en pares y así de esta manera Víctor pueda tener un juego de memoria.
Si le interesa conocer más acerca de la vida de Víctor puede leerla en nuestro blog, The King Zoo and Funny Farm, la cual se inició el 25 de abril de 2013.
Si le interesa comprar nuestras colchas con muchas texturas para su hijo, para mayor información envíenos un correo electrónico a kingzoo@comcast.net A lo mejor tengan algunos retazos, unas pijama o alguna pieza de su colcha preferida que la puedan agregar.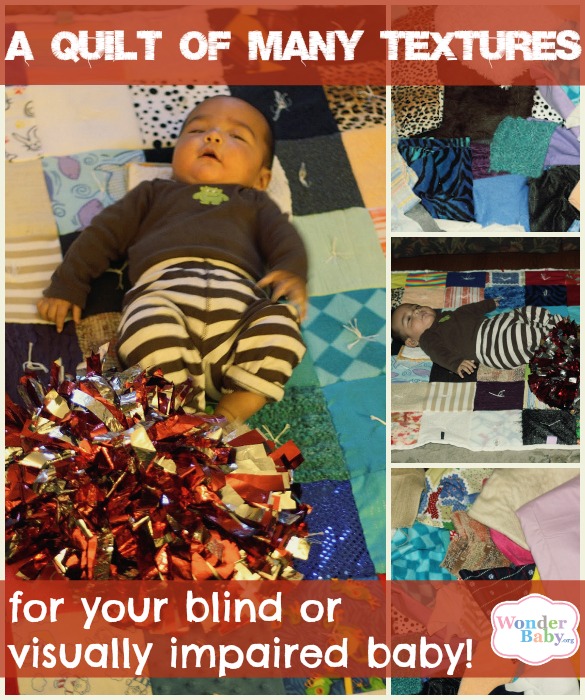 Read this article in Arabic: قراءة هذا المقال بالعربية
Read this article in English: Quilt of Many Textures