Now that your child is growing up (two years old is awfully mature, isn't it?) you may be looking for some new, fun, stimulating toys for your toddler. Being blind or visually impaired does of course limit your choices, but there are still plenty of toys on the market that will appeal to your special toddler.
And don't forget to ask your Early Intervention (EI) program or your child's preschool about the toys listed below. We did not buy most of our toys but are playing with them on loan through our EI program. This is much more economical and when your child outgrows the toy, you can just give it back! If your EI program or preschool does not have some of these toys, maybe you could suggest they purchase them.
---
Ivan's Favorite Toys
These are Ivan's top picks for toys for toddlers. Most of them are available through Amazon
. For more toy ideas check out our articles on Toys for Blind Babies or making your own Scented Rattle and Toy Basket. You can also read our article on how to choose the best toys for your blind child or check out some of our favorite Holiday gifts. If you have a great toy you want to add to the list, contact us and let us know!
Fisher Price Ocean Wonders Fishbowl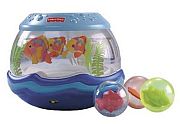 This fishbowl is so sweet and soothing. When your child reaches in the bowl or places a ball in the bowl it plays soft music and makes splashing water sounds. It's great feedback to let your child know they found the bowl or got the ball in the target. If your child has light perception, the bowl also lights up beautifully when activated. It's great to play with in a dark room!
This toy is currently Ivan's favorite. Each button plays a separate instrument and the "Orchestra" button plays all instruments together. You can listen to one at a time or experiment by combining instruments. Ivan's favorite combo is flute and french horn. Ivan is learning how to press buttons, identify different instruments, and he really enjoys being a little conductor! Munchkin also makes a nursery rhymes cube, but the sound on that toy is terrible, so it's best to just stick with this classic.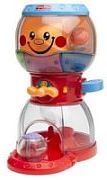 Fisher Price Swirlin' Surprise Gumballs
Place the balls in the top then press the lever and ...swoosh... the balls roll out the bottom of the gumball machine while lights flash and music plays. Great for teaching cause and effect and also fun in a dark room if your child has light perception. You might also want to pick up some extra toy balls to go with your gumball machine, so be sure to check out these Listen-Up Rounds
that fit perfectly in the machine and also make fun and unique noises!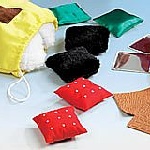 Teachable Touchables Texture Squares
The idea behind the Teachable Touchables is simple yet brilliant: create a bag full of small square pillows providing an array of textured experiences. Each texture (leather, satin, bumpy, smooth, etc) comes in pairs, so you can play matching games, too. But even if matching games are too advanced for your child, these pillows are still a great way to talk about the concepts of "same" and "different" or just to introduce different textures.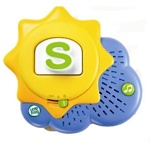 LeapFrog Fridge Phonics Magnetic Set
Similar to the Phonics Bus, each letter in this set will play a song that will name the letter and tell your child what sound it makes. You can place braille on the back of each letter so your child can feel both the raised print letter on one side and the braille on the other. We used Feel 'n Peel print/braille stickers we purchased from APH.
You can also check out the next step up from this toy, the Fridge Words Magnetic Word Builder
, which allows your child to spell three letter words using their magnetic letters.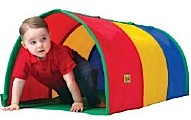 Multi-color Tunnel Play Structure
This is a great gross motor toy. Kids love scooting, crawling, or even rolling through this tunnel. Sometimes Ivan just likes to lay down in the tunnel and feel the sides and listen to the fabric crinkle.

First Act Discovery Acoustic Guitar
This guitar is small so it fits well in little hands but it still produces a nice, clear sound. It's pretty sturdy and affordable, too. Ivan can sit forever strumming his little guitar and humming along to the "music." He finds this toy very comforting when he's a bit fussy (like after his nap or first thing in the morning).
The best thing about this thumb piano is that no matter which key you press, it always sounds beautiful! It's also a very nice way to encourage fine motor play and finger isolation.