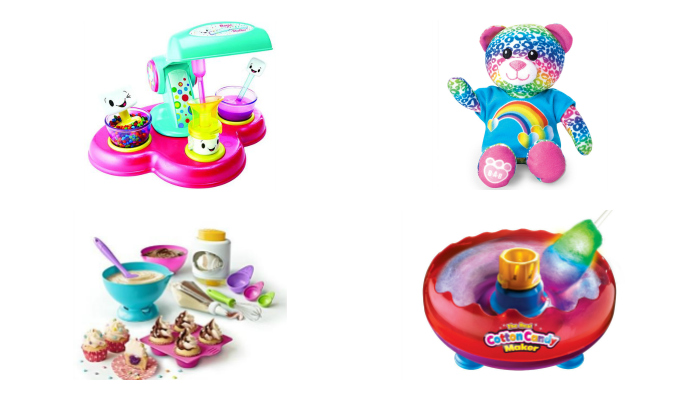 You know what we love? Activities! Accessible sensory activity kits are easier to find than you might think and we've been through a lot of them!
Ivan enjoys getting his hands involved to make something and he particularly loves it when the thing he makes is edible. Play-Doh activity sets are fun, but what we like to look for are sets that have some sort of end product or that allow the fun (and learning) to last a bit longer than just the squishing of play-doh.
Below you'll find our 7 Favorite Accessible Sensory Play Kits for kids who are blind or visually impaired. And yes, these all make great gifts!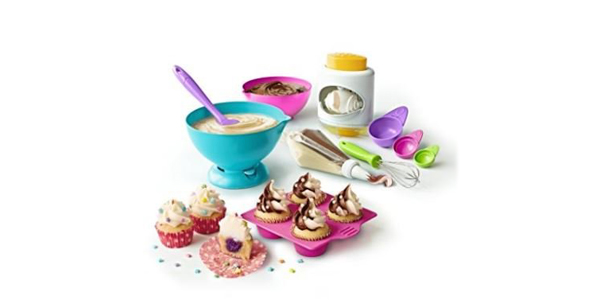 1. Real Cooking Ultimate Baking Starter Set
Real Cooking's Ultimate Baking Starter Set is by far our favorite. It's amazingly accessible because it's designed for young children, so the bowls suction to the table and they even have a super simple one-touch egg cracker that actually works!
What I love best about the Real Cooking set is that it's just that… real cooking. The set comes with everything you need to get started, but what you are really doing is making your own cupcakes in your own oven. There is a lot of opportunity here to learn about the kitchen, simple math concepts and of course lots of fine motor play as well.
But the best best part is that the cupcakes are really tasty!
You can get refill packs to make Cake Pops, Mini Donuts or just stick with Cupcakes.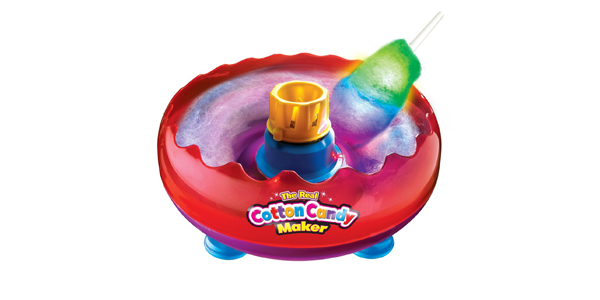 2. Cra-Z-Art Deluxe Cotton Candy Maker Kit with Lite Up Wand
Another big favorite is Ivan's Cotton Candy Maker! The machine is really easy to set up (cleaning is easy too) and it suctions to the table so it won't go anywhere. It comes with a plastic light-up wand (which is great for kids with light perception) and all you have to do is move the wand around in the machine to create cotton candy. Seriously – it's that simple.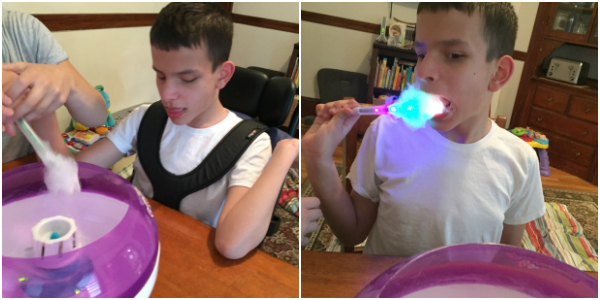 The kit does not come with flavored sugar (yeah I was disappointed too), but you can buy Cotton Candy Sugar or just use plain white sugar, which surprisingly makes really nice cotton candy as well.
The center of the machine does get hot, so you will want to make sure little hands stay to the edge when making cotton candy.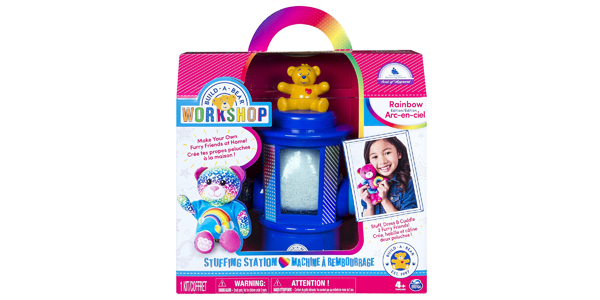 3. Build-A-Bear Workshop Stuffing Station
We took Ivan to Build-A-Bear a couple years ago and he loved the entire experience, from picking out his stuffed animal to stuffing it and choosing clothes. So when I saw the at home Build-A-Bear Workshop Stuffing Station I thought it'd be perfect!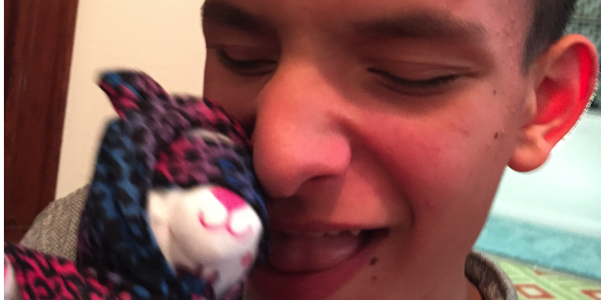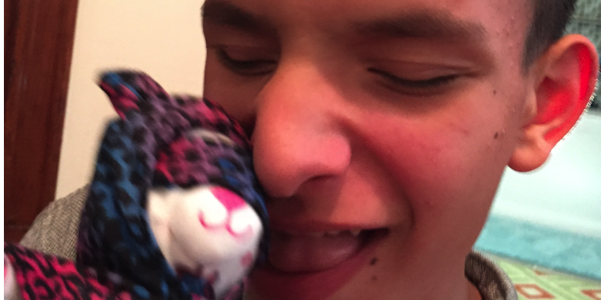 What I love about this kit is that it's easy to get the stuffing into the mini bear by cranking the handle on the stuffing station (which does actually work), but it still takes two hands, one to hold the station in place and one to turn the handle, so it's a fun fine motor activity.
The kit comes with two bears for you to stuff, but of course they do make refills so you can make as many little stuffed animals as you want!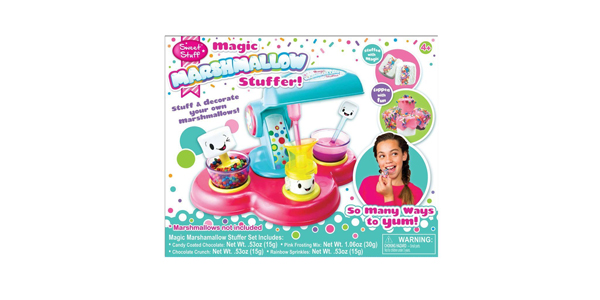 4. Marshmallow Stuffer
Since Ivan is a big (no, I should say HUGE) fan of marshmallows, I thought this Marshmallow Stuffer Kit might be fun. I was right! You place a marshmallow in the cup and use the lever to create a hole in the marshmallow (another easy but effective fine motor move), then you can add whatever you want to the marshmallow (we like ground graham crackers). Then dip the marshmallow in frosting and enjoy!
They do offer refill packs, but it makes no sense to me why the refills would cost more than the kit. Plus it's easy enough to get your own fillers and frostings, so we just make them up ourselves.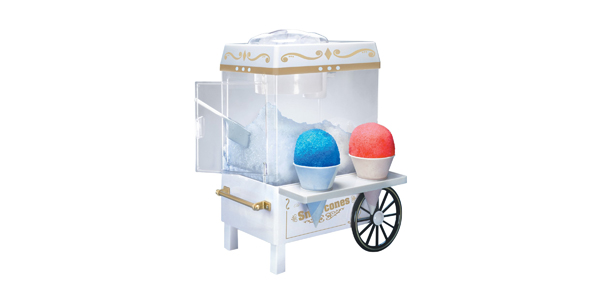 5. Snow Cone Maker
Another classic kids activity is the Snow Cone Maker. These are especially fun in summer when it's warm out, but snow cones are tasty all year round. Ivan is not a fan of touching cold things, so it's a little difficult to get him to help pack the snow into the cone, but he does love eating them!
You can also find all sorts of Snow Cone Syrup flavors to choose from. If ice cream is more your thing, Cra-Z-Art also makes an affordable Ice Cream Maker Kit for kids.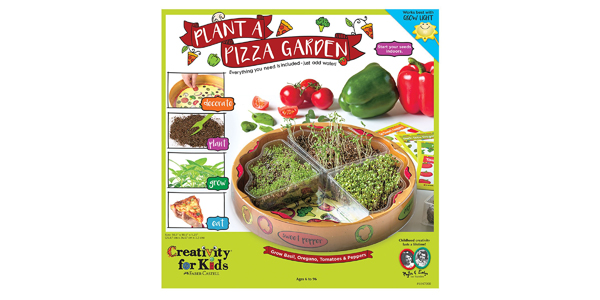 6. Plant a Pizza Garden Kit
There are lots of garden kits for kids, but I like that this one has a purpose: to Plant a Pizza. The kit includes basil, tomatoes, oregano and peppers that you can grow in a pizza-shaped dish and once they are sprouted, you can add them to your own home-made pizza!
If you'd rather just create your own garden at home, we also like the My First Garden kit.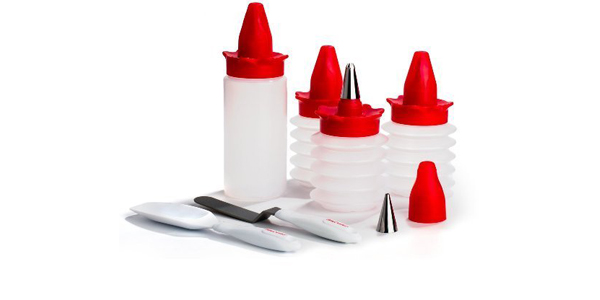 7. Cookie Decorating Kit
This one isn't really a kit designed for kids, but we use this Decorating Kit from Betty Crocker all the time and Ivan loves it. I just pick up some Pillsbury sugar cookie dough and make a batch of plain cookies, then fill the squeezable bottles with store-bought frosting and we're good to go. Of course sprinkles help too!
What I love about this kit is that the bottles come with multiple interchangeable tips, so you can make all sorts of designs. Plus they are really easy to fill and really easy for Ivan to squeeze. The whole kit is dishwasher safe too.
You can also often find plain shape cookies at your grocery store around the holidays. Here are some we bought and decorated for Easter this year.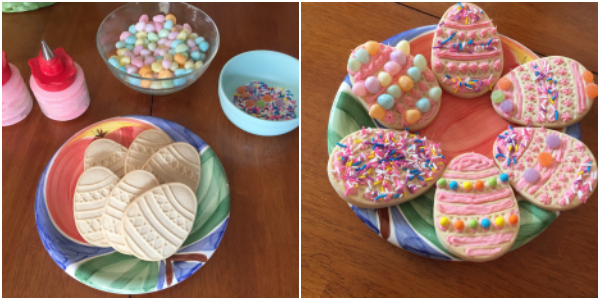 I hope some of these ideas will inspire you to set up an accessible activity for your child too! It's really rewarding to see them figure out how to make something and then enjoy the final product… especially when it's something they can eat and share with family!