The 11 Best Alternatives to Baby Walkers of 2022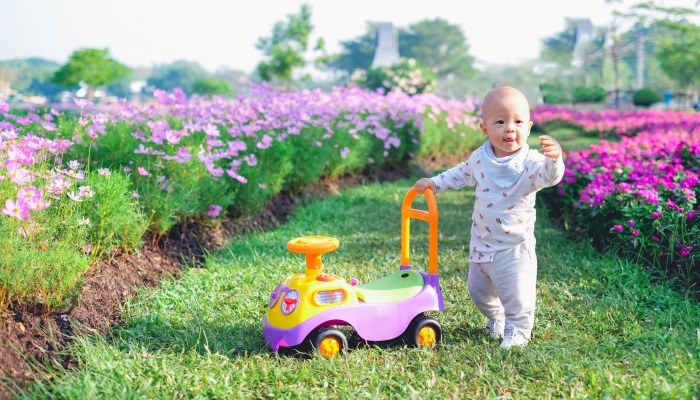 This post may contain affiliate links; please see our terms of use for details.
Research shows and pediatricians agree that traditional baby walkers are not always safe to use. A study published in the journal Pediatrics found that there were over 230,000 baby walker-related ER visits involving children in the 24-year period over which researchers analyzed data.
Most of these injuries occurred because the child was able to move much faster than the parent expected. This allowed them to access places where they were unsafe or unsupervised, such as stairs or pools, often before the parent even noticed the child was missing.
Note that the baby walkers we're referring to here are the saucer-shaped play centers with your baby sitting in the middle and wheels attached to the bottom, which allow your baby to toddle around and practice walking. These are different than the walkers that toddlers push (also on wheels) but which move at a slower pace and are generally considered safer.
Baby walkers were once considered valuable tools for helping little legs get stronger and learn balance. And they still can be when properly supervised. However, there are many excellent and safer alternatives to baby walkers available these days. These updated toys will allow your baby to get stronger and encourage walking safely.
When deciding on the best baby walker alternatives for your family, you have a few types of toys to consider:
Stationary Activity Centers: These closely resemble the traditional baby walker but without wheels. They are usually made of a round table with your baby in a harness seat in the center. Your baby can reach and play with toys in the activity center while bouncing up and down. Something to consider when getting one of these is the considerable amount of space it will take up.
Baby Jumpers: Designed to support your baby while they safely bounce and jump, building a foundation for walking. Many stationary activity centers also double as baby jumpers. However, not all do — so check the details if it's an essential feature to you.
Push Toys: These offer great support to your baby's first steps. Choose one with a sturdy handle that is the right size for your baby's hands. Push toys have wheels, so it's important to stay close to your child when they play. If you're budget-conscious, push toys are typically the most affordable option and take up the least space.
We've compiled a list of the 11 best alternatives to baby walkers for 2022.
Best for Keeping Baby Entertained
Best for Travel
Best Sit-to-Stand Walker
Baby Einstein Neighborhood Friends Activity Jumper
VTech Sit-to-Stand Learning Walker
Best for Keeping Baby Entertained
Baby Einstein Neighborhood Friends Activity Jumper
Best for Travel
Best Sit-to-Stand Walker
VTech Sit-to-Stand Learning Walker
Best Stationary Activity Center
1. Bright Starts 3-in-1 Around We Go Activity Center
Bright Starts 3-in-1 Around We Go Activity Center
More movement, more giggles, more happy moments
Award winning sitting to standing Walker
Baby Walker rotates around activity center
Walker seat can be removed when baby outgrows it. Suitable for child less than 30" tall
For ages six months and up, the Bright Starts 3-in-1 Around We Go Activity Center is a unique toy your baby will love. With over fifteen activities to stimulate and entertain your baby, including musical toys, she will have all her sensory needs met.
This play center offers a chance for her to move around in a seat attached to a stationary activity center. This is not only engaging for your little one but helps stimulate motor and sensory development. This activity center does not have a base underneath your baby's feet, which helps to teach your baby to walk on natural surfaces.
The Best Baby Jumper
2. Jolly Jumper – The Original Baby Exerciser with Super Stand
Sale
Jolly Jumper – The Original Baby Exerciser with Super Stand
ACTIVE BABY – The standing jumper helps infants improve balance, develop coordination and rhythm, as well as strengthens muscles.
EASY STORAGE – The 6 foot extra tall, sturdy frame requires no tools for assembly and folds flat for easy storage and portability of the Jolly Jumper.
FREE STANDING – The stand eliminates the need for doorways and allows the baby exerciser to be used indoor or outdoor
SAFETY & SUPPORT – The saddle seat is designed to firmly support baby's spine, ensuring correct, upright posture during exercise.
The Jolly Jumper – The Original Baby Exerciser with Super Stand is widely considered one of the best baby jumpers for active babies. This one is suitable for babies strong enough to hold their heads up on their own. You baby will have outgrown it once he's walking or more than 28 pounds.
The great thing about the Jolly Jumper is its simplicity, with no toys to distract your baby. Your baby sits in a springy harness and can jump to his heart's content. Its intuitive design will improve your baby's coordination and balance, not to mention the leg strengthening benefits. The manufacturer states the jumper's seat will support your baby's spine and posture while bouncing.
This jumper is a standalone six-foot-tall structure you can take outdoors, too! Parents point out that their favorite feature is that this toy doesn't require tools for assembly and can be folded flat and stored away.
Best for Travel
3. KidCo P7004 GoPod – Baby Activity Seat
KidCo P7004 GoPod – Baby Activity Seat
This portable lightweight 7-pound activity seat for babies is designed to fold and go for easy transport and storage
The attached floor pad keeps your baby's feet on a clean surface so they can practice standing on 2 legs without dirtying their feet
Features 4 adjustable heights that allow the GoPod to grow with your baby; For babies 4 months old to walking age
Includes 5 nylon loops that allow you to attach your baby's favorite toys to the play seat
The KidCo P7004 GoPod – Baby Activity Seat, for babies four months old to walking, is the perfect baby bouncer for travel. There are no toys on this one; it packs up small and weighs a mere seven pounds, so it's easy to tote around. It even comes with its own carrying case.
This activity seat is ideal for the outdoors – on a picnic or a pool day. We especially love that it came with a mat for under the baby's feet, protecting him from rough gravel and bugs.
Best Baby Activity Center to Grow with Your Baby
4. Skip Hop Baby Activity Center: Interactive Play Center with Grow-with-Me
Skip Hop Baby Activity Center
Designed in collaboration with a pediatrician, our baby activity center supports a "whole body" approach to play and learning. Our unique Discovery Window lets baby see their feet while they play to learn cause and effect
Easy to assemble, with toys that can be positioned anywhere for baby, it features a 360-degree rotating seat that turns and stretches for bouncing
As baby grows, our activity center converts for easy cruising—ultimately becoming a clean, sturdy table for coloring, playing and more
Three stages of use: Sit, swivel, bounce & play; Cruise & interact; Play table; 25+ developmental activities
The Skip Hop Baby Activity Center: Interactive Play Center is beloved by parents because this toy grows with your child and can be used from infancy well into toddlerhood. Its convertible design is suitable for babies as young as four months. They can bounce on the adjustable platform and play with loads of interactive sensory toys attached to the ring.
As your baby begins to take steps, they can stand outside the stationary activity center to reach the toys. When your baby becomes a toddler, it converts into a table where you can do lots of fun activities.
A Portable Activity Center for Outdoor Play
5. Summer Pop' N Jump SE Portable Baby Activity Center
Summer Pop' N Jump SE Portable Baby Activity Center
PORTABLE ACTIVITY CENTER: The Summer Pop 'N Jump unfolds in seconds so you can keep baby happy at home, or bring it with you anywhere you go.
ALL-IN-ONE: The space saver portable jumper is designed for indoor and outdoor use and features three levels of height adjustment to grow with baby.
CANOPY AND TOYS: Play in the shade with Pop 'N Jump's removeable canopy! Little ones will love the toys, including a spinner ball, rattle, teether and mirror book.
EASY CLEANUP: The activity jumper support seat can be easily removed and machine washed, making cleanup a breeze.
The Summer Pop' N Jump SE Portable Baby Activity Center is both lightweight and sturdy, designed to be used outside and indoors. The stationary activity center and jumper comes equipped with a UV canopy to shade your baby from the sun. It folds down easily for storage in its convenient carrying bag.
Intended for babies between six months to one year (or up to 25 pounds), this stationary play center has a fixed seat attached to springs in each corner, allowing your baby to jump vigorously. It also features sensory toys like a spinner ball, rattle, teether, and a mirror book to engage your baby.
Best PlayYard for Natural Walking
6. Regalo My Portable Play Yard
Sale
Regalo My Portable Play Yard
PERFECT FIT: The nylon bottom provides protection from rough surfaces. The My Play 6-panel measures 48 inches wide and 26 inches tall. Patented easy fit, one-time adjustment system.
PORTABLE AND LIGHTWEIGHT: Designed with a simple fold and go deign. Easy to set up and take down within seconds.
INDOOR AND OUTDOOR: Water resistant for indoor and outdoor use.
EASY CLEAN: Designed with a ventilating mesh walls and a nylon bottom for easy clean up. Simply hand wash and wipe down with a damp cloth and soap to keep it fresh and sanitary.
Sometimes your baby doesn't need walking support; they just need a safe and contained place where they can toddle around without a lot of supervision. That's where a good pack 'n play or play yard comes in.
The reviews on this play yard are stellar, and for a good reason. You can use the Regalo My Portable Play Yard outside or indoors. Reviews hail how well made and sturdy it is. It's much easier to set up and fold down than most play yards, an important time-saving feature.
This play yard is for babies and young toddlers, as the material can wear down under rough play. It is highly functional, and parents appreciate the removable, machine-washable bottom and netting. Another bonus is that it's one of the most affordable, quality play centers you can find on Amazon.
Best Sit-to-Stand Walker
7. VTech Sit-to-Stand Learning Walker
VTech Sit-to-Stand Learning Walker
Interactive learning baby Walker has a removable play panel; frustration free packaging means it comes in a plain brown box
Early learning center has 5 piano keys that play music and encourage creativity; wheels work on carpeted and hard floors
Features 2 colorful spinning rollers, 3 shape sorters, and 3 light-up buttons that develop motor skills
Pretend telephone handset and mechanical elements enhance role-play fun; 2 AA batteries are included
The VTech Sit-to-Stand Learning Walker is the best baby push walker in our opinion, not to mention very highly rated. An affordable option for babies between nine months and three years old. Reviews rave that this toy motivates babies to pull themselves up, stand, and take steps.
This colorful plush toy is a sensory playground with more than 70 sounds – like animal noises, songs, shapes, and colors. Parents appreciate that the panel with sounds is removable, the volume is adjustable, and you can turn it off. The back wheels are adjustable to two speeds, helping to stead early walkers and offering freedom to steady toddlers.
Best Value: Activity Center & Baby Jumper
8. Fisher-Price Rainforest Jumperoo, Baby Activity Center
Sale
Fisher-Price Rainforest Jumperoo, Baby Activity Center
Activity center with exciting lights, sounds and music that reward your baby's every jump
Infant jumper with 360 degrees of play, including peek-a-boo tiger, bat-at monkey, rattle lizard, and more
3 adjustable height positions to grow with your baby (Max. height 32 in/ 81 cm)
Sturdy, freestanding frame; no doorway required . Plus, fabric spring covers keep little fingers safe
The Fisher-Price Rainforest Jumperoo Baby Activity Center is an affordable option for a baby jumper that doubles as a stationary activity center. This jumper is super springy, so your baby can jump and give her legs a nice workout. It adjusts to three heights for a comfortable fit for your baby.
The seat rotates in a circle and has fun sensory toys for your baby to explore. The manufacturer recommends this chair for babies who can hold up their heads. Once your baby starts to walk or can climb out of the Jumperoo, it's time to stop using it.
Best Budget Push Toy
9. Melissa & Doug Deluxe Chomp and Clack Alligator Wooden Push Toy and Activity Walker
Sale
Melissa & Doug Deluxe Chomp and Clack Alligator Wooden Push Toy and Activity Walker
WOODEN WALKER WITH ENGAGING ACTIVITIES: The Melissa & Doug Chomp & Clack Alligator Push Toy is a wooden activity walker for babies on the move. It features three chomping alligators, fish on the wheels, and spinning butterfly and ladybug beads.
STURDY CONSTRUCTION AND CRAFTSMANSHIP: Our alligator push toy is made with high- quality materials and assembled to precision manufacturing standards. This keeps it safe for children 12 months and older to use.
MAKES SOUNDS WHEN MOVED: This child push toy makes a gentle clacking noise when it is pushed. This cheerful toy encourages gross and fine motor skills while developing hand-eye coordination.
GIFT FOR 12 MONTHS AND UP: This toy is a great gift for kids 12 months and up. Add the Melissa & Doug First Play Wooden Elephant Rocking Stacker to round out the hands-on play experience and give kids an engaging option for screen-free fun.
For babies one year and up, we love the Melissa & Doug Deluxe Chomp and Clack Alligator Wooden Push Toy and Activity Walker. This push toy is nice and sturdy on wood floors and carpets, thanks to the rubber strip around the wheels. Reviewers raved about how well-made this toy is and said that the chomping alligators are super entertaining — even for toddlers as old as three.
A great non-plastic option, in the traditional wood style of Melissa & Doug toys. Three alligators chomp and make a clickety-clack when you push the walker along, encouraging your child to learn how to walk on natural surfaces. Your baby will be entertained by the spinning butterflies and ladybugs in the center. The handle is easy to grip and comfortable for your baby's hands.
Best for Keeping Baby Entertained
10. Baby Einstein Neighborhood Friends Activity Jumper
Sale
Baby Einstein Neighborhood Friends Activity Jumper
Captivates & cultivates your baby's curiosity through 12 interactive activities with lights, songs, and sounds
5 easily-adjustable height positions to grow with baby
Introduces new languages (English, Spanish & French) and promotes language development
Fun and discovery come full circle with 360-degree seat rotation
The Baby Einstein Neighborhood Friends Activity Jumper is an educational, highly stimulating entertainment center and jumper for babies around four months old, to walking. This seat swivels a full 360-degrees and comes with over twelve activities related to language development and music. Bilingual families will love that you can choose from English, Spanish, and French.
This jumper adjusts to three different height settings to grow with your baby. My daughter loved the piano to play music and touch the light-up buttons. There are many developmental toys included on the play panel to stimulate motor and sensory development.
Best Convertible Toy
11. DRAGON Sit-to-Stand Learning Walker
DRAGON Sit-to-Stand Learning Walker
[Dual-use Design]: Baby walkers for girls can develop baby's coordination and leg strength by pushing the walker forward. Baby stationary activity centers can also be assembled into music and game panel. The variety of intelligent game design for kids to entertain meanwhile promotes brain development.
[Baby Entertainment Table]: Kids activity center table with turning cube, shape recognition block, colorful turnable gear, small beads, detachable basketball frame and elephant shaped piano (Batteries not included). This funny panel can exercise babies' hand-eye coordination and sense of rhythm, while cultivating their cognition.
[Stable Triangular Construction]: The stable triangular supportive structure at the side and the four-point rectangular structure at the bottom reduce the center gravity of the walker, making the chassis more stable and not easy to rollover, ensuring kids smooth moving forward.
[Adjustable Speed] : Both wheels covered with anti-slip ring, can increase the friction with the ground. The back of the cart is equipped with a capacity storage box, can filling the water tank to gain weight of walker. The rear wheel can be adjusted to standard speed and low speed to meet the needs of babies in different stages of walking.
The DRAGON Sit-to-Stand Learning Walker is a wonderful choice for its affordable price, made even better by its long-lasting convertible design. This is a toy your child will play with for years.
The play panel is removable and can be used in four ways. It can be placed on the floor for tummy time, attached to the side of your baby's crib, becomes a stationary play table, and transforms into a push toy with wheels.
The activity panel offers a variety of sensory-stimulating activities with lights and sounds to stimulate cognitive development and motor skills. The wheels, for when it is converted to a push toy, have an anti-slip ring to help new walkers steady themselves. The handle is easy for your baby to grip and adjust to three different heights.
No matter how much of a supermom (or super dad) you strive to be, there are some occasions when you wish you could just set your baby down for a minute. With the best baby walker alternatives featured here, you can have the freedom and assurance that your baby is safely contained and engaged in play.
FAQS
Are baby walkers necessary?
About a decade ago, baby walkers were considered a must-have baby item. Since then, parents have switched to safer alternatives that don't pose the risk of tipping and injury. These options, which are fun and nice-to-have but not absolutely necessary, are a great way to keep your baby contained, occupied, and engaged in a safe space.
When should I stop putting my baby in a walking toy/activity center?
Infants can begin using a walker at around three to six months old. They will usually enjoy them up until approximately one year old or when they start walking.
Why do pediatricians not recommend baby walkers?
Studies from the American Pediatric Association (AAP) show that baby walkers contribute to numerous emergency room visits yearly. This is primarily due to the wheels affixed to the bottom, making them prone to tipping and rolling down stairs. To prevent injury while facilitating your baby's need for support, toy manufacturers have crafted many great, safe alternatives to traditional infant walkers.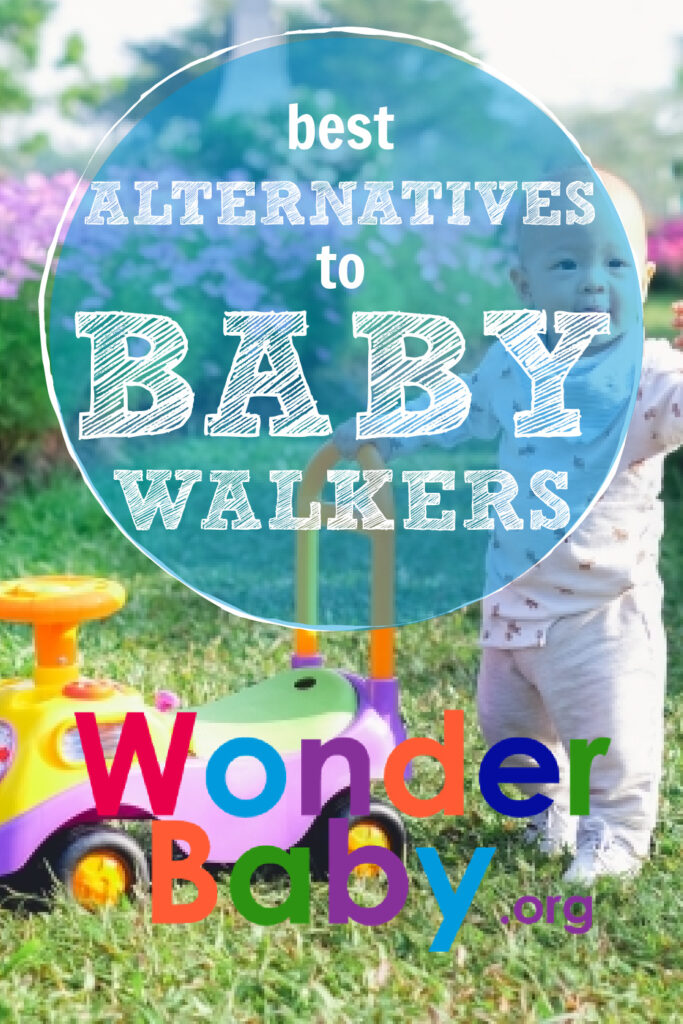 Related Posts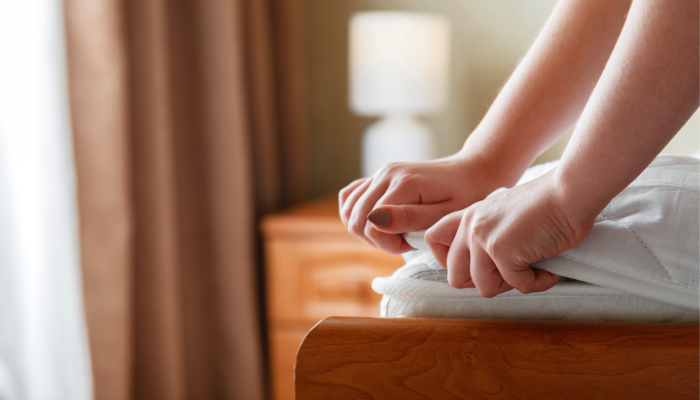 Potty Training, Product Reviews, Special Needs
Changing sheets and cleaning up after bedwetting can be a challenge. Peelaway disposable bed sheets are waterproof and make changing sheets easy!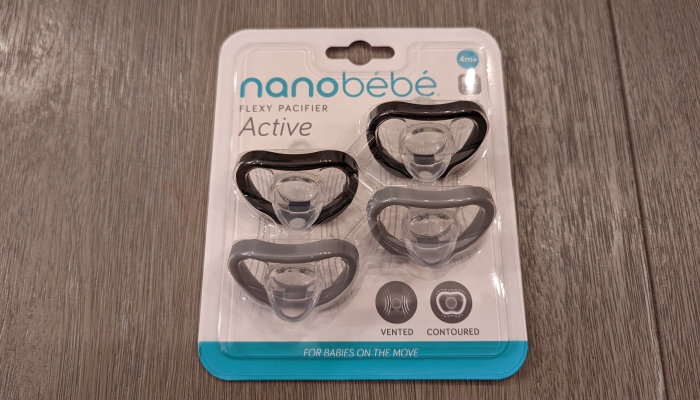 Product Reviews
The Nanobébé Active Flexy is great for babies because it's flexible, breathable, and made of quality materials.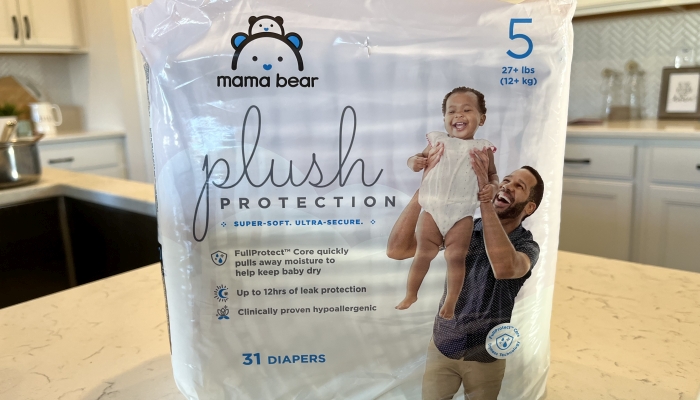 Product Reviews
We gave Mama Bear diapers a thorough test! Our Mama Bears Diapers Review will let you know if they're worth purchasing.