Banana Pumpkin Chocolate Chip Muffins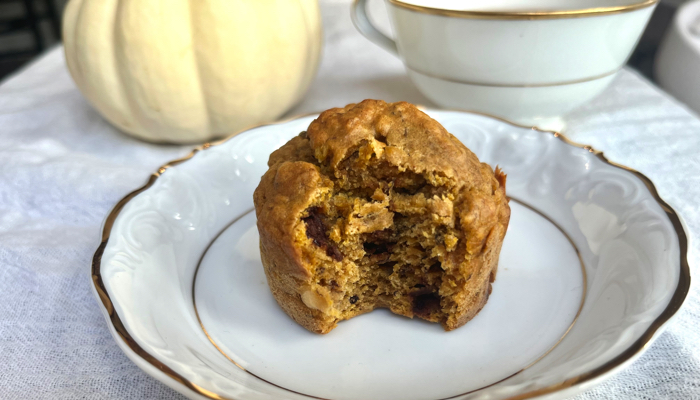 This post may contain affiliate links; please see our terms of use for details.
My kids love muffins. We make various flavors of them for breakfast since they're both healthy and filling. Banana muffins are one of my favorite varieties since they require little added sweetener and are simple to make.
With cooler temperatures and gorgeous leaves outside, I was inspired to try a variation of banana muffins that use canned pumpkin as well. Who doesn't love a little pumpkin spice flavor in their day?
My kids and I quickly gathered all the ingredients we normally use for banana muffins, and began brainstorming ideas for a pumpkin variation. Soon after, chocolate chips, pumpkin spice, and canned pumpkin had joined the ingredient list.
The result was a fall-flavored treat that kept our bellies full all afternoon. We are thrilled to share this recipe with you and your family. Grab the ripe bananas sitting on your counter and join us in making these Banana Pumpkin Chocolate Chip Muffins!
Banana Pumpkin Chocolate Chip Muffins: What Tools You'll Need
To make these delicious muffins, you'll just need a few simple kitchen appliances.
Stand Mixer or Hand Mixer and Bowl
Sale
KitchenAid Tilt-Head Stand Mixer
#1 MIXER BRAND IN THE WORLD* *Source: Euromonitor International Ltd. for retail sales revenue, USD, all retail channels. More information, including date ranges available at: mixerclaim.kitchenaid.com
Built to take it all on with the durable and built-to-last metal construction, and 59 touchpoints around the mixer bowl for great mixing results.
4.5 Quart Stainless Steel Bowl to mix up to 8 dozen cookies* in a single batch. Dishwasher safe. *Using the flat beater; 28g dough each
Easily add ingredients with the tilt-head design, because you'll have better access to the bowl – lock the head in place while mixing
I'm a huge fan of our Kitchenaid Stand Mixer. My kids and I do a lot of baking together in the kitchen and my stand mixer makes it so simple. I can throw in the ingredients and let them mix while I wipe down messy hands or pick up the fussy baby.
If you don't have a stand mixer, a hand mixer and bowl will work too. Until getting my stand mixer for Christmas a few years ago, I always used a hand mixer.
You can also mix this by hand. You'll just need to mash the banana thoroughly with a fork before adding in other ingredients.
Muffin Pan
I love making muffins rather than loaves because the muffin tray splits the batter into even portions. This keeps me from having to cut and serve slices to my kids. Plus, muffins are just fun to eat.
A silicone muffin pan is the easiest way to make perfect muffins that don't stick to paper or pans. I've used muffin liners in the past but always found that the batter stuck to the paper.
If you'd like, you can make this as a loaf instead of muffins. If you decide to go that route, you'll want to significantly increase your cooking time, as it will take longer to bake. To determine when the loaf is finished baking, insert a toothpick into the center of the loaf and see if it comes out clean.
What Ingredients Do You Need?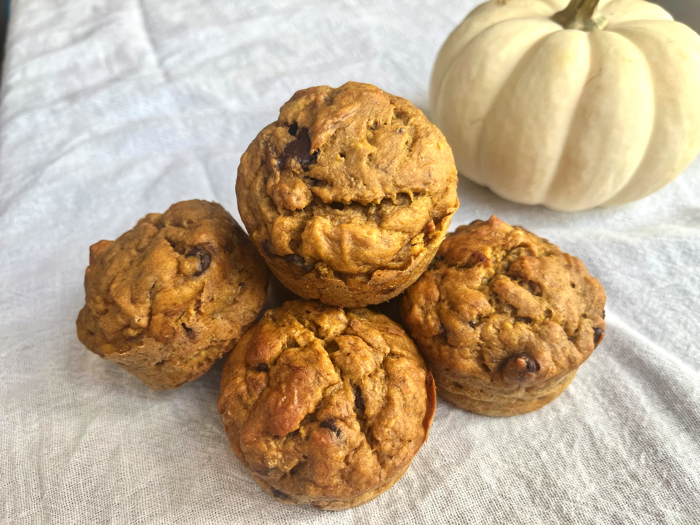 In our home, we believe an ounce of prevention is worth a pound of cure. So when it comes to eating, we try to avoid extra sugar and unhealthy ingredients. Thankfully, there are plenty of healthy options in stores that replace unhealthy ingredients.
Here's what we used for these muffins:
Bananas: Bananas are naturally sweet on their own and also help to bind the ingredients together. We always have these on hand as they're also one of the best fruits for babies and toddlers.
Flour: All-purpose flour would work just fine in this recipe. We like to use all-purpose Einkorn flour, as it's a non-GMO version of wheat that's easy for us to digest. We use it as a replacement for all-purpose flour in all of our recipes.
Eggs: Any type of egg will work in this recipe. I've used both large and small eggs in this recipe and haven't noticed a difference in texture.
Butter: Grass-fed butter makes these muffins extra moist and delicious. I've also substituted the butter with equal parts coconut oil in the past and it worked great!
Maple Syrup: Maple syrup is our favorite substitute for white sugar in recipes. It adds extra flavor along with the sweetness.
Vanilla: We use pure vanilla extract instead of imitation vanilla extract.
Baking Soda: Be sure to use baking soda and not baking powder. These two are not interchangeable.
Pumpkin Pie Spice: This is optional but adds a nice flavor.
Salt: You don't need much salt. A pinch is just enough.
Chocolate Chips: We like Lily's Chocolate Chips. These are sweetened with stevia and taste delicious.
How to Make Banana Pumpkin Chocolate Chip Muffins
Once you get the hang of this recipe, you'll be able to throw these together in no time. And believe me, you'll want to make these over and over again. These steps are easy to follow and simple enough for your kids to help with.
Step 1: Mash the Bananas
Using a stand mixer, mix bananas on medium speed until they become creamy and smooth. If you're doing this by hand, you'll want to take a fork and press down on the bananas with the backside. Continue this over and over until they are fully mashed.
Helpful Hint: Ripe bananas work best for this recipe. This is the perfect way to use up those bananas covered in brown spots on your counter. The riper the banana, the sweeter the banana bread.
If you don't have ripe bananas, that's okay. The maple syrup used in this recipe will help sweeten the batter.
Step 2: Melt the Butter
In a small saucepan, melt the butter on low heat. Don't skip this step, or the butter will not mix correctly into the batter.
Step 3: Add the Wet Ingredients
I like to add in all the wet ingredients next so they can combine thoroughly. You can either add them one by one, mixing in between, or all at once. This includes the vanilla, eggs, maple syrup, and melted butter.
Step 3: Add the Dry Ingredients
You can add the dry ingredients to a separate bowl to combine them first. I usually make these muffins in a hurry and just add the dry ingredients directly into the wet mixture. I haven't had any issues doing it this way.
The dry ingredients you'll want to add include flour, baking soda, salt, and pumpkin spice. The chocolate chips get added last.
Step 4: Mix in the Chocolate Chips
Adding the chocolate chips to the stand mixer might cause them to get broken. As an alternative, you can mix them in by hand.
Step 5: Spoon into Muffin Pans
Fill each muffin cup ¾ the way full. Some people choose to use muffin liners, but I prefer using a silicone muffin tray instead. A silicone tray releases the muffins with minimal residue left behind.
Step 6: Bake
I've found that baking at 350 degrees for 25 to 30 minutes works perfectly. However, be sure to use a toothpick to test the muffins for doneness.
Pause to Play: While you're waiting for the muffins to bake, you might use this as an opportunity to bond with your child. Why not combine play with responsibilities?
I'll often pause and make a giant sink full of extra bubbly water. This allows me to clean the kitchen while my little one plays.
Pull up a step stool next to you and teach your child how to scrub and rinse. Allowing your child to play in the sink is a great example of Montessori parenting in action.
Step 7: Remove and Cool
When the muffins are finished baking, remove them and allow them to cool on the counter.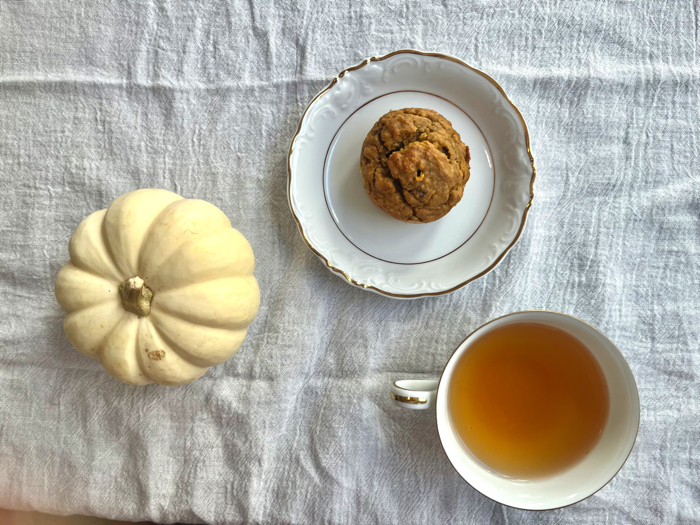 What can I use instead of maple syrup?
Instead of maple syrup, you can use honey or agave. You can also substitute a dry sweetener like coconut sugar, monk fruit, or cane sugar. You'll just want to increase the wet ingredients by a small amount to make up for the moisture difference.
What ingredients can I add to the banana pumpkin chocolate chip muffins for variation?
We have tried these pumpkin muffins with a few alternative ingredients. Adding walnuts or pecans makes them great protein snacks for kids. I've also substituted the chocolate chips for dried fruit and they turned out delicious.
Are the ingredients beneficial for my child's development?
Most muffins are full of sugar and white flour. Parents will be thrilled to know that these muffins have many health benefits! We often make them as a healthy breakfast treat.
We love to use pumpkin in our recipes during the fall since it contains Vitamins A and C as well as fiber. With so many sniffles going around in the fall, I'm always looking for ways to boost our vitamin C intake.
Maple syrup may seem like an empty-calorie sweetener, but it's actually full of nutrients like manganese and riboflavin. Who knew?
What can I do with my child while we wait for the muffins to cool?
The Biggest Pumpkin Ever
Steven Kroll (Author)
English (Publication Language)
32 Pages – 09/01/1993 (Publication Date) – Cartwheel Books (Publisher)
Pumpkin muffins are the perfect way to celebrate cool fall mornings and brilliant-colored leaves. Why not add in other fall activities to make this a treat to remember? You might consider one of these activities: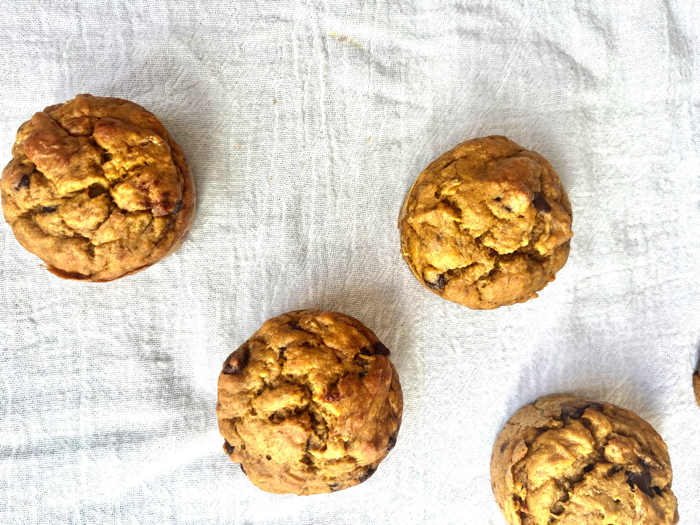 Banana Pumpkin Chocolate Chip Muffins
Prep Time: 10 minutes
Bake Time: 25–30 minutes
Servings: 12 muffins
Ingredients:
1/2 cup pumpkin
2 ripe banans
1 ½ cups flour
1/4 cup maple syrup
1 egg
1 tsp vanilla
1 tsp baking soda
1 pinch salt
½ tsp pumpkin pie spice
½ cup chocolate chips
Special Equipment:
Stand mixer
Bowl
Muffin pan
Instructions:
Preheat oven to 350 degrees.
In a stand mixer, mash the bananas and pumpkin together until smooth. Alternatively, you can mash the bananas by hand using a fork and a bowl.  
In a small saucepan, melt the butter on medium heat. Add the butter to the stand mixer when melted.  
Add the vanilla, eggs, and maple syrup to the stand mixer. Mix on medium speed until combined.  
Add the flour, baking soda, salt, and pumpkin spice and mix again until combined. 
Remove the bowl from the stand mixer and mix in chocolate chips by hand. 
Spoon the batter into each muffin cup, filling each one ¾ way full. 
Bake for 25 to 30 minutes, or until a toothpick inserted into the middle comes out clean.  
Allow to cool.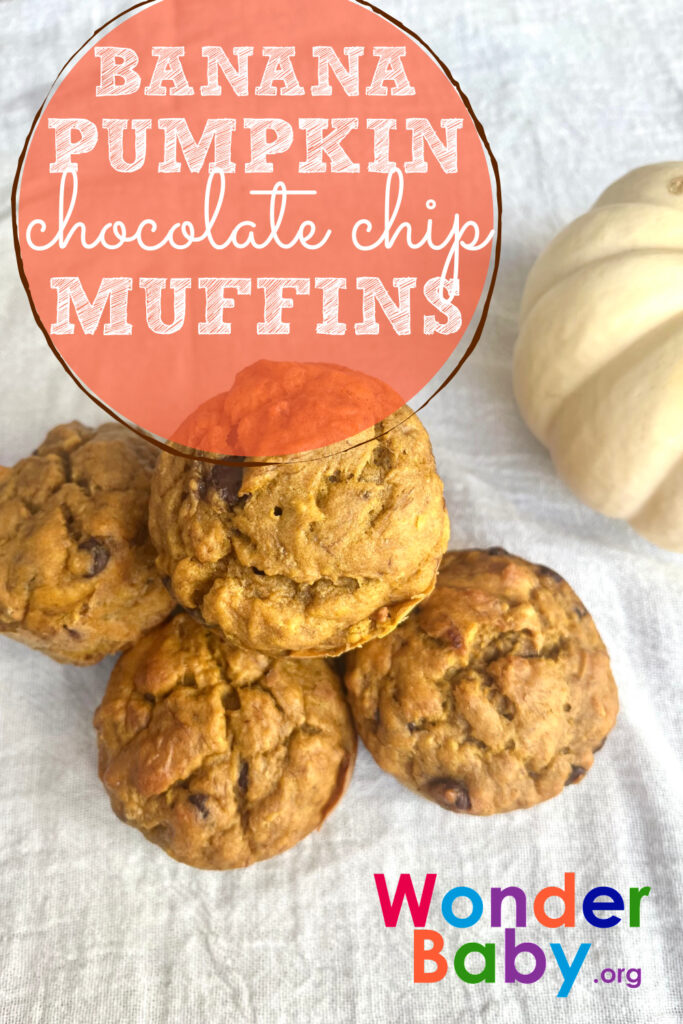 Related Posts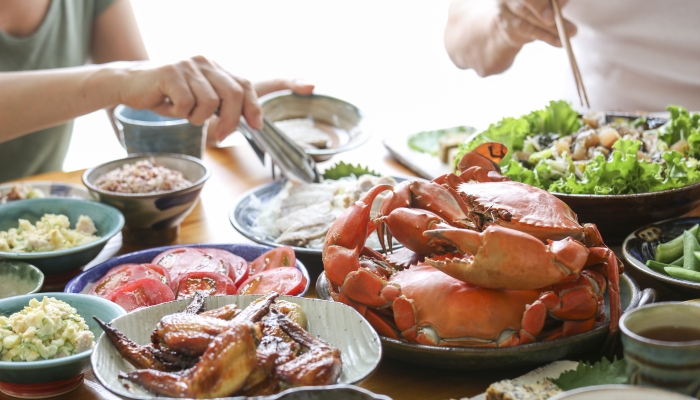 Feeding and Eating
A variety of unexpected foods and environmental substances can trigger an allergic reaction through cross-reactivity to food proteins.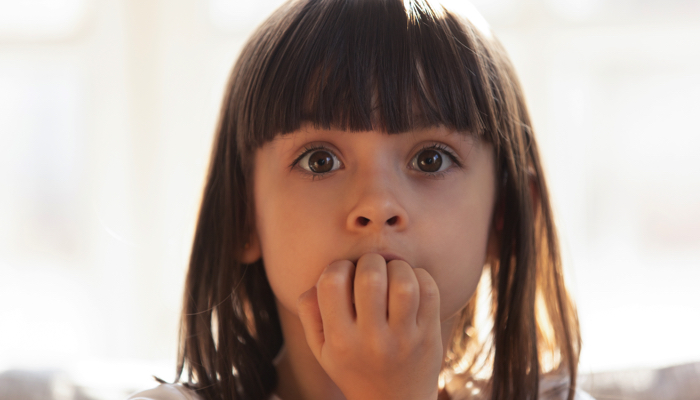 Feeding and Eating
Ongoing physical preparations and speaking openly about anxiety can ease the transition from diagnosis to living well with a food allergy.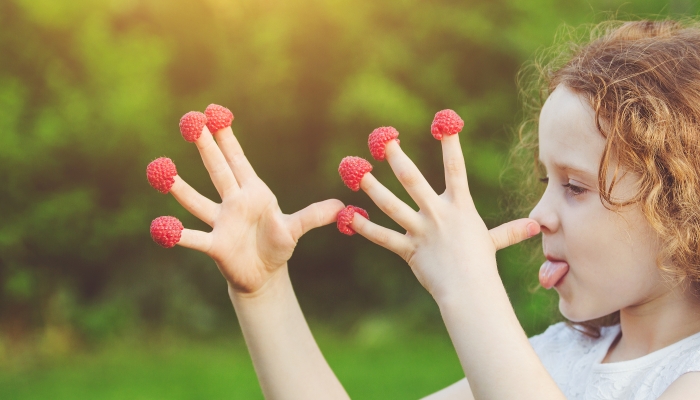 Feeding and Eating
With time, practice, and support, kids with food allergies can successfully manage their condition and necessary accommodations. Learn how right here.