Kid-Friendly Pumpkin Spice "Not-a-Latte"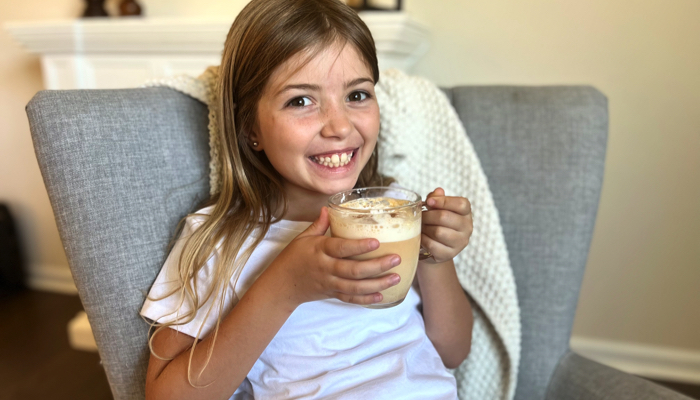 This post may contain affiliate links; please see our terms of use for details.
Pumpkin spice lattes are all the rage this time of year. Every mom in need of a little afternoon pick-me-up is reaching for these festive and fun drinks. As a mom of five, I'm included.
Pumpkin spice lattes are one of my favorite ways to bring in fall. However, I don't like paying coffee store prices and drinking something full of sugar and artificial flavors. So I've started making my own at home.
This, of course, brings one problem—my kids are now begging for pumpkin spice lattes too!
After some thought, I realized that without the coffee, the ingredients could easily be kid-friendly.
So I got to work whipping up some "not-a-lattes" for my four older children. The result? Warm bellies, satisfied smiles, and a crew of milk-mustached children.
If you're ready to celebrate fall with your kiddos, grab their favorite mugs and head to the kitchen. This Kid-Friendly Pumpkin Spice "Not-a-Latte" recipe will have them jumping for joy!
Kid-Friendly Pumpkin Spice "Not-a-Latte": What Tools You'll Need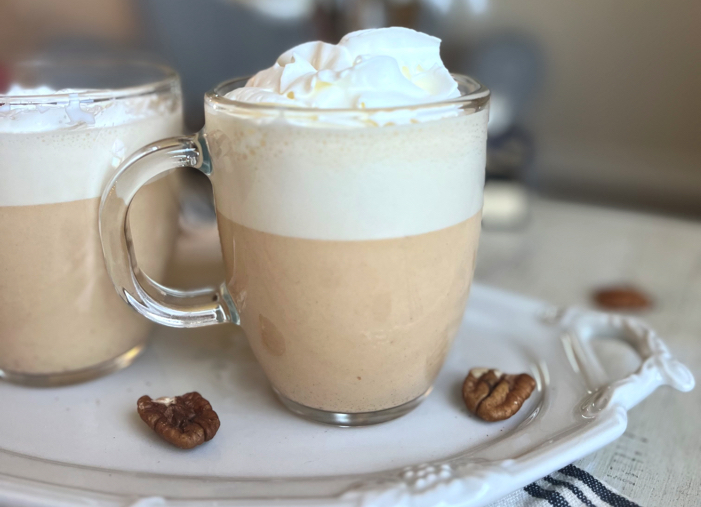 This recipe is so simple that your kids can help make it. No expresso machine needed for this caffeine-free treat. Here's all you need:
Blender
We found that using a blender was the fastest and easiest way to combine all the ingredients. You could skip this step and whisk the ingredients together in the saucepan instead. You'll just need to make sure the canned pumpkin and pumpkin spice blend in completely with the milk.
Small Saucepan
To warm up the milk and ingredients, you'll need a small saucepan. If you choose not to heat it up, it's equally tasty over ice.
What Ingredients Do You Need?
We used many of the same ingredients we used in our No-Bake Pumpkin Pie Cups. They are simple, clean ingredients that you might already have on hand.
Almond Milk: Our family prefers to use almond milk for taste and health reasons. However, this recipe will taste great with any other milk variety.
Canned Pumpkin: I know this seems like an odd choice for a beverage, but I promise it yields a delicious, creamy result. You won't have chunks of pumpkin floating in your cup. Be sure to get plain pumpkin and not pumpkin pie mix.
Maple Syrup: We use maple syrup as a sweetener in a lot of our recipes like our Healthy Peanut Butter Cookie Bites. I've found that it adds a nice, rich flavor to the recipe.
Vanilla: We prefer pure vanilla extract, as it doesn't contain imitation vanilla flavor.
Pumpkin Pie Spice: You can opt for cinnamon instead if your child doesn't like pumpkin spice flavor.
Whipped Cream: Arguably the most important ingredient in this recipe. Your kids might agree.
How to Make This Kid-Friendly Pumpkin Spice "Not-a-Latte"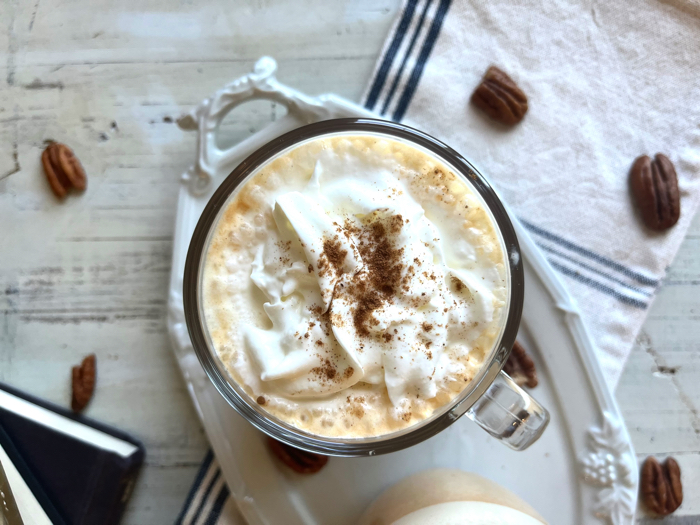 With no need to crank up your expresso machine, you'll love how quickly this recipe comes together.
Step 1: Add Ingredients to Blender
In the blender, add all ingredients except for the whipped cream. You'll add this at the very end.
If you'd prefer to skip the blender, you can add the ingredients straight to the saucepan. Just be sure you whisk the mixture enough that all ingredients blend together. A sip of dry spices or a gulp of pumpkin puree might ruin the drink completely.
Step 2: Blend
Cover and turn your blender on high for 1 minute to ensure all ingredients are mixed in. We use our Vitamix Blender for just about every recipe that needs a consistent blend. I've found it works better than any other blender we've purchased.
However, since this recipe is more basic than most, a standard blender will work just fine.
Step 3: Heat
After blending, you'll heat all the ingredients up. If you prefer, you can skip this step and opt for an iced drink instead. My kids thought it was most delicious as a warm drink topped with whipped cream, but I liked it just as much when it was iced.
Step 4: Add Whipped Cream
When the drink is warm, pour in a mug, and add a generous spray of whipped cream. Feel free to sprinkle with pumpkin pie spice for a dash of color and flavor.
What can I use instead of pumpkin spice?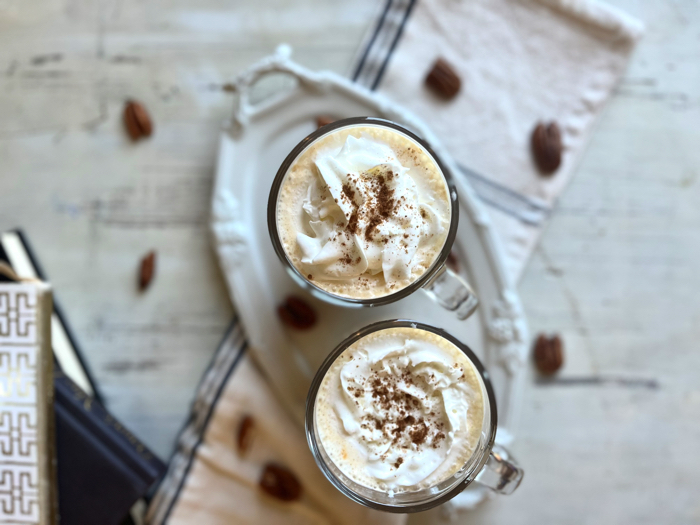 Do you have kids that don't like pumpkin spice? Don't let that keep you from trying this out. You can make this drink without the spice or just use cinnamon instead.
Some children find cinnamon to be a more familiar flavor that isn't as strong.
What can I serve alongside this drink?
I couldn't help but think what a fun after-school treat this drink would be. Parents could serve it alongside a protein snack for kids to make it more nutritious.
Here are some snacks that pair well with this fall treat:
Apples slices topped with peanut butter
Rice cake animal faces with sunflower butter and fruit
Cheese slices and whole wheat crackers
Vanilla yogurt cups with blueberries
Are the ingredients beneficial for my child's development?
Milk is a fantastic food to include in your child's diet. Even if you use a milk alternative, like almond milk, most are fortified with essential nutrients. Milk is a great source of calcium, magnesium, zinc, and vitamin D.
Pumpkins are nutritious as well. Canned pumpkin is a source of vitamins A, C, E, and K, as well as magnesium and potassium. We try to include it in many dishes during the fall as a change of pace from other vegetables.
You might just think that pumpkin spice is only beneficial for flavor, but it's actually full of antioxidants. We use spices like cinnamon, clove, and nutmeg during the fall to give our family a boost as we head into winter.
How can I enrich this experience with pumpkin-themed activities?
While your child sips down their warm pumpkin spice "not-a-latte," you can pull together one of these activities to make it a memorable afternoon:
Kid-Friendly Pumpkin Spice "Not-a-Latte"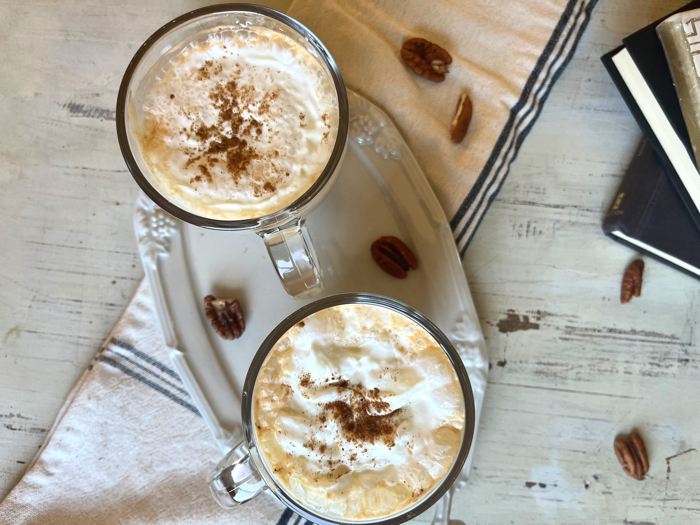 Prep Time: 10 minutes
Servings: 1
Ingredients:
1 cup almond milk
3 TB canned pumpkin
1 TB maple syrup
1 tsp vanilla
½ tsp pumpkin spice
Whipped cream
Special Equipment:
Instructions:
In a blender, add all ingredients except the whipped cream. 
Blend on high for 1 minute, ensuring all ingredients are mixed thoroughly. 
Pour mixture into a small saucepan and heat on medium heat.
Whisk mixture while heating to a warm, but not too hot, temperature. 
Pour into a mug and top with whipped cream.
Add a sprinkle of pumpkin spice for decoration or leave it as is.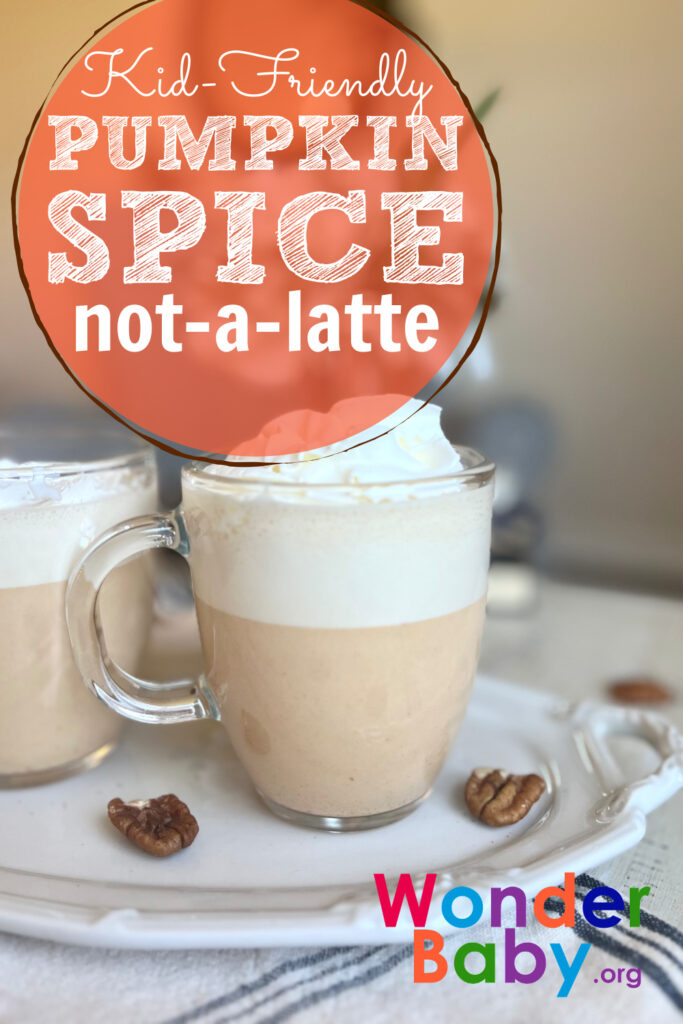 Related Posts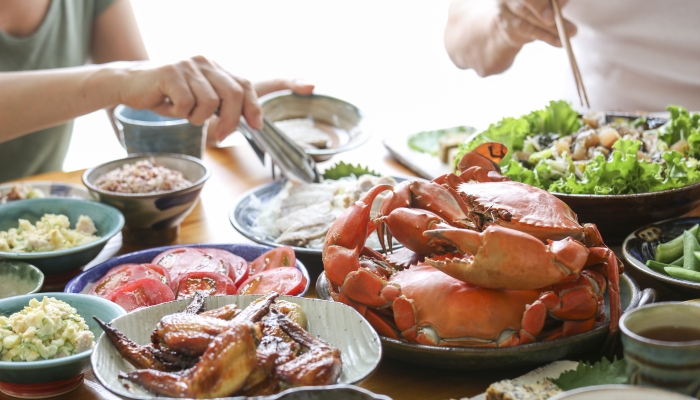 Feeding and Eating
A variety of unexpected foods and environmental substances can trigger an allergic reaction through cross-reactivity to food proteins.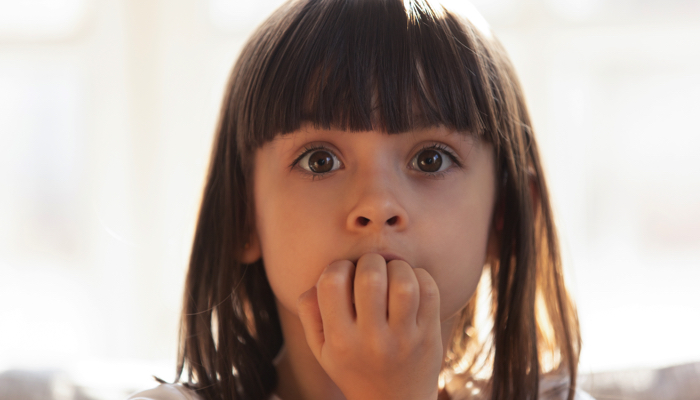 Feeding and Eating
Ongoing physical preparations and speaking openly about anxiety can ease the transition from diagnosis to living well with a food allergy.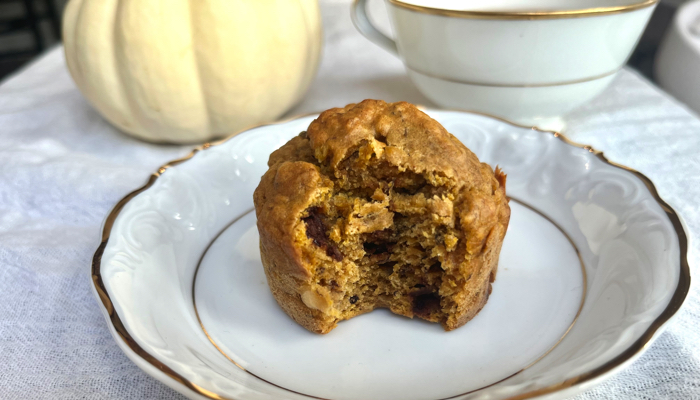 Feeding and Eating
A healthy after-school snack or treat, these banana pumpkin chocolate chip muffins are sure to be a hit! Make them with your kids for a fun fall activity.