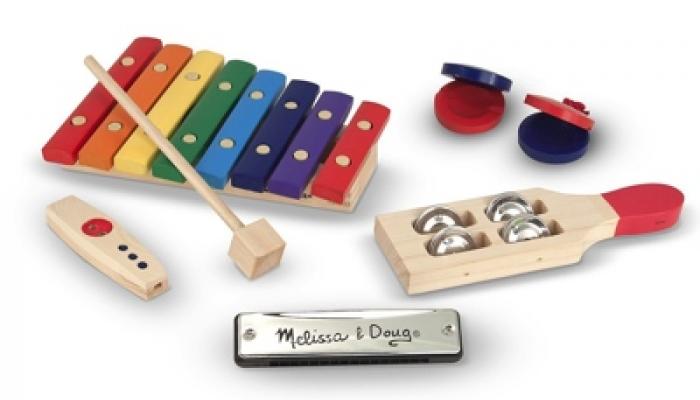 This giveaway is now closed. Thank you to everyone for entering!
Little Kids Instruments sells high-quality musical toys for kids of all ages, from baby and toddler sets (we love their Baby Band in a bag) to real guitars and violins for older children.
They also carry many musical toys from Melissa & Doug, which are well known for their good quality and wood workmanship. Their Band in a Box and Beginner Band Sets are fun ways to start playing music with even very young children (they're designed for kids ages three and up).
Little Kids Instruments is giving away a Melissa & Doug Beginner Band Set that will get you ready to start your own bad at home! It comes with a wooden xylophone, kazoo, harmonica, castanets and (our favorite) a jingle stick. All instruments are packaged in a nice wooden box that is perfect for storing when not in play.
Would you like to win your own Beginner Band Set from Little Kids Instruments? Entering this giveaway is easy! Simply use the widget below to enter. We'll be accepting entries until March 27th, 2014 and the winner will be contacted on March 28th. Good luck!