The 5 Best Baby Carriers for Back Pain of 2023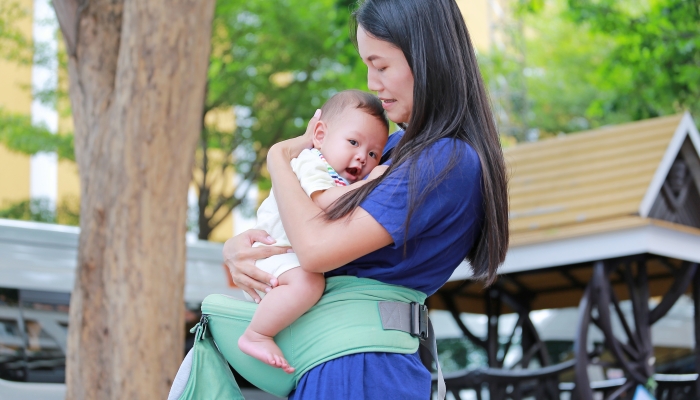 This post may contain affiliate links; please see our terms of use for details.
Parents with back pain can still enjoy babywearing with the right carrier.
Babywearing back pain can be prevented in a few easy steps.
There are three elements to consider when choosing your carrier.
Avoid sling carriers if you're prone to back pain.
Picture this: You're on vacation in the mountains with your infant, and you have the opportunity to see an expansive underground cavern. There are tight spots you have to navigate, windows of crouching over, lots of standing, and the only way you can go is if you carry said infant in a baby carrier; otherwise, you miss out. Well, this mom wasn't missing out!
True story (and one for another day), but I made it from beginning to end with my little one through all the nooks and crannies with no back pain to boot. How? A quality baby carrier with good back support. Maybe your family is adventurous like mine, or perhaps you just need a carrier that makes everyday tasks easier without the literal aches and pains.
Look no further than the list of soft-structured carriers below! These five options are tried and true, so you're sure to find the best baby carrier for back pain that meets your family's needs right here. Let's get started!
Best Choice
Best Carrying Options
Best Adjustable Carrier
BabyBjorn Baby Carrier Free
LÍLLÉbaby Ergonomic 6-in-1 Baby Carrier
Ergobaby Omni 360 Baby Carrier
Best Choice
BabyBjorn Baby Carrier Free
Best Carrying Options
LÍLLÉbaby Ergonomic 6-in-1 Baby Carrier
Best Adjustable Carrier
Ergobaby Omni 360 Baby Carrier
Our Choice: BabyBjorn Baby Carrier Free
Sale
BabyBjorn Baby Carrier Free
Excellent comfort with built-in back support and waist belt
Easy to put on and take off
Soft and airy design in cool 3D mesh
Carry facing in or facing out on your front
Pros

Cons

Built-in back support
Face in or out
Airy mesh fabric
Padded shoulder straps
Adjustable supports

Tough to get on
Needs more adjustability
Sure, the BabyBjorn Baby Carrier Free does come at a higher price, but it's one well worth paying for those stricken with chronic back pain. This carrier not only has a lumbar support belt but also built-in back support for complete coverage. All of the support features are adjustable as well for a custom and snug fit no matter the wearer.
Whether you face the baby in or out, your back is sure to be protected. Made of an airy mesh fabric that'll keep both you and baby cool, it's suitable for any climate. The padded, adjustable shoulder straps create a firm yet pleasant hold to keep you carrying as long as you need.
Do keep in mind that because it's got so many elements of support, it can be tough to get on yourself. Also, while the carrier is fully adjustable, it may not be the best baby carrier for plus-sized or petite physiques.
Material: Polyester | Maximum Weight Recommendation: 35 pounds | Suggested Age: 0-18 months
View on Amazon | View on Walmart.com | View on Target.com
Best Carrying Options: LÍLLÉbaby Ergonomic 6-in-1 Baby Carrier
LÍLLÉbaby Ergonomic 6-in-1 Baby Carrier
Six Positions: The LÍLLÉbaby Complete All Seasons baby carrier features 6 ergonomic carry styles for 360 degree babywearing; Zip down front gives control over your child's temperature by revealing our breathable mesh
Versatile Carrying: LÍLLÉbaby Complete Baby Carrier provides comfort and support for all with two way straps for front or backpack style carrying, large storage pocket, removable sleeping hood and extendable torso
Hands Free Comfort: When on the go, LÍLLÉbaby's baby carriers and toddler carriers let you hold your child in comfort and style; Adjustable side panels widen and narrow the seat for comfortable hip positioning
Natural Bond: LÍLLÉbaby makes baby products that bring functional style to parents; We want parents to be able to keep baby close while building a natural bond with comfortable baby carriers and slings
Pros

Cons

Six carrying positions
Zip-down front
Lumbar support
Newborn to toddler
Removable hood

Hard to put on alone
Mesh is thick
A soft structured carrier that'll take you from infancy to toddlerhood, the LÍLLÉbaby Ergonomic 6-in-1 Baby Carrier doesn't skimp on the back support features. Providing an upper and lower back strap, both padded, you can choose to wear the top set of straps straight or crossed—whichever feels best on your back.
You're not stuck with just one way to wear this ergonomic baby carrier either. You've got six options to choose from which is extremely helpful if certain positions tend to be easier on your back. The zip-down front gives parents more temperature control for the baby, and the removable hood is an excellent addition for naps or feeds.
This carrier is also one that's hard to get on if you're by yourself. The top strap, in particular, cannot be reached by the wearer if it's already on. The mesh is also thick in some areas, but keep in mind the zip-down front may help with that at least a smidge.
Material: Polyester, Cotton | Maximum Weight Recommendation: 45 pounds | Suggested Age: Newborn and up
View on Amazon | View on Walmart.com | View on Target.com
Best Adjustable Carrier: Ergobaby Omni 360 Baby Carrier
Ergobaby Omni 360 Baby Carrier
All-in-one baby carrier: Adapts to your growing baby from newborn to toddler (7-45lbs and fits babies from 0-48 months): No separate infant insert required: All carry positions included: Face baby in or out: Wear on the hip or back
Cool and breathable: Our cool Air Mesh collection baby carriers are made with soft and durable mesh fabric that provides our renowned ergonomic support for baby
Comfort: Exceptional lower back comfort with padded lumbar support waist belt and extra padded shoulder straps with the option to wear 2 ways: Crossed or "backpack style": Waist belt can be worn high or low to maximize comfort, especially post C-section
Ergonomic as baby grows: Acknowledged as hip Healthy by the International Hip Dysplasia Institute: Adjustable bucket seat supports baby in an ergonomic natural "M": Position in all carry positions
Pros

Cons

Padded lumbar support
Hip healthy design
Detachable pouch
Lightweight mesh
Adjusts from XS to XXL sizes

Feels bulky to some
Could be softer
If you're struggling to find a baby carrier that's best for back pain but also for multiple users, the Ergobaby Omni 360 Baby Carrier is just the ticket! The padded lumbar support staves off back pain while the carrier's generous adjustability fits parents from sizes extra small all the way up to double extra large!
This lightweight mesh carrier comes with a detachable pouch where you can store items in reach while wearing it, then quickly detach it when it's off. The hip-healthy design cannot go unnoticed either, creating the natural "M" shape your baby's growing hips need.
Though it's a winner by most measures, it can be pretty bulky depending on the size of the wearer. It's also not as soft as some other carriers may be, though its durability tends to make up for that fact.
Material: Cotton | Maximum Weight Recommendation: 45 pounds | Suggested Age: 0-4 years
View on Amazon | View on Walmart.com | View on Target.com
Best Lightweight Carrier: Infantino Flip Advanced 4-in-1 Carrier
Sale
Infantino Flip Advanced 4-in-1 Carrier
Design: 4-in-1 convertible carrier with adjustable ergonomic seat with adjustable shoulder straps and waist belt to shift weight to the wearers hips for a more comfortable fit
Wearing positions: Convertible facing-in and facing-out design for newborns and older babies, weighing between 8-32 pounds
Benefits and use: Experience hands-free convenience with opportunities for bonding and developmental benefits, whether it's running errands or exploring parks, there's no place like close
Adjustability: Adjustable 2-position seat, padded shoulder straps and supportive waist belt, designed to fit a wide range of body types and lifestyles
Pros

Cons

Waist belt support
Extra padded straps
Four ways to carry
Adjustable head support
Machine washable

Not plus-size friendly
Gets hot quickly
A classic style carrier weighing just over a pound, the Infantino Flip Advanced 4-in-1 Carrier is a fantastic lightweight option. The adjustable waist belt offers your back the support it needs with extra padded shoulder straps to take the strain off your shoulders.
Four ways to carry, including face-in with folded or expanded seat, face-out, or backpack carrying; you're sure to find a carry position that works for you. The adjustable head support makes it ideal for infants, too, as does its machine-washable fabric for easy clean-ups.
It's worth noting that the shoulder straps expand at a max of 39 inches and the belt at a max of 49 inches, so it's not a solid selection for plus-sized parents. Also, though the fabric is gentle on the skin, it gets hot quickly with little ventilation.
Material: Polyurethane Foam, Cotton, Polyester | Maximum Weight Recommendation: 32 pounds | Suggested Age: 0-3.5 years
View on Amazon | View on Walmart.com | View on Target.com
Best Alternative Carrier: Tushbaby Hip Seat Baby Carrier
Sale
Tushbaby Hip Seat Baby Carrier
THE ORIGINAL AND ONLY USA SAFETY CERTIFIED HIP BABY CARRIER: As seen on SHARK TANK, Good Housekeeping, BuzzFeed, Parents Magazine, Redbook, Woman's Day, Cheddar, Daily Mail, Best Products, etc. TushBaby is a USA business that you can trust; We put your baby's safety first
LIGHTWEIGHT + VERSATILE: Weighing less than 1 pound, TushBaby doubles as a diaper bag with large storage pockets; No need for the extra bulk of a diaper bag
TUSHBABY WILL HELP YOU FOR YEARS: Made for newborn up to 3 year old toddlers (or 44 lbs); Four positions: feeding, side carrying, front facing, and face to face
APPROVED BY PEDIATRICIANS FOR BABIES AND CHIROPRACTORS FOR ADULTS: The ergonomic seat puts your baby's hips in the pediatric-recommend M position, and reduces painful spine curvature for grown-ups
Pros

Cons

Lightweight design
Memory foam seat
Thick waistband
Several pockets
USA safety certified

Extender sold separately
Bulkiness causes heat
Depending on the type of back pain or injury, some might prefer fewer straps in contact with their back in general. If that's the case, the Tushbaby Hip Seat Baby Carrier provides a trusty alternative. A hip-seat carrier with a thick waistband, it relies on your hips to do the majority of the work.
A lightweight design, coming in at just under a pound total, it's perfect for travel and doesn't add on tons of additional carrying weight. Parents will love all the storage pockets, while babies appreciate the memory foam seat underneath them. The only USA safety-certified hip seat, you can count on your little one being safe and secure.
Though the waistband is adjustable, the extender is sold separately, which might be frustrating to plus-sized users. The seat also tends to feel bulky, especially if you sit down with it on.
Material: Polyester, Polyurethane Foam, EVA | Maximum Weight Recommendation: 44 pounds | Suggested Age: Newborn and up
View on Amazon | View on Walmart.com | View on Target.com
Preventing Back Pain While Babywearing
Can babywearing cause back pain? The truth is yes, it can, but it doesn't have to! The leading cause of back pain in babywearing (with any type of carrier) is due to an improper fit. Parents can get into the habit of throwing the carrier on in a hurry with most attention given to how the baby is secured, and not so much attention to how they're wearing it.
Believe me, I can relate. I once carried my then infant for days on end on a family vacation without adequately adjusting the waist belt, and boy, did I pay for that. All this to say, take the time to adjust the carrier to you, not just the baby. Common causes of back pain from baby carriers are twofold: the shoulder straps and the waist belt.
Shoulder straps should be a snug fit. Loose straps are bound to cause back pain as the lack of closeness to the baby draws them away from you, hence pulling on the back. Likewise, a loose waist belt will do just the same. A low-fitting belt will also cause back pain; keep that waistband high and tight for less strain on the back.
Those two pointers alone are bound to prevent most of the back pain regular wearers can experience. Even so, one last tip, albeit an obvious one, will help: Don't overdo it! If you've been wearing your baby for an extended period of time, take a break or have a friend or family member to take over while you give your body a break.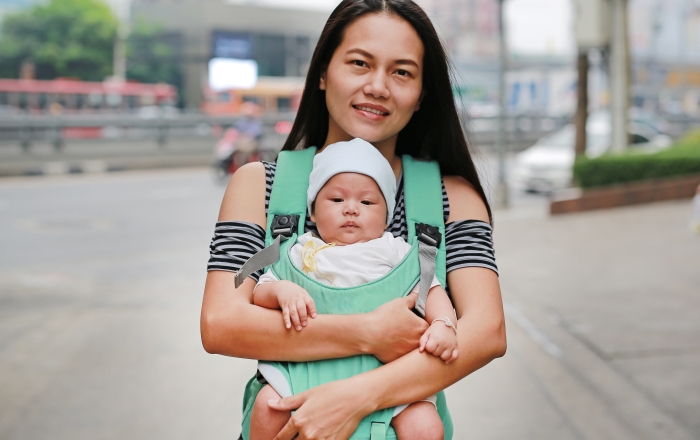 Tips When Choosing the Best Baby Carrier for Back Pain
There are a lot of baby carriers on the market, but even some of the most highly rated, best baby carriers may not be conducive to preventing back pain. That said, keep these three elements in mind when you're picking out a baby carrier for someone dealing with back pain:
Padding: Select a carrier with ample padding. The body will always compensate in some way for the discomfort you feel, and we want to avoid that for your back's sake. Poor padding on the shoulder straps, for example, may have you leaning or hunching in a way that affects your back, which makes padding key!
Weight: What's the total weight of the baby carrier you're looking to purchase? Considering all the weight of carrying your child is already more than enough for a back prone to pain, we want to mitigate any extra weight in this situation. Look for a carrier that's particularly lightweight and promotes proper weight distribution.
Support: The most crucial element of choosing a baby carrier for back pain is the support features. A carrier with little to no support features is not a good choice for those with back pain. Select a carrier with one or more back support features and padded ones at that!
Now that we know what types of baby carriers we do want, let's review some carriers to avoid if you have back pain. Other than avoiding carriers with little to no back support, there's one other main rule of thumb to avoid, and that's uneven shoulder distribution. In a traditional carrier with two straps, your shoulders do most of the work.
The two straps allow the distribution of the baby's weight evenly, which keeps your back in the correct alignment. The same can't be said for one-shoulder strap carriers. These usually come in the form of sling carriers, and the pulling it creates on one side is, without a doubt, a recipe for disaster. These should be avoided at all costs by those with back pain.
FAQs
What stretching exercises can I do to lessen back pain caused by babywearing?
There are many stretching exercises that can be done to lessen back pain caused by baby-wearing. A common yoga pose most people know, the child's pose, is a great way to open up the spine by reaching your hands forward as your knees rest on the ground.
The cat-cow stretch, where you arch your back and then drop it into a curve, alternating back and forth, is effective as well. A simple knee-to-chest stretch will loosen and lengthen the spine; laying flat on your back, you'll keep one leg outstretched on the floor while bending the other one up and holding it to your chest.
Can baby carriers be used to promote good posture and alignment, and are there any carriers that are specifically designed for this purpose?
A good baby carrier will promote good posture in your little one so long as their hip placement is correct. Their hips need to be in the "M" shape not only for posture but to mitigate any risk of his dysplasia. As for parents, moms in particular, babywearing can help regain some of the healthy posture habits that are naturally lost in pregnancy.
Be mindful of actions like relaxed shoulders, keeping your head over your shoulders, and a neutral pelvis. All of these promote proper posture when babywearing and will help expedite the mom's healing process postpartum, as posture directly affects pelvic health.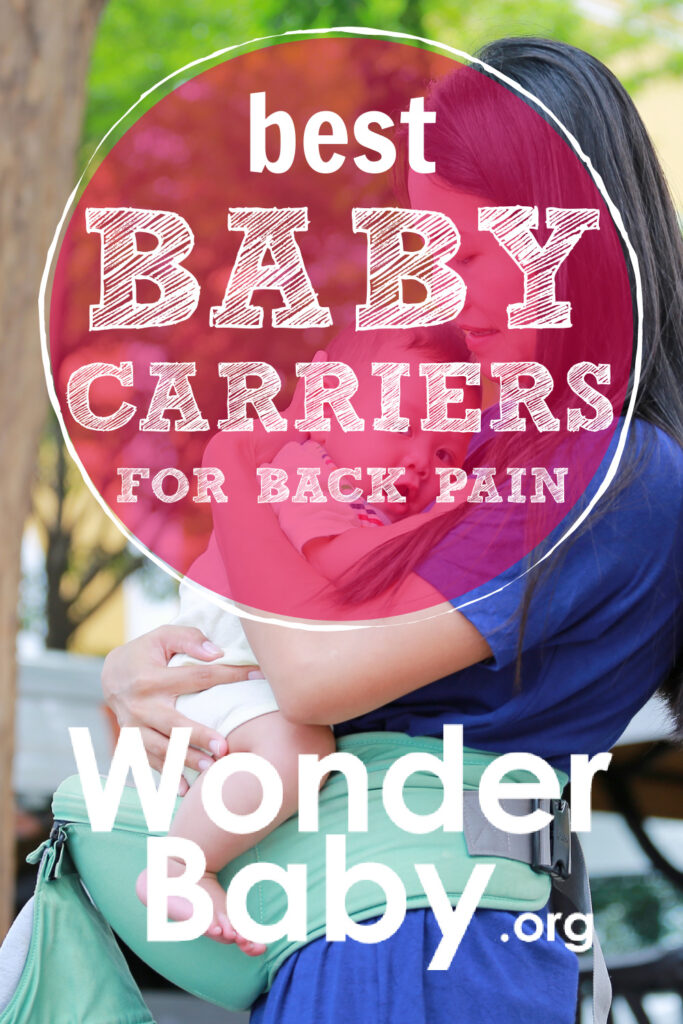 Related Posts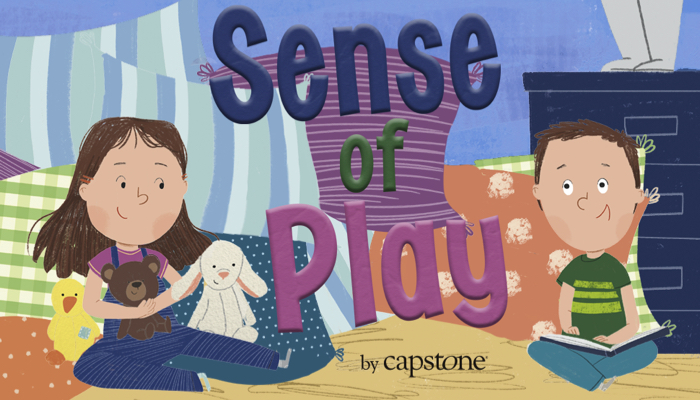 Braille and Literacy, Product Reviews, Visual Impairment
Dana Meachen Rau's book, Sense of Play, follows the adventures of Chip and Joy as they play. Chip is blind, but this doesn't get in the way of their play!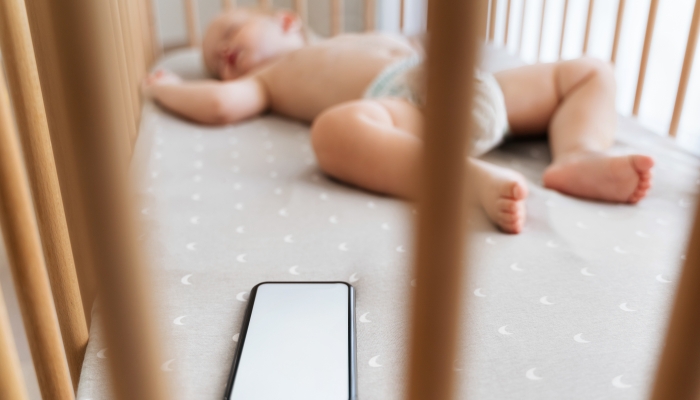 Product Reviews
Wondering whether white noise will help your little one sleep better? Here's our guide to the best baby sound machines to help your baby fall asleep soundly.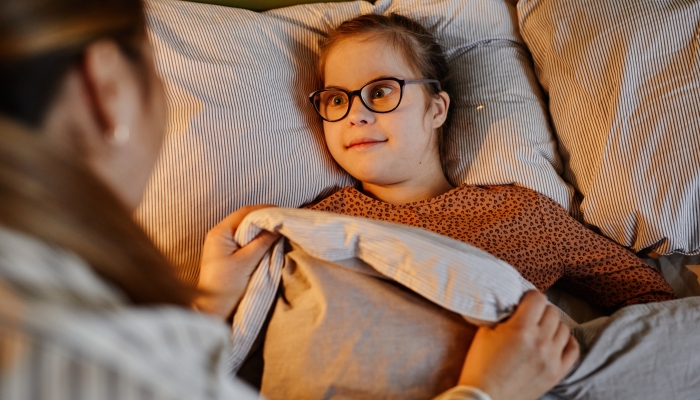 Product Reviews
Heard a lot about weighted blankets and lap pads and wondering how to choose one? Here's our guide to the ins and outs of finding the right weighted blanket.