The 9 Best Diaper Genie Alternatives of 2023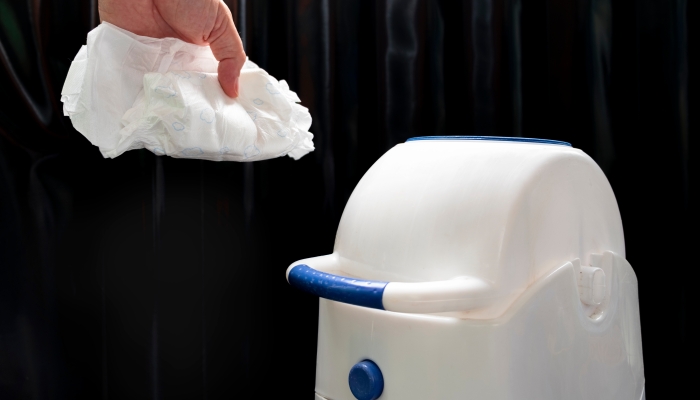 This post may contain affiliate links; please see our terms of use for details.
New parents are often surprised to find that diaper pails are not cheap!
The initial cost of the diaper bin plus the expense of the plastic liners adds up quickly.
You may be asking yourself if there are cheaper, easier alternatives to a diaper genie.
Every family is different, and depending on your family's size and how often you take out the trash, you will decide on the diaper disposal system that works for you.
Some of the alternatives listed below are diaper pails that are less expensive or have better features than other popular genies. And some of the alternatives listed give you the option of skipping the diaper pail altogether – while still eliminating the odor of dirty diapers.
Best High-Quality Diaper Genie Alternative
Best Portable Diaper Pail
Best Budget Diaper Pail
Dekor Plus Hands-Free Diaper Pail
Munchkin Toss Portable Disposable Diaper Pail
Safety 1st Easy Saver Diaper Pail
Best High-Quality Diaper Genie Alternative
Dekor Plus Hands-Free Diaper Pail
Best Portable Diaper Pail
Munchkin Toss Portable Disposable Diaper Pail
Best Budget Diaper Pail
Safety 1st Easy Saver Diaper Pail
Best Budget Diaper Pail: Safety 1st Easy Saver Diaper Pail
Safety 1st Easy Saver Diaper Pail
Easy 1 hand use
Uses standard plastic bags
Dorizer disc included; Replacement discs sold separately (23900); Warning: Proposition 65 reasons: Titanium dioxide, other chemicals
We love that with the Safety 1st Easy Saver Diaper Pail you can use any trash bag. No need to purchase costly or hard-to-find specific refill bags. This is an excellent opportunity for parents to choose a biodegradable or more eco-friendly option like this one.
The cons of this diaper pail is that it doesn't have a foot pedal or hands-free opening. You have to press the top for it to pop open and then drop soiled diapers inside. You can do this one-handed, which is useful while snuggling your little one simultaneously.
This diaper pail comes with a deodorizing disc and purchasable refills to absorb odors. Parents raved that this diaper disposal system is simple, no complicated twisting after each diaper, and easy to refill. The pail holds up to fifty diapers, as well.
View on Amazon | View on Walmart.com | View on Target.com
Best Medium-Sized, Machine-Washable Pail: Creative Baby Tidy Diaper Pail
Creative Baby Tidy Diaper Pail
Keeps odors out of room and in pail
Compatiable with any disposable bag
Designed for one hand easy use
Modern design for the modern family
The Creative Baby Tidy Diaper Pail opens easily one-handed. Simply turn the handle, open the trap door, drop the dirty diaper in and close it up to contain the smell. This canister holds up to thirty diapers.
While this pail isn't completely hands-free, it's beloved by many parents because it's one of the few diaper bins on the market with dishwasher-safe parts. In this case, it pays to have a smaller diaper bin as this is virtually impossible with larger capacity diaper pails.
The more frequently you change the trash bag or liner, the less odor you will have, so it's good practice to change the liner often. Parents love that they can use any bags with this pail. The sleek design and muted colors blend in well with almost any decor.
View on Amazon | View on Walmart.com | View on eBay.com
Best Odor-Fighting Diaper Pail: Ubbi Steel Odor-Locking Diaper Pail
Ubbi Steel Odor-Locking Diaper Pail
SAVE MONEY – NO NEED TO BUY SPECIAL BAGS: No special bags, refills or inserts are required with the Ubbi diaper pail saving time and money unlike other pail on the market
MOST AWARD WINNING DIAPER PAIL: The Ubbi diaper pail won NINE awards proving parents and experts approval
STEEL LOCKS IN ODOR: Unlike plastic, steel is not porous and keeps the smell shielded inside
NO SPECIAL MECHANISM – SIMPLICITY WORKS BEST: Ready right out of the box, simple to use and not prone to breakage
For some, fighting odors in the home can feel like an endless battle. As the suggests, the Ubbi Steel Odor Locking Diaper Pail is ready for the challenge.
This large-capacity can holds up to fifty-five soiled diapers at once. The door on top easily slides open to drop in diapers and lock-in odors, making it a one-handed job. The pail is made of sturdy steel, making it attractive (it comes in several colors), modern, and the optimal material for trapping odors.
This pail also has a neat child safety lock, so your baby won't be able to open it and drop in toys or explore the contents inside. Parents loved that this bin was easy to open, lock, clean, and refill with any bags of your choosing.
View on Amazon | View on Walmart.com | View on Target.com
Best High-Quality Diaper Genie Alternative: Dekor Plus Hands-Free Diaper Pail
Dekor Plus Hands-Free Diaper Pail
Totally Hands-Free: Step, Drop, Done! No Bending, No Twisting, No Squishing, Unlike Ordinary Pails! Care & Cleaning: Spot or Wipe Clean
Most Cost-Effective Diaper Pail Refill System on the Market. Dekor Refill System Creates Less Waste – Use ONLY What You Need!
Effective Triple Odor Control Keeps the Smell in the Pail
Award Winning Product Tested by Millions of Parents
This highly-rated Dekor Plus Hands-Free Diaper Pail has loads of parents hailing its hands-free, back-saving features, especially compared to its more famously named alternative.
Many parents complain that some traditional diaper pails require you to bend down (a big task for exhausted mothers everywhere) and squish a fully-loaded dirty diaper through a not-so-big opening. Parents rave about the Dekor, because it has a foot pedal to open the top and a large opening to drop diapers in.
Many also stated they appreciate that the material stands up to heavy-duty scrubbing to kill germs and bacteria (not all diaper pails can).
You can use any bag to refill this pail. Still, many parents prefer to use the loaded refills because you only use as much as you need – making it a lower-waste option. Price-wise, it works out to about what you'd spend on regular trash bags.
This is a large-capacity diaper pail, holding up to sixty diapers. To combat odor, we are not going to test that capacity limit and don't recommend you to, either!
View on Amazon | View on Walmart.com | View on Target.com
Best Portable Diaper Pail for Travel: Munchkin Toss Portable Disposable Diaper Pail
Munchkin Toss Portable Disposable Diaper Pail
5 freestanding, durable and compact pails; ideal for any space and on-the-go disposal
Each pail holds up to 30 newborn diapers
Resealable lid with odor-trapping panels keep stink and wetness contained
The perfect pail for travel. Toss' collapsible design fits in any diaper bag when empty
Many parents don't feel comfortable disposing of their baby's latest blow-out in a friend's home or a public park. An ingenious and often overlooked necessity for diaper disposal on the go is the Munchkin Portable Disposable Diaper Pail.
These collapsible diaper bins come in a set of five, making road trips and vacations odorless and much easier. They're small enough to fit in your bag, and expand to hold up to thirty diapers. It's ideal for playdates and family gatherings, and no one will know you've just changed a diaper.
View on Amazon | View on Walmart.com | View on eBay.com
Regular Trash Cans: Glad Stainless Steel Step Trash Can with Clorox Odor Protection
Some parents may shudder at it, but it's fine to throw most diapers in the kitchen or bathroom trash, and it won't smell any more than your normal trash can odors. With my first child, I did not use a diaper pail – at all. I lived in a small home where I disposed of dirty diapers in the kitchen trash can and threw them out daily.
For poopy diapers, you might opt to wrap them in grocery bags or disposable plastic bags before throwing them into the can. This will help contain the smell until you take the trash out. Still, you want a good quality trash can, preferably with a lid to keep babies and pets out and odors contained.
Glad Stainless Steel Step Trash Can with Clorox Odor Protection
20 GALLON TRASH CAN – Fits 50% more trash compared to a standard 13 gallon/ 50 liter can. Take fewer trips taking out the trash! For use with any "black bag" with capacity of 20 gallons or larger – perfect for large families.
WASTE BIN WITH ODOR PROTECTION – Provides protection of the lid and the lid frame by blocking and trapping unwanted odors for the life of the can.
REAR TRASH BAG BAG COMPARTMENT – Convenience of storing extra bags right behind the trash can – dispense easily from the sides without having to move the can. Storage compartment is permanently attached to back of trash can.
FINGERPRINT RESISTANT WITH BAG RINGS – No inner trash can liner required. The bag rings keep the trash bag slack neatly tucked in while securely keeping your bag in place and preventing it from falling in.
If you're looking for a quality trash can to help fight odors, the Glad Stainless Steel Step Trash Can is a great, hands-free option.
Many parents prefer to use a regular trash can for diapers as they can use grocery bags or their chosen trash bags. Look for something with the capacity to suit your family while still allowing you to take out the trash every day or every other day.
View on Amazon | View on Walmart.com | View on Sears.com
Puppy Poop Pick-Up Bags: Yingdelai Dog Poop Bag
Many parents prefer puppy poop bags as they are designed to pick up waste and mask foul odors. Many of these bags come scented to aid in masking stinky smells. Environmentally conscious parents can also opt for bags made with biodegradable materials.
This approach can work well in combination with the trash can mentioned above — toss the diaper in the poop bag, toss the poop bag in the trash can, and you've got a fairly odor-free diaper disposal solution. (May not work as well for larger diapers.)
Sale
Yingdelai Dog Poop Bag
❤【Eco Friendly】Biodegradable dog poop bag are made of high-quality, vegetable-based ingredients, the earth friendly and non normal plastic material can be break down in the nature.Yingdelai poop bags aim to reduce the plastic pollution to the environment.
💪【 Leak Proof & Strong】Each dog poop bags are measure 13.5 x 9 inch, which large enough to tie and pick up more pet poops. The poop bags for dogs are durable and leak-proof. No more worry for have feces on bare hands because of rips.
🐕【Easy Tear Off】Our doggy poop bags tested to open easily and the bottom easy-tear hole seam for quick detach bag from the roll. Operating handy poop bags make sure you can enjoy a stress-free outdoor walk with your best furry friends.
🐾【Fresh Scented Poop Bags】odor-control fresh scented puppy poo bags for all size of dogs, dog bags for poop also can be used for cat litter clean up, baby dirty diapers, food scraps, or car litter disposing.
Yingdelai Doggy Poop Bags are made from quality, vegetable-based ingredients that are Earth-friendly and nonharmful to animal and plant life. They are also good quality, thick, and come in a fresh scent.
This option is especially appealing to families with dogs, as they can share this cost and ideally keep a disposal bin in the garage or outside trash can.
View on Amazon | View on Walmart.com | View on eBay.com
Disposable Diaper Bags: Ubbi Disposable Diaper Sacks
Similar to the dog poop bags mentioned above, these small plastic sacks come in a fresh scent and are odor and wetness-resistant. They are made for disposal only, as opposed to a wet bag, which we will discuss next.
Ubbi Disposable Diaper Sacks
Perfect to dispose of diapers at home or on the go
Fresh lavender scent helps to mask unpleasant odors
Features easy-to-tie tabs that make diaper clean up a breeze
Includes 200 diaper sack bags
The Ubbi Disposable Diaper Sacks are comparably priced to the other pet-related options. We like that these have a lavender scent, easy-tie tabs, and that they're made from recycled materials. You can easily put a few of these small sacks in your diaper bag for any occasion where you need to contain wet, dirty, or yucky items.
View on Amazon | View on Walmart.com | View on eBay.com
Wet Bags: ALVABABY 2pcs Cloth Diaper Wet Dry Bags
Many parents are discovering the benefits of using washable cloth diapers, which involves carrying around a wet bag to store soiled diapers when you're out of the house. Even parents not using cloth diapers can utilize wet bags as an environmentally conscious way to limit their use of plastic bags.
Sale
ALVABABY 2pcs Cloth Diaper Wet Dry Bags
Fashion , Reusable&Waterproof , High quality -A trim and attractive design. ALVABABY wet/dry bag are made from waterproof 100% polyester, put dirty cloth diapers in a wet bag. Comes with handle for easy carrying or attaching to your diaper bag or stroller.
Double Zippered - TWO Zippered compartments for keep wet and dry things separate. Each bag contains a "wet" section that is sewn and sealed for no wicking or leaking.
Enough Space-30cm x 36cm (approx.:11.5 in x 14 in),Holds approximately 5-7 cloth diapers. Light weight, easy to carry (less than 50 g).
Multi-functional Bags-A truly wonderful bag that allows you to carry your wet and dry items in the same bag. Carry all your items in one bag while keeping your dry items dry and your wet or soiled items separate. Truly an all in one bag! They can be used as diaper wet dry bags,travel bags,storage bags,cosmetic bags,handbags,wash bag,organizer bags.
The ALVABABY 2pcs Cloth Diaper Wet Dry Bags are waterproof, leak-proof, and zip shut, so you can reuse them and contain odors until you're ready to empty them. The material can be wiped clean with a disinfectant wipe or washed in your washing machine.
Parents love that these bags are not just for diapers. A waterproof bag helps store wet bathing suits, dirty clothing from sporting events, muddy shoes, breast pumps and milk, and more. These wet bags are highly favored for having double compartments, holding wet and dry items simultaneously.
View on Amazon | View on Walmart.com | View on eBay.com
What Can I Use Instead of a Diaper Genie?
There are plenty of great alternatives to the diaper genie that are both functional and attractive in a home. The best ones are hands-free, with a foot pedal or easy-open trap door to drop in soiled diapers. Most are designed to contain odors and many use odor-absorbing products that can be refilled.
How to Prevent Diaper Pail Alternatives from Stinking
Most diaper pails do a respectable job containing and masking odors. However, it's best to be realistic about your expectations. You cannot expect any pail to contain or absorb odors from dirty diapers completely.
The most significant way to fight odor is to not let odiferous waste stay in your home for too long. Instead, consider these items as tools to help you enjoy your home and live more comfortably.
Regardless of what method you choose, it will likely take trial and error before deciding on the diaper disposal system that works for your family. And by using natural and safe odor-fighting products — like carbon filters, or good ol' vinegar and baking soda — you can keep your home smelling fresh.
FAQs
How do you make a diaper genie not smell?
A diaper genie alternative will almost always have a door that locks to contain the smell of poopy diapers. If you're still smelling foul odors, sprinkle some baking soda on the bottom of the can or attach an activated charcoal sachet to the lid.
Are fancy diaper pails worth it?
The answer to this is personal. Many parents prefer to throw their baby's diapers in the kitchen trash and dispose of them daily. Others prefer a diaper pail in their baby's nursery that contains the smell, and they can change the bag when they have time.
A diaper pail is a beneficial thing to have, but it's not a necessity. Many parents claim they are absolutely worth the price, but it's a personal decision to make for your family.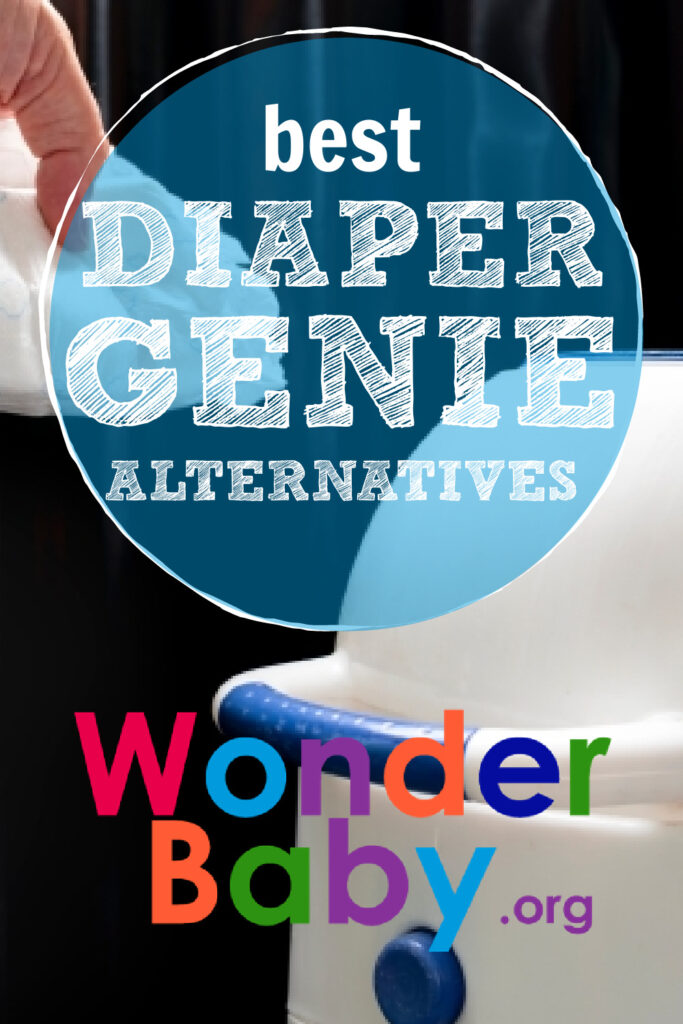 Related Posts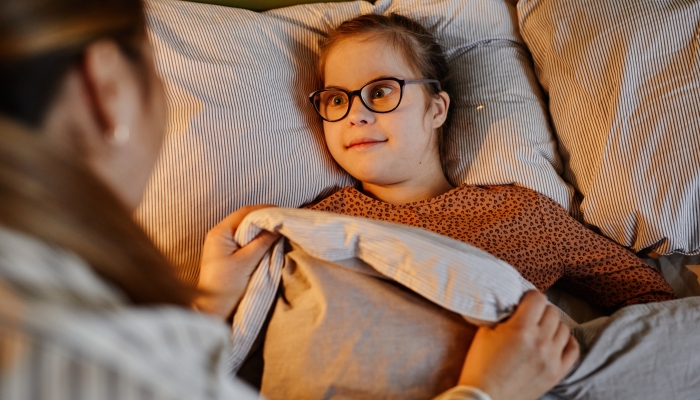 Product Reviews
Heard a lot about weighted blankets and lap pads and wondering how to choose one? Here's our guide to the ins and outs of finding the right weighted blanket.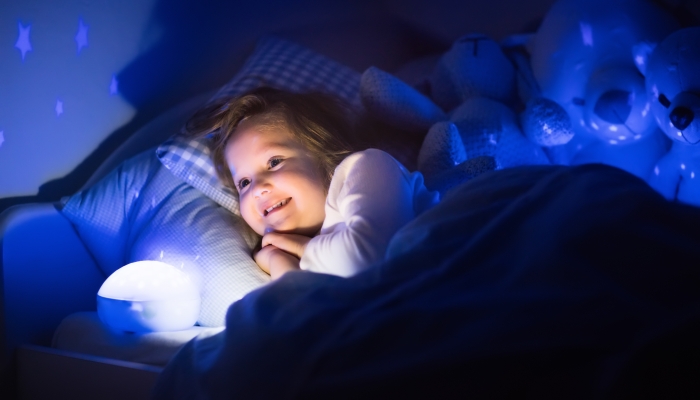 Product Reviews
Looking for the right night light to help your little one ease into bedtime? Check out our guide for everything you need to know about toddler night lights.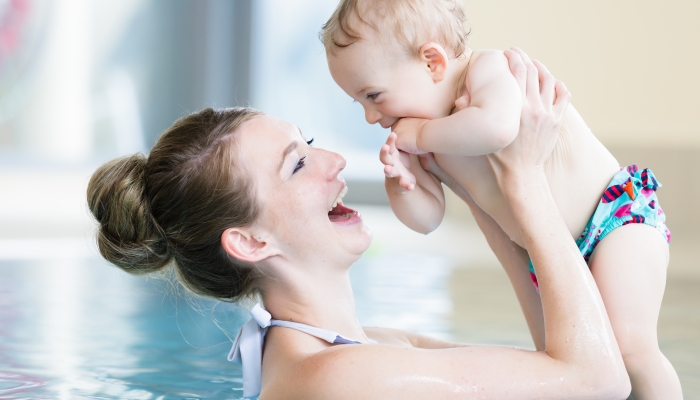 Potty Training, Product Reviews
The best swim diapers are comfortable and help prevent your baby from having an accident in the pool or ocean. Find our favorites in this round-up!