Bassinet vs Crib: What's the Difference?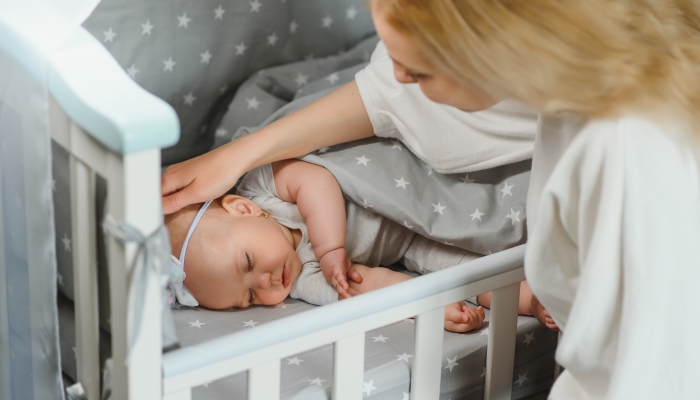 A bassinet is a baby bed made specifically for the early months of your baby's life, typically 0 to 4 months old.
A baby crib is a small bed with a railing on all four sides. Cribs typically have weight limits of around 50 lbs and can withstand the wear and tear from active toddlers.
It's important to know that both a bassinet and a crib will keep your baby safe.
You've got all your nursery colors picked out. The rocking chair has been ordered, and you already bought that cute rug you had been eyeing. But wait—what about the crib?
You might find your mind whirling with questions.
Do I even need a crib right now? Should I just purchase the bassinet? Or should I skip the bassinet altogether and jump straight to a crib?
With safe sleep guidelines as a common topic in the parenting world, parents are often very concerned about making the right decision. Ask around, and you will find that some parents swear by bedside bassinets while others say cribs are the only way to go.
If you're preparing for your new little bundle, you might find yourself wondering what the difference is between a bassinet and a crib. If they're similar, does it matter which one you purchase?
We're here to guide you through your decision-making process, so you can feel confident about which you choose. When it comes to the bassinet vs crib debate, learning their differences will help you decide.
What's a Bassinet?
A bassinet is a baby bed made specifically for the early months of your baby's life. This is typically in the 0 to 4-month age range.
The sides of baby bassinets are either made of cloth or mesh for safe sleep. They are typically oval or rectangular and are fairly compact. They come in varying designs, fabrics, and colors to fit your taste.
You'll also notice the height of bassinets usually come up to your waistline. This is crucial for moms who have had c-sections. Bending over a crib to lower your baby down to sleep would be very difficult in this case.
A portable bassinet often has wheels on it which makes it easy to transport. This also allows you to pull your baby close to your bed at night. Having your baby within arm's reach is a huge help for the middle-of-the-night feedings or checking on your baby.
The mattresses in baby bassinets are thin and firm to protect your baby from suffocation. They are small and oval in size and require special fitted sheets.
Some bassinets come with extra features like mobiles, canopies, vibrating features, or music. These are helpful features when your baby is fighting sleep. A rocking bassinet, for example, comes with a rocking function to gently lull your baby back to sleep.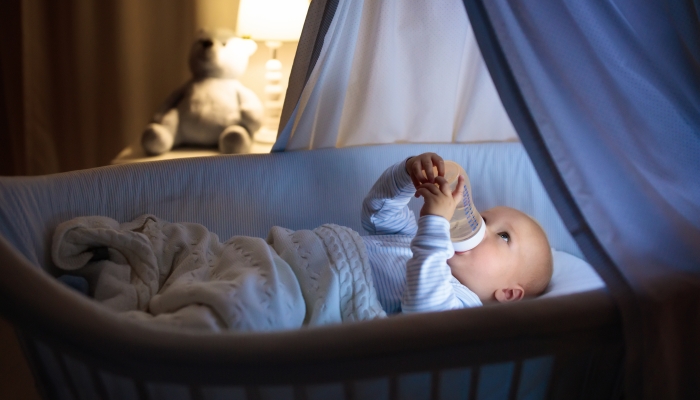 Pros and Cons of Using a Bassinet
Many parents find themselves on the hunt for the best bassinets when creating their baby registry. While bassinets are a popular choice for many parents, that doesn't automatically make them the right choice for you. Here are some bassinet cons and pros to consider:
Pros
Adjustable Height. Many bassinets feature adjustable height controls. Being able to adjust the height of your bassinet is extremely helpful after c-sections or for leveling the bassinet next to the bed.
Portable. Some parents prefer putting their baby in their own room from the beginning, while others prefer room sharing instead. A bassinet gives you the flexibility of choosing where your baby will sleep. This also means you can use it for daytime sleep around the house.
Safe. Many parents are aware of safety guidelines surrounding sleep. Bassinets are equipped with ideal features like breathable sides and thin mattresses. This gives parents peace of mind while their baby sleeps.
Compact. Compared to standard cribs, a bassinet takes up less room. This is perfect for parents who want their baby close but have tight sleeping spaces.
Lightweight. After birthing a baby, your body needs time to rest and recover. This means new moms shouldn't be lifting heavy objects, especially if they've had a c-section. Bassinets are a great lightweight sleep space that you can safely lift and move.
Cons
An Additional Purchase. When purchasing a bassinet vs crib for your baby, you'll have to buy a crib when your baby outgrows the bassinet eventually. This means you'll spend more than if you just bought the crib in the first place. Parents will need to decide if this is worth the additional cost.
Short Usage Time. Most babies will outgrow bassinets by the time they are 4 months old. This doesn't give you much use for your money. However, the convenience and portability might make up for the short usage window.
Potential Tip Hazard. Bassinets are tall and lightweight. This puts bassinets at a greater risk of tipping over. This is why you should only use them for babies up to 4 months of age. If you have other children in the house, you'll need to make sure they know not to climb or pull on the bassinet.
Only Fits a Special Mattress. When you purchase a bassinet, it will come with a bassinet mattress. However, should you need to replace the mattress or when you need to find extra sheets, it will be more difficult. Standard crib mattresses and sheets can be found in many stores. Bassinet mattresses and sheets will likely need to be ordered online.
What's a Crib?
A baby crib is a small bed created specifically for babies. Cribs are enclosed with railing on all four sides. The sides are often wooden slats, and the standard crib frame fits a toddler or crib-sized mattress.
Cribs come in many variations and sizes.
Convertible Cribs
Convertible cribs allow you to change the bed for your growing baby. These cribs usually have options to convert from a crib to a toddler bed and later to a headboard for a full-sized bed.
With more versatility than traditional cribs, convertible cribs are often more expensive. However, many years of use will certainly give you your money's worth.
Mini Cribs
Mini cribs are a more compact version of a traditional crib. Smaller in size, they require a special mattress that fits the dimensions of the frame.
These cribs are a great option for small spaces.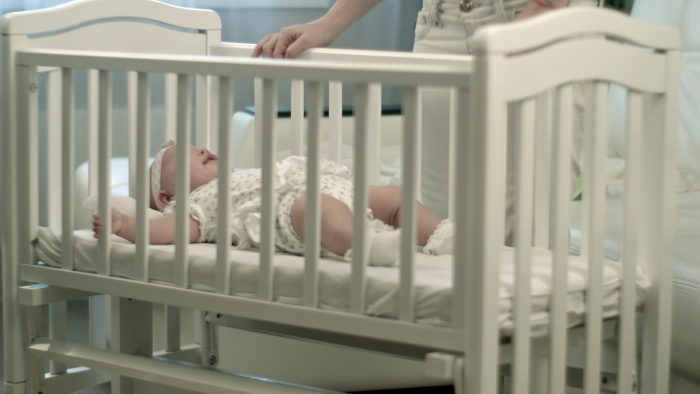 Pros and Cons of Using a Crib
Cribs are one of the most common items found in a baby's nursery. For this reason, many parents assume they need to get one right away. This list of crib cons and pros will help you decide if it's the right choice.
Pros
Sturdy. If you go straight to using a crib from the beginning, you won't ever have to worry about tipping risks. A crib is a solid and heavy piece of furniture that is not easily pulled over, unlike most bassinets. Even if your baby stands in the crib, they won't be able to tip it over. This reassurance of your baby's safety might be worth the challenges that come with a crib in the early days.
Long Lasting. When you purchase a crib, particularly a convertible crib, you'll get years of use out of it. Cribs typically have weight limits of around 50 lbs and can withstand the wear and tear from active toddlers.
Fits Standard Mattress. If you choose a traditional crib, you won't have any issues finding a mattress. These cribs fit a standard toddler mattress. This means you'll also be able to find sheets easily.
Cons
Heavy. Cribs are unable to be moved around the house without much effort. With a crib, you won't have the option to move your baby's sleeping space around the house. Most parents don't have extra room for a crib in their bedroom. If parents choose to room share, a crib would be more difficult to fit in.
Expensive. For parents on a tight budget, a crib might also cost more than they want to spend. Many cribs cost anywhere between $100 and $1000.
Bassinet vs Crib: What's the Difference?
There are a few main differences between a bassinet and a crib.
| | | |
| --- | --- | --- |
| | Bassinet | Crib |
| Mattress | Only fits custom bassinet mattresses. | Fits standard crib mattresses. |
| Sheets | Only fit custom bassinet sheets. | Fits any standard crib sheet. |
| Portability | Can easily be moved around the house. | Can not be moved easily and is too big when assembled to fit through doorways. |
| Size | Small and compact. | Wide frame with tall sides. |
| Ease of Use | Easy to place and remove your baby without bending. | The low mattress and high sides make placing and removing your baby more difficult. |
| Cost | Averages between $50 and $100. | Averages between $100 and $1000. |
What's Better for You: A Crib or a Bassinet?
It's important to know that both a bassinet and a crib will keep your baby safe. According to the American Academy of Pediatrics, a crib, bassinet, portable crib, or pack 'n play are all acceptable baby products for safe sleep.
These are important safety considerations from the AAP every parent should know.
Always put your baby to sleep on their back until they are one year old. Babies who sleep face down are at a higher risk for SIDS.
Mattresses should be firm and meet the standards of the CSPC. No other items should be in your baby's crib or bassinet except for a fitted sheet.
Avoid co-sleeping. Babies should only be brought into your bed to feed or comfort. Afterward, they should be placed on their backs in their crib or bassinet.
Room share if possible. The AAP recommends keeping your baby near you at night to reduce the risk of SIDS. Room sharing is a much safer alternative to co-sleeping.
Only use an approved sleeping device such as a crib or bassinet. Never leave your baby sleeping in a car seat, swing, couch, lounge pillow, etc.
FAQs
Can a newborn go straight into a crib?
Many parents find themselves asking, "When can I move my baby to a crib?". Or they wonder if it's safe to place them in the crib from day one.
Rest assured, knowing that it's perfectly safe to let newborns sleep in a crib instead of a bassinet from the start. If you find your baby won't sleep in a bassinet, the crib is a safe alternative. Some parents find that their babies actually prefer the extra space and thick mattress.
The important thing to note is that the mattress is firm and that your baby is sleeping on their back. Also, all items like crib bumpers, stuffed animals, or blankets should never be in your baby's crib.
How long can my baby sleep in a bassinet?
The safety standards for bassinets note that they should not be used when your baby can roll over. Bassinets have age and weight limits as well, but your child might develop faster than most.
Generally speaking, if your baby is rolling over, weighs at least 20 lbs, or is 4 months old, it's time to move them out of the bassinet.
Which is more space-efficient: a crib or a bassinet?
A bassinet is more space-efficient. However, this is only an option for the first few months of your little one's life.
If space is an issue and you'd like to purchase something that would last longer, we recommend a mini crib. A mini crib will give you more months of use while allowing you to save on space.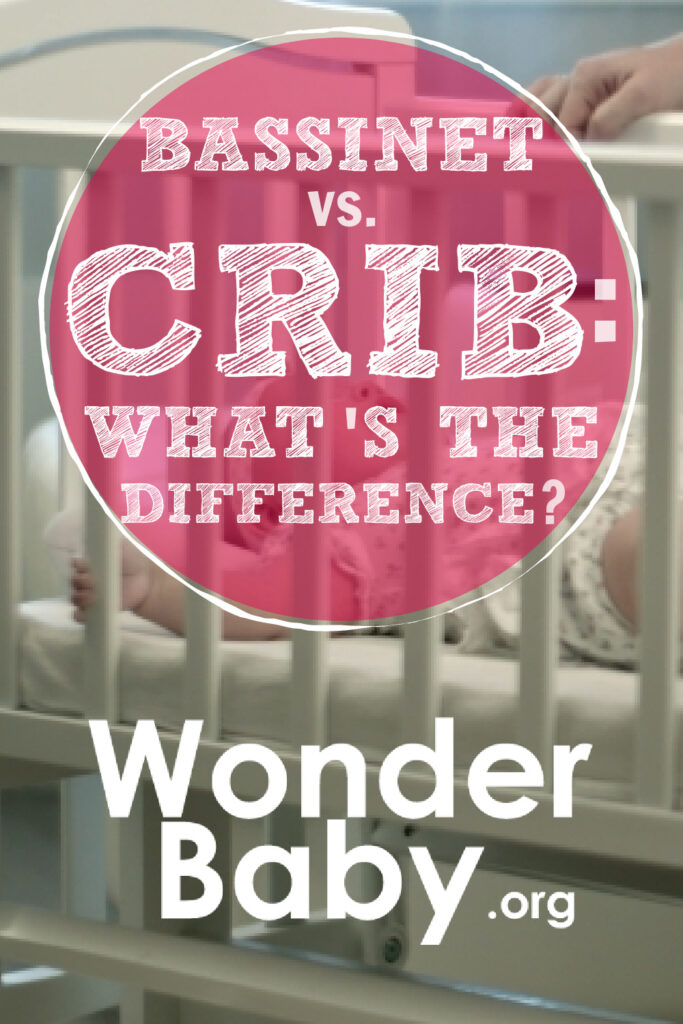 Related Posts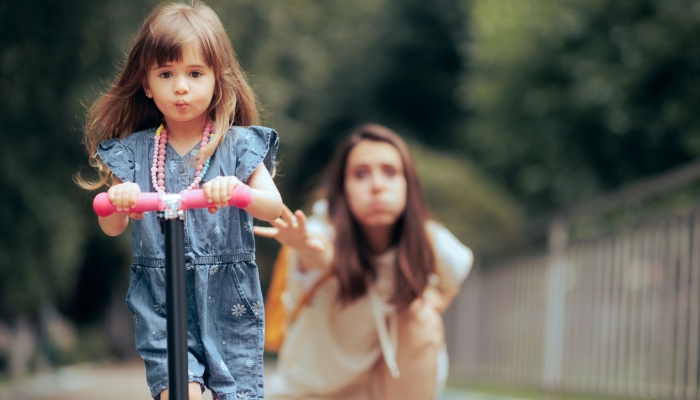 Development, Parenting
Understanding the history, differences, and strengths of proximal and distal parenting will help you decide what parenting approaches work best for your family.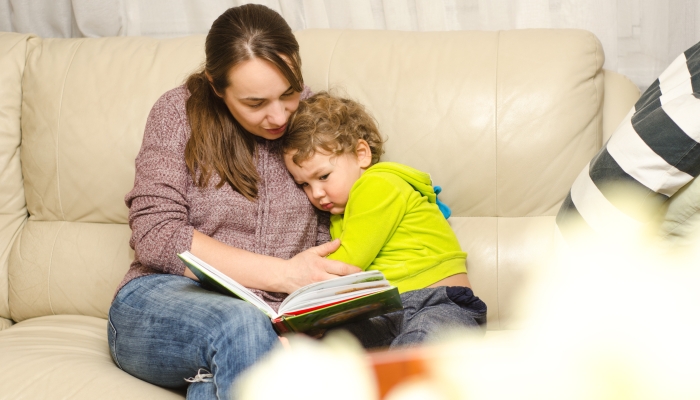 Parenting
Children's books can help you and your kids get through sad and difficult times. We've found some of the most healing books about grief for kids.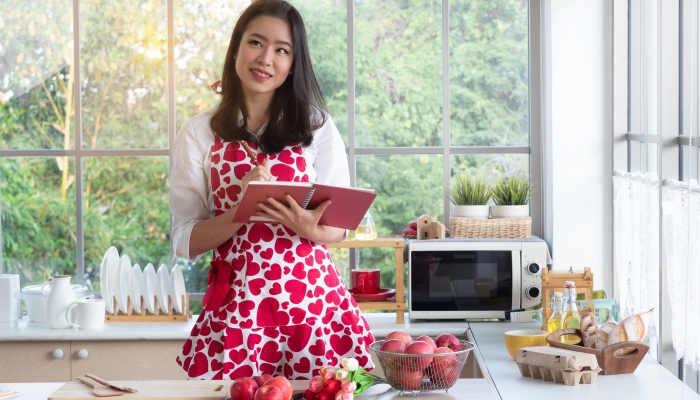 Parenting
Staying motivated as a stay-at-home mom isn't easy when you're responsible for so much. But these motivation boosters are sure to keep you going!