Gardening with Kids: Planting Seeds of Knowledge in Preschool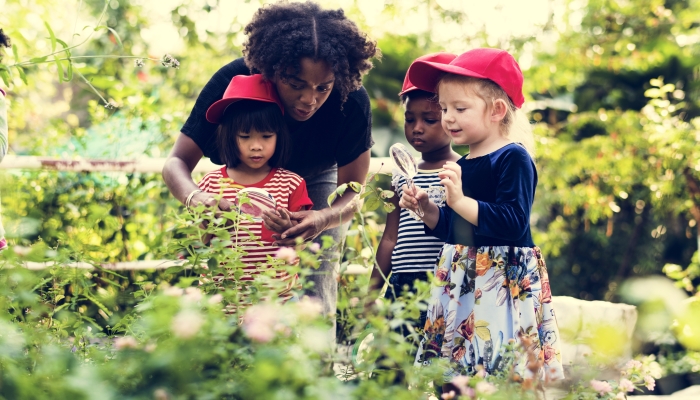 This post may contain affiliate links; please see our terms of use for details.
Gardening with kids is a great way to get them outside while teaching them about nature and science.
Gardening helps teach kids about the life cycle of plants and encourages little ones to be outdoors.
Teaching preschoolers how to garden helps develop cognitive skills, including critical thinking and enhancing observation skills.
My son was in the garden club at school in first grade, and the children became highly involved and excited about their garden. There is something very exciting about growing your own food!
I was surprised to find that my kids are more likely to eat certain vegetables if they help grow them! Personally, I love going into my backyard and finding fresh produce to add to our next meal.
Gardening activities with kids are a great outdoor activity to spark creativity and show preschoolers how things grow. Whether it's vegetables, flowers, or fruits, creating a garden in your backyard is an excellent activity for children of all ages.
Setting Up a Preschool Garden
You may wonder where to begin if you've decided to create a garden appropriate for preschoolers. Gardening activities for kids should be fun, so remember not to go into the process with high standards. Children learn as they go, and there may be a few hiccups along the way.
Things to consider when you set up a preschool garden:
Choosing the right spot
Selecting different plants
Finding age-appropriate garden tools and equipment
Minding safety considerations
You can get creative and make a DIY watering can with water bottles. All you need to do is drill holes in the bottle caps and have the kids fill the bottles with water. It's an excellent way for kids to see how you can reuse plastic bottles you have lying around.
Educational Activities in the Garden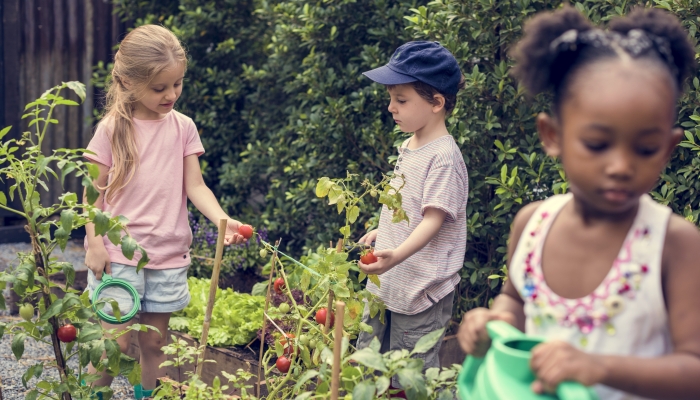 Anytime my kids can learn and have fun is a significant win in my book. It also helps to get fresh fruits, vegetables, and flowers in the process! According to Rasmussen University11. Flavin, B.. Gardening for Kids: 7 Reasons Planting Seeds Enriches Their Lives. Rasmussen University. 2016. https://www.rasmussen.edu/degrees/education/blog/gardening-for-kids-benefits, consistent gardening involvement can improve alertness, cognitive abilities, and social skills.
The Classroom in the Garden
Growing plants is a fun, educational activity for kids and helps them learn about the natural cycles and environmental changes. Fun gardening activities are also educational when you discuss the science and math behind a garden.
You can also teach your preschoolers how leaves breathe by placing a leaf in a water bowl, waiting a few hours, and watching the oxygen bubble up to the surface. Ensure you don't collect fallen or dead leaves for the experiment—use a fresh one instead.
Seasonal Garden Activities
Since the weather significantly impacts your garden's quality, I've compiled a list of what grows best depending on the season. Remember, what you plant in the fall might not be ready for the Thanksgiving dinner table, so always read the packaging before you plant seeds.
Here's a list of what you should plant in each season:
Fall
The fall might be about pumpkin spice and everything nice, but it's also a great time to plant the following:
Spring bulbs, like tulips
Pansies
Perennials
Radishes
Spinach
Winter
Wintertime brings cold temperatures, but you can plant the following to enjoy when the snow melts.
Carrots
Onions
Herbs, including rosemary and thyme
Violas
Spring
Spring and flowers go together like peanut butter and jelly. Most people associate springtime with the optimal gardening period. It's a great time to get outside and let the kids observe plant growth.
You can get your children and start planting these in your garden:
Vegetables, including tomatoes, peas, and carrots
Daffodils
Marigolds
Peonies
Paperwhites
Summer
Summer is the time to get ready for fall! You'll want to take note of these to create the perfect fall front porch!
Pumpkins
Squash
Lettuce
Carrots
Sweet potatoes
Certain vegetables don't do as well in scorching temperatures, so reading the packaging is always a good idea to understand better the best time to put the seeds in the ground.
DIY Garden Activities for Kids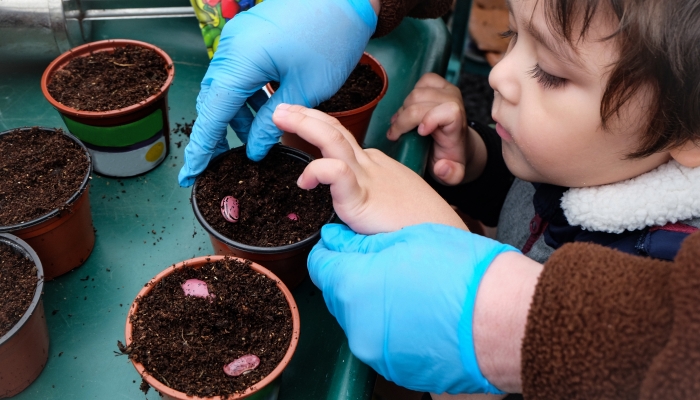 I'm a big fan of DIY projects, especially when it involves activities for my kids. Here are a few fun ideas you can create this weekend with your children.
Fairy Garden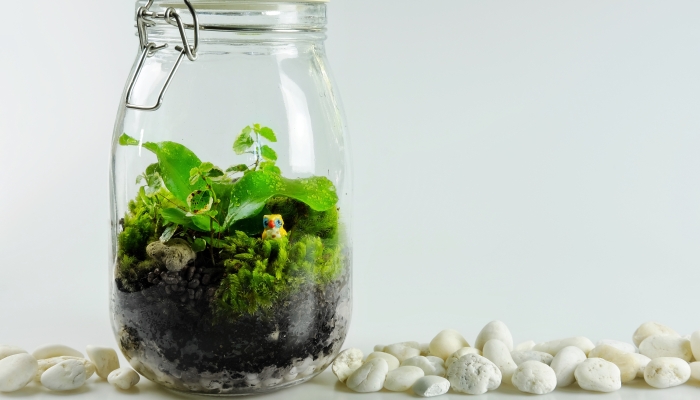 While you can buy a fairy garden set, creating your own is more fun. Follow these steps for a fun activity your preschoolers will love!
Get a mason jar or water bottle and place the soil on the bottom.
Plant seeds and add fairy accessories/decor
Decorate the outside of the jar or bottle
Watch your plants grow
If you get chia seeds, they will grow fast, and your little ones won't have to wait as long.
Egg Carton Garden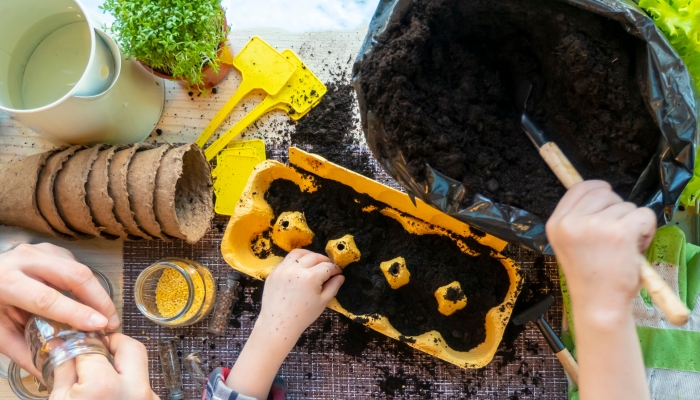 Whenever I have empty recyclable egg cartons, I always set them aside for a future project. One of my favorite gardening activities is planting various seeds in the egg carton compartments and transferring them to the backyard garden as they sprout.
Since the compartments are separate, you can plant flowers or vegetables without worrying about them interfering with one another. Egg cartons are also great for growing herbs; parents will love the end product. (I loved the year my son wanted to plant cilantro!)
I recommend adding garden markers so you remember which spot carries which plant.
Toilet Paper Bird Feeder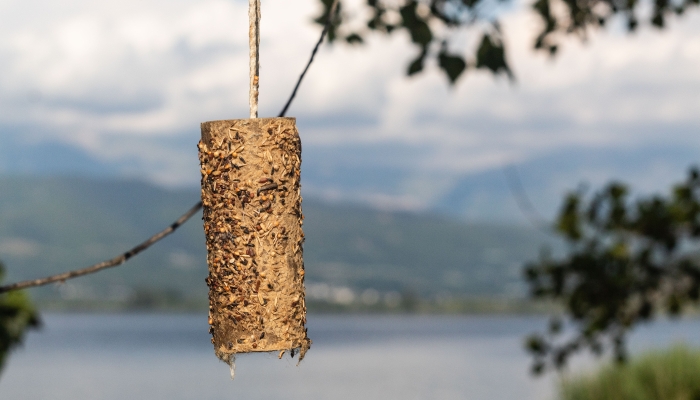 If you're like me, you have a stash of empty toilet paper tubes in your house. They are perfect for almost every project, including your garden.
One of the easiest crafts you can do with the roll is to cover it with peanut butter, add bird seeds, and hang it in your garden. You can also add a bird bath next to your bird feeder so the birds can get clean after they eat.
Sensory Garden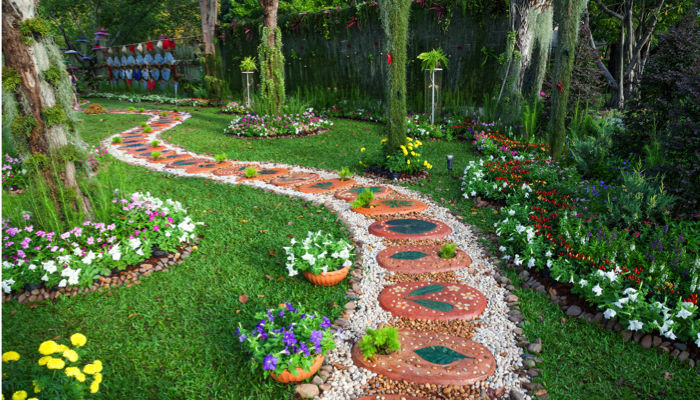 A sensory garden is a great idea for a child to help encourage them to use their senses to explore the world around them. Since sensory gardens are meant to be child-friendly, ensure you have nothing toxic in your garden.
You can add sense-engaging plants like sunflowers, snapdragons, basil, and scented geraniums. It's also fun to include wind chimes for a sweet sound while your child relaxes in their garden.
Sensory activities for preschoolers are important because they encourage curiosity, problem-solving, and creativity.
Flower Pot Craft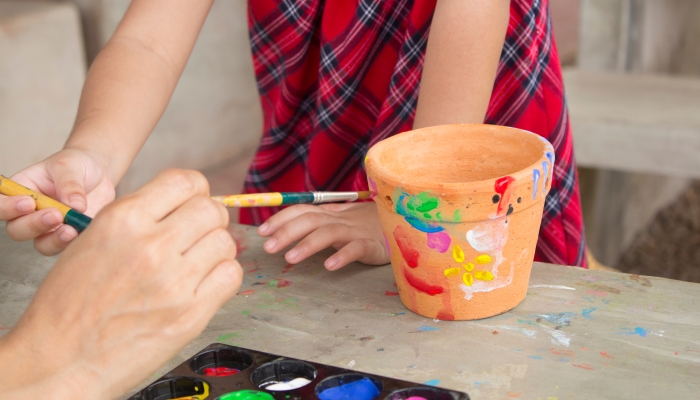 Another easy craft idea for children is to decorate their own flower pot. Children can paint, add googly eyes, and write their names. Once finished, they can fill it with soil and add their favorite seeds.
Kids can also make their own garden markers so they don't forget what they planted. Using hot glue, attach craft foam to a craft stick and have the child write the plant name on the stick.
I recommend the Olisx 12 Pack 4-inch Plastic Planters because they won't break if little hands drop them. The planters are also perfect for young gardeners who are still learning the tricks of the trade.
Olisx 12 Pack 4-inch Plastic Planters
【PLANTER SPECIFICATIONS】Plant nursery pots seed starting pots containers, the package includes 12 pack of 4 inch pots for plants, each with a tray, and it has a capacity of 1 pint. Plastic plant pots with drainage holes and saucers are more reassuring than glass or ceramic, they are lightweight and not easy to break.
【PLANT POTS WITH DRAINAGE HOLES AND SAUCERS】There are multiple drainage holes at the bottom of the flower pots to drain excess water faster, keep the soil moist and prevent the roots of the plant from rotting. And the tray of the indoor plant pots can help you keep the table tidy.
【SUITABLE FOR SMALL PLANTS】These 4 inch pots for plants are relatively small and suitable for small plants and seedlings. These small flower pots can be used indoors or outdoors to grow succulents, cacti, herbs, African violets, and more.
【MINIMALIST DECORATION】Simple plastic plant pots are versatile decorations, they can match various styles of homes and also show the beauty of plants. Small succulent pots can decorate home windowsills, shelves, balconies, dining tables, tables, offices.
Benefits of Gardening for Preschoolers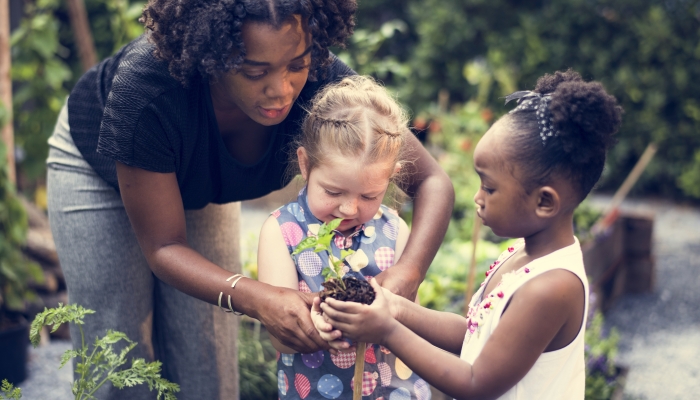 Gardening activities for preschoolers have many benefits and don't always involve getting their hands dirty. (Although getting dirty is fun sometimes!)
Cognitive Development
Preschoolers can improve their cognitive development by enhancing observation skills while they create their own garden. You can also teach your preschoolers how recycling organic materials can produce nutrient-rich soil from natural decomposition.
Physical Development
Getting outdoors to work in a garden helps physical development by improving motor skills and enhancing sensory experiences. Outdoor activities for preschoolers help them explore textures, smells, and colors.
Social and Emotional Development
Garden activities for kids are an excellent opportunity to learn responsibility and foster a connection to nature. If you are working with a group of preschoolers, it's a time for kids to learn to work together and understand their impact on a project.
In addition, planning a garden, planting the seeds, and watching them grow provides kids with a sense of purpose and responsibility22. Fernando, N., & Potock, M.. Gardening With Kids: How It Affects Your Child's Brain, Body and Soul. PBS. 2016. https://www.pbs.org/parents/thrive/gardening-with-kids-how-it-affects-your-childs-brain-body-and-soul. It's also a great stress reliever and mood booster.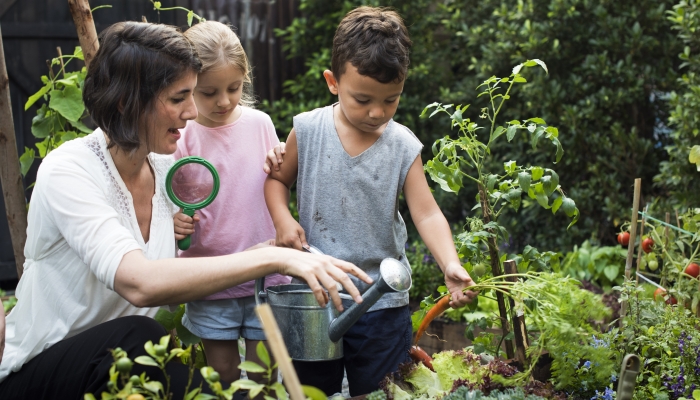 FAQs
What are the best seasonal plants for kids to grow?
Planting flowers is always a great option when looking for gardening activities for kids. Sunflowers are a great plant for kids to grow, especially since seeing how tall they get is exciting.
You can plant them in biodegradable flower pots and then directly in your yard as they grow. An herb garden is also a great beginner project because it usually grows fast and requires little work.
What safety precautions are needed for kids' gardening activities?
Gardening tends to be a safe activity for kids, but it's also best to monitor little ones around shovels and other gardening tools. Kids should also wash their hands when they are finished gardening.
What types of soil and fertilizers are safe for kids' gardens?
It's best to avoid soil and fertilizers with chemicals and harsh ingredients in your garden when used around kids. While organic fertilizer is best, children should still avoid it until it's absorbed into the soil. When setting up your garden bed, ensure your children know what to avoid.
References
Flavin, B. (2016, April 11). Gardening for Kids: 7 Reasons Planting Seeds Enriches Their Lives. Rasmussen University. https://www.rasmussen.edu/degrees/education/blog/gardening-for-kids-benefits
Fernando, N., & Potock, M. (2016, March 16). Gardening With Kids: How It Affects Your Child's Brain, Body and Soul. PBS. https://www.pbs.org/parents/thrive/gardening-with-kids-how-it-affects-your-childs-brain-body-and-soul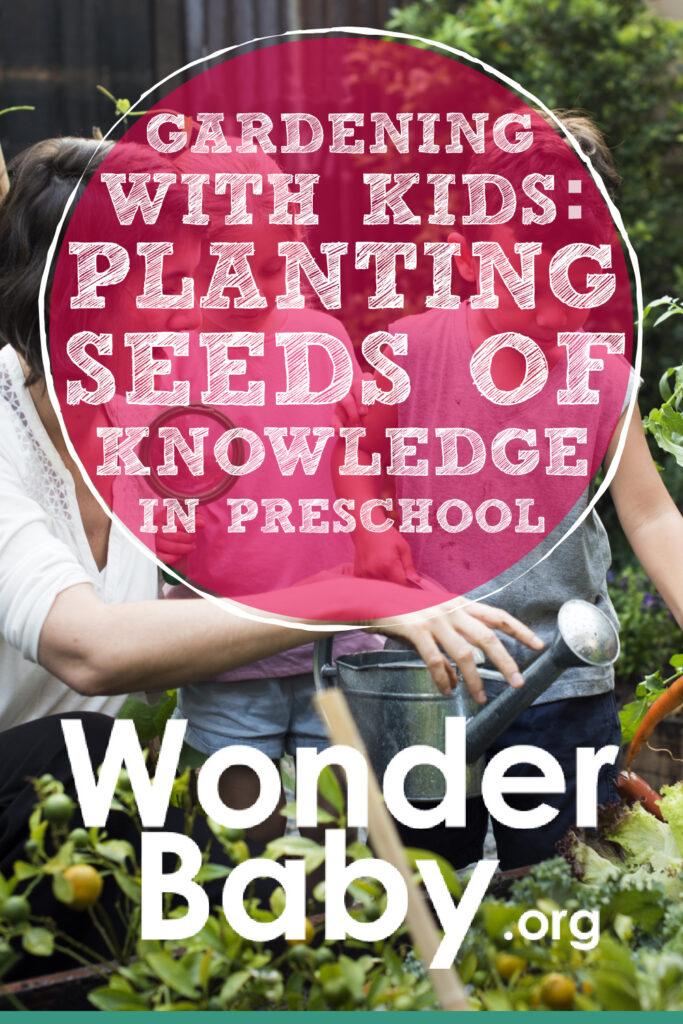 Related Posts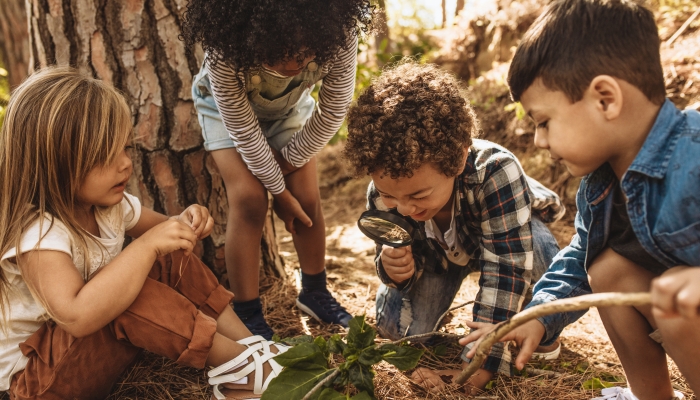 Math and Science, Sensory Activities
Looking for things to do outside with your preschooler? These ideas for outdoor learning are easy, inexpensive, informal, and best of all, fun!
Math and Science
Looking for ways to engage the young scientist in your life? Check out this guide to preschool STEM activities for some brilliant and fun ideas.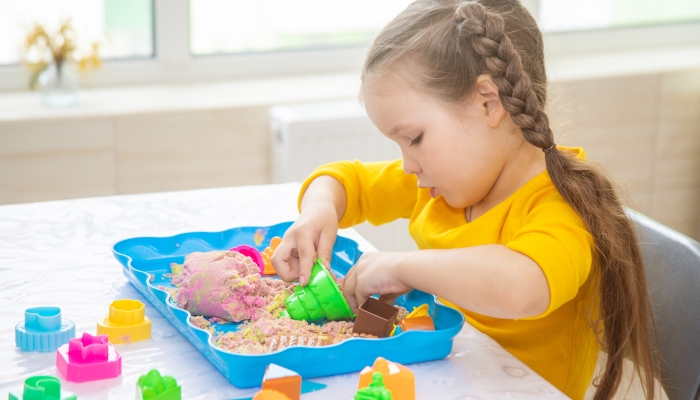 Sensory Activities
Sensory play is easy, fun, and doesn't have to be expensive. Check out our ideas for simple, hands-on - and messy! - sensory learning play with your preschooler.