How to Use a Boppy Pillow: Nursing, Tummy Time, & More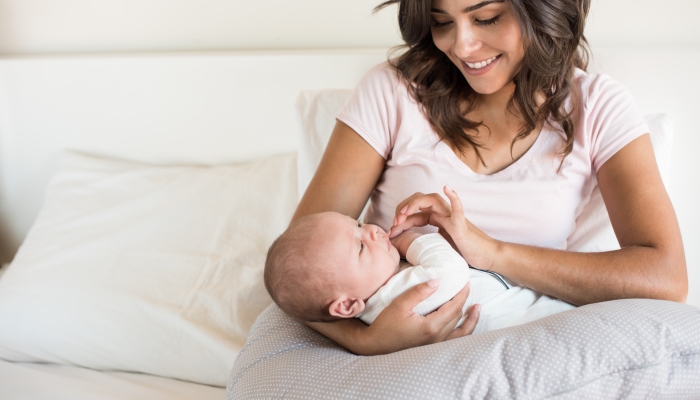 This post may contain affiliate links; please see our terms of use for details.
Boppy pillows, designed to support breastfeeding, can be used for so much more than just nursing.
Other uses include providing sitting support, using during tummy time, and support for bottle feeding.
They can also be a helpful tool for moms during pregnancy and postnatally!
It's important to use them safely and supervise your baby at all times when using your Boppy pillow.
I like to think of myself as a lazy minimalist—trying to have less clutter but still indulging in things that make life a bit easier.
When the nesting phase of pregnancy kicked in, I did the classic purge of items. But then the invasion of baby stuff began!
One of the things I was given was a Boppy pillow. At first, I didn't know how to use a Boppy pillow and thought it would be just another thing shoved into a corner until my next burst of decluttering energy.
What I didn't expect was for this to be one of my most used baby items, well beyond the newborn nursing stage.
How is a Boppy Pillow Different from a Regular Pillow?
A Boppy pillow is a long C-shaped nursing pillow. Unlike regular pillows, a Boppy pillow curves around your body. It's originally designed for nursing support but has many other uses as well.
Boppy pillows can be used for:
Breastfeeding
Bottle feeding
Tummy time
A pregnancy pillow
Postpartum support
Supported sitting
Snuggle support
Propped playing
And more!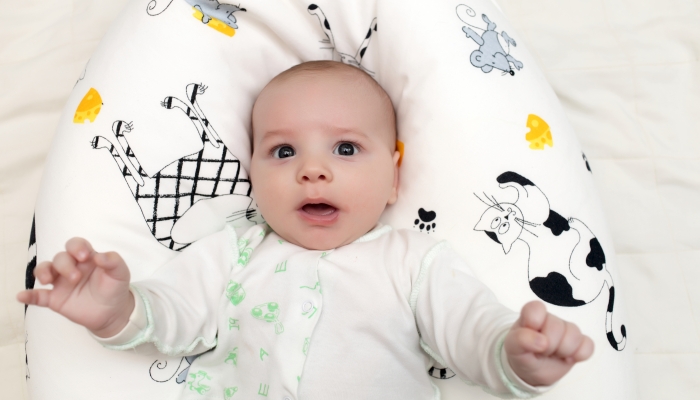 How to Use a Boppy Pillow for Nursing
Many women struggle with early feeding, whether breast or bottle feeding. When you spend hours a day nursing, it can be difficult to support your baby's weight. It often takes a lot of work to maintain a proper posture.
A Boppy pillow makes supporting your baby in the correct position easier without putting as much strain on your back, neck, and shoulders. It also brings them to the right height to encourage an effective latch.
Using a Boppy Pillow for Breastfeeding
You can use a Boppy pillow to support different breastfeeding positions including the cradle hold and football hold.
Here's how:
Get yourself comfortable. Use a breastfeeding chair or find somewhere with good back support to sit upright. It also helps to have a drink, snacks, and the TV remote within easy reaching distance!
Put the Boppy pillow on your lap so that it curves around your waist.
Place your baby horizontally on the pillow so that they're tummy-to-tummy with you. Your baby's nose should be in line with your nipple.
Gently bring your baby towards your breast by supporting their back (you don't need to hold your baby's head). Letting their chin touch your breast first encourages your baby's mouth to open wide.
Check your baby's latch and reposition if you feel any pain.
Repeat on the opposite breast by laying your baby facing the other direction.
The football hold position works in a very similar way. This position is particularly helpful for women who have had a C-section. This works in the same way as the above cradle hold, but with your baby lying along your side rather than front so that their feet are curved behind you.
Using a Boppy Pillow for Bottle Feeding
Bottle feeding using a Boppy pillow uses the same positioning as breastfeeding. The main difference is that you'll be holding the baby's bottle with your free hand.
You can use a nursing pillow for paced bottle feeding to help control the milk flow to your baby's stomach. This technique can benefit a baby who has reflux or won't burp.
For a paced bottle feed using a Boppy pillow:
Get comfortable and place the Boppy pillow around your waist.
Lie your baby along the pillow.
Raise one end of the Boppy pillow to bring your baby into a more upright position (around 45 degrees). You can pop an arm under or over the pillow by their head to raise it to the correct angle.
Hold the bottle horizontally and begin feeding by holding it under their nose. Stop to burp your baby if they pause feeding.
Always hold the bottle. It's dangerous to prop the bottle up.
How to Use a Boppy Pillow for Tummy Time
Regular tummy time strengthens your baby's muscles and improves neck and head control.
Some babies don't enjoy traditional tummy time where they're placed tummy down onto a floor or blanket. Boppy nursing pillows can help to support your baby's upper torso, which helps some babies to enjoy the position more.
Using a Boppy Pillow for Baby's Tummy Time
Place your Boppy pillow on the floor.
Lie your baby over the inside of the 'C' of the pillow with their upper body and shoulders propped up. The pillow should curve around their sides.
Select toys to capture your baby's attention and place these in front of them.
If your baby's arms or shoulders slip off the pillow, reposition them.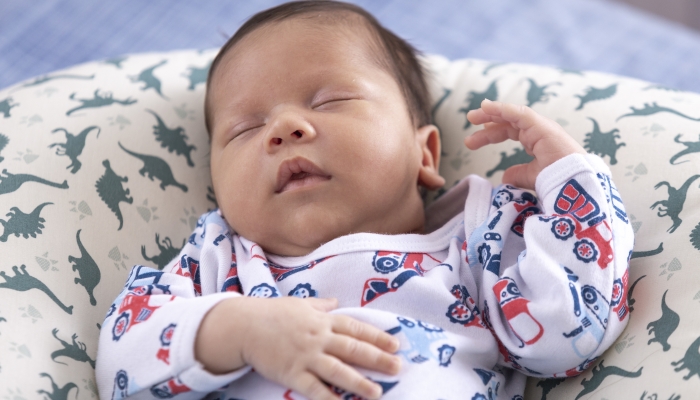 Other Ways to Use a Boppy Pillow
The Boppy pillow is one of those items that can be used for multiple things, both for mom and baby!
Pregnancy Pillow
Pregnancy pillows are designed to support an expectant mom's pregnant belly. They slot between your knees to provide hip, back, and abdominal support.
The National Institute for Health and Care Excellence (NICE) found in a recent 2021 study titled Maternal Sleep Position During Pregnancy that pregnant women should sleep on their side. Unfortunately, this position can lead to some women experiencing hip pain or feeling uncomfortable.
Instead of rushing out to buy another product, you can use the same pillow as for nursing. A Boppy pillow easily doubles up for pregnancy sleep support before your baby arrives, saving you space and money!
Postpartum Support
A Boppy pillow can also be useful for mom after you've given birth.
Similar to using it as a pregnancy pillow, it can be used for postpartum sleep support (for mom—pillows should not be used for baby sleep!). It could also be used during the day as a neck pillow or even to sit on to relieve pressure on sensitive areas.
A Boppy pillow may be a particularly helpful item for C-section recovery, but can generally help all women in their postpartum recovery period.
Supported Sitting
When your baby is first learning how to stay balanced in a sitting position, there are often a few falls!
There are concerns over some products designed to be a sitting aid, such as the bumbo seat.
We decided to use a Boppy pillow to help our baby sit, and it was fantastic. It helps to build strength in the sitting position and prevents too many topples. Curve the pillow around your baby while sitting to give them extra support.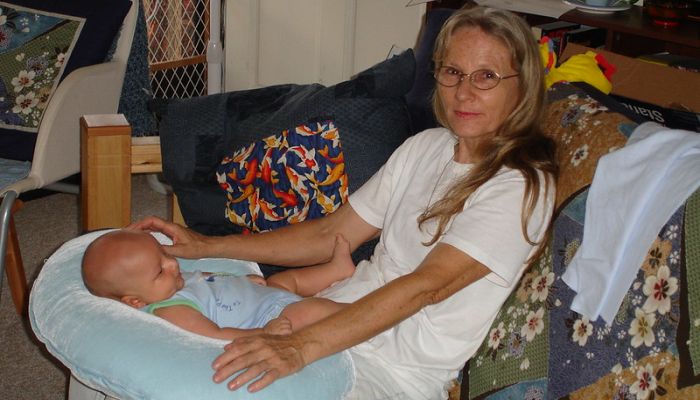 Snuggle Support
Baby snuggles are lovely but can put a lot of strain on your neck and back. You can use a Boppy pillow to support your body for those cuddly moments.
Nursing pillows can also help siblings, relatives, or friends to hold your new baby with more confidence.
Propped Playing
Propping your baby in the 'C' shape of the Boppy pillow can help elevate them to play from a different angle.
This can be especially useful if your baby doesn't enjoy being on their back or stomach for a long time. It can also help them to reach hanging toys from a play gym by bringing them closer.
Safety Tips When Using a Boppy Pillow
Using nursing pillows safely is essential, as improper use could result in serious injury.
These are some key factors to keep your baby safe when using their Boppy pillow:
Adult supervision at all times. Never leave baby unattended with their Boppy pillow.
Always place the Boppy pillow on the floor or on top of a blanket. Never use the pillow on an elevated surface, such as a table or sofa. This is to prevent falls.
Only use it when your baby is awake. If your baby falls asleep while using the Boppy pillow, immediately move them to a safe sleep area. This is to ensure proper breathing and prevent positional asphyxia.
Check out the Boppy safe use page for additional guidance.
Boppy Pillow Alternatives
There are several alternatives to the original Boppy pillow.
My Brest Friend Nursing Pillow
Sale
My Brest Friend Nursing Pillow
ERGONOMIC DESIGN Enhanced wraparound support back support to ensure maximum comfort and ideal positioning helping maintain ideal nursing position
SUPERIOR CUSHION TECHNOLOGY Our most thick and plush cushion delivers the most comfortable firm & flat support eliminating the gap between you & baby most crescent-shaped and U-shaped nursing pillows have & keeps baby from rolling in or away during breastfeeding
ENHANCED LUMBAR SUPPORT My Brest Friend's super deluxe nursing pillow features an enhanced backrest to maintain healthy posture to prevent sore back or neck Adjustable silent-release straps make for quiet removal when baby is sleeping
EXTRA PLUSH SLIPCOVER WITH POCKET My Brest Friend's super deluxe nursing pillow arrives with an extra plush easy on and off slipcover which features a convenient pocket to hold water bottles burp cloths phones or any other nursing accessories
If you're most interested in support while feeding, this is a great choice.
The larger back section gives the wearer maximum comfort and posture support. It even has an added pocket to keep your drink, snacks, and burp cloths close by!
VTech Discovery Tummy Time Pillow
Sale
VTech Discovery Tummy Time Pillow
Motor Skill Development: This giraffe tummy time toy provides comfortable support for your baby; a key component to the development of important motor skills
Mobility and Coordination: Support your baby while they are learning to move on their own; with 50+ songs, melodies, & phrases, playing with this giraffe toy is the tummy time activity your child will love
Take-Along Play: The giraffe baby toy features removable pieces including the rattle and piano; easily fit it into a diaper bag for compact, take-along play
Interactive Features: The light-up piano keys introduce colors & objects while short musical tunes play, developing fine motor skills and providing auditory stimulation
If you want your pillow to support your baby rather than nursing, there are some great tummy time pillows on the market.
This pillow from VTech has detachable toys including a piano and a rattle to keep your little one entertained.
Momcozy Nursing Pillow
Momcozy Nursing Pillow
Original Design, Great Support for Mom and Baby: Our nursing pillow for breastfeeding and bottle-feeding encourages better posture during nursing, take pressure off your shoulders and neck. Make every moms' breastfeeding life so much easier and happier. No more pain and sore arms.
Large size for All Around Support: Through the feedback of many customers, we have widened the sides of nursing pillow to provide more comprehensive arms support for moms. Size: 23.6"(L)*28"(W)*6.3"(H). The perfect mix of soft and firm.
With adjustable waist strap, it is fit most size, it help this pillow hugs your body securely and stays in ideal position, eliminates the gap between you & baby. Design with a security fence, keeps baby from rolling away during breastfeeding or nursing.
Multipurpose & Free Your Hand: Free mom's one hand and save time to handle multi-tasks or just enjoy their leisure time while nursing or bottle-feeding. Our pillow can accompany baby to grow, Feeding (0+ months), propping (3+ months), tummy time (6+ months) and sitting (9+ months).
Similar to the Boppy, this nursing pillow is multifunctional and can be used for your baby too.
The Momcozy is a larger design for extra arm support. It also has a "security fence" to prevent your baby from falling off the pillow. Finally, it has an adjustable waist strap to give you the perfect fit.
FAQs
Where can I buy a Boppy pillow?
You can buy the official and original Boppy nursing pillow from Boppy.com or Amazon.com.
For alternatives, search for "nursing pillow" or "tummy time pillow."
Is it safe to let babies sleep using a Boppy pillow?
It isn't safe for babies to sleep with a nursing pillow.
Safe sleep guidance from the American Academy of Pediatrics in 2022 recommends a "firm, flat, non inclined sleep surface" and for pillows to be kept away from your baby's sleep area.
How much tummy time can a baby do with a Boppy pillow?
Start slow with just a few minutes a day of tummy time. If they accept it, you can gradually increase the time they're on their tummies, aiming for around an hour a day by 3 months.
Every baby is different, so watch out for your baby's cues that they have had enough.
At what age can you sit a baby in a Boppy pillow?
Rather than baby's age, using your Boppy for sitting depends on your baby's development.
Introduce a Boppy when your baby starts to prop sit, leaning forward onto their arms. Younger babies can be placed propped up on their backs inside a Boppy pillow to lounge if they're supervised.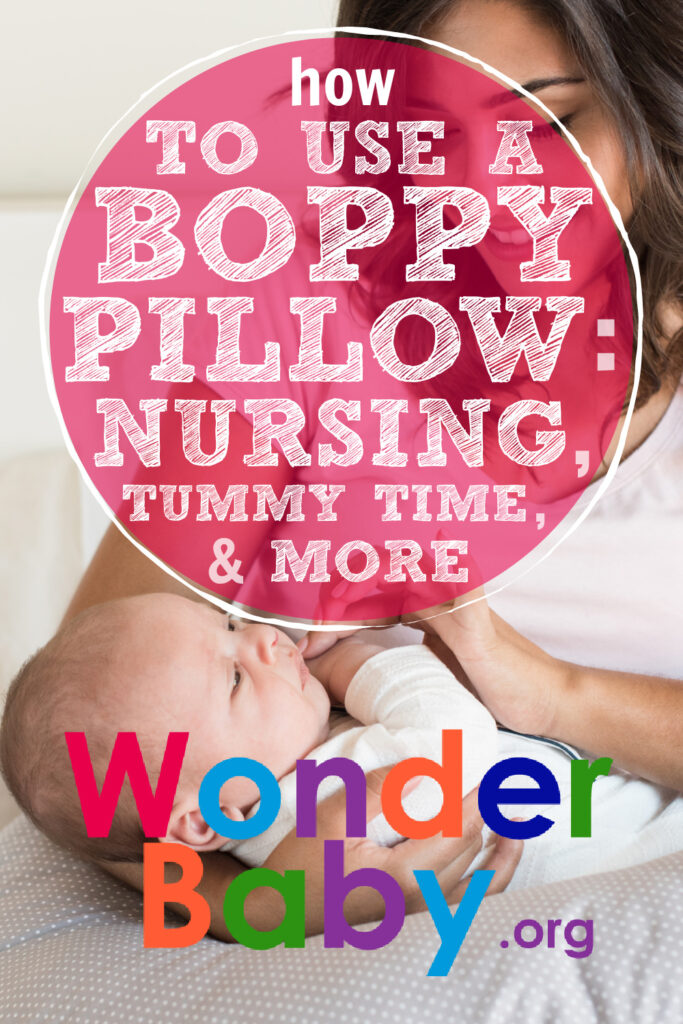 Related Posts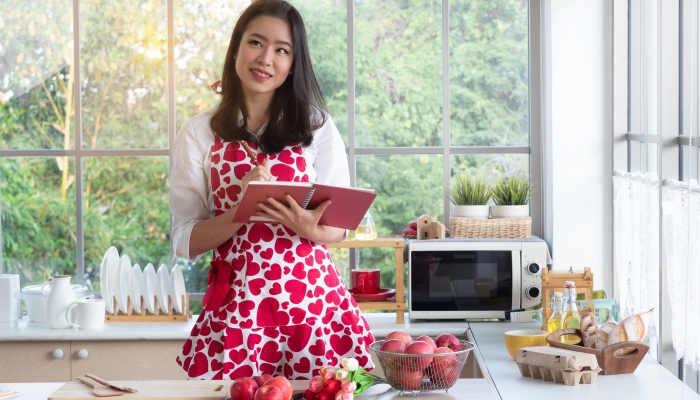 Parenting
Staying motivated as a stay-at-home mom isn't easy when you're responsible for so much. But these motivation boosters are sure to keep you going!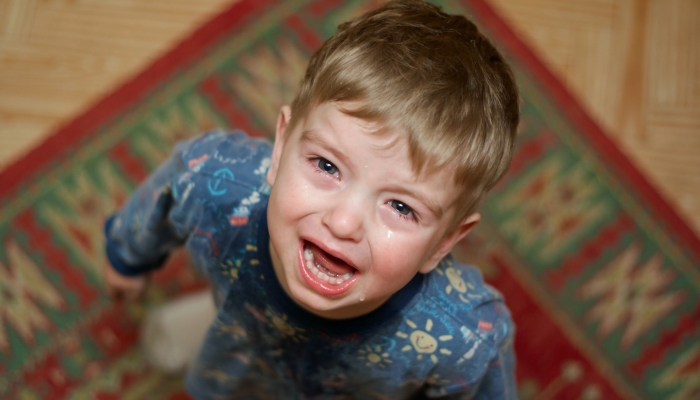 Parenting
Wondering if your child is having a tantrum or a meltdown? Read this article to know the difference between these emotional outbursts!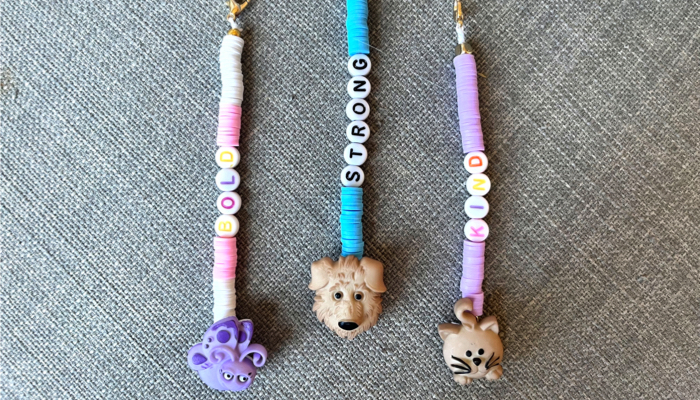 Parenting, Play, Tactile Art
These affirmation backpack buddy keychains are adorable and easy to make. Give your child a little encouragement with this simple craft as they head to school.