What Ages Are Safe for a Bumbo Seat?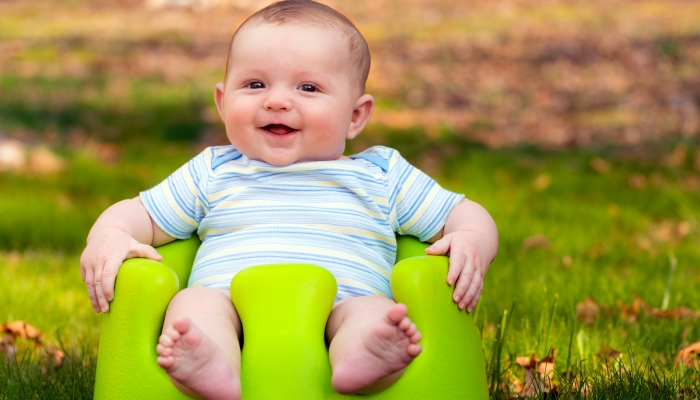 This post may contain affiliate links; please see our terms of use for details.
Bumbo seats are made of soft yet sturdy foam that molds around your baby to keep them in an upright seated position before they can sit up themselves.
The manufacturer's recommended Bumbo seat age is between three and twelve months.
They also suggest you may want to wait until your baby is closer to reaching a sitting position by themselves, at around six to eight months.
The Bumbo seat is lightweight, easy to clean, and simple to use. Yet many physical therapists and early childhood experts have warned against its use.
Concerns include poor positioning, risk of choking, and a negative impact on baby development.
There's no denying the Bumbo floor seat is a cute bit of baby kit. Super convenient to move around the house, it offers a simple solution for busy parents.
When you need to attend to other children, meal prep, or any one of the other gazillion tasks in your day, the Bumbo can 'hold' your baby. While this might sound like a win-win for parents and babies, Bumbo seats come with some safety warnings and a fair amount of controversy.
Is It Safe for Babies to Use Bumbo Seats?
If you have older children you may remember past recalls of the Bumbo seat. These led to a new safety feature after several babies were harmed in falling incidents. Seats in use were retro-fitted with safety straps. All new Bumbo floor seats now come with a durable 3-point safety harness as standard.
Bumbo also altered its marketing strategy and added more conspicuous stickers to the seats themselves. These measures were designed to reinforce safety warnings and prevent future incidents. When using a Bumbo seat, remember:
Bumbo floor seats MUST only be used on the floor.
NEVER use a Bumbo floor seat on a raised surface.
ALWAYS supervise your baby when using the Bumbo.
DO NOT use the Bumbo for prolonged periods (no more than 15 minutes).
If you use the Bumbo floor seat according to these safety instructions, any immediate risk to your baby is likely to be low. However, some physical therapists have expressed concern about the long-term impact sitting upright in a Bumbo might have on baby and child development.
Bumbo seats are shaped like a scoop, a design that holds your baby in a passive propped sitting position. This bucket-type seat encourages a very unnatural posture and slouching. It also restricts your baby's movement. This may prevent them from building the strong muscles and skills they need. Freedom of movement is essential to promote healthy development.
A recent publication by the American Academy of Pediatrics suggests 'baby holders… can hinder development and delay milestones'. They recommend limiting the use of a Bumbo to no more than 15 minutes a day, only with adult supervision. Babies should never be left unattended in a Bumbo floor seat.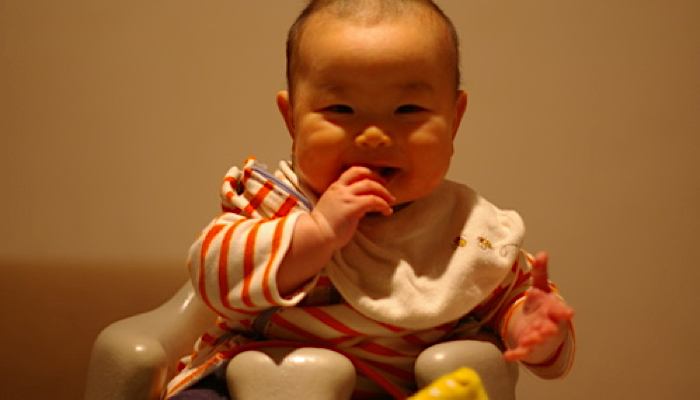 At What Age Can a Baby Sit in a Bumbo Seat?
The Bumbo floor seat is advertised as suitable for babies from three months to one year old. Yet on their website, the manufacturers suggest you may want to wait until your baby is closer to reaching their sitting milestone, usually around six months, before using this seat.
Bumbo seats are designed to support babies in a seated position before they can sit by themselves, yet they offer little upper body support. The consensus from physical therapists seems to be that the longer you can wait before using a baby sitting device, the better it will be for your baby.
Ideally, wait until your baby is showing signs of sitting readiness. Hold your baby around their chest and look for:
steady upright head control
a straight back.
These show your baby has the strength and skills necessary to sit with a good posture in a baby seat. If your baby is slouched or leaning to one side they may not be ready.
A Bumbo baby seat can hold your baby while you transfer hot or heavy pans, attend to other family members or use the toilet. Lightweight and portable, the Bumbo can be easily moved from room to room with just one hand, while you carry your baby with the other arm. Remember: It's not safe to move the Bumbo with your baby sitting in it.
Like many products for young babies, the window of use for a Bumbo seat is a small one. Once your baby can sit on the floor unaided and is close to crawling, they may find the Bumbo frustrating. Keep an eye on those growing legs too, as your baby may soon outgrow this seat.
How Do Bumbo Seats Help Babies Learn to Sit?
The short answer is they don't.
Bumbo floor seats are super convenient and useful for parents. They support your baby to sit while you can't hold them, but they won't help them learn to sit.
Sitting in a baby seat for too long may even harm your baby's development. The truth is you don't need to help them learn to sit, this will come naturally.
Sitting requires:
good head control
strong back, leg, shoulder, and arm muscles
developing body and spatial awareness
You can support your baby with all these by offering lots of practice experimenting with movement. This is likely something you're already doing:
hold your baby as much as you can. Lots of cuddles, comfort, and baby massage are good for you both
sing and dance with your baby and introduce them to lots of different music and rhythms
let your baby lay on the floor, and get down there with them
lay your baby across, and along your body. Newborn babies will wriggle towards the breast when laid on their mother's chest. See the baby "breast crawl" in action here
sit them on your lap, first against your body and then facing you holding hands
pay your baby lots of attention and respond quickly to their cries. If your baby resists a particular position, try another. Trust your baby to develop at their own pace.
For babies with a visual impairment or developmental delay, a Bumbo can help them join in with family activities, interacting face-to-face yet leaving you hands-free. Bumbo seats have also been used to help with medical investigations.
Bumbo Seat Safety Considerations
Bumbo floor seats are now fitted with safety straps. This lowers the risk of your baby falling out, but they still need constant supervision. Always use the harness provided and check baby seats and straps regularly for any signs of damage.
This baby seat is freestanding, so to prevent tipping stay close to your baby while they're in the seat. Never place on a raised surface and use, as the name suggests, for floor use only. Bumbo floor seats aren't suitable as bath or shower seats and use in water can put your baby at serious risk of injury or death.
The design of the Bumbo floor seat can lead to a rounded posture with a drooping neck. Feeding your baby in a Bumbo can increase the risk of choking, and doesn't help with reflux.
This bottom-hugging, leg locking position also limits your baby's movements at an age where they're naturally driven to be active and explore the world by moving their bodies. These movements are essential for healthy brain development and building the muscles and balance needed to sit, crawl, and walk.
Too much time spent in baby chairs, swings, walkers, and even car seats and strollers can lead to container baby syndrome. This can lead to delays in reaching milestones, poor posture, tightness in the neck, and problems with the hips and spine.
Breathing, circulation, digestion, and sleep are all improved with vigorous and free movement. Lots of movement in their first year helps your baby develop confidence and assess risk, both of which can help keep them safer in the future.
Make sure time spent in the Bumbo is limited and balanced out with lots of floor time where your baby can move freely and develop vital skills.
Bumbo Seat Alternatives
If you're after convenience and style, the Bumbo seat is an attractive choice, but it's certainly not an essential item.
Floor time
The best alternative to baby chairs is lots of floor time. Lay down a crawling mat if you're worried about the state of the floor.
Babywearing
Carrying your baby in a sling or baby carrier allows you to carry on with your day while knowing your baby is safe and snuggly. Babywearing has numerous physical, emotional, and physiological benefits for your baby, too.
Not only does babywearing promote healthy muscle development, but it also helps with attachment and breastfeeding, calms and regulates your baby's nervous system, and can help prevent reflux and ear infections.
Pillows and playnests
The Boppy nursing pillow and the Galt playnest can both help prop your baby up in a sitting position. Offering a safe space for your baby to sit and a soft landing for any tumbles.
Other baby seats
As with the Bumbo, these other baby seats are recommended for use once your baby can support their head, and for short and infrequent use:
For babies from four months to two years old. Developed with physical therapists to support your baby in a good sitting position without slouching.
Fisher-Price Sit-Me-Up Floor Seat
For babies from four months to one year. Featuring chest-high arm support allowing your baby to adjust their position.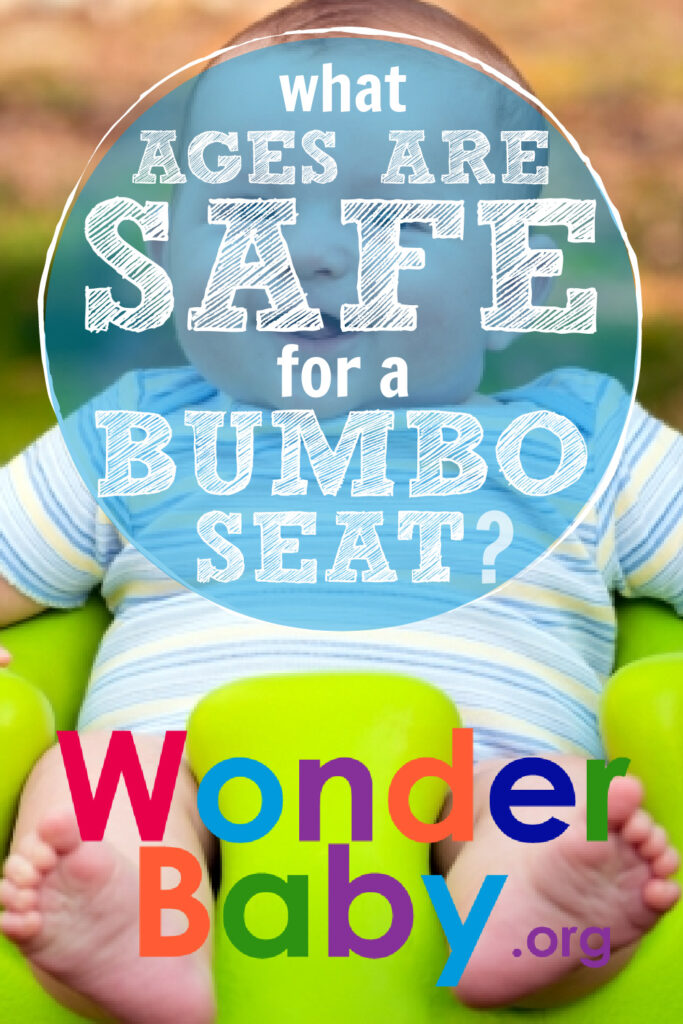 The information WonderBaby provides is not intended to be, and does not constitute, medical or other health advice or diagnosis and should not be used as such. Always consult with a qualified medical professional about your specific circumstances.
Related Posts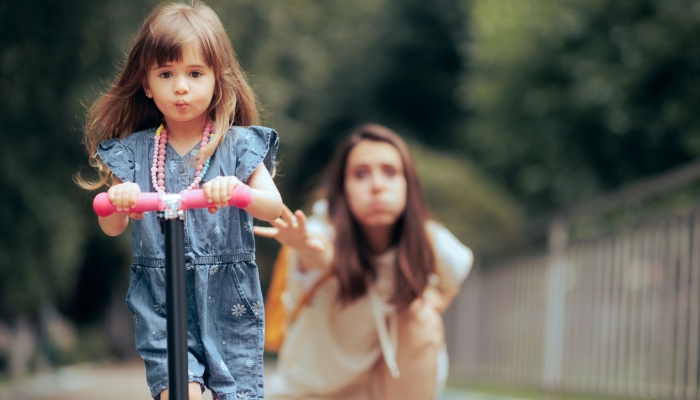 Development, Parenting
Understanding the history, differences, and strengths of proximal and distal parenting will help you decide what parenting approaches work best for your family.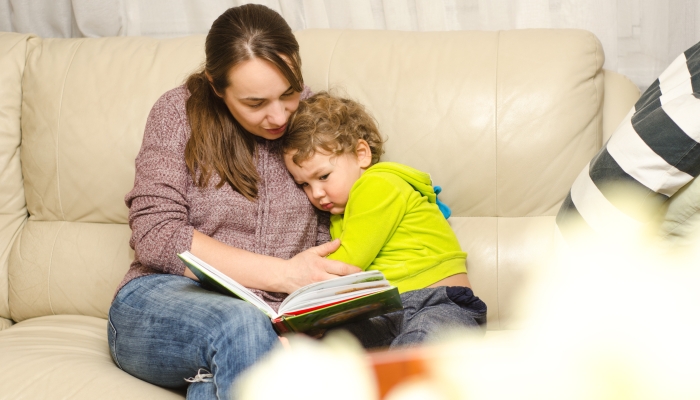 Parenting
Children's books can help you and your kids get through sad and difficult times. We've found some of the most healing books about grief for kids.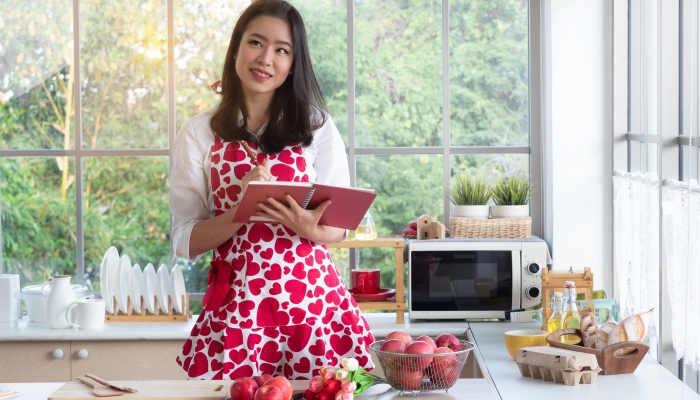 Parenting
Staying motivated as a stay-at-home mom isn't easy when you're responsible for so much. But these motivation boosters are sure to keep you going!