Making Lunch Time More Fun for Blind Kids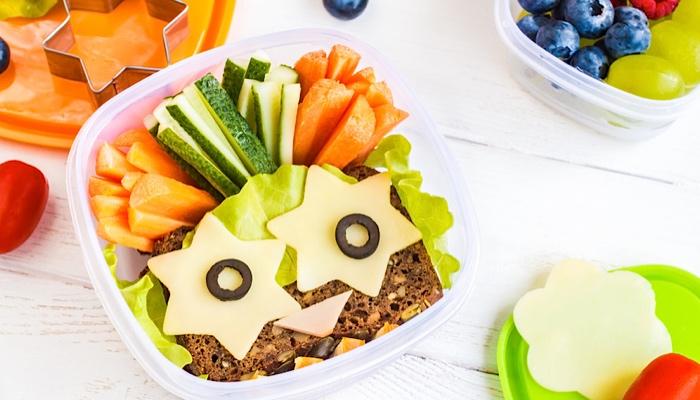 This post may contain affiliate links; please see our terms of use for details.
School is back in session and that means parents are working harder than ever trying to get kids off to a great start! Of course, getting things in order at home will help keep the week going as smoothly as possible, but it's not always easy. On top of homework, doctor appointments, and touching base with the IEP team, making your child's lunch every morning can get pushed aside or forgotten until the last minute.
We understand that many parents would like to find a way to make these little morning tasks quicker and easier. So, don't despair! We've rounded up some tips and fun ideas to help you plan ahead to make your child's lunch quick to assemble, plus fun and healthy too!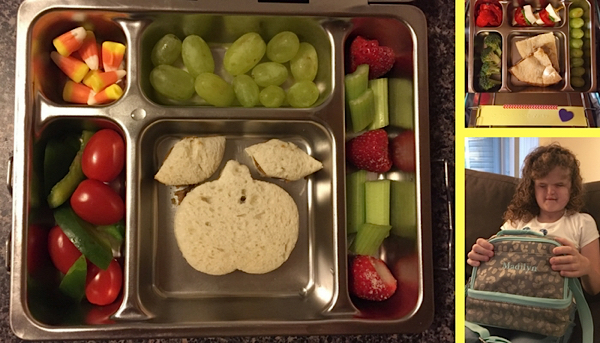 Find the lunchbox that fits your child's needs
There are a million different lunch boxes out there these days. Figuring out which one you should buy could take precious time if you're not thinking about the things that matter most for your child. You don't want to waste your money on a high-priced system when another option may work better! Consider these seven things before you decide:
Size: Will the lunch box hold everything you intend on sending each day? Depending on whether it's a bento box or a traditional box, make sure it will hold the sizes of food your child eats. Even traditional boxes need to be the right size if you're going to include foods in separate containers.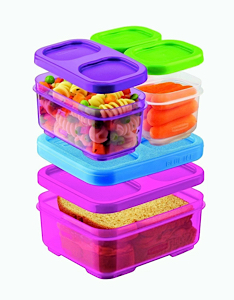 Shape: Along with size, the shape of the container can limit possibilities for the food you send as well. A bento box with a molded tray isn't going to hold an entire apple or maybe even a large sandwich. More traditional boxes may have a rounded top or corners that allow more room to pack containers and fruit. Think about which foods you'll be packing to make sure nothing will get smashed.
Temperature: It's usually a few hours at least between the time you pack your child's lunch and when it gets eaten. Some lunch boxes and containers have built-in compartments for holding ice packs. Also, will you need a hot/cold container or thermos to keep foods the right temp? Remember to make sure they'll all fit inside the box!
Closures: Be sure to check the type of latch the lunch box has so you'll know if your child will be able to open and close it independently or if someone will need to help. Kids with fine motor challenges may benefit from a divided tray that has a top that fits over the entire tray with one latch. This can save time during lunch period instead of having to open and close several different containers. Having a tray that will keep food in the same place each day can be beneficial for learning self-feeding as well!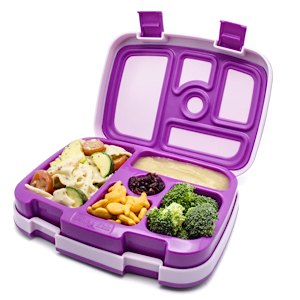 Carrying Method: Will your child be transporting her lunch box to and from the cafeteria herself? Will she also be using a cane, wheelchair, or anything else in one or both hands already? If so, you may want to find a lunch box that has a strap so she can carry it on her shoulder or like a backpack to keep her hands free for travel.
Accessories/ Extra Compartments: Many brands sell complete lunch box systems that you can mix and match accessories, containers, and various bags. Consider whether you would benefit from having an extra pocket for a napkin, utensils, or another snack.
How to Clean: This one's for you! You'll probably consider it last if you're helping your child learn independent feeding skills since that's more important to you, but don't overlook how easy the lunch box and containers are to clean every day. Are they top-rack dishwasher safe or need to be washed by hand? Some bento boxes have tiny little spaces that can be more time consuming to get clean than others. You'll be much happier if you aren't stressing about rushing to clean it every morning… er, I mean 'night' since we know we'd never forget to take it out as soon as we get home. Ha!
Choosing the week's lunch menu
If you plan ahead, you can be sure you're never scrambling to find something from the back of the fridge or buried in the pantry. Planning a weekly menu can also ensure everyone has what they want from each of the food groups. One method to organizing the week is to plan what your child will have each day, then make a weekly shopping list. If you plan on sending leftovers from dinner the night before, then be sure to cook plenty so there will actually be food left!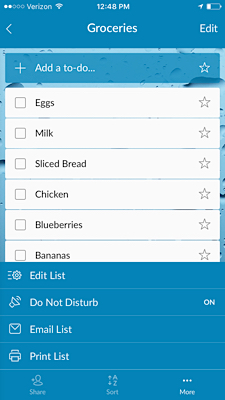 Phone apps for organizing lists are perfect for keeping your grocery list in one place. My husband and I use the Microsoft To Do app on each of our phones (it's available for iOS and Android) and sync the grocery list so we both have access to it anytime, anywhere. I can even add items from home while he's already at the store. Some larger grocery stores have their own apps with shopping list features that will automatically organize your list by department and aisle to save you the hassle of searching the shelves for that one item you just can't find.
Many recipe websites also allow you to plan your meals and add items to an online shopping list based on the recipes you've chosen. If you're lucky enough to live where the store will deliver groceries, then maybe it's time to consider this newer option. Amazon will now deliver food straight to your door with their service Amazon Fresh. Wow! Technology really can make shopping less stressful!
After you make a grocery list, go to the store on Saturday or Sunday morning/early afternoon. Buy everything you need, then prepare all the fruits and veggies, plus anything else you can, on Sunday. Preparing fresh foods ahead of time will save you those precious morning minutes. Cut up any fruit that won't spoil or brown as well and keep them in an easy access container in the fridge. If you are really feeling it and have the space and containers, then portion them ahead of time too and save even more time in the mornings.
Snacks can be bought in the single serving size pouches or you can buy the large bag to portion as you wish. Try using cheap reusable bags and containers to save you money and recycling! You can easily buy a bunch of them to pack ahead of time and not have to wash extra containers every night.
Making lunchtime more fun for blind kids
Lunch doesn't have to be boring! Pinterest is full of ideas for making lunch fun for kids, but how can these ideas be adapted for kids with visual impairments? We've got you covered!
Lunch Box Braille Notes are just as easy to make if you have access to a brailler or if you're handy with a slate & stylus. If not, order some braille stickers and other sensory fun stuff like tactile or scented stickers from your local hobby store. Have fun with seasonal decorations, personal notes of encouragement, or a daily joke!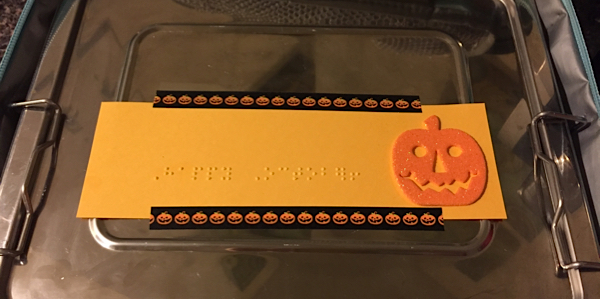 Food Art can be fun for everyone if it's something you'd enjoy putting together for your child, too. Use cookie cutters or special sandwich cutters to shape cutout foods and create your own scene. It can be fun for kids to experience foods of different textures like have wavy cut carrots or sandwich pieces that form a little puzzle. Amazon sells a lot of little tools to help you expand your creativity.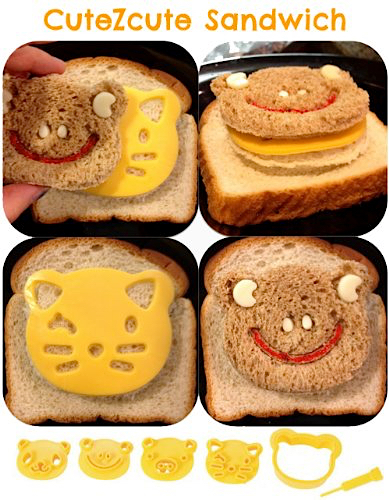 You can be as simple or extravagant as you feel like from day to day. Bento box lunches can be a lot of fun to create. If you need a little inspiration, search for #schoollunch on Instagram. @Weelicious is a wonderful example of fun food that is healthy, too!
Getting your kids involved
Whether you're trying to make lunch more fun to motivate your child to enjoy eating a little more or encourage independence and oral motor skills, there is a lot you can do by directly including your child in the process.
Use the tips above to narrow down some choices for a lunch box, then give them to your child to pick which one he likes best.
Include your child in making the grocery list (many of the apps are accessible for blind users).
Set aside one weekend a month to take her to the store with you to explore the store, touch different produce, and maybe do a little taste testing if they're giving out samples.
Give your child simple tasks such as washing the fruit or cutting veggies if appropriate. Packaging them ahead of time is also a great skill to practice on Sunday's.
Prepare food items for practicing spoon, knife and fork skills if these are included in your child' IEP goals. Madilyn's occupational therapist works with her on Wednesday's during lunch to work on using a fork and knife effectively so I make sure to include foods she must use utensils to eat. I also cook a little extra on Tuesday night so I have leftovers to use for this the next day!
A big motivation can be giving your child the privilege of choosing his own lunches. Give choices, then allow your child to choose an item from each food group. It can also be a great way to begin the transition of your child packing his own lunch.
Lunch is a perfect topic to extend teaching about health, too. Incorporate activities like food groups and the digestive system to create a multi-sensory lesson to promote true comprehension.
With these tips and a little planning, you can help relieve stress during the morning rush and have a healthy, happy child this school year! Be sure to browse our Pinterest Boards for more ideas and let us know if you have any ideas to share. Tag @wonderbabyorg on Instagram if you post any lunch box photos. We'd love to see them!
More fun resources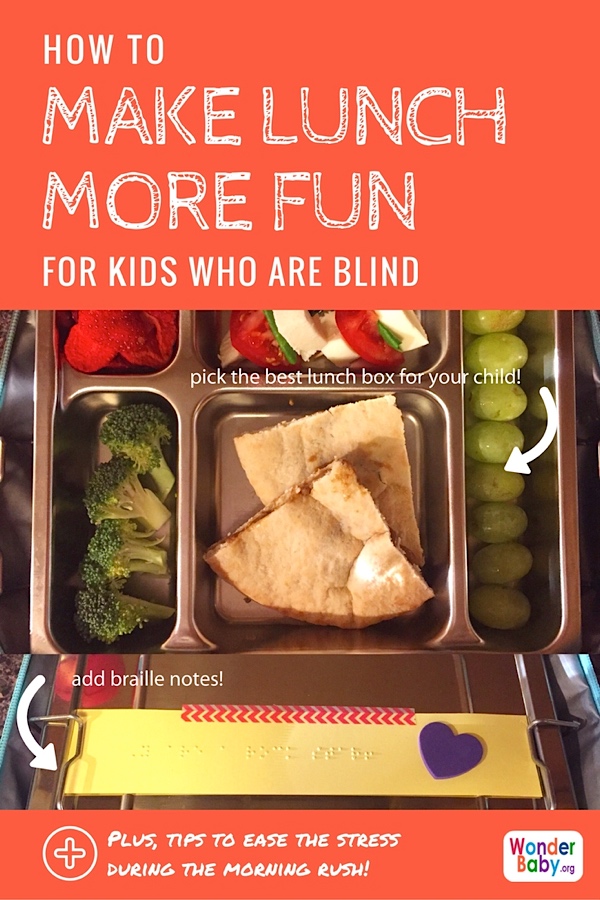 Related Posts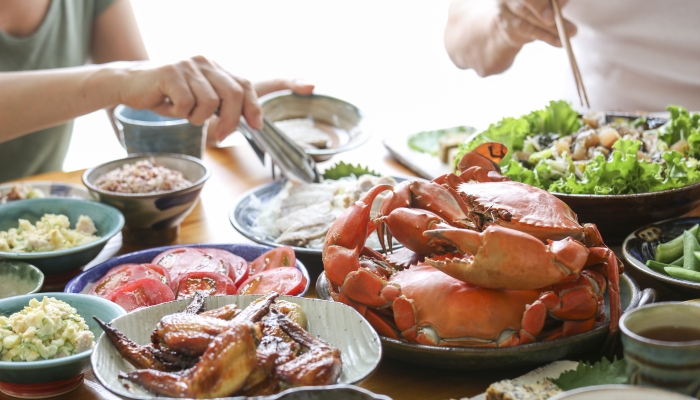 Feeding and Eating
A variety of unexpected foods and environmental substances can trigger an allergic reaction through cross-reactivity to food proteins.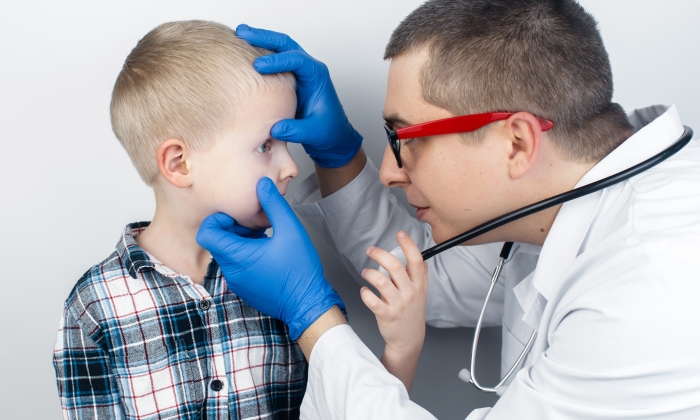 Eye Conditions and Syndromes, Visual Impairment
Congenital glaucoma is a disease where the pressure inside your baby's eye is too high. This can damage the optic nerve and can even make your child go blind.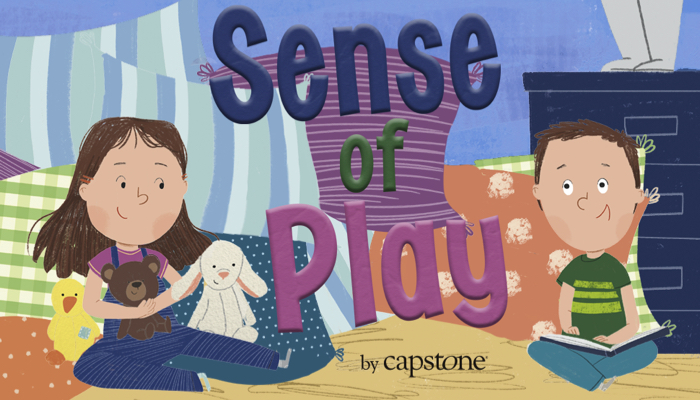 Braille and Literacy, Product Reviews, Visual Impairment
Dana Meachen Rau's book, Sense of Play, follows the adventures of Chip and Joy as they play. Chip is blind, but this doesn't get in the way of their play!