7 Best Montessori Baby Toys of 2023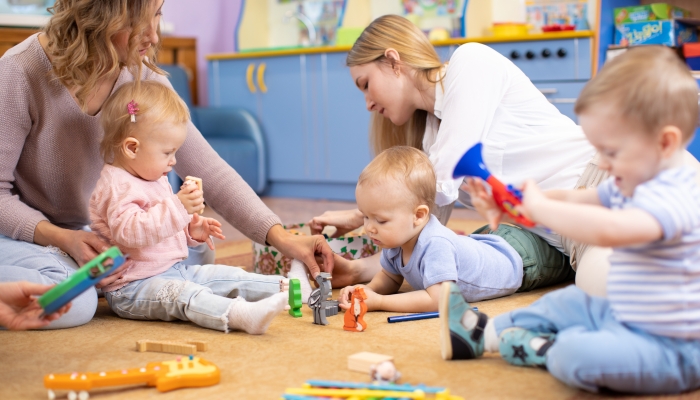 This post may contain affiliate links; please see our terms of use for details.
The best Montessori toys for babies fulfill the original Montessori principles: simple, made of natural materials, realistic, and purposeful.
Even very young babies can benefit from Montessori style toys to encourage sensory exploration and cognitive development.
Children often love their Montessori toys the most because they are calming, beautiful, and not overstimulating.
You've probably heard a lot about the Montessori method. You may have friends who send their kids to Montessori daycare or preschool. However, if you're not quite sure what makes a toy or a classroom a "Montessori" toy or classroom, don't worry; you're not alone. Although it can feel like all parents know about Montessori except for you, that's definitely not true.
Montessori simply refers to a method of teaching young children developed by Dr. Maria Montessori about a century ago. Her theory was that children learn about the world through experience and need enriching environments and realistic, everyday items to practice life skills. She believed that the classroom and home environment and the toys that children use to learn should be simple, natural, realistic, and purposeful.
Let's take a look at some of the best Montessori baby toys of 2023 to give you an idea of what Montessori is all about.
Best Overall
Best Building Blocks
Best Toy for Young Babies
TINYBRYTE Pikler Triangle Climber
Adena Montessori Pink Tower
Twefex Montessori Spinning Drum
Best Overall
TINYBRYTE Pikler Triangle Climber
Best Building Blocks
Adena Montessori Pink Tower
Best Toy for Young Babies
Twefex Montessori Spinning Drum
Top Choice: Tinybryte Pikler Triangle 
A classic toy in many Montessori classrooms is the Pikler Triangle. This version from Tinybryte is made of wood and comes in a natural finish or with rainbow colors.
TINYBRYTE Pikler Triangle Climber
🏆【Premium quality with various features】: Our Pikler Triangle set made with high-quality birch wood for strong bearing capacity and durability. To make your child's play safe, side safety lock is provided so that climbing toy does not close while in use. Two supporting handles instil grip and courage to cross-over at the top. Our baby climbing gym comes with handle for easy lifting and folds flat for storage.
⛺️【Pikler triangle with 3 in 1 ramp that grows with age】: Our Montessori climbing set comes with 3-in-1 wooden ramp which can be used as climber, slider and as a balance board with our unique ramp design. While infant may use the Montessori gym for support while they stand, a toddler will love climbing the bars and sliding. Kids can use it to make a tent by covering with sheet, crawl underneath the Montessori climber or hang their toys.
🧗‍♀️【Promotes gross motor development】: The TinyBryte wooden Montessori play gym with reversible ramp is designed to promote your children's gross motor development. Our pickler set for toddlers helps coordination and development of muscles that enable your child to hold his/her head up, sit, crawl, and eventually walk, run, and skip.
🤹‍♀️【Endless ways to play and learn at your pace】: This pikler climber is perfect for your little ones providing endless ways to play each day. Slide is designed to use as balance or wobble board. Indoor playground has limitless options to explore your child's imagination. Our wooden pickler for climbing structure for toddlers gives an opportunity to challenge themselves, have fun while learning to climb at their own pace and control movements in a safe environment.
Like all the best Montessori toys, the Pikler Triangle is a simple toy with a simple goal: to help your child develop their physical skills. Named for its creator, Dr Emmi Pikler, it's a small climbing frame designed to encourage gross motor development in children from the age of six months. Tinybryte has made this version with the traditional triangular frame with ladder steps good for climbing, pulling up, and practicing reaching and grabbing.
However, they've also added a movable ramp which can be used as a slide, a climber, and a balance board. The three-in-one ramp means this toy is worth the investment because it grows with your child. Younger babies will enjoy sliding and pulling up, crawling and using the ramp for balance as they come to standing.
Older babies and toddlers will enjoy climbing and balancing as they get older and use the triangle in different ways. This is a great toy to encourage movement, motor development, and independence. Its versatility means you'll also have it throughout the toddler years and even beyond, which is why we've made it our top pick.
Best Montessori Toy for Newborns: Hape Rattling Rings Teether
Hape Rattling Rings Teether
100% SAFE TO CHEW: The teether is made from a safe, fragrant, rice-based material synthesized using Japanese rice, making it child-safe to chew
RELIEVES DISCOMFORT: The teether ring is covered with soft TPE. Perfect to bite and chew which eases the uncomfortable teething process for babies
STIMULATION FOR BABIES: The gentle rattling sound stimulates auditory awareness while soft colors and touch stimulate visual acuity and encourage tactile exploration
MOVABLE RATTLE RINGS: The child-safe movable and raised rubber rings on the teether encourage textile exploration. The rings rattle gently when shook, helping your little one take those first sensory steps
The Hape Rattling Rings Teether is a good example of a toy that uses Montessori principles in a more modern style. However, unlike many Montessori toys, this rattle is not made of natural wood and isn't just one neutral color.
Its colors are gentle and pastel, and its rattle sound is gentle. It's made of a rice-based material which is non-toxic and totally safe for your baby to chew. Its handle and soft rings are the right size and shape for little ones to grasp and hold.
Its unique material also gives your baby an interesting texture to explore. You may see many versions of this rattle made of different types of wood in a more classic Montessori style. However, this modern take on the simple rattle is reassuringly safe for babies to play with in their first few months.
View on Amazon | View on Walmart.com | View on Sears.com
Best Toy for Young Babies: Twefex Montessori Spinning Drum
Twefex Montessori Spinning Drum
【Safe material, NO SMELL】The Montessori baby drum is made of baby-friendly natural wood, and it is safe and non-toxic. It meets the US toy standards: ASTM, CPSIA, and CPC. Your baby's safety is always our highest priority.
【Patent Protection】We got a granted patent for this spinning rainbow drum. This spinning wheel toy has 5 beautiful boards and a mirror which is made of non-breakable material instead of glass. Beautiful images are printed on both sides of the drum. There is a bell inside. As the drum spins, the sound of the bell will attract your baby's attention. Your baby will be very happy to play with this spinning toy.
【Helps Baby Development】This spinning rainbow toy is perfect for practicing fine motor skills, and helps develop hand-eye coordination, wrist and arm strength, color recognition, color matching and visual skills.
【Best Gift for your Babies】This Montessori infant toy is a great choice for children between the ages of 6 months and 3 years old. The Montessori baby drum is great for both tummy time and sitting up, your Montessori baby will be attracted (for sure) by the beautiful colors and their own face seen from the mirror. It is a must have toy for babies.
This Twefex Montessori Spinning Drum is a lovely first toy to give as a gift or as a first Montessori toy for your younger baby. The drum is wooden, finished with non-toxic materials, and painted in lovely soothing pastels.
When your baby spins the drum, they'll hear a calming bell chime. This is an excellent toy for developing hand eye coordination and teaching your baby about cause and effect. They spin the drum, and they get the sound.
A lovely bonus that sets this drum apart from others is that it also includes a baby-proof mirror. Babies are fascinated by mirrors, and that's sure to make this one a winner with little ones. It's a very interesting toy for tummy time too.
Check out this spinning drum for babies six months and up.
Best Building Blocks: Adena Montessori Pink Tower
Adena Montessori Pink Tower
Firstly, the Pink Tower helps a child build a concept of size in three dimensions.
This includes working on visual perception, and awareness of dimension, both leading to an understanding of size in the environment.
Through observation, cultivate children's concentration; analyze the difference of objects, exercise thinking ability.The Pink Tower also helps develop a child's fine muscular coordination.
For any Montessori classroom and home school, this is a good tool for general sensory teaching.
The Pink Tower is an iconic toy developed by Maria Montessori that is a staple in Montessori classrooms. This Adena Montessori Pink Tower has all the elements of Dr. Montessori's original idea.
The Pink Tower is a set of three-dimensional wooden blocks in various sizes. The tower helps children exercise fine and gross motor skills, explore size and dimension, and use their concentration and focus.
Unlike many stacking tower toys on the market that covered in pictures, letters, and splashed with color, the blocks of the Pink Tower are just one color: pink. The single color scheme allows your child to focus on what they are building, creating and learning from the tower without being distracted by extraneous colors or pictures.
These blocks are safe, smooth, and splinter-free, suitable from age two.
View on Amazon | View on Adenamontessori.us
Best Super Simple Learning Toy: Elite Montessori Object Permanence Box
Elite Montessori Object Permanence Box
🌱A child has to drop the little ball into the hole in the box. The ball will roll out of the box and into the attached tray thus allowing the child to experience object permanence by seeing that the ball did not just disappear.
🌱It practices precise hand movements while sending information to the brain as well as develops hand, wrist and finger control – also known as "refined hand movements".
🌱With repeated use of this material, the child learns how it feels to succeed when he has achieved a goal on his own.
🍀Please note we have Two version of wooden colored ball, one is Original colorway wooden ball and another is RED colorway wooden ball.
Montessori purists will love the Elite Montessori Object Permanence Box because it illustrates that simple and natural really do make for great toys.
This classic object permanence box is made of natural wood, although it does have a red-panneled option. Your child puts the lovely smooth wooden ball through the hole in the box and watches it roll out into the tray. The point of this activity is to help your child with fine motor skills, hand eye coordination, and to understand that just because they can't see something doesn't mean it's disappeared.
There are many similar toys on the market. However, this one from Elite Montessori stays very close to the Montessori Method. Versions that add drawers, multiple colors, and varying objects to put through the hole veer away from the original idea behind this toy. This object permanence box really allows your child to focus on just one thing, and you'll be amazed by how much they learn from it.
Suitable for ages eight months and up.
View on Amazon | View on Walmart.com | View on Sears.com
Best Toddler Puzzle: Adena Montessori Multiple Shape Puzzle
Adena Montessori Multiple Shape Puzzle
🌱【A Variety of Shapes and Colors】: This set includes two groups of puzzles – arc shape puzzles and straight shape puzzles. Each group consists of five different shapes in vibrant colors. Each shape puzzle has a base, a border, and the specific shape itself. Additionally, underneath each puzzle, there is a corresponding picture of the shape for the child's reference.
🌈【Encourages Grasping and Fine Motor Skills】: Designed to promote the development of grasping and pincer grasping abilities, this puzzle set provides engaging activities for toddlers. The puzzles are specifically designed to be easily grasped by small hands, allowing children to practice their fine motor skills. They serve as an excellent progression from simpler grasping puzzles to a more advanced level.
✨【Captivating and Stimulating】: The bright and colorful shape puzzles capture children's attention and keep them focused on the task at hand. The vibrant hues and attractive designs make this puzzle set visually appealing, encouraging children to explore and engage with the different shapes and colors.puzzle. Bright and bright shape puzzles grab children's attention and keep them focused on the job.
🧒【Suitable for Little Hands】: With ten chunky pieces in various shapes and colors, this puzzle set offers a challenge that is appropriate for young children. Each piece is carefully crafted to fit snugly into its designated location, ensuring a satisfying and rewarding play experience. The puzzles are designed with partially raised surfaces, making them easy to grip and manipulate for toddlers.
Simple shape puzzles that are tactile, easy, and interesting to handle are also part of the Montessori repertoire.
This Adena Montessori Multiple Shape Puzzle in its ten-piece version is a great puzzle and shape sorter for toddlers. Each shape has two pieces that fit into one another. Each shape then fits into the puzzle board. However, what makes this puzzle uniquely Montessori is that each groove on the puzzle board also has a photograph of a child holding that shape.
Using realistic images rather than cartoon representations is part of the Montessori method. In the case of this puzzle, it helps your little one make an association not just between the puzzle pieces but the photos as well.
This puzzle helps with fine motor skills like grasping, pinching, and placing, as well as understanding shape, dimension, and size, and it encourages independence. Not to mention it will also give your child a big sense of accomplishment when they can to do it themselves.
Check out this company's other simple three and four-piece puzzles for younger babies.
View on Amazon | View on eBay.com
Best Matching Toy: Melissa & Doug Stack and Sort Board
Sale
Melissa & Doug Stack and Sort Board
Match by color and shape
16 wooden pieces
Great for hand/eye coordination
Makes a great gift for toddlers and preschoolers, ages 2 and up, for hands-on, screen-free play
The Montessori method also emphasises objects and toys that are simple and beautiful to look at, touch, and hold. A great Montessori toy is one with a simple concept that allows your child to work on mastering the task at hand without distraction.
This Melissa & Doug Stack and Sort Board checks a lot of those boxes. The lovely wooden pieces are a nice shape and size for little hands. This great toy encourages color and shape matching and recognition, fine motor skills, and problem solving without being too flashy or overstimulating.
Coming from Melissa & Doug, you can be sure that this is a well-made, safe, and high-quality toy, perfect for ages two and up.
View on Amazon | View on Walmart.com | View on Sears.com
Montessori Baby Toys: What Makes Them Special?
The Montessori Method is all about learning through self-directed play and creativity, experience based in reality, and collaboration.
A Montessori toy is often a simple toy made of natural materials, like wood, which allow the child to be creative and constructive. They are also purposeful and realistic toys, meaning that while they're fun, they're also helping your child learn about the world and how things work. Montessori toys offer your child a chance to practice fine motor skills, collaboration, and creative play, as well as engage their senses.
For example, a toy with flashing lights that makes noise with big brightly colored, plastic pieces is not going to be a Montessori toy. It has too much going on at once, forced sounds, and could even be overwhelming for some children.
However, a set of simple wooden blocks of different sizes that can be used to build a house, a bridge, or a tower is the kind of thing we mean when we talk about Montessori toys. In fact, the Pink Tower, a set of ten pink wooden blocks, was a toy developed by Maria Montessori herself.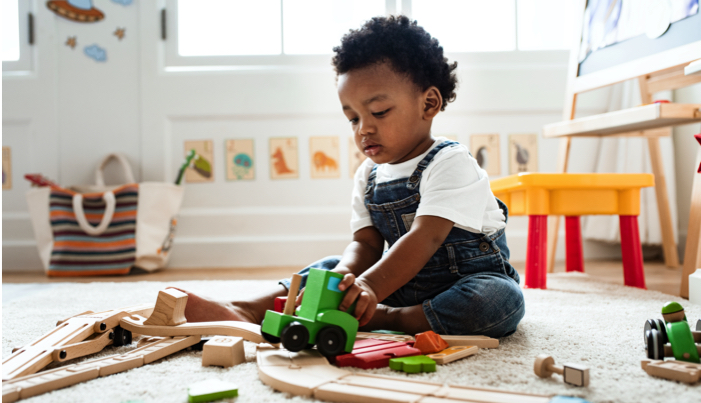 Picking the Right Montessori Toys for Your Baby
Babies are learning all of the time. When they put a spaghetti strainer on their head or mouth a wooden spoon, that is their natural way of learning about purpose, shape, texture and so many other things about their world.
That's why Maria Montessori believed that even babies need enriching and interesting environments with accessible, creative items that help them master new skills just as much as big kids do.
You've probably noticed that your baby is fascinated by everyday household items: cardboard boxes, spoons, tissues, and paper towels. Babies intuitively understand the Montessori Method, which is to play with simple, realistic things that help them acquire skills and use their senses to solve problems.
That's what you should be looking for when it comes to buying Montessori toys for your baby. Look for toys that have the following qualities:
| | |
| --- | --- |
| Montessori Quality | Purpose of the Toy |
| Made of natural materials | Many Montessori toys are wooden, but toys made of safe and interesting fibers and textures count too, like plastic textured sensory balls. |
| Simple | Stick to toys that are neutral, monochromatic, or have a calming color scheme. The Montessori approach teaches that too many bright colors or patterns at once are distracting to the child and keep them from focusing on the skill they're learning. |
| Not battery operated | Montessori toys should encourage your child to use their creativity with the toy instead of having the toy dictate how it should be used. |
| Purposeful | Montessori toys help your child with a skill or with learning something about the world. For example, baby mirrors, crinkly paper, nesting cups, and wooden blocks will all stimulate your little one's senses, encourage discovery, and promote fine and gross motor development. |
| Realistic | Toys should be based on real, every day functions and uses. Instead of toys that play recorded music, use rattles and drums so children can make their own sounds. Instead of toys picturing cartoon animals, find toys that represent animals with real photos or realistic drawings. |
| Do one thing at a time | Montessori toys teach one skill at a time instead of overwhelming children with multiple functions and uses. |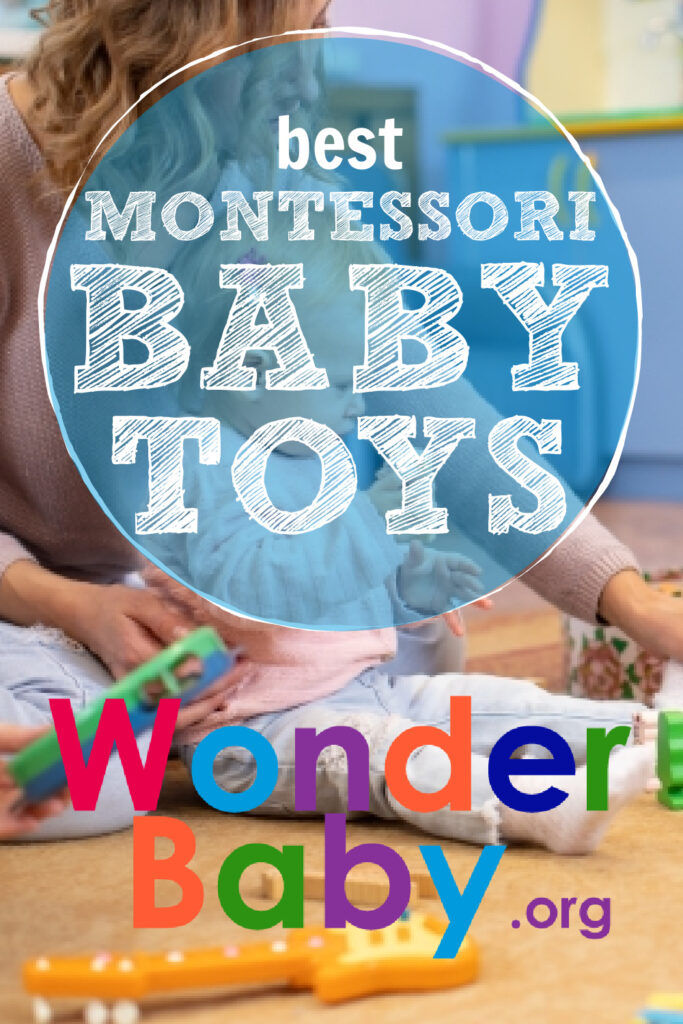 Related Posts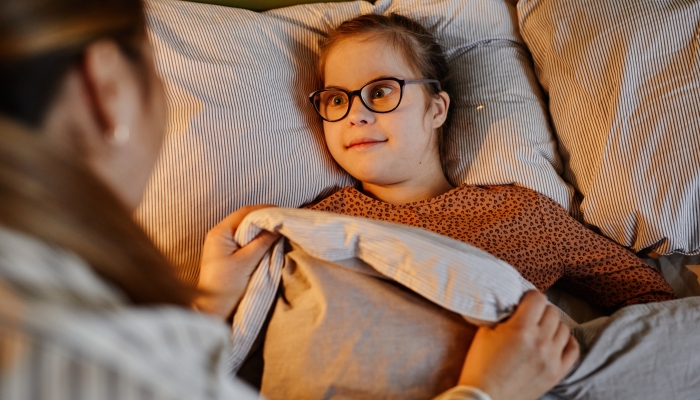 Product Reviews
Heard a lot about weighted blankets and lap pads and wondering how to choose one? Here's our guide to the ins and outs of finding the right weighted blanket.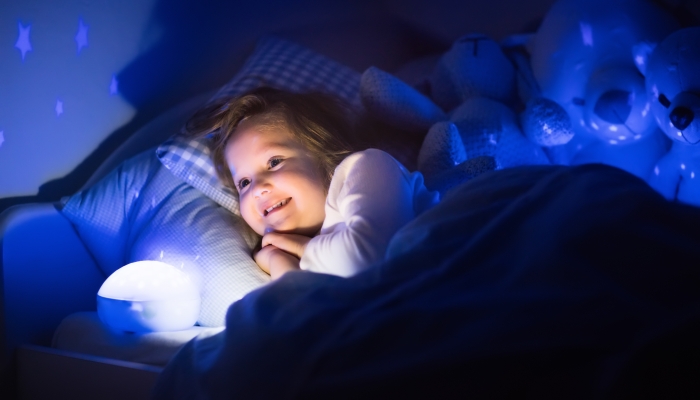 Product Reviews
Looking for the right night light to help your little one ease into bedtime? Check out our guide for everything you need to know about toddler night lights.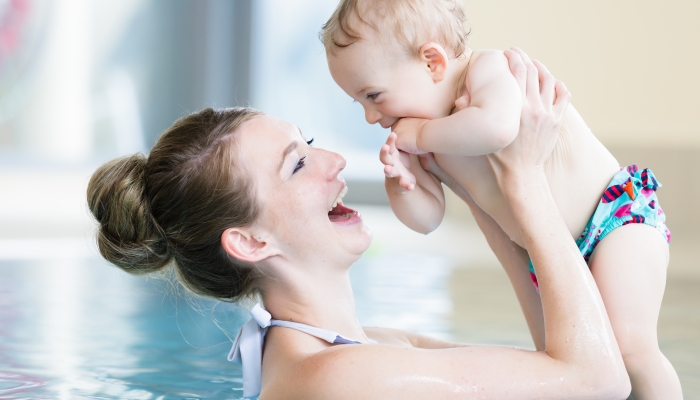 Potty Training, Product Reviews
The best swim diapers are comfortable and help prevent your baby from having an accident in the pool or ocean. Find our favorites in this round-up!