11 Best Portable Toddler Beds for Travel of 2022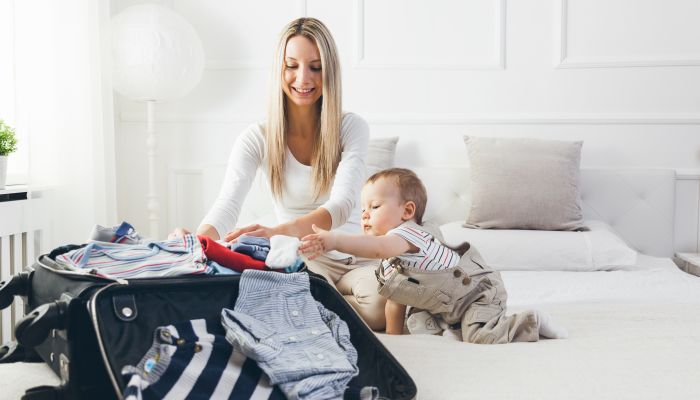 This post may contain affiliate links; please see our terms of use for details.
Planning on traveling with your toddler in tow? Investing in a portable toddler bed is a wise choice.
Hotels often have few options when it comes to accessory beds like cots and mini pack n' plays. Even when staying with family, beds and space can be limited. This is where travel beds for toddlers become a life-saver.
When everyone has a safe place to sleep, traveling goes smoothly.
Travel toddler beds adapt to any environment, whether camping or an indoor sleepover. You are sure to find something that fits your child's needs. Styles include inflatable, mat, or cot-style. Many toddler travel beds include bumpers or safety rails to keep your little one safe.
You might find yourself overwhelmed by all the choices for travel beds for toddlers online. How do you know which one is the best investment and will fit your needs?
Let us help! We've researched to find you the best toddler travel bed for your needs.
Best Budget
Best for Outdoors
Best Luxury
Brand
Baby Delight Go with Me Bungalow Deluxe Travel Cot
Milliard Portable Toddler Travel Bed
Best Budget
Best for Outdoors
Brand
Baby Delight Go with Me Bungalow Deluxe Travel Cot
Best Luxury
Brand
Milliard Portable Toddler Travel Bed
Best Warranty: Hiccapop Inflatable Toddler Travel Bed with Safety Bumpers
Hiccapop Inflatable Toddler Travel Bed
HOME, GRANDMA'S, CAMPING OR VACATION – hiccapop's travel toddler bed is for modern families on the go. The Original hiccapop inflatable toddler bed is lightweight, portable and offers a LIFETIME guarantee. XL travel bag & electric turbo pump included.
ONLY 4-BUMPER KIDS TRAVEL BED – UNMATCHED QUALITY & DURABILITY – 4-bumper protection for maximum safety. hiccapop's inlay-enforced vinyl is 40% thicker than its nearest competitor, making it virtually puncture-proof. Reinforced weld-seams and a heavy duty air valve insure against air leakage. And our velvet flocked mattress is the smoothest in its class, so your little one can sleep more soundly.
TRANSITIONAL BED – Kids cannot sleep in adult beds before they are 24 months old, yet most outgrow a crib at 18 months. So what do you do during those awkward 6 months? The hiccapop kids air mattress is the perfect solution for those "tween times" that every parent dreads. And when you're done, use it for overnighters with friends, or better yet, your next little hiccapopper!
INFLATES IN UNDER 30 SECONDS – Fits all standard crib sheets and blankets. When it's time to stow, simply fold, roll and go.
Looking for a bed you'll never have to replace? The Hiccapop Inflatable Toddler Travel Bed with Safety Bumpers is a high-quality inflatable bed designed for toddlers. The extra-tall, four-sided bumper is impressive for a portable toddler bed. If your child moves in their sleep, this is sure to keep them from rolling out of bed.
The heavy-duty vinyl is tough enough for normal use—or even a little rowdy jumping. If the vinyl should ever tear, Hiccapop's life-long guarantee has you covered. On top of that, their hassle-free customer service is excellent.
This two-piece set includes a separate mattress and bumper. This enables you to remove the bumpers and use the inner mattress by itself. The inner mattress is comfortable enough to sleep on alone and fits standard crib sheets. The entire bed inflates in around 40 seconds with the included electric pump.
You may find that the mattress is a bit bulky. When using both the inner mattress and bumper together, it's around 48 inches wide. However, given the durability and competitive warranty, this toddler travel bed still tops our list. It's a great option for heavy, frequent use.
Best Camping: EnerPlex Kids Inflatable Travel Bed with High-Speed Pump
EnerPlex K
Kids Travel Bed on the go: Mom and Dad need a good night's sleep when traveling! No more sharing beds at hotels, on vacation, camping, etc. EnerPlex's Kids Airbed is a family's favorite travel companion. Utilize the lightweight blow up kids mattress to visit grandparents, for naps at a babysitter's house, or as a transitional bed. Includes an oversized travel bag & high output electric pump (120V).
Puncture Proof and Leak-Free: EnerPlex combines durable, puncture resistant pvc with reinforced welded seams and EnerPlex's never leak technology. Velvety soft flocking makes the air bed cozy for your kiddo while still being waterproof, easy to clean and great for indoor and outdoor sleeping..
Fast Inflation: Fully inflated air bed in 30 seconds – Included 120V pump. Plus EnerPlex inflatable kids bed fits all standard crib sheets, no need to purchase special sheets. On the go? The air mattress is simple and compact. Roll and store in the included carry bag for travel or storage.
Makes a perfect Transitional Bed: In between a crib and a regular bed? The EnerPlex is an ideal solution for the in between months when your child is not yet ready for a regular bed. Manufacturer recommended age is 36 months and up. Take it with you when you travel, store it for visiting friends, taking it camping or save it for your next child! The specially designed kids air mattress is made to help your child feel snug and secure as they snooze.
Sometimes you need a convenient option for inflating on the go. The EnerPlex Kids Inflatable Travel Bed with High-Speed Pump is an inflatable toddler bed that includes both a wall and car adapter air pump. This means you can still use the electric air pump when camping without electricity.
That's not all this portable toddler bed has to offer. You'll be pleased to know this comfortable travel bed has active sleepers in mind, featuring a three-sided bumper.
While some inflatable toddler travel beds with high bumpers are around 48 inches wide, the EnerPlex Kids travel bed is only 44 inches wide. This means it's a better fit in tight places. You can also remove the inner mattress from the bumpers.
If you're looking for a toddler air mattress that will last, this one is a winner. This toddler blow-up bed has puncture-resistant vinyl and comes with an impressive lifetime guarantee. If you ever have any issues with your toddler travel mattress, give them a call. Their customer service is quick to respond and a pleasure to work with.
No one likes the frustration of trying to fold an air mattress to fit in its original box. The included oversized travel bag makes it easy to throw and go!
With all these camping-friendly features, we think this option is the best toddler travel bed for sleeping under the stars.
Most Fun: The Shrunks Toddler Travel Bed Portable Inflatable Air Mattress Blow Up Bed
Sale
Shrunks Toddler Travel Bed
THE ORIGINAL and AWARD WINNING Toddler Travel Bed – The Shrunks is the ORIGINAL manufacturer of the Toddler Travel Bed, with numerous design awards. LOVED BY CUSTOMERS: The Shrunks Toddler Travel Bed has been sold on Amazon for over 10 years. The Shrunks toddler floor bed has been a customer favorite since 2007.
NO SQUEAKY NOISES and COMFORTABLE- Squeak, squeak, squeak all night long is eliminated, due to the soft flocking on top. THE PERFECT FIT! The Shrunks bed is the right size and the right fit – toddlers need to feel comfortable sleeping in a transition bed that is the right size, so that they feel CONFIDENT and SAFE – a bed designed for them, not for their older brother or sister. *Bigger does not mean better. Adjust the air to customize the bed for each child's comfort.
SAFETY BED RAILS and TUCK FEATURE – Toddlers feel secure, cozy, and right at home, thanks to the portable air bed's unique design – any standard sized crib sheets and blankets tuck into the inner air mattress. Our trademarked security bumpers helps prevent your child from falling out of bed – toddler floor bed is designed low to the ground, for complete safety. Our 1-piece design easily folds up for storage and travel.
AIRTIGHT-DURABLE-FAST – Constructed with the safest materials, The Shrunks Travel Beds are safe from Phthalates, BpA and Lead. Award winning design is built to last with puncture-resistant materials, reinforced seems, and AirTight valves. Includes a convenient carrying bag, repair kit and the compact Jetaire Electric Pump. Small and compact, this powerful little pump gets the job done quickly. Approximate inflation time: 30 seconds. Inflated size: 60 x 37 x 9 (inches), 152 x 94 x 23 (cm).
The Shrunks toddler travel bed is a unique inflatable toddler bed in that it comes with some fun design options your toddler will love. You can choose from different sheet sets that include familiar characters. Some sets even include a matching pillow.
A two-sided bumper will keep your child from rolling off this toddler blow-up bed. Like many of the inflatable travel beds we've covered, the inner mattress is removable. Standard crib sheets are a perfect fit for the air mattress.
The Shrunks Toddler Travel Bed is also designed so that you can tuck in your child using a top sheet. The snug corners allow you to push the sheet in under the mattress. Soft flocking covers the inner mattress, keeping mattress squeaks to a minimum.
The included electric air pump will inflate the mattress in about 30 seconds. When packing up, you'll appreciate the included carry bag for easy storage.
The lifetime warranty and tough materials used provide a sense of comfort. Even if you do encounter a tear, the included repair kit has you covered for emergencies.
Best Slim Fit: Little Sleepy Head Toddler Inflatable Bed
Little Sleepy Head Toddler Inflatable Bed
Our toddler inflatable bed is THE perfect kids travel bed around. Super comfy, quiet, and oh so portable. Your little one may just prefer it to his/her own bed.
Made with the sturdiest of materials, our kids inflatable bed is guaranteed against pops and leaks, is lightweight, AND comes with a super turbo fast electronic air pump & carrying case. It could hold up to 300 pounds!
The inner inflatable mattress has a soft velvet material on top, and is easy to keep clean with our INCLUDED sheet. Also fits all crib sized sheets!
Our toddler air mattress also has rails on both sides ensuring that your little one stays put safely and comfortably.
Staying in a hotel room with limited space? This just may be the best toddler travel bed for tight sleeping spaces.
Complaints about inflatable toddler travel beds often include the bulky design. The Little Sleepy Head Toddler Inflatable Bed is only 38 inches wide, bumpers included.
That's not all this toddler bed has to offer. The included travel bag is convenient for packing up and storing. The removable mattress comes with an adorable, washable crib sheet. The company even offers matching pillowcases that can be purchased separately.
While the 2 sided bumper isn't as secure as some of the 3 or 4 sided options, it still gives a decent amount of protection. The velvet topped mattress will also keep them from hearing squeaks as they move.
This toddler travel bed comes with an electric pump for inflation. The inflate time is under 60 seconds, so you'll be ready to go in no time.
While there is a warranty, it does not protect from wear and tear, only defects or manufacturer faults. However, the vinyl is high-quality, and this toddler travel bed is built to last.
Best Budget: Intex Kids Travel Bed
Sale
Intex Kids Travel Bed
Approximate inflated size: 66in X 42in X 10in
Hi-output hand pump included
Colors may vary
For kids up to 48in
Say hello to the most budget-friendly toddler travel bed for families with simple needs. With surrounding bumpers, you'll get the safety you desire without spending much.
If you plan on using the toddler mattress for camping, you'll appreciate the hand air pump. Though it does take some time to inflate, no electricity is required. If you already have an electric air pump on hand, you can use that instead if preferred.
The Intex Kids Travel Bed is made with sturdy vinyl and will fit a standard crib sheet. There is no warranty on this product, but the price does still make it an attractive choice.
If you are looking for a standard travel bed for occasional use, this is a great option.
Best Outdoors: Baby Delight Go with Me Bungalow Deluxe Portable Travel Cot
Sale
Baby Delight Go with Me Bungalow Deluxe Portable Travel Cot
ON-THE-GO TRAVEL COT: As a parent, we know that life takes you many different places. So, we designed the Go With Me Bungalow to fit into a portable carry bag. Simply unpack it from the bag, expand the cot, lock it into place, and attach the canopy.
MAXIMUM SAFETY & STYLE: Our strong and stable metal frame locks into place and keeps the cot secure wherever it goes. You shouldn't have to sacrifice style for safety. That is why we created this neutral-colored Bungalow Deluxe to fit in any home's décor.
FOR ANYWHERE: The Bungalow portable travel cot is really meant to travel with you. Whether it's camping trips, backyard BBQs, beach days, or overnights visiting family, we've got you covered.
VERSATILE DESIGN: Our travel cot is made with durable indoor and outdoor fabric and surrounded by mesh walls to provide an added barrier of security. There is also a storage pocket and a removable sun canopy. Recommended weight is up to 75 lbs.
Do you find yourself adventuring outdoors often? The Baby Delight Go with Me Bungalow Deluxe Portable Travel Cot is a one-of-a-kind travel cot perfect for the outdoors.
The removable 98% UVA ray blocking canopy will come in handy on your adventures. This toddler travel bed has an easy-to-clean exterior. All you need is a quick wipe down after a day at the beach or camping.
If you prefer the indoors, there is still plenty to love about this foldable toddler bed. The setup is simple and quick. Pull open the metal frame and push down on the center of the bed to lock it into place.
This portable travel bed also has little ones who roll in their sleep covered. The mesh walls allow you to rest knowing your child is safe from falling off. This feature alone is a rare find in travel cots.
When it's time to pack up and go home, the bed folds and fits into the included carry bag. This makes traveling with this toddler travel bed a breeze.
This travel cot will not fit a standard crib sheet. A good alternative is a sleeping bag or pillow and blanket. The Bungalow travel cot does come in on the higher end for costs. However, the versatility and sturdy design make this a great travel cot to use for years to come.
Best Lightweight: Regalo My Cot Portable Toddler Bed
Regalo My Cot Portable Toddler Bed
CONVENIENT: No set up required. This cot's simple fold and go system is quick and easy to use.
DURABLE: Made with an all steel frame that is light-weight and will hold up to 75 pounds.Cleans up quickly with a damp cloth and soap
COMFORT: This cot has a large 48"L x 24"W x 9"H sleep surface with full canvas sleeping area and includes a fitted sheet for added comfort.
TRAVEL: Light weight for travel. This cot folds down to 9"L x 8"W x 24"H.
If you're looking for something easy to lift and carry, we've got you covered. This lightweight folding toddler bed weighs only 6 lbs. With its easy-to-fold design, you'll be able to pack up quickly. It folds like a camping chair and fits in the included travel bag.
The frame is constructed with all steel and holds up to 75 lbs. This collapsible toddler bed also comes with a removable, washable fitted sheet. You can easily add a thick blanket if your child prefers more padding underneath them.
The price point compared to other travel cots is excellent. It doesn't include safety bed rails but that may not be a concern if your toddler doesn't move in their sleep. You can also position the bed in between something like a bed and a wall instead.
If your little one likes to bounce on beds, take note that the Regalo My Cot Portable Toddler Bed doesn't lock into place. Jumping on the cot could cause the bed to fold. Remind your child that this travel bed is only for sleeping. Folding the portable bed when not in use will help as well.
This standard toddler bed doesn't have many added features but is the best toddler travel bed for a simple, lightweight design.
Best Luxury: Milliard Portable Toddler Travel Nap Mat
Milliard Portable Toddler Travel Nap Mat
Folds for Travel – This portable travel toddler bumper mat folds simply for easy traveling, plus you can conveniently store some items inside. Perfect for use at daycare, Grandma's house, hotels, and anywhere you need a comfortable place for your baby to rest.
Local and Safe – We are an American company and have been trusted by parents for over a decade. Our portable toddler mat is patented and has been safety tested and meets all US industry standards.
Cozy and Convenient – The mat features a durable outer material plus a soft cozy velour inside to create an attractive sleep environment for your little one. The mat cover is machine washable, and it comes with a washable fitted sheet.You can find extra fitted sheets on Amazon, search B07VF8M2LW.
Size – The mat with bumpers measures 25″x14.5″x27″ when folded, and 54″x25″x7″ when open. The bumpers are 7″ high on the outside, and 4.5″ high on the inside. The mat is 49″x20″.
If your little one is particular about their mattress, this one is worth checking out. The Milliard Portable Toddler Travel Nap Mat is ideal for parents looking for a fold-up toddler bed. This ultra-soft mattress will give your toddler a restful sleep in comfort.
The simple design makes folding the travel bed easy. Close the two sides, secure using the velcro straps, and you're done. The best feature is the storage space in the middle when folded. Your toddler can use this space to store their pillow, blanket, pajamas, and more.
The waterproof and washable mattress cover makes cleaning a breeze. Just remove the cover and wash as normal. The exterior sides wipe clean without effort using a wet cloth.
If you're looking for a special needs bed for a child with sensory issues, this bed might be a fantastic option. As opposed to an inflatable toddler bed, this travel bed doesn't make noises when rolled on. You will never have to worry about the mattress popping since no air is needed. Bouncy toddlers welcome on this travel bed!
One con to this portable toddler travel bed is the size. Even when folded, this travel bed is bulky and may not make a good option to fly with. However, using this bed like a suitcase will clear up space elsewhere in your travel space.
Best Ease of Use: Milliard Toddler Nap Mat Tri Folding Mattress with Washable Cover
Milliard Toddler Nap Mat Tri Folding Mattress
Problem Solved – The ideal solution to temporary sleeping. In Mom's room, daycare, or traveling, use this nap mat to do the trick!
Comfortable – This mattress is thick, soft, and cozy, and assembles in seconds.
Convenient- The ultra soft bamboo cover is removable and machine washable for easy care.
Quality- The mattress uses CertiPur certified foam that is low VOC and free of heavy metals. The bed is made from thick durable materials for long lasting comfort.
This toddler travel bed is a simple, low-maintenance option for napping on the go. While the mat doesn't have many frills, don't let that steer you away from considering this toddler travel bed.
This is not like the common tri-fold nap mats you may be familiar with. This mat is constructed with ultra-soft foam. They even made sure to use foam without heavy metals or chemicals that could harm your child. The bamboo cover is soft as well and is machine washable.
Set up and tear down is effortless making this the best toddler travel bed for easy use. You also won't have to worry about this bed popping like you would with an air mattress. Its slim design, only 24 inches wide, will allow this folding travel bed to fit in tight spaces.
This Milliard Toddler Nap Mat Tri Folding Mattress with Washable Cover doesn't come with a carrying case, but cases can be purchased separately. Its small design makes this bed a great option for travel as it won't take up your entire trunk.
Most Compact: Joovy Gloo Children's Indoor and Outdoor Travel Tent
Joovy Gloo Children's Indoor and Outdoor Travel Tent
Travel tent from 6 months to 3 years (regular size) and 6 months to 5 years (large size)
Dew resistant, bugproof, and UPF 50 sun protection
Super comfy self-inflating pad that comes with removable, washable cotton cover
Small enough to take anywhere with easy pop up setup
Looking for a portable bed that you can throw in your beach bag? If so, the Joovy Gloo Children's Indoor and Outdoor Travel Tent will top your list. From camping to beach trips, to sunny days at the soccer field, this one will do the job.
With a self-inflating mattress—yes, you read that right—setup is simple. Once you unfold the tent, open the air valve and the mattress will inflate. The cotton mattress cover is machine washable.
Tear down is also simple, and this tent includes a carry bag for storage. If you have trouble folding the tent back up, Joovy provides excellent tutorial videos. Space will not be an issue with this portable toddler bed, as it's designed to fit in a large diaper bag.
You'll be pleased to know the tent provides UPF 50 sun protection for outdoor use. Its zip-cl3ose feature means your child is also safe from bugs or escaping when you're not looking.
Some children may take time to adjust to this enclosed toddler bed. If your toddler has separation anxiety at night, this might be the case. We recommend doing a trial run before taking this on vacation. Letting your child explore and play in this portable travel bed at home can also help the transition.
Best Alternative: Hiccapop Inflatable Bed Rail for Toddlers
Hiccapop Inflatable Bed Rail for Toddlers
COMPACT/CONVENIENT BED RAIL FOR TRAVEL AND HOME | Handy push-button release valve quickly deflates toddler bed bumper to lightweight and space-saving size. Comes with travel bag for protection and easy portability for packing in your suitcase, popping into your car or in carry-on for plane trip. IDEAL FOR AT-HOME USE TOO.
CUTTING EDGE NON-SLIP DESIGN | Our safety-obsessed design team brings you the next generation of portable bed bumpers for toddlers. Unlike bumpers for beds that rely only on thin non-skid strips to maintain position, hiccapop's new safety flap extension uses child's weight to anchor the toddler bumper firmly in place. Assures even the most active sleeper a safe night's slumber while you rest nearby with peace of mind.
A GREAT DESIGN THAT DOESN'T LEAVE YOU BREATHLESS | Designed to inflate in seconds for a full and tight bumper. Saves your breath for your little one's lullaby.
SLEEP SAFE AND SOUND ON THE GO AND AT HOME | Perfectly suitable for any bed (king size, queen, full, or twin) during sleepovers at friends' houses, in family guest rooms or hotels, on Grandma's pull-out bed, or in your RV. Wherever you decide to trek, both you and your tot will rest easy. The perfect tool for transitioning to a big kid bed, too.
Sometimes toddler travel beds aren't the best option for your needs. In that case, we recommend The Hiccapop Inflatable Bed Rail for Toddlers.
These safety rails come in a 2-Pack which allows you to turn any size bed into a toddler bed. With these inflatable bed rails, you won't have to bring along a toddler air mattress or cot.
To inflate, you'll blow into the air valves on each bed rail. Rest assured this won't leave you out of breath and energy. These bed rails are quick and easy to inflate.
The bed rails attach to a piece of fabric that acts as an anchor underneath the weight of your child. The entire rail fits underneath the fitted sheet of any bed and has a no-slip bottom. This means the bed rails will stay put all night.
Hiccapop is known for its high-quality products, and this one doesn't disappoint. It's also backed by their lifetime warranty.
These bed rails are a perfect choice if your toddler sleeps in bed with you when traveling. They are also a great option for saving space since they take up little room.
Final Verdict
Our pick for the best portable toddler bed is the Hiccapop Inflatable Toddler Travel Bed with Safety Bumpers. Here's why this one impressed us:
Quality. Hiccapop boasts of an inlay-enforced, puncture-resistant vinyl that beats all competitors.
Warranty. Even with a heavy-duty build, the lifetime warranty Hiccpop offers is too good to pass on.
Customer Service. Found a leak while on vacation? No problem! Hiccapop has even overnighted new mattresses in these cases! How about that for service?
Versatility. We love that this mattress can travel with your family indoors or outdoors. Since it deflates to fit in the travel bag, you'll have plenty of room for your other luggage.
Price. Though this isn't the cheapest option on our list, it lands somewhere in the mid-range. In our opinion, the features and durability are well worth the cost
This toddler travel bed has customer reviews to back up our findings. This is one inflatable toddler mattress you won't regret purchasing!
Recommended Accessories
Many toddler travel beds include accessories like travel bags, padding, sheets, or even pillows. However, each bed varies depending on the brand and make.
These are a few accessories we find helpful when using a portable toddler bed:
Pillow
Familiar blanket, sleeping bag, or stuffed animal (Make your child's bed feel just like home for an easier transition.)
Extra crib sheets (Check to be sure standard crib sheets will fit your mattress.)
Carrying case (Many options are available online even if the manufacturer doesn't provide or carry one for your mattress)
Electric air pump (If using an inflatable mattress)
FAQ
What should you look for in a portable toddler bed?
It's important to decide how you'd like to use your portable toddler bed before making any decision. Ask yourself the following questions to help narrow down your search:
Do I need a mattress for indoor or outdoor use?
Will floor space be an issue where I will primarily be using it?
Will my child be more comfortable in an inflatable mattress or a soft padded mattress?
Will I have electricity for an air pump?
Is the weight of the mattress a concern?
Once you've filtered through those questions, you can narrow your search. We look for features like UPF protecting covers, flocking on the mattress, sheets, or carry bags. You might also consider the price, dimensions, and weight to ensure it will work for your needs.
What are important safety considerations with a portable toddler bed?
The Consumer Product Safety Commission warns that air mattresses pose a suffocation risk for babies. Suffocation or entrapment can occur in babies under 15 months of age. For this reason, wait until your child is at least 15 months before considering this option.
When using a portable toddler bed, be sure to block all electrical outlets near the bed. Secure all window pull-cords up high. Also, remove any electrical cords or other dangerous objects.
At what age can my child use a portable toddler bed?
Toddler travel beds usually accommodate children ages 18 months to 5 years. You may find variations depending on the make of the travel bed. It's important to know that inflatable travel beds are designed for children at least 18 months old for safety reasons. However, other types of portable toddler beds are okay to use with younger children. The Joovy travel bed, for example, is safe for babies at least 6 months old until 5 years old. Be sure to check the age requirement for your specific travel bed.
What is the difference between a portable toddler bed and a child travel bed?
The main difference between a toddler travel bed and a child travel bed is the size and security. Most child air mattresses are longer and wider than toddler mattresses. They also don't include the safety bumpers.
Since your little one will likely use the toddler-sized mattress for several years, we feel it's worth the investment for the added security of bumpers. Also, the smaller size means you'll have more floor space.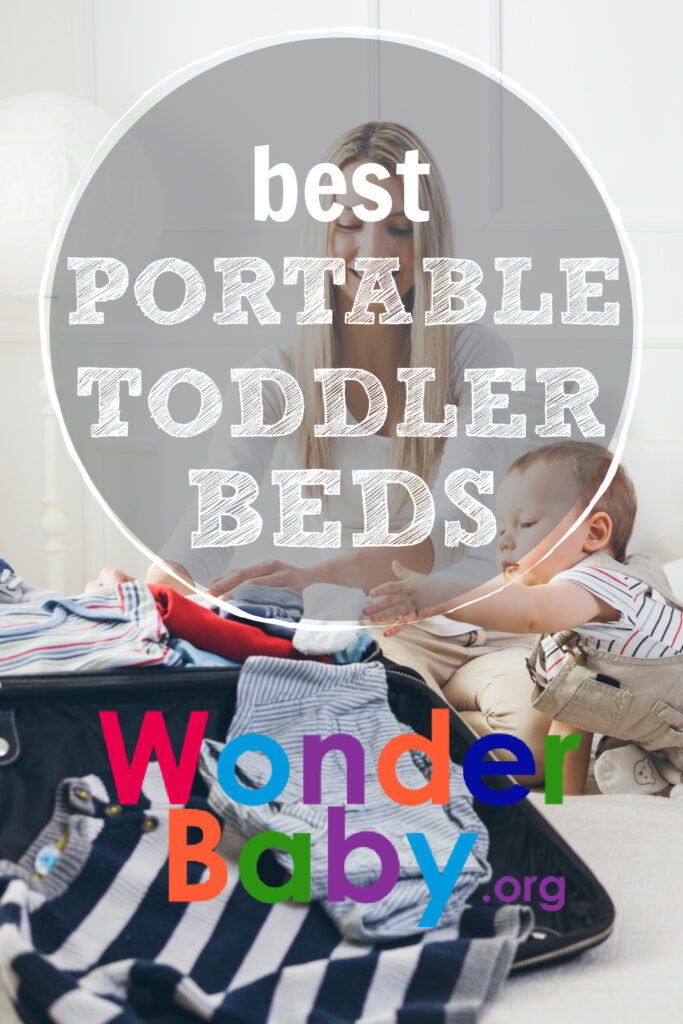 Related Posts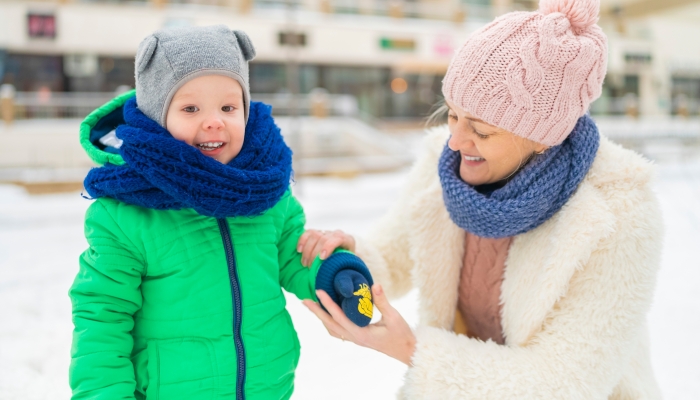 Product Reviews
As winter approaches it's time to shop for mittens and gloves for your toddlers and you'll probably need more than one pair!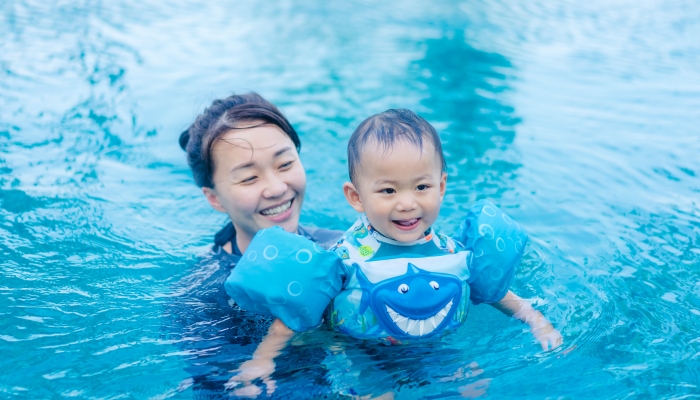 Product Reviews
Shopping for an infant life jacket? Our list of the best infant life jackets will steer you in the right direction.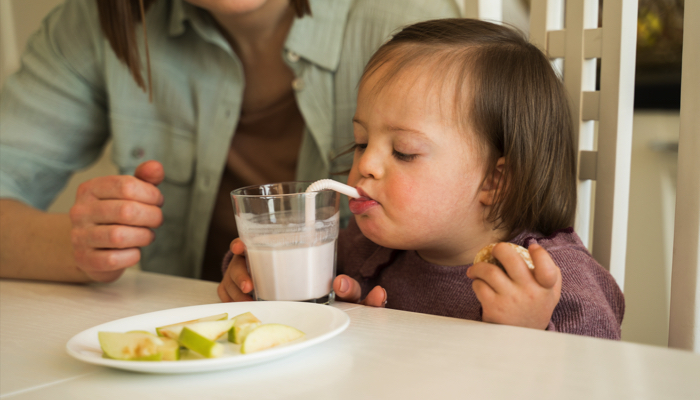 Product Reviews, Special Needs
For children with disabilities, adaptive tools are essential for learning how to master self-care skills like grooming, hygiene, and self-feeding.