Top 10 Special Needs Beds (and How to Pay for Them)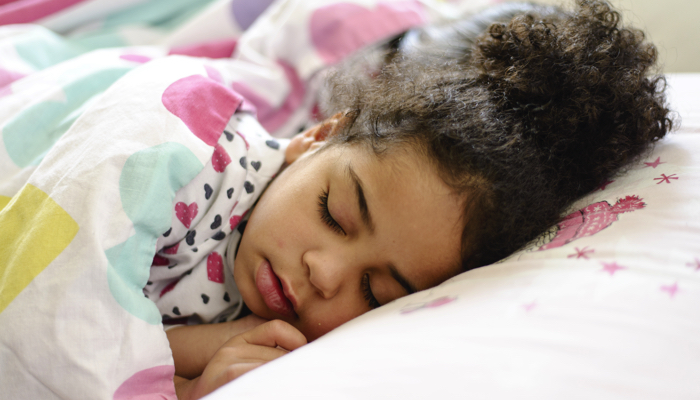 This post may contain affiliate links; please see our terms of use for details.
Finding the right bed for your special needs child can be a difficult task. Each of our kids have their own set of unique needs and challenges, and often those challenges are magnified at night when they may be left alone for long periods of time. Well, hopefully for long periods of time while YOU get to sleep too.
The good news is that there are sleeping solutions available for families with special needs children. The less good news is that it's complicated to sort through the many options to find the one that is perfect for your child and it's even more complicated to get the resources together to purchase a bed.
You're in luck! We go through the top special needs beds and explore all the features you may be looking for so you can find the bed that meets your requirements. We'll also go over funding options and how to get a bed covered through insurance.
Looking for a quick rundown of all these beds? Check out our easy-to-read special needs bed features chart!
1. The Safety Sleeper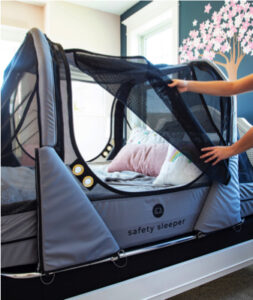 The versatility of the Safety Sleeper really sets it above other special needs beds. It's possible to find a good special needs bed for your home and it's possible to find a good special needs travel bed, but to have them both in one product? That's huge. The Safety Sleeper can sit on the floor or fit into any standard bed frame and straps to the frame so it is safe and won't tip over. It comes standard with a waterproof memory foam mattress, but is also equipped with an air mattress, allowing it to break down into a suitcase that weighs less than 50 pounds.
Whether you use the foam or the air mattress, the Safety Sleeper also utilizes an enclosed mattress system so that there are no spaces between the bed and frame making it impossible for your child to become entrapped between or under the mattress. Add in that the entire bed (sheets and frame included) is machine washable, and you've got the ideal special needs sleep solution.
2. SleepSafe Beds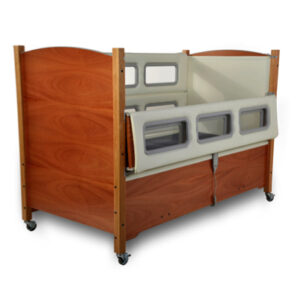 The SleepSafe Bed is the bed we chose for our son over ten years ago and we are still very happy with that decision. I can certainly attest to the durability of this bed and I also really like that it looks like a bed. The frame is made of real wood and it doesn't feel like a hospital bed or something out of place in your bedroom. The bed is on castor wheels so it is easy to move and also comes with many options. You can choose a low- or high-walled frame, interior padding, an articulating mattress foundation and even accommodations for an IV pole or medical tubing.
Below you can see a video of us in the SleepSafe bed. We opted for the fully padded walls since our son has seizures and needs to be in a safe, enclosed space.
The SleepSafe bed does not come with a roof to prevent climbing, although its extended rail does provide walls up to 53" above the mattress. It also doesn't allow for multiple entry points, but you can choose a mattress that can be lifted or lowered (either electrically or manually).
3. Beds By George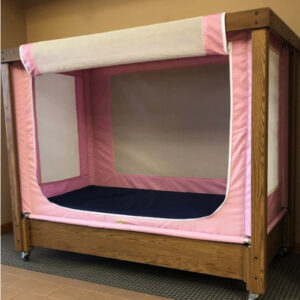 Beds by George are very similar to SleepSafe Beds in that they have beautiful wooden bed frames with multiple options for height, safety and medical needs. They offer beds with low sides or high and their most enclosed bed has mesh sides that also includes a top covering.
Beds by George can be equipped with hi-lo articulated mattresses and they also offer aesthetic options with stylized headboards, bed posts, accent carvings and even personalized engravings. Their beds can have padded interior walls, clear view panels or air flow panels. They can also include access ports for tubes or wires and an IV pole.
4. Creative Care Limited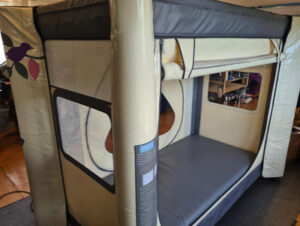 Creative Care Limited offers highly customizable beds that are better described as safe spaces. These spaces (they refer to them as "pods") are fully padded and can be rather large and even bolted to the floor for extra stability. A hi-lo unit can be added to your pod and since the entire unit is made by Creative Care the hi-lo feature can be of any size to fit in the pod. These pods can also be customized with openings for tubes or monitors and can even allow for a ceiling track above the bed.
These pods are really very durable and the material is treated with an anti-bacterial lacquer making them easy to clean, although they are not machine washable. They come in a variety of colors and patterns so you can have fun picking out your special design. Creative Care also makes a Travel Pod which comes in two sizes and is easier to set up than you might think. We have the Travel Pod (the junior size) and have used it on many trips. It is a nice safe space and I love that it does not attach to a bed but is free standing with stable supports. It is on the big side, though, so if you are planning to pack light it may be hard to fit in with your travel gear. Of course, as a parent of a special needs child you probably aren't planning to pack light anyway!
5. Safespace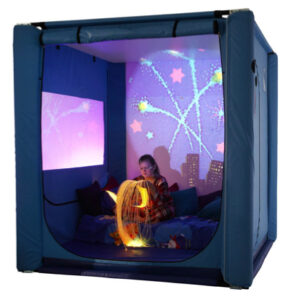 Like Creative Care Limited, Safespace creates, well, safe spaces. These spaces can be as big as a room, or smaller like a bed. They can be made to accommodate kids who are climbers or kids who need mobile hoists or lifts. Safespaces are very strong and durable and do offer hi-lo options for mattresses. The company works closely with each family to find exactly what you need and the spaces can be customized. Safespaces are also registered as Class 1 Medical Devices and follow stringent industry guidelines for safety and quality.
Safespace also offers a number of travel options. The Cosyfit is a small enclosed space with varying side panel heights, but no roof. It's a fairly simple design, but if all you're looking for is a place where your child can be comfortable and not roll out of bed when away from home, then this is perfect! They also have a fully enclosed travel space in the Voyager bed.
6. Cubby Beds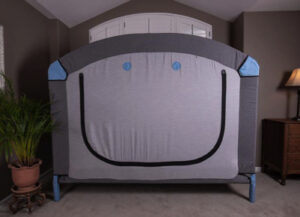 Like most special needs beds, Cubby Beds are enclosed and designed to be padded and safe. What makes them different is that they are also app-enabled smart beds with monitors and a built-in camera. The bed provides a circadian light that slowly dims to prompt sleep and slowly brightens when it's time to wake up. A speaker in the bed can play white noise or nature sounds to create a comfortable and quiet space while the video monitor can be set to alert you to motion (which can be great for kids who try to escape at night or who have seizures while sleeping) and the video captured is recorded so you can view the night's activities later.
Similar to the Safety Sleeper, Cubby Beds pride themselves in avoiding areas of entrapment with safety sheets that zip to the walls. The bed is durable and fully enclosed, has multiple entry points and is lift accessible. The mattress, however, cannot be on a hi-lo frame for kids with medical concerns. Cubby Beds also do not allow for extra space for medical wires or IVs.
7. Courtney Bed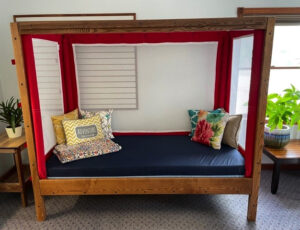 If all of these other beds just seem too complicated for your needs, then the Courtney Bed may be exactly what you are looking for. Similar to the SleepSafe bed, the Courtney Bed is made of wood and looks very much like a nice piece of high-quality furniture. The bed features mesh panels attached to the wood frame that zip closed and cannot be opened from the inside. The bed is off the floor so it is lift accessible and the mattress is at a good height for transfers. They also now offer a back zippered panel so you can enter the bed from multiple sides.
You can add an additional top panel if your child needs a roof to avoid escaping the bed and you can also have camera, IV and wire access points added. It's possible to add padding to the wooden frame, too. The bed comes in twin and now queen sizes as well. If you purchased a twin-size bed, you can now order a conversion kit to update your bed to a queen size!
The company realizes that special needs beds are expensive, so they do offer no interest in-house financing for families for up to 12 months. They will ship the bed once your account reaches 50% of the total cost. Many families choose to put 50% down as their first payment, having the bed shipped immediately, then pay off the rest over the following year. You can also use code wonderbaby23 to receive 10% off your bed. Use the code online or just mention when calling!
8. KayserBetten Beds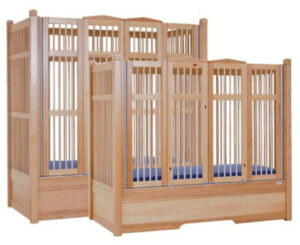 KayserBetten Beds are well known for being great for keeping kids in bed, however the design is often compared to a cage at the zoo. If the bars on the bed don't bother you (and they do come in very colorful patterns), then the stability, overall durability of the frames and special locking system on the doors may be your top selling points. As a matter of fact, those bars serve an important function! The unique KayserBetten design allows for air circulation, ease of monitoring, easy access for medical tubes and wires, better access for medical care, bedding changes and disinfecting.
KayserBetten Beds come in a variety of sizes and styles that allow you to choose a setup perfect for your child. You can have a raised mattress for transfers, lift accessibility, a hi-lo articulated mattress or a frame that raises to the best height for the caregiver. KayserBetten Bed frames are made of solid natural beach wood, but can also come equipped with fully padded interior walls.
9. ZPods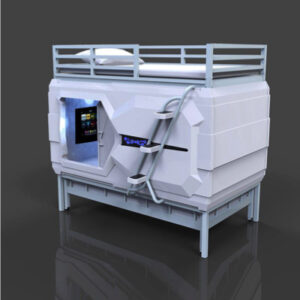 Are you looking for a bed or a sensory-friendly sleep pod? If the latter is on your list then ZPods may be for you. Honestly, if I were a kid I would love a ZPod. They totally have the cool factor! Similar to Cubby Beds, ZPods are smart beds with multiple built in tech features like LED circadian lighting, temperature control, carbon air filters (which is great for kids with allergies) and even an HD smart TV. The single bunk comes with an extra bed above the pod or you can get a double pod with two pods stacked on top of eachother!
The ZPod bed door does not lock and it really isn't designed for kids with complicated medical concerns. For example, it's not lift accessible and while the interior plastic is fairly soft it isn't fully padded. Their Gen 2 beds are made with lighter plastic and the sliding door can now be removed entirely. They've also added bluetooth speakers! ZPods can be customized with holes for IV lines, but unfortunately is not generally covered by insurance, although they do offer many finance options on their site!
10. Safe Place Bedding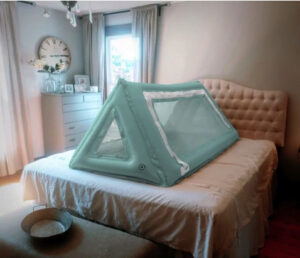 Safe Place Bedding offers a simple (and surprisingly relatively affordable) inflatable travel bed. The bed is designed to fit on top of a full or larger mattress and is strapped to the mattress so that your child is safely inside the bed tent and can't fall off the mattress. The bed zips closed and locks from the outside. The bed must be inflated and an electric air pump is sold separately, although they do say you can use a manual pump too.
We purchased this bed to use when we travel and it has worked well for us both in hotels and on longer stays with family. It can be set up directly on the floor, but I prefer it on a bed because it can be really difficult to lift my son from the floor. I've written a longer review of the Safe Place Travel bed and you can also watch a video of us setting the bed up for the first time below:
How to Pay for Your Special Needs Bed
You may have noticed that we did not include prices here and that on many of these bed sites prices are only available upon request. Do you know why? Because they are expensive!
Once you've decided which bed you want to purchase, the next step is figuring out how to pay for it. Most of these beds can be covered by insurance and all of these companies are more than happy to help you through the process. Give their customer service number a call and talk to them about how to get the bed covered.
You will need a letter of medical necessity and a prescription from your child's doctor. The letter can be written by a specialist (like a neurologist) or a service provider (like a physical therapist). Look at our bed comparison chart and list the features in your letter that make your bed the best choice for your child. Be specific! Explain why a mattress on the floor is not acceptable. Talk to the bed company about how to write a letter specific for the beds they sell. They will often have sample letters of medical necessity posted on their website.
The insurance process can take a long time so you will have to be patient, but it's not a guarantee. If your bed is not approved, there are still other options. Many bed companies do offer financing or you can apply for grants designed for funding medical equipment. Which grants you are eligible for will depend on your child's diagnosis and your location. Talk to your school's social worker to find possible grants in your area or you can check out this list of national grant organizations that you can contact.
If you are applying for grants you will want to write a grant letter that introduces your family, explains your child's diagnoses and needs, and again outlines exactly why you need the bed you are trying to purchase. We raised money entirely through grants when we built an accessible bathroom for my son and wrote a letter that we sent to multiple non-profits. You can read our letter to see how to write a successful grant letter.
Good luck in your search for the perfect bed! Hopefully the information here will help and you will soon be sleeping soundly and safely!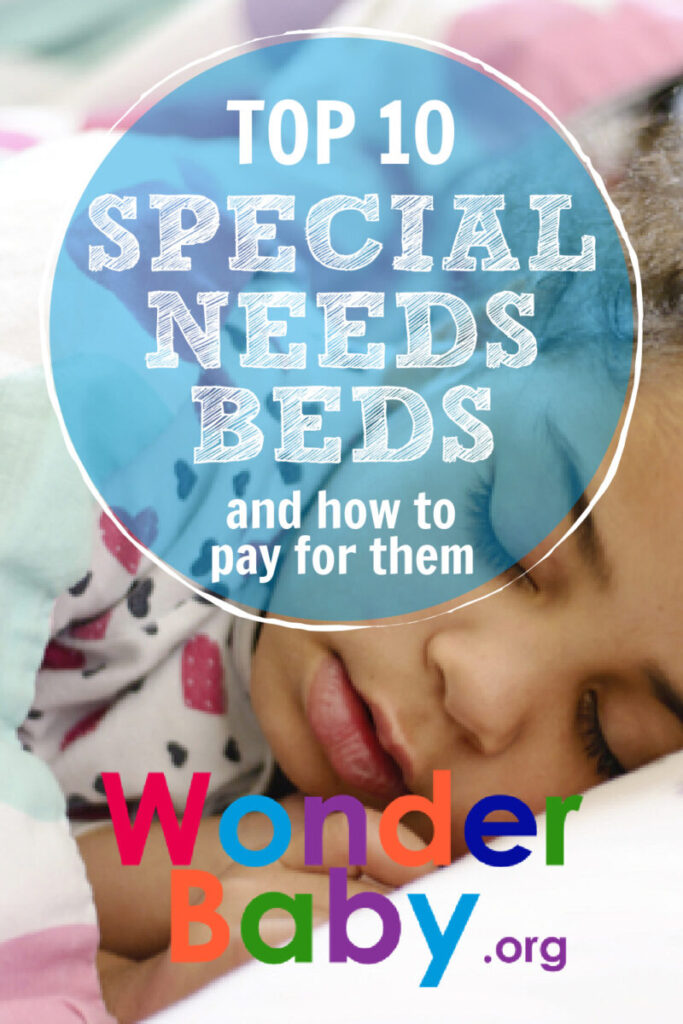 The information WonderBaby provides is not intended to be, and does not constitute, medical or other health advice or diagnosis and should not be used as such. Always consult with a qualified medical professional about your specific circumstances.
Related Posts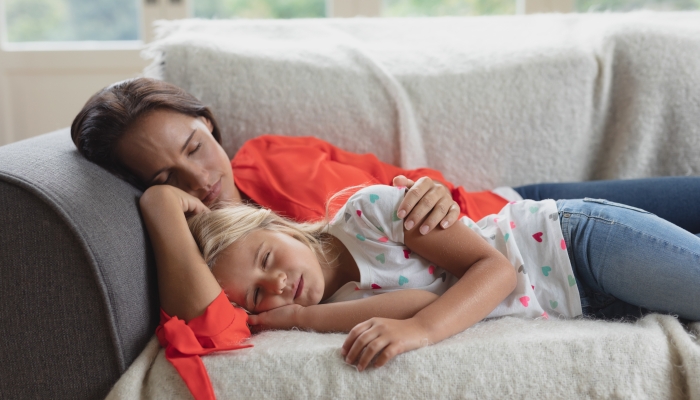 Autism, Sleep
Autism and sleep problems often go together. Improving sleep can help your child be less irritable and learn better and reduce stress in your home.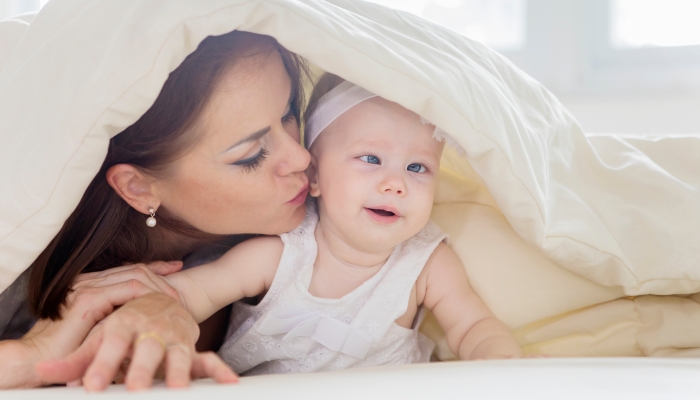 Eye Conditions and Syndromes, Visual Impairment
Retinopathy of prematurity is common in babies born before 33 weeks. Early intervention can help prevent blindness in babies with this condition.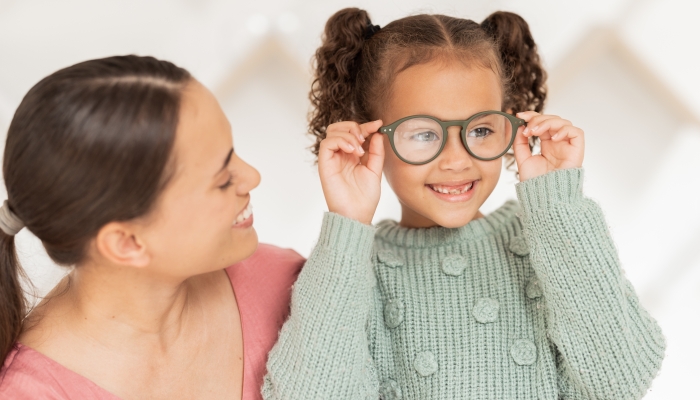 Eye Conditions and Syndromes, Visual Impairment
If you have a child with retinitis pigmentosa (RP), family members, therapists, and eye specialists can help you manage the stress that comes with vision loss.